At Home Date Night Ideas – 15 Ways to Date Your Spouse
I don't know about you but I am craving a date night!!! Being at home these last few weeks hasn't been easy. Honestly, we haven't been prioritizing our marriage like we should be. I fee like now more than ever, it is so important to carve out alone time with your spouse or significant other. The stress of every day life can take a major toll on a relationship. Even the best ones! Although your spouse may be working from home and spending more time together, it may not be the quality time that you need or desire in your marriage. These creative at home date night ideas will help you have a fun with your spouse!
Not only are these date night ideas fun but they are also budget friendly! Im all about saving some money while having a memorable evening with my hubby!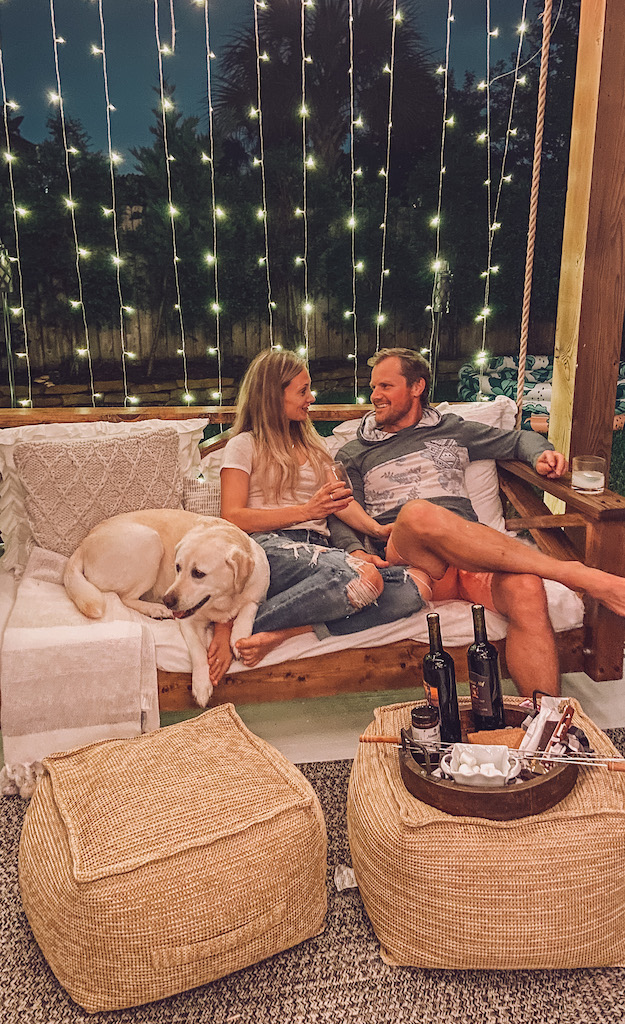 Date Your Spouse from Home
Some of these date night ideas are ones that Simon and I have done before and some are on our wish list! I have categorized them into a few categories to make it easier to find the perfect date night that works for both of you!
There are so many different ideas on what to do at home on a date night. I started making a list and decided to break them into three different categories: FUN DATE NIGHT, ROMANTIC DATE NIGHT and OTHER DATE NIGHT IDEAS.
Fun Date Ideas
Play a board or card game – this sound so silly but Simon and I love to play Mancala, Battleship and Connect 4! We usually spend more time talking then playing which is the best part!
Do a DIY project – Now this is a date night Simon can get behind! We love a good project that we can work together on. One of our favorite projects we did together was building this DIY porch swing.
Do a Puzzle Together – While it might not sound as sexy as a massage, it's the talking that is the best part of doing a puzzle together.
Write a Couple's Bucket List – What are some of the things you want to do together, or do even do when we are allowed to leave the house? Visit the Greek islands? Go on a cruise? Visit Rome? Sleep past 7am on the weekend? I'll take that last one, please.
Try yoga or zumba together – a great way to get some exercise and release some stress build up!
Romantic Date Ideas
Go camping in your backyard or living room – You can use a camping tent or make a fort like you used to when you were a kid! Add twinkle lights or flameless candles to add to the ambiance.
Cook something new together – Cooking is something that you both can have a ton of experience in or none and it can still be fun. Simon can use some help in the kitchen so this may be the perfect opportunity to teach him!
Wine Tasting Night – You can also choose to do a chocolate or cheese tasting night instead! We did this as for our 5 year anniversary and had some much fun! We also learned that we liked cheaper wines better then the more expensive!
Take a bubble bath together – This is self explanatory but it may be just what you both need after a busy day!
Dinner and a Movie – Since we cant go out for dinner, order your favorite take out and wear your sexy little black dress! After dinner rent or buy a movie and don't forget to stock up on the popcorn and candy! If you have a projector, enjoy the movie in your backyard under the stars!
Other Date Night Ideas
Binge watch a Netflix or Hulu show
Have a Picnic in your backyard. You can have a simple picnic on the ground with a blanket or you can create an outdoor picnic set up like this one I did for a fun girls night last year.
Have a fire pit and roast s'mores
Dance to your wedding song – or play your favorite music and clear the living room floor!
No matter how many years you've been a together, making time to date one another is so important for your marriage. During this crazy time of being quarantined at home, it is even more essential to carve out time to put your marriage and your love for one another first.
Which at-home date night will you have this week?
xoxo,
Leanna