Easy and healthy Valentines Day Snack: Brainiac™ Kids
An easy and healthy valentines day snack craft for kids.
Thank you Brainiac™ Kids for sponsoring this post. Brain food kids want to eat!
Valentine's Day is right around the corner and this year I want to give out an easy and healthy Valentine's Day snack for my kids' classmates. I always sift through my kids' Valentine's Day box and throw out all the candy when they get home. I feel like every holiday, we get SO much candy and I toss almost all of it out! This year, I want to give a snack that parents will be happy to see their kids bring home. One of our favorite snacks at home is applesauce. Today, I am sharing an easy Valentine's Day craft with Brainiac™Kids Applesauce that you can make with a free printable!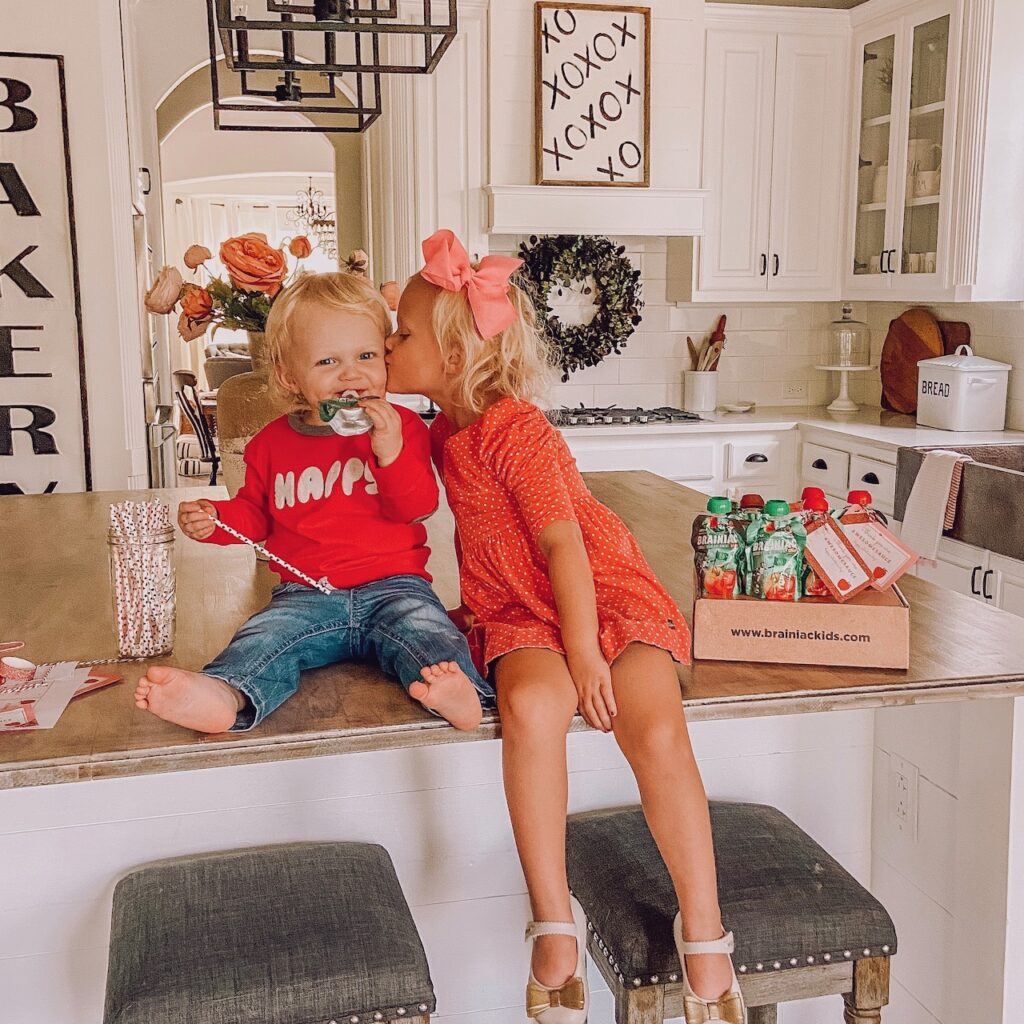 Brainiac™ Kids applesauce is always my go-to snack for the kids. My kids love applesauce and I feel so much better about giving them Brainiac™ Kids applesauce because it is the only snack that includes essential brain fueling nutrients that every kid needs in their diet – but isn't getting enough of.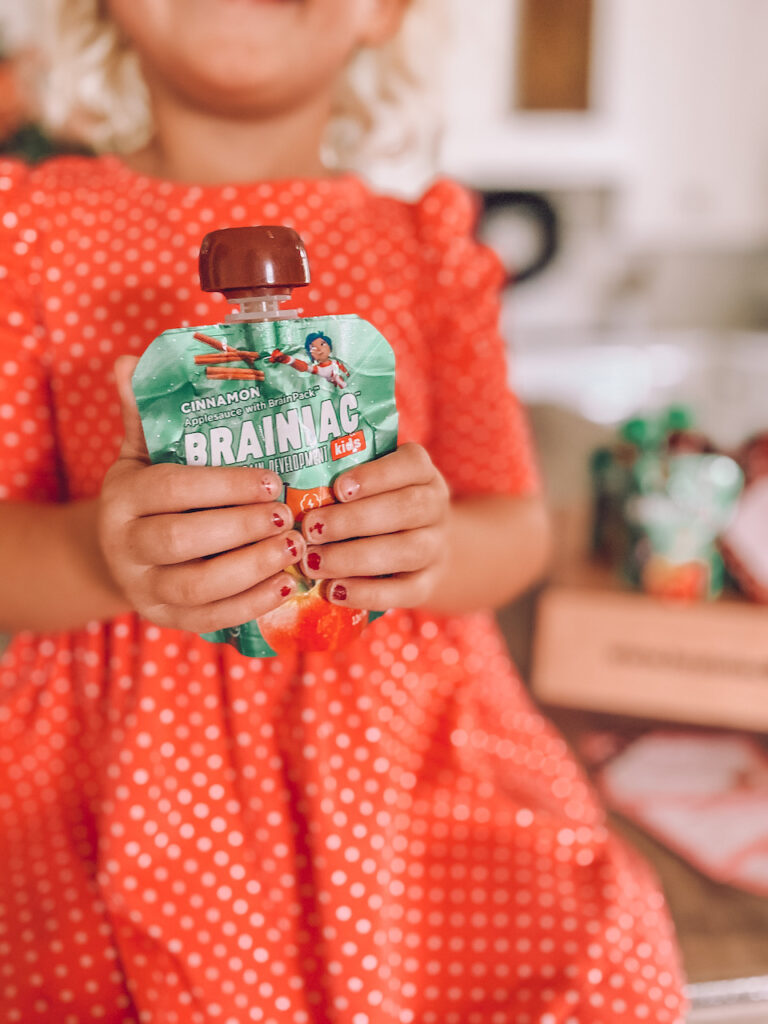 One 3.2oz. pouch of Brainiac™ Kids Applesauce provides kids with:
As much omega-3 DHA/EPA as a 1 oz. of salmon
As much Choline as 2 cups of broccoli
I love knowing that my kids are getting the nutrients they need at snack time! Especially since my kids aren't the best at eating enough of their vegetables at dinner. When they have Brainiac™ Kids applesauce I don't even have to try to sneak in their daily amount of nutrients in other ways. Broccoli puree with pasta does not always work my friends! Now, dinner isn't as much as a hassle! I don't have to force them to eat their veggies when I know they are getting their daily amount of nutrients from Brainiac™ Kids applesauce. How amazing is that!!???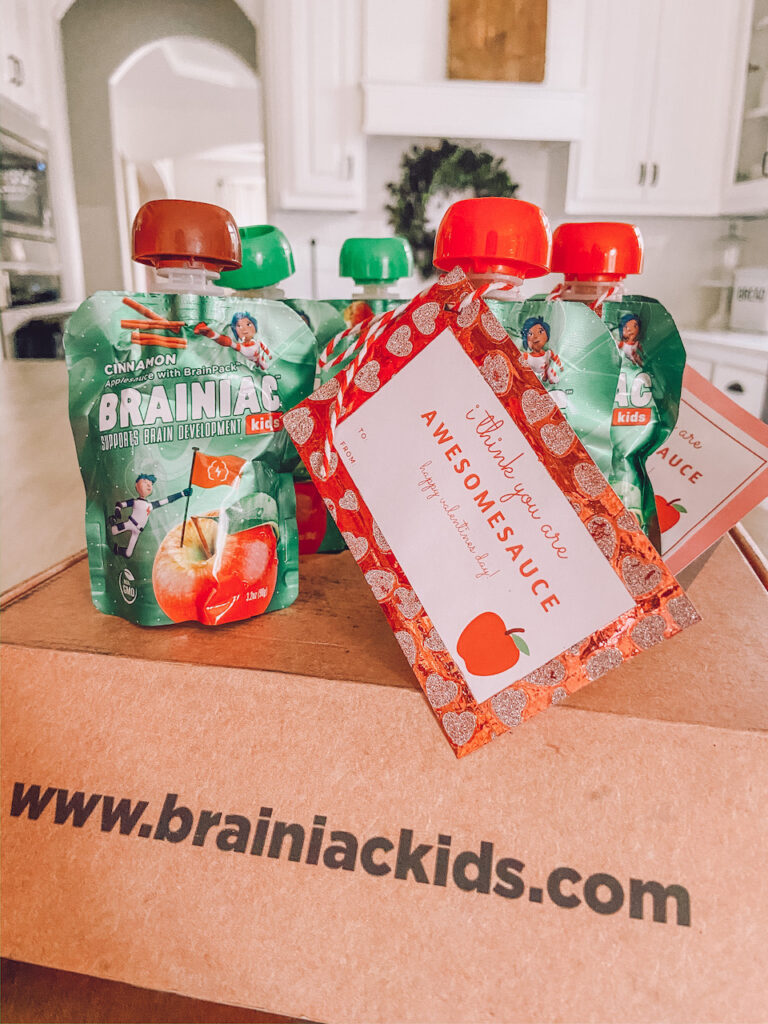 How to make this easy Valentine Day Craft with Brainiac™ Kids
Supplies to make Applesauce Valentine Craft
Brainiac™ Kids applesauce in any flavor: strawberry, cinnamon, or appleCardstock
Scissors
String
Glue
Hole Punch
Directions to make Applesauce Valentine Craft
Print out the free Printable here
Cut out the Valentines Day tags and glue them onto a pink or red card stock.
Cut out the cardstock, you can even use fun scissors to cut the cardstock in different shapes.
Punch a hole in the corner of each valentine day tag
Use string to tie the card on to the lid of the applesauce.
Feel free to decorate the tag with fun tape, glitter or whatever your heart desires!
That is it sweet friends! This was such an easy Valentine's Day craft that you can make with your kids' help! Isla, my three year old, loved to help me glue on the tags and taste test the apple sauce! I hope you enjoyed this easy and healthy Valentine's Day craft for kids! What other easy Valentine's Day crafts do you make for your kids' classmates? I would love to hear some of your ideas!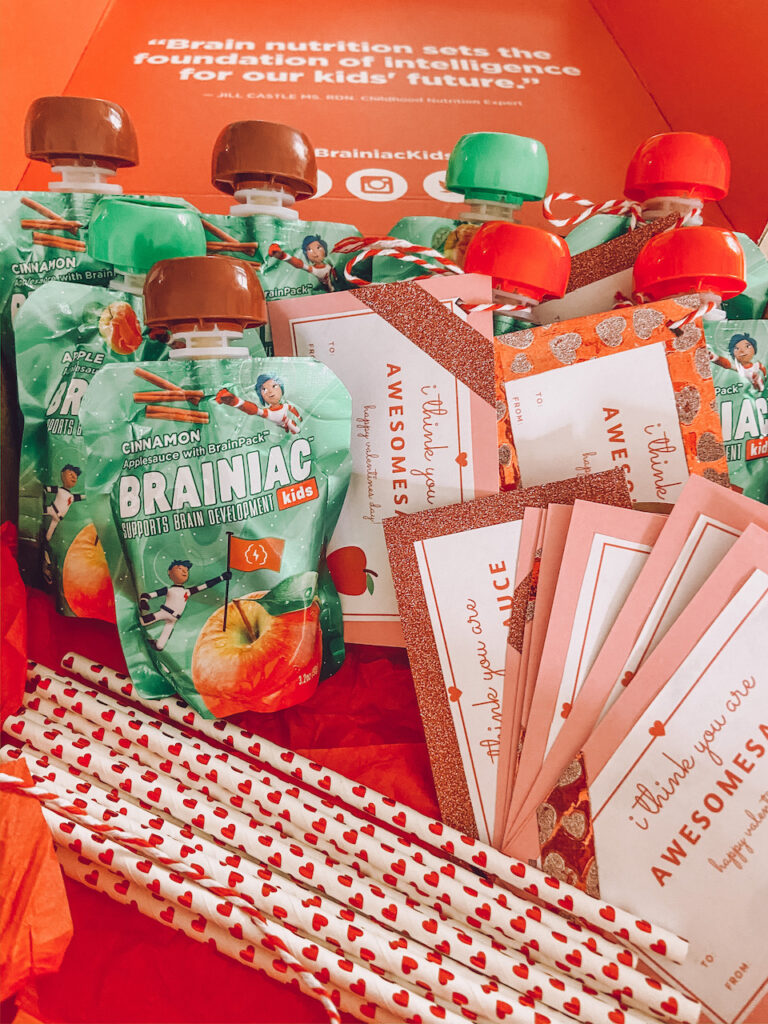 Click below to enter a fun GIVEAWAY!
Giveaway details:
Prizes: 5 winners: prize packs will be valued at $50 (Amazon e-gift card)
Dates: 1/24 – 2/1
Entry Options: Readers may enter the giveaway via the widget with the following options:
Follow the brand on Instagram
Notification: Winners will be randomly selected and notified by CLEVER the first week of February, 2020
Terms & Conditions: The official Terms & Conditions are included in the widget; here is the high-level eligibility criteria:
Age 18+
US resident only
Only one winner per household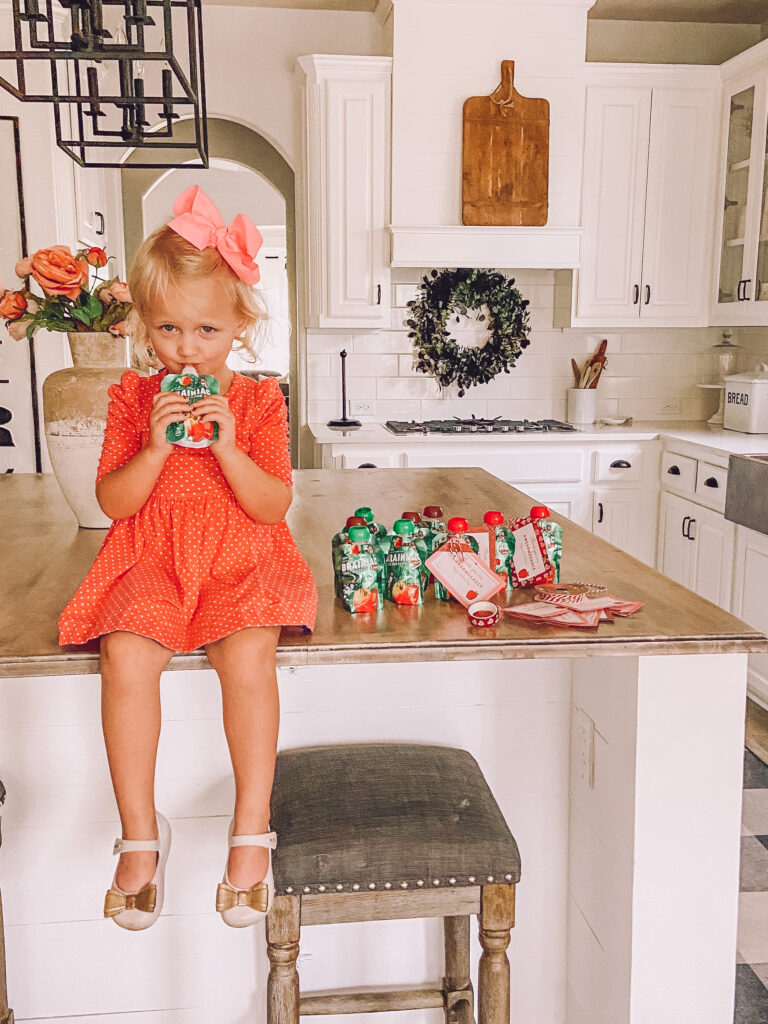 xoxo,
Leanna