Sharing is caring!
I can not believe it is almost Fathers Day! Where does the time go? On fathers day we usually spend the day as a family and head to Simons favorite restaurant for dinner. It will look just a little bit different this because of Coronavirus but we will still make the best of it! Today I am sharing some fun Fathers Day gift ideas to help find the perfect gift! I feel like guys are SO hard to shop for, or maybe its just my Guy! If he doesn't have something, he will buy it… so I have to always think outside the box!
I rounded up some gifts from Amazon and from Target; my two favorite places to shop because of price and convenience! I've been doing more shopping from Amazon and target over the past few months because I can easily order things online or pickup in store!
Fathers Day Gift Ideas from Amazon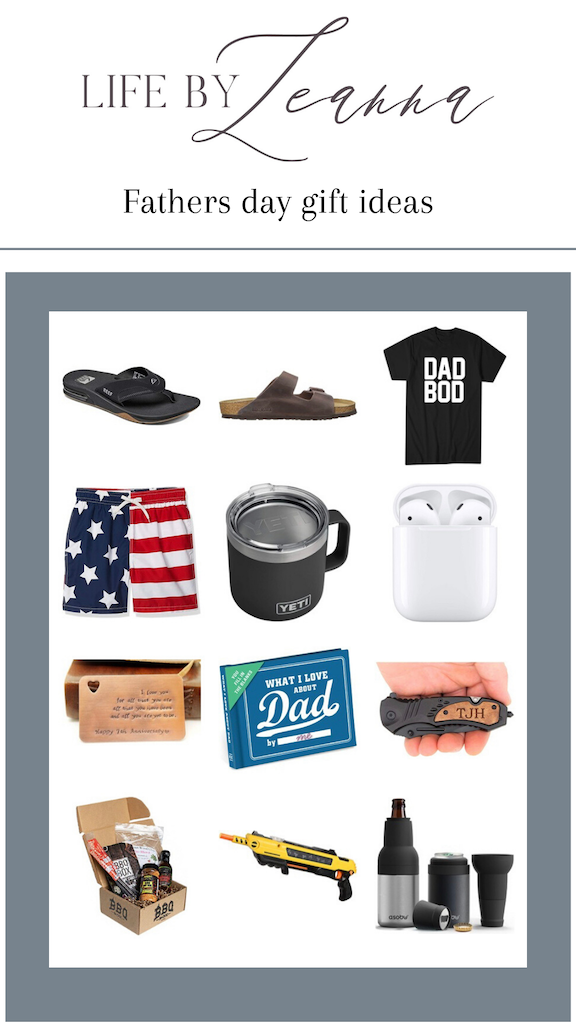 Note: The items above are mostly from Amazon, minus the exception of the copper card!
Reef Sandals – Simon has a few pairs of these and swears by how comfortable they are. They also conveniently have a bottle opener on the soul of the shoe!
Dad Bod T-Shirt – Defiantly something I am purchasing for Simon .. haha.
American Flag bathing suit shorts
Copper Wallet Card – I wanted to include the copper card in this list because it was a gift I got for Simon as our first anniversary present and to this day you can still find it in his wallet! You can engrave it with whatever quote or saying you want! I love thoughtful and unique gifts like this!
What I love about Dad book – Fill in the blanks to write a special book for dad!
Salt Gun – I gave this to my dad last Fathers day and it is one of the best gifts I think I have ever gotten him! It makes killing pesky flies fun!
Insulated Beer Cooler – I gave this to Simon for his birthday this year and he loves the versatility of it! It can chill a beer bottle or can and also includes a bottle opener.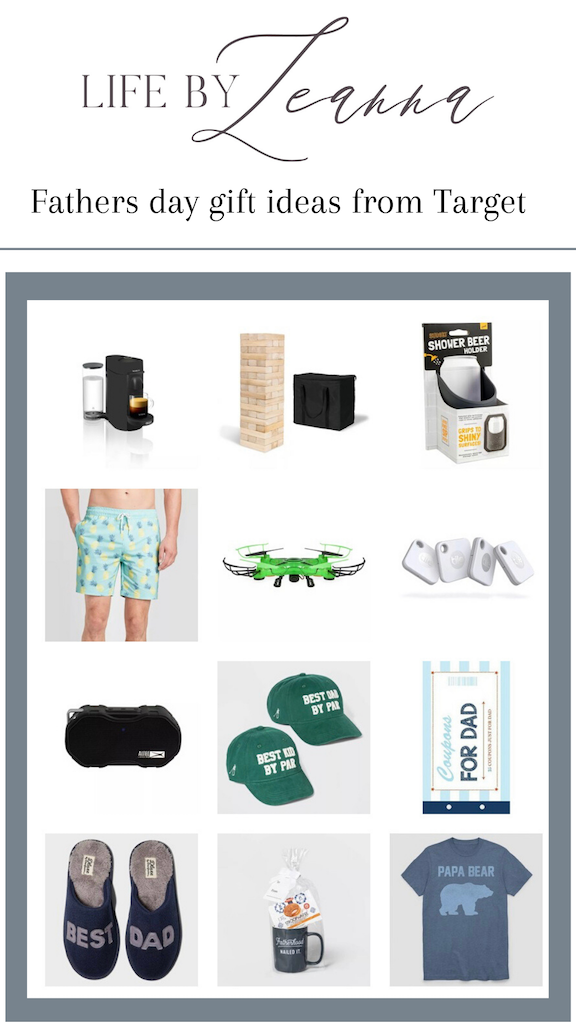 Fathers Day Gift Ideas from Target
Nespresso Machine – Before we had the Rocket maker (while Simon BTW loves.. and so do I, but it is a small fortune), we had this nespresso machine.
Giant Jenga – How fun is this! We need one for our backyard!
Shower Beer holder – Don't all men like to drink beer in the shower?
Pineapple Bathing suit – Simon has these and they are my favorite!
Glow in the Dark Camera Drone – A grownup toy for boys
Tile Mate – This is the best invention for those men who seem to loose everything (ahem…. Simon). But a tile on your key chain to never loose your keys again!
Baby Boom Wireless Speaker – Perfect to take along to the beach this summer!
Best Dad and Kid by Par Hats – too cute for words!
Fatherhood Nailed it travel mug
I hope these fun fathers day gift ideas make your shopping easier this year! If you have any other great ideas, or gifts that were a hit in the past please comment below! I am always looking for fun and unique gifts!
Happy Shopping!
xoxox,
Leanna