Sharing is caring!
Rounded up our favorite items for Holiday Gift Guides to make shopping this year a little bit easier! Its been one crazy year!
I can not believe the holidays are right around the corner! Where did the time go?? I also have done ZERO holiday shopping.. I usually wait till the last minute. However, this year my goal is to get most of it done by Black Friday.. so I have some shopping to do!! I am anticipating the prices on items going up as we get closer to Christmas. There will probably be a lot more online shopping being done this year with everything going on in the world… and I bet there will be some sort of shipping delay and/or extra cost.
Today we have rounded up a few different gift guides for everyone on your list. I hope these gift guides making shopping for your friends and family a bit easier this year. We have put lots of thought into each and every item on each list and I am so excited to share what we have put together.
Holiday Gift Guides for Everyone
Women's Gift Guide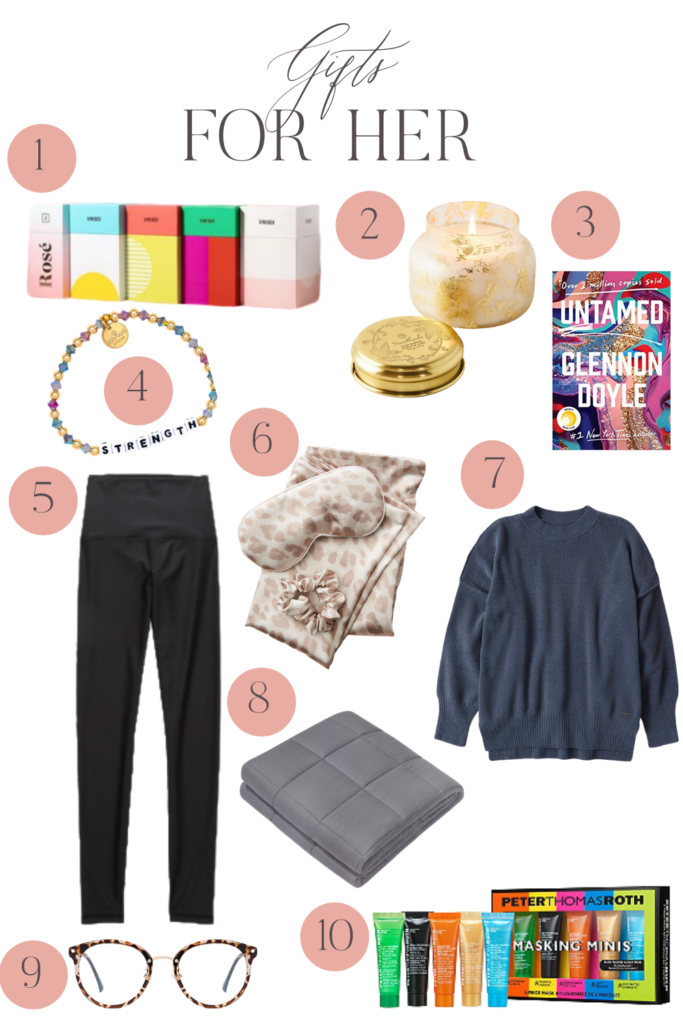 Get Vine Box – The gift of wine never goes out of style. While this is on the pricier side,  I love how you can actually send someone an entire wine flight (9 glasses)! 
Anthropology Candle – Hands down these are the best smelling candles ever. The gold foil detail on this one is great for the holidays. 
Untamed – Glennon Doyle is the hero we all needed in 2020. This book is full of inspiration and perspective on what it means to be a woman today. 
Little Words Project – This time of year is all about spreading kindness. Little Words Project bracelets are the perfect way to do just that. I'm loving this gold-filled collection. 
High Waisted Legging These rival my Lululemon leggings for comfort and support. The gloss finish is great for the days when you want to be comfy but also look put together. 
Satin Beauty Sleep Set– Silk pillowcases are life changing. So great for your skin and makes bedtime a luxury experience. 
Over Sized Sweater – This is truly the only sweater you'll need this winter  in 10 different colors. 
Weighted Blanket – Y'all know how I rely on my weighted blanket. Give the gift of a peaceful sleep. 
Blue Light Glasses – Between all the WFH and screen time in quarantine, our eyes are more strained than ever. These blue light glasses have amazing ratings and are super cute. I've noticed a big difference in my eyes since I started wearing them. 
Mask Kit – I've never met a Peter Thomas Roth skincare product I didn't like. These masks are perfect for winding down and taking care of stressed winter skin. 
Men's Gift Guide
Play Station 5 – It will be a challenge to find the PS5 in stock, but it's a surefire way to make your man's holiday! 
Humans Book – Written by the author of Humans of New York, this is a great coffee table book with inspiring stories that remind us of what it means to be human. 
Sports Action Camera – My husband is probably the most active and adventurous person I know. This video camera can be mounted anywhere for hands-free capture. 
Lululemon mens pants – By far the most comfortable pants that still look nice. A rare find in my book. 
Beer Chiller – Great for any beer drinker. 
Abercrombie Mens Parka – This parka is lightweight yet super warm. 
Oura Ring – Perfect for any guy into health and wellness. Wear it to track your sleep, activity, heart rate, and even temperature. 
Adidas Sneakers – A go-to sneaker for in and out of the gym. 
Keihls Set for Men – Guys need skincare too. Keep it simple yet effective with this Kiehls set. 
Baby Gift Guide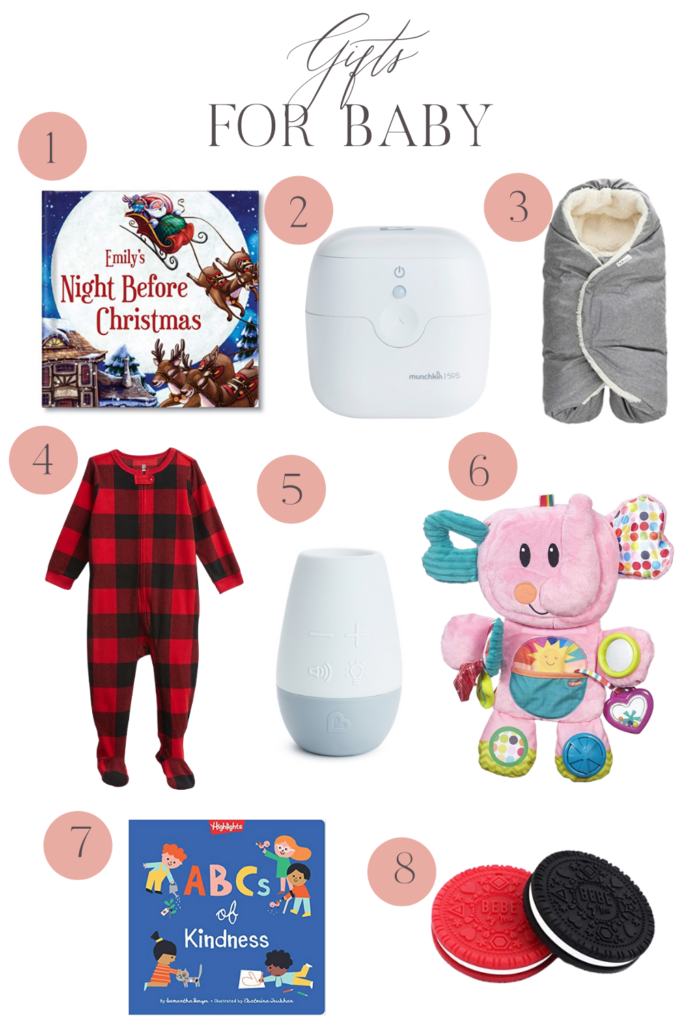 The night Before christmas – A personalized Christmas book will be the highlight of baby's  holiday seasons for years to come. 
Bottle Sterilizer – Sanitizing has never been more important. This one is easy to take on-the-go. 
Infant Car Seat cover – This is quick and easy for keeping your little one snug and warm on walks! 
 Christmas Onesie – Never too young for red plaid jammies! 
Sound Machine – My babies need their sound machines. This one has three different sounds plus a soft nightlight glow. It's portable & perfect for travel. 
Toy Elephant – The highest rated tummy time toy. 
ABC of Kindness – Teach them kindness from day 1. The world needs it! 
Oreo Teether – Teething never looked so cute. Love these oreo inspired teethers. 
Kids Gift Guide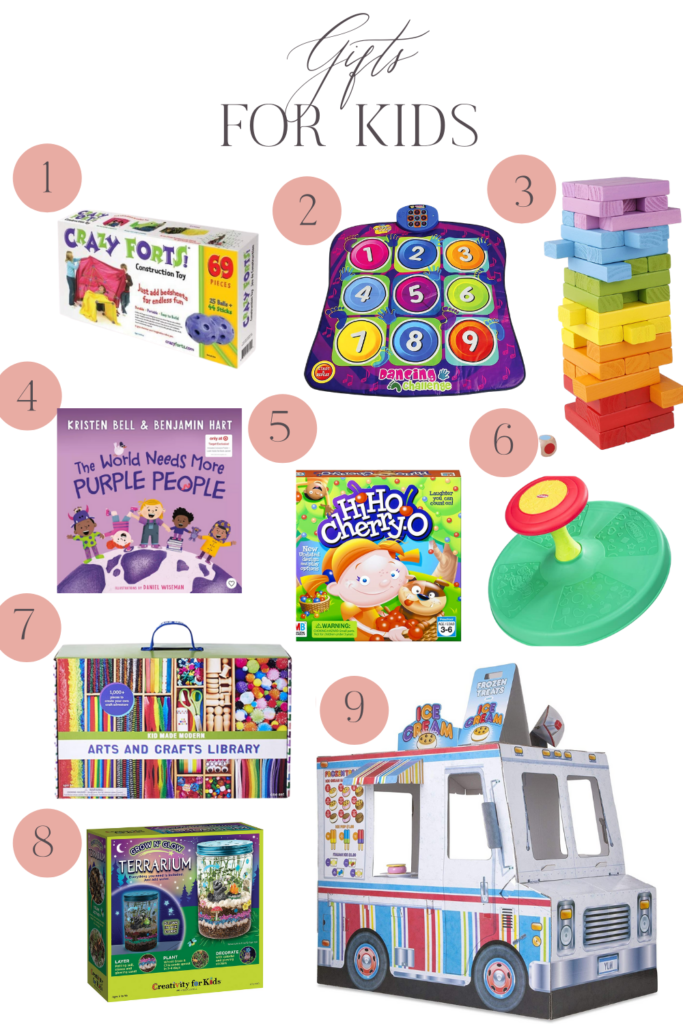 Crazy Forts – I don't know about you, but my kids have made loads of forts during quarantine. This would definitely keep them busy longer! 
Numbers Dancing – My kids love to dance. This mat is super interactive–helps develop coordination and keeps them focused! 
Stacking Blocks – Jenga for kids! The best. 
The Worlds Needs More Purple People – Great book about the importance of embracing others and being your best self. 
Hi Ho Cheery O! – This was my family's favorite childhood game. Guarantee it will be a hit with yours too.
Sit and Spin – Anyone else remember these? They're back! Keep your kids dizzy & occupied 🙂 
Arts and Craft Library –   My girls are obsessed with arts and crafts. I can barely keep up with keeping their supplies stocked! This kit has a lot inside and is nice and organized. 
Terrarium Kit – These look so fun–and help teach your kids about science and art. 
Food Truck – Such a cute playhouse to get your kids' imaginations going!
I'll be sharing more gift guides in the weeks to come! Especially with gifts related to kids!
xoxo,
Leanna