I am so excited to finally reveal our movie room refresh with Ashley Homestore. The movie room is pretty much the last room in the house to get some love, but it is also the room that gets played in the most.
The next few photos are what our movie room used to look like, the first one being the listing photo. These aren't the prettiest pictures but they are the only ones I have! I wanted to be able to show you how far this room has come since we moved in! The walls were painted a really dark deep purple.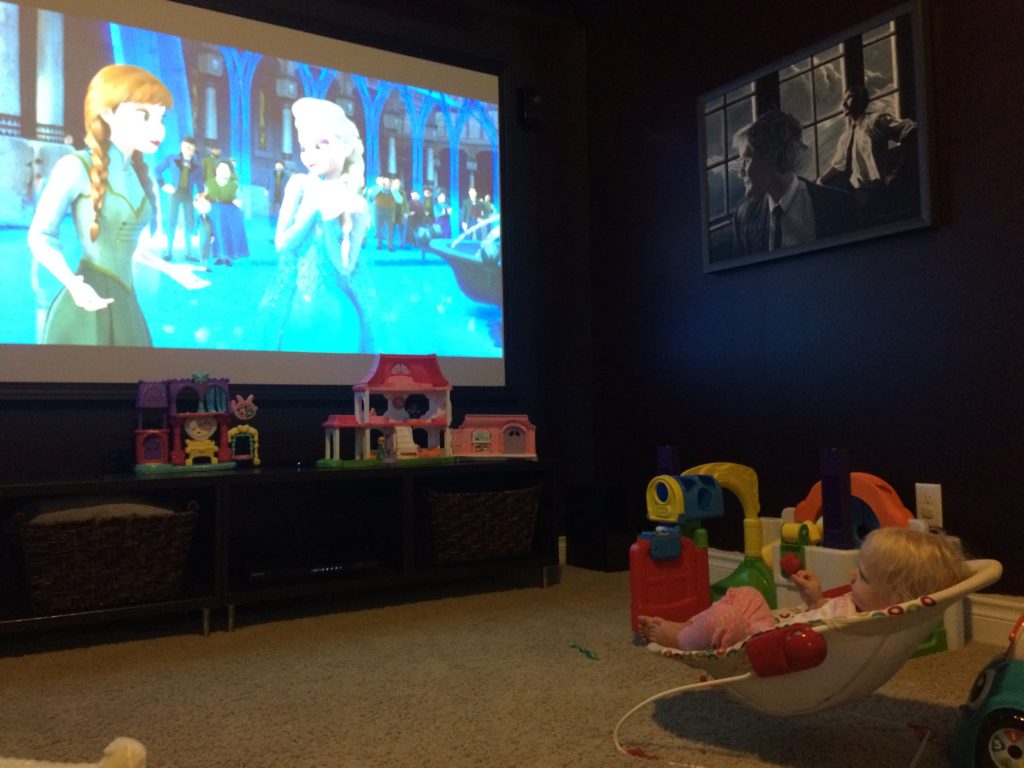 My kids spend hours in the movie room playing with their toys so we wanted to make sure this space was also functional as a kids play room. When we first moved in the room had a step up, for movie room theater seating. We decided to remove the step up and have the floor be one level because the step up prevented us from having a large sectional which we wanted in the space. After we removed the step up, the room appeared so much larger!
We also installed vinyl plank flooring on the wall with the movie screen to give the room more texture. It is an easy and cost effective way to add something extra to any room. Next, we installed a semi-custom built in along the wall to store more toys and our entertainment system. My husband used kitchen cabinets from IKEA to create the built in, and used 2×4's as the table top.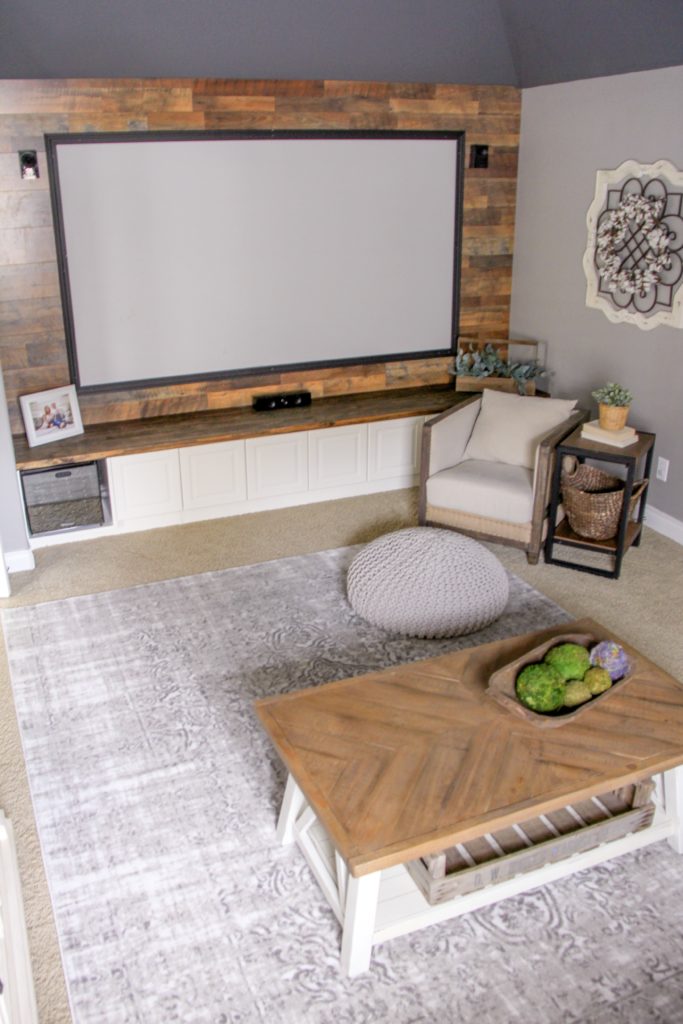 When we were ready to furnish the room we knew we wanted a comfy large sectional in the space and we finally found the perfect one at Ashely Homestore. This sectional is called the Savesto 5 Piece Sectional from the new line, Mane + Mason from Ashely Homestore. We love it because it can be moved around to create different figurations. The cushion covers can also be removed and thrown into the wash which is ideal when you have kids!
The rest of the room was also furnished with Ashley Homestore from the new Mane + Mason collection. This collection features modern farmhouse pieces, including bedroom, office, and dining room furniture and accessories.
We added this coffee table that has a great modern farmhouse feel. The pattern on the top is my favorite.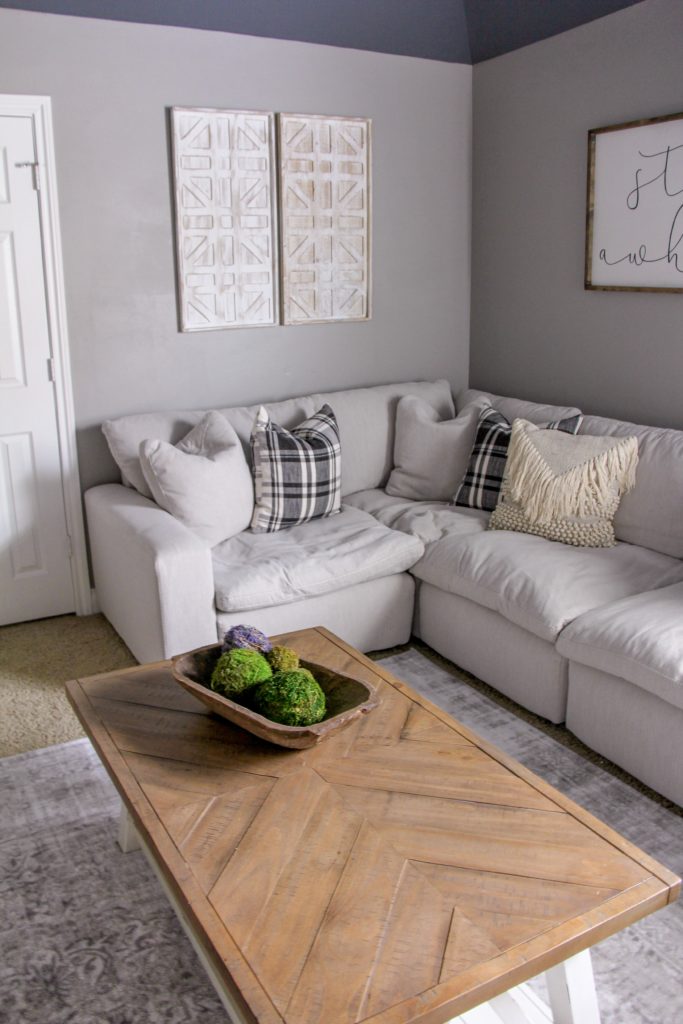 Since having kids, we are always looking for ways to add more storage. We decided on this dining room server which stores all of our puzzles and games.
I absolutely fell in love with this chair when I saw it and it is the perfect addition to complete the space.
We absolutely love how it turned out and the kids love it too!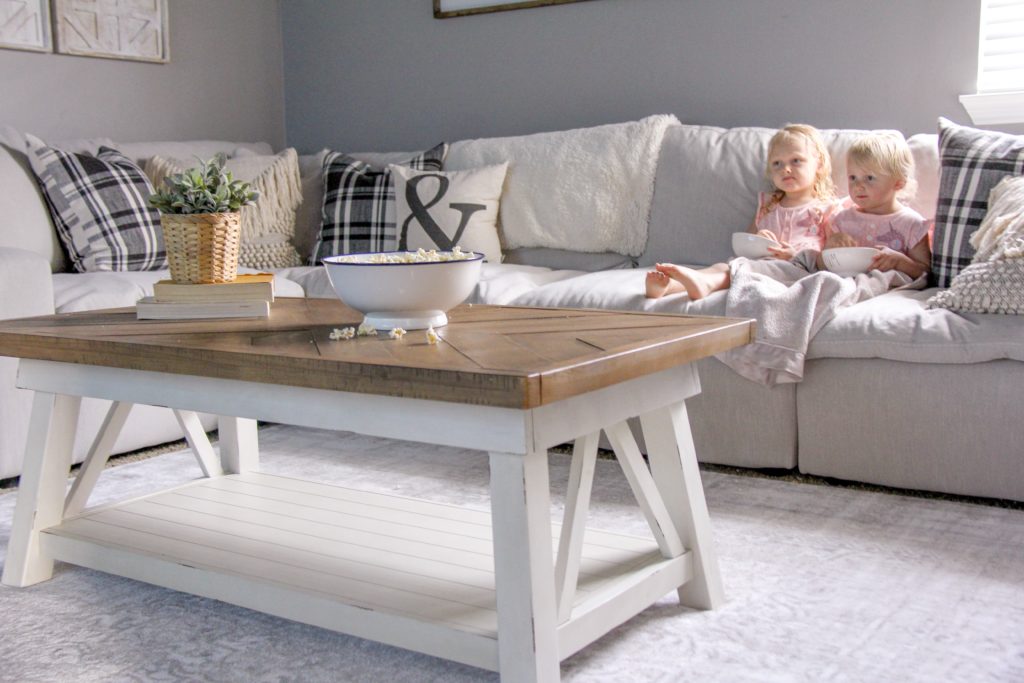 I hope you get a chance to check out the new line Mane + Mason from Ashely Homestore. The modern farmhouse feel along with the affordable price tag makes this line my new favorite!
I also added the shopping links for your convenience.