Easy Air Fryer Granola Recipe as a Healthy Snack
Healthy and easy air fryer granola recipe made with basic whole ingredients that are good for you! Learn how to make this delicious healthy snack in the air fryer in half the time.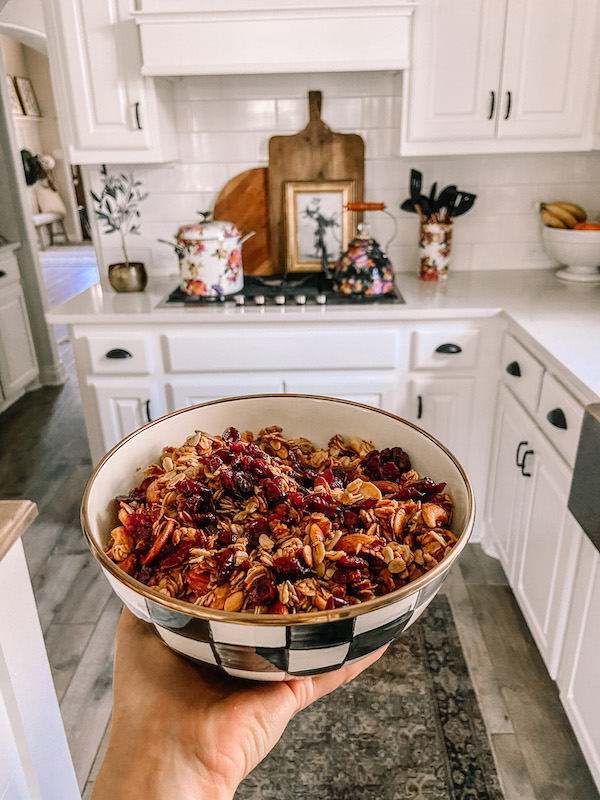 Do you have an obsession with your air fryer like I do? I honestly have no idea how I survived without out!! I have been trying out all my favorite go to recipes using my air fryer and I haven't found one that I could not convert with my new favorite kitchen appliance.
This easy granola recipe is now even easier with the air fryer! It only takes 10 minutes instead of the usual 30. Granola has always been one of my favorite things to make because of the variety of ways you can eat it!
How to Eat Granola
Eat it all on its own!
Sprinkle on top of vanilla ice cream for an extra crunch
Add it to your favorite yogurt for breakfast
Make a parfait full of yogurt, berries and granola!
Eat it with milk as a cereal for breakfast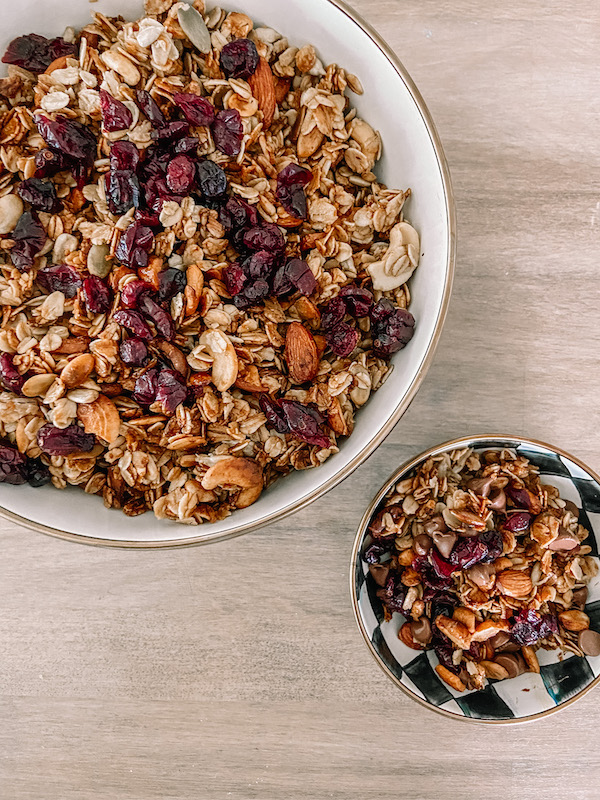 How to Make Homemade Air Fryer Granola
Today, there are hundreds of varieties of granola, featuring every combination of nuts, fruits, seeds, and sweets. I love to make my own not only because it is cost effective, but it is also healthier and tastier then the store bought varieties.
Making your own version is simple and allows you to include only your favorite ingredients. The fun part about making airy fryer granola is that you can mix up the ingredients every time you make i!! All you need is the key ingredient: rolled oats . Here is a simple recipe to get you started.
Note: you can always add more honey + oil, if the mixture is too dry or if it is too wet, add some more rolled oats.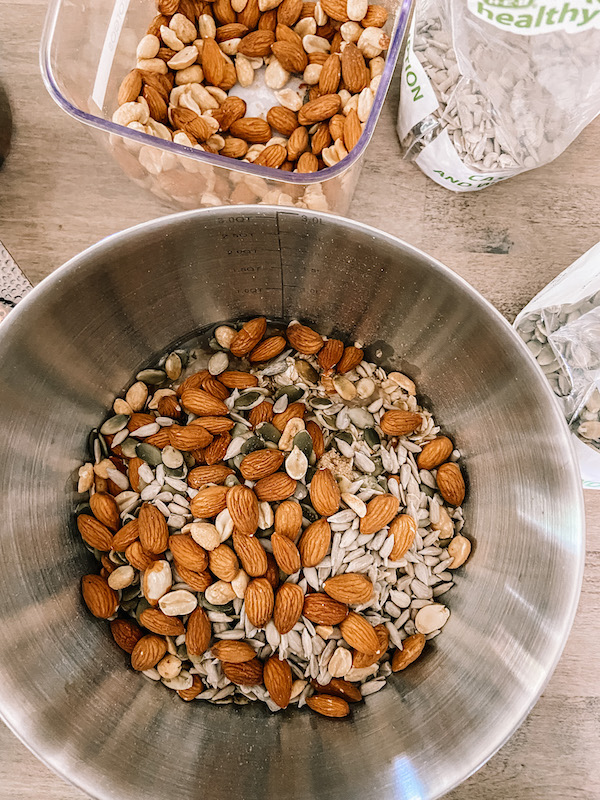 Ingredients to Make Air Fryer Granola
3 cups rolled oats
1/3 cup cup honey
½ teaspoon salt
3 tablespoons brown sugar
¼ cup seeds (pick 1-2) – sesame seeds, chia seeds, pumpkin seeds, sunflower seeds, etc.
¼ cup nuts (pick 1-2)- almonds, cashews, pecans, walnuts, etc
1/4 cup other dried fruit – cranberries, raisins, apricots, dates, etc.
¼ cup chocolate chip morsels, optional – after the granola has cooled down. 
Directions
Add melted coconut oil to a mixing bowl, followed by honey, and brown sugar. Mix well. 
Add all the dry ingredients including: rolled oats, nuts and seeds to the honey-oil mixture. Mix them till they are well- combined. 
Add the rolled oats mixture and spread it out evenly into the basket of the air fryer.
Air fry at 400 degrees for 10 minutes, stirring 2 or 3 times in between.
When finished, transfer the granola mixture to a baking sheet. Add the dry fruits, if using and mix it well.
When the granola mixture is completely cooled off, mix in the chocolate chips and store it in an air-tight glass container for about 3 weeks.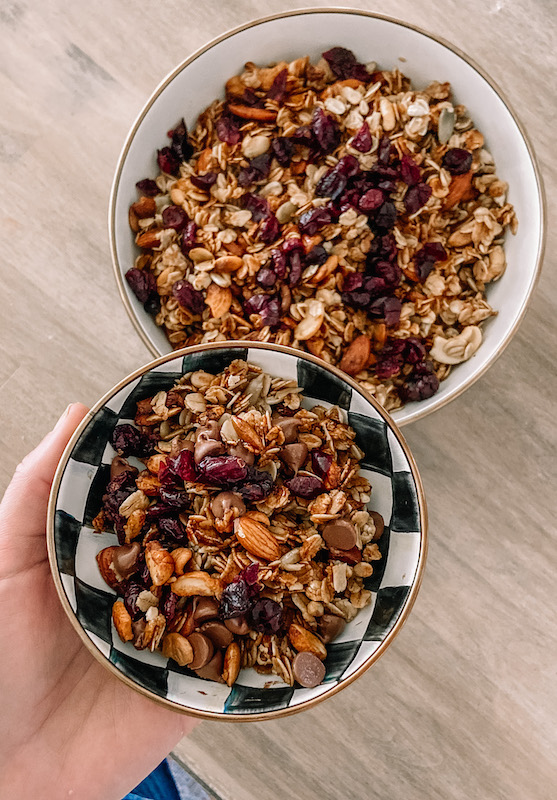 Enjoy!
xoxo,
Leanna