Easy Healthy Chicken Fingers for Kids
If you know me well by now, you might know that I enjoy cooking healthy meals for my family! I also will really only try a recipe if I can make it in thirty minutes or less, unless its a holiday. In our house, dinner time is usually hectic and I don't have the extra time to spend in the kitchen. One of the kids favorite dinners that I make are these easy healthy chicken fingers. This recipe is not only quick to make but also delicious! These are a kid and adult favorite!
I always make a big batch of chicken to last us more than one night since my kids love it and its also healthy. This recipe contains no eggs, dairy or wheat! The recipe is made using Panko crumbs which I use to substitute bread crumbs. However, you can use breadcrumbs if you prefer those instead. I always think Panko gives it a nice crunch!
You can make this recipe using chicken breasts, or chicken strips. If you use chicken breasts, you can cut the chicken up first in bite size nuggets for kids!
In my house, instead of french fries, I make these simply crunch green beans for a healthier fry option. It is another simple recipe that your kids will LOVE!
How to Make Easy Healthy Chicken Fingers
Ingredients
1 cup of Panko seasoned breadcrumbs (or you can use Italian seasoned regular breadcrumbs)
1/2 cup grated parmesan cheese
1 1/2 lb. chicken tenders (or cut up chicken breast into bite size pieces)
1/4 cup olive oil
Instructions
Preheat the over to 400 degrees. Spray a baking sheet with non stick cooking oil.
In a medium size bowl, mix the parmesan cheese and Panko Breadcrumbs
Pour the olive oil into another medium bowl
Dredge the chicken in the olive oil first and then into the breadcrumb mixture. Make sure all sides are coated evenly.
Place the chicken on the baking sheet
Bake for 25 minutes, and flip the chicken over halfway through.
Serve warm with ketchup or your favorite dipping sauce.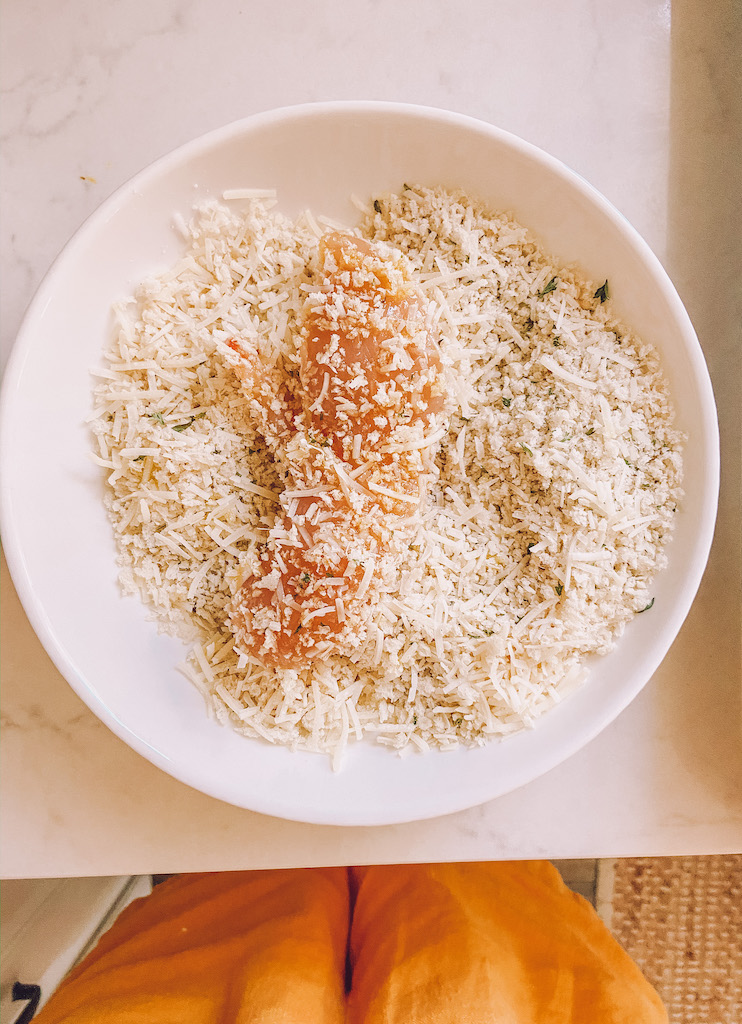 If you are looking for a yummy healthy recipe for dessert you should try out this banana bread recipe!
Enjoy!
xoxo,
Leanna