How to upgrade Your Builder Grade Home on a Budget
Welcome back friends!! Or if you are new here I am so glad you decided to stop by!! If this is your first time over on the blog you may have missed my original blog post where I shared How to Upgrade Your builder grade home. Over the past 4 years, we have slowly renovated each and every room of our house.
The journey of our home renovations begins with Part 1, which includes the downstairs of our home that you can see here. Today I will walk you through Part 2, the upstairs and the backyard. All of the home renovations that we have done have been budget friendly. It is crazy what just a little bit of paint can do!
How to Upgrade your Builder Grade Home
Let's begin by heading up the stairs! Just recently our upstairs flooring was completely replaced with Luxury Vinyl floor and new carpet from StainMaster. You can read more about how we choose our floors here.
Playroom
The playroom is right up the stairs and is such a big area for the kids! What I loved most about our house was the footprint. One of my favorite things about the playroom is that I can see and hear my kids from downstairs (they can't get away with much!).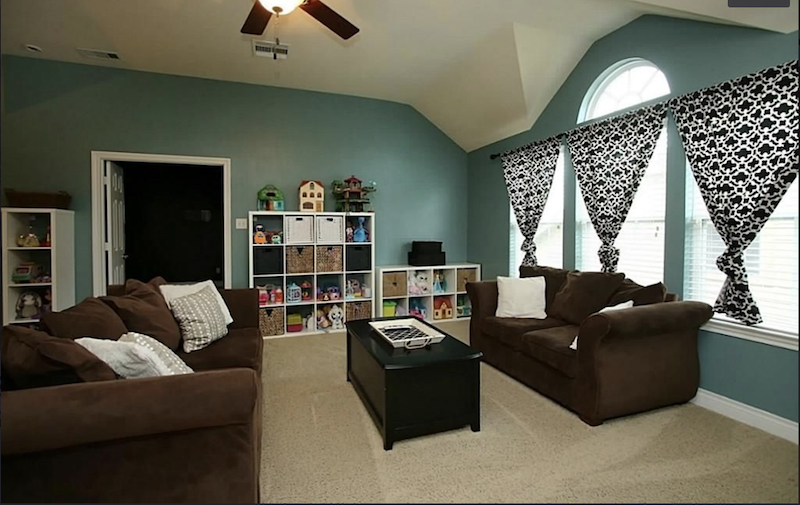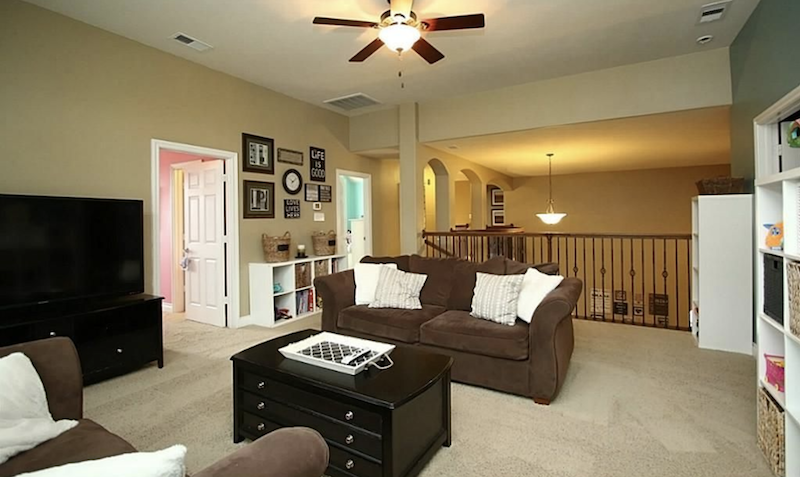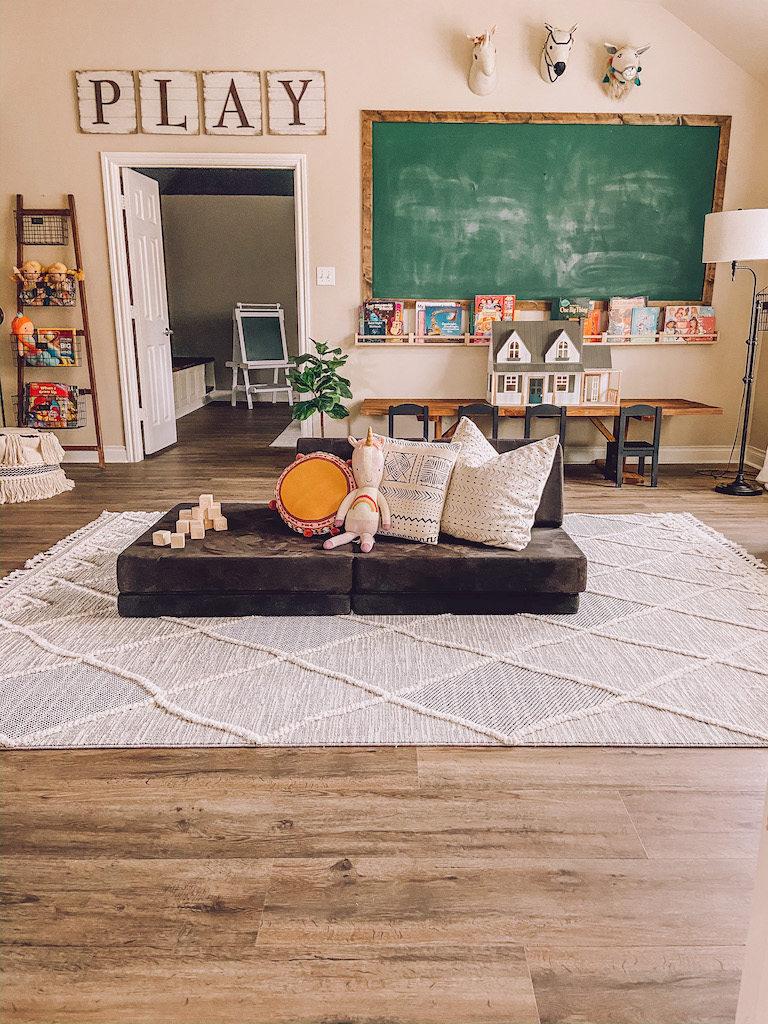 The first thing that we did in this room was the DIY green chalkboard!
I also wanted lots of room for the kids to just be kids! One of my favorite kids room purchases is this black little couch from Nugget comfort! The kids play with it daily as it doubles as a toy! They love to use it to make forts, slides, and use their imagination. We also have a table for crafts and puzzles.
All of their toys are organized in the toy closet which is in the movie room. You can see how we organize the toy closet here.
We also added faux shiplap to the back wall that goes all the way down the hallway. We used thin sheets of 3/4 inch plywood, cut at about 8 inches and spaced them apart using quarters. It was a super easy and cheap project that made such a big statement.
Movie Room
I never knew how common movie rooms are in Texas until we moved here! I would still rather prefer a basement, but our movie room is the perfect spot to watch a good movie and eat candy and popcorn as a family! We also use this space as a part of the playroom since it is right next door.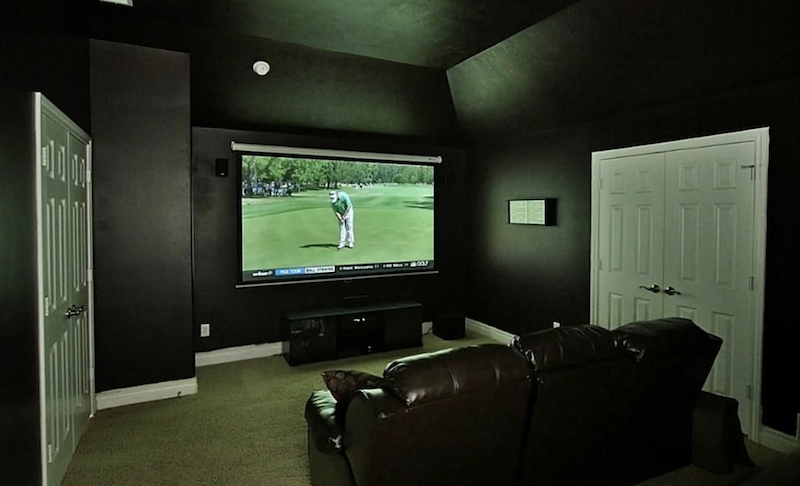 You can read all about our movie room makeover over here. Even though it is a movie room, I wanted to lighten the paint color to allow more light in during the day. We also took out the bottom step up that was used for movie room seating to give this space enough room for a cozy sectional. The room appears so much bigger now!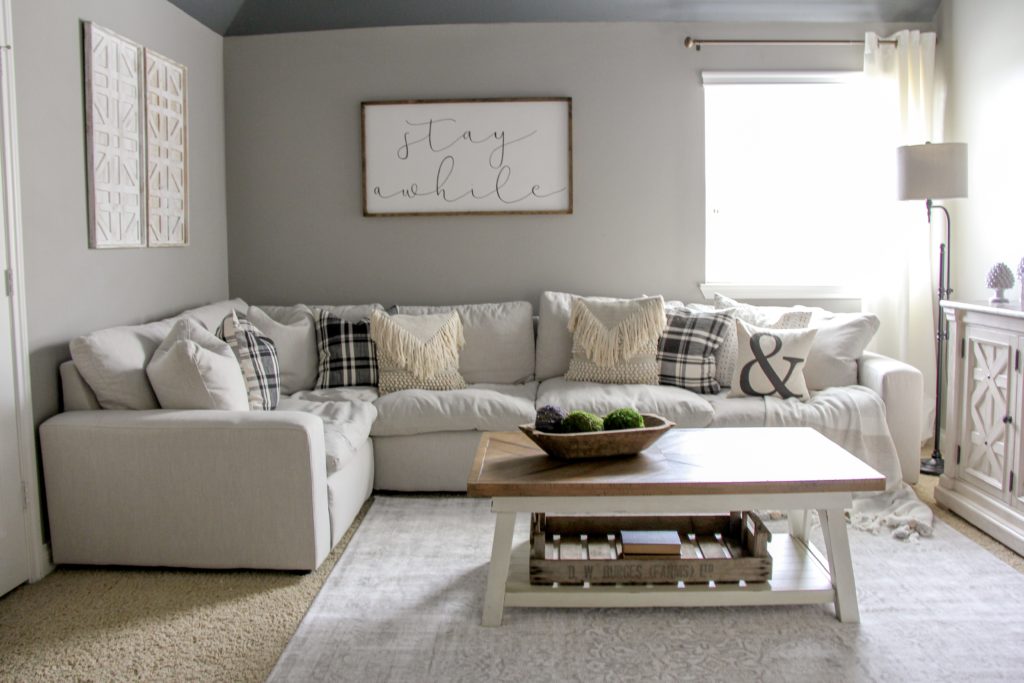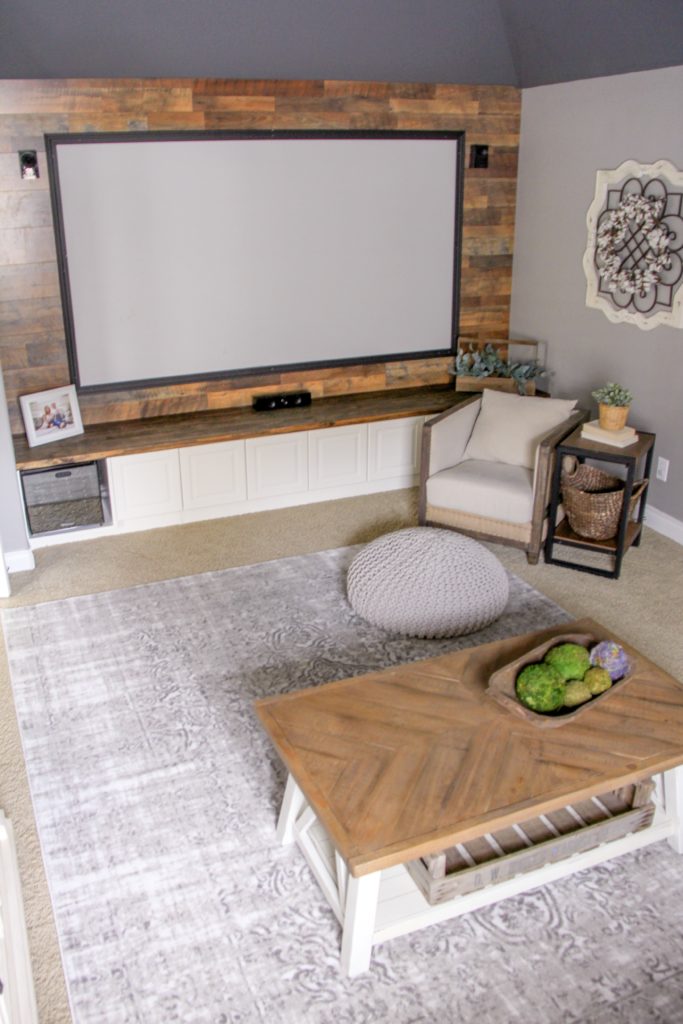 Annabels Room
I think kids room are the most fun to design! I knew I wanted Annabels room to be girly yet soft and flowy. My favorite part of her room is the wallpaper we installed from Rocky Mountain Decals.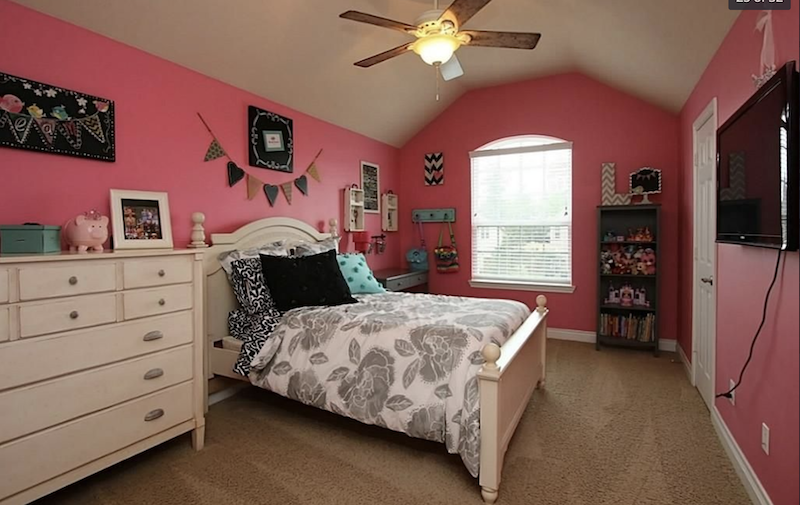 One of my favorite design tips is to hang curtains above the window to make the windows appear bigger. Look how much bigger the window looks now!
I also removed the ceiling fan, and replaced it with this gorgeous chandelier. I have a love hate relationship with fans. But, we did install some new gorgeous fans throughout our home at are all from Hunter Fans.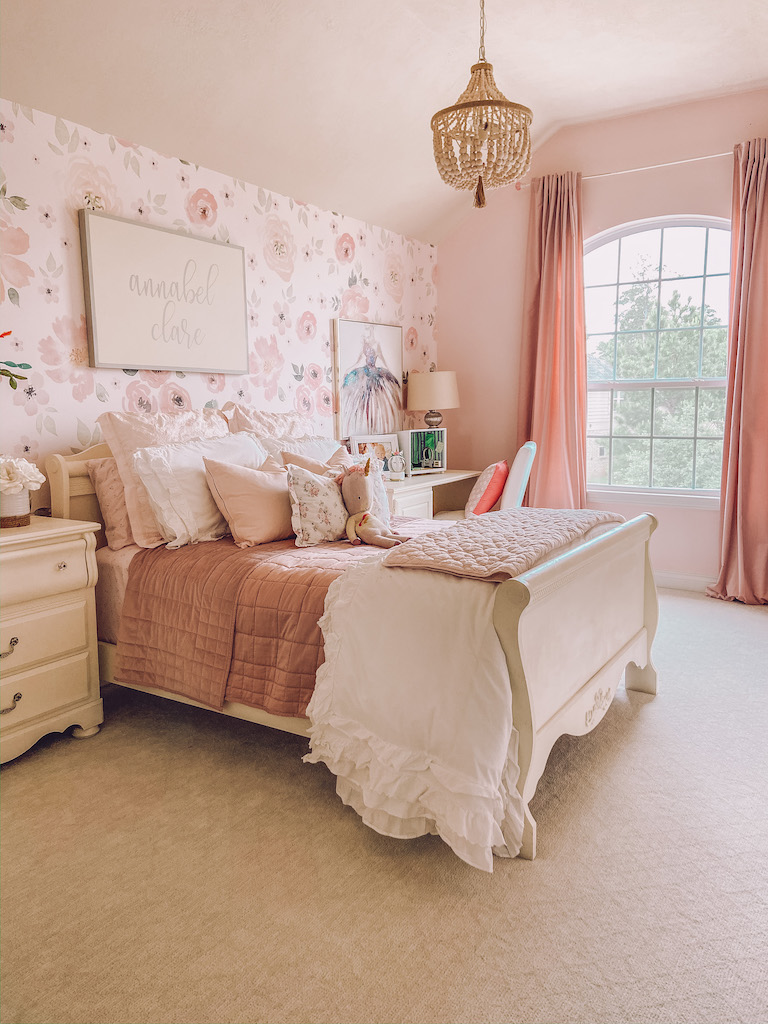 Islas Room
I have an entire post on Islas recent room refresh over here. But, I never did show you what it looked like before. The corner little wall used to give me such a hard time to figure out how to place furniture. But, I added some wallpaper and it is now my favorite part of her room!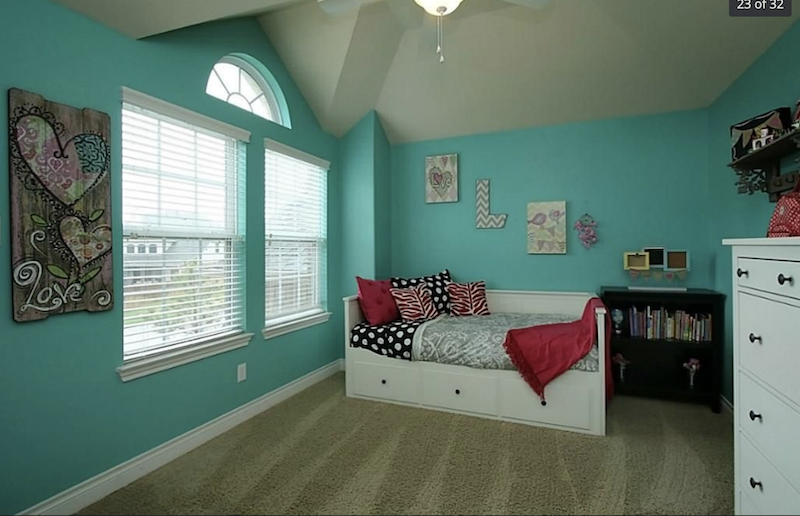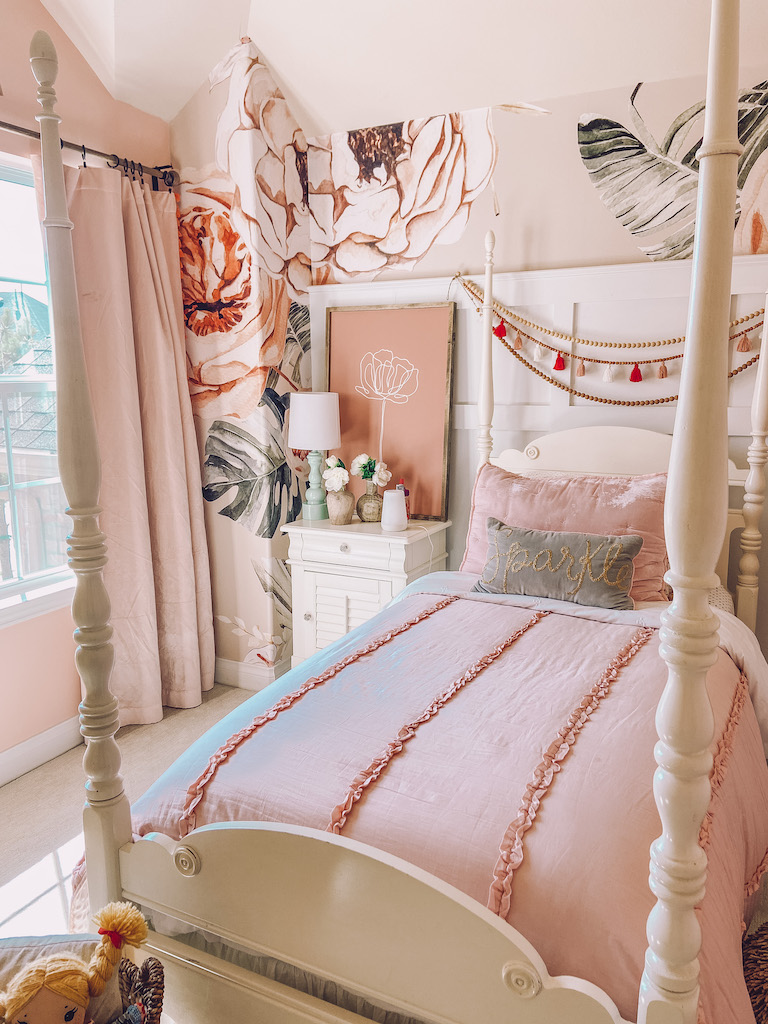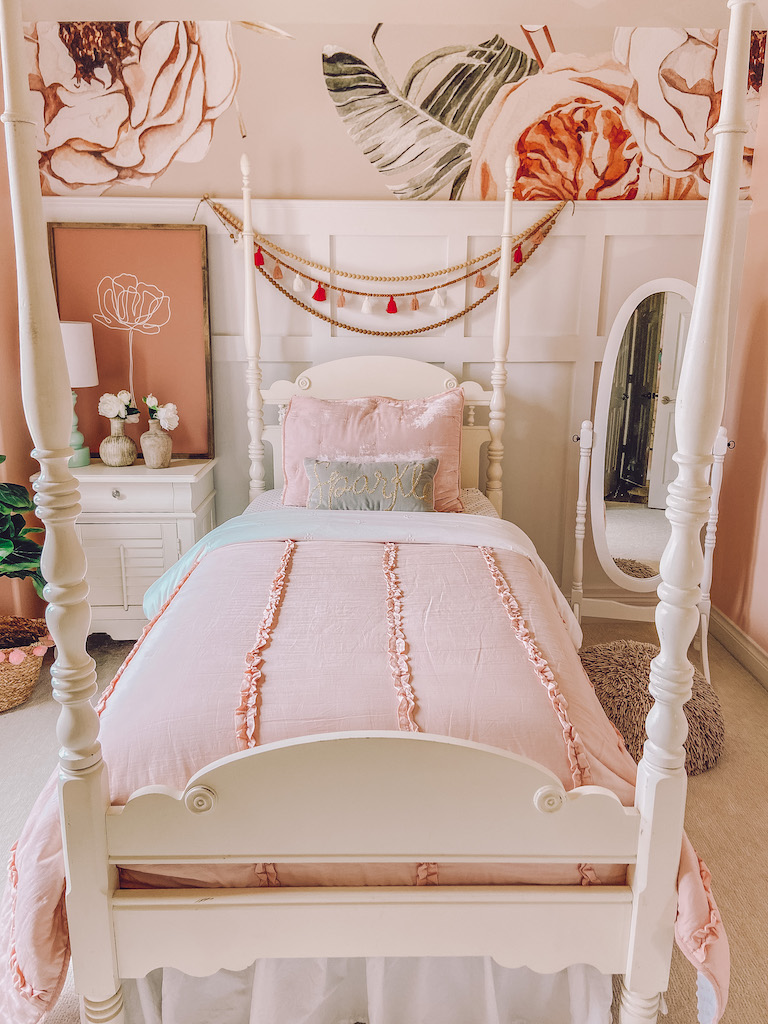 Olivers Room
Oh, Olivers room might be my favorite kids room! I wish I had a blog post of the built ins Simon made before he was born. But, I was pregnant and so very tired!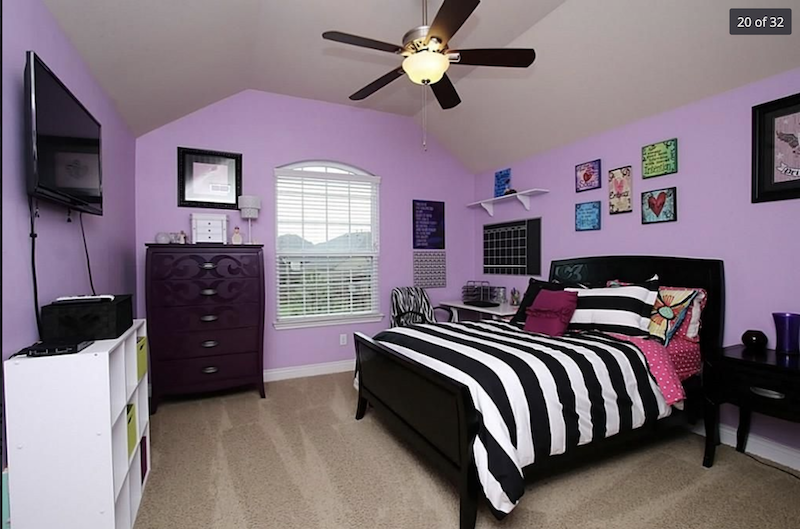 We did update the fan here in his room to one of my favorite fans ever! We also added wood planks this feature wall that is from Weaber Lumber. What I love about the wood planks is that it was so easy to install! All you need is a nail gun!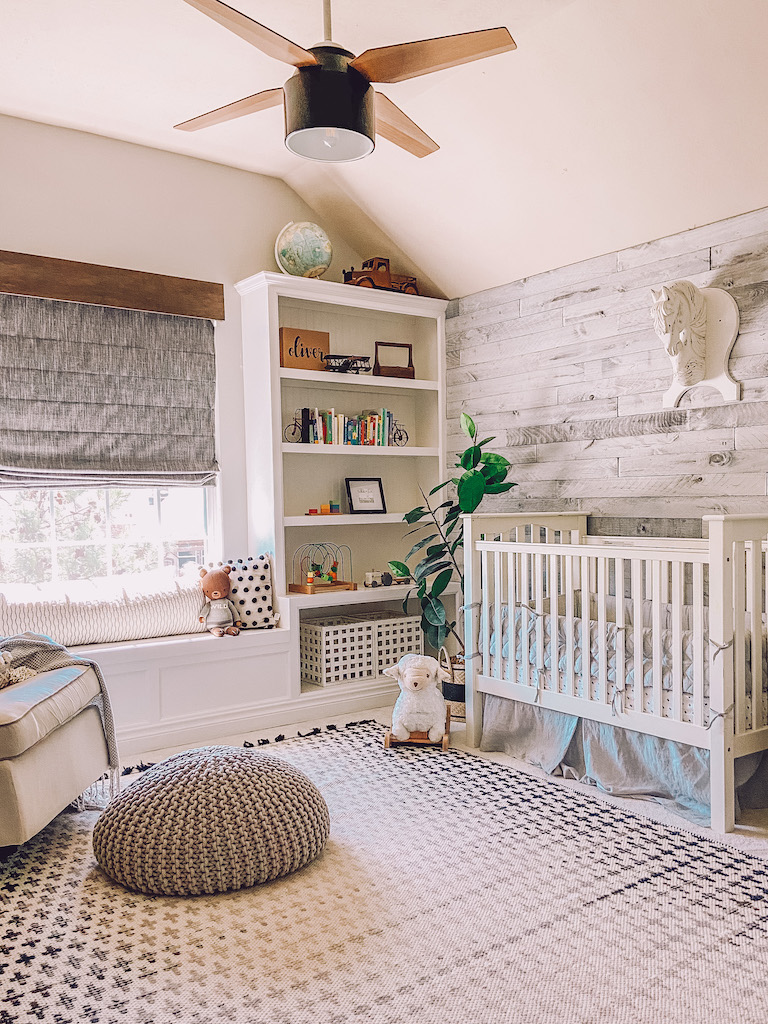 You can see more of Olivers Nursery and some of my kids room organizational tips here.
Staircase and Hallway
I absolutely love the curved staircase in our home. But I really did not like the carpet on the stairs when we first moved in. I am beyond happy with how the staircase turned out after we added the Luxury Vinyl Planks from StainMaster.
We also just recently gave the staircase railing a makeover using Gel Stain. I used the color Java and applied it by following the directions on the can.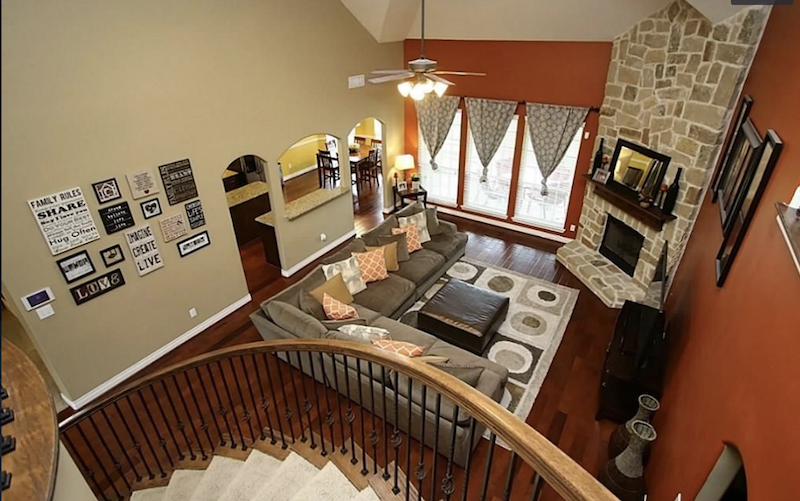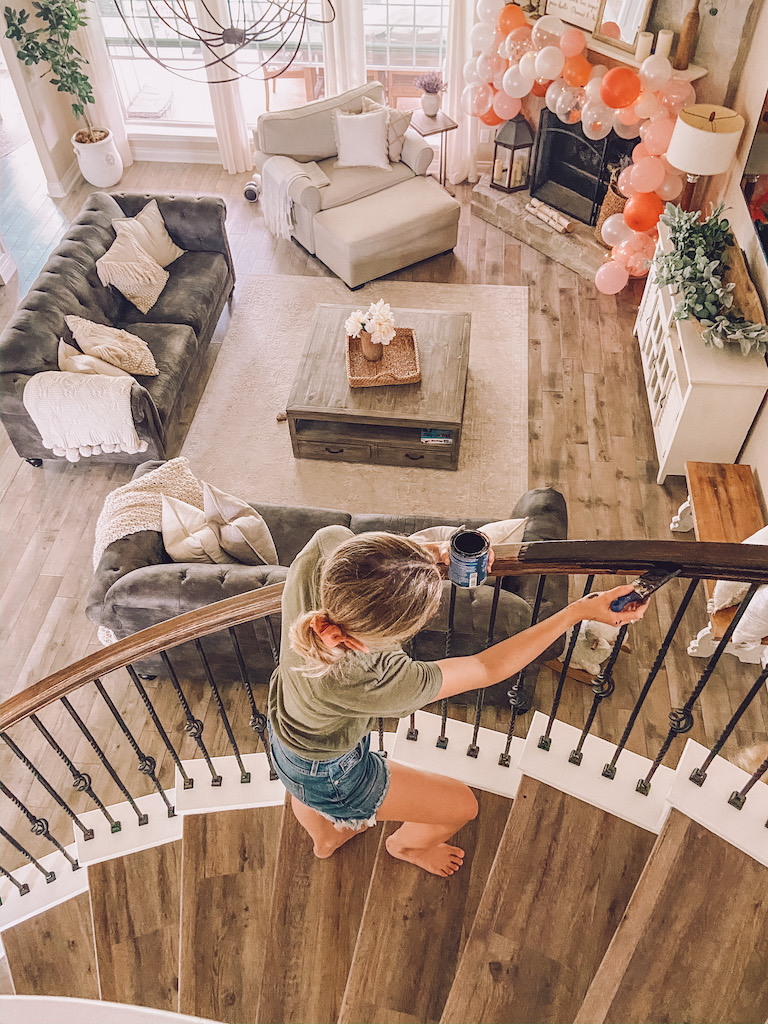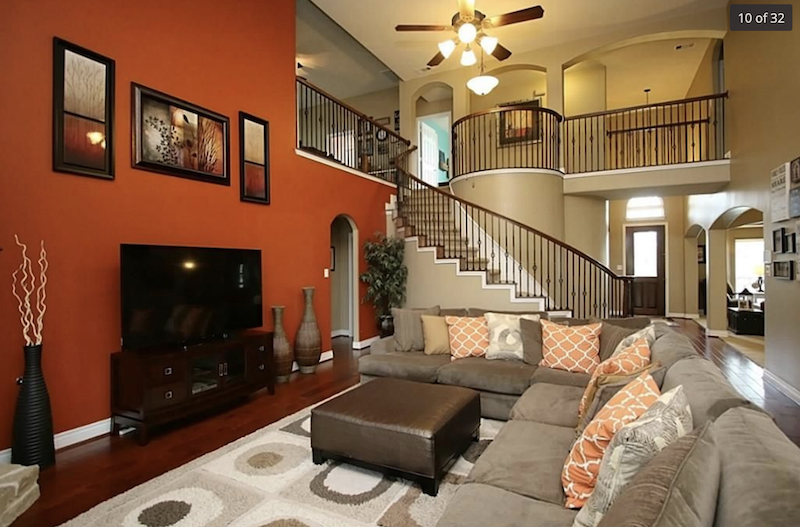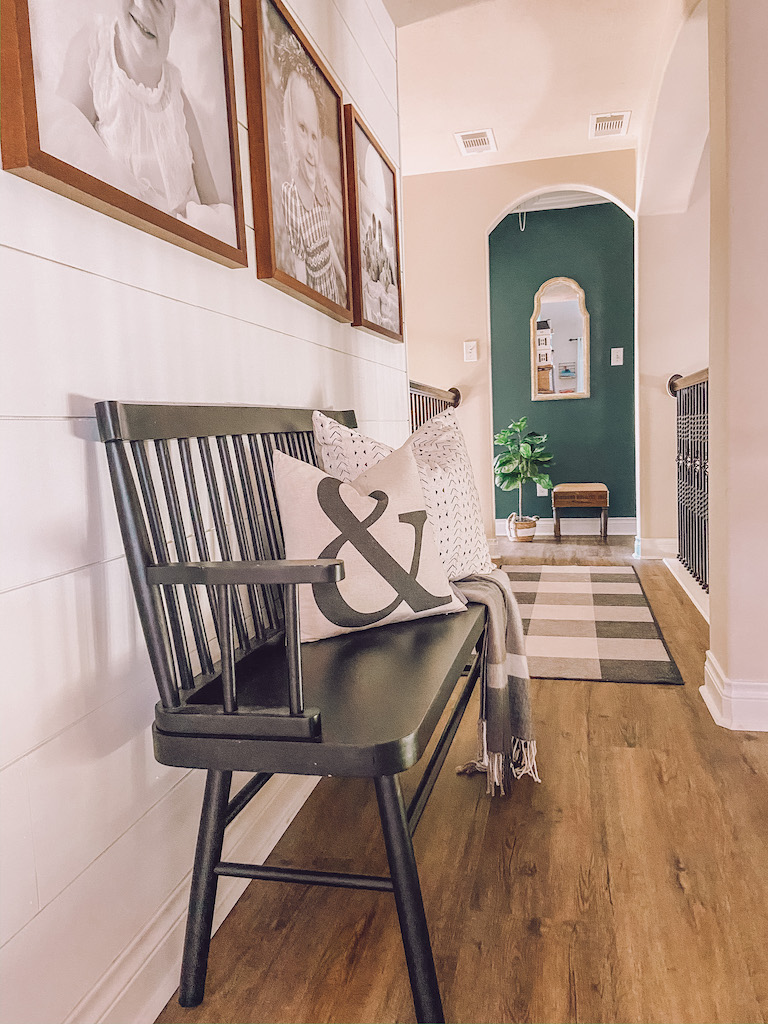 Backyard
Last but not least, I'll bring you out to the backyard which currently feels like an outdoor oasis! Maybe one day we will have a pool, but we spend so much time out here already! It was really a blank slate when we moved in!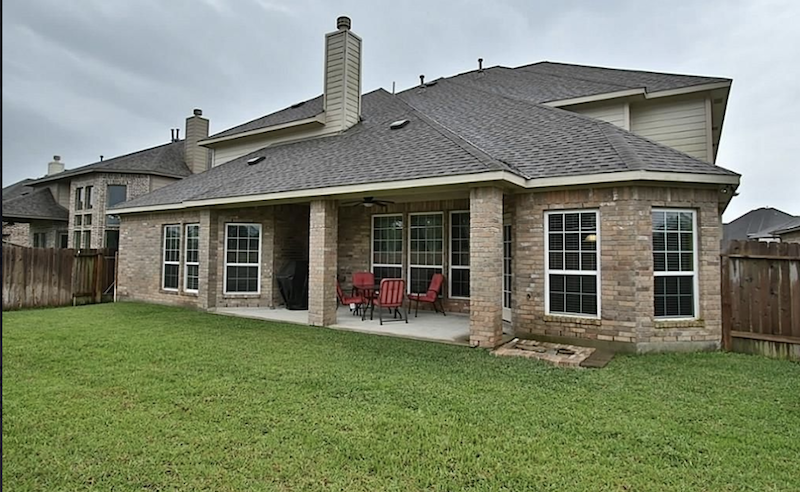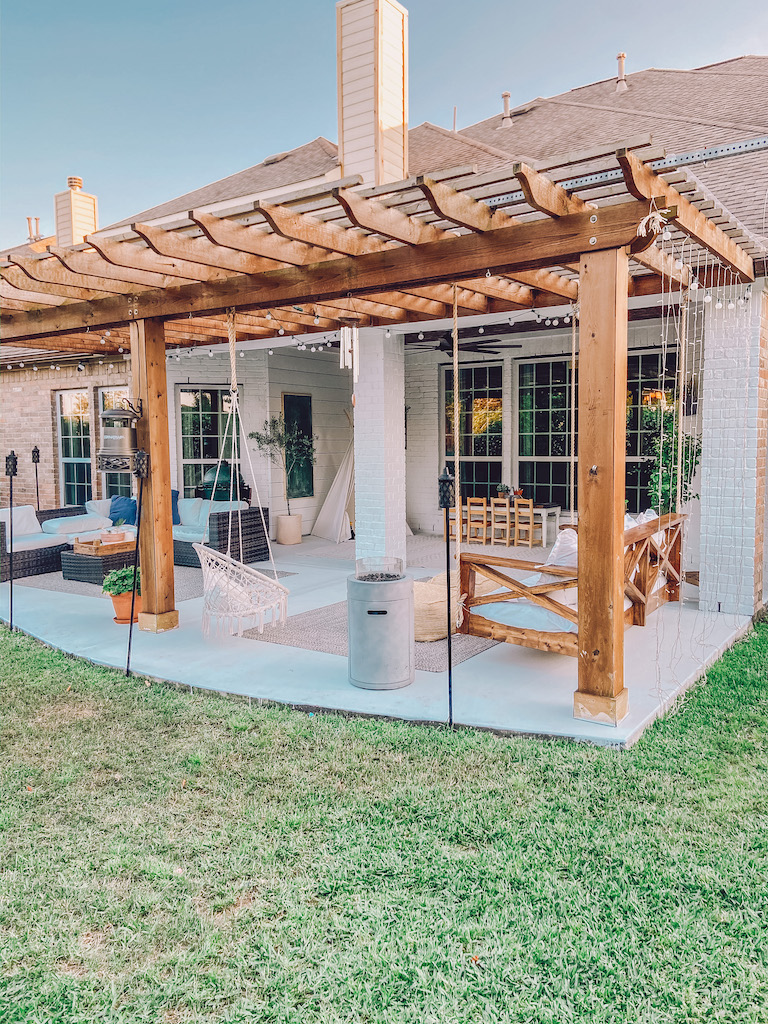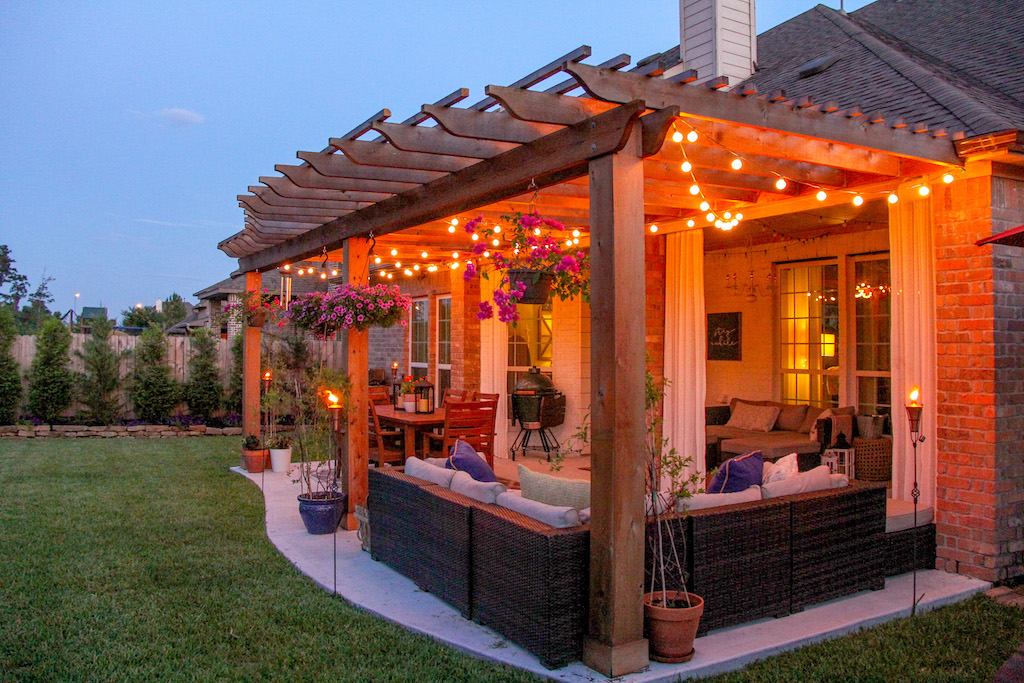 You can see more of our outdoor space over on this post.
Simon built the pergola a few years ago and it is on my list to write a blog post with the plans! It is definitely a frequently asked question.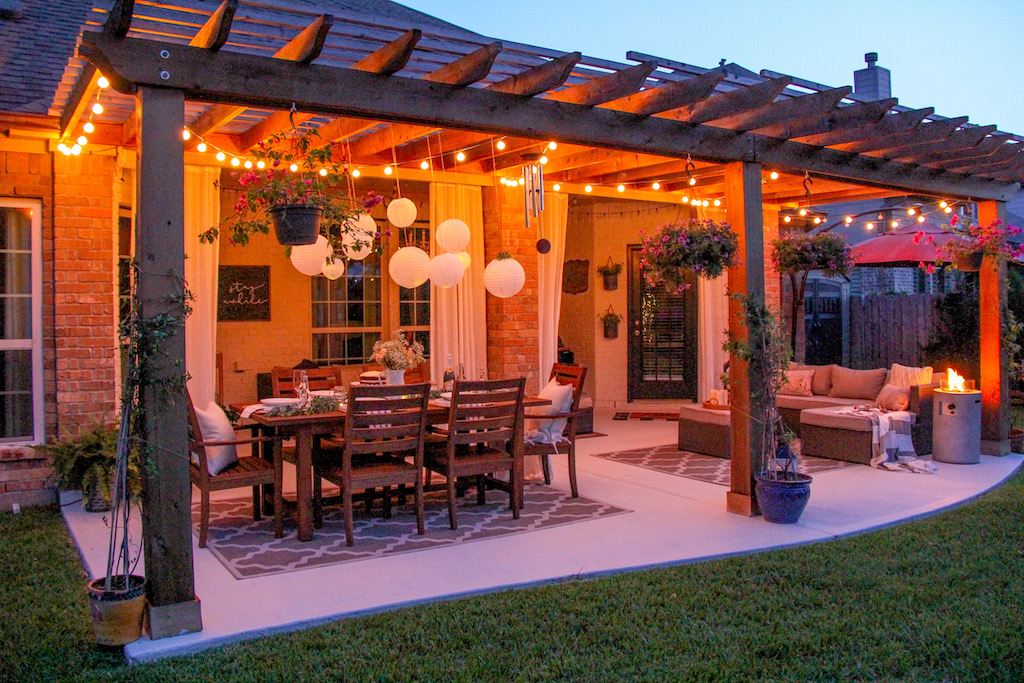 Alright friends! I hope you all enjoyed seeing how our home has transformed over the past 4 years!
Believe it of not, I am not quite finished yet! On my list next is our master closet, and the two bathrooms upstairs! I really don't think I will ever run out of a project to do, but that's what makes it so much fun!
I hope this tour of our home gives you some ideas on how you can upgrade your builder grade home. Remember, it doesn't happen over night but all the hard work is worth it!
xoxo,
Leanna