Sharing is caring!
Mini, baked, and easy pumpkin spice donuts that LOOK like baby pumpkins! These cute and tasty pumpkins are perfect for fall!!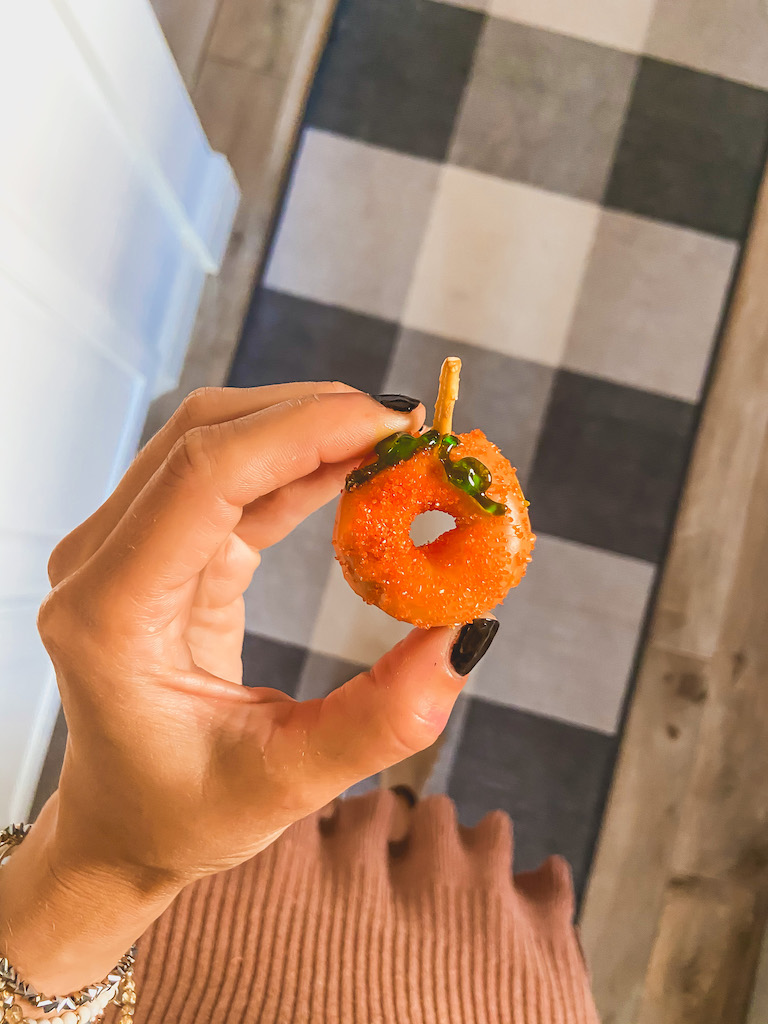 Oh I just love all things fall. Did you know that fall is my favorite season? I love the cooler weather, the fall activities, and I can't forget pumpkins! Anything pumpkin is a favorite of mine, and these mini pumpkin donuts were a BIG hit!!! You really can't go wrong with pumpkin flavored anything.. can you??
If you love Pumpkin flavored things, make sure you try out my famous pumpkin cookies with cream cheese frosting!
We haven't done a lot of baking recently.. maybe because it still feels like summer here. I am really not quite ready to cook up all the cozy foods such as chili and soups. Once the weather gets a bit cooler here I'll be sharing lots of easy and healthy soup ideas! I am all about sharing recipes that are not only easy to make, but that are also healthy!
But I can totally get behind donuts. Donuts are perfect year round… all you have to do is make them look and taste like pumpkins for fall.
Pumpkin Spice Everything
This recipe is SO easy! Hopefully you can fine canned pumpkin in your store, I have heard many states are in a shortage! You can also make this recipe using bigger donut pans. I just happened to have the mini donut pan already.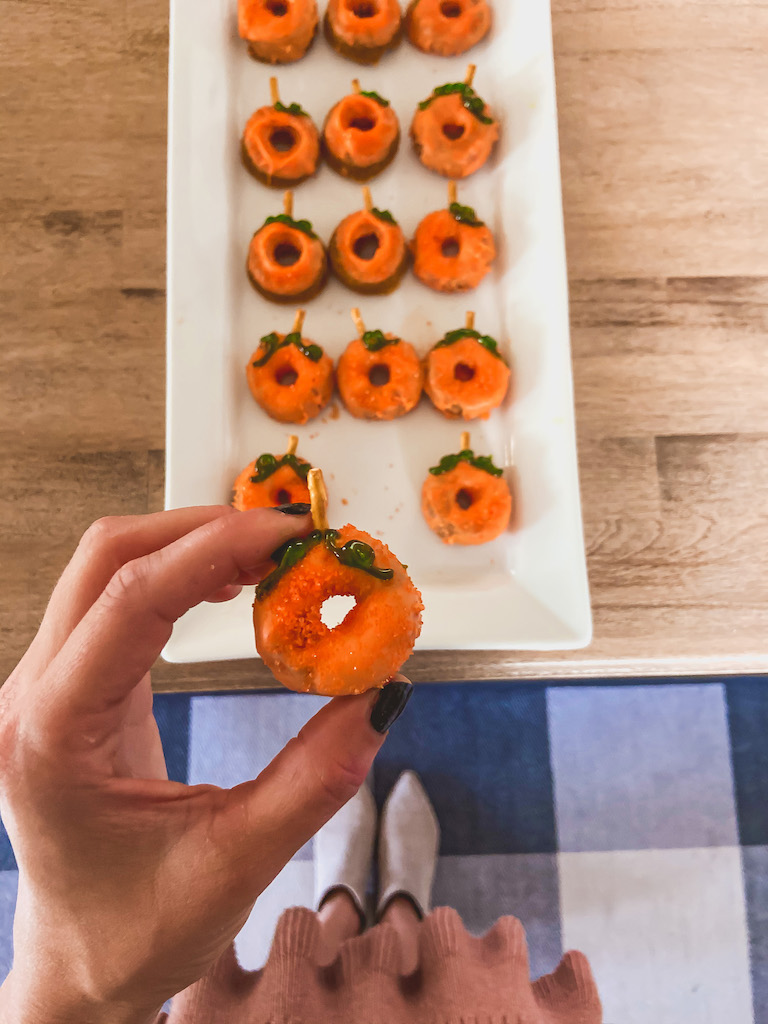 I adapted this recipe from The First Year Blog – I saw the recipe originally on Pinterest and knew these would be so cute and fun to make. Mine definitely didn't turn out as cute as hers did… but they still tasted so yummy!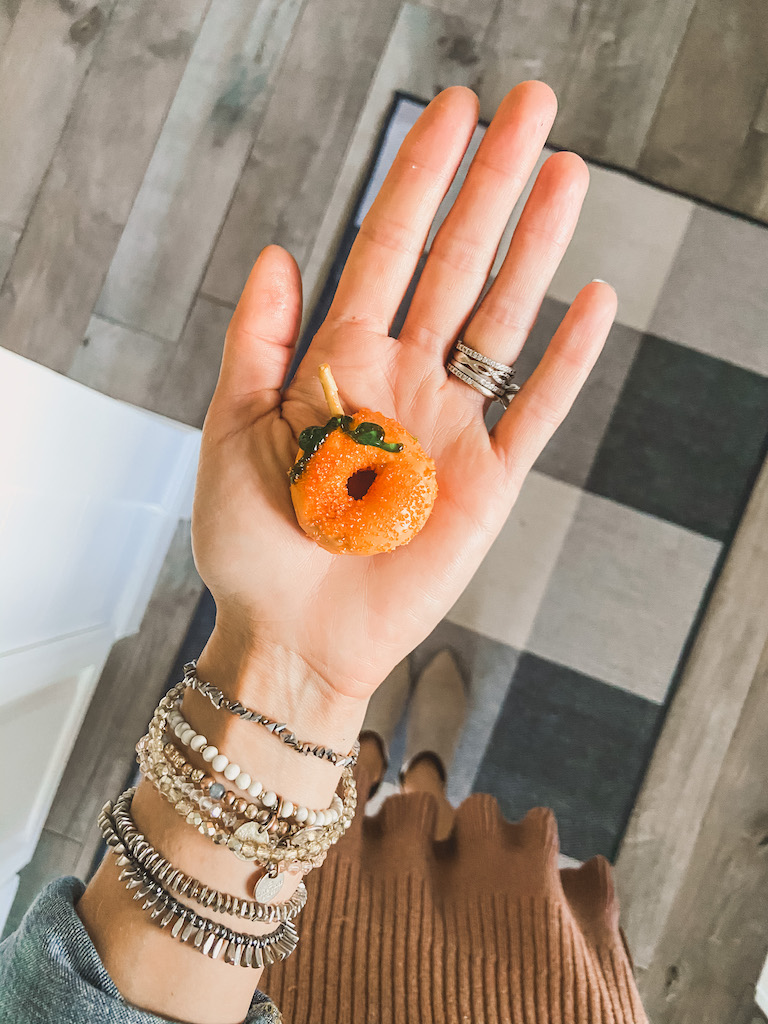 How to Make Easy Mini Pumpkin Spice Donuts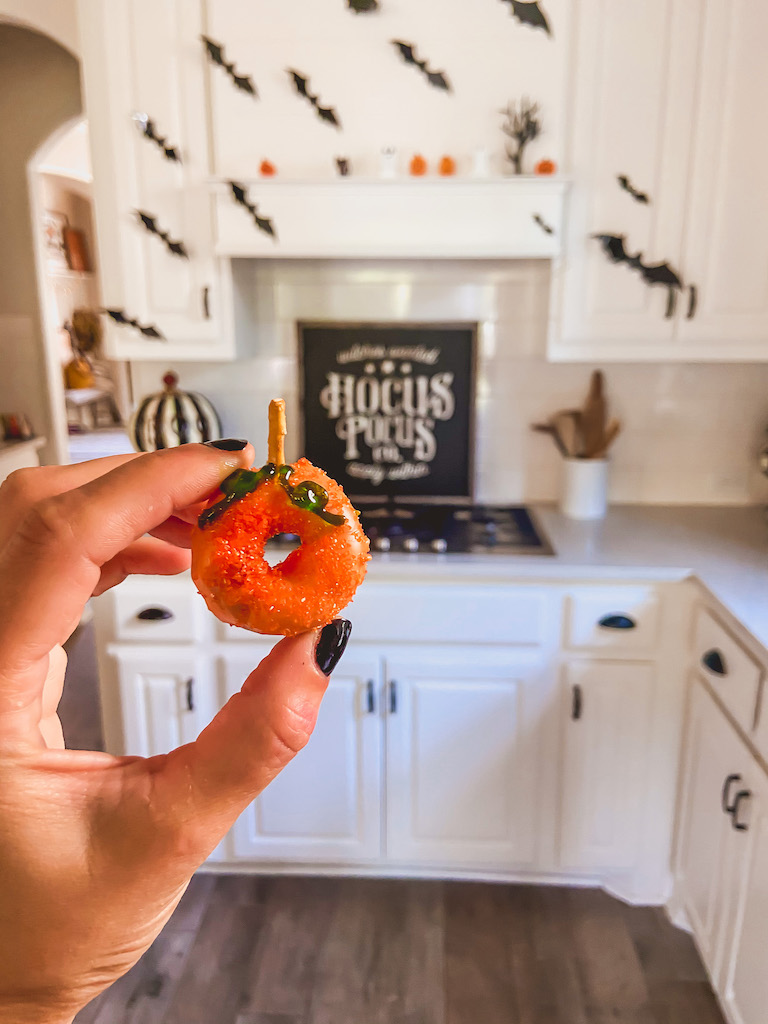 This recipe is so easy to make. All you need are a few ingredients that you may have on hand already! If you make these donuts make sure to let me know over on instagram @lifebyleanna.
They make the perfect after school snack… but let also mention that they pair perfectly with a glass of red wine!
Happy baking!
xoxo,
Leanna
Mini Pumpkin Spice Donuts
Mini Pumpkin Spice Donuts perfect for a fall snack
Keyword
dessert, fall, halloween, pumpkin
1/2

cup

pumpkin puree

1/2

cup

brown sugar

1/4

cup

canola oil

1/4

cup

milk

I used 2 percent

1

cup

all purpose flour

1

tsp

baking powder

1

tsp

pumpkin pie spice

1/2

tsp

cinnamon

1/4

tsp

nutmeg
Preheat the oven to 350ºF.

Spray a mini donut pan with non-stick cooking spray. Set aside.

In a medium size bowl whisk together the pumpkin, brown sugar, canola oil, and milk.

In a small bowl combine the flour, baking powder, pumpkin pie spice, cinnamon, nutmeg and salt.

Next, slowly add the dry ingredients to the wet ingredients. Mix well until combined.

Place the batter into ziplock bag, and cut off the corner (you can also use a piping bag). Add the batter evenly into each donut cavity.

Bake for 10-12 minutes or until cooked . Use a toothpick and place in the center of the donut. If the toothpick comes out clean it is done. Allow the donuts to cool in the pan for 10 minutes.

Turn the pan upside down to release the donuts carefully onto a cooling rack. Melt the orange candy melts according to the package. TIP: Add canola oil to thin out the candy melts, it makes it much easier to handle!

Dip the top of each donut into the melted orange candy melts. Let each donut dry for a minute before adding the sprinkles. Let the candy melts harden.

Add a small pumpkin stem using a broken pretzel to each donut.

Use the green decorator gel icing to add a small green leaf or vine.