Sharing is caring!
This easy broccoli cheddar soup is made in under 30 minutes!! It is a great go to recipe to make during the fall on a cold evening when you are looking for something warm and cozy!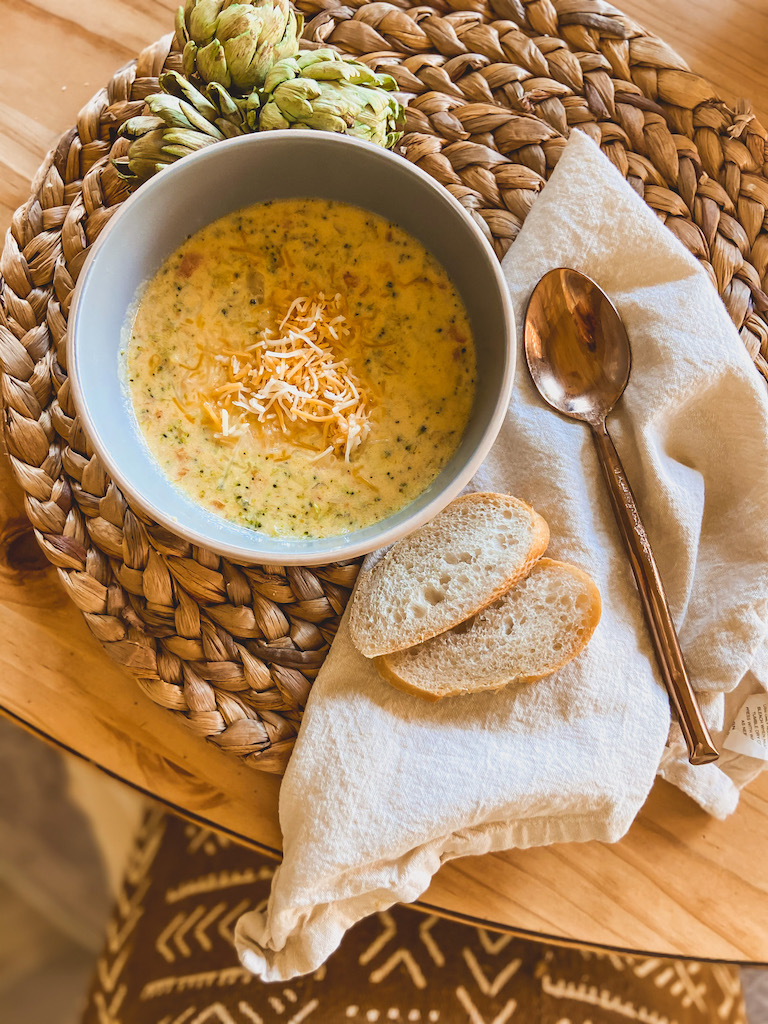 My husband, Simon's, favorite soup is broccoli and cheese. However, growing up his mom used to make it with blue cheese. I will have to get the recipe from her one day to try it because Simon swears it is the best! For now, he will have to settle with this Broccoli Cheddar soup that I love to make because it is perfect on a cold night and is so simple to make.
I am also really not a soup person, unless its Panera…. and their broccoli cheese soup is my favorite. Get it in a bread bowl and I am nearly in heaven. The other day I was craving broccoli cheese soup so instead of paying a small fortune for a little bitty bowl, I decided to make it myself.
I made this quickly one afternoon and it definitely hit the spot! It also made my kitchen smell amazing!
One more added bonus is that I was able to sneak in some broccoli into my kids dinner without them making a fuss.. so I call this soup a major WIN!
How to Make Easy Broccoli Cheddar Soup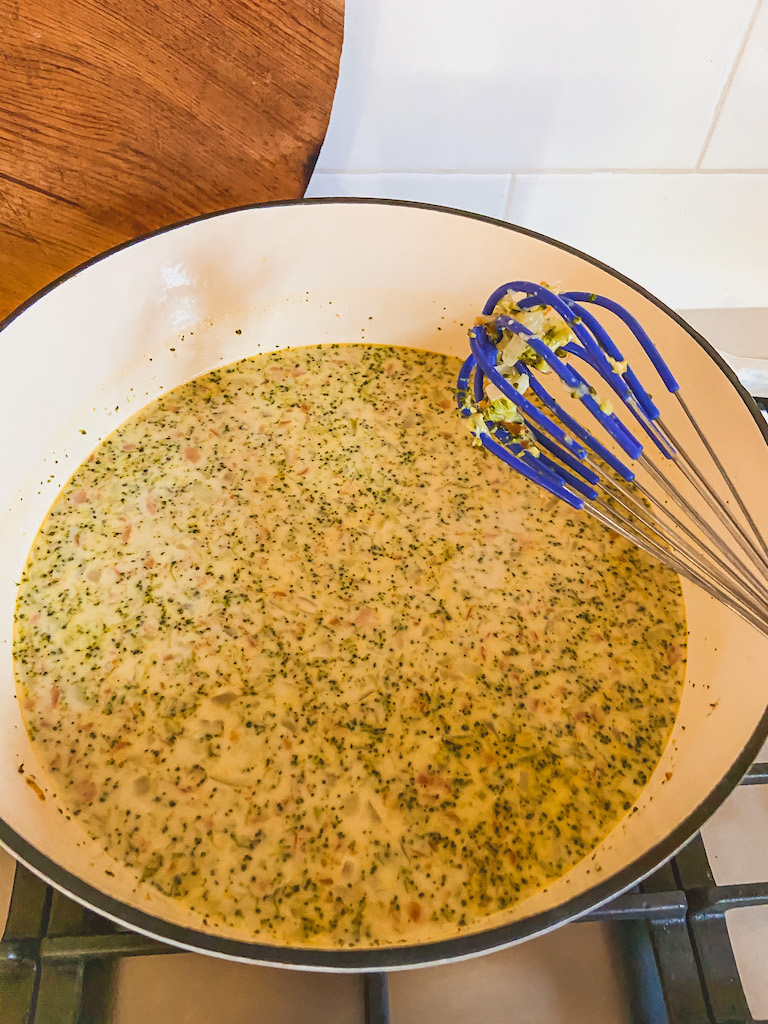 What you need
1 tablespoon Olive Oil
1 1/2 cups shredded carrots
1 yellow onion finely diced
4 cups broccoli finely copped
2 cloves garlic, minced
32 ounces low sodium chicken broth
12 oz evaporated milk
3 tablespoons flour
8 oz Sharp Cheddar Cheese, shredded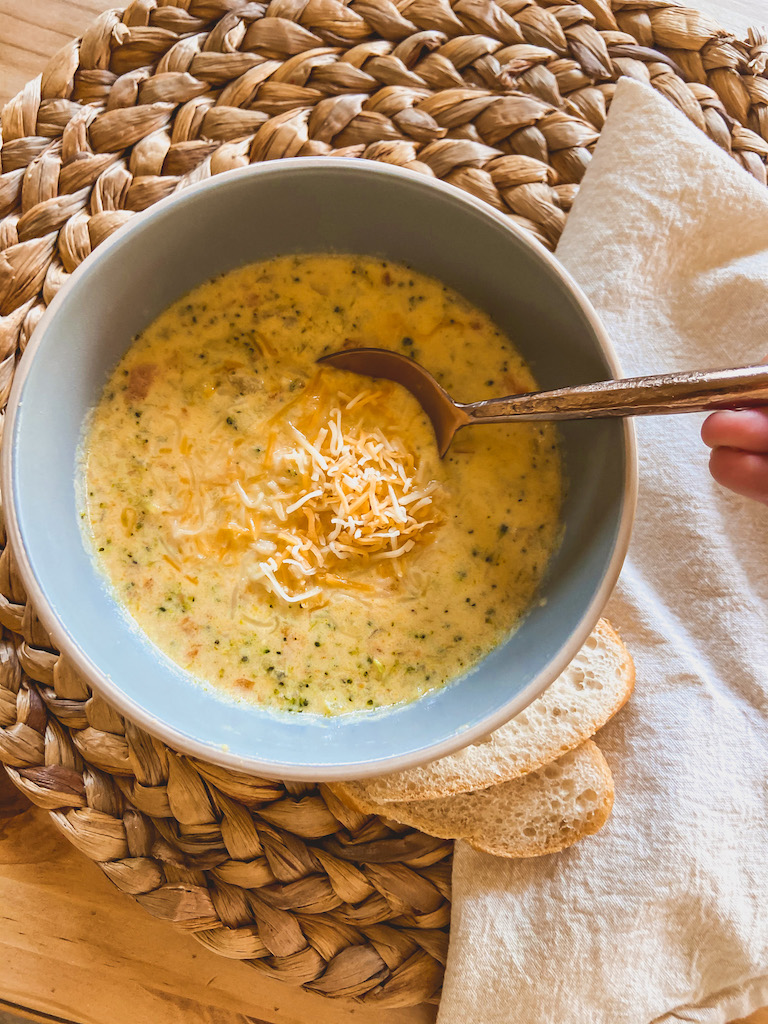 How to Make Broccoli Cheese Soup
In a large soup pot or dutch oven, heat the olive oil over medium heat. Add the onion and carrots and cook until softened, About 2 to 3 minutes.
Add the garlic, broccoli and cook for an additional 2 to 3 minutes.
Add the chicken broth and bring to a boil. Cover, and simmer for 12 minutes or until the broccoli is cooked well and soft. If you prefer the broccoli blended, use an immersion blender to blend in the broccoli.
In a separate small bowl, add the flour and 1 cup of the soup liquid (without the veggies). Slowly whisk together until combined and smooth.
Add back to the soup pot and immediately stir in the evaporated milk until combined.
Simmer for an additional 5 minutes, or more until the soup is thickened and bubbles.
Remove soup from heat and slowly add in the cheese. Stir until combined and melted.
Serve immediately, and garnish with extra shredded cheddar cheese if desired.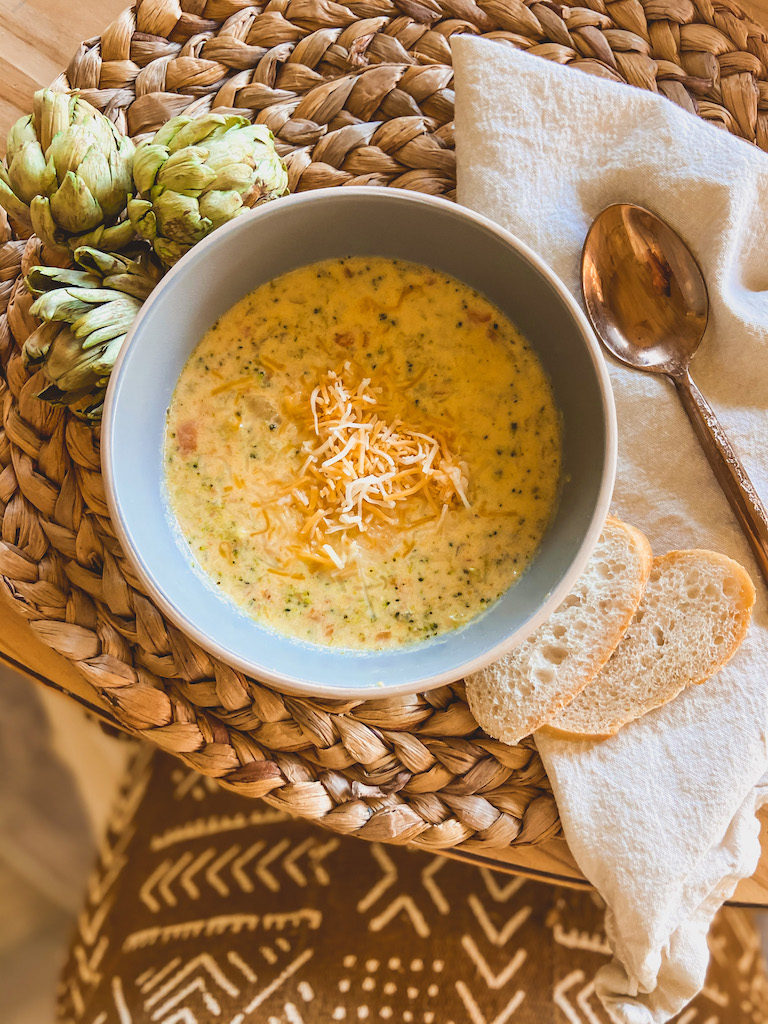 If you love quick and easy recipes, you will love my Chili Recipe that I have on this blog post!
Enjoy!
Leanna