How to Build the Best Bloody Mary Bar
Last weekend our neighborhood had an outdoor bar crawl and it was the best thing ever!! Since quarantine, we really haven't seen most of our friends and this was such a fun idea to start off the summer! Let me also mention that we have the BEST neighborhood ever! I couldn't have asked for better neighbors if I tried! For the bar crawl, each house had a signature drink. My house was first on the list, so I decided to go with my favorite morning drink, a Bloody Mary. Of course, I always have to make things look cute so I made a Bloody Mary bar with all the necessary toppings to make the best Bloody Mary Bar.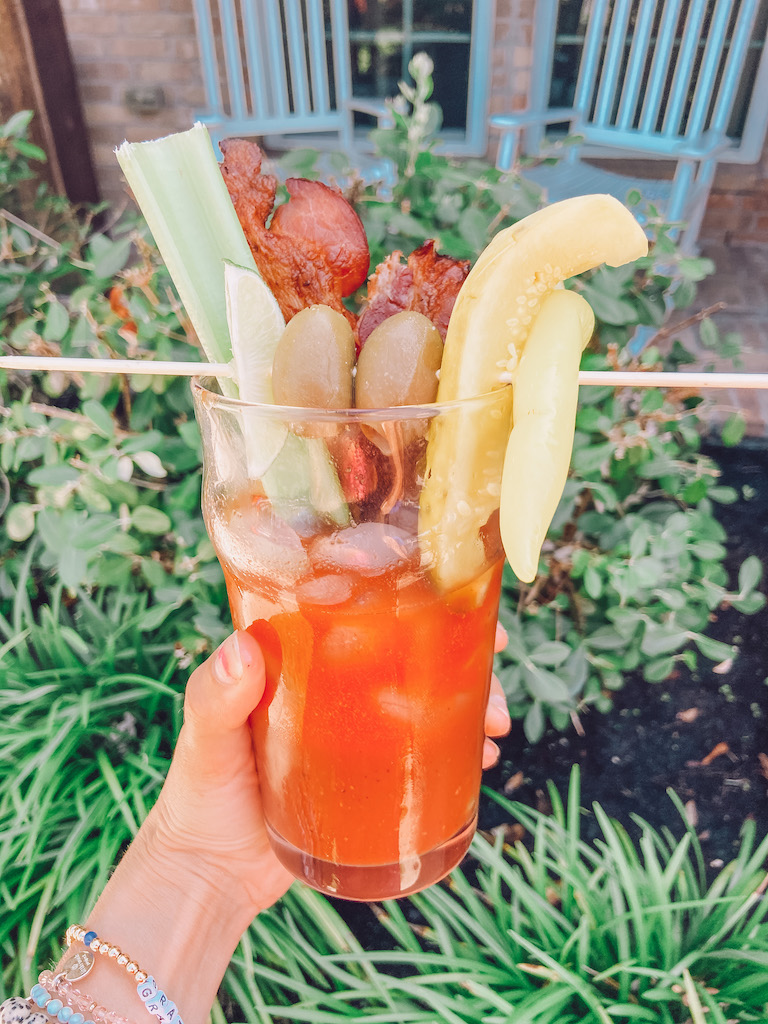 Bloody Marys are the perfect drink to serve at a brunch, bridal shower, engagement party, bachellorette party and so much more! The are fairly easy to make but you better have all the topping options!
The basics
All bloody Marys start with a good foundation. You will need
Vodka
Tomato juice or Bloody Mary Mix (my favorite mix is Zin Zang)
A spicy sauce such as Tabasco
Lemon or lime juice
Worcestershire sauce
Ice
and the best part of all… the fun toppings!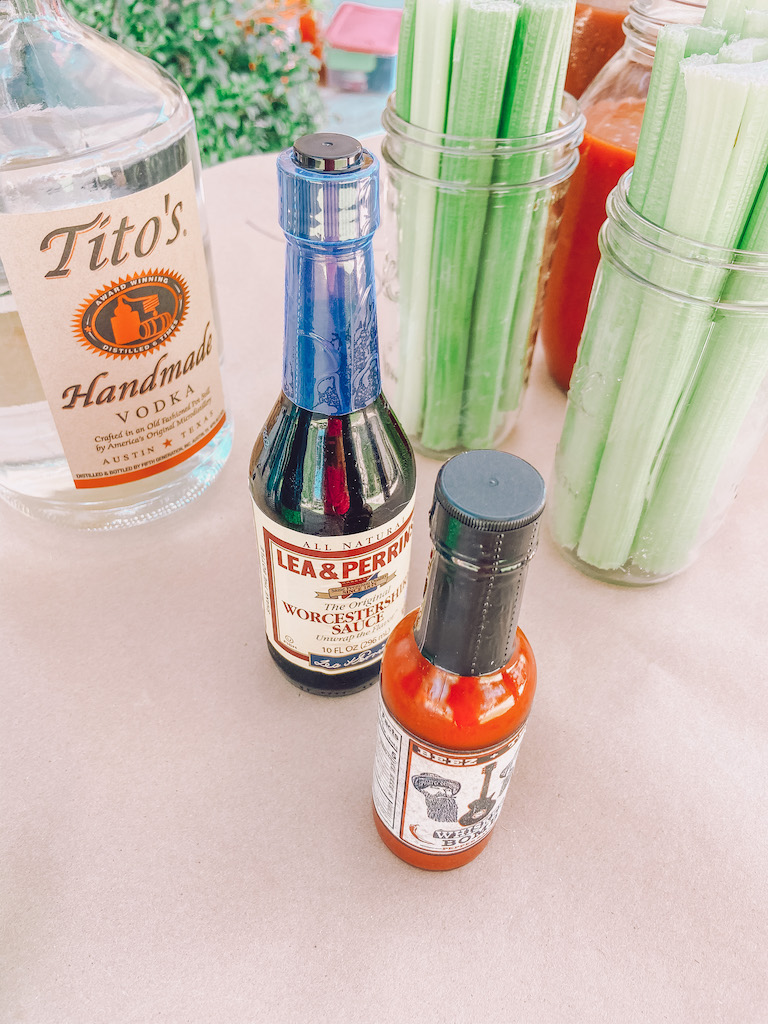 The Fun Toppings!
Garnishing a Bloody is the best part! You can go to the extreme, and top it with a mini hamburger or you can instead go the minimalist route with an old school celery stalk. Simon and I also had a Bloody Mary bar for our engagement Party and it was SO much fun!!!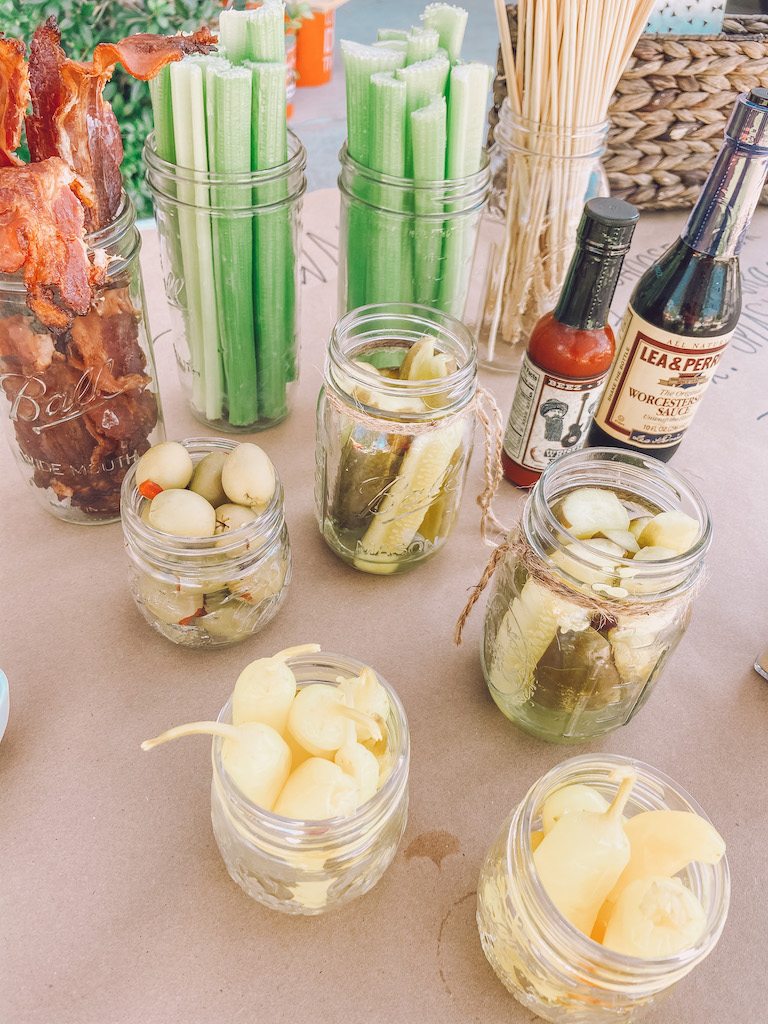 Some garnish ideas include:
Celery stalks
Dill pickle spears
Green Olives
Blue cheese stuffed olives
Bacon
Cherry tomatoes
Chilled shrimp
Banana Peppers
Chunks of cheese
Lemon and lime wedges
Salt and pepper
How to set up a Bloody Mary Bar
There are so many creative ideas out there on Pinterest, but I used a brown paper craft roll as my tablecloth to start. I love using craft paper for lots of things, and a tablecloth is my favorite. You can write fun saying on it, add the names of the toppings and also the directions on how to make the drink! It also makes for the easiest clean up; just roll it up at the end of the party and TOSS!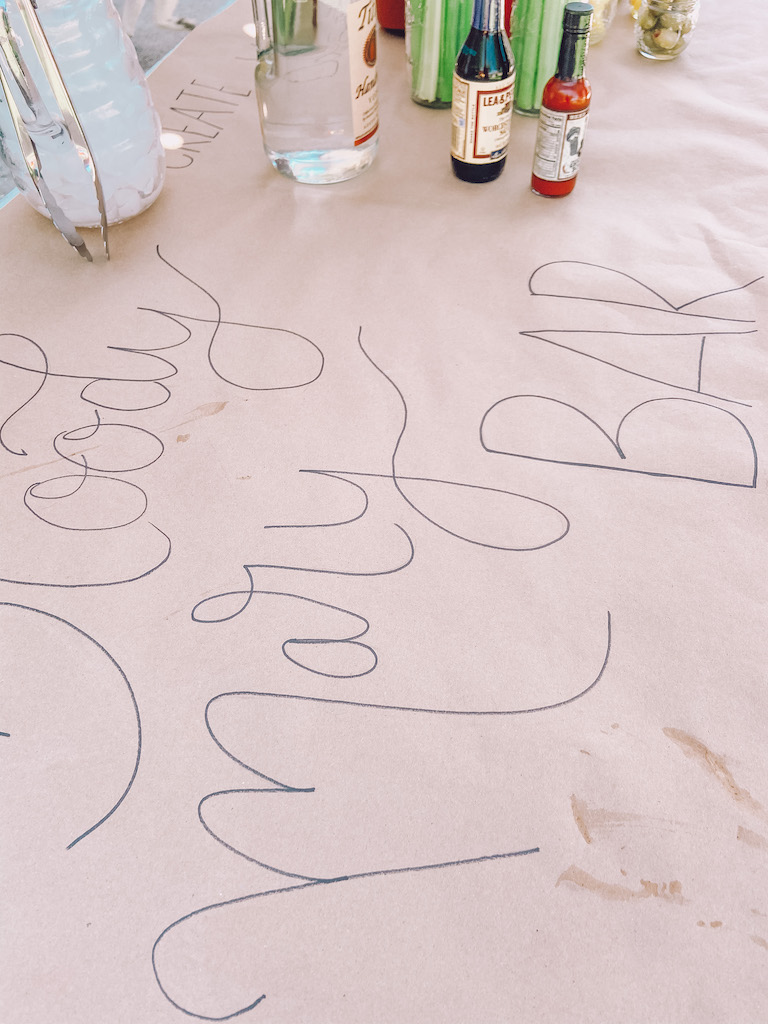 To set up the Bloody Mary bar:
Arrange the cups on one end first, along with the ice and long skewers to add the toppings to.
Next, add the vodka options to the table: I prefer Titos
Add the mix in cute jugs, tomato juice and a bloody mary mix are great option.
Then, add all the toppings into individual bowls
Feel free to get creative in how you set up the bar and what bowls and jugs you use.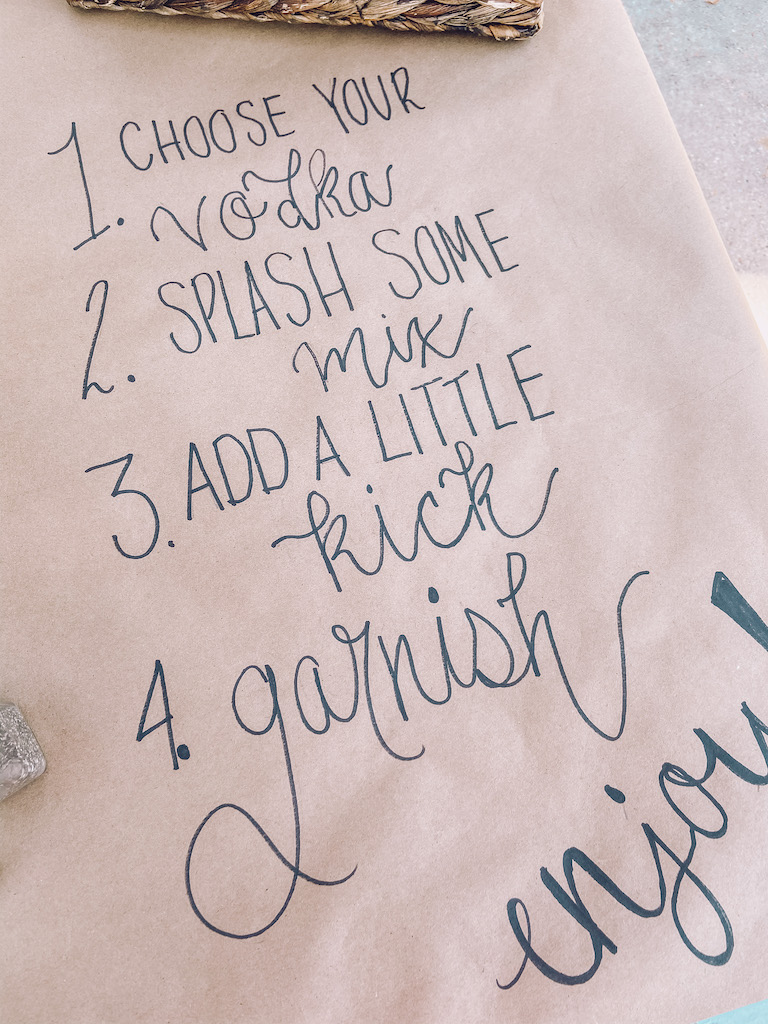 You can also print out and frame this cute Bloody Mary Printable to add to the bar for all your guests to see! In my FREE printable library I also have other fun drink printables including a Margarita, Hurricane, Bellini, and lots more!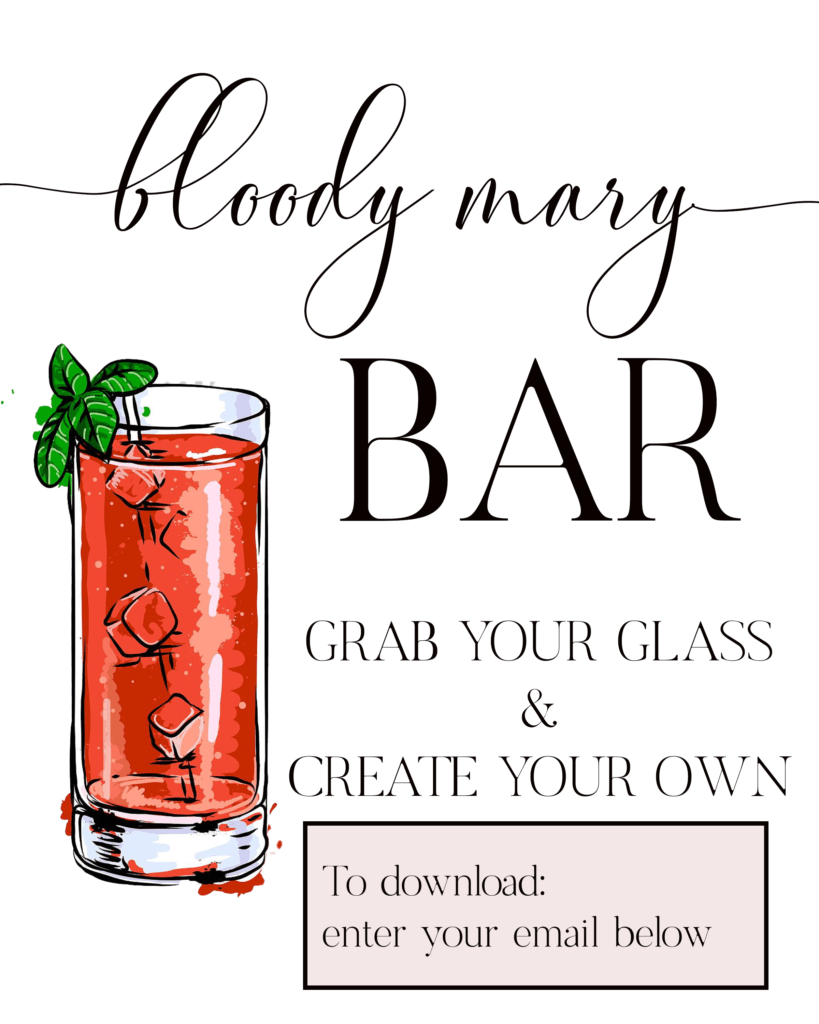 To download the FREE printable subscribe below: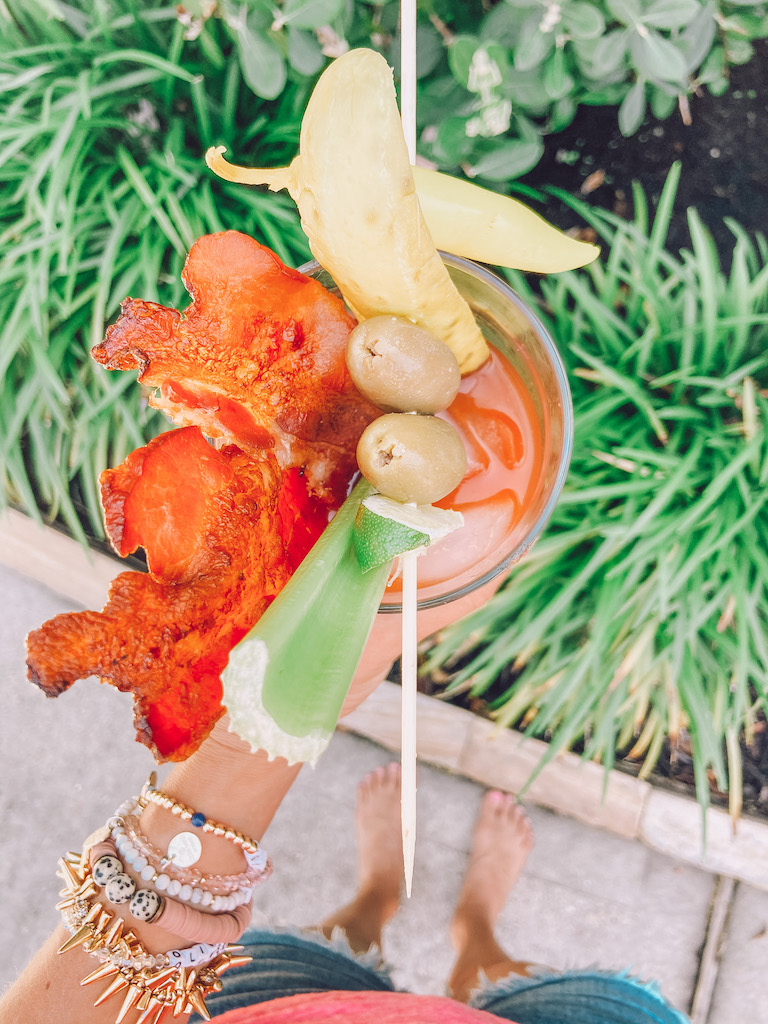 Enjoy!
xoxo,
Leanna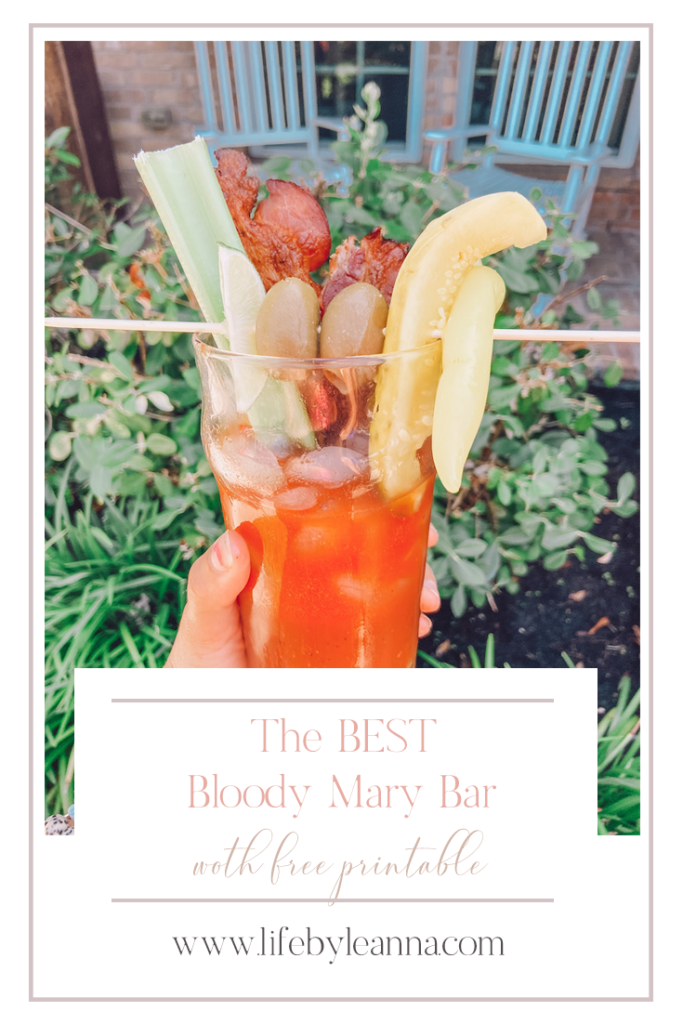 xoxo,
Leanna