How to Set a Beautiful Thanksgiving Table
How to set a beautiful thanksgiving table for your family at home this year for thanksgiving. Create a table for your loved ones to gather round on the day we celebrate what we are thankful for.
Whether you are hosting friends or family this year, or just celebrating at home, let your Thanksgiving table decor set the scene for your fall gathering. Thanksgiving is the day to think about what we are thankful for the most. I am most certainly thankful for my family's health.. especially during this crazy time.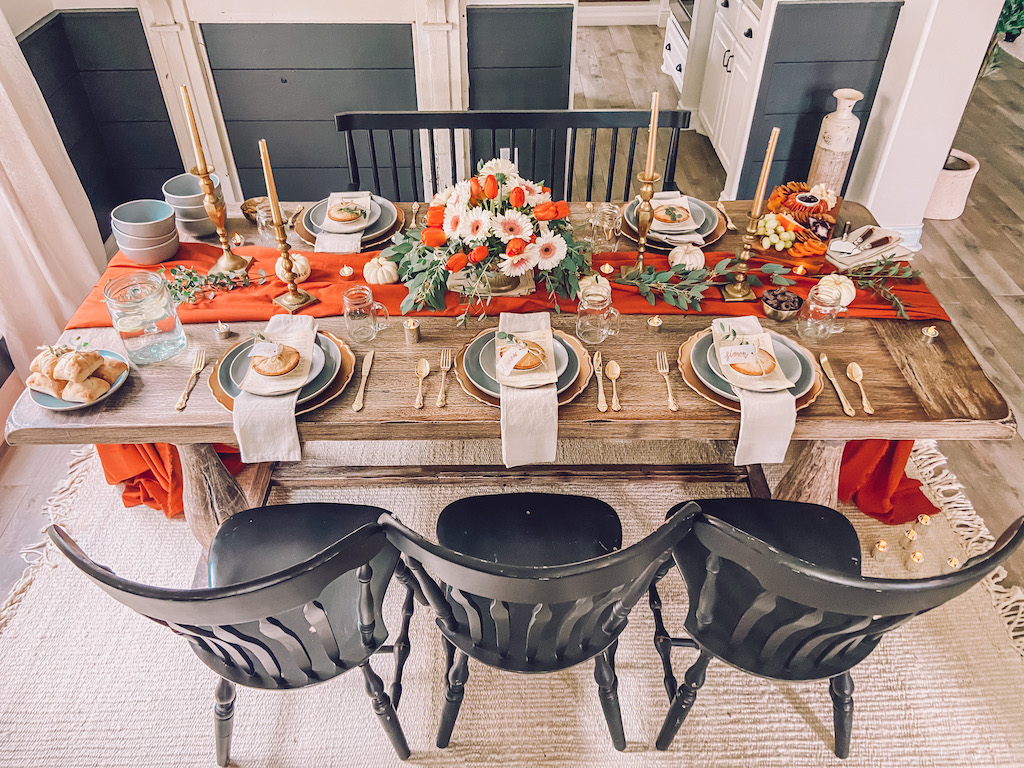 Even if you plan on staying home, with your immediate family, you can create a thanksgiving tablescape that will set the night apart from the rest. Sometimes the best nights are dressing up for a special occasion, in your own home, with those who you love the most.
Today, I am sharing a simple but elegant tablescape as inspiration for your own Thanksgiving dinner. Most of these tips are easy to pull off, so you can spend less time finding the right decor, and more time on what matters most – the FOOD!
How to Set a Thanksgiving table
1. Centerpiece
A centerpiece is the perfect way to add color and texture into the table design. I choose to create a floral centerpiece using flowers I found at Trader Joes. However, make sure the small flower arrangement in the middle of the table is low enough so you can see the person sitting across from you!
For the table runner, I used fabric from Joann Fabrics cut at about 5 yards. I wanted the fabric to be long enough to drape down the ends of the table for a romantic and dramatic look.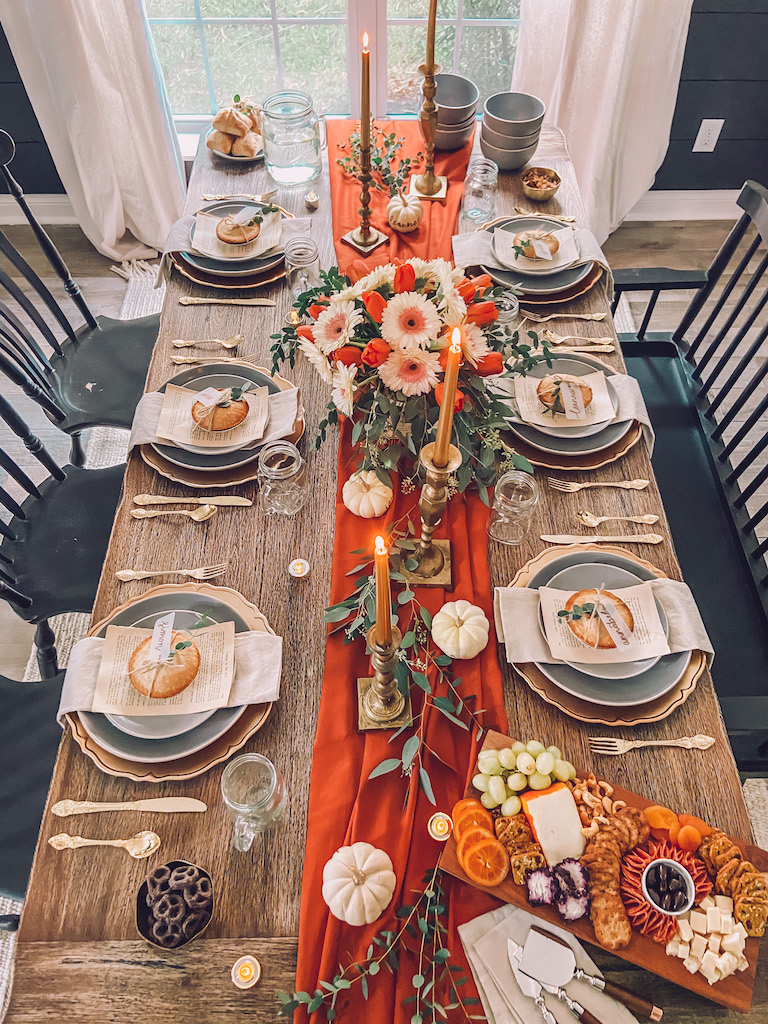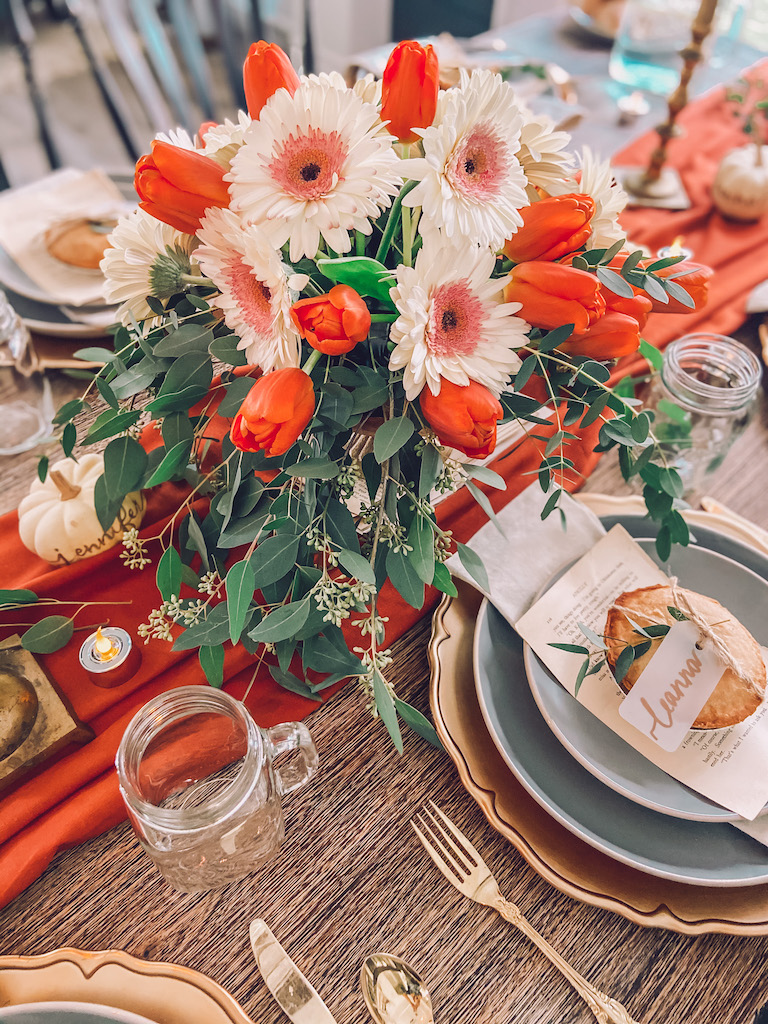 2. Dishes and Glassware
Feel free to mix different dishes together. Especially if you are setting the table for a larger group of people. Don't feel the need to have matching dishes for all your guests. I wanted this tablescape to feel simple yet elegant. To create this look, I used a gold charger paired with simple grey dishes.
Instead of wine glasses or traditional tumblers. I used these mason jar cups. I love how they create a more simple look, amongst all the gold pieces.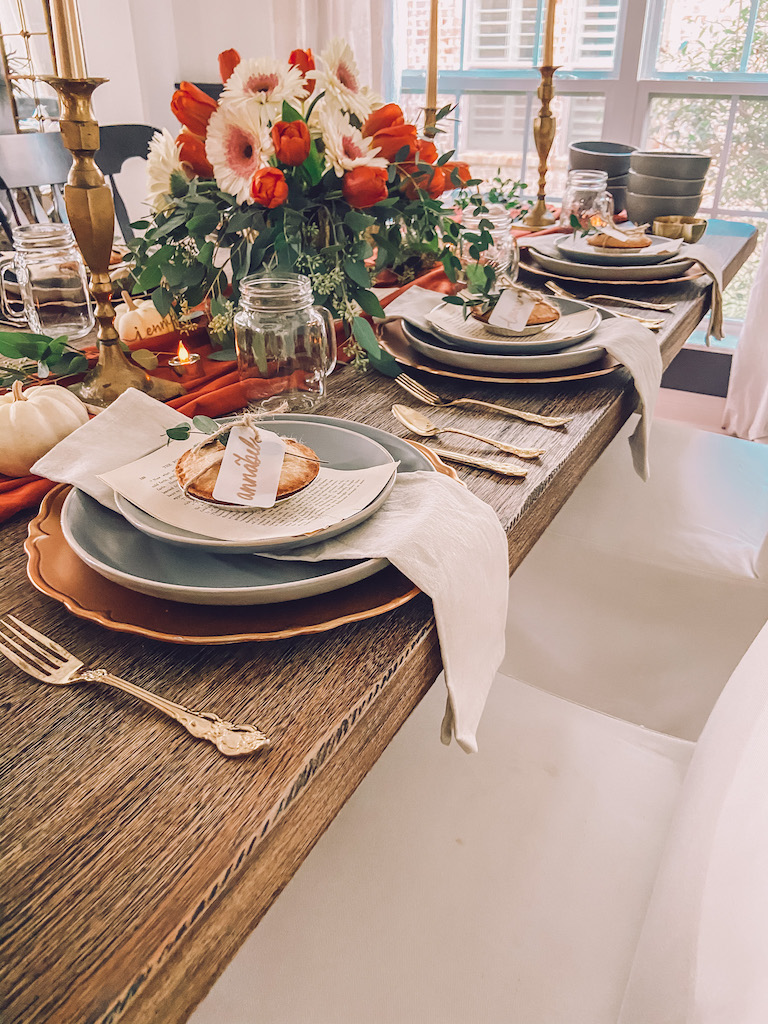 3. Name Cards
Name cards aren't necessary but they add such a special touch to any table. For this table, I started with mini apple pies that I found at Walmart….. nope.. I did not bake these .. haha. I then tied the mini pies with twine and added a small name tag. Next, I wrote everyones name using a gold paint pen. For an added touch, I added in a small piece of greenery.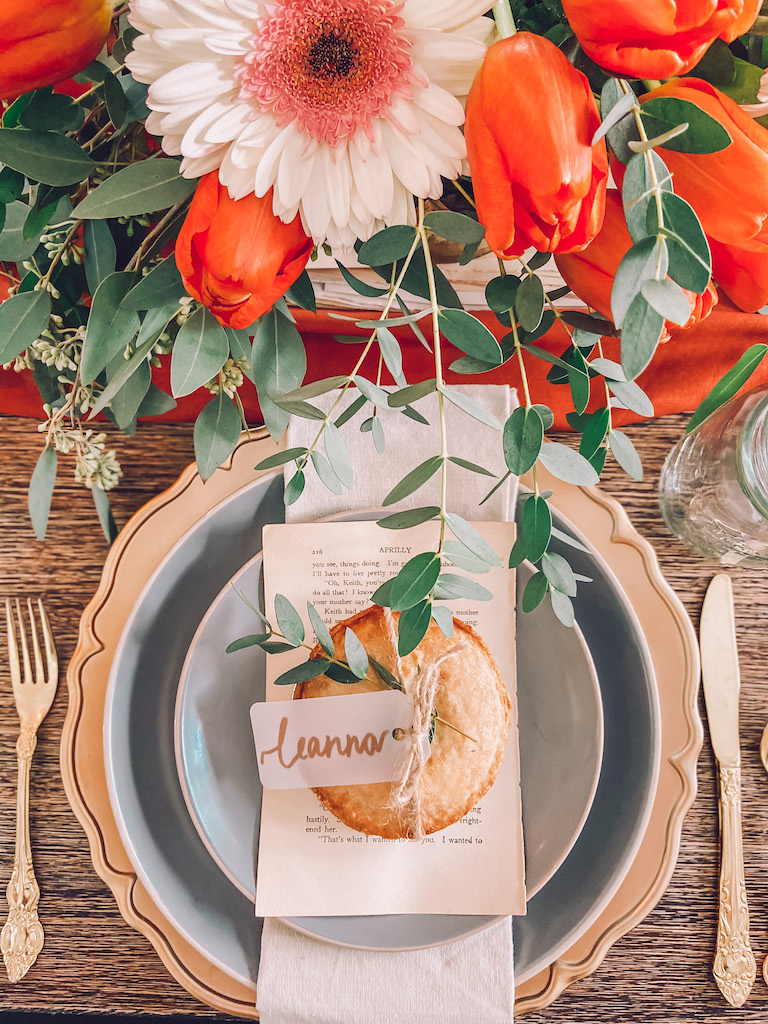 For an extra layer of texture, I placed the mini pies on top of a vintage book page. I simply ripped out pages from an old book. This is also a fun idea to do for Christmas using Christmas hymns!
4. Greenery
Add greenery to your table with twigs, garland, stems and more. If you have a more simple center piece, add more greenery down the center. On this table, I used a small amount of greenery for a simple touch of green.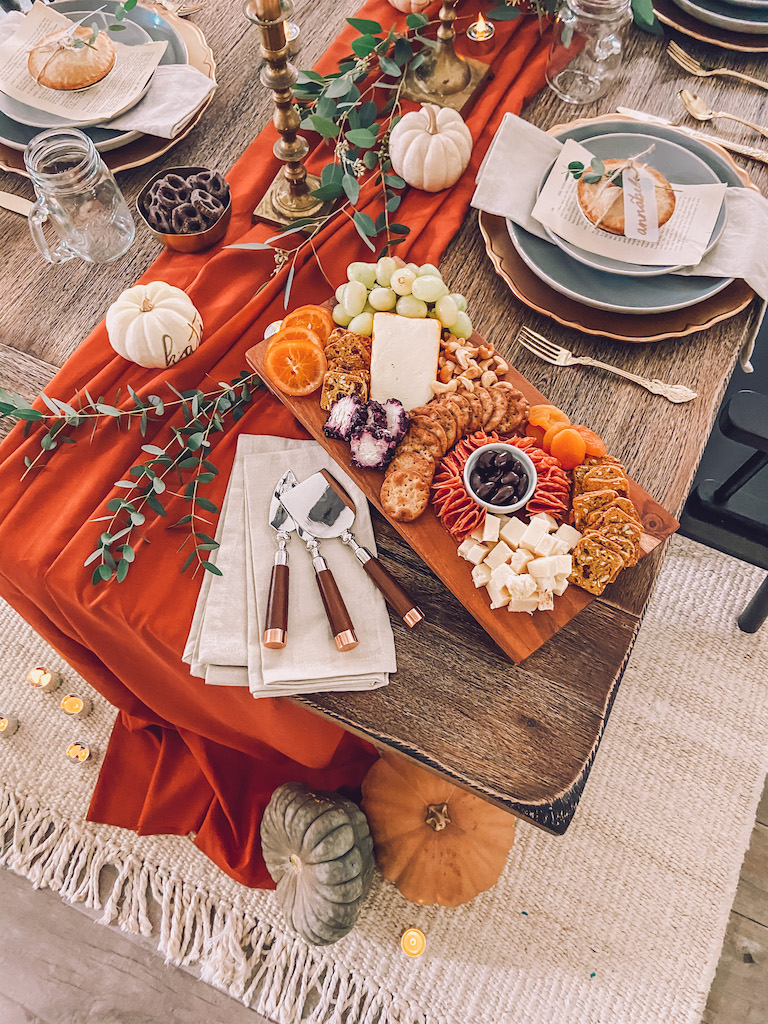 Thanksgiving Table Inspiration
Here are a few more photos from this simple beautiful Thanksgiving table.
A cheese board is ALWAYS a good idea!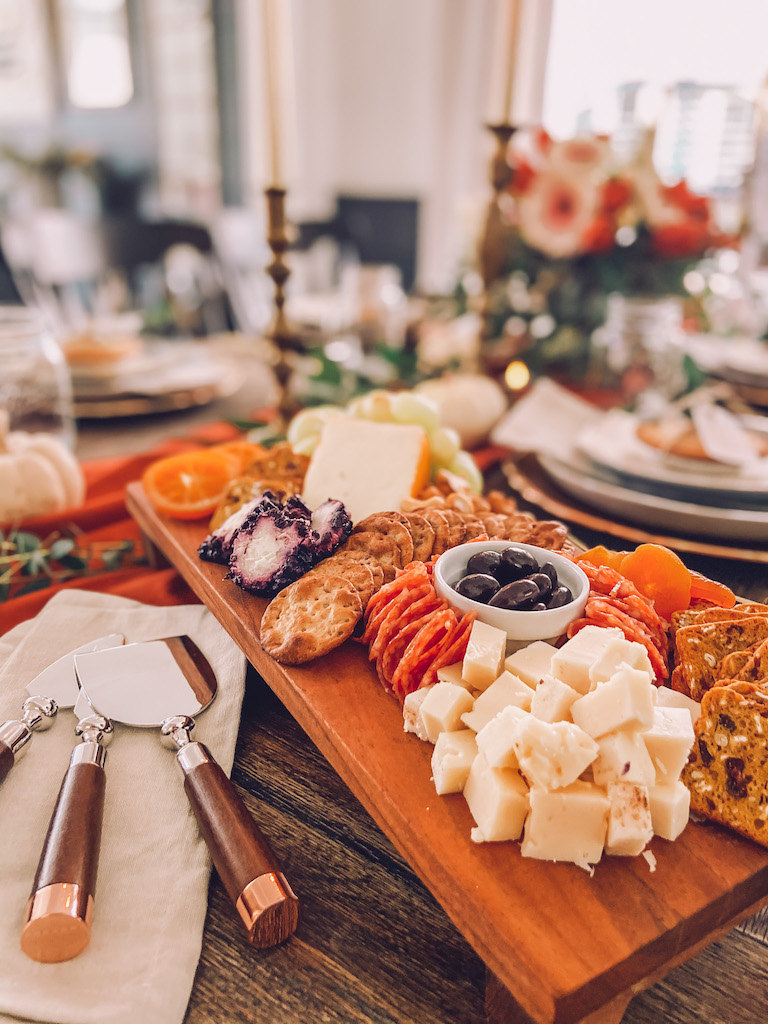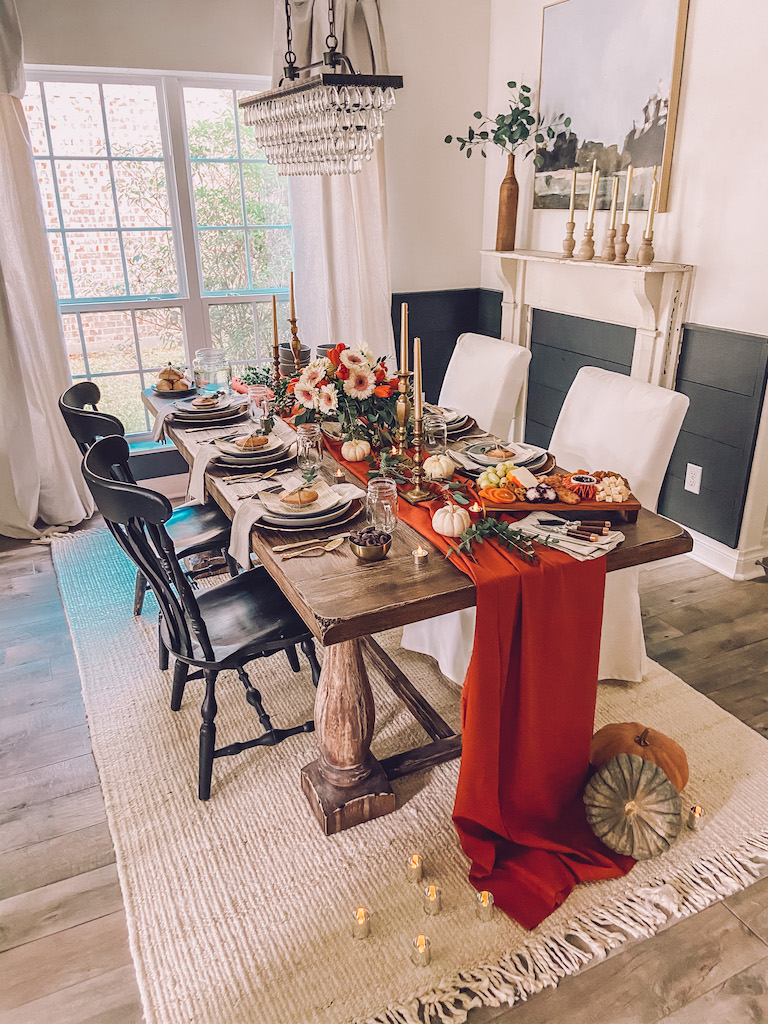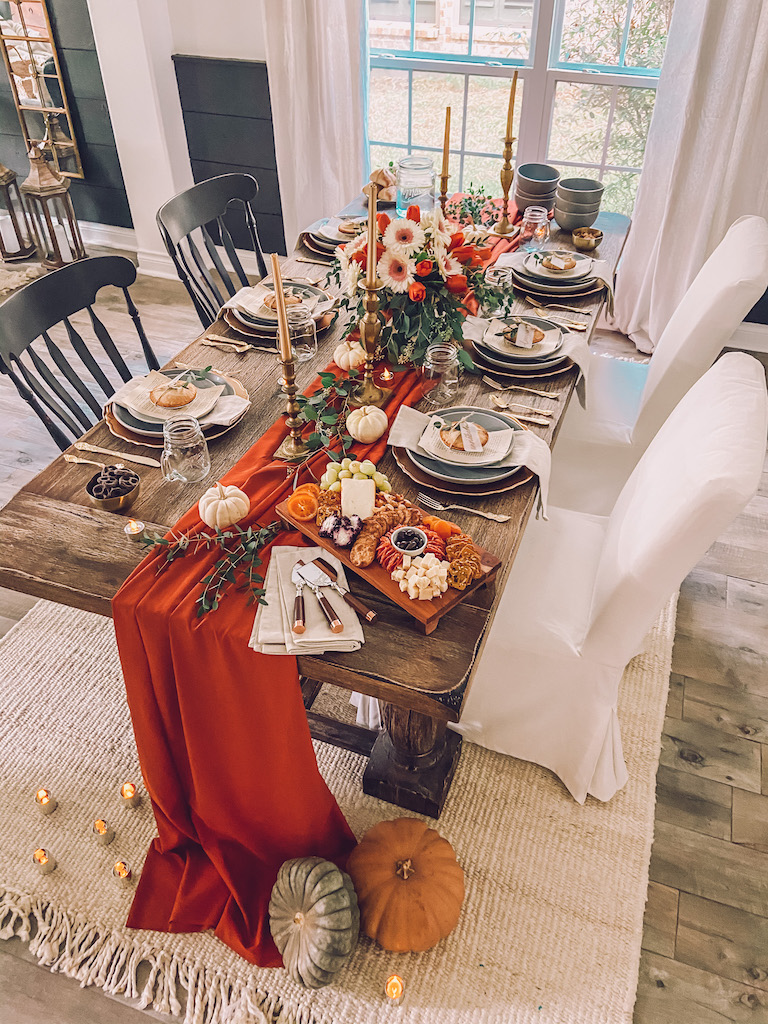 I added pumpkins and electric candles to the bottom of the runner for an extra flair!
If you are interested in browsing a few more table ideas, I know you will love these other blog posts:
How to create an elegant table this Christmas
A backyard bohemian dinner party
Valentines Day Friendship Brunch
Until next time!
Leanna
P.S. Always feel free to Pin to save for later!