How to Make an Epic Popcorn Movie Night Board
Make time at home extra special with a show-stopping Movie Night Board covered in popcorn, fruit, candy, or any other favorite treats! This is an easy way to create the perfect customizable treat for family movie night, sleepovers and birthday parties! 🍿
One of my favorite things is to provide you all with not just recipes, but also memories you can easily make with your family. These don't have to be overly expensive, complicated, or stressful – just some favorite snacks and cuddles on the couch go such a long way!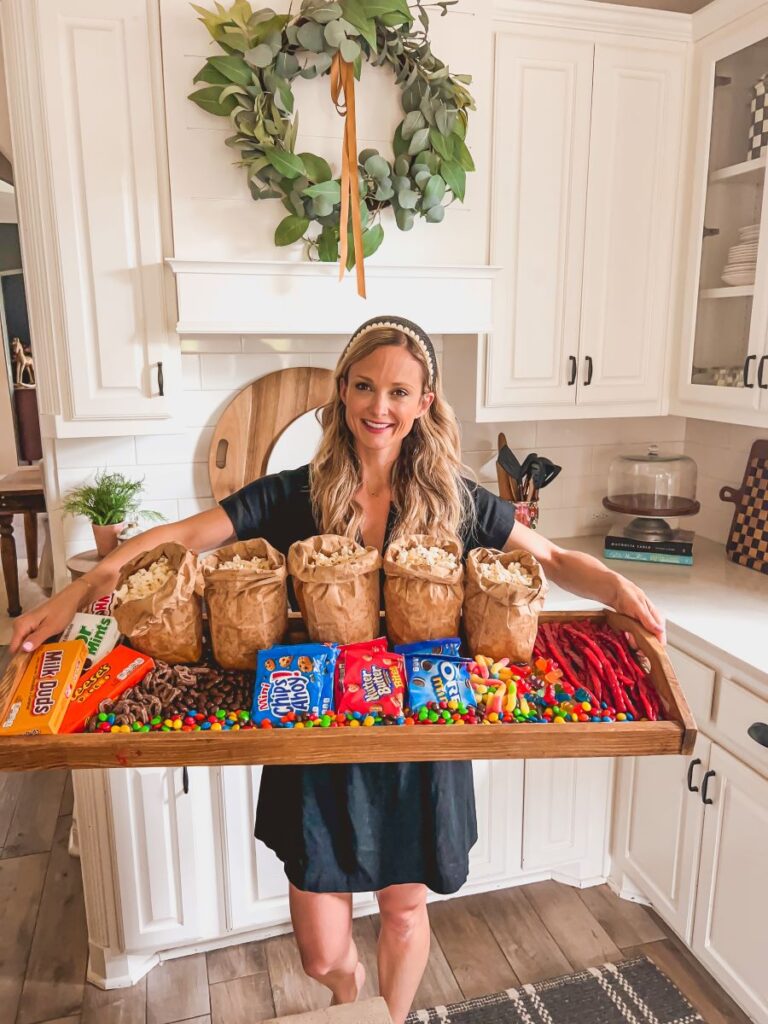 Ingredients
You can add whatever you'd like to your Movie Night Board. Here are some suggestions! Also, if you'd like to make your own popcorn, see below for the three ingredients you will also need.
Snacks:
Popcorn!
Nutter Butters (pending no peanut allergies)
Chips Ahoy
Chocolate Covered Pretezels
Candy:
M & M's and/or Skittles
Resses Pieces
Milk Duds
Gummy Bears
Fruit
Apple Slices
Orange Slices
Grapes
Blueberries
Tip: We set limits for the kids for how much candy they can take throughout the movie so it's not a sugar free for all and they don't eat it all before the movie starts. For example, they each get 15 small candies and 1 Twizzler throughout the movie.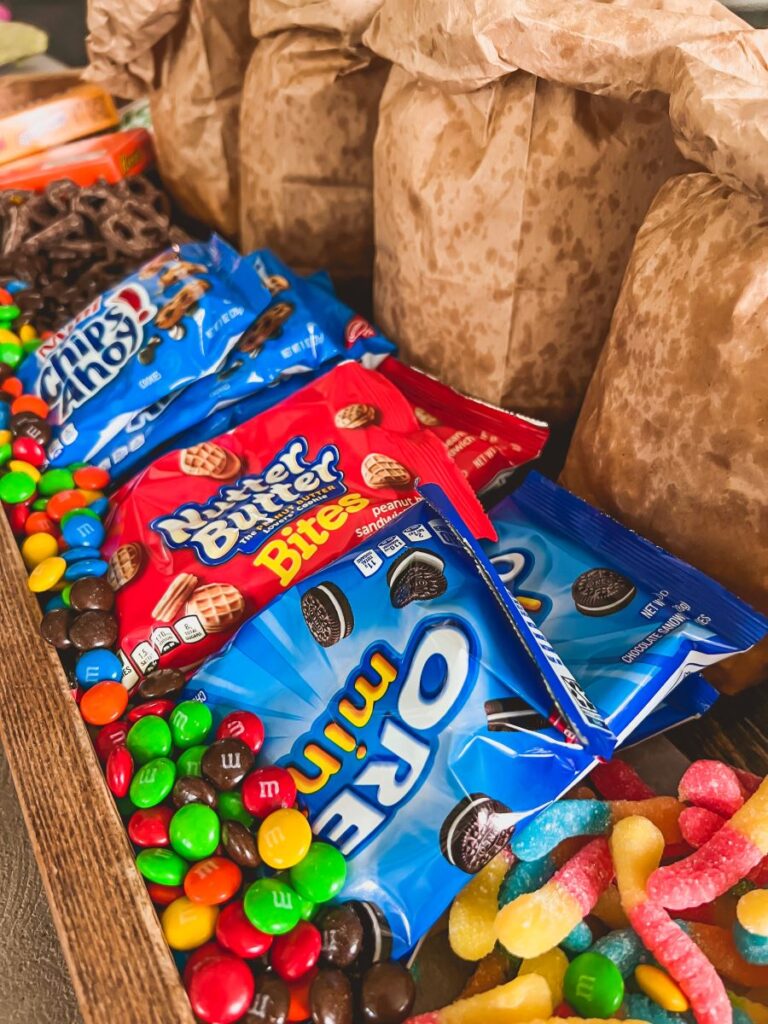 Directions
There is no right or wrong way to make your own Movie Night Board, but here are some suggestions that I find make it easier to assemble! My kids also love to help out and add in their ideas. 🙂
Start with the largest items to fill your board, such as the popcorn bags
Fill in medium-sized options next, such as cookie snacks bags
Add in the smallest items, such as M & M's, Skittles, or Gummy Bears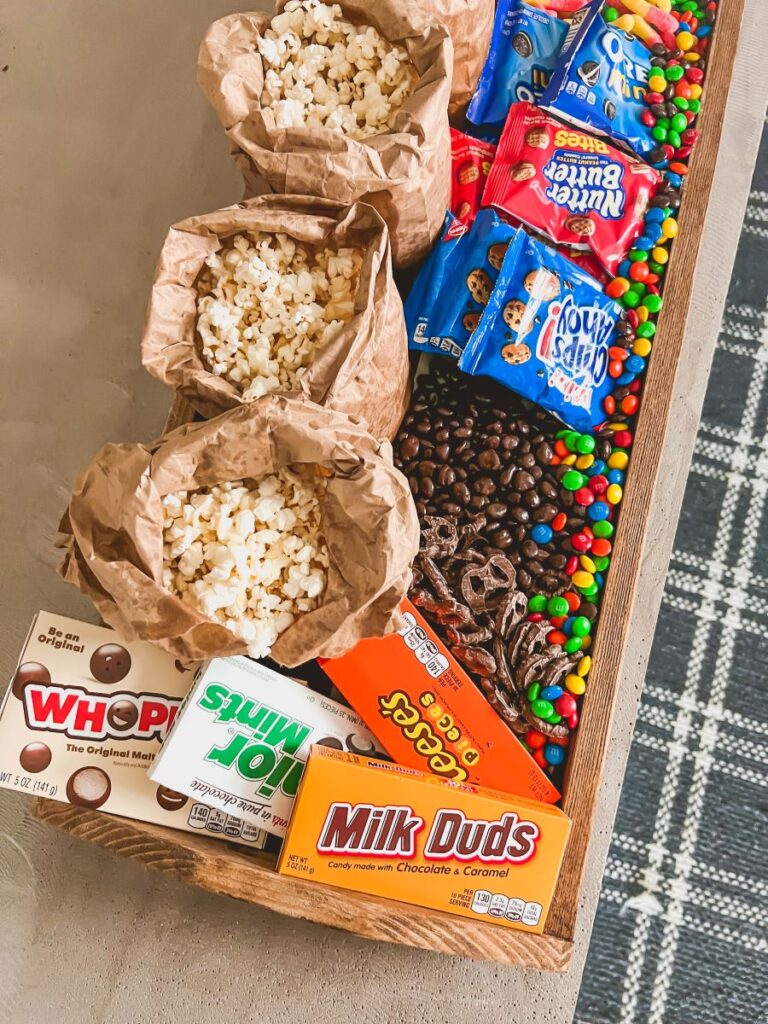 Make Your Own Popcorn Hack
✨If you'd prefer to make your own popcorn, you can create your own every single time with just three ingredients: 🙌
Ingredients:
1/4 cup uncooked popcorn kernels
1 tbsp butter
Salt
Directions:
Add uncooked popping corn kernels and real butter to a brown lunch bag.
Fold the top of the bag down twice to shut it completely.
Place the brown bag in the microwave and set the microwave on the "popcorn" setting.
When the popcorn cooking cycle is complete, let the lunch bag stand for a minute because there are always a few more kernels that pop.
Open microwave and carefully open bag- watching for any hot steam.
Season with salt before serving.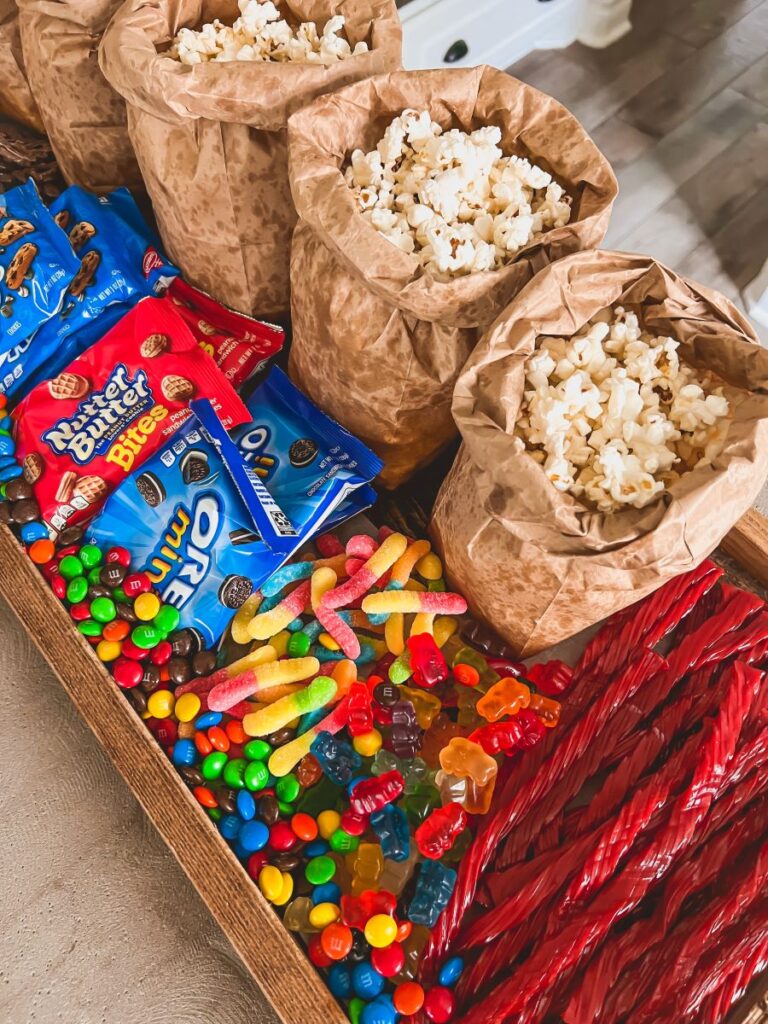 Here's a Quick Video Tutorial!
Smaller Board Examples
If you'd prefer a smaller board, here's another assortment that I've done before!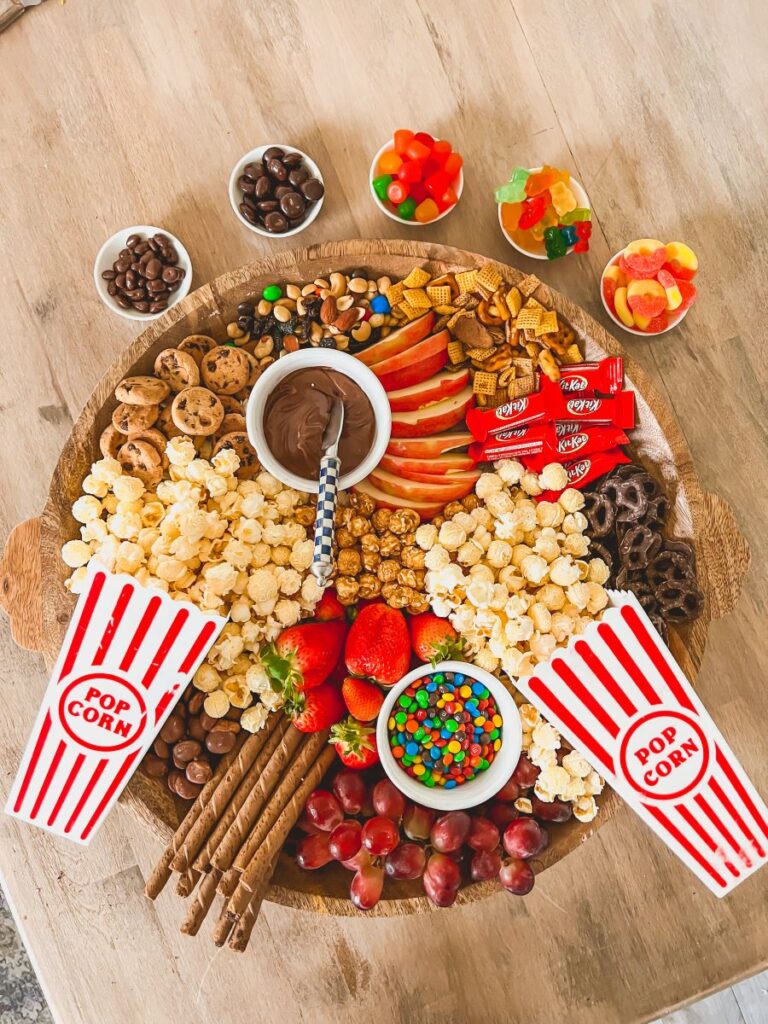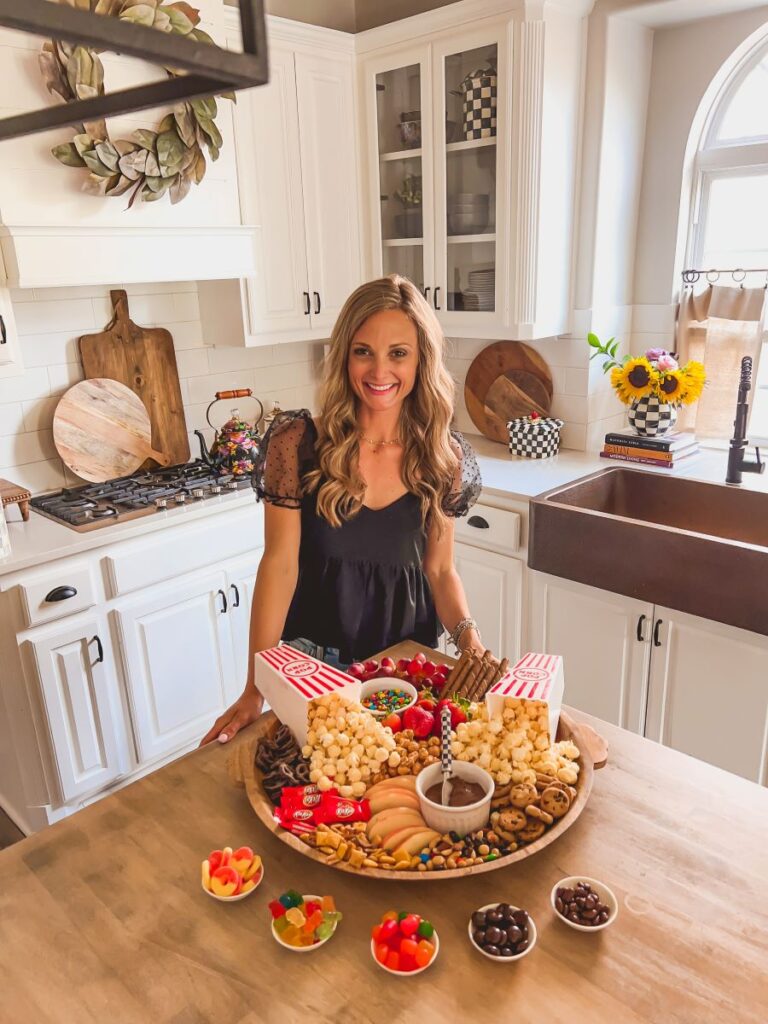 This is always an easy, low-budget treat that my kids enjoy! I hope they always remember family movie nights!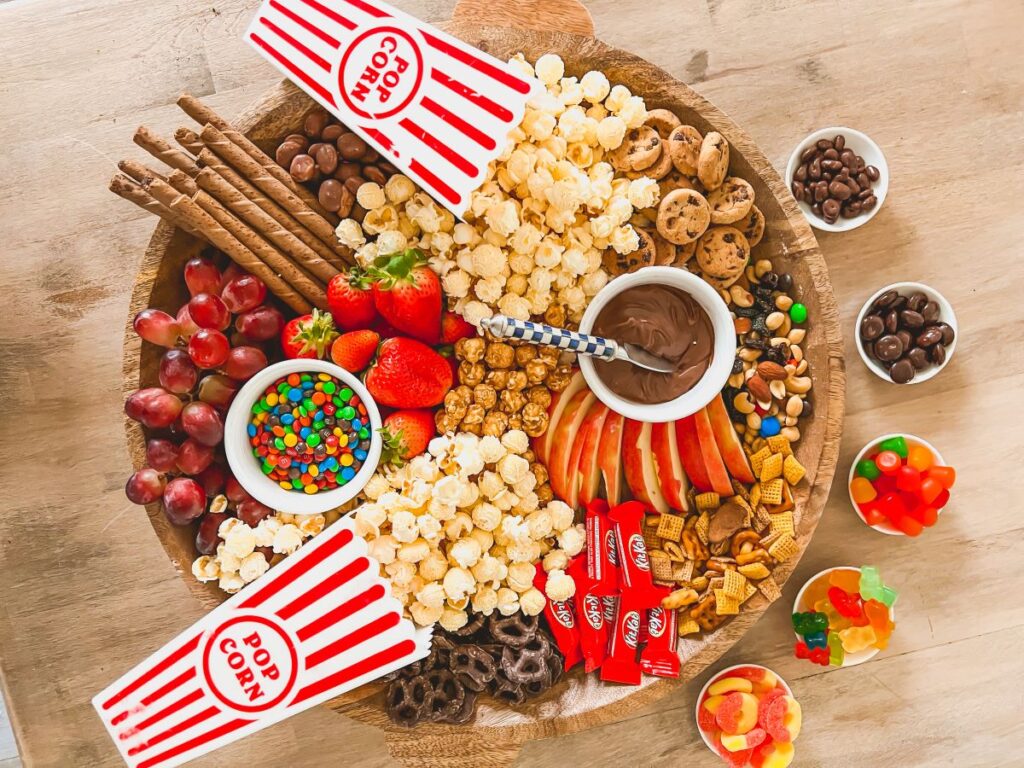 Perfect Presentation Platters
Depending on the size of your crowd, you can use a variety of serving platters for your Movie Night Board! Just be sure to double check the dimensions to ensure the size of the board meets your serving needs. Here are some of my favorites:
Large Serving Boards: Besides my round wooden Target tray, you could also use so many options for a dessert board that you can get use out of all year. If you'd prefer a rectangular tray, this wooden version from Target is also great, as well as this beautiful choice from Etsy. For a higher-end choice and larger tray, I love my MacKenzie-Childs checkered party tray. If you'd prefer a more budget-friendly larger tray, Hobby Lobby usually has a variety of larger options for 40% off.
Medium Serving Boards: I love this round beaded wooden tray or this rectangular tray from Target. Walmart also has this lovely wooden tray for a great price and this beautiful gold tray for a great price! You could go with this gold hammered tray from World Market as another pretty metallic option!
Kitchen Links: I get asked all the time about the products in the background of my kitchen. Much of it is from MacKenzie-Childs, which I have slowly grown a collection of over the years! My favorites are this checkered chopping board, my black and white checkered teapot, and the gray and white checkered utensil holder. I also have this enamel canister that you can find in small, medium, or large.
Can I Prep This Ahead of Time?
Absolutely! Just refrigerate depending on the treats you are using so they stay fresh.
Storing Leftover Movie Night Board Treats
My favorite tip is to store the leftover boxes or containers during family movie night, then putting any leftover treats back to enjoy throughout the week. The popcorn can be left out at room temperature!
Enjoy!
If you make a Movie Night Board, please feel free to tag me on Instagram so I can see your creations! Have a fantastic week, friends!
Print
Epic Popcorn Movie Night Board
Make time at home extra special with a show-stopping Movie Night Board covered in popcorn, fruit, candy, or any other favorite treats! This is an easy way to create the perfect customizable treat for family movie night, sleepovers and birthday parties! 🍿
Snacks:
Popcorn!
Nutter Butters (pending no peanut allergies)
Chips Ahoy
Chocolate Covered Pretezels
Candy:
M & M's and/or Skittles
Resses Pieces
Milk Duds
Gummy Bears
Fruit
Apple Slices
Orange Slices
Grapes
Blueberries
Instructions
There is no right or wrong way to make your own Movie Night Board, but here are some suggestions that I find make it easier to assemble! My kids also love to help out and add in their ideas. 🙂
Start with the largest items to fill your board, such as the popcorn bags
Fill in medium-sized options next, such as cookie snacks bags
Add in the smallest items, such as M & M's, Skittles, or Gummy Bears