Easy Tips for a Stunning Outdoor Party
These outdoor party tips can easily transition between seasons and holidays to help create beautiful gatherings for you and your guests to enjoy!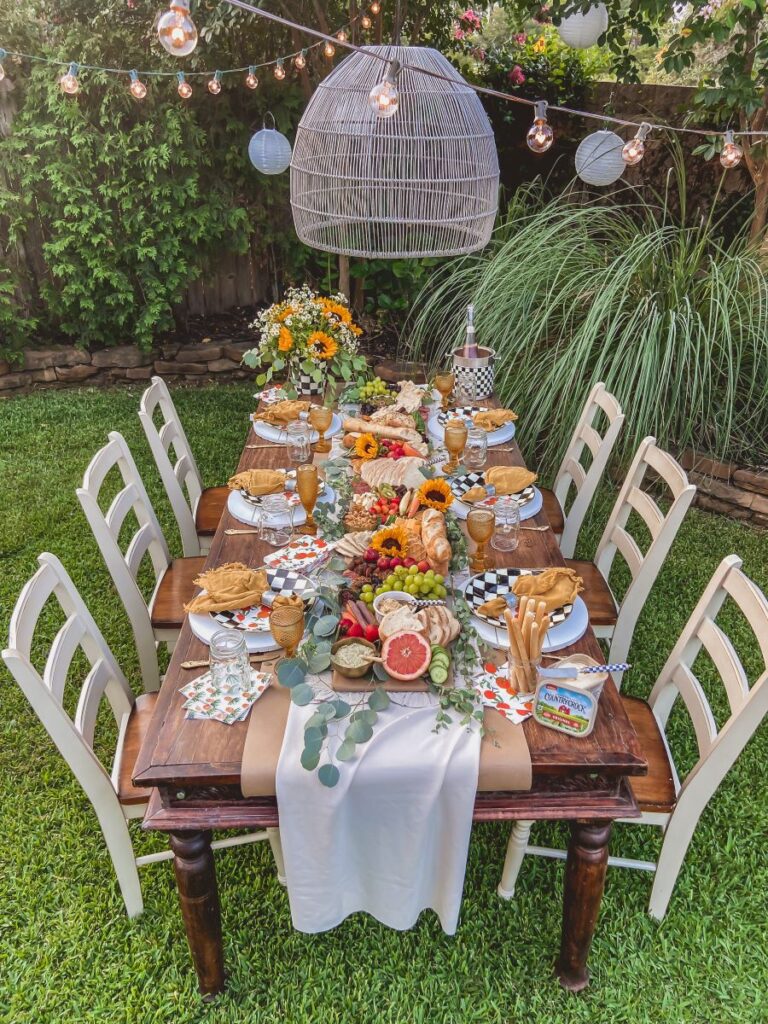 Here are some of my favorite tips to make outdoor hosting simple and low stress so you can enjoy yourself, too!
1. Choose a Floral Accent to Use Throughout
One of the easiest ways to create a cohesive table is to choose a floral theme that you can use throughout table. I added sunflowers to my charcuterie board and vase, or you could sprinkle in flowers in more unexpected places, like napkin holders, charcuterie boards, hanging from wreaths over chairs, or any other place around the table.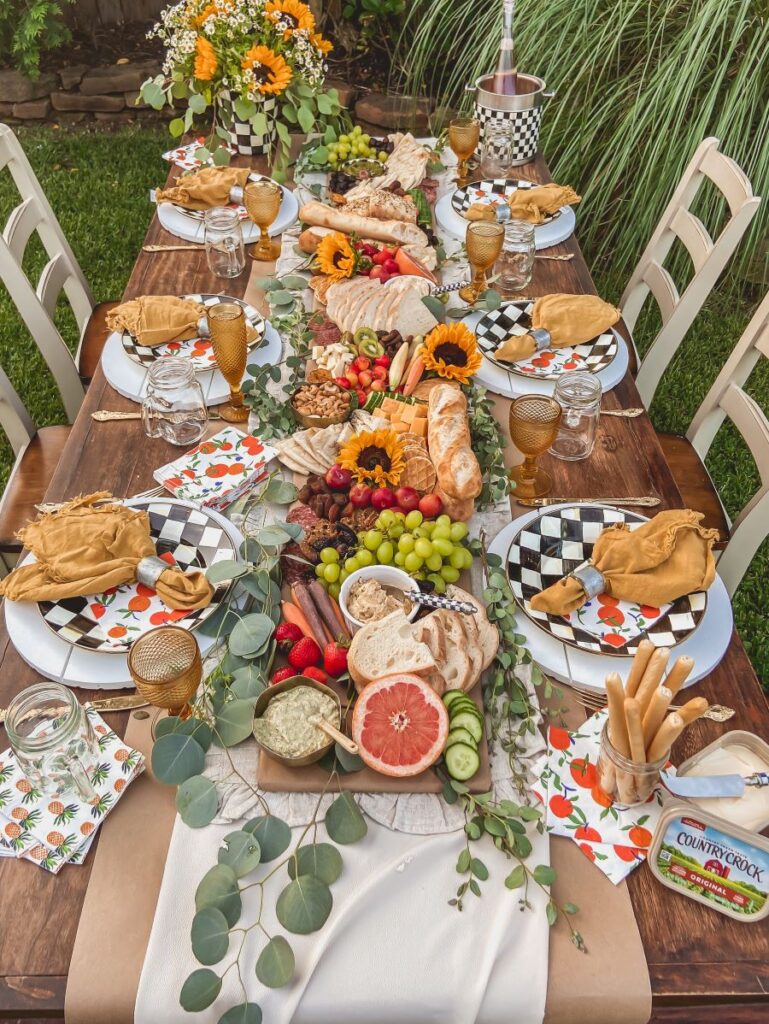 If you can't decide on a single flower, I also love how different flowers in the same color scheme complement each other, such as pink peonies with pink roses. Different Flowers in various shades are also beautiful, so be creative and have fun just using what you love!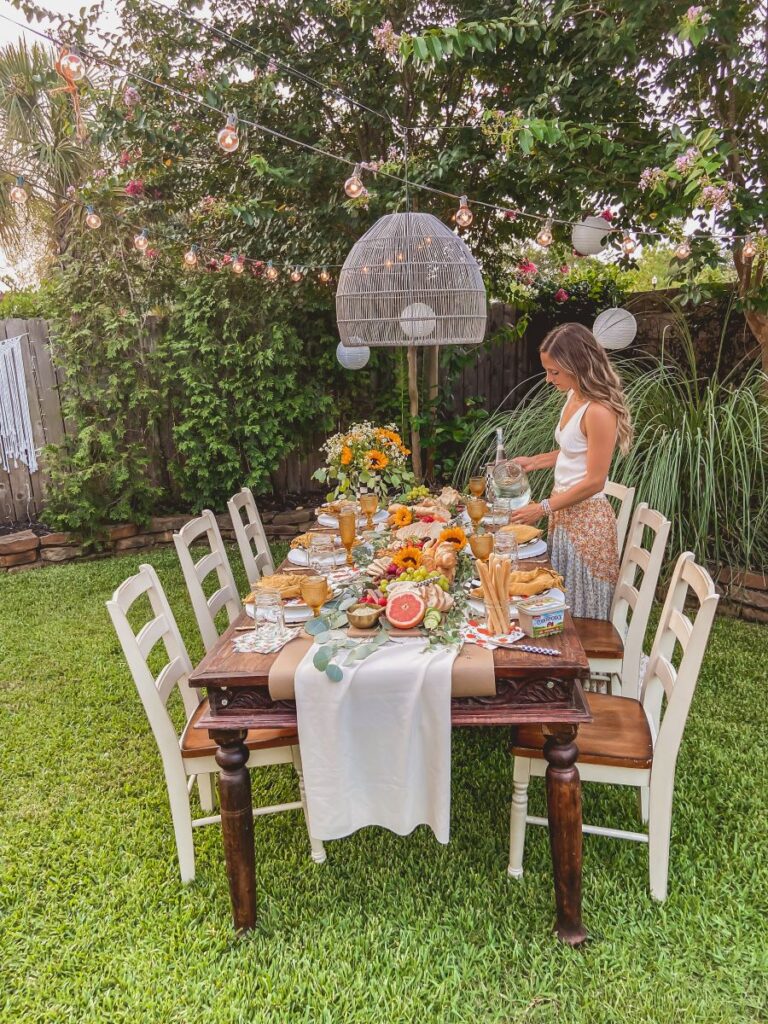 Depending on your climate and if you can be outside year-round, some of my favorite flowers to use for an outdoor party are:
Spring: Tulips, Daffodils, Pansies, Lilacs
Summer: Hydrangeas, Peonies, Daisies, Hibiscus, Lavendar
Late Summer/Fall: Sunflowers, Chrysanthemums, Roses
Winter: Evergreens, Berries, Poinsettias, Darker-colored floral hues
2. Layer Parchment Paper with a Table Runner
I love the look of parchment paper, which reminds me of old-fashioned letters or "brown paper packages tied up with string." 🙂 If you don't have a table runner, parchment paper can be a simple, beautiful, and low-cost alternative.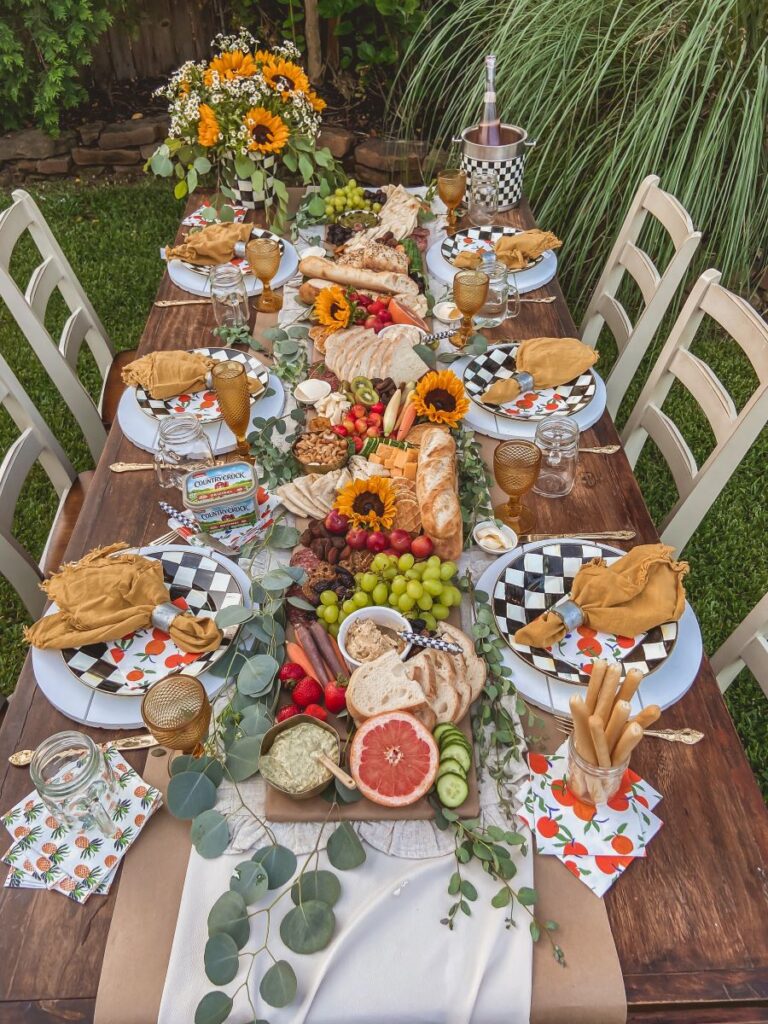 You could also use the parchment roll as a neutral base, then layer it with a table runner or fabric. I also wrapped a long piece of wood with parchment paper to make the huge charcuterie board! I loved how all of the natural food like veggies and fruit just happened to complement the outdoor party vibe.
3. Sprinkle in Greenery Like Eucalyptus
Eucalyptus is one of my favorite accents that I use year-round on my tables. It coordinates with any season and a little goes a long way. (I usually get mine from Trader Joe's!) You could also purchase faux eucalyptus or other greenery to use repeatedly if you'd prefer not to buy it fresh each time.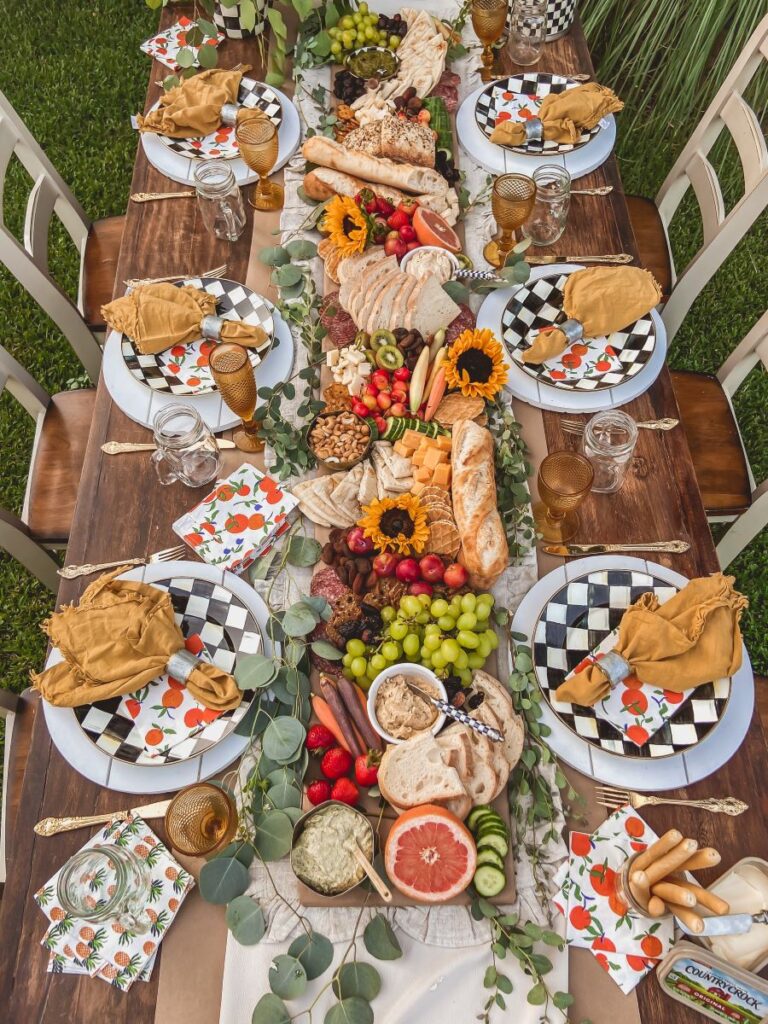 I love how the eucalyptus is a more subtle shade of green to provide a pop of color without competing with the other colors on the table. If you're hosting a winter party, you can also pair it with evergreen garlands.
4. Make a Charcuterie Centerpiece
Centerpieces don't always have to be vases, flowers, or candles. This gathering was more suited for a large grazing board, rather than a meal with multiple courses. I loved how my friends and I could just sit back, relax, and enjoy the outdoor party without having to get up and swap out plates or dishes.
You can add just about anything to a grazing board, and here are some of my favorite suggestions!
Bread: Baguettes, rolls, or pitas
Fruits: Grapes, oranges, apples, strawberries, blueberries, kiwi, and grapefruit
Veggies: Tomatoes, cucumbers, avocados, carrots
Cheese: Any variety you prefer! 🙂
Meat: Salami, turkey, chicken, pastrami or ham
Sweets: Cookies, brownies, cupcakes, etc.
Dipping Sauces: Place any dipping sauces in small bowls to disperse around the table
Decorations: Add flowers throughout to tie in some color. A helpful tip is to cut the flower at the stem leaving about a one-inch base, rinse it, then wrap the rest of the stem in foil.
5. Add Character with Cute Napkins
When I couldn't decide between linen or paper napkins I thought, "Why not do both?" The fun print of tomatoes and pineapple added a whimsical touch while serving as an anchor for the camel-colored linens. I chose a more neutral linen so it wouldn't compete with the bold black-and-white checkered plates by MacKenzie-Childs (linked below!)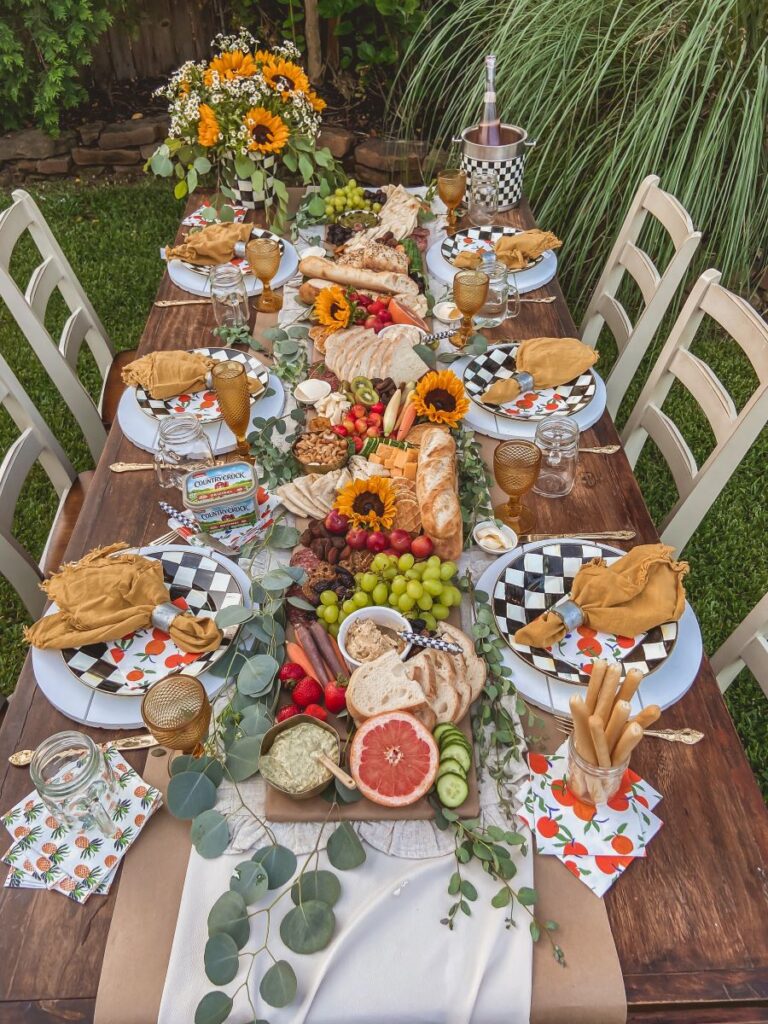 With so much food, it was nice for my guests to have a couple of options for napkins if needed for this outdoor party. Plus, you can find pretty much any print on napkins to go with whatever vision you'd like. The sky is the limit!
Shop the Post
Most of the decor items I used are MacKenzie Childs, which you can shop by clicking the links below!
I started with the checkered dinner plates, then added the ice bucket. This water pitcher could also be used as a vase! If you'd prefer a floral pattern, you can click the image below for her new garden line.
Enjoy!
I hope these tips help you feel more confident with hosting your own outdoor party! Thanks for visiting and have the best day, friends!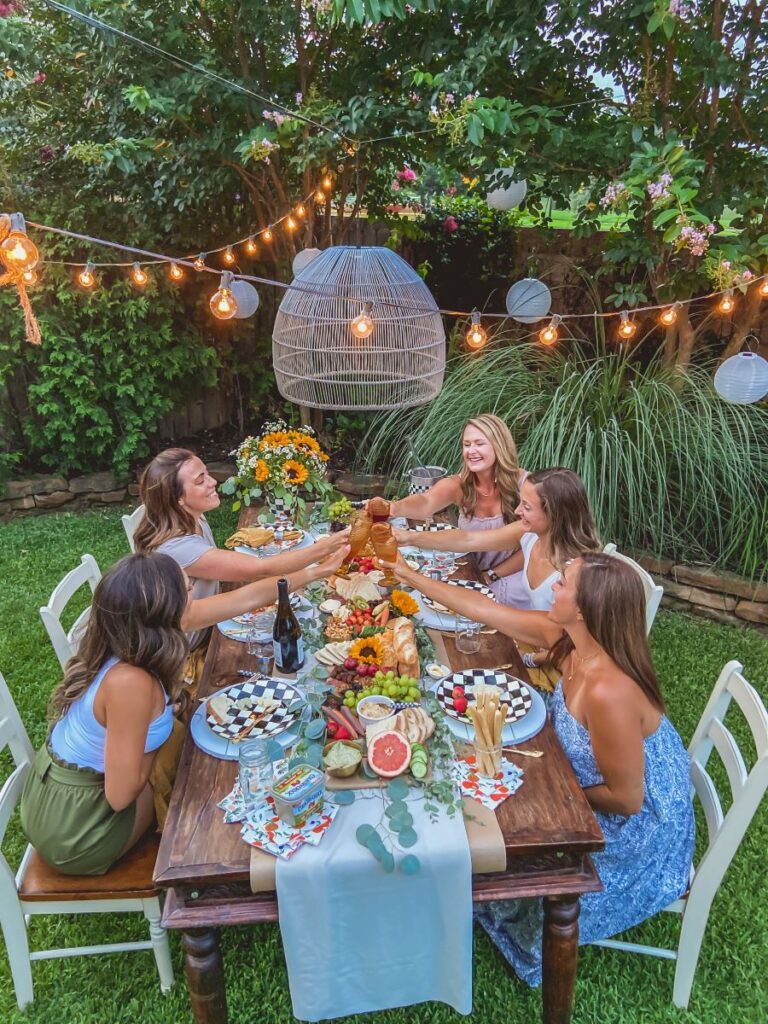 XoXo,
Leanna