Sharing is caring!
I have been putting off organizing the kids playroom all summer. Let's be honest, my kids don't play with half their toys but I know if I tried to donate anything my daughter would insist on keeping it. I knew waiting for a day when they were all at school was going to by my best best to declutter organize their toys and playroom. Today I am walking you through the process on how to organize kid's toys.
How to Organize Kid's Toys
I am in no way a professional organizer but I outlined some simple steps that you can follow in your own home.
A picture of the playroom closet before: It's not completely horrible but it was driving me nuts!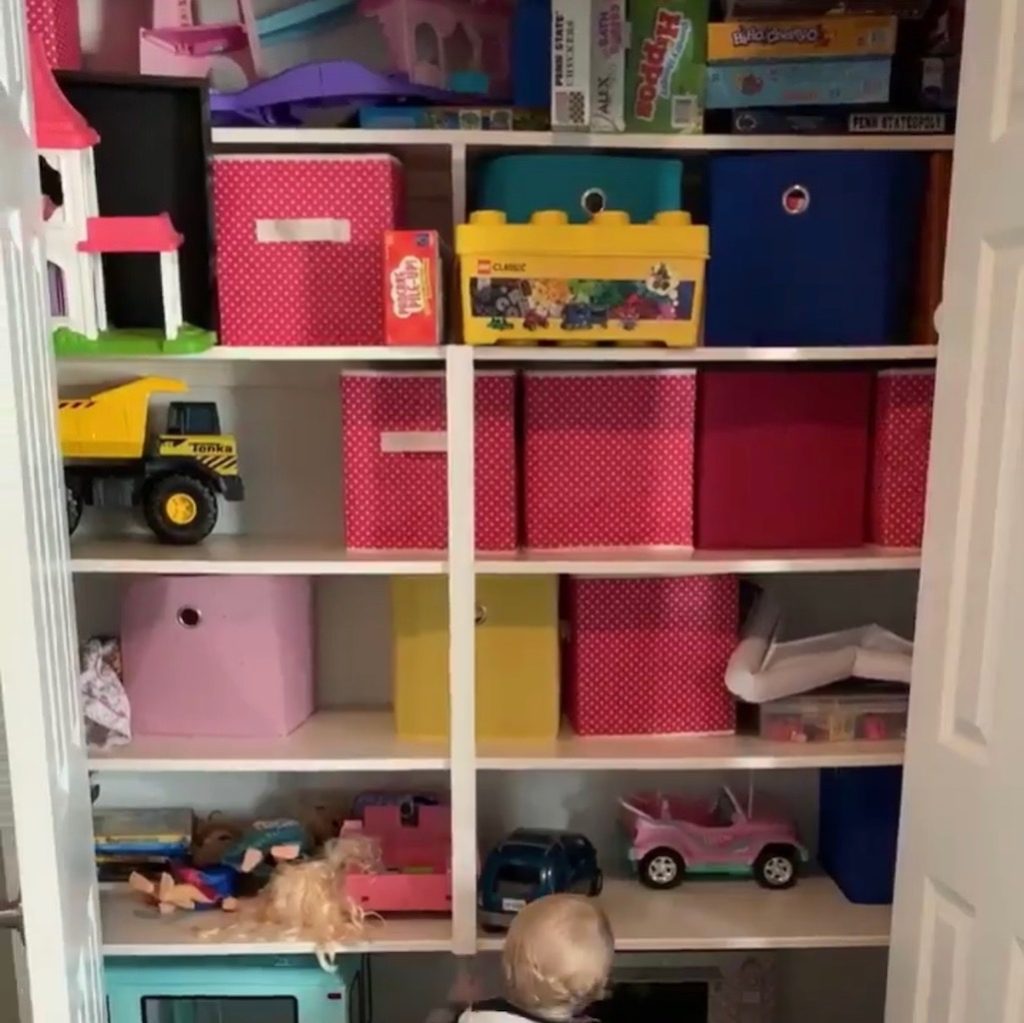 How to Organize Kid's Toys
Step 1: Empty
Take everything out of the closet, shelves or anywhere you have stored toys. In our home, it is mainly the playroom closet. This is where we store 90% of our toys. I took everything out and cleaned out the shelves.
Step 2: Purge or Donate
Next, put the toys into three categories: purge, donate or keep. I went through every single toy and categorized them into different piles. After I was done, I put all the purged items in garbage bags and the donate into boxes to bring to our local good will.
Step 3: Organize
Now this step can seem the most overwhelming. But, once you have everything in the Keep pile, start to sort the items into separate categories; such as figurines, blocks, puzzles, stuffed animals, legos etc.
Once you see what you are dealing with it is time to determine how you want to store the toys.
Step 4: Storage Solutions
The best storage solution for kids toys are bins with labels. You don't have to label every single bin but I think it's a good idea to label the toys that will be around the longest. Consider bins with lids for toys that are small such as figurines or barbie doll accessories.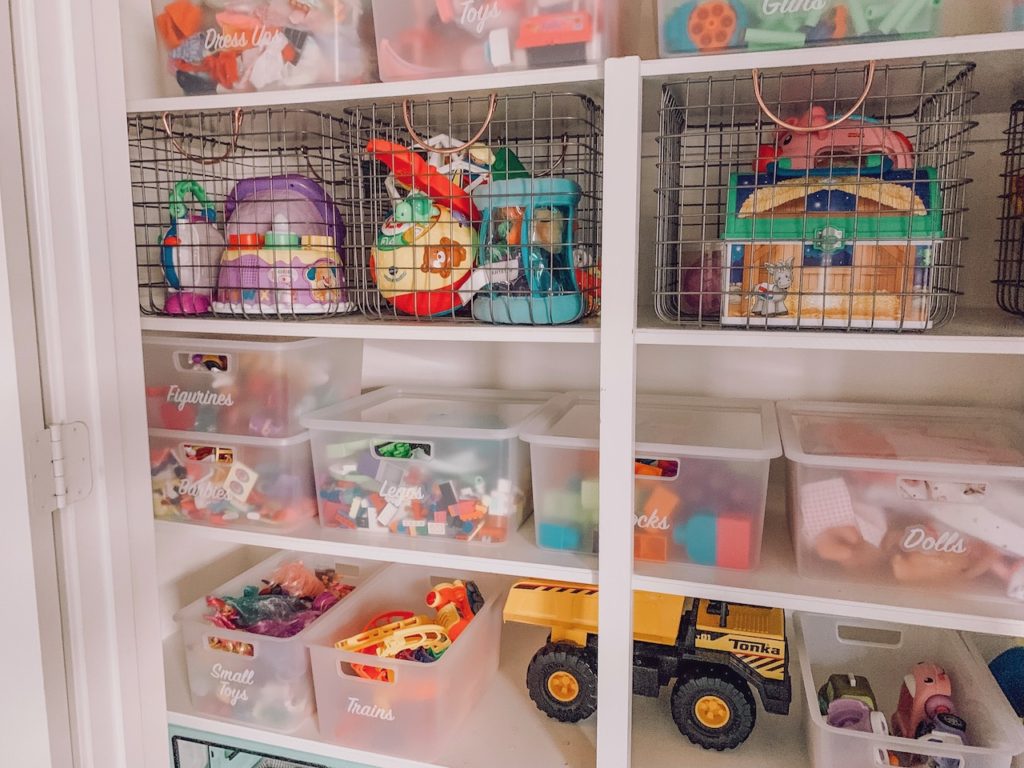 I found our bins at target and Ikea. I used the frosted bins with lids for small toys and the big wire bins for large baby toys.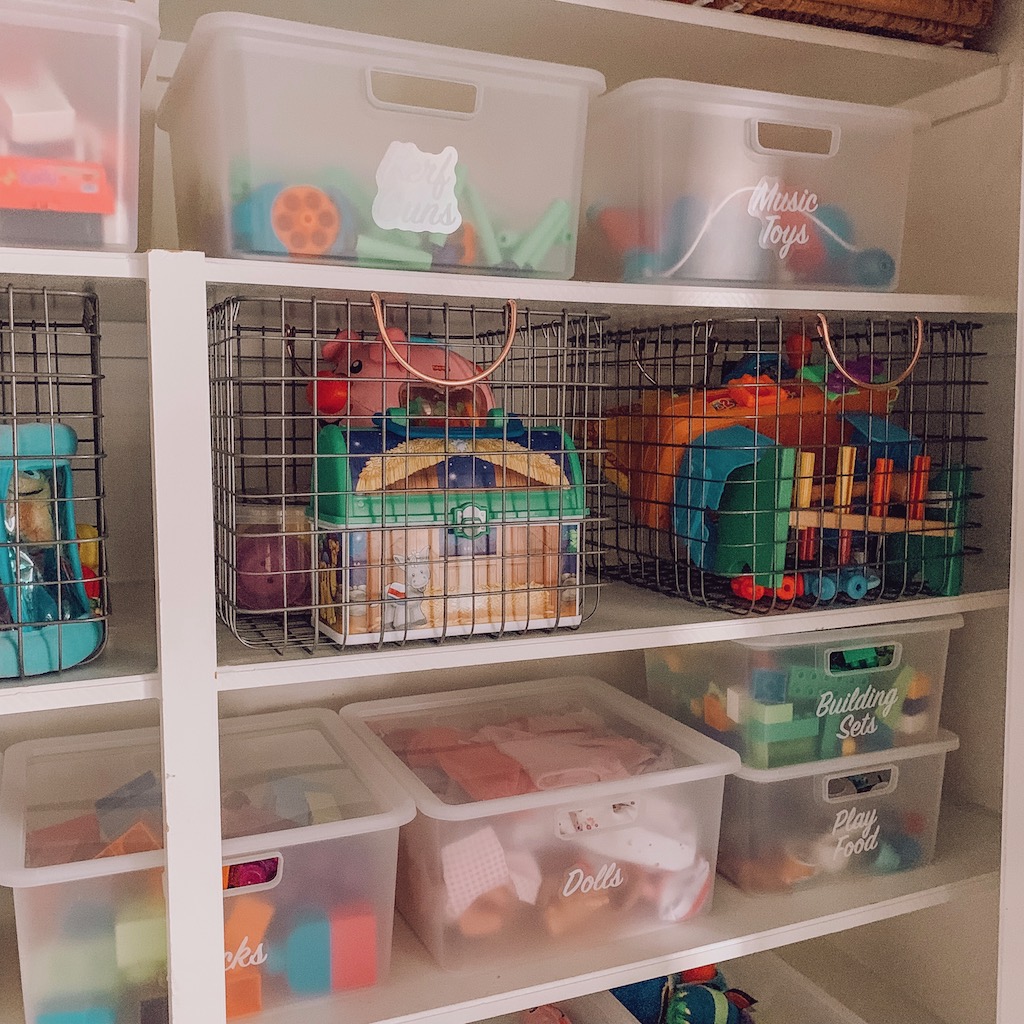 On the top I used baskets for bigger items such as barbies and dolls.
Step 5: Sort and Order
Now that you have all your bins put your toys in the appropriate bins and label when necessary.
Below I have added the products we used for your shopping convenience.

Here is our finished organized playroom closet!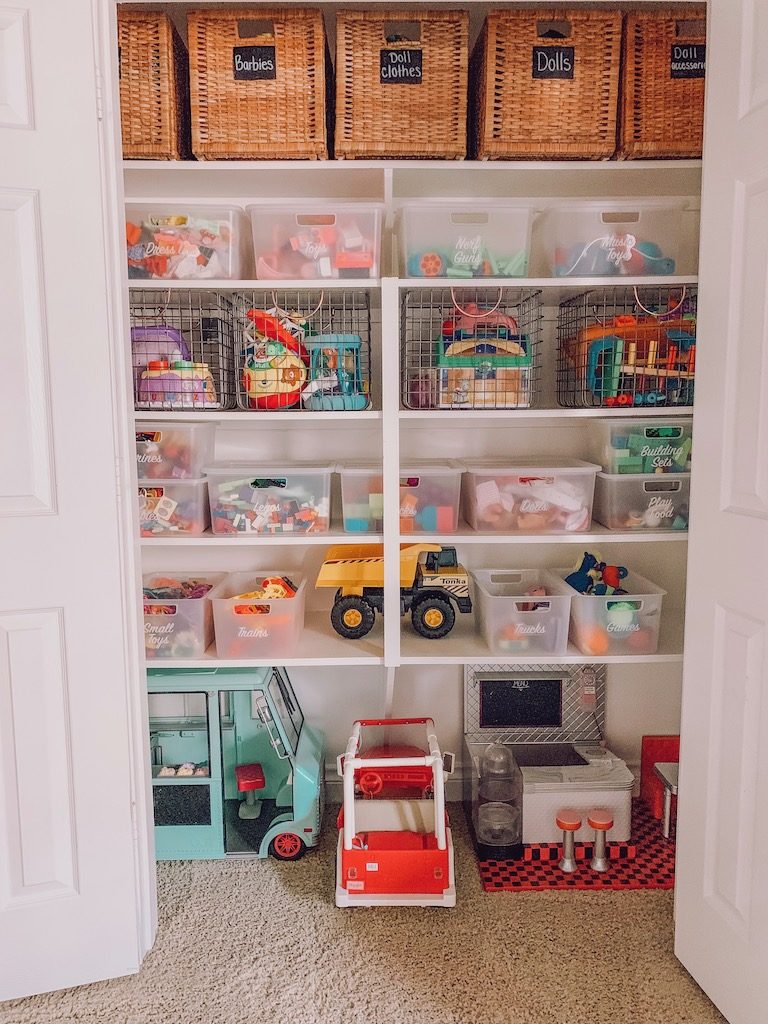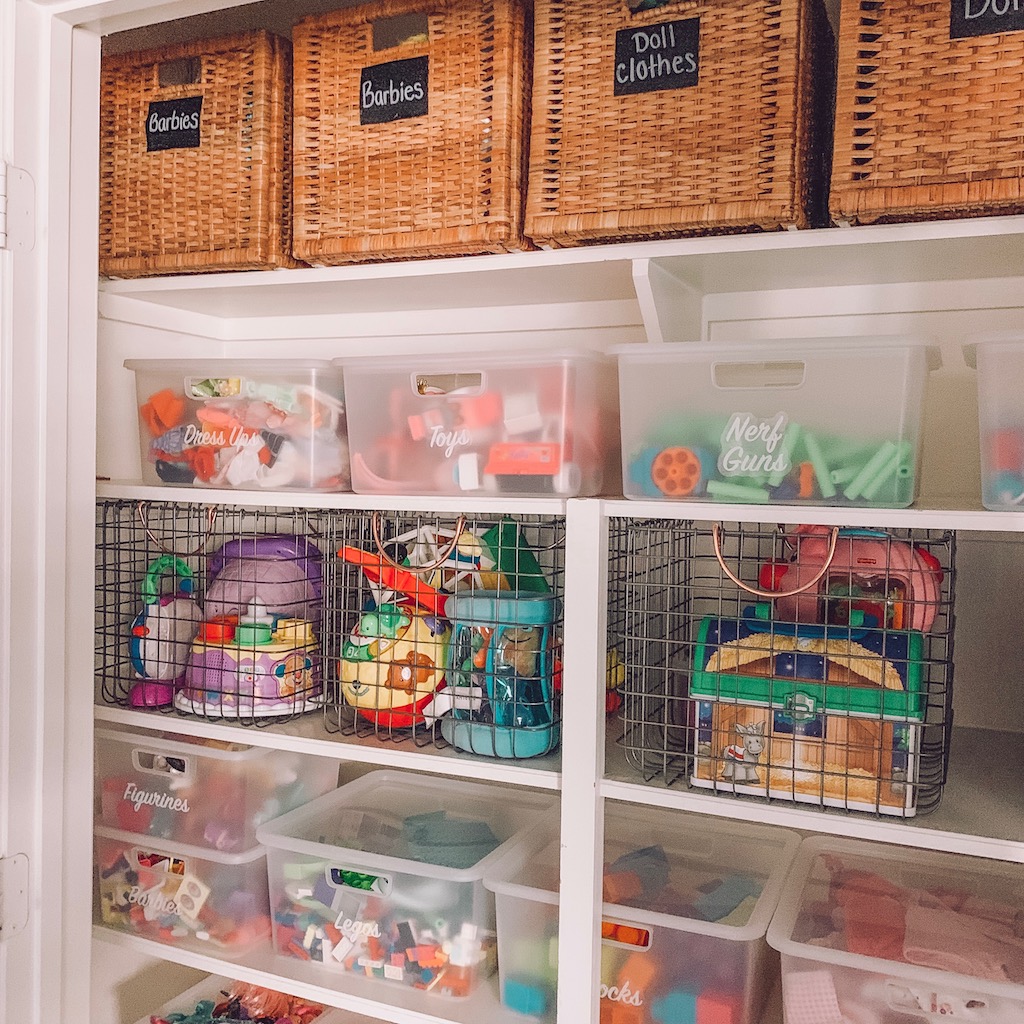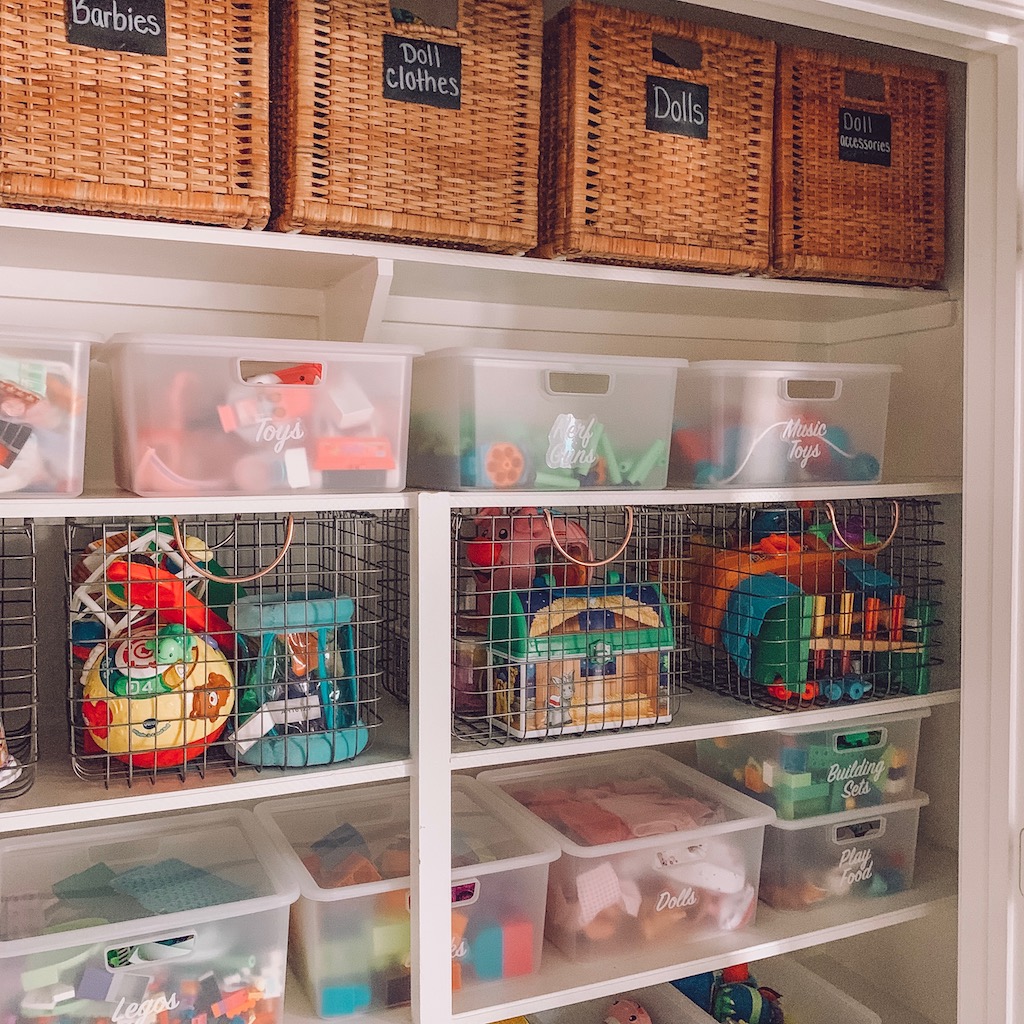 Playroom Storage Tips
Don't expect perfection!
I want our playroom to be a place where my kids can have fun. I know there will be toys left out and a mess to clean up after each day. But if you have a system like outlined above, putting toys back away should be a breeze!
Have easily accessible baskets and bins
I touched on this above but baskets and bins are my life! It also makes it easier for your littles to help you in putting toys away!
Invest in kid-friendly shelving if you have space for it
We have one bookcase shelving unit out in the playroom that holds all the toys that we use daily. This makes it easier for the kids to get out their own toys and to put them away!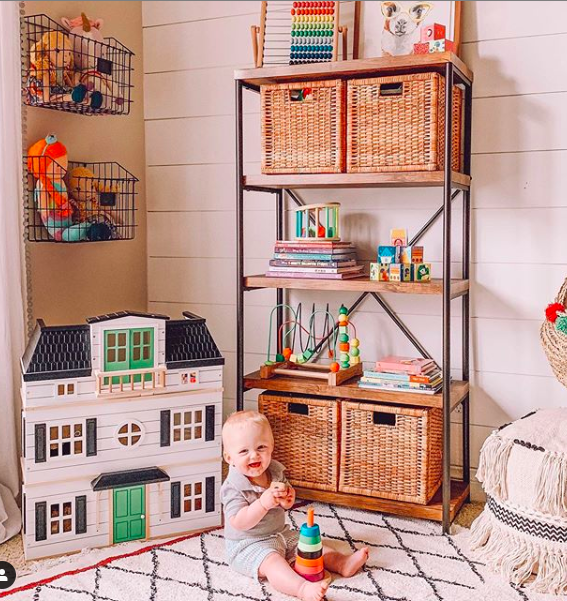 Rotate toys
I am a big believer in rotating toys! Rotate the bins around every few months so they play with toys that they have since forgotten about. I also even save a few Christmas and birthday presents to be played with at a later date.
Consider a toy that doubles as seating!
What is this you may ask? Well its my best purchase ever, we even bought two. This my friends is called the Nugget. I have several friends who have bought it after spending time at our house and LOVE it as much as we do! If you follow along with me on instagram @lifebyleanna you will know that my kids use the nugget for sleeping, watching tv, playing make believe (Using it as a sailboat, spaceship, camping tent etc.) and so much more.
Do pickups throughout the day
Pick up the playroom a few times a day to make the burden at the end of the day a-little bit more bare-able. (You can read more of my tips and tricks to keep our house clean here). We usually pick up before lunch and before dinner, then once more before bed. This is what works best for us, do what works best for you!
I hope you enjoyed these tips on how to organize kid's toys! I'll be sharing tips and tricks on how to organize your pantry next! Stay tuned!
xoxo,
Leanna