This Little Debbie Christmas Tree Cake Dip is Amazing!
This 10-minute recipe is a fun spin on Little Debbie Christmas Tree Cakes by turning them into a holiday dip!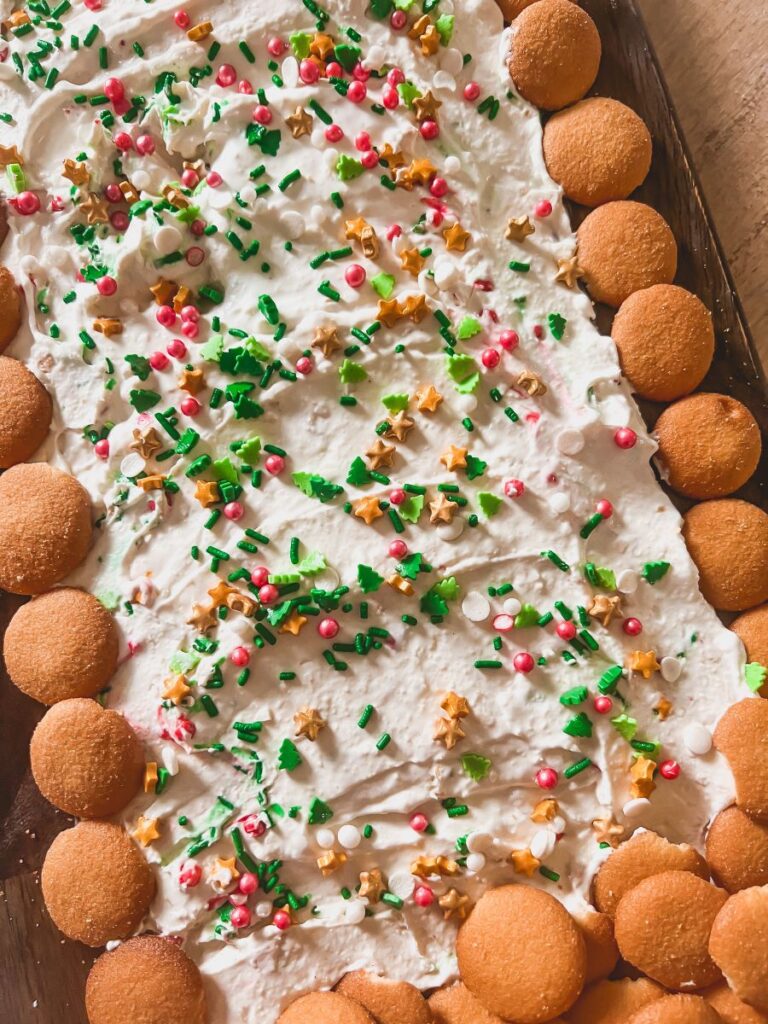 Do you remember those cute, individually-wrapped Little Debbie's Christmas Tree Cakes? I always used to get so excited to have one in my lunch box as a kid! This easy recipe utilizes that nostalgic dessert by turning it into a festive dip!
I've Never Tried These. What's All the Fuss?
Never fear, it's not too late to experience these glorious creations! The classic version is vanilla cake with a vanilla cream filling, coated with white icing and decorated with sprinkles. If you've ever had a Zebra Cake, they are essentially the same thing. There is also a chocolate version if that's more your thing!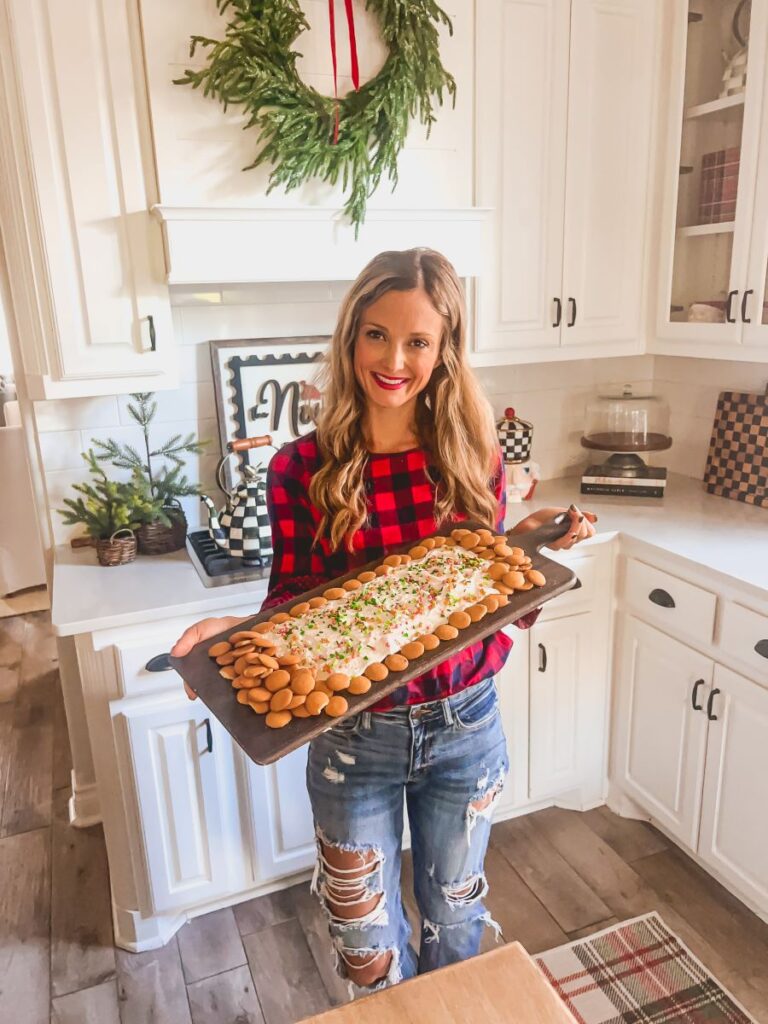 Dip Ingredients (You Don't Need Many!)
First, you'll need one box of Little Debbie Christmas Tree cakes. (Tip: Buy an extra if you want to keep some on hand just for you as a holiday treat! This is highly recommended. Five stars.) Then, you'll just need milk, cream cheese, Cool Whip, vanilla extract, and sprinkles for the holiday dip.
Side Options!
This is really up to you! I used Nilla wafers but the possibilities are endless. I'd also recommend fresh fruit like strawberries or apples, pretzels, graham crackers, animal crackers, or gingerbread cookies for a festive flair to complement the Little Debbie Christmas Tree Cake dip. It's also fun to decorate the tree with a couple of extra tree cakes!
Check Out The Video Below for a Quick Tutorial!
Do I Need a Food Processor?
Nope! The dip will be a bit smoother using a Food Processor, but it's still great without needing one! You can use a hand mixer like I did, or a Kitchenaid mixer instead and beat on high speed until it is as smooth as possible. There might be very small pieces of cake in the dip, and it's helpful to chop up the cake pieces as small as possible before mixing.
Directions
First, combine the Christmas Tree cakes, Cool Whip, milk, cream cheese, and vanilla extract in a Food Processor, mixer, or bowl and mix until smooth. Refrigerate until serving time.
Tip: Wait until serving time to add the sprinkles, as they will start to dissolve if they are added too early. The dip will still taste delicious but will look a bit swirly and messy. Save them for serving time!
Other Presentation Tips
I created a Butter Board style for my holiday dip using a rectangular tray. You could be extra creative and make a Christmas tree, ornament, present, or any other shape out of the dip! Or, you could keep the dip in a pretty serving bowl centered on a tray and surrounded with the side options.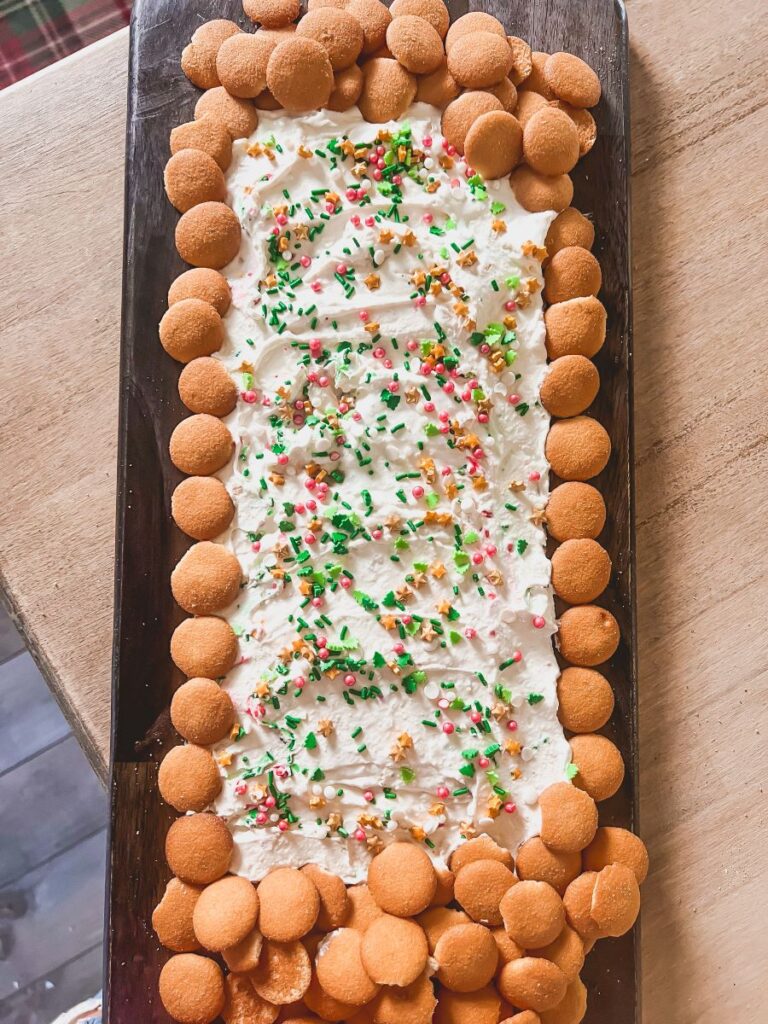 Shop Trays!
For a long rectangular serving tray, I love this wooden tray or this part wood, part marble option from JC Penney. Kirkland's also has another great option here! Target also has this wooden tray that I love.
Is This An Appetizer or Dessert?
This is really up to you! The great thing about this holiday dip is that it's very versatile and can be both, especially when it comes to the sides you pick. It's definitely a sweet treat so if you serve it as an appetizer, I'd also recommend a savory dish for some balance.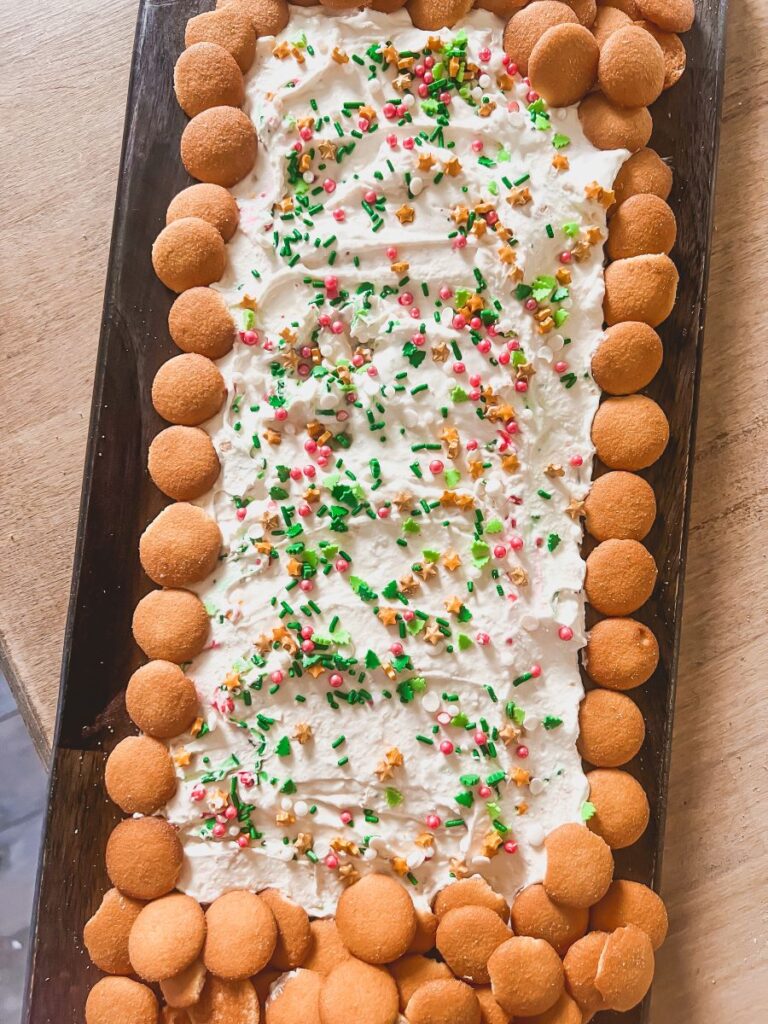 Swap With Zebra Cakes to Use Year-Round!
For a fun dip that you can use year-round, just swap out the Christmas trees for the Zebra cakes and use different sprinkles! (This makes a perfect treat for kids' birthday parties!)
Storage
Be sure to keep any extra dip refrigerated and covered, although I doubt you will have many leftovers with this delicious holiday dip! This dip will last about 5 days in the fridge.
Happy Holidays, everyone!
Print
Amazing Little Debbie Christmas Tree Cake Dip
This easy holiday dip is made from Little Debbie's Christmas Tree Cakes and is a hit with both kids and adults!
Author:
Prep Time:

15 minutes

Cook Time:

0 minutes

Total Time:

15 minutes
For Dip:
One box of Little Debbie's Christmas Tree Cakes
One

8

-oz. Package Cream Cheese

1/3 Cup

Milk

One Teaspoon

Vanilla Extract
One

8

-oz. Tub Whipped Topping or Cool Whip
Red and Green or Holiday-Themed Sprinkles for Decoration
Side Options for Dipping:
Vanilla Wafers, Fresh Fruit, Cookies, Graham Crackers, or any other preferred side
Instructions
Unwrap and chop the Christmas Tree Cakes into small pieces. 
Combine cakes with milk, cream cheese, and vanilla extract using a hand mixer, Kitchenaide Mixer, or Food Processor. Mix until as smooth as possible.
Fold in Cool Whip. 
Refrigerate until ready to serve. Add sprinkles at serving time so they don't dissolve. 
Display in bowl or serving platter and serve with sides for dipping. 
Store any leftovers in a covered container and refrigerate.
Notes
Recipe courtesy of Little Debbie.
Keywords: Holiday Dip, Little Debbie Christmas Tree Cake Dip, Easy Christmas Appetizer, Easy Christmas Dessert