Sharing is caring!
Our Best elegant Table Design Ideas, Holiday Dining Table Styling Tips, Festive Tablescape Inspiration
The holidays is the one time of year where we tend to host family and friends all season long. I love to invite people into my home to celebrate the magic of the season. The dinning room is the one room in my home where we all gather round to exchange laughter and eat delicious home cooked food. Today, I am putting together my top tips on how you can create an elegant table this christmas that will have your guests in awe!
I am also joining some of my favorite bloggers to share with you our Christmas tables! If you are coming over from, Jaclyn James Home, I am so glad you stopped by. To see the entire list of bloggers on todays tour, scroll to the bottom of this post. Trust me, you won't want to miss it!!
This post contains some affiliate links. I hope you find shopping these links an added convenience. I always appreciate you shopping these links and supporting this little blog of mine!
Add Elegant Christmas Decorations to your Dinning Room
Start with adding Christmas Decorations in your dinning room. Stay with one theme and color scheme to achieve a cohesive look. Here, I stayed with greens and golds for an elegant natural Christmas Tablescape.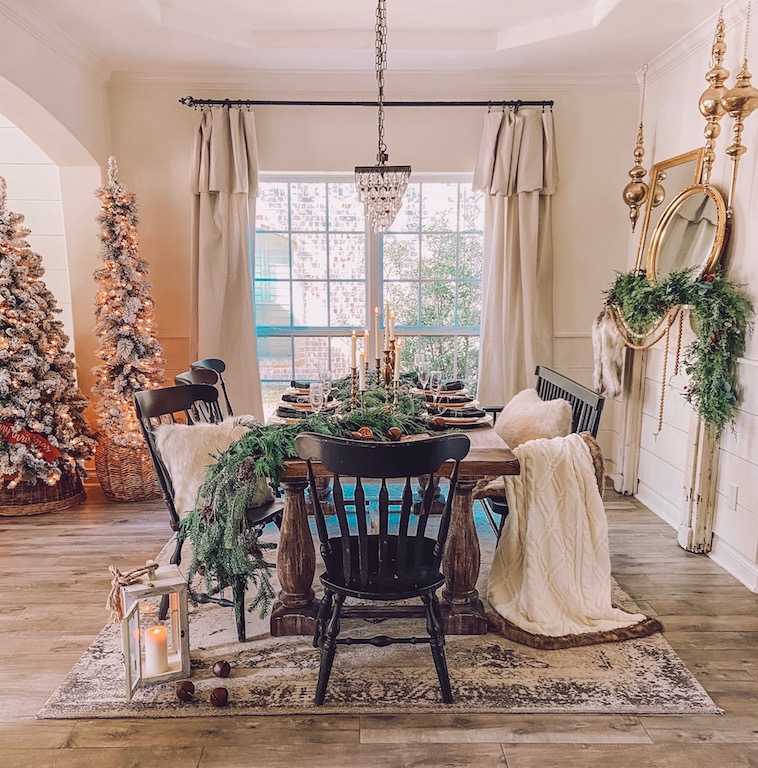 I found gold mirrors on facebook marketplace to add to my mantle. Facebook marketplace is always a great place to look for antique items at an affordable price.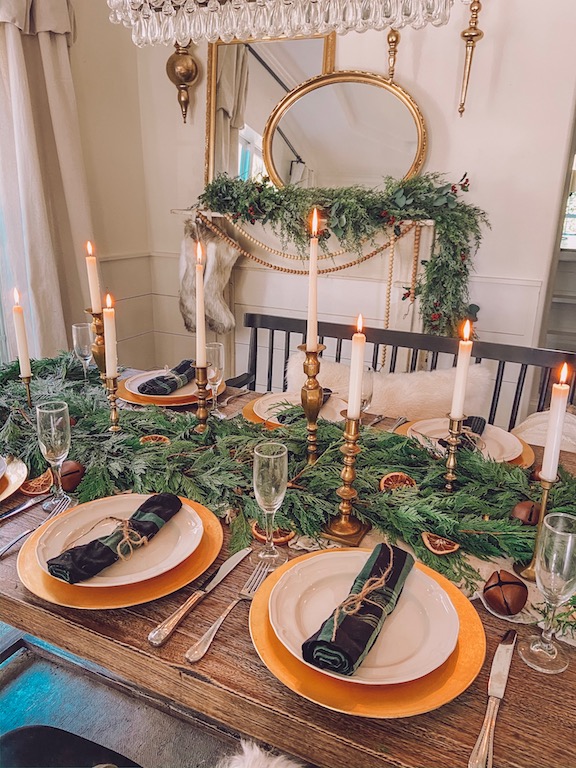 You can also shop some of my favorite gold mirrors here.
I hung oversized gold ornaments from my ceiling to add dimension to the wall. You can also hang smaller sized ornaments at varying heights to achieve the same look. (To prevent holes in your ceiling, command hooks are a great and easy way to hang things)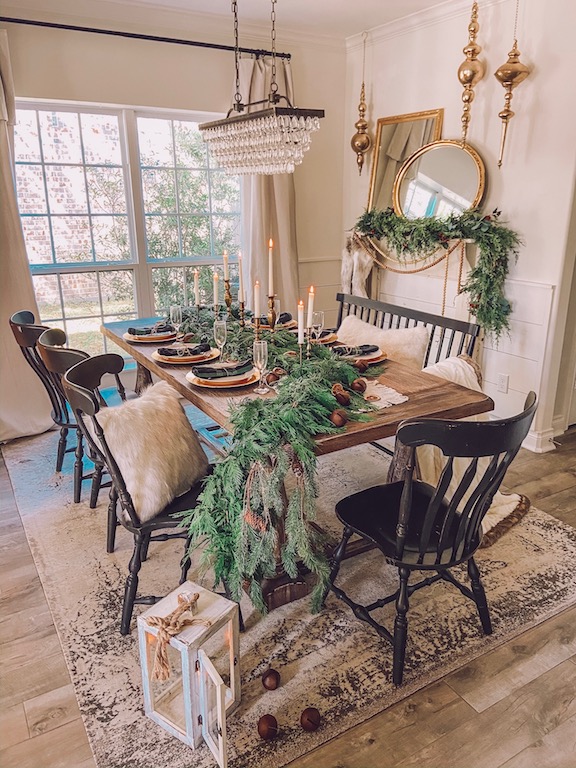 I also added Christmas trees for a magical twinkle touch.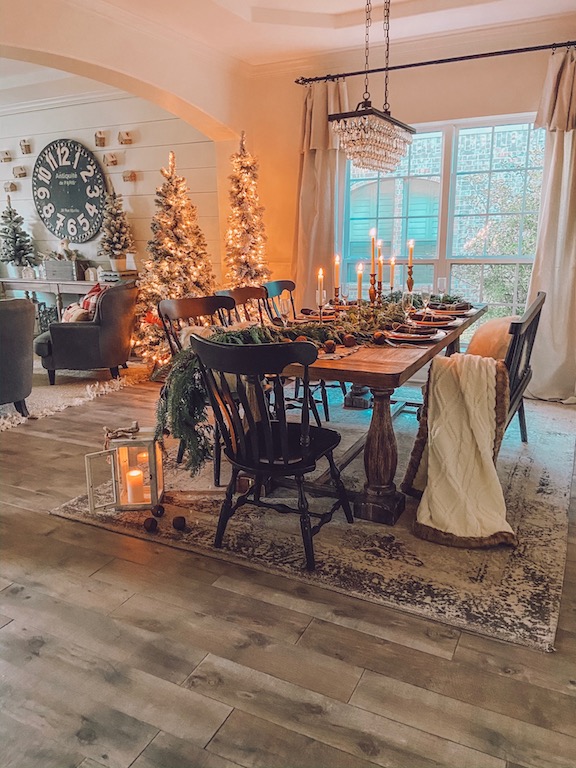 Create a table centerpiece
The centerpiece is the focal point of the table. Make sure to keep to your color scheme when designing your centerpiece. A garland down the center will create an elegant look to any table.
Here I added dried oranges, and bells down the center for a hint of color. For more color or a pop of red, you can add berries, pomegranates or any fruit of your choosing.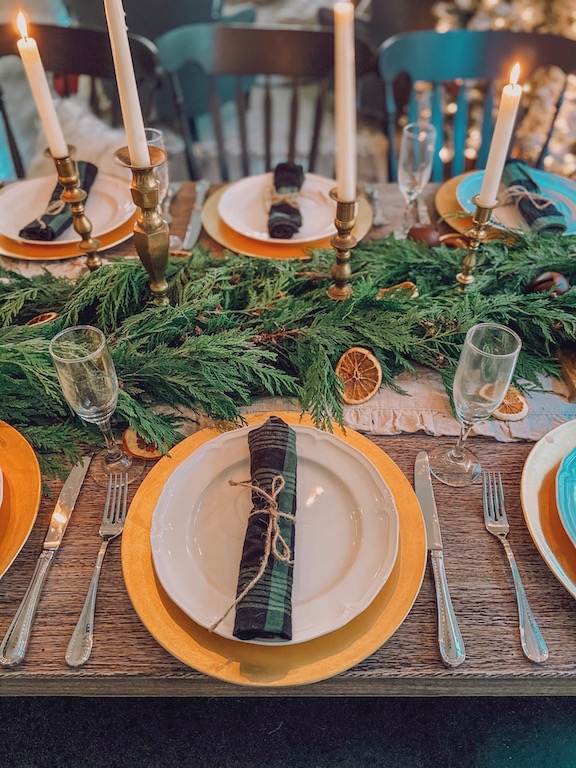 I always like to use candles for an elegant Christmas table setting. Candles create a magical touch to any space. I used gold candles, with different heights down the center of the table. These candles are from an antique store but I linked similar ones here.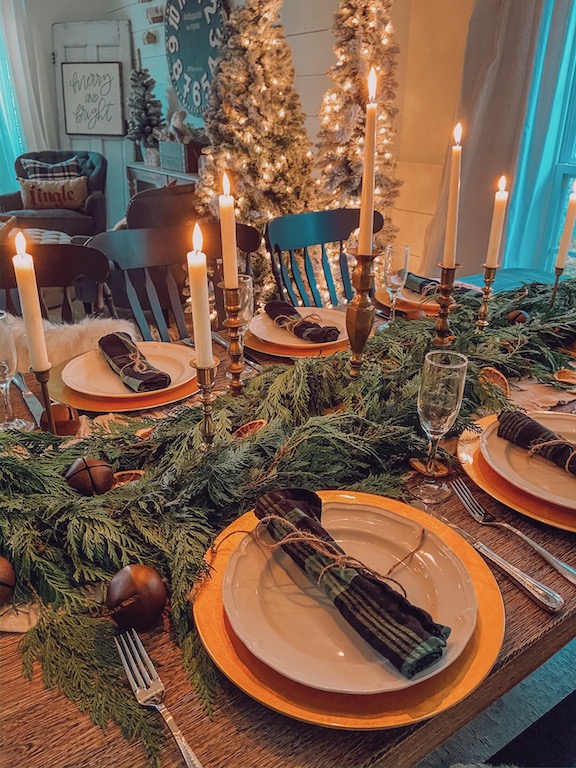 Set Your Elegant Table Setting
When you set your table, use elements that are in your theme and color pallet. I added gold chargers to bring in more gold. For the napkins, I used a green plaid and tied them up with a natural jute string. You can also add sprigs, cinnamon sticks, holiday festive ribbon, pine branches or holly to your rolled up napkins for added texture.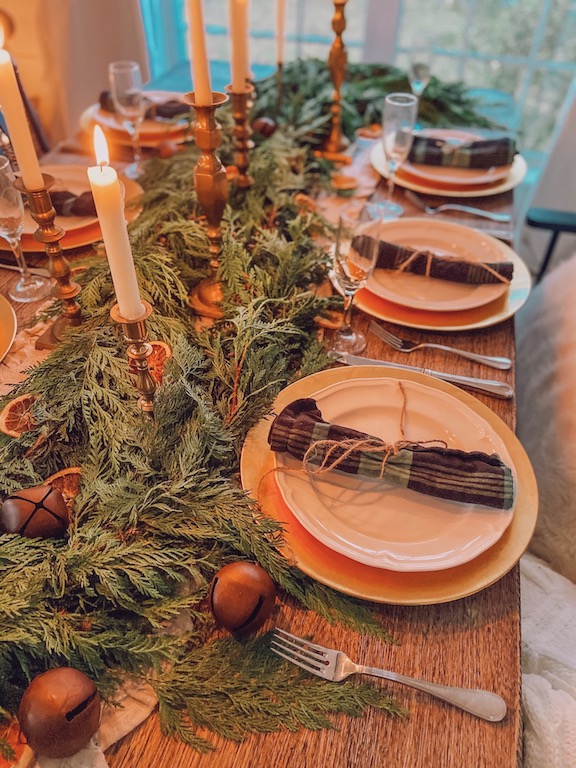 Use your creativity to design an elegant table setting for your guest! You can also incorporate name cards if you choose. Some of my favorite name card ideas are small wrapped presents, mini twig wreaths, and ornaments.
Other Elegant Table Setting Suggestions
Add twinkle lights for some more magic
Tea candles are a great substitution for candlesticks
Instead of rolling up the napkin, fold it in half and place it under the dinner plate.
Write names on glassware with a black sharpie (it will come off in the dishwasher!)
Give your guests something to take home when they leave, such as an ornament, place card holder, festive cup, personal sized dessert.
For more Christmas inspiration, make sure to see my Christmas table from last year here.
Before I had my blog I created a red and green elegant tablescape two years ago and never shared these photos on my blog! I used a lot of the same design elements this year!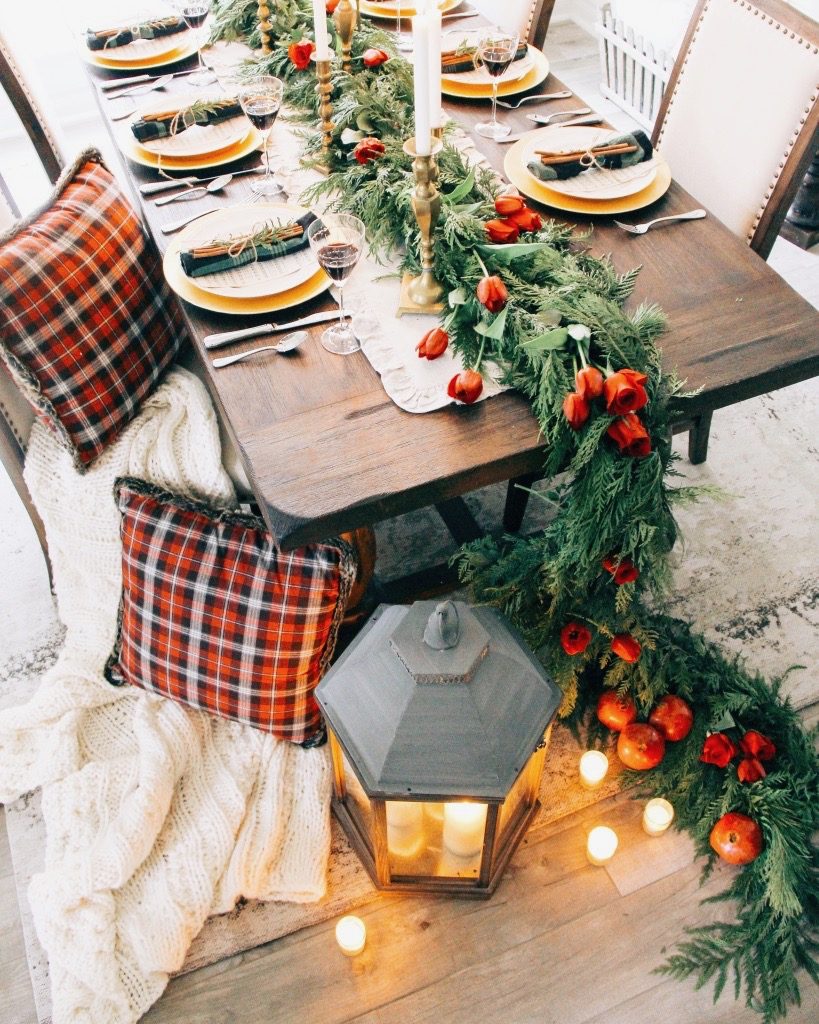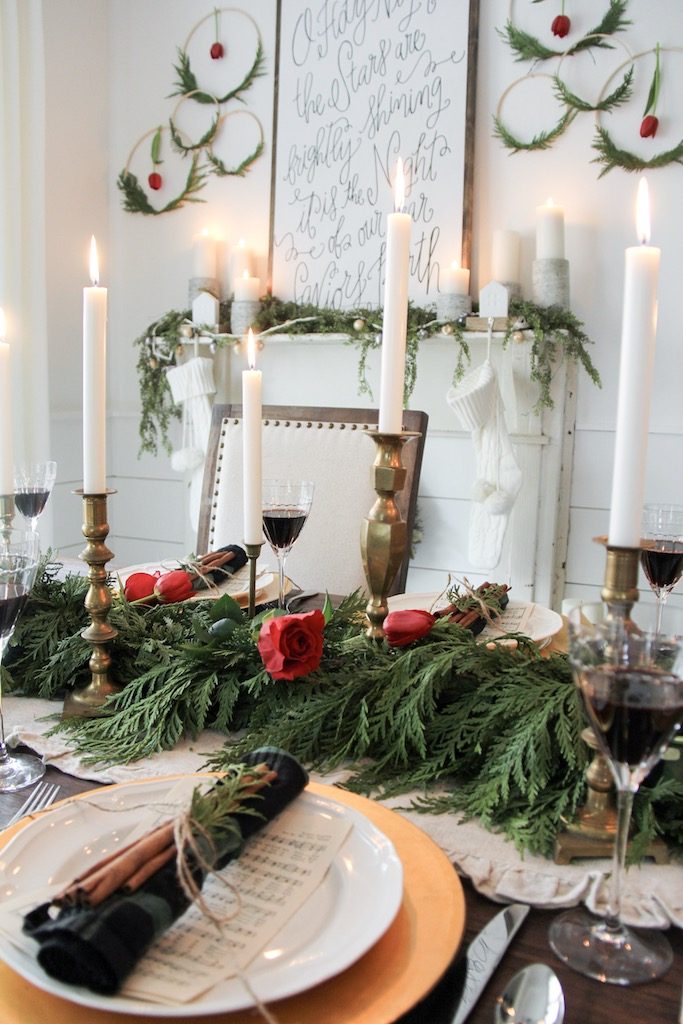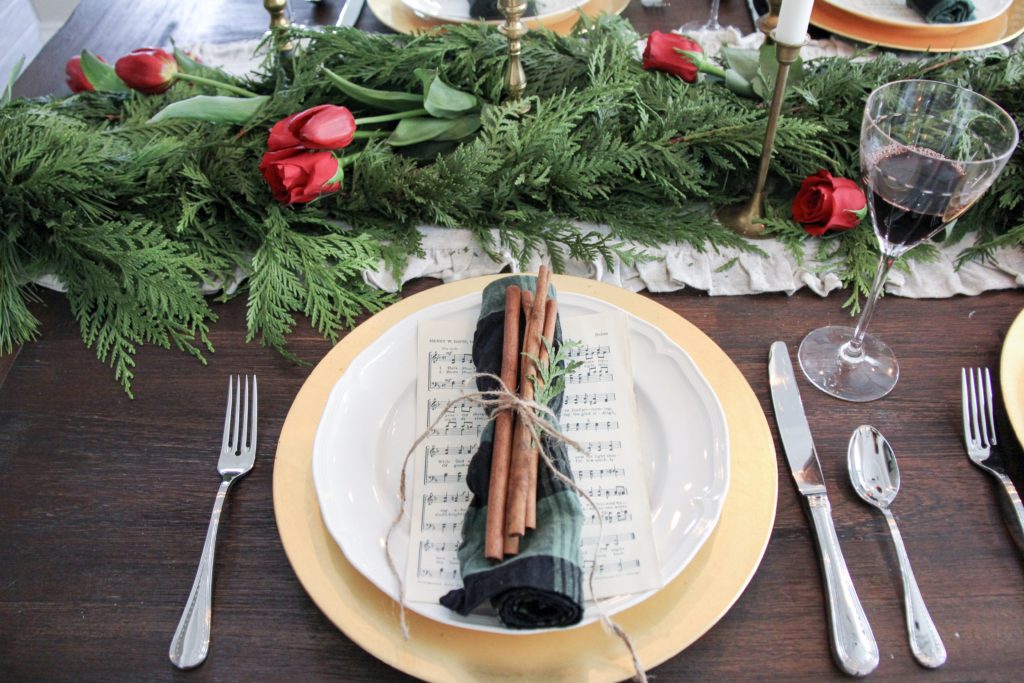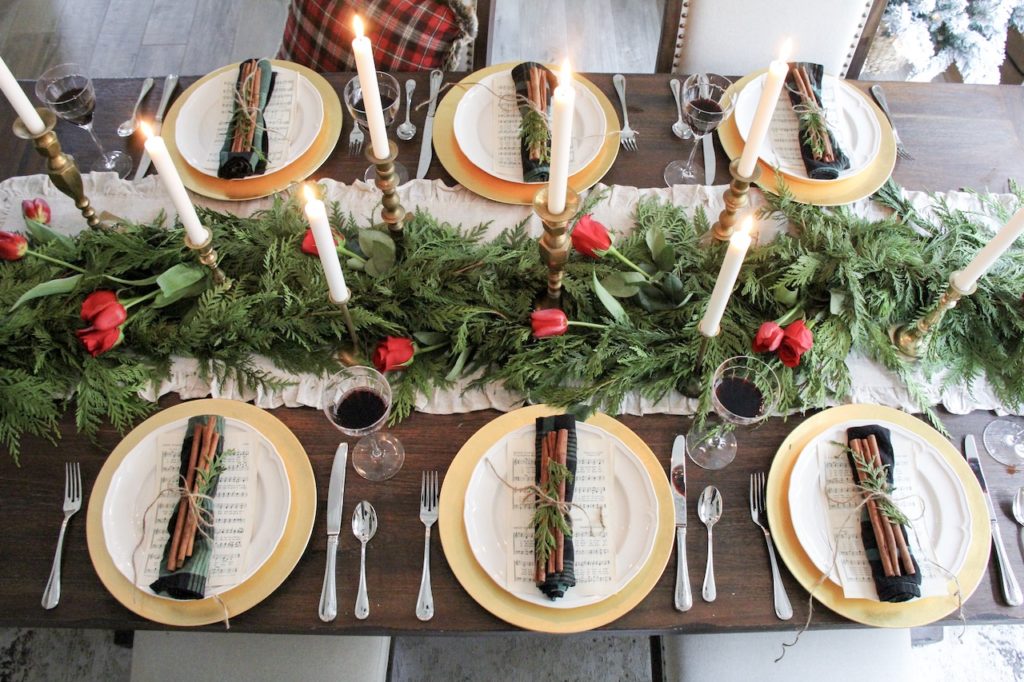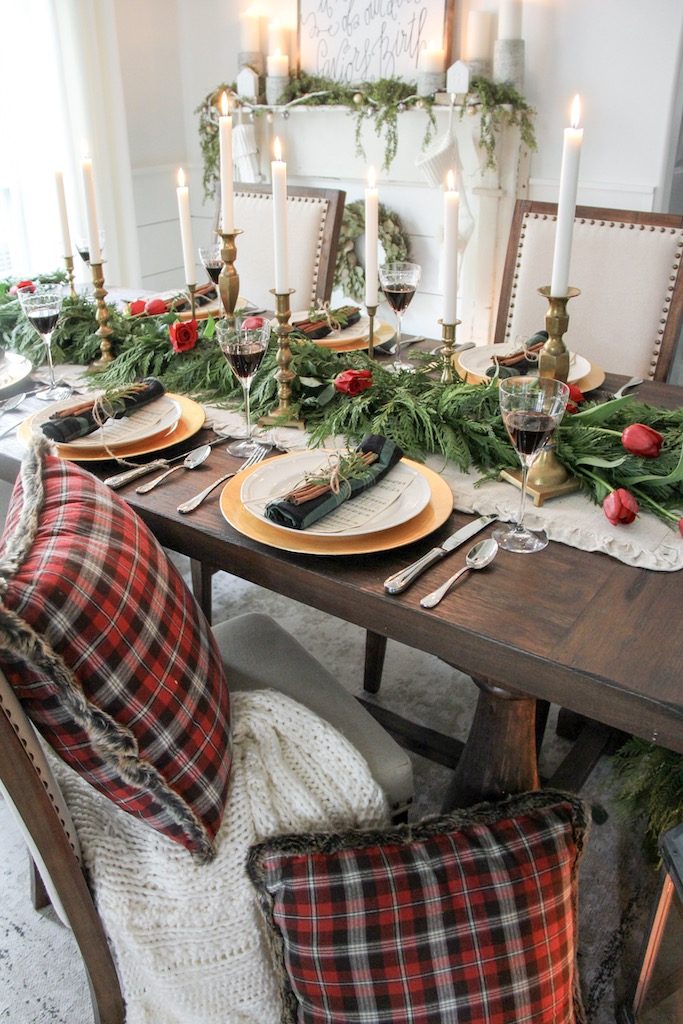 Christmas is such a magical time of year, and creating an elegant table for your guest to enjoy is so very special. When you bring family and friends into your home, you are welcoming them into your heart. I hope this holiday season you cherish these memories that you will remember for years to come.
Wishing you the joy of family, the happiness of friends, and the love of Christmas! May the warmth and peace of the holiday season fill your hearts!
Don't forget to check out Karens table next! She has some beautiful Christmas inspo!
xoxo,
Leanna
Christmas Table Blog Hop
Bethany – Crisp Collective
Sarah – Grace in My Space
Emily – Handmade Farmhouse
Deborah – Hip and Humble Style
Jaclyn – Jaclyn James Home
Leanna – Life by Leanna
Karen – Sanctuary Home Decor