How to Create an Epic Hot Chocolate Bar
This amazing hot chocolate bar and recipe makes any winter party extra sweet (or spicy for the adults!)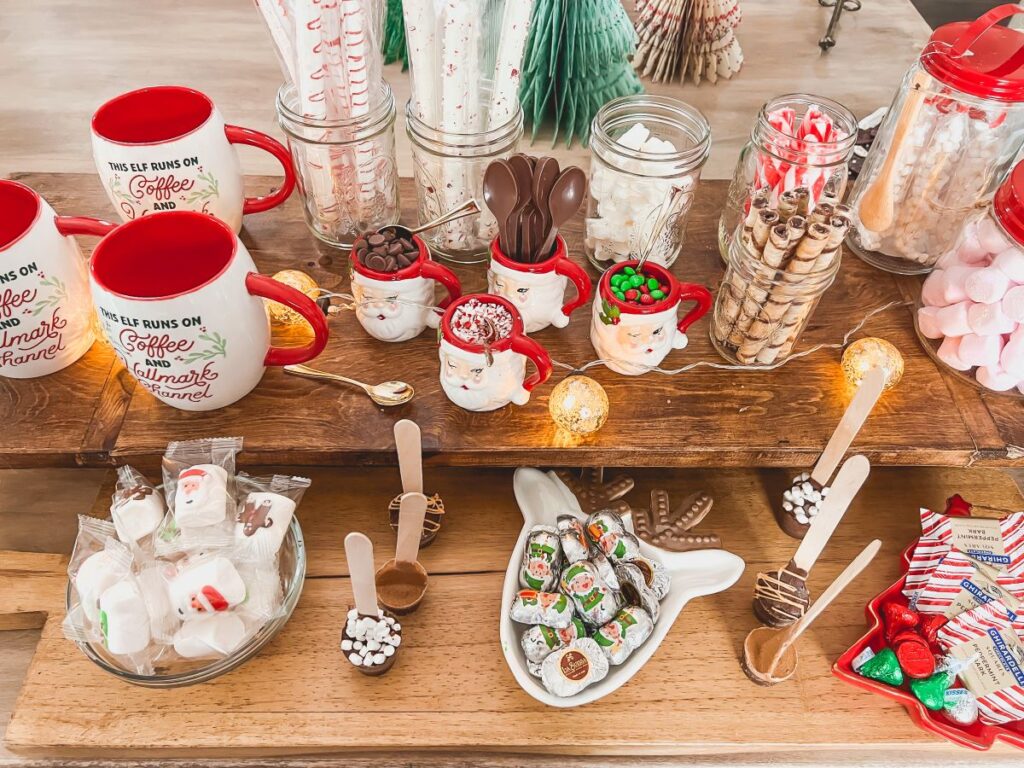 Hot chocolate bars are such an easy way to add some extra magic to a holiday party, movie night at home, or a cold winter day! I love setting up a hot chocolate station because they can be a treat for the kids and the adults (with some optional boozy ingredients.) Here's how you can create a fun experience for your people-while keeping things easy for you!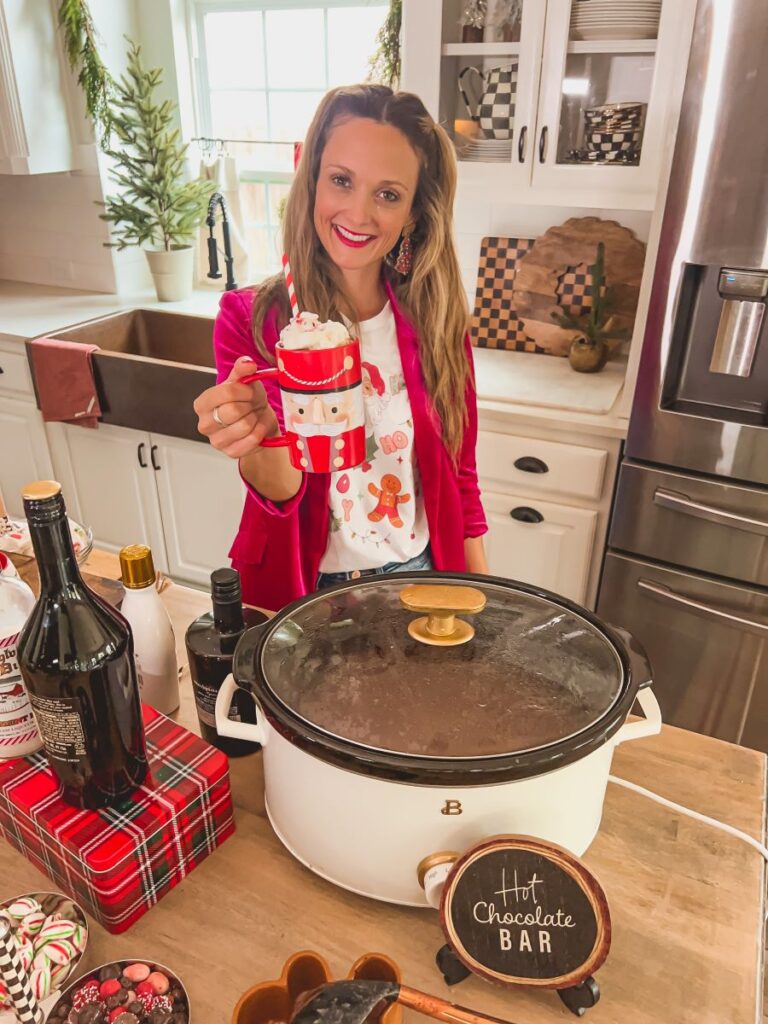 Hot Chocolate Bar Treat Ideas
You can have fun and get creative and add whatever you'd like! Here's what I love to include: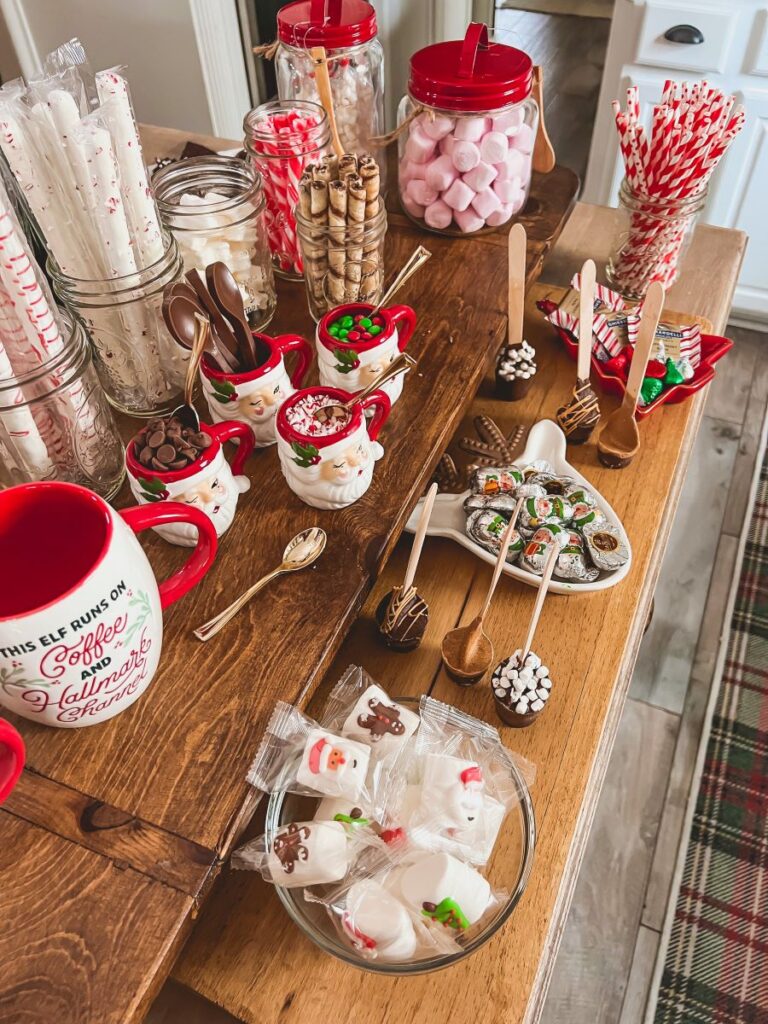 Optional Alcohol for Boozy Hot Chocolate
Adults can add a variety of choices to spice up their drink, such as:
Bailey's Irish Cream
Borgota Chocolate and Peppermint Liqueur
Pennsylvania Dutch Peppermint Bark Liqueur
Rumchata Cream Liqeuer
Whiskey or Bourbon
Fun Styling Ideas for Your Hot Chocolate Bar
Not only is a hot chocolate bar delicious, but it can also make for adorable decorations! You can add twinkle lights, a cute sign, or any other festive decorations. I also used these handy items:
Serving Boards: To save space on your countertop, try layering two serving boards. I love this elevated serving board, this long paddle board, or this festive Merry and Bright platter. My ultimate favorite is my tree-shaped wooden platter from Antique Farmhouse!
You can also layer items on festive cookie tins. As a real money saver, you could always wrap shoeboxes in wrapping paper!
Dishes: This Christmas tree dish can hold various sweets and also comes in a wooden version! My plaid-loving heart also can't get enough of this plaid dish set.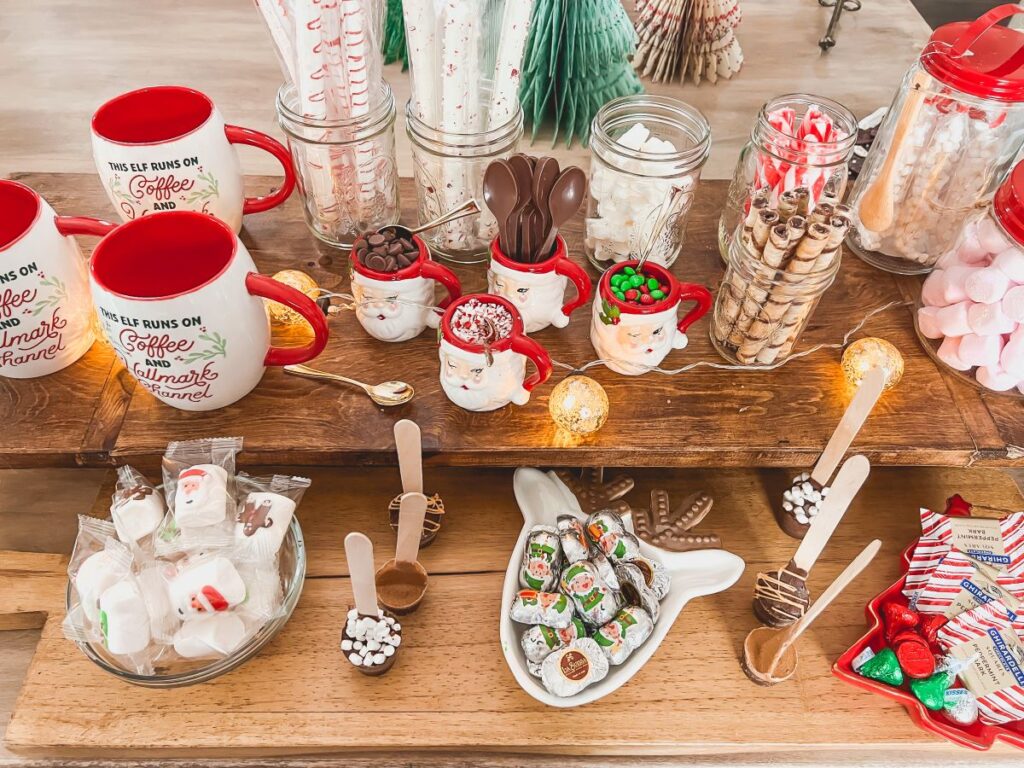 Mason Jars: These mason jars are such a cute way to display taller items. You can reuse them for so many purposes throughout the year, so they are definitely a great investment!
Straws: Don't forget the fun straws, like these gingerbread, plaid trees, or snowmen!
Festive Mugs: I started with these cute Santa mugs from Michaels. For more options, I also adore these from Target, these from Walmart, these from World Market, or these tiny Santa shot glasses from Williams-Sonoma. MacKenzie Childs has this Santa Planter that could hold numerous goodies for a higher-end option.
I also purchased these Nutracker mugs from Hallmark! You could also go with these from Walmart, these from World Market, or this fun stackable set from TJ Maxx.
Some mugs can be used for holding display items while others can be for serving!
You Can See a Quick Video Tutorial Here!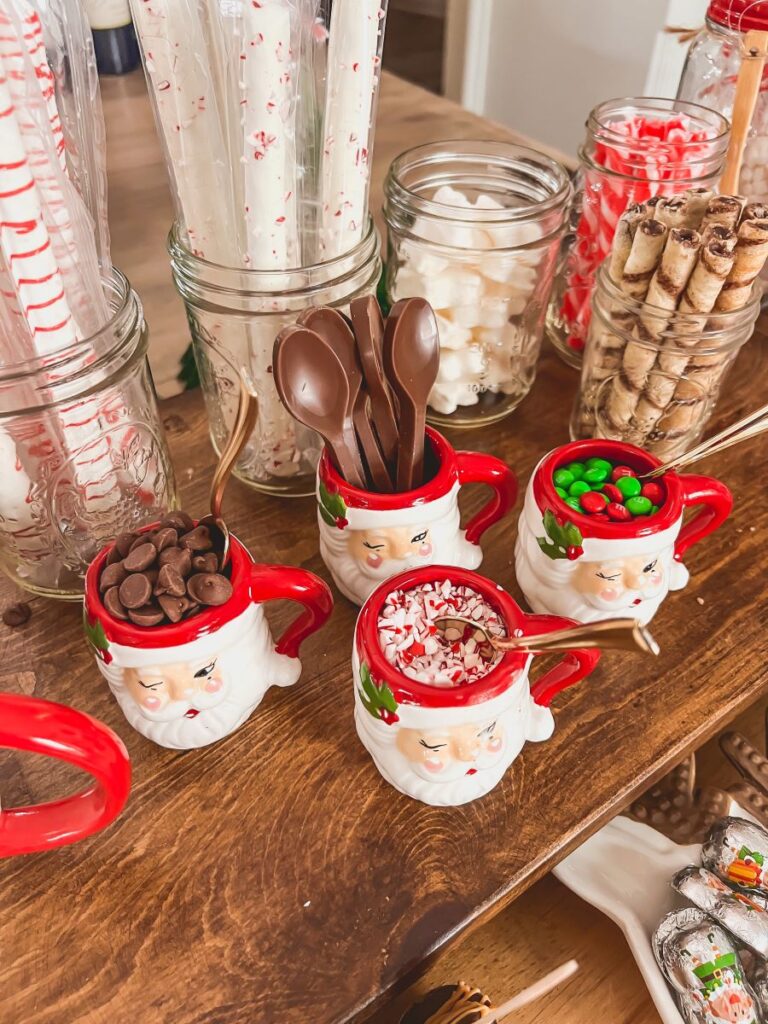 Ingredients for Delicious Crock Pot Hot Chocolate
There are so many ways to make hot chocolate. I love the crock pot because it keeps everything nice and hot without having to keep reheating the milk. The extra thick, creamy, and delicious hot chocolate recipe I used required:
1.5 cups heavy whipping cream
6 cups milk
1 can sweetened condensed milk (14 oz)
1 tablespoon vanilla
1/2 cup unsweetened cocoa powder
2 cups chocolate chips (milk chocolate or semi-sweet, whichever you prefer)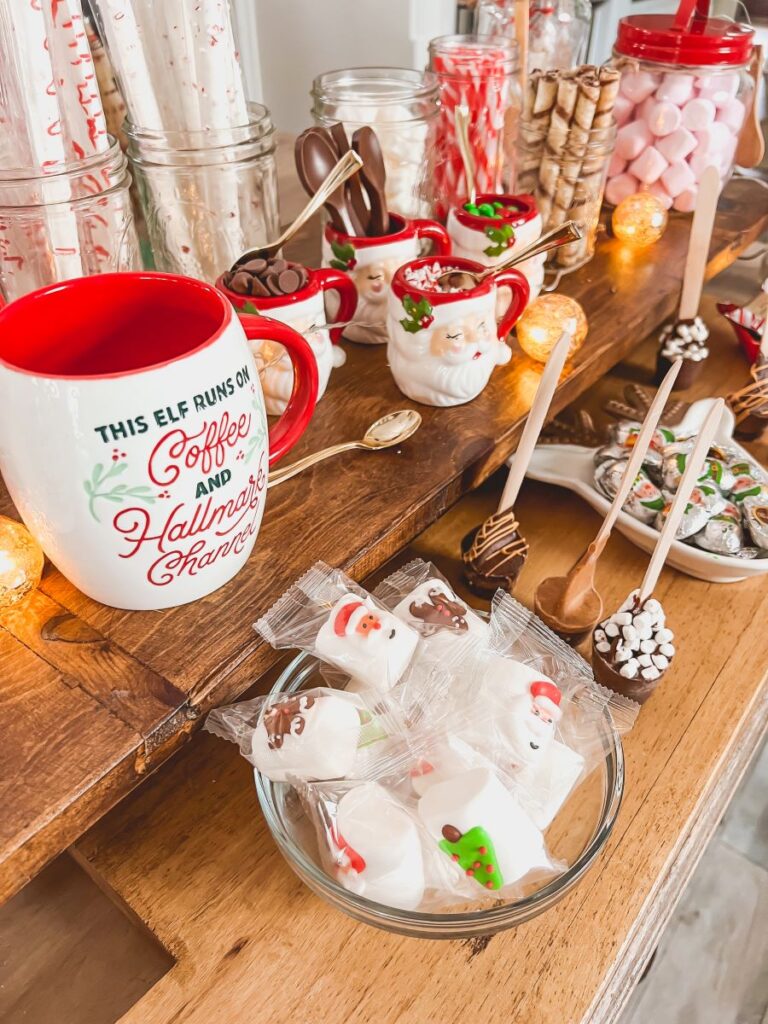 Directions for Crock Pot Hot Chocolate
Combine all ingredients in a crock pot (I used a 5-quart crock pot.)
Stir, cover, and cook on low for 2 hours. Stir occasionally until the chocolate chips are melted.
Once heated through and the chocolate is melted, switch to the warm setting and stir again before serving.
Serve with ladle to transfer hot chocolate neatly
Tip: This recipe yields about 8-10 cups, depending on the size of the mug. If you need to serve a large party, double the recipe and use a 6–7-quart crock pot.)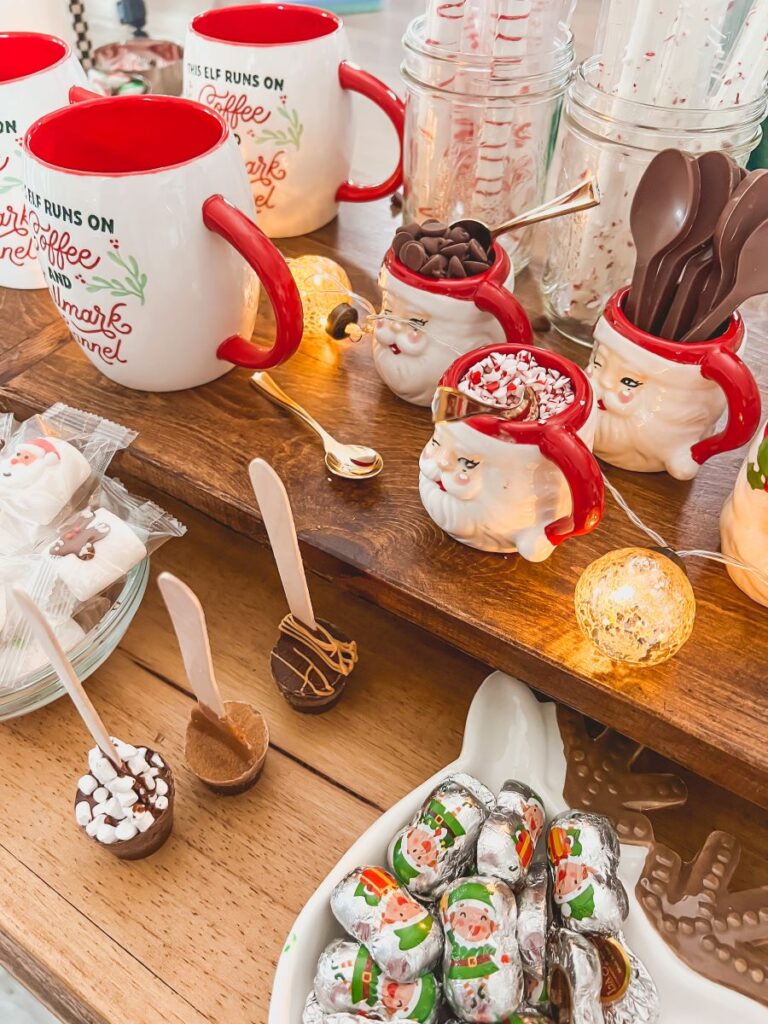 How Should I Store Hot Chocolate Leftovers?
Store leftovers in the refrigerator and reheat in the microwave and stir when serving again. To save space, you can store in a lemonade pitcher or large cup covered with Saran Wrap. Leftovers should last 3-4 days.
Cheers!
I hope you enjoyed these fun tips for a fun and festive hot chocolate bar! Stay warm, friends!
Print
Delicious Homemade Hot Chocolate
Author:
Prep Time:

5 minutes

Cook Time:

2 hours

Total Time:

2 hours 5 minutes

Yield: Approximately

8 cups

1

x
1.5 cups

heavy whipping cream

6 cups

milk

1

can sweetened condensed milk (

14 oz

)

1 tablespoon

vanilla

1/2 cup

unsweetened cocoa powder

2 cups

chocolate chips (milk chocolate or semi-sweet, whichever you prefer)
Adults can add a variety of alcohol, such as:
Bailey's Irish Cream
Borgota Chocolate and Peppermint Liqueur
Pennsylvania Dutch Peppermint Bark Liqueur
Rumchata Cream Liqeuer
Whiskey or Bourbon
Instructions
Combine all ingredients in a crock pot (I used a 5-quart crock pot.)
Stir, cover, and cook on low for 2 hours. Stir occasionally until the chocolate chips are melted.
Once heated through and the chocolate is melted, switch to the warm setting and stir again before serving.
Serve with ladle to transfer hot chocolate neatly
Tip: This recipe yields about 8-10 cups, depending on the size of the mug. If you need to serve a large party, double the recipe and use a 6–7-quart crock pot.)
Recipe courtesy of www.wishesndishes.com
Notes
Serve with treats such as: