Simple Christmas Table Decor Ideas
Today I'm sharing a festive Christmas table setting idea – with plaid, and gold and a touch of red velvet with a magical twinkle. Come on in and let's take a closer look.
I cant not believe how fast this year went by!! Christmas just seemed to sneak up on me, even though I have been decorating since October!! One of my favorite things to decorate for the holidays is the table. I really love the creative process of putting together a beautiful table for Christmas Eve. We aren't having guests this year, but that doesn't mean I can't enjoy this simple table look with my family.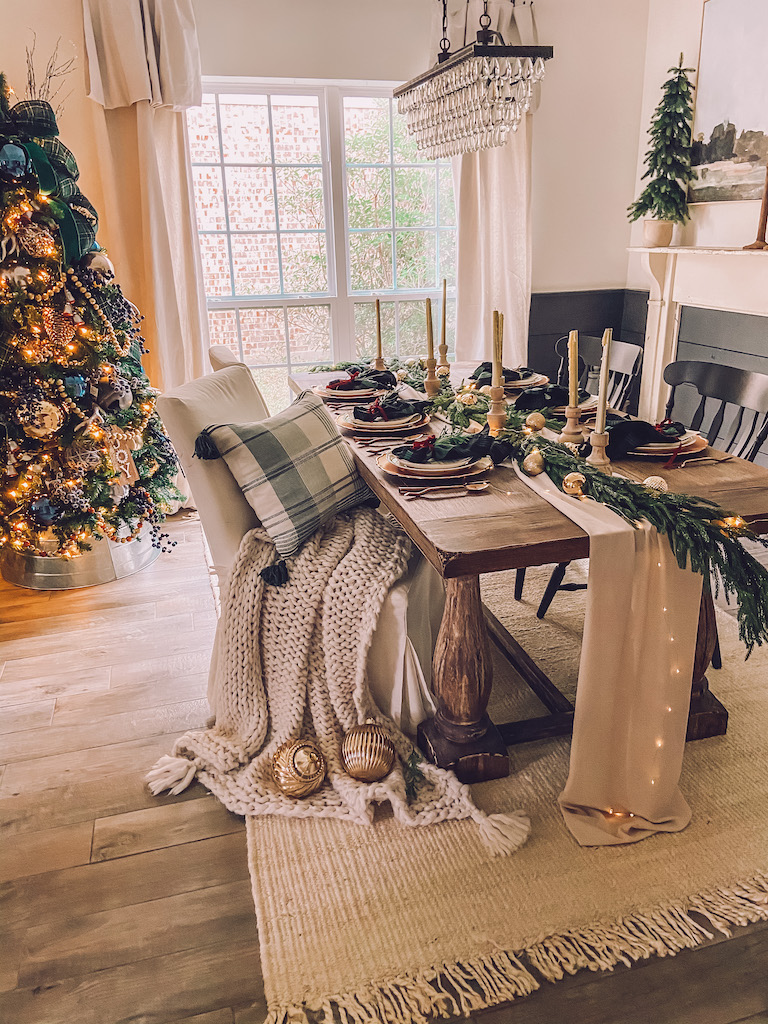 Christmas Eve is always the night that we attend church, and come back home to have a big Christmas feast. We will be watching church online this year.. but we are trying to make the rest of Christmas Eve seem as normal as possible. This easy Christmas table look will be perfect for the five of us. I know Oliver, my two year old, may not appreciate it… he may not even sit at the table for very long. But starting these traditions with my family is so important to me.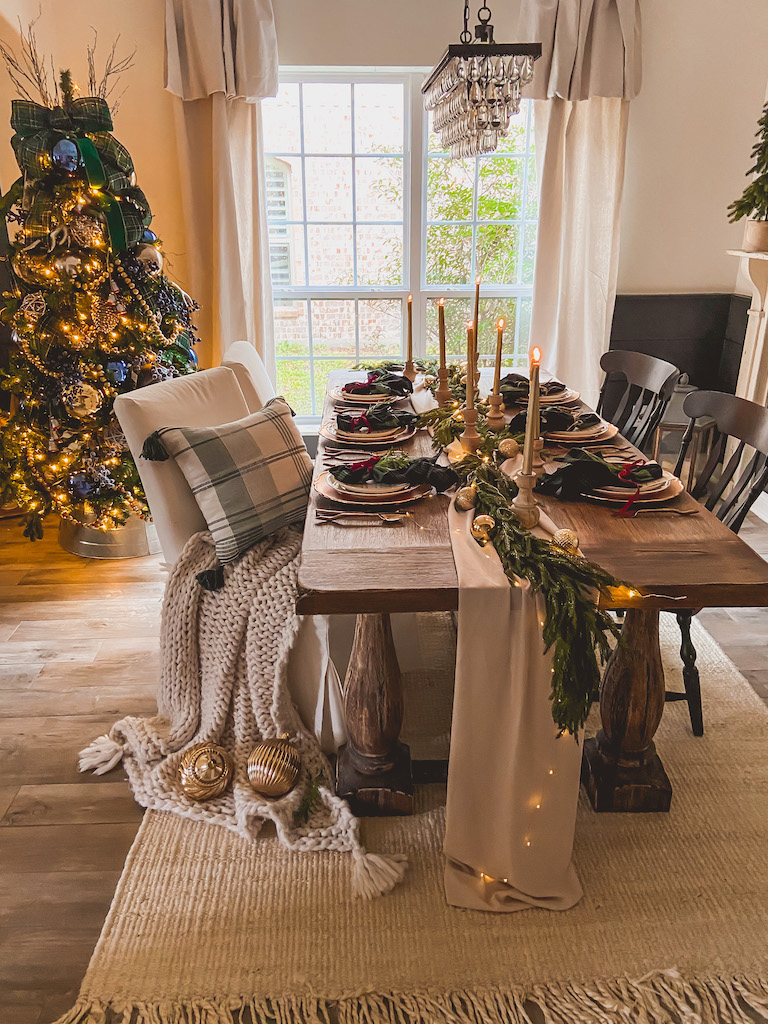 A Simple Christmas Table Tradition
Every year growing up, my mom would do the same thing. When I was a little girl, I used to love to help her set the table every Christmas Eve. I have so many fond memories of helping her pick out the napkins, set the place settings…. and be a part of the process. I know my girls one day will to!
A table doesn't have to be over the top, just a few little touches can make such a big difference. This year I used everything I already had. I didn't use fresh flowers, instead I cut some branches from a cedar tree in my yard.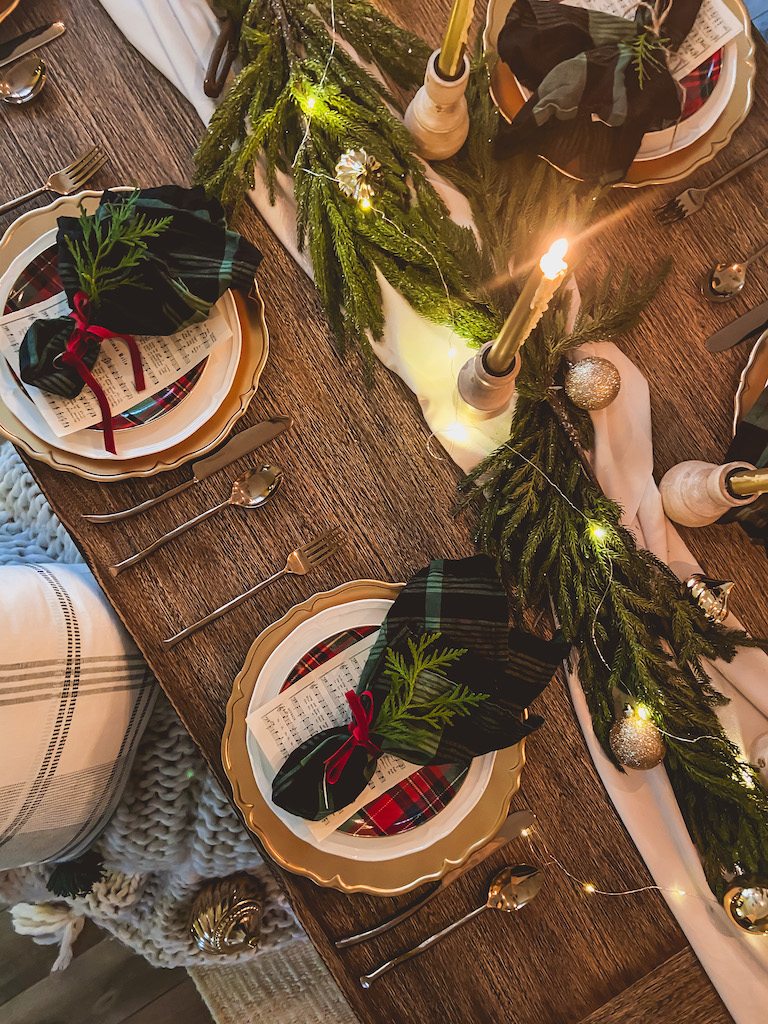 How to Set a Simple Christmas Table
Runner
For this look, I used a piece of fabric! I wanted a long runner that draped off the table, and the easiest way to achieve that was to cut some pretty fabric!
I love the romantic look of this soft flowing runner, don't you?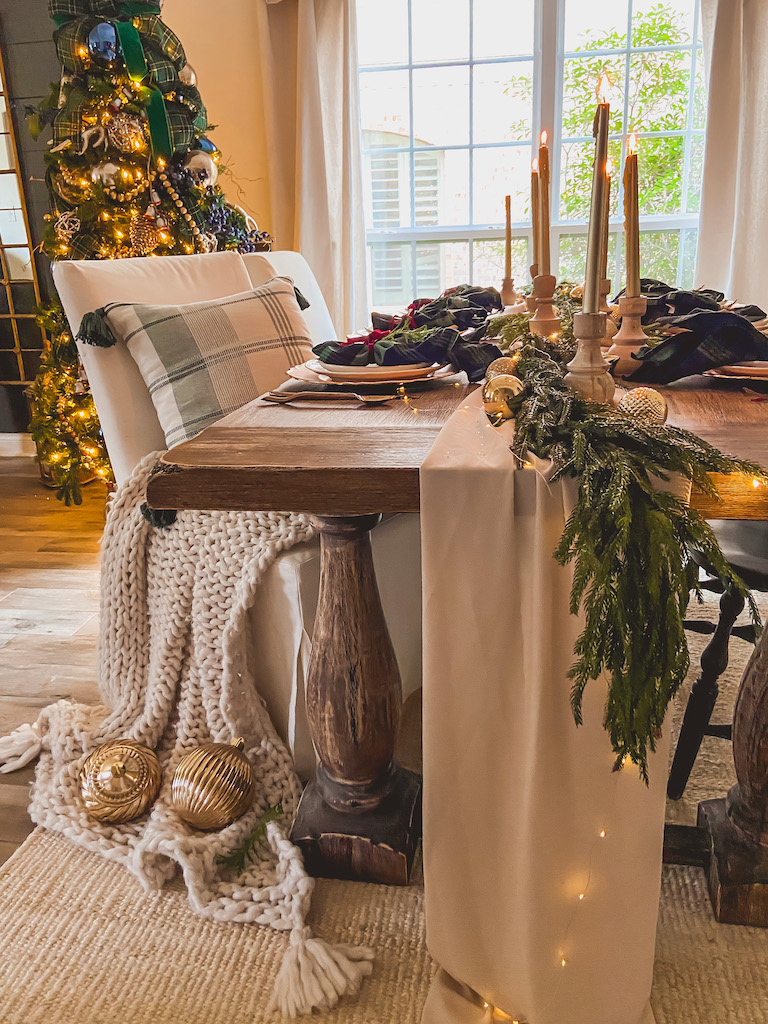 Chargers
I love to use charges to create more texture and dimension. These gold vintage looking chargers are my favorite! They are elegant, yet simple and go with everything!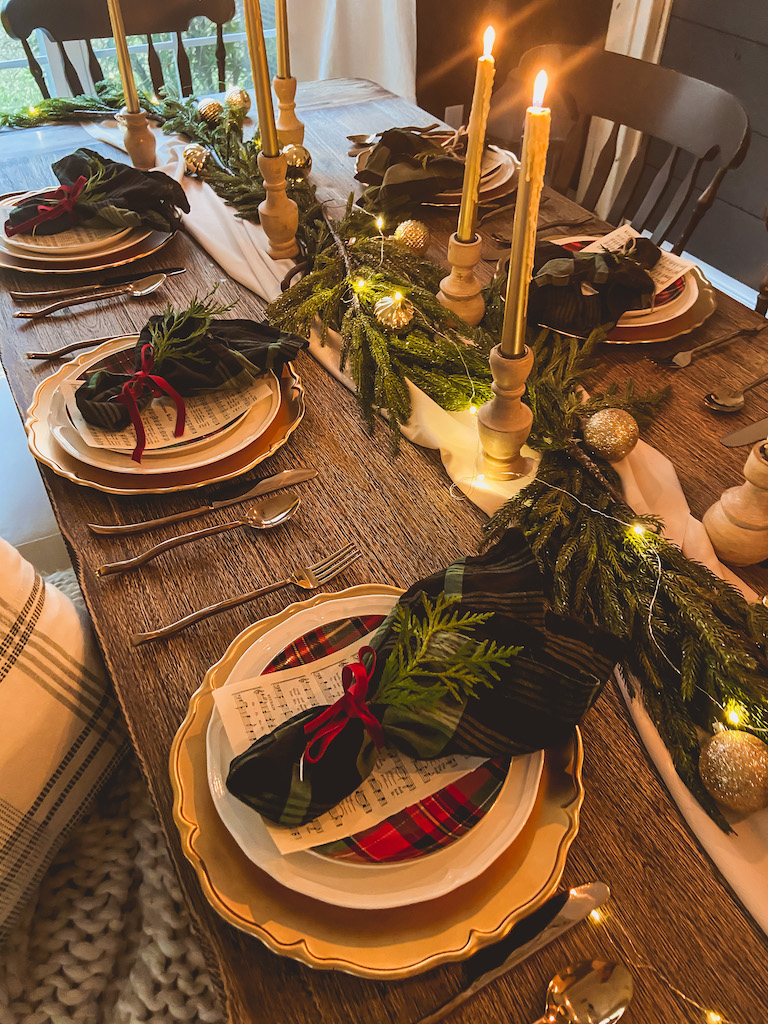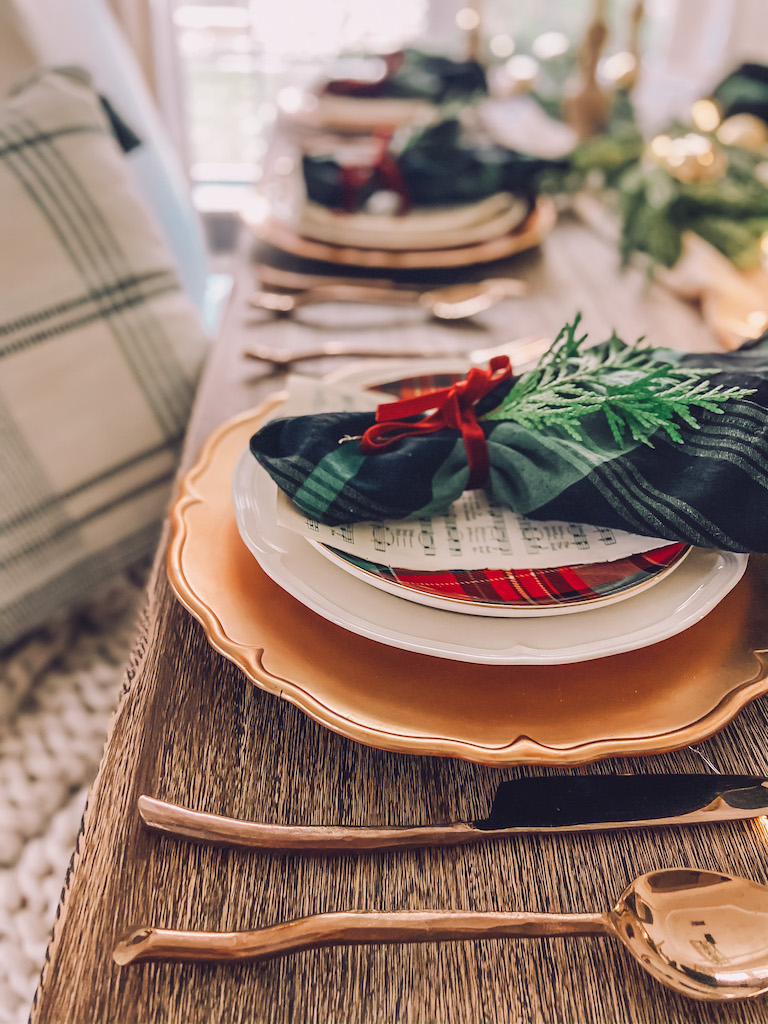 Napkins
Plaid is such a fun pattern to use during the holiday season. These green plaid napkins I found at target a few years ago, and use them throughout the year! I tied a red velvet bow around them and added a cedar twig for some extra greenery.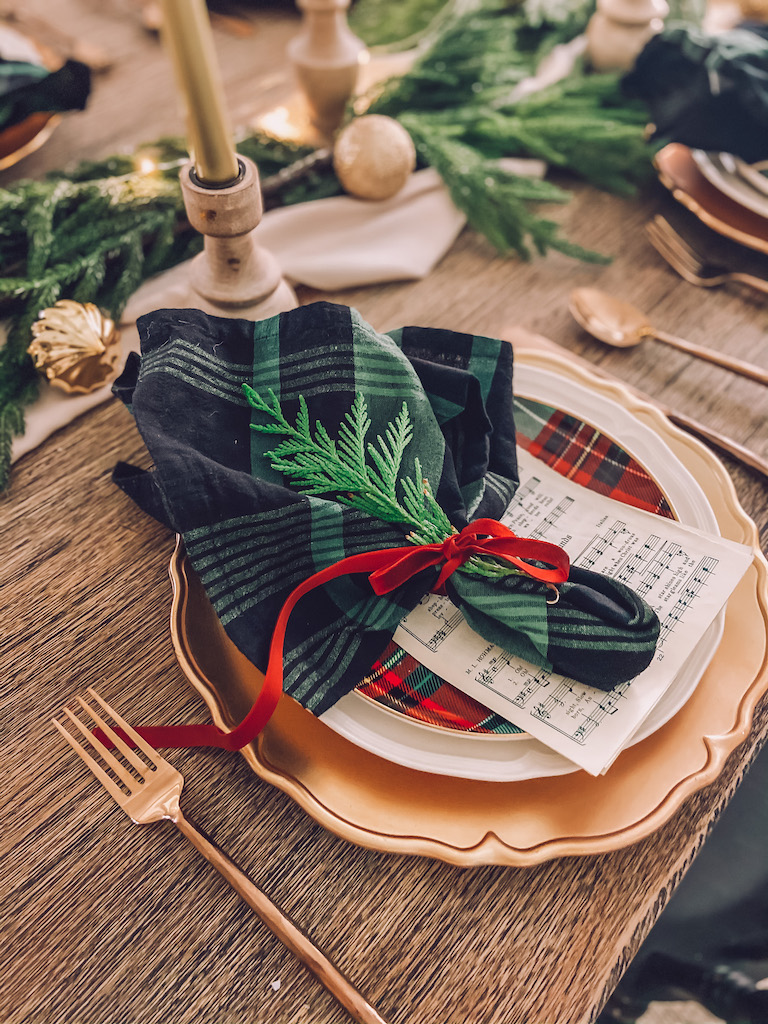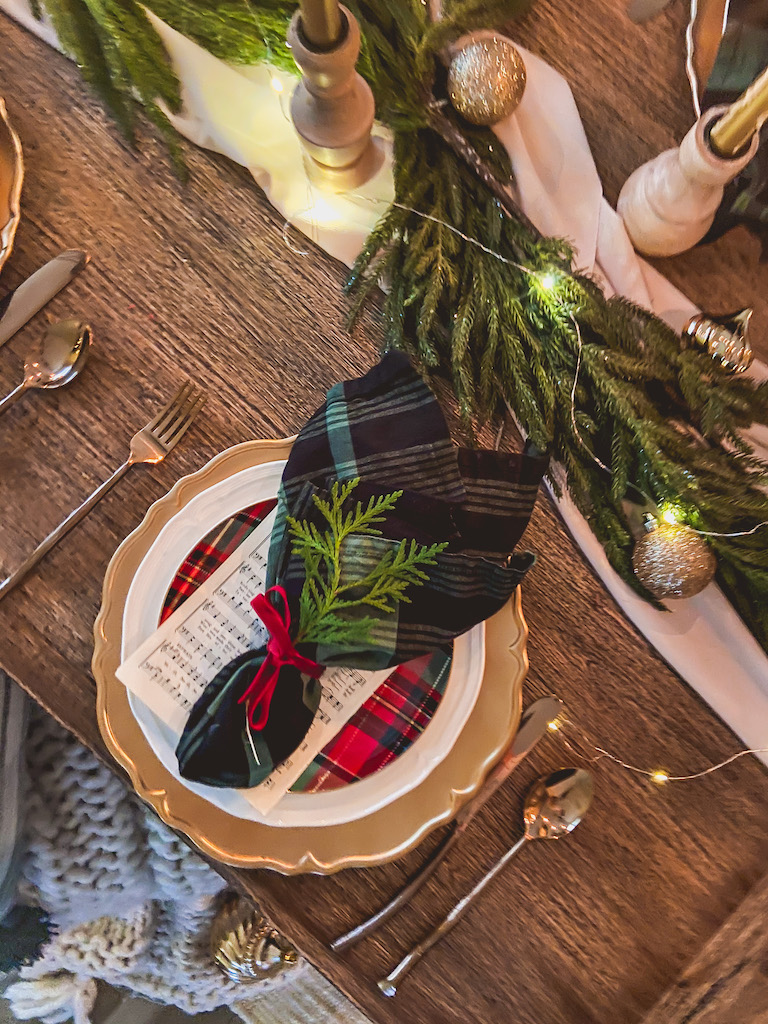 Plates
I always layer plates to add more dimension. For this table, I used these red and gold plaid salad plates to bring in more color… and more red. I love the little pop of red you can see below the music hymn paper.
Candles
Candles always create such a magical touch!! I used gold candles for the holidays and I love how they tie in the all the gold accents.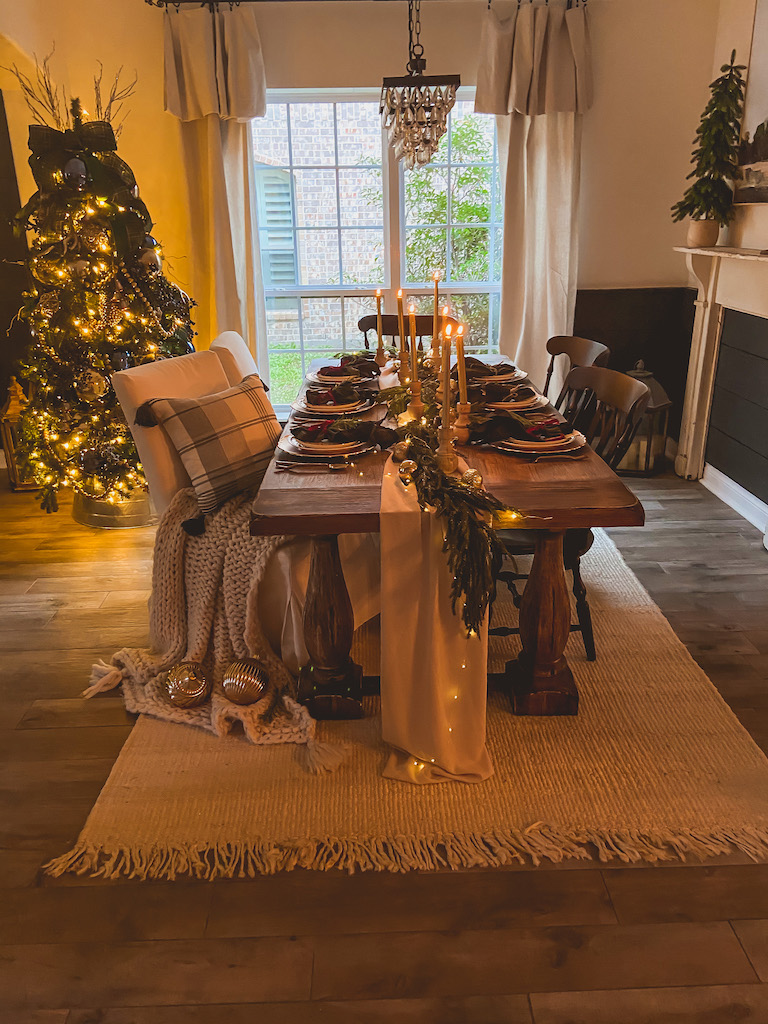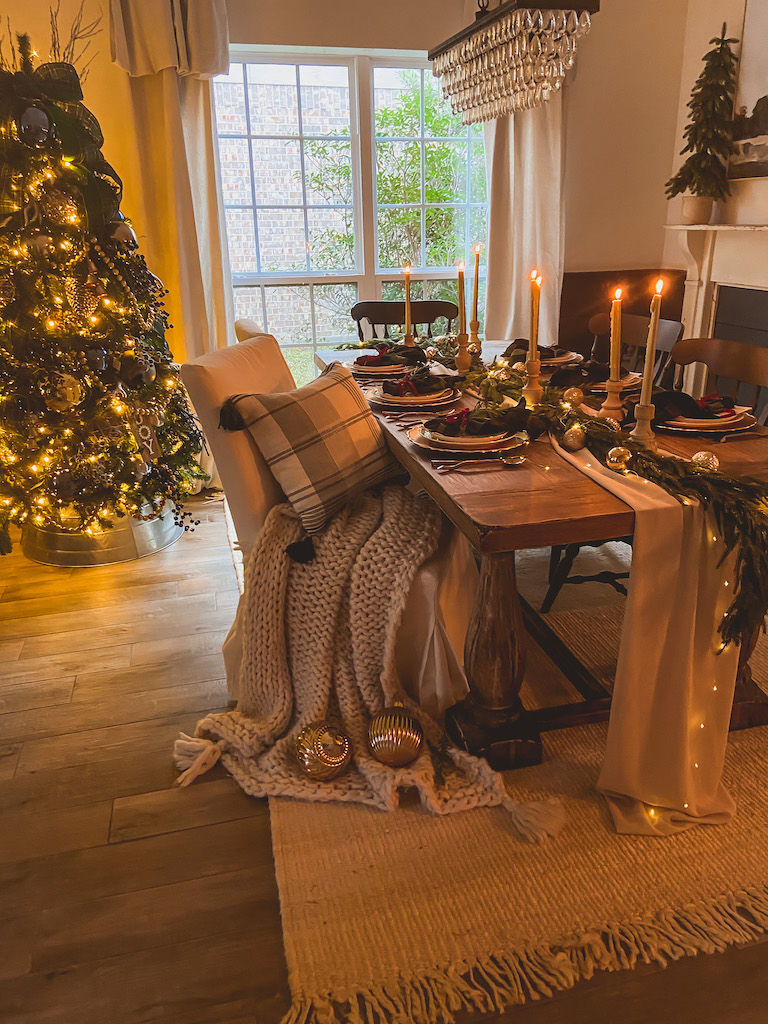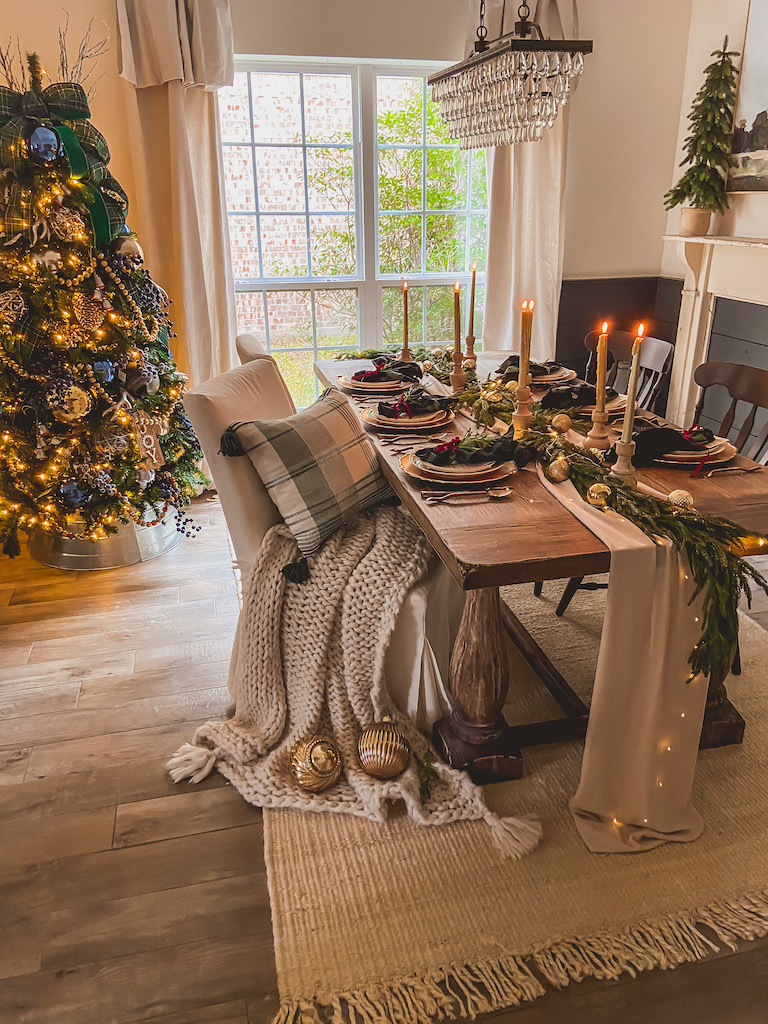 If you want to see some more Christmas decor inspiration looks check out these posts:
I hope you enjoyed a closer look into our dinning room decorated for christmas.
xoxo,
Leanna