Sharing is caring!
30-minute one pan caprese chicken recipe that is not only easy to make but also healthy! A family favorite that everyone will love!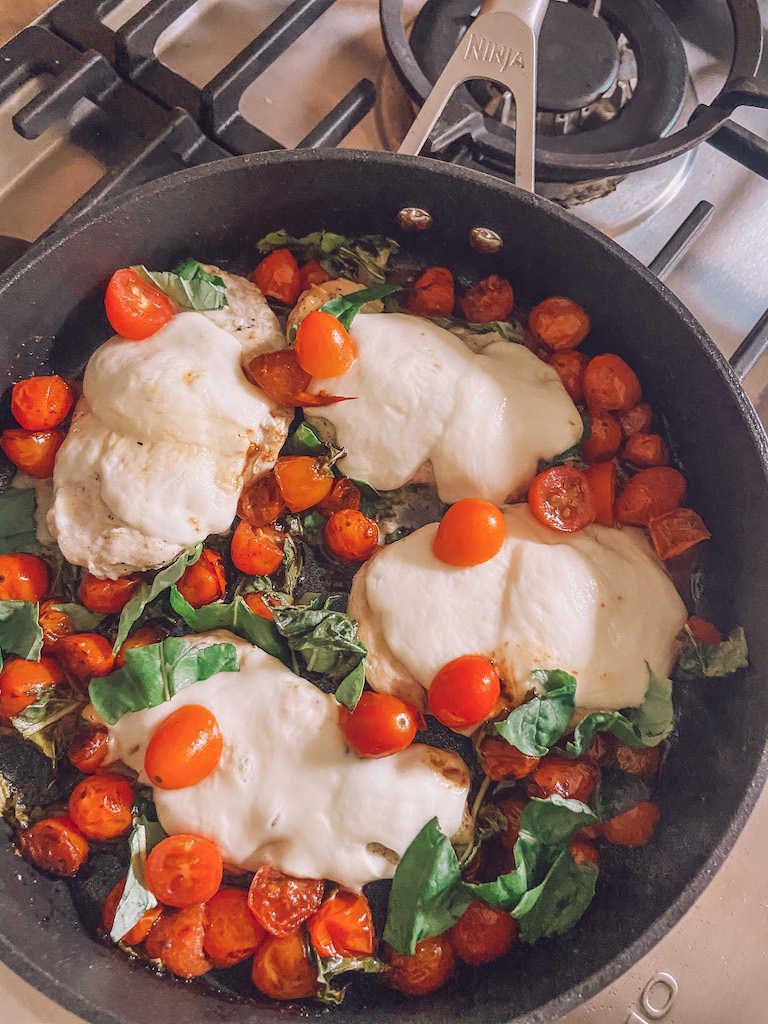 Happy New Year sweet friends!!! It is that time of year again where we are all a little bit more conscious of what we feed our body. I am not going to lie, I had my fair share of Christmas cookies, and a little too much wine. Today I am sharing one of my favorite go to recipes that is so simple to make and only takes a few ingredients!
My mom used to make this recipe growing up and she loved to pair it with linguini. My mom is full Italian and I grew up with lots of yummy Italian food! This easy Italian recipe is light, delicious and full of lots of nutrients.
30-Minute Caprese Chicken Recipe
You can also add pesto to this One Pan Caprese Chicken recipe for more flavor! Add the pesto sauce before you top the Chicken with mozzarella and it is even better! I also like to drizzle balsamic glaze on to the top of the chicken before serving!
Another one of my favorite things about this dish is that it is made with one pan! That is only one pan you have to clean up! Now who doesn't love that??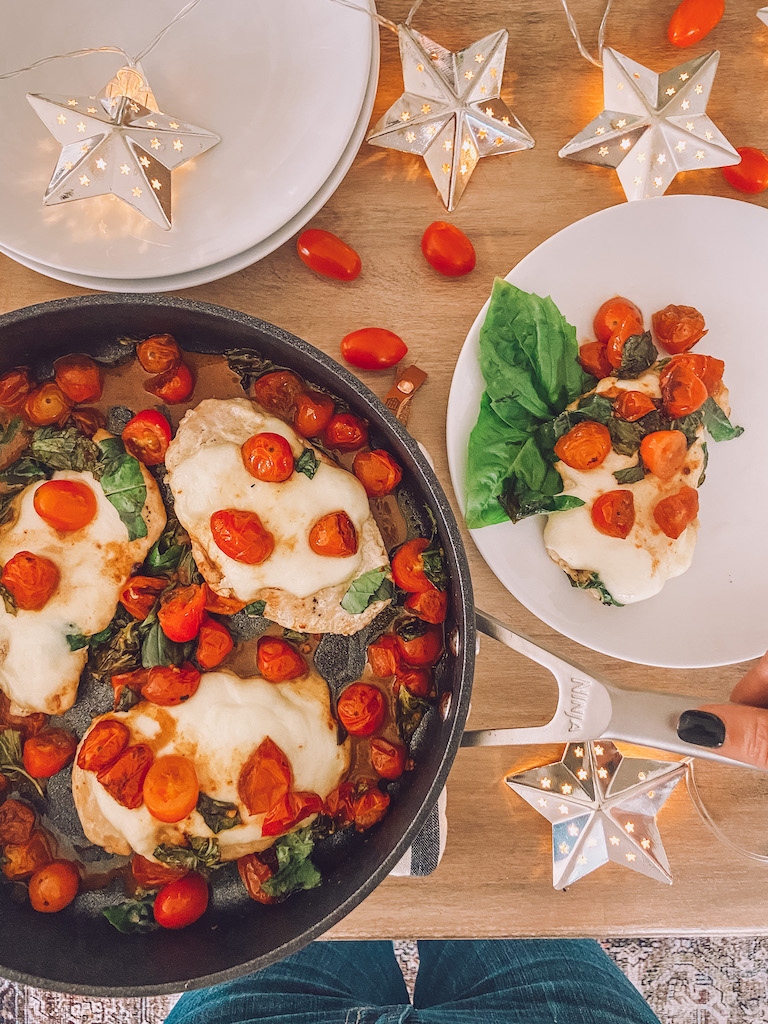 Ingredients
4 skinless thin sliced chicken breasts
kosher salt & freshly ground black pepper
2 tablespoons olive oil, divided
3 large garlic cloves, minced
2 cups cherry tomatoes, sliced in half
About 15 large basil leaves, chopped
8 oz fresh buffalo mozzarella pre sliced , or slice about 1/2" thick
balsamic glaze or vinegar, to taste
Pesto Sauce (if desired)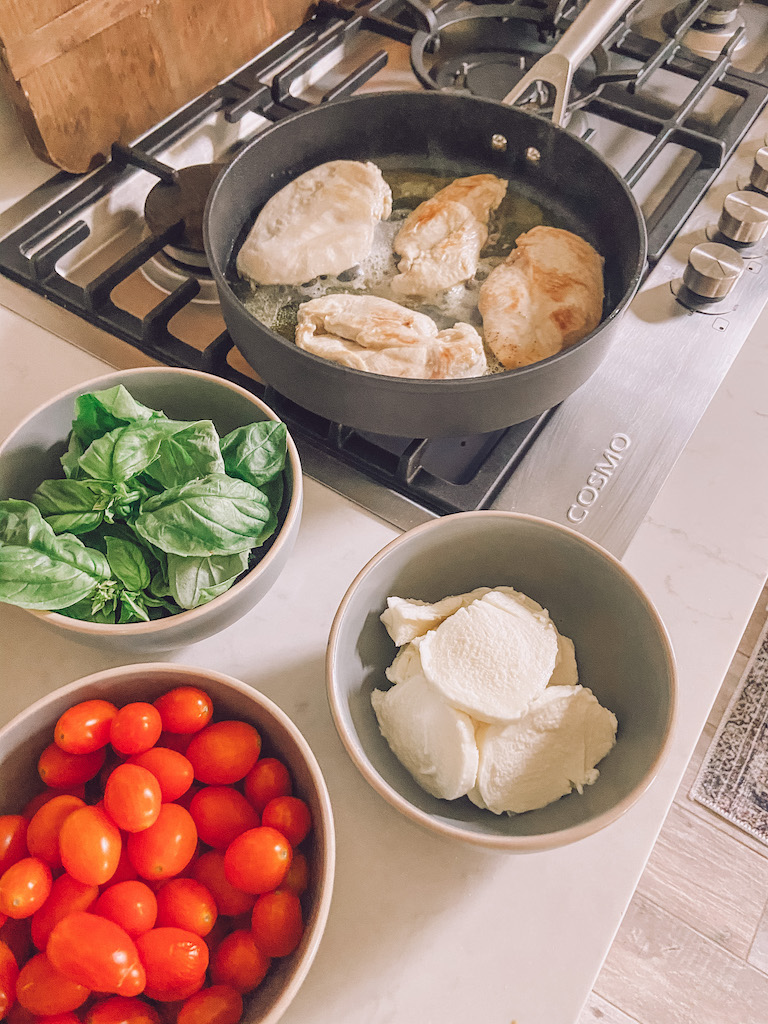 Directions
Add Salt and pepper to both sides of the chicken breasts and set aside.
In a large sauté non stick pan over medium-high heat, heat 1 tablespoon olive oil. Add chicken then cover pan, and cook for about 10 minutes.
Flip chicken and cook until the chicken is cooked thoroughly
Remove chicken and place on a plate to set aside
Add remaining 1 tablespoon of olive oil to pan. Next, Add garlic and cook for about 1 minute, stirring occasionally.
Add cherry tomatoes and stir gently until tomatoes skin starts to soften, about 5 minutes. Combine the basil and place chicken back in pan immediately. Top each chicken breast with pesto sauce (if desired), and 2 slices of mozzarella.
Cover pan with lid and let the mozzarella melt, about 1-2 minutes. Drizzle with balsamic glaze or vinegar upon serving.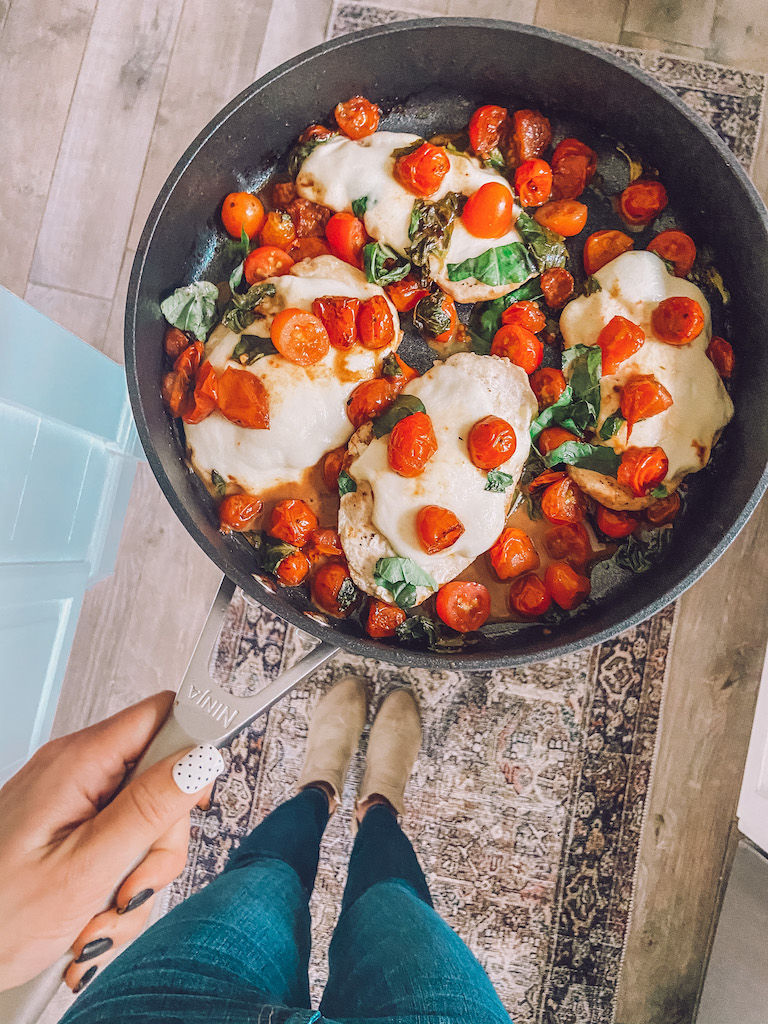 I hope you all enjoy this easy one pan chicken caprese recipe!!
If you are looking for another easy chicken recipe you will love these simple and healthy homemade chicken tenders!
I hope you enjoy seeing some healthy recipes pop up on the blog! If you like them I would love to share more of our favorite dinner recipes.. let me know in the comments below!
xoxo,
Leanna