4 Easy Tips to Style A Bookcase like an Expert
4 Easy Tips to Style a Bookcase in your home like a seasoned Pro! These simple tips will help you display your favorite pieces in the most beautiful way!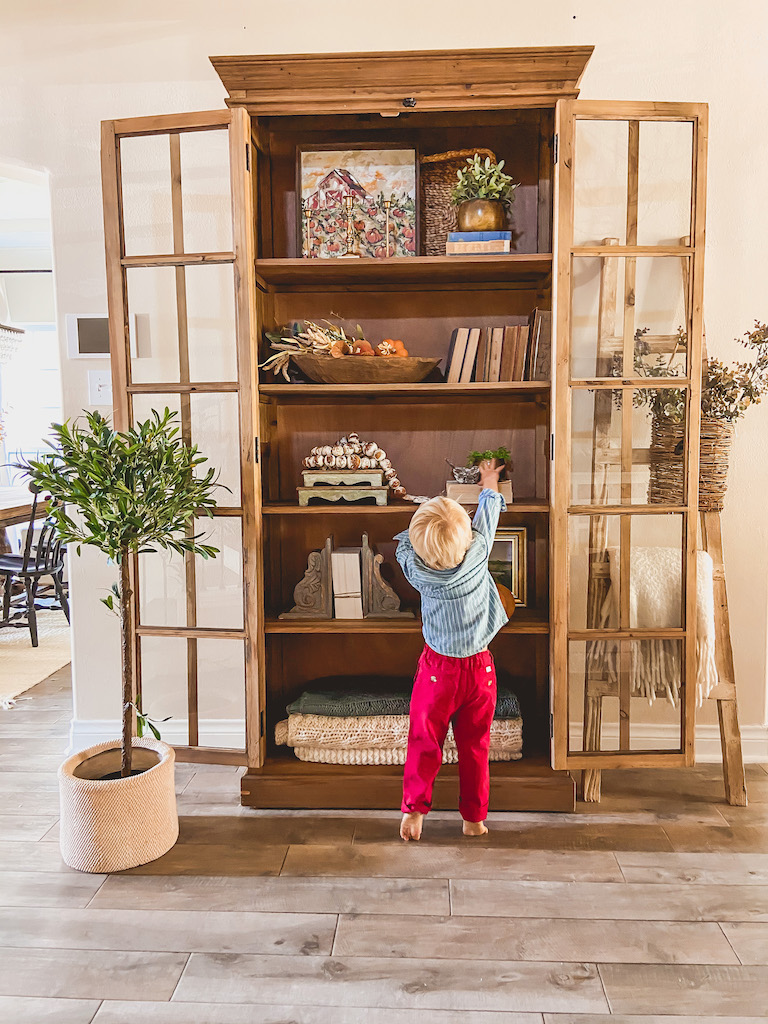 If you have a bookcase or any type of shelving you're home, you may be wondering how to style them. Believe me, figuring out to style bookshelves can be overwhelming! I got a new bookcase a few months ago and have had so much fun displaying some of my favorite pieces inside! Today I am going to share with you 4 easy tips on how you can style a bookcase in your own home.
If you are looking for some other fall decor ideas check out this post on how 5 Easy and Quick Tips to Decorate your home for fall
There really are no rules on how to style a bookcase the right way, but rather there are a few guidelines that can help you achieve the the perfect look, not too crowded… but not too sparse.
Styling your favorite pieces doesn't have to be a daunting task, I promise!
Just follow these simple tips:
How to Style a Bookcase in 4 Easy Tips
1. Varying Heights
Use varying heights to add interest. And add height by laying books horizontally, then adding something on top of it. You can also use trays and stands for added height.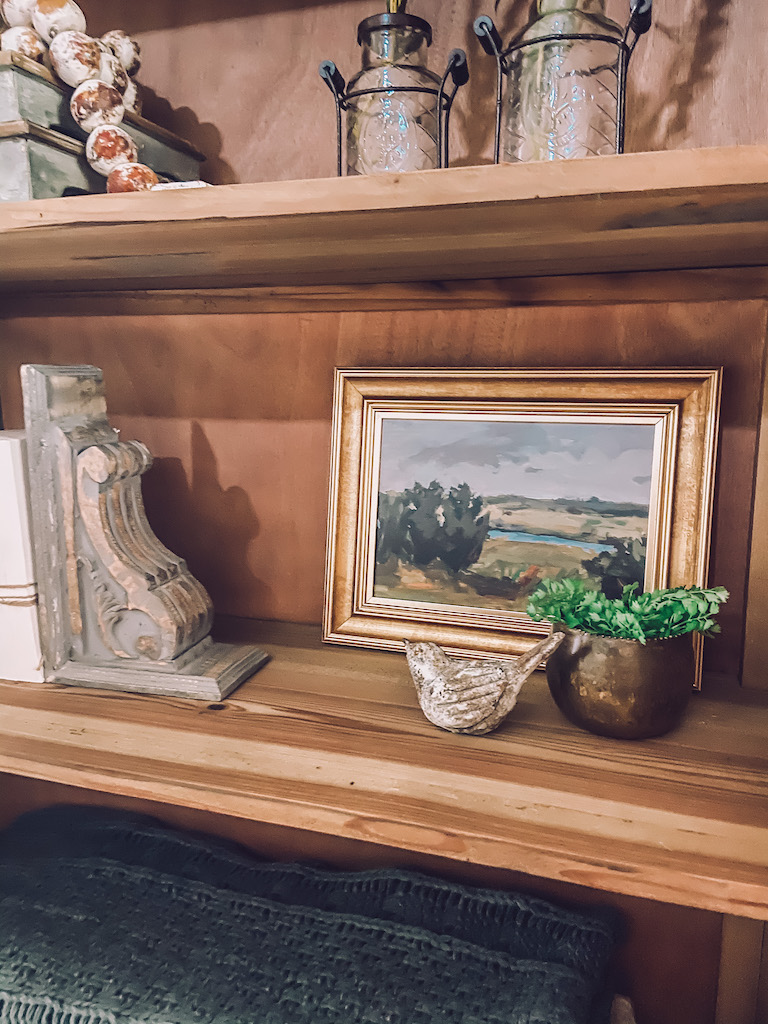 2. Add art work, photographs, and frames
Incorporating artwork adds personality, and layering pieces of artwork can add depth and dimension. You can also layer cutting boards, trays, signs and more!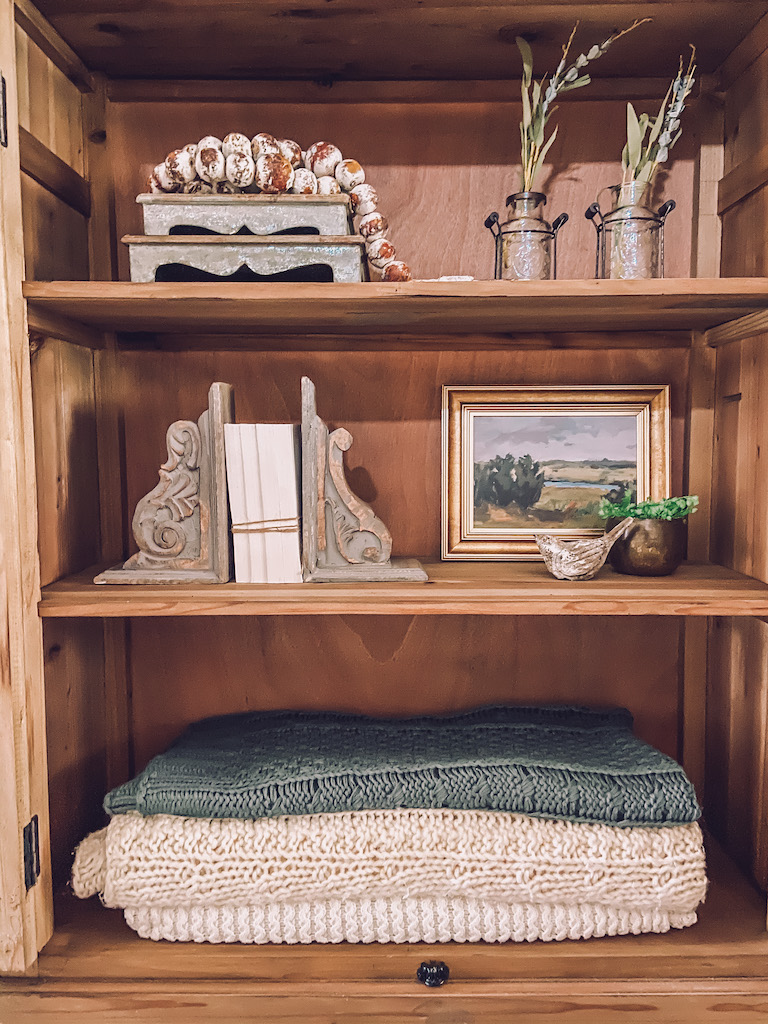 3. Group items in Odd Numbers
Always work in odd numbers, if you can! Groups of 1, 3 and 5 are much more pleasing to the eye than even numbers.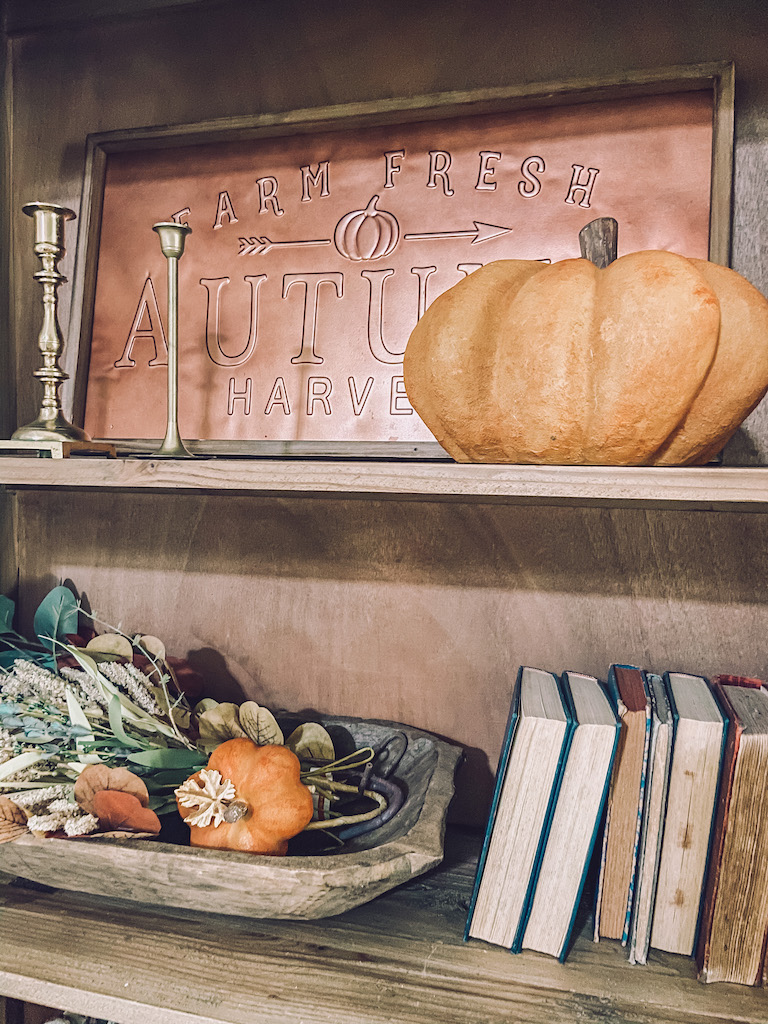 4. Add Texture
Mix together texture, size and tone but make sure to keep it to a single color pallet or style. Plants are a great way to add texture and color! I also love to use baskets, and baskets are also are great for extra storage. Make sure to place heavy big baskets on the bottom.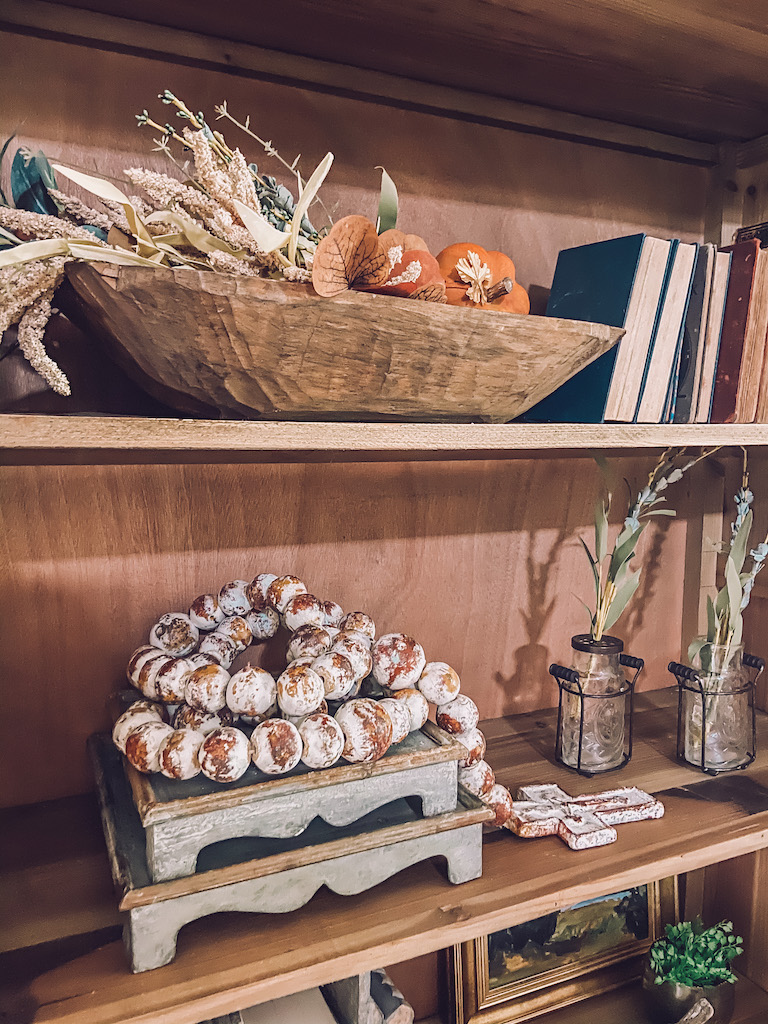 A few things to remember when styling a bookcase:
Stick with the same color pallet – don't go overboard with too many colors. Try to stick to neutrals plus a few others.
Create Balance by making sure your shelves aren't too crowded, but also not too empty. Place larger items alone, and smaller items in groups. Offset metals and colors throughout the shelves in a cohesive look.
Turn books around to see the pages for a more uniform look.
Display your favorite pieces! Styling a bookcase or shelf is the perfect way to display items you have collected over the years.
Styling a bookshelf takes time. It takes lots of playing around with to get it just right.
… then tinker until it is perfect! I played around with this bookcase until I felt like it was just right.
I addd some of my favorite pieces for shelf styling below: