Five Simple Tips to Create a Gorgeous Garden Party
One of my favorite things about warmer weather is putting together a beautiful outdoor garden party! You don't need an actual garden to do this and can incorporate pretty floral touches to create a magical, inviting atmosphere with just a few simple touches.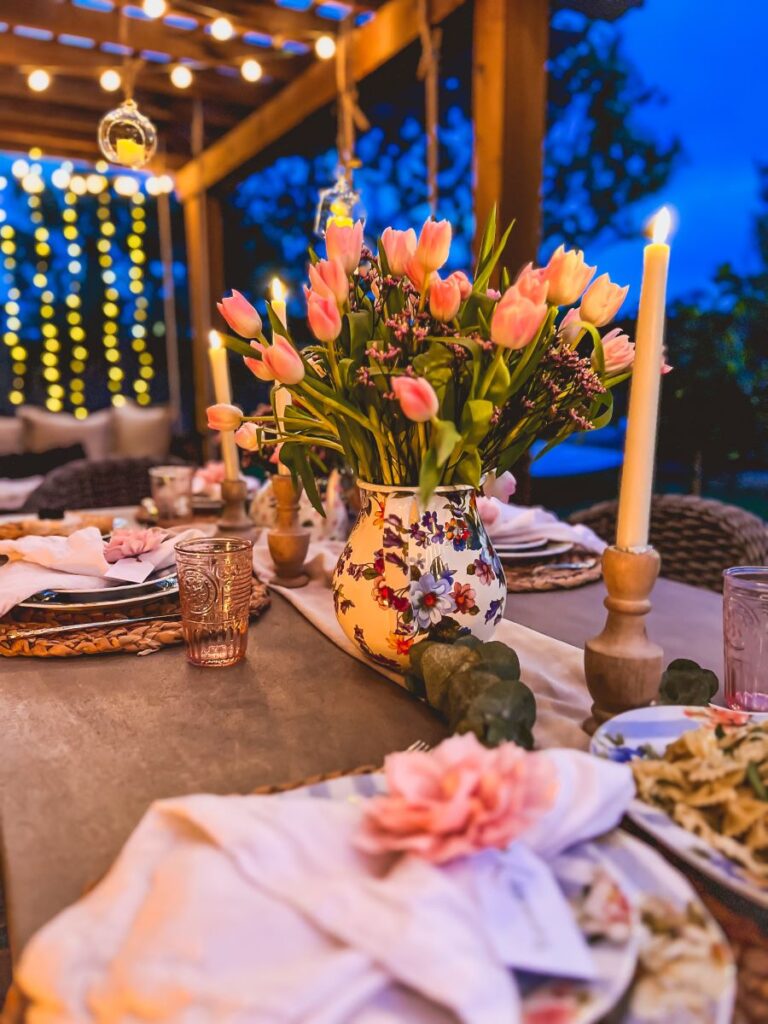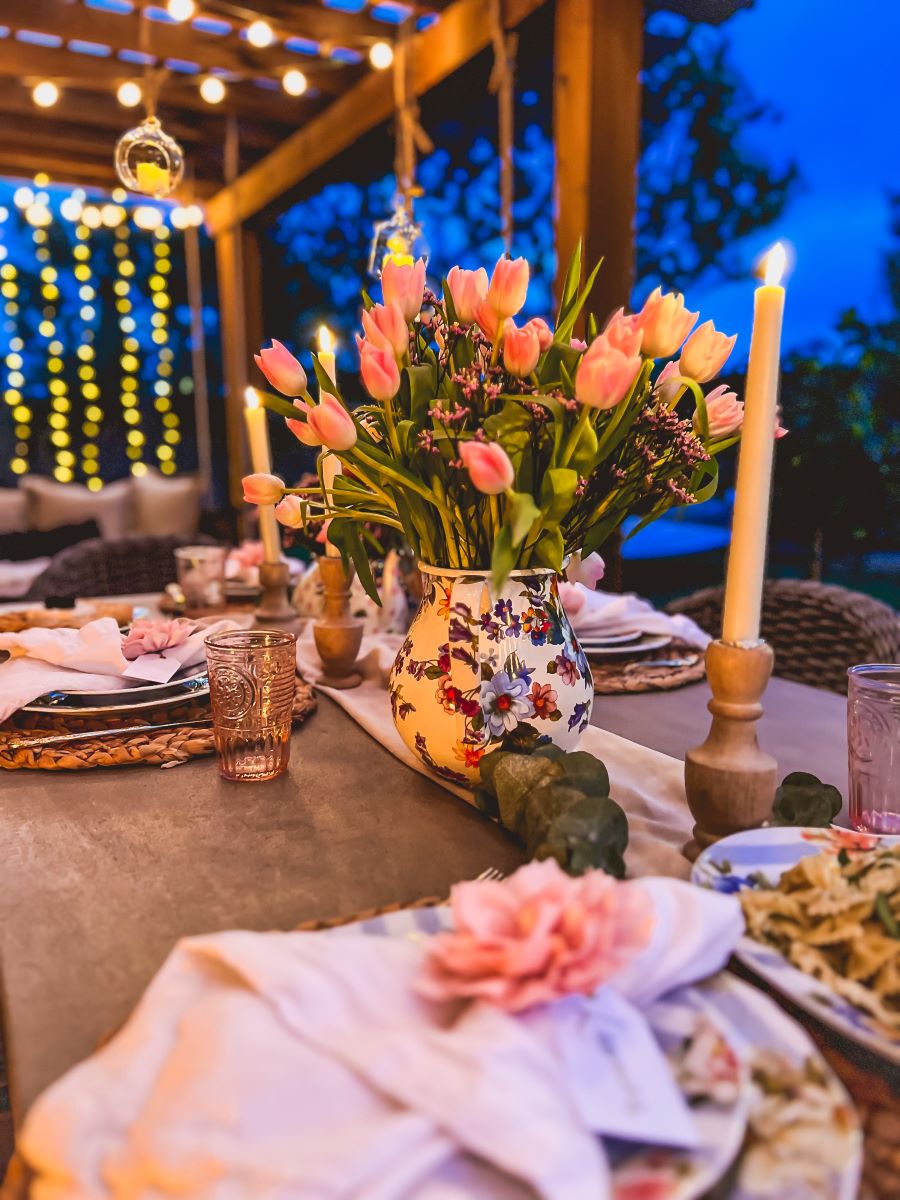 Flowers and twinkle lights are a perfect combination to create a welcoming, magical space that can easily transition from day to night.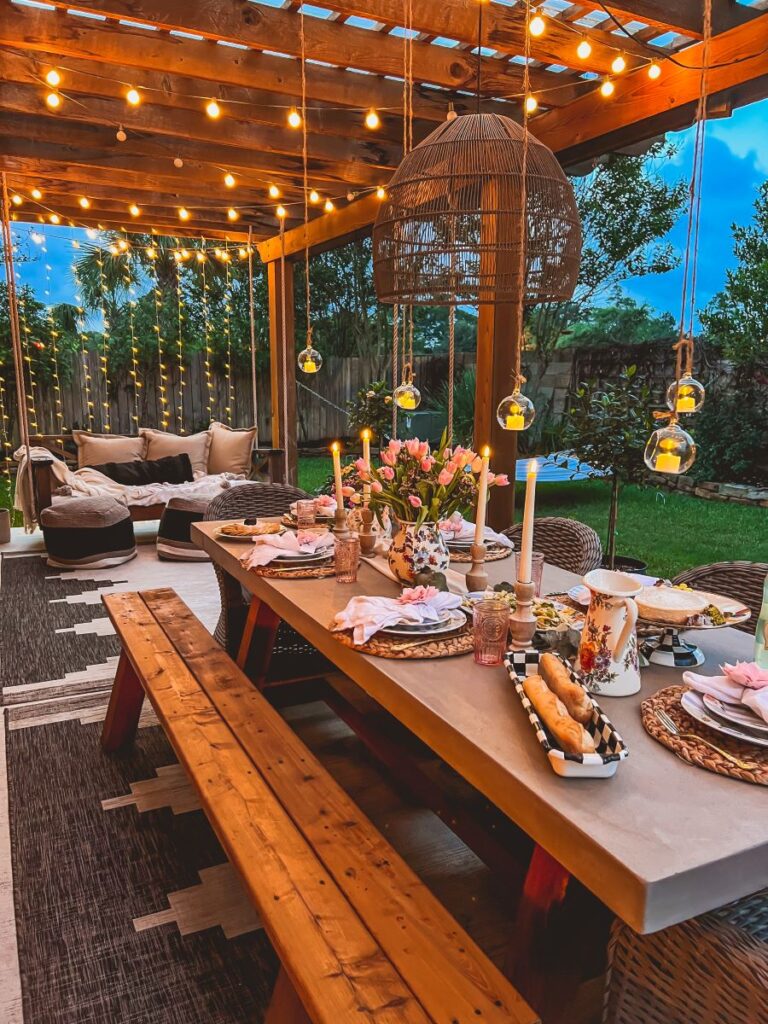 Here are my favorites extra touches to set your gathering apart to create a memorable event for your guests!
1. Sprinkle in Unexpected Floral Touches
Flowers are one of my favorite things to decorate with because they're so versatile to create the mood you're looking to achieve. Brighter pastel colors such as yellow, pink, or lavender lend themselves to a cheerful vibe, while darker flowers like red roses can be more dramatic or romantic.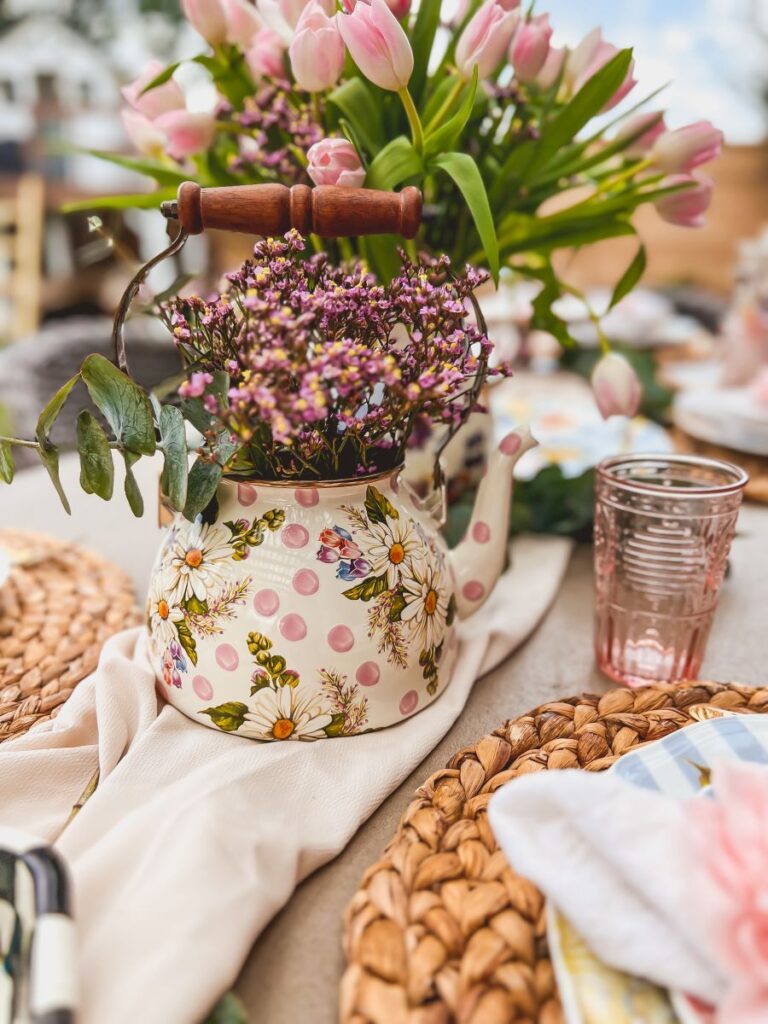 Placing flowers in this teapot created a whimsical focal point that just made me smile!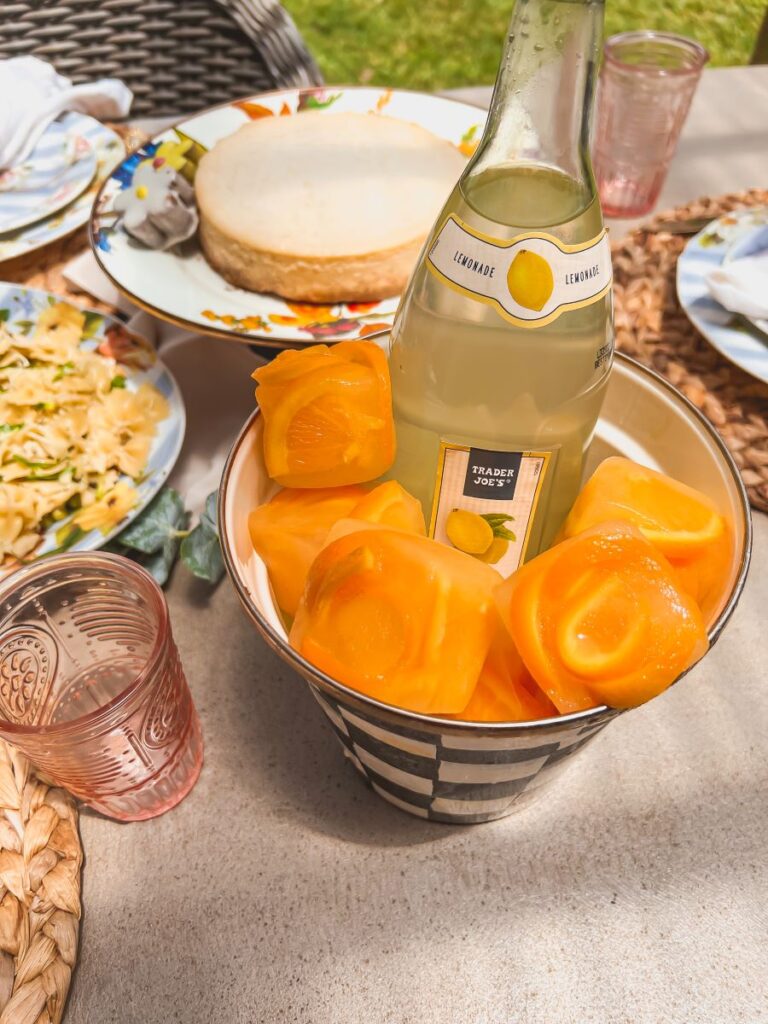 I also incorporated the floral theme with orange rose ice cubes! These are so easy to make using thin slices of orange peels, a larger ice cube tray, and orange juice. They are also perfect to add champagne to so you can have beautiful mimosas during your garden party!
Another tip I love doing is using a flower-shaped cookie cutter to add more floral accents. You can use this on unexpected food items such as brie cheese, banana bread, or homemade pizza slices.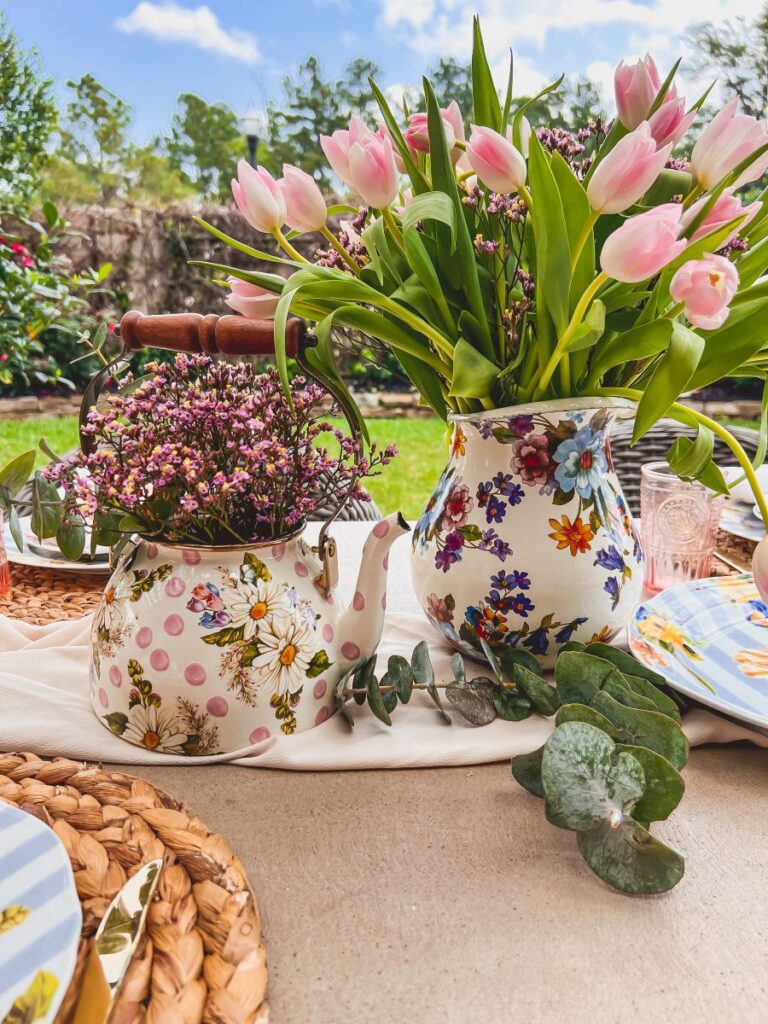 Finally, the floral patterns on the dishware, vases, and teapot tied everything together. I love how the patterns are all cohesive but don't need to be perfectly matched, and you can find all of my favorite pieces that I used linked below. You can do this with paper or plastic plates as well for a more budget-friendly option!
2. Add Texture with a Table Runner and Placemats
Whether you use a tablecloth or bare table, runners are an easy way to add a pop of texture and color to your tablescape. You don't even need an actual runner and can also use a few yards of fabric from any craft store like Hobby Lobby or Michael's.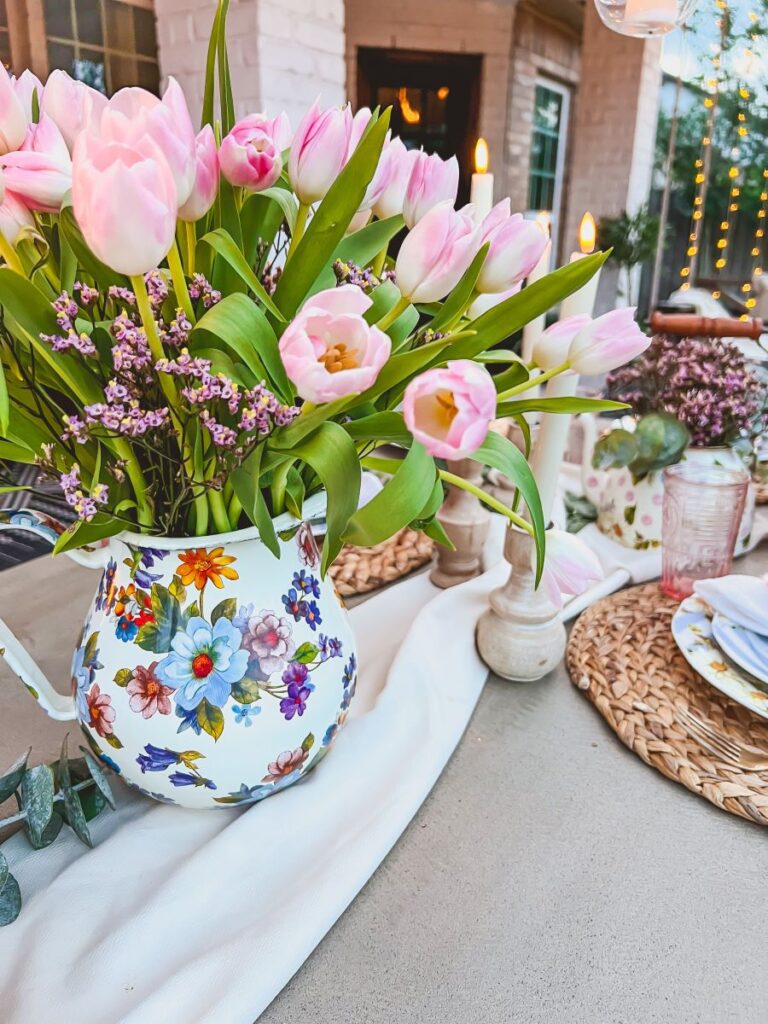 Runners or fabric yards are such an inexpensive way to add character to your table, and the sky is the limit when it comes to patterns, colors, and textures! I did a neutral color since I had so many whimsy patterns already on the table for my garden party decor.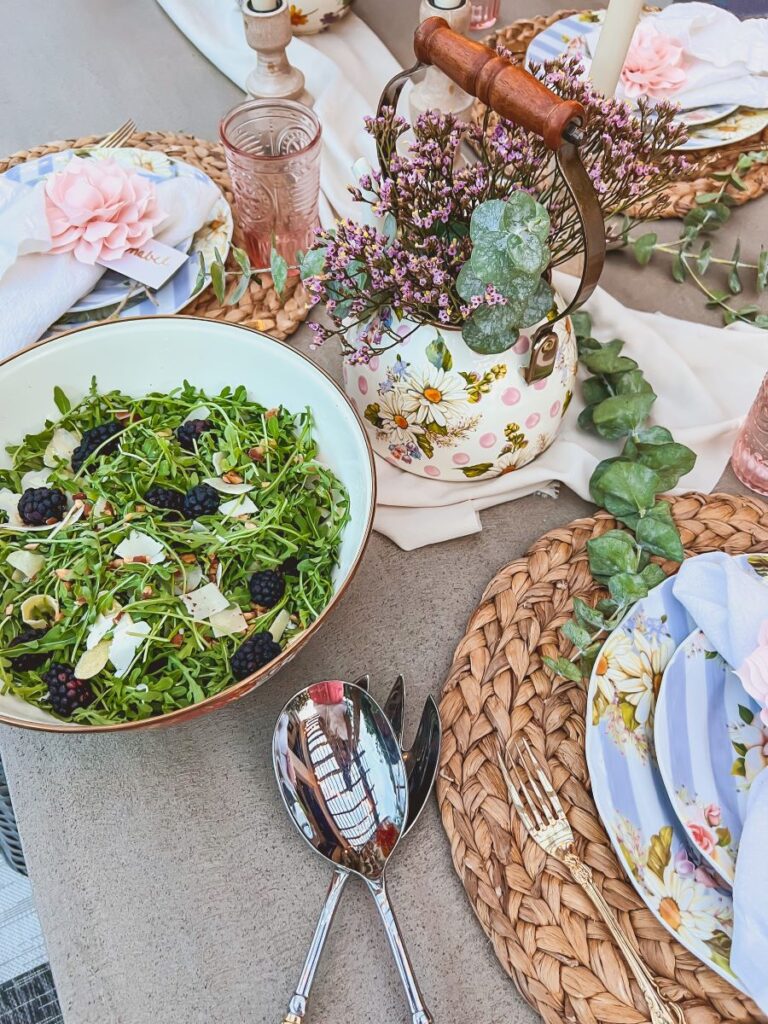 I also added eucalyptus accents on top of the runner to tie in more greenery. You can get fake greenery from a craft store, or I love to buy fresh flowers and stems that are very reasonably priced from Trader Joe's.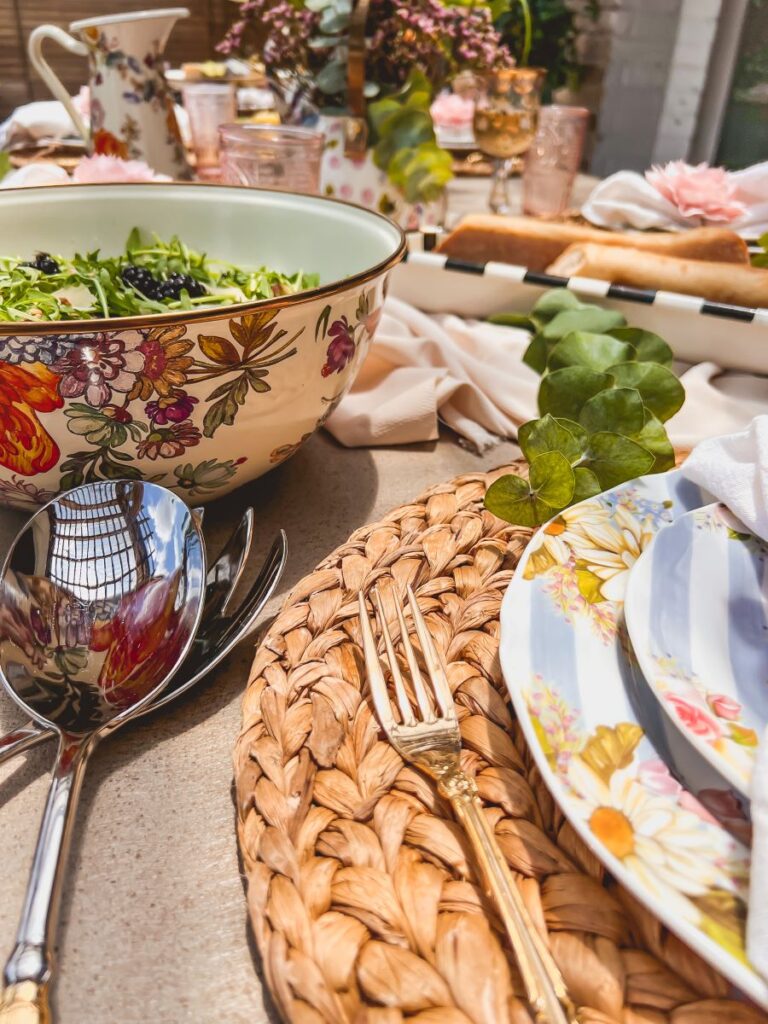 Additionally, placemats or chargers under plates help the whole table look more cozy and complete. These woven placemats can be used again and again during each season and holiday!
Placemats or chargers come in so many different materials, finishes, and colors. I'd recommend a neutral tone with brightly colored or patterned plates, or a more vibrant charger with neutral plates for some contrast.
3. Create Nametags for Your Guests
Making nametags for your guests is my ultimate favorite trick for making your guests feel at-home. It costs very little and doesn't require any special skills, but it really elevates the look of your table and makes people feel special.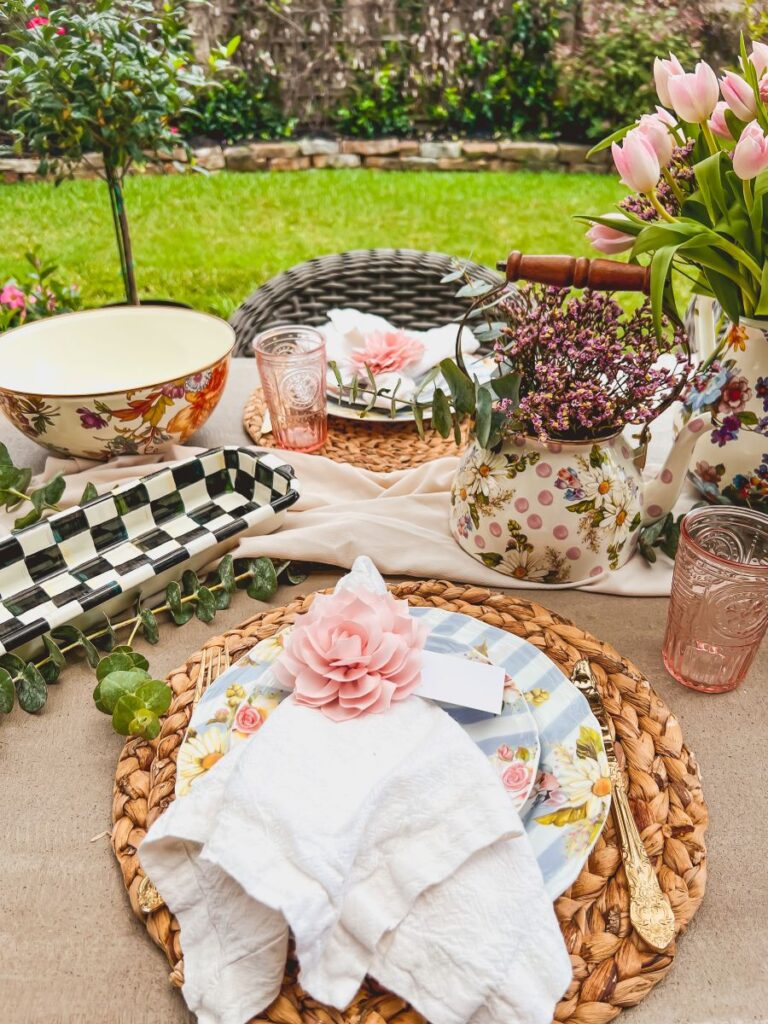 These nametags are just from a pack of gift tags, and I wrote each guest's name in cursive with a gold pen before tying the name tags to the floral napkin ring.
There are so many ways to do this! I often just fold an index card in half to write people's names on them for more informal gatherings.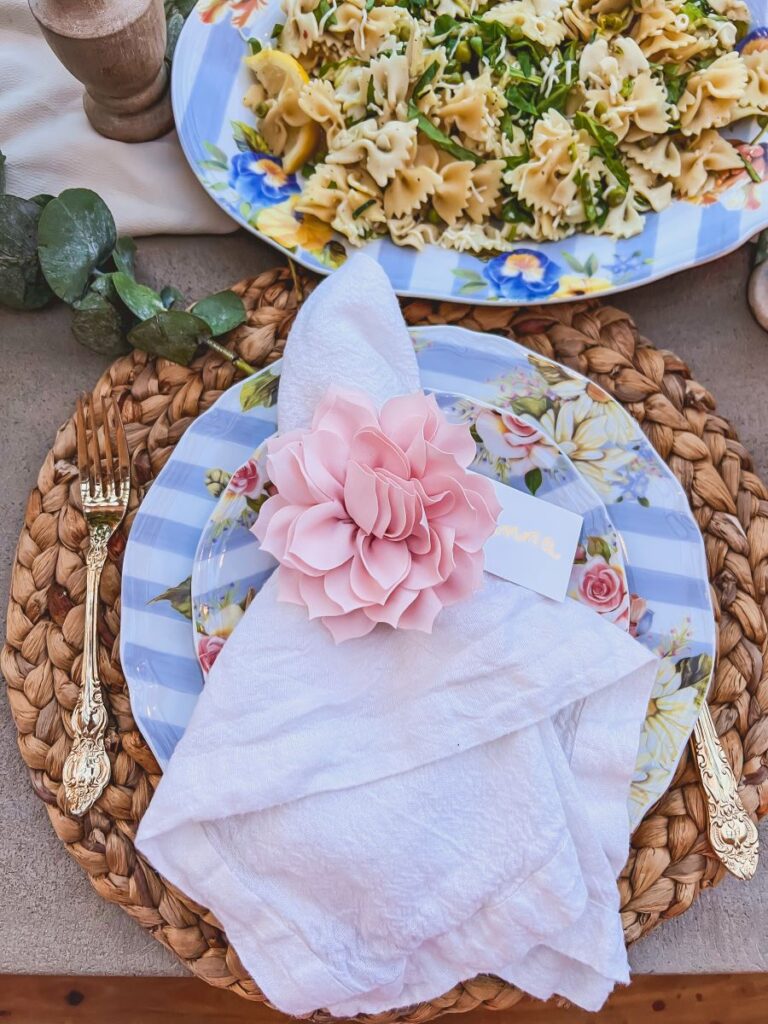 I especially love how the gold ink complemented the gold utensils and the soft, pretty decorations.
4. More is More When It Comes to Twinkle Lights
When it comes to outdoor parties, incorporating twinkle lights wherever I can is a must. This is an easy way to create a dreamy atmosphere and can be done with so many different products.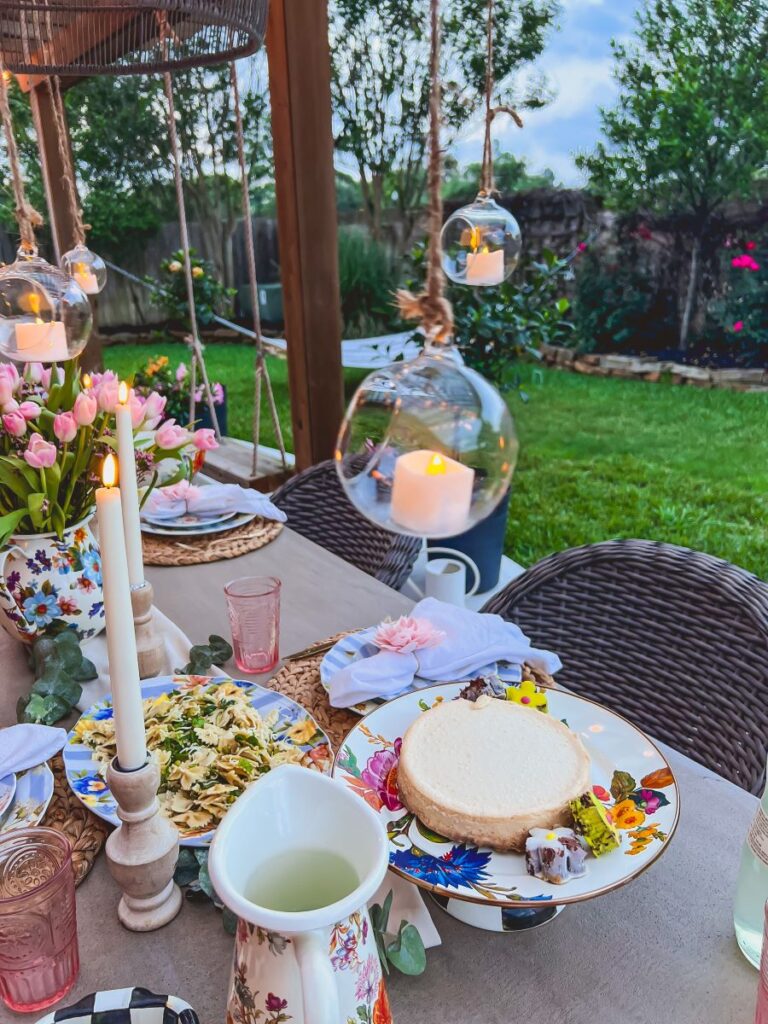 These hanging candles were attached to my pergola and am so pleased with how it came together. I recommend hanging them at varying heights to create more dimension above your table to really fill the space. If you don't have a pergola over an outdoor table, you can also hang them from tree branches, walls, or anywhere that they can be securely attached. You can also use rope or twine like I did to reinforce the hanging candles.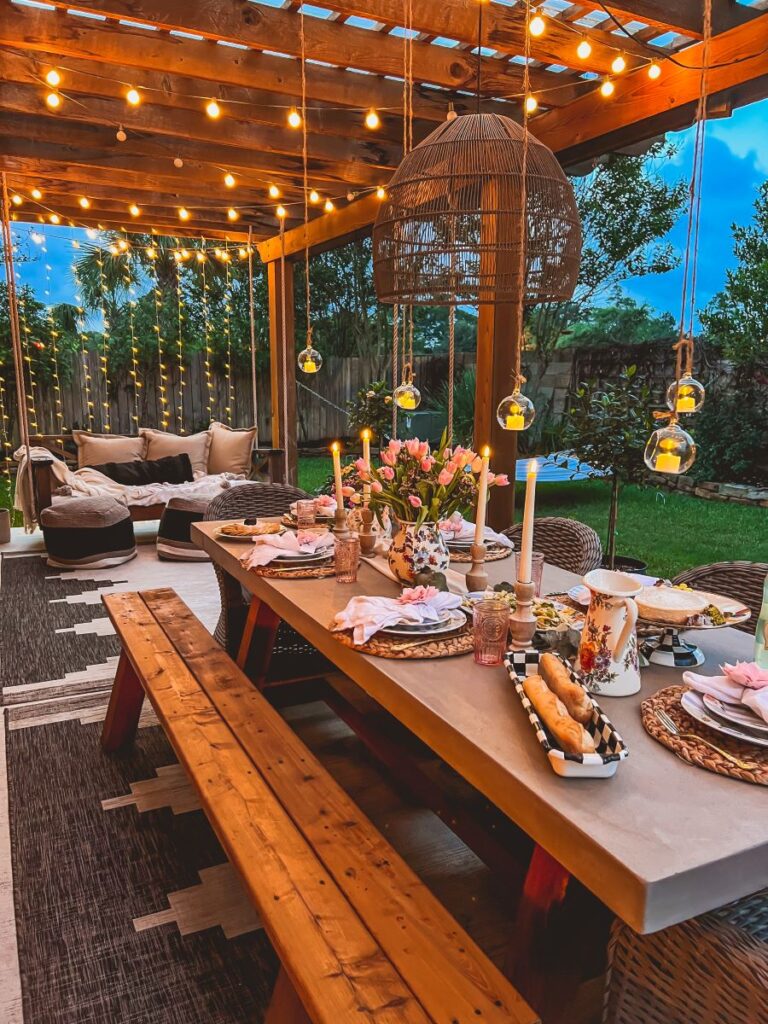 I also hung a string of Edison bulbs over the space and curtain twinkle lights behind the porch swing so the garden party could last well into the evening.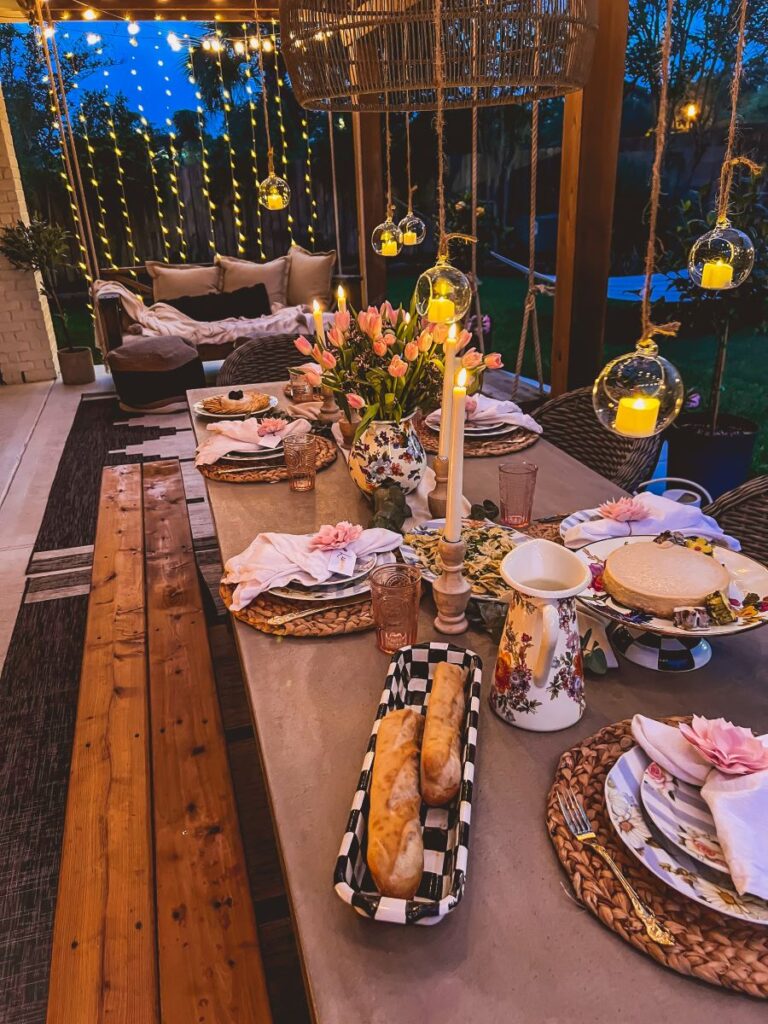 After the sun went down, the effect was so whimsical and pretty! You can also shop my outdoor rugs here.
5. Add Candles at Varying Heights Along the Table
Candles are so handy to have on hand for two reasons: First, they fill in any gaps on your tablescape between the main centerpiece and the end of the table. Secondly, they are so visually appealing and cast such a cozy glow, even if it's still light outside.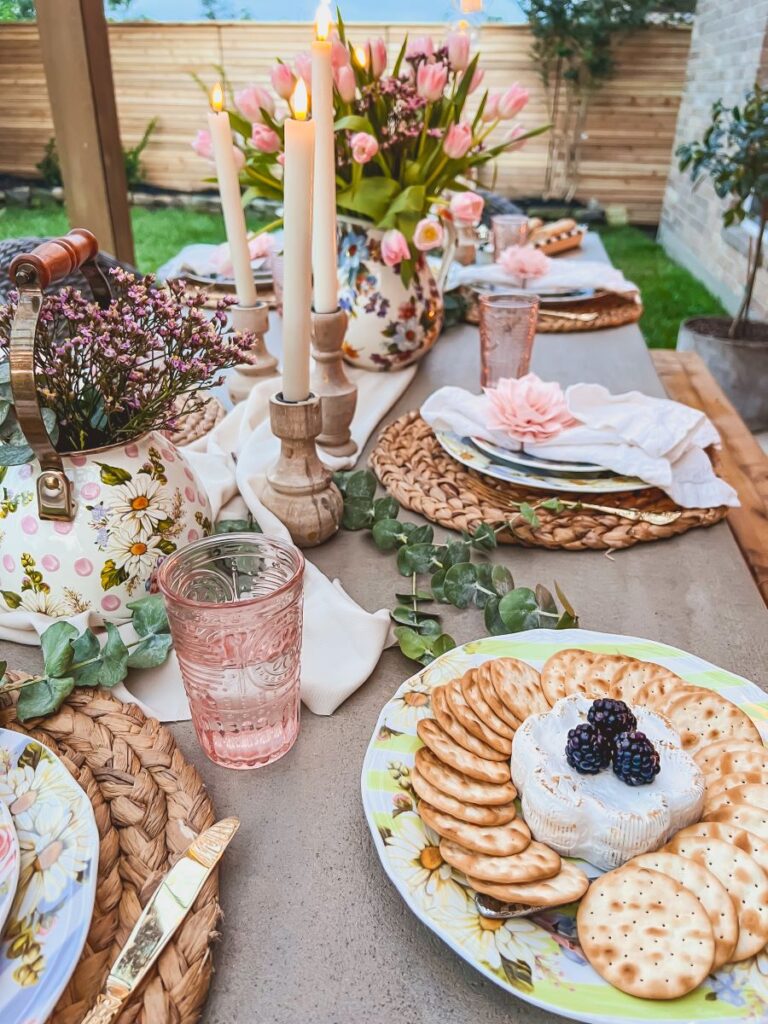 For outdoor use, the fake candles look so realistic but you won't have to worry about the wind blowing them out! You can find mine in white or ivory and they also come with a handy remote! I often place them on my mantle as well to also have that cozy vibe indoors.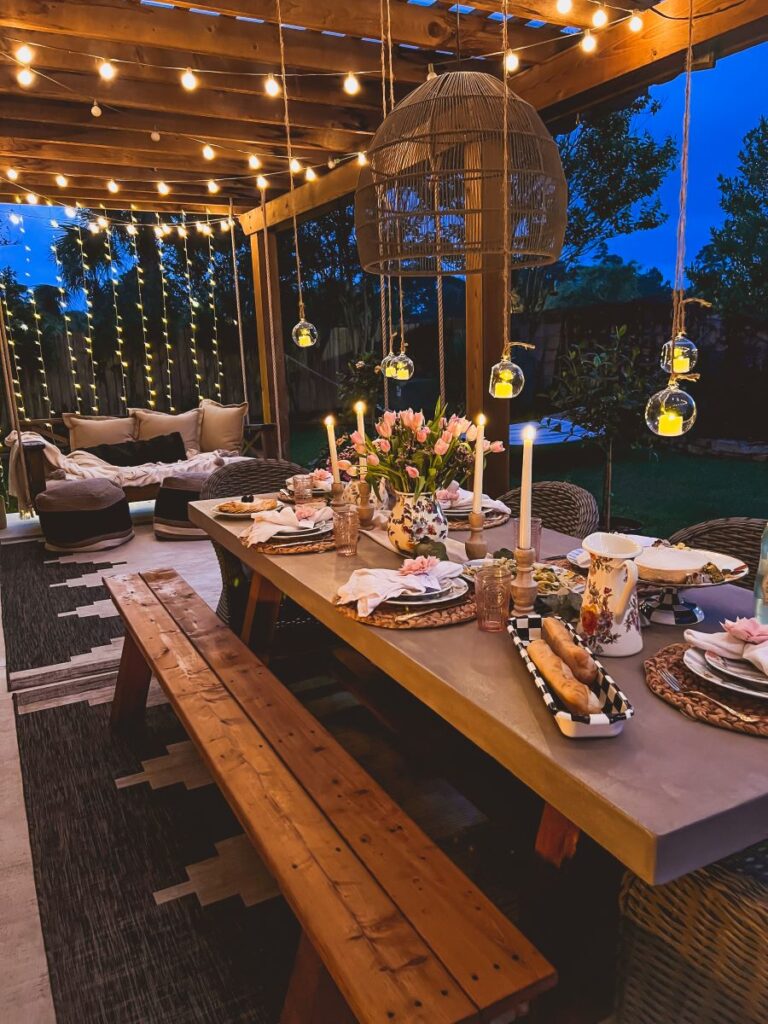 The candles combined with the twinkle lights reminded me of "A Midsummer Night's Dream!" You can find a similar wooden version to my wooden candlesticks here. I also love this gold set of ten candlesticks.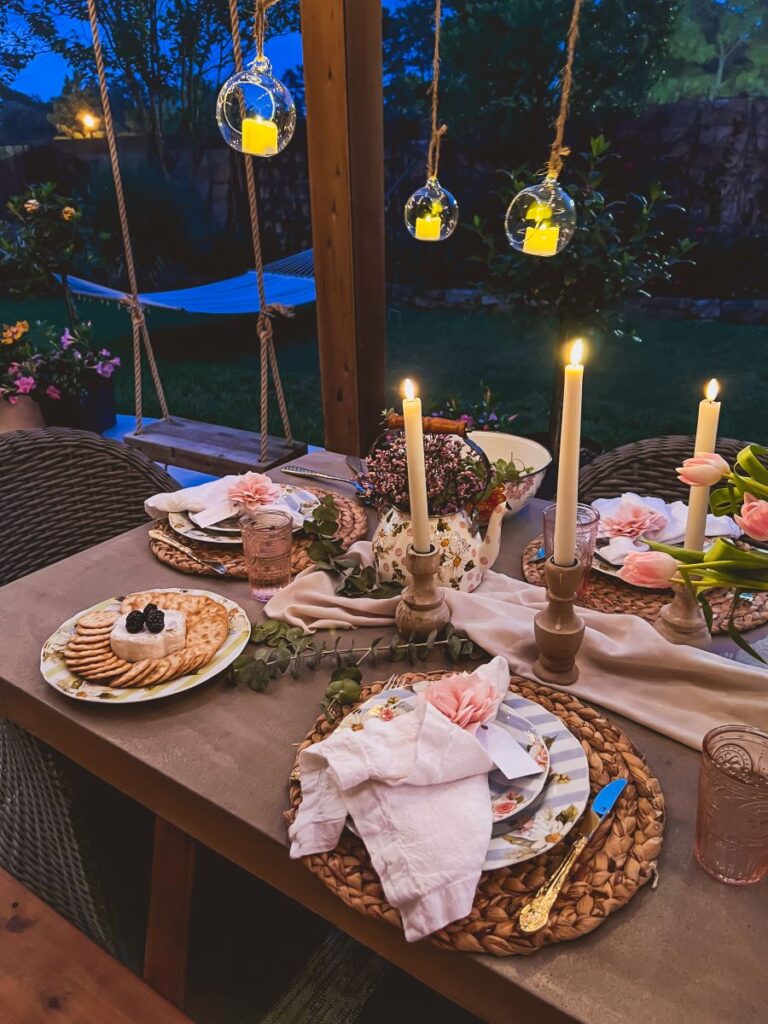 This was such a fun event that I can't wait to do again!
Shop the Look
Click the graphic below to shop all of my favorite pieces that I used for my garden party! If you set up your own garden party, please tag me on Instagram; I absolutely love seeing your beautiful creations!
You can find also the floral galvanized drink dispenser here. If you haven't already used my Mac-Kenzie Childs code, you can use "Leanna15" for a discount!
Cheers, friends!
Leanna