How to Decorate a Beautiful Christmas Table on a Budget
Whether you're hosting during this holiday season or decorating your home, creating an elegant Christmas table doesn't need to break the bank (especially after all that Christmas shopping!) Here are my five favorite tips for creating a lovely table with supplies you can reuse again and again.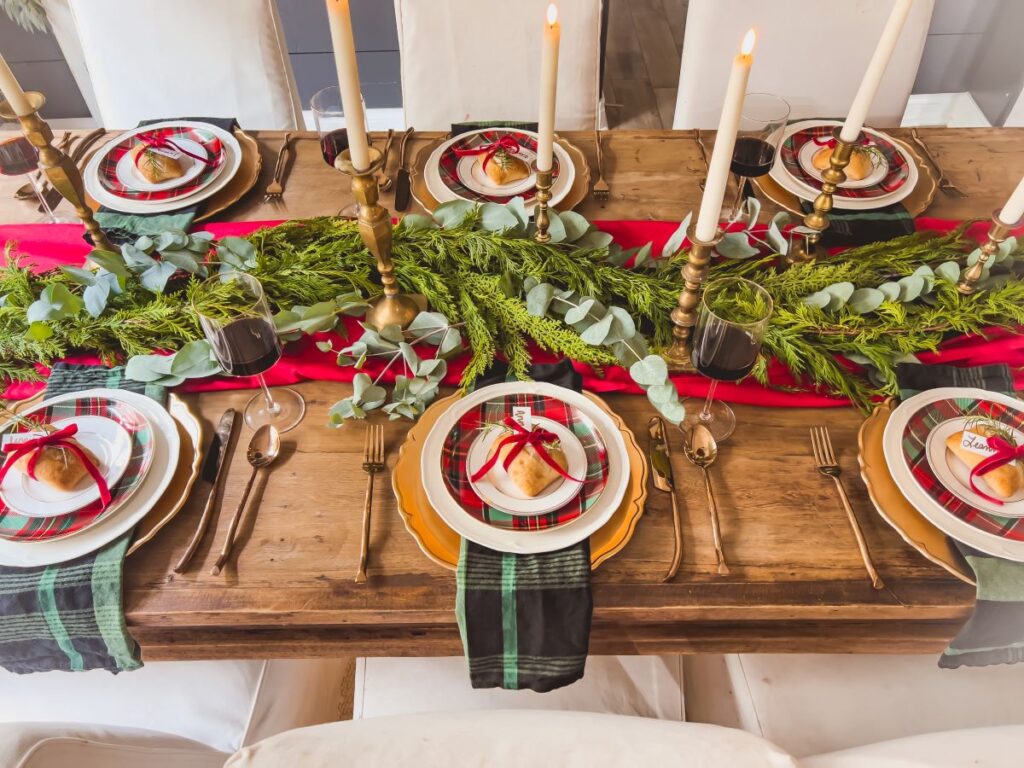 You can create a stunning tablescape for Christmas that can also stay decorated throughout the holidays!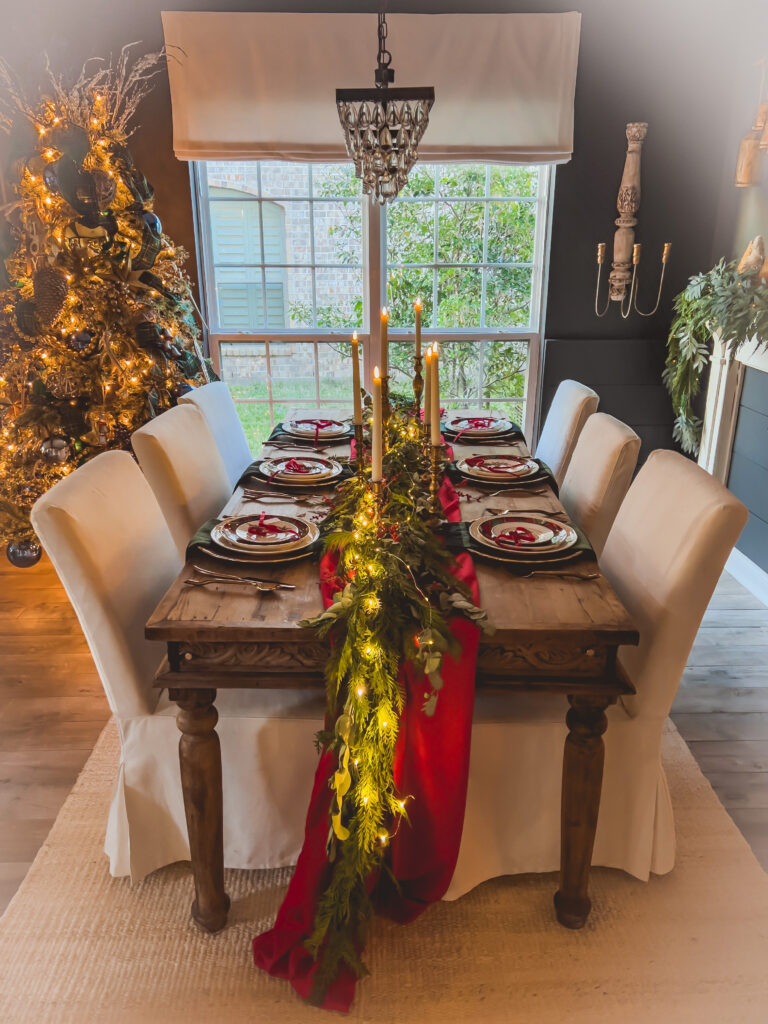 Tip 1: Use a Runner and Garland
I chose a style where I skipped the tablecloth altogether to show the natural wood of my table, but you can definitely start with a tablecloth as well. (Tip: I like to use white because it's easy to bleach out any stains.)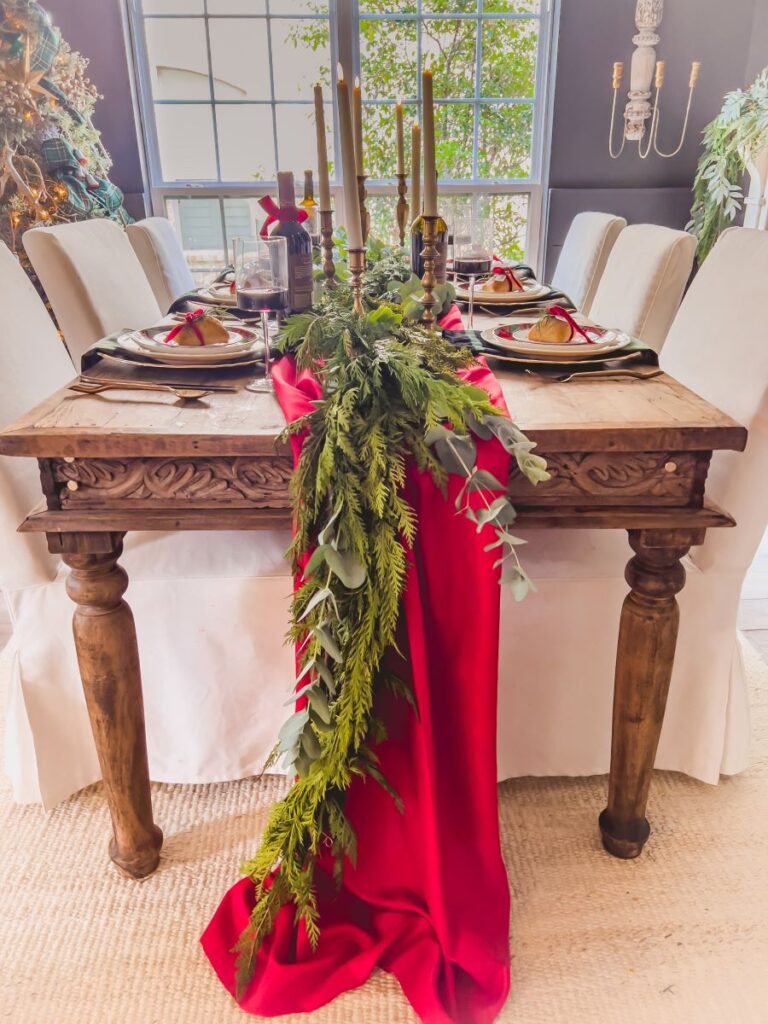 For a runner, I got about two yards from Joann Fabric. This scarlet color can easily be reused for other occasions such as Halloween, Valentine's Day, or Thanksgiving.
I love the dramatic look of the fabric draping over the end of the table, but I'd recommend a shorter option if you have littles who might tug on the fabric to avoid a wannabe magician situation!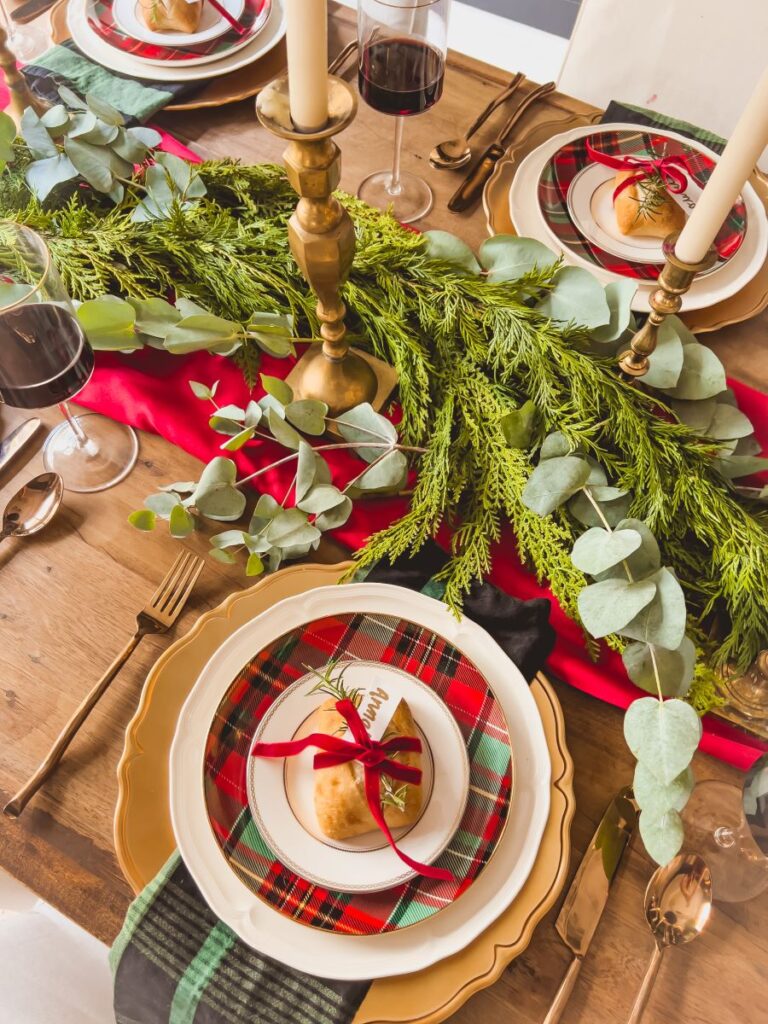 For a garland, I layered an evergreen garland with eucalyptus accents. You can get fresh eucalyptus at Trader Joe's or purchase a faux version at most craft stores like Michael's or Hobby Lobby. Olive branches would also a lovely contrast.
Garland is such a pretty and convenient way to keep a table pretty all winter. It's also versatile and can be layered with twinkle lights, bells, berries, and so much more.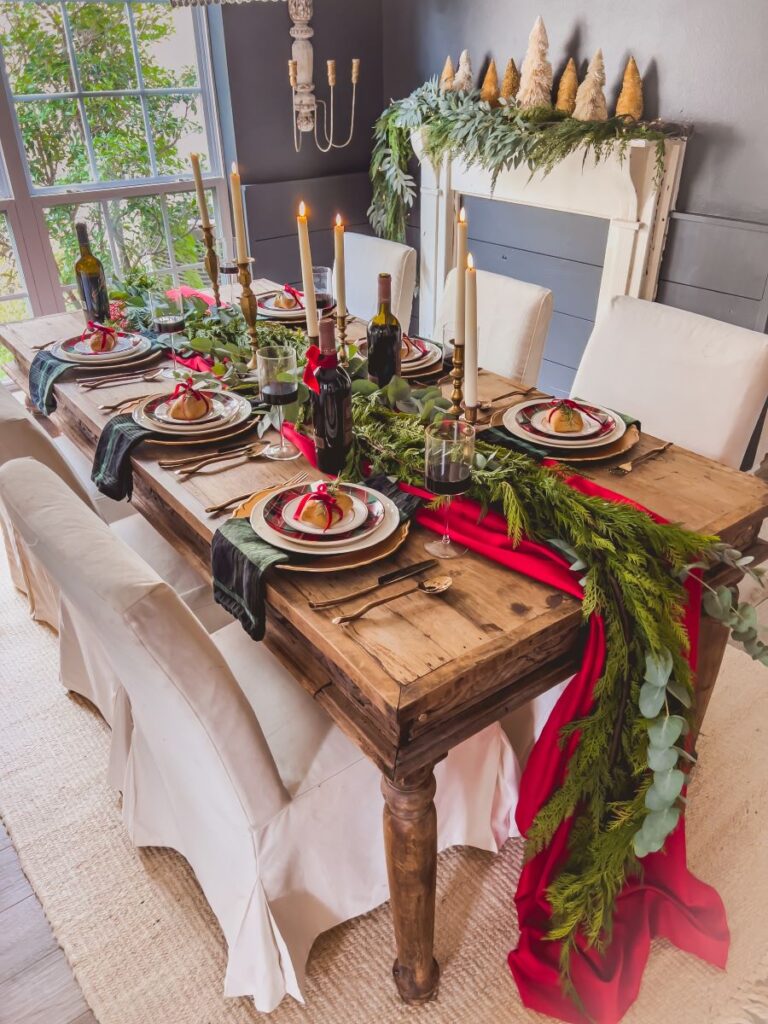 You may also enjoy this simple garland, this pinecone garland or this pre-lit choice for your Christmas table. For spring or summer, you can just swap out the evergreen for a more seasonal garland, such as a magnolia or floral option.
Tip 2: Add Candles
I used to feel pressure to do a grand centerpiece or spend quite a lot of money on flowers. Now I think adding candles of varying heights creates such a dreamy, classic look that you don't even need a centerpiece.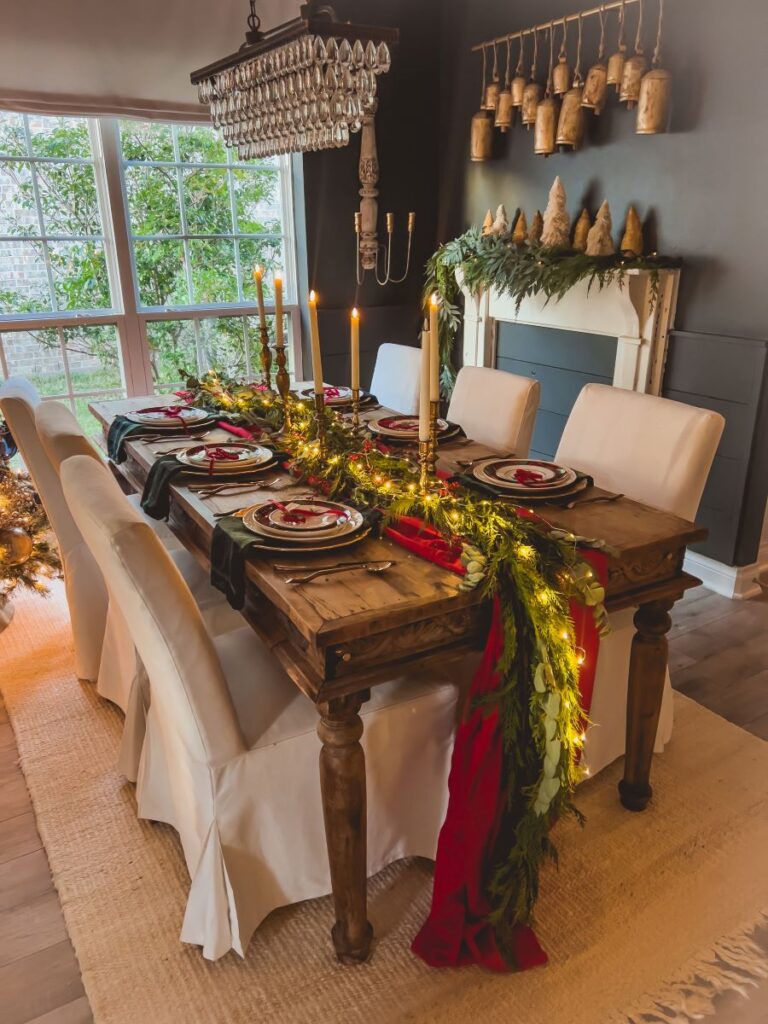 This gold set of 10 candlesticks at different heights would make a dramatic impact. I love how there is a candlestick for any style, such as these wooden farmhouse ones or this rose-gold set of three. This more modern, black set also has an option with candles as well!
Candles around the length of the table create such a beautiful glow, especially at night.
If you'd prefer flameless candles, these are incredibly realistic, and I have them all over my house. The best part is that you can turn them on and off with a remote!
For a statement decoration, you can find my bell decoration here!
Tip 3: Use Chargers Under Plates
Chargers are an easy way to add extra intrigue to your table. I have scalloped charges from World Market that came in silver, rose-gold, or gold. This set of 12 beaded gold chargers are also stunning and at a great price!
I love the way the gold chargers coordinate with the gold flatware. I also have a stunning rose-gold set from Walmart that I used for my Thanksgiving tablescape. If a plastic option is more preferable, these are beautiful and at a great price point.
If you'd prefer placemats, plaid placemats would also be a nice option for your Christmas table.
Tip 4: Layer In Plaid Plates
You don't need to do plate that are specifically Christmas themed for a holiday option. Plaid is a perfect choice because it is reminiscent of the holidays, yet can also be reused for other occasions (such as winter birthdays, New Year's parties, Thanksgiving, etc.)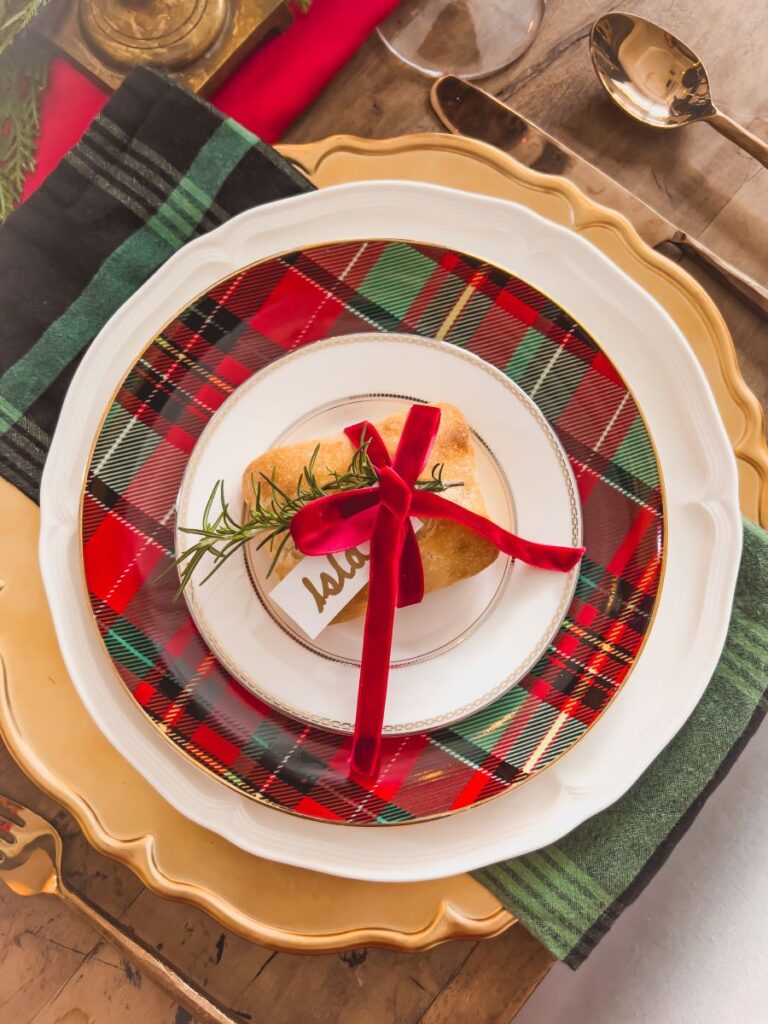 There are so many options you could do, such as these plaid dinner plates, these tartan salad plates, or these plaid dessert plates (I especially love that these are an assortment of both red and green plaid.) For a bit more of an investment, Pottery Barn also has a pretty plaid stoneware set.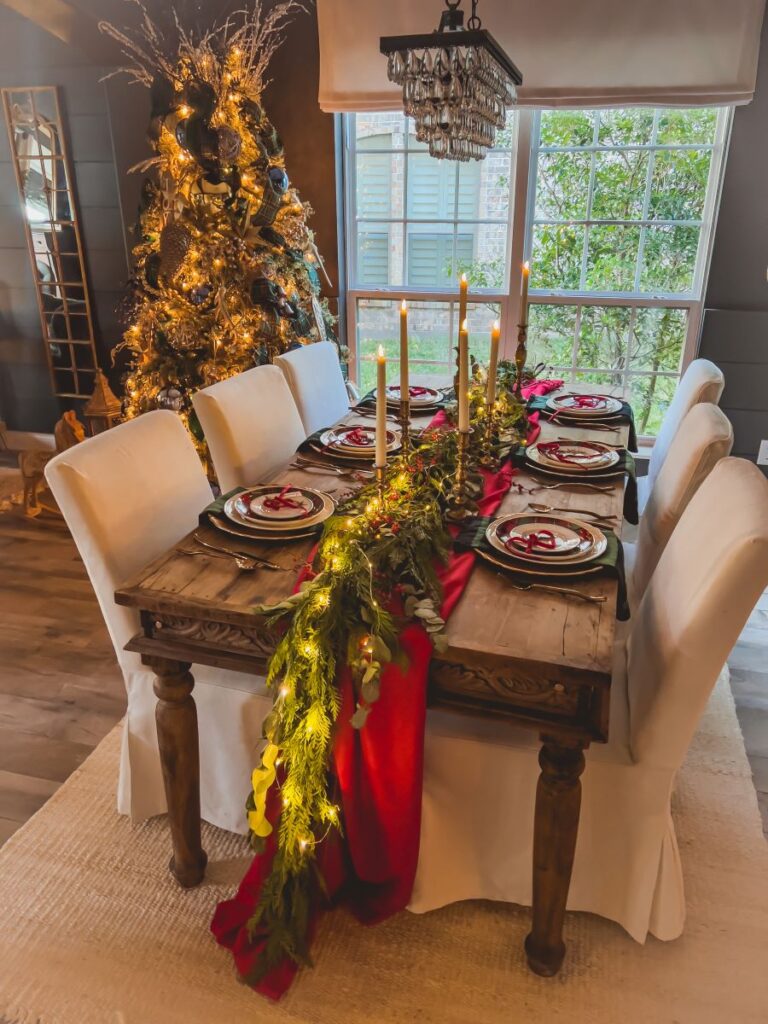 Plaid is such a timeless, classic pattern that you never have to worry about looking dated, so it's a safe and practical investment.
Tip 5: Sprinkle in a Personal Touch
Adding in a simple nametag written with a pretty gold or silver marker is such an easy gesture that goes such a long way to help her guests feel welcome and special. You could also use a pretty font and print name tags as well if you'd prefer to not write it yourself.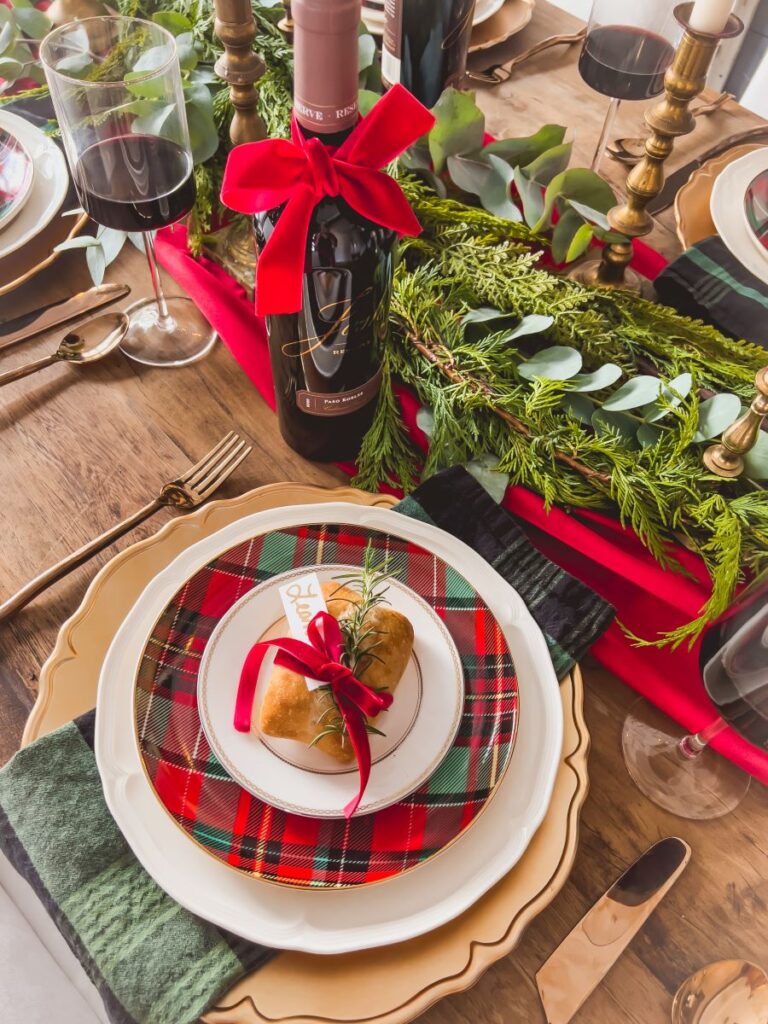 Sprinkling in sprigs of greenery and ribbon is also one of my favorite extra touches to add that is so simple and cost-effective. I tied these to a dinner roll, but you could also layer the napkin above the top plate and make a napkin ring out of ribbon for only a few dollars!
These wine glasses with the gold rim tie the whole look together so nicely. Additionally, these modern wine glasses would also be a great option.
Cheers!
I hope these tips inspire you to create your own beautiful Christmas tables with practical, stunning products that you can reuse over and over. Have a wonderful holiday, friends!