Simple Fall Decor Ideas for your Home
Today I am sharing some of my favorite fall decor ideas for your home this season. I am joining some of my favorite friends as we take you on a tour of our home for fall. If you are just coming over from Karlee's home tour I am so glad you are here!
Don't forget to check out my favorite bloggers and their homes, I added all their links below for your convenience!
Entryway fall decor ideas
The first space I want share with you is our entryway. We recently put up board and batten here in this space and I love that I now have an extra nook to style! You can read about how we installed the DIY board and batten here.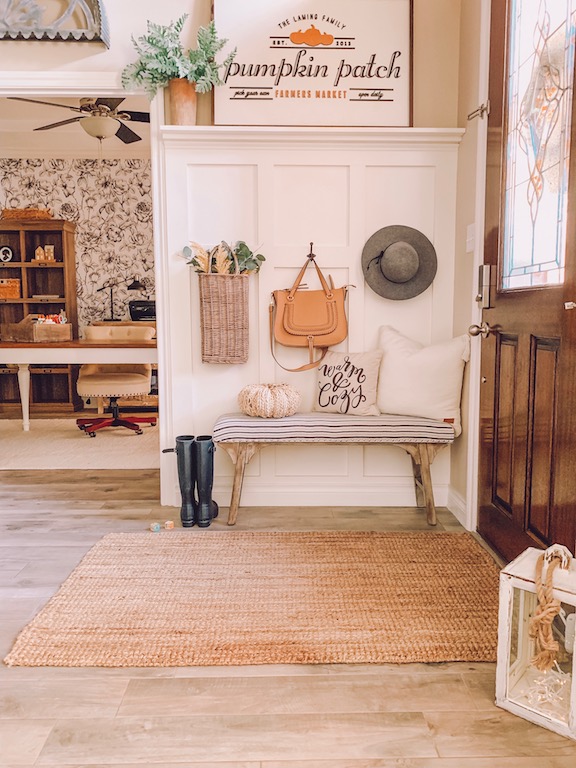 Next, I added a fall sign and some cozy pillows to bring in some fall vibes! I also love to add twinkle lights to any space! Then, I added a few lights to the lantern sitting by the door that lets off the perfect glow at night.
Kitchen fall decor
The next room on the tour is our kitchen. I truly love waking up and walking into our kitchen every morning. It is also the one room in the house that has transformed the most since we bought it. Can you believe the cabinets were brown? And so was the granite!
For fall I added lots of pumpkins and a pop of color with the fall sign from kirklands. The wreath on my hood hangs out up there pretty much all season long. I love the greenery it adds to the space.
The buffalo check rug is another fall favorite. It is from @ruggable and is machine washable! You really can't beat that!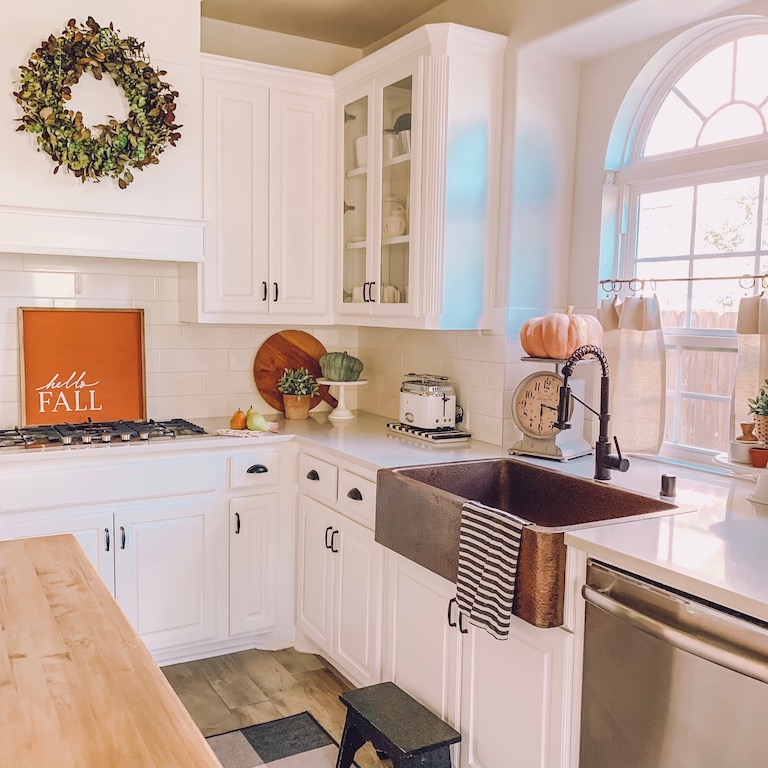 I kept it pretty simple in here for fall but went a little crazy when I decided to add some halloween vibes. Yay or nay for Halloween decor?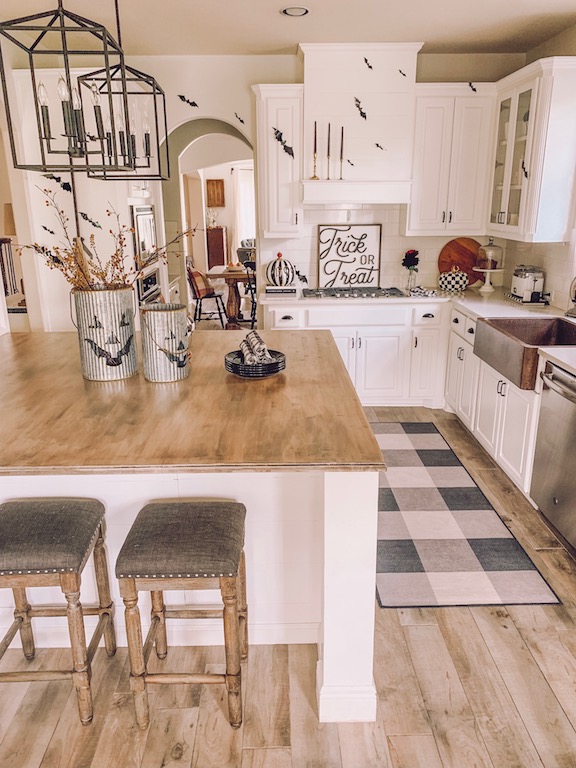 This little nook is in our kitchen and is one of my favorite spots to style for each season. Mustard was a fun color to add this year to my home as you can see here in this space!
I added some mustard florals, a throw and some napkins. The sign is from Harper Grayce and is made from rustic wood. Don't you love the texture it brings to the space???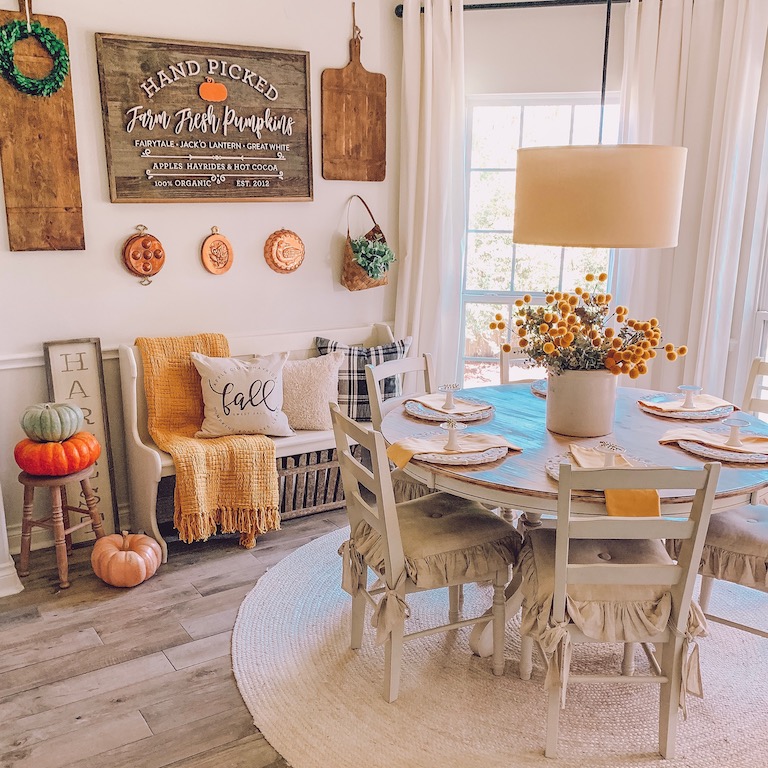 Sitting Room ideas for fall
The next room on the tour is our sitting room, which is right off the front door. I made this DIY wall hanging that adds some color to the wall.
Next, I wanted to add more fall colors and decided to use this galvanized bucket with fall florals on the coffee table. Sometimes just the most simple ideas can make a big impact on a room!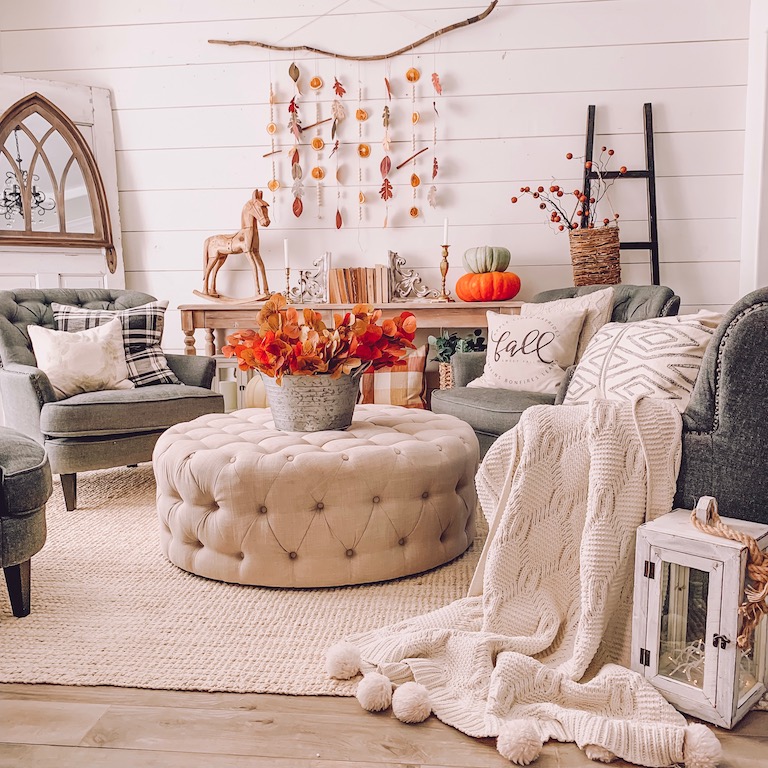 Before I added the wall hanging to the shiplap wall I hung three different canvases from the wall.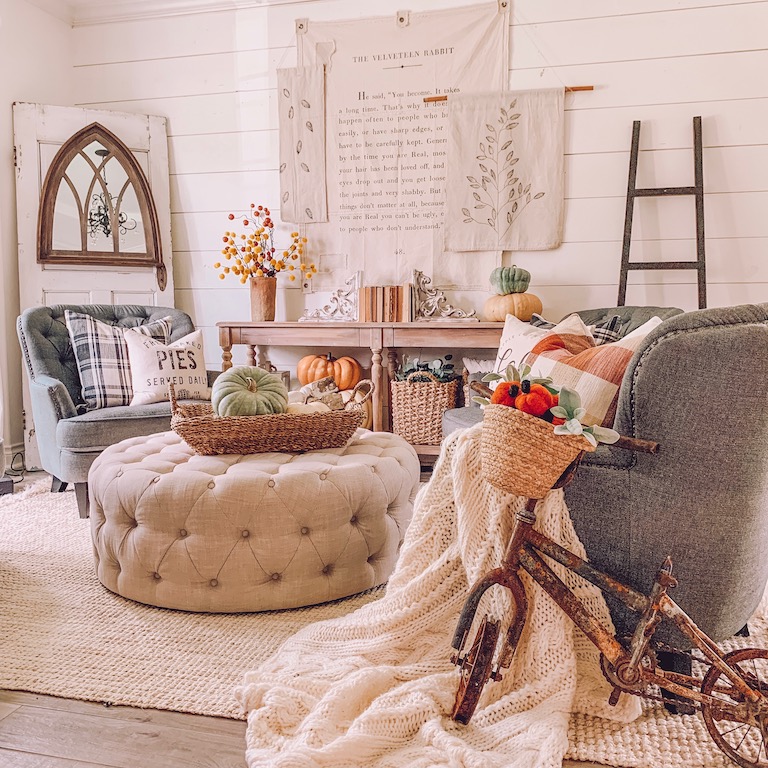 The space was missing something so, I made the two smaller canvases out of drop cloths and drew leaves on them with a sharpie!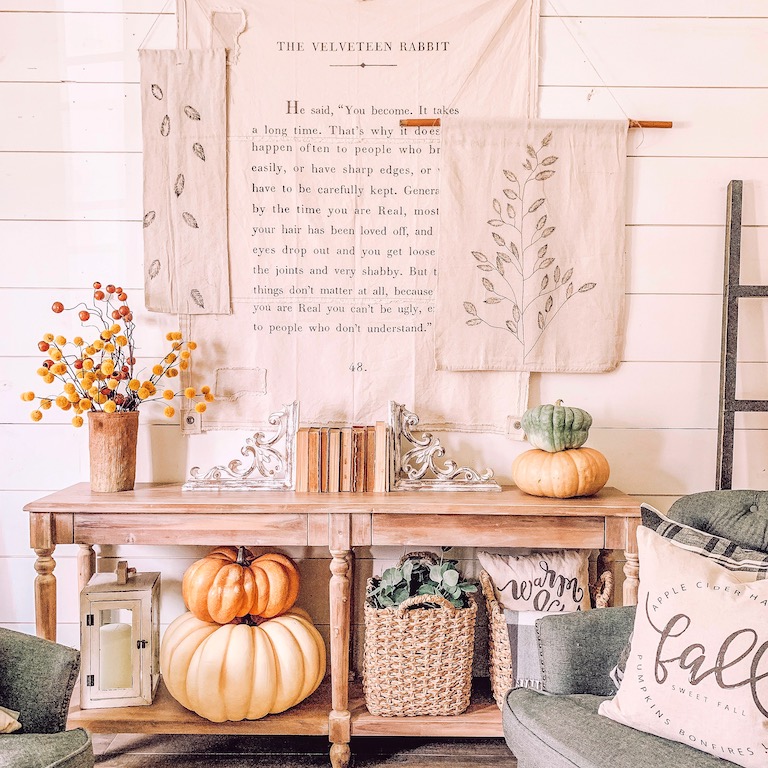 Dining Room
Next, I want to bring you into our dining room. I kept the same fall colors in here: reds, orange and yellows.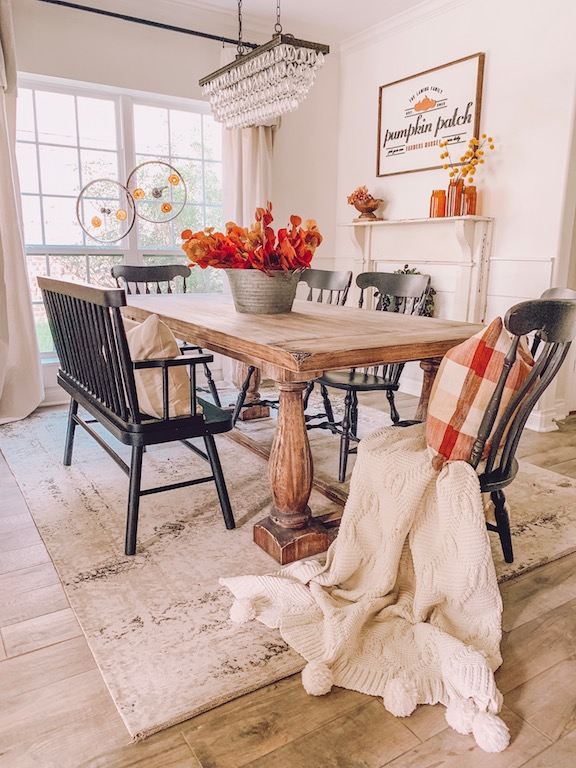 And yes, sometimes I move things around from room to room, like this galvanized bucket!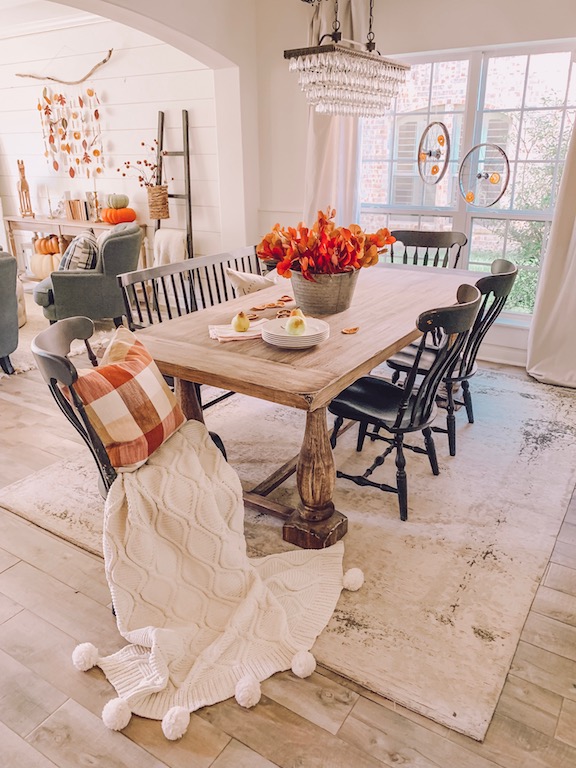 I wanted to add just a little something else to the space so I hung a few bike wheels from the windows. For more color I added a few dried orange slices that were left over from my DIY wall hanging.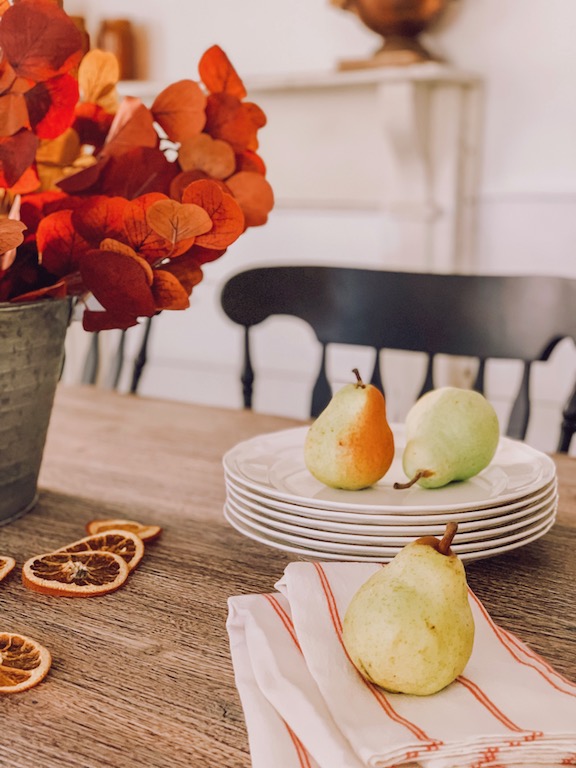 Living Room
The heart of our home, the living room is next on our tour. This room is super cozy!!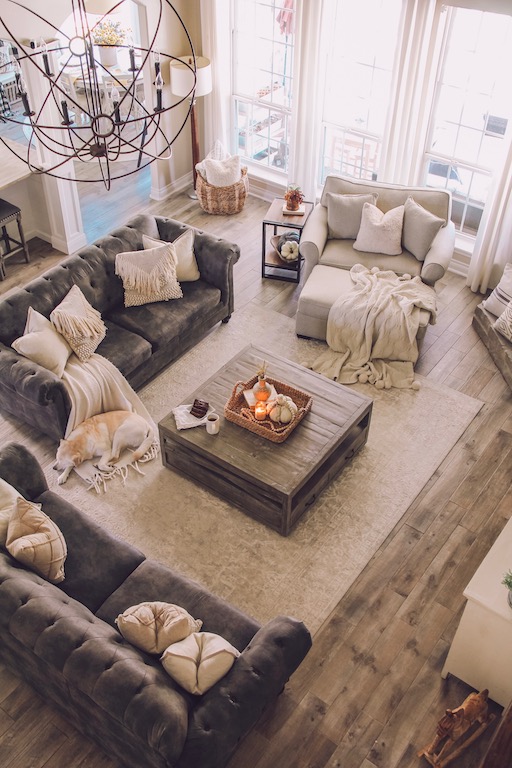 I kept it simple in here as well with a few pumpkins and greenery. The hanging wreath was an easy DIY that I made myself which you can read all about here.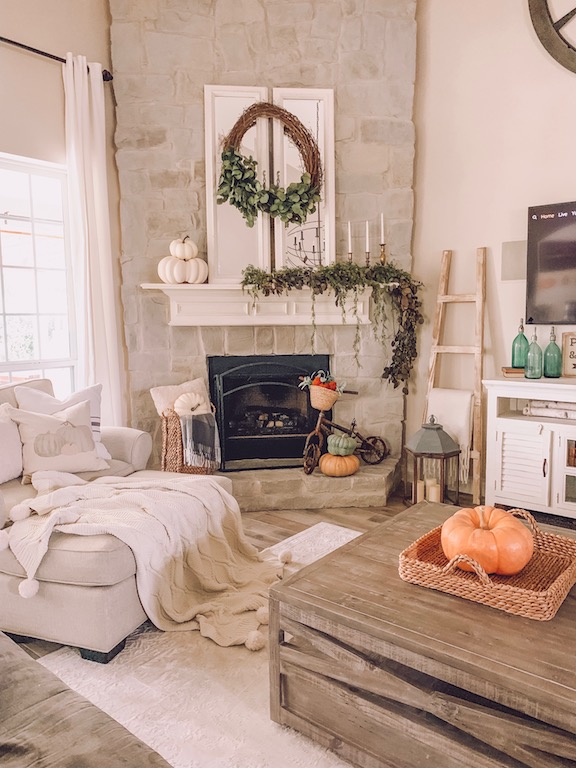 Bedroom
The last room on the tour is my favorite, our bedroom! I added new wreaths to either side of our bed that I found at homegoods. Then, I used a dough bough and filled it with pumpkins for the bottom of our bed!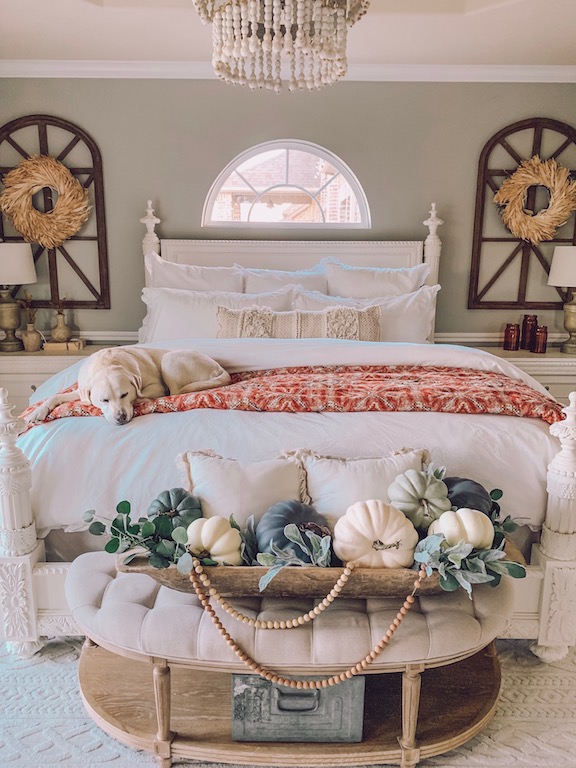 Because I love to change my decor around, I moved the canvas drop cloth prints I made into our bedroom after I had made the DIY wall hanging. I think they look perfect along that wall that looked so empty when it was bare!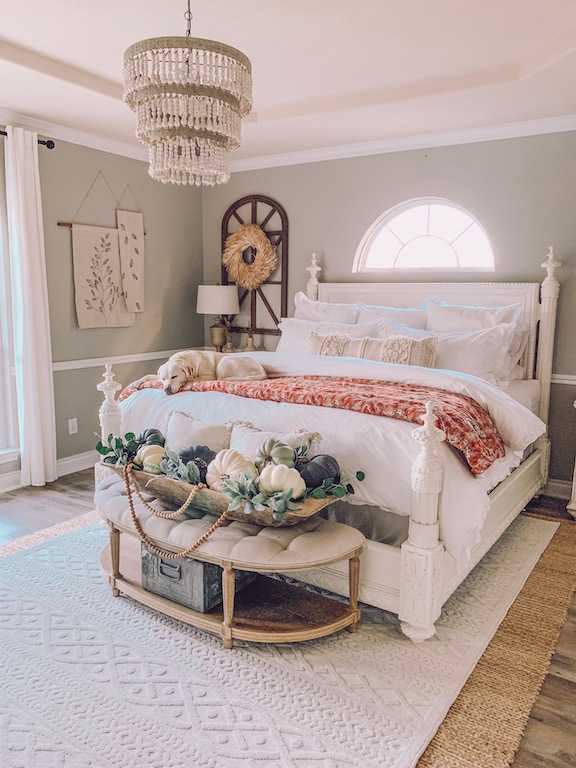 As a last minute decision, I picked up the red quilt from Target because it was on sale. I mean, who can resist a clearance item from Target?
Below is what the space looked like without the quilt and I am so glad I made that last minute purchase! It added just the right about of color to the space!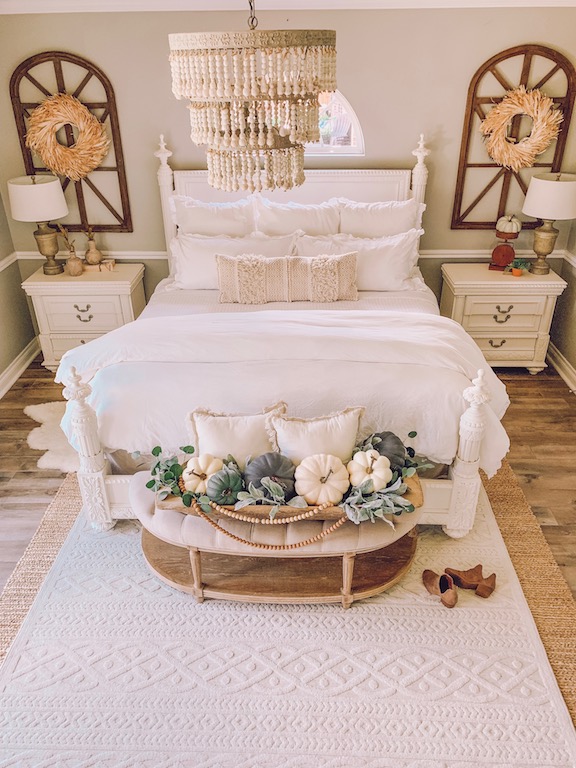 I hope you enjoyed a tour inside my home and that you found some easy fall decor ideas for your own home! Don't forget to stop by Melanie's home next! I know you will just adore her!
Best,
Leanna
For More Fall Inspiration…
Visit each of my friends' blogs below! There is fall inspiration for any style.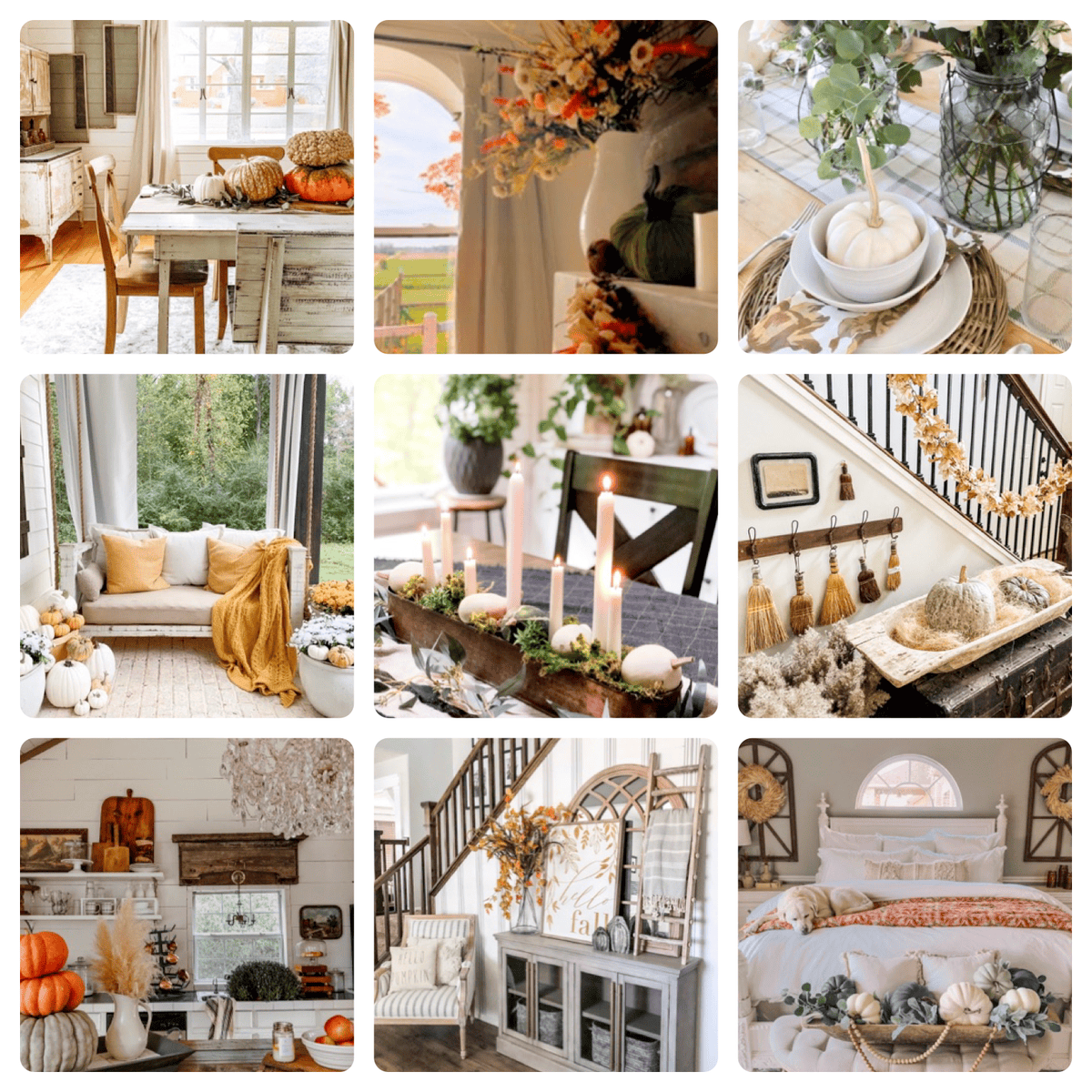 Charlotte's Happy Home | Cuter Tudor | Designs by Karan
Grace In My Space | Grey Birch Designs | Karlee Bowman
Life By Leanna | My Georgian Farmhouse | Selah Pines Farmhouse