The Versatile, Easy Cinnamon Butter Board Your Guests Will Love
My favorite part about this fun and easy Cinnamon Butter Board is that you can serve it as an appetizer or dessert, depending on the sides you choose!
I always try to make versatile recipes that can be enjoyed by both kids and adults and this recipe will definitely be a staple in my house, especially for hosting!
I displayed this easy Cinnamon Butter Board using some of my favorite MacKenzie Childs products, which you can shop below and also get 20% off by using code Leanna20. The timeless, classic look of these pieces adds such a unique and elegant touch to this recipe.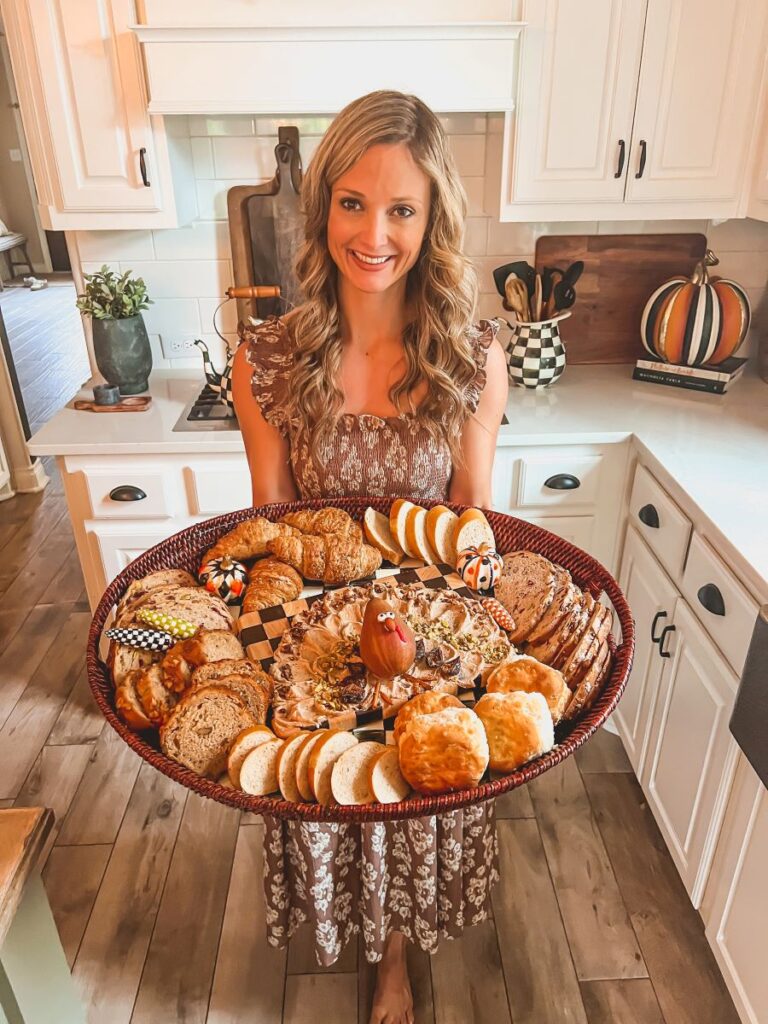 Directions
During the busy holiday season, any recipe that can be put together quickly is a must. For the cinnamon butter recipe, just beat the honey, sugar, and cinnamon until smooth. Next, add your salt preference (I start small because you can always add more but can't take it out!)
Print
Cinnamon Butter Board
This delicious cinnamon butter board is so quick and versatile! Pair it with bread, fruits, or veggies to make it an appetizer, or baked goods to make it a dessert!
Author:
Prep Time:

10 Minutes

Cook Time:

5 Minutes

Total Time:

15 minutes
▢ ½ cup unsalted butter at room temperature
▢ ¼ cup honey (not creamed)
▢ 1 teaspoon ground cinnamon
▢ 1 pinch salt
Instructions
1. In a medium bowl, beat butter, honey, sugar, and cinnamon until smooth.
2. Add salt and beat until smooth. Taste and adjust salt, honey, and cinnamon to your preferences.
3. Serve with bread and other baked goods.
Thanksgiving Twist
Now comes the fun part! For a Thanksgiving twist on this easy cinnamon butter board, I used a spreading knife to create turkey feathers out of the butter mixture.
To make the turkey, start with one outer layer and overlap it with an inside layer using small servings of the cinnamon butter on the spreading knife. I decorated these "feathers" with raisins and mixed nuts and other options are granola, cereal, or pretzels.
For the turkey's face, use decorator's frosting to adhere edible googly eyes (usually in the baking section of your local grocery store). You can use frosting to add a nut or raisin for the beak and frosting or licorice for the neck.
I displayed the turkey on my MacKenzie Child's checkered chopping board and it came out so cute!
Side Options
What I love about this easy cinnamon butter board is that you can create more of an appetizer or dessert tray depending on the side items. I used croissant rolls and assorted breads for a yummy appetizer, or veggies would also be delicious for a healthier option! For a dessert spread, you could add sliced apples, graham crackers, cornbread, banana bread, pumpkin bread, pretzels, cookies, or brownies.
As an added festive touch, you can use seasonal cookie cutters to trim the baked goods into any shape, such as pumpkins to go with the Thanksgiving feel. (The cornbread is especially easy for this because it's denser and won't crumble as easily.)
Tip: Use a separate serving platter for the turkey, then place that on top of another tray so the items don't roll onto the turkey feathers! I used this beautiful party tray for my side items and just placed the cutting board with the turkey inside. These autumn spreaders make the perfect autumn touch as well.
MacKenzie Childs Products
Y'all know that I'm a huge MacKenzie Childs fan and linked some of my favorite products here for you to get an extra 20% off using the promo code Leanna20.
Some other beautiful pieces that can be used throughout the fall are this fairytale striped pumpkin, beaded pumpkin, or this beaded squash. I love the bit of extra sparkle they add to my decor.
For items you can keep out year-round, I also get so many questions on my tea kettle that comes in black or gray. I also adore this pitcher, which is perfect for storing spoons and other utensils (or you could use this utensil holder as well!)
You can also shop the amazing Christmas selection below!
—
I hope you enjoy this easy spread as much as I did and I hope you have a wonderful Thanksgiving!