Sharing is caring!
Who doesn't love a cheese board?! Cheese boards are my favorite thing to serve for a crowd. They are so fun to make and make the perfect addition for a party! This Halloween Cheese board was so fun to make this year and the kids all LOVED it!!!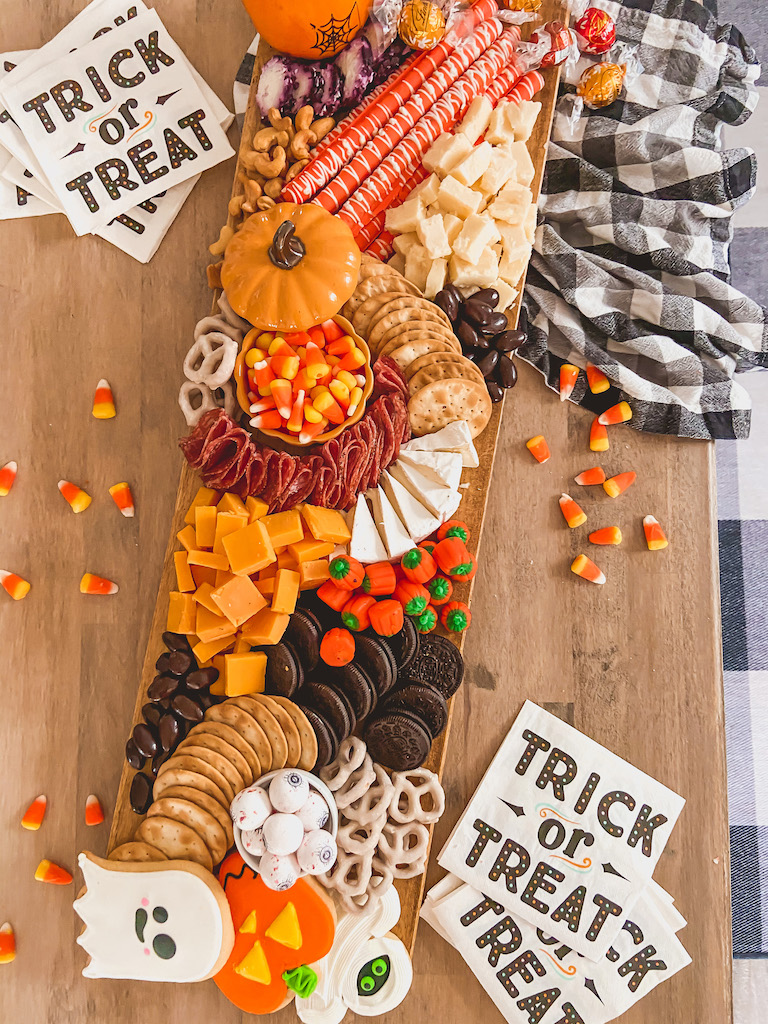 When making a cheese board, I always try to stick with a theme, or color pallet. For halloween I chose Orange, white and black! Makes sense.. right??? It was fairly simple to find Halloween themed treats at the store! You can add different color cheeses, fruits, and don't forget the CANDY!!
The last cheese board I made was for the 4th of July. You can see how the patriotic cheese board turned out here.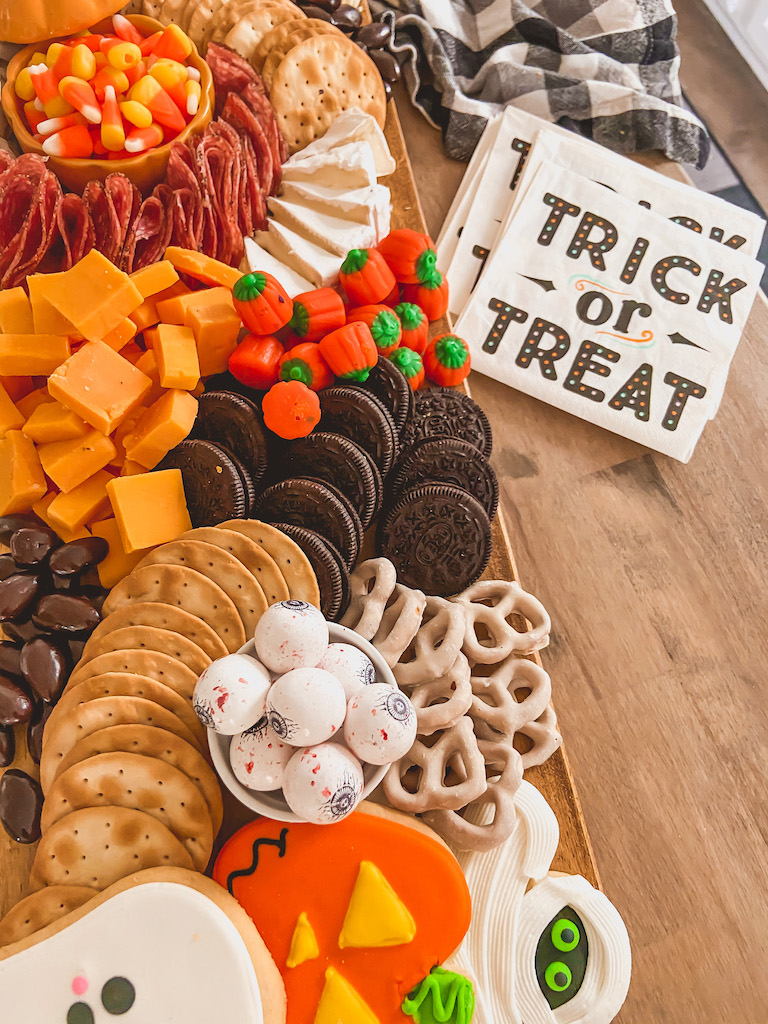 If you have never made a cheese board, don't worry! There are absolutely not rules on the right way to make one. All you need is cheese, crackers and few other sweet treats to go along with it! Once you make one though… don't be surprised if you are hooked!! I make them all the time!
Easy Tips for Making a Halloween Cheese Board
There's no right or wrong way to make a cheese board. Add your favorite things such as nuts, grapes, strawberries, your favorite cheese, a variety of crackers and more!
Invest in some big cheese boards and cheese knives. (I have some linked for you a the bottom of this post)
Have fun and add color with fruits and veggies!
The cheese doesn't have to be expensive, I find my cheeses at Trader Joes, ALDI's or Target! You can also cut up the cheeses in different sizes and shapes for different looks!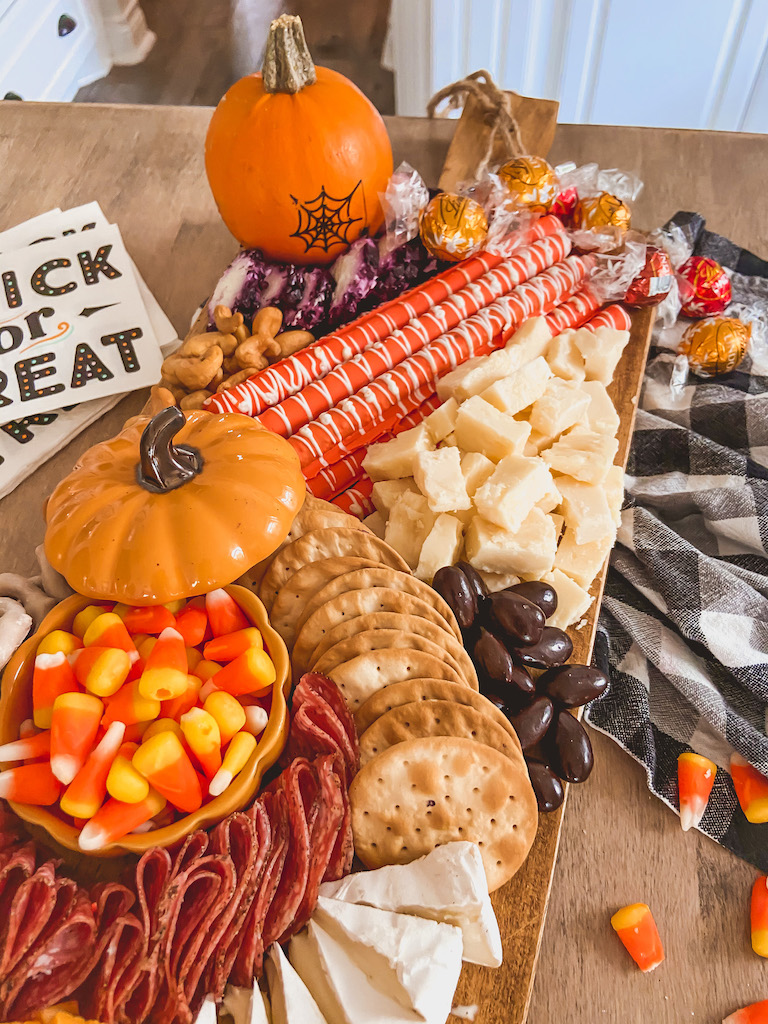 How to Make a Halloween Cheese Board
INGREDIENTS
cheese – I used brie, white cheddar, yellow cheddar, and goat cheese.
assorted crackers
white chocolate covered pretzels
oreos
Cashews or your favorite Nuts
Chocolate covered almonds
Halloween cookies – found these at Target
Thin sliced pepperoni
Halloween sweets such candy corn, candy pumpkins, pumpkin cookies
Mini pumpkin
board
cheese knives
---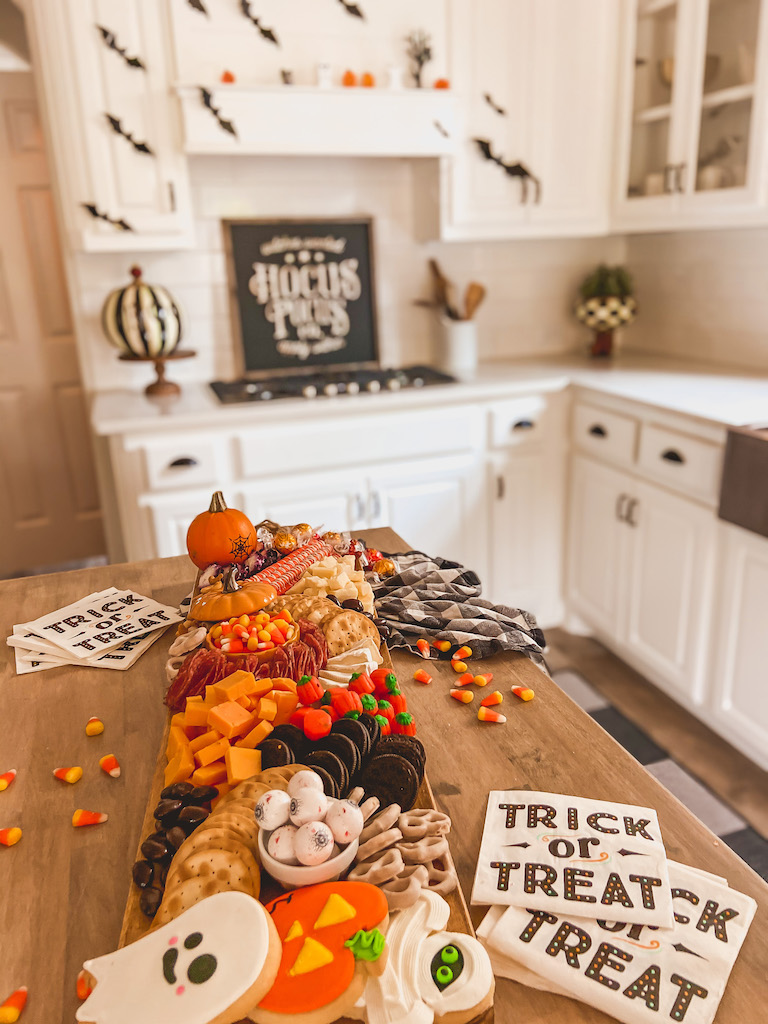 INSTRUCTIONS
Place your largest items on your board first – usually the cheeses. Pre-slice the cheese if you desire.
Add the halloween cookies to the board.
Place candy or small condiments such as jam in a small serving bowls and place on board.
Wash, dry, and place mini pumpkins on board.
Place crackers around the cheeses.
Add pepperoni, fold twice for a nicer look.
Fill in the gaps with candy, nuts and other treats.
Serve right away.
Have a Happy Halloween!!
I linked some perfect cutting boards below:

xoxo,
Leanna