Easy and Inexpensive Ways to Decorate Bedrooms for the Holidays
We spend so much time in our bedrooms, so why not add a little holiday cheer in those rooms, too? Here are five easy, inexpensive tricks to decorate bedrooms for the holidays!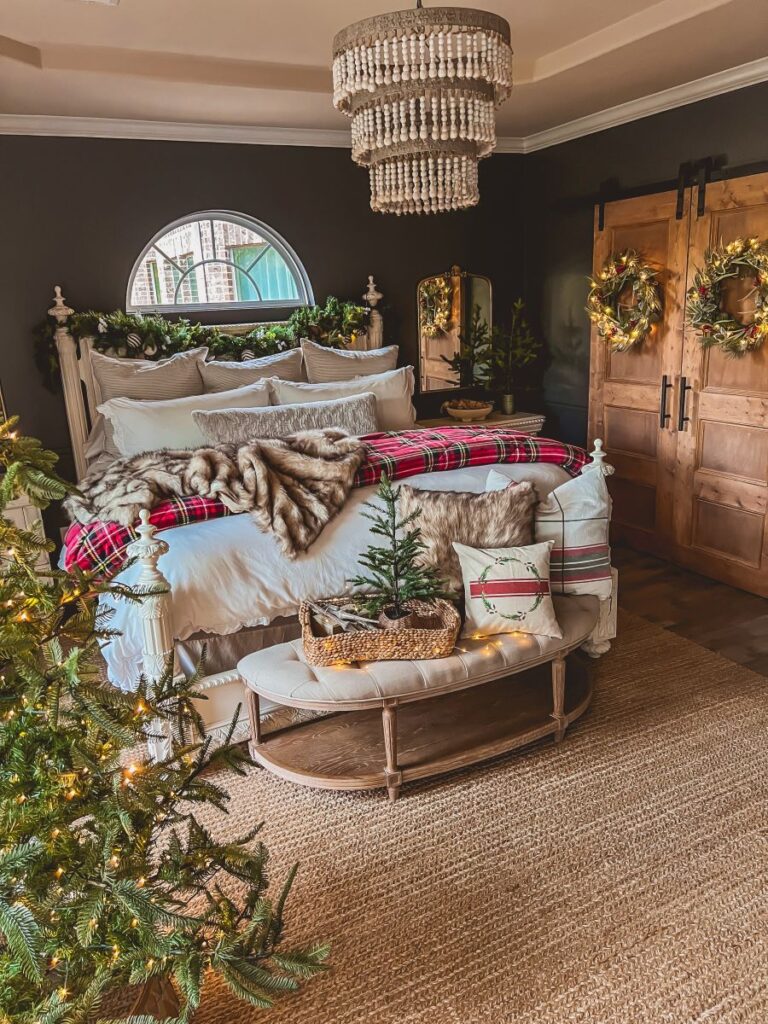 On my last holiday post about making your home cozy for Christmas, I received so many questions specifically on how I decorate bedrooms for the holidays, while still being practical. I hope these simple tips inspire you create festive spaces where you might not usually decorate!
Tip 1: Have a Winter Bedding Set
I know it might seem like an investment to have sheets specifically for Christmas, but keep in mind that they will last for quite a while since they are being used for a portion of the year. Another solution that I prefer is to have an extra set in a Winter style that you can use for several months out of the year. Cozy flannel sheets are especially so nice to crawl into on a cold day!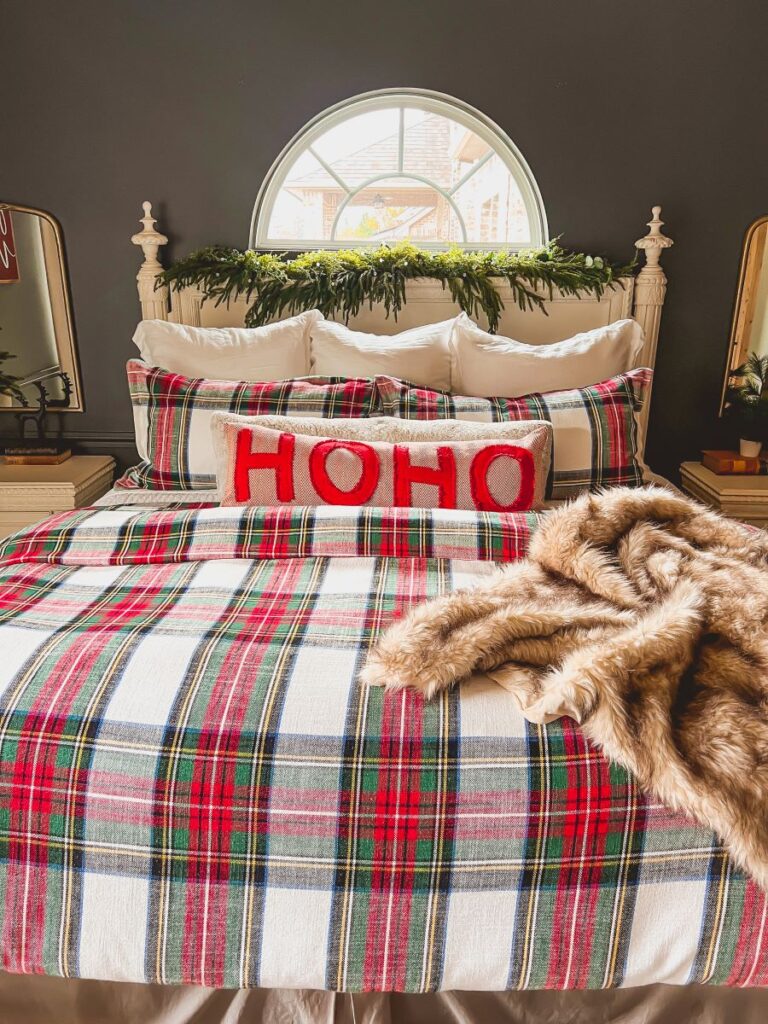 This bedding is from Pottery Barn and was more of an investment, but I know I will reuse these for many years to come. There are so many options to meet a variety of styles and budgets, such as these options from Macys, LL Bean, or Amazon. I also love this embroidery-style set from Walmart that also comes in white.
Y'all know I love plaid, so these or these sheets from Target are a dream, as well as this cozy quilt from Amazon!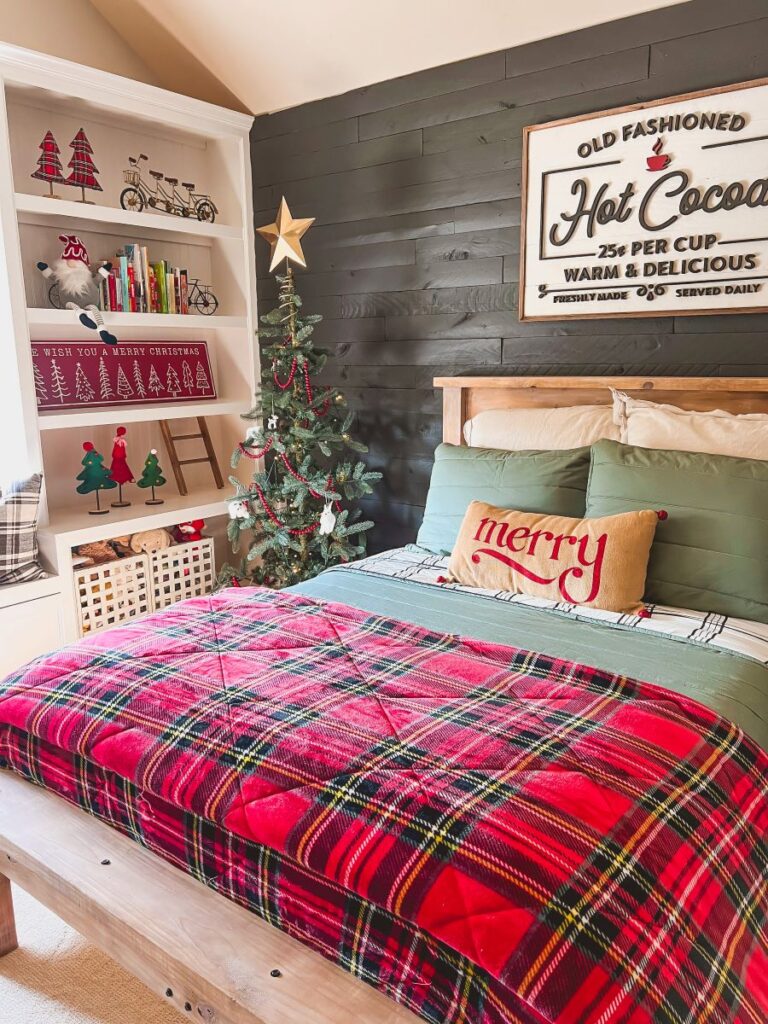 If you'd prefer not to add a complete bedding set, you could also incorporate a simple quilt or throw blanket that coordinates with the bedding you already have, such as this or this option from Amazon. Walmart has amazing choices, such as this red or black plaid throw blanket or black and white plaid quilt.
You can also click here to shop my son's bedding that I designed with Soul and Lane!
You could always just add a simple holiday thrown pillow! My kids love this cute Nutcracker, Ho Ho Ho pillow, or Merry and Bright option.
I also designed all of my kids' reversible bedding sets, which was a dream come true! You can shop that exclusion collection on Amazon and see more pictures here.
Tip 2: Add a Small Tree to Your Bedrooms
One of my kids' favorite holiday traditions is to have a small tree in their rooms that they can decorate however they'd like! I don't interfere at all, and I love seeing their own unique creativity shine.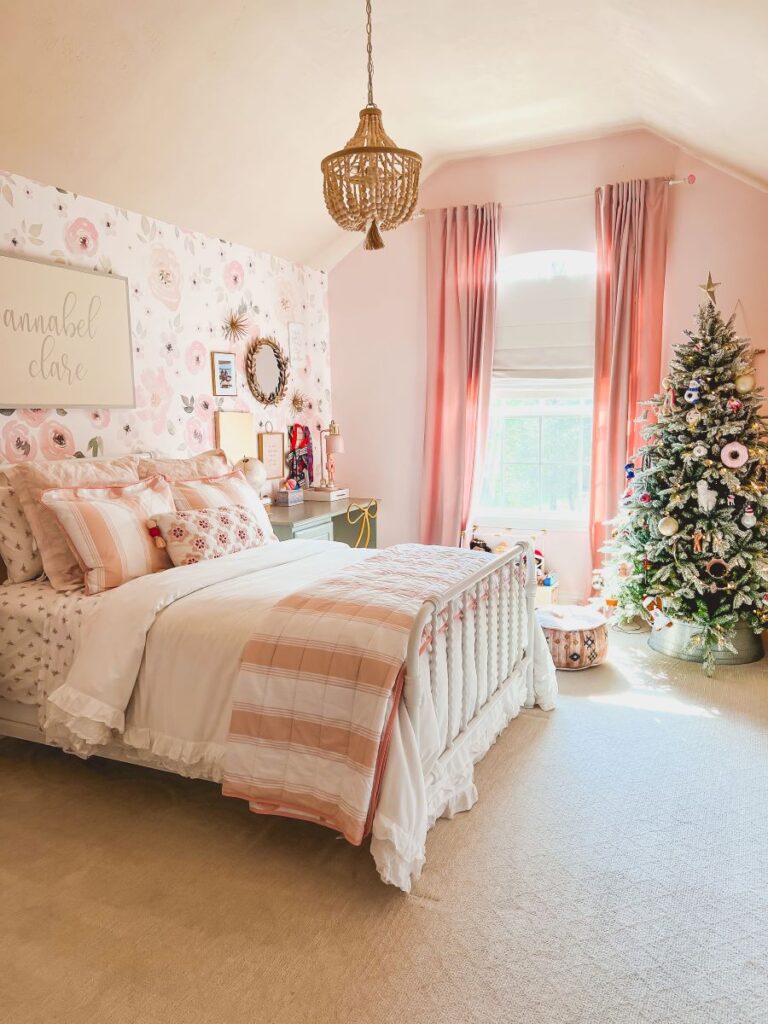 These personal trees also make their rooms so cozy and festive. My daughter's reversible bedding is one of the collections I designed, which you can see more of here.
My daughter selected a pink ombre tree for her room and it's such a reflection of her personality!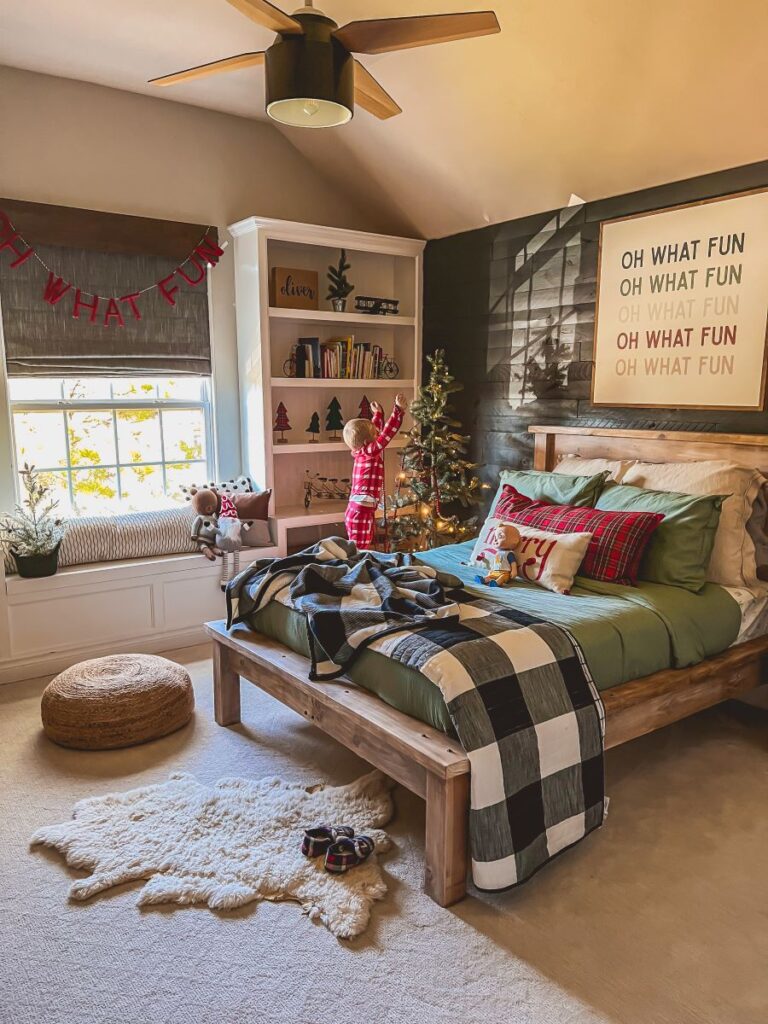 I actually love how the ornaments might be lopsided and imperfect. They are so proud of their creations!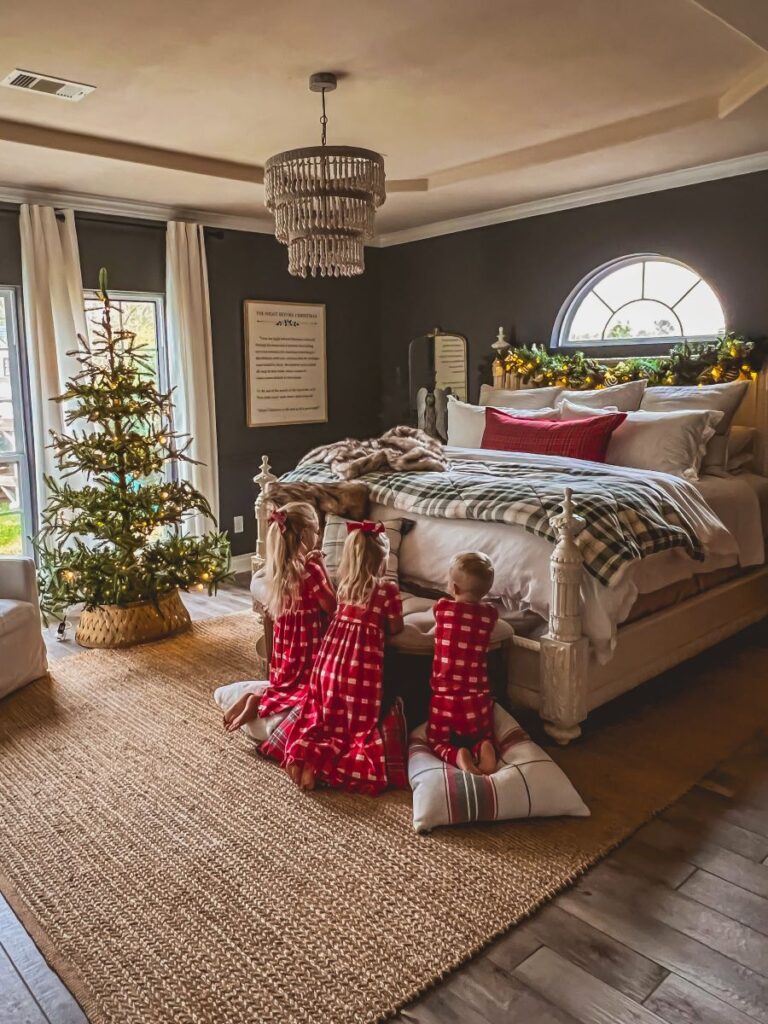 I also have a tree in my bedroom and it creates such a warm, welcoming glow!
Tip 3: Swap out Usual Decor for Holiday Pieces
Our home can look a little cluttered if we were to keep all of our usual decor out with the Christmas additions. For the holiday season, I swap out non-sentimental items with little Christmas touches. The kids get so excited year after year when these special pieces come back!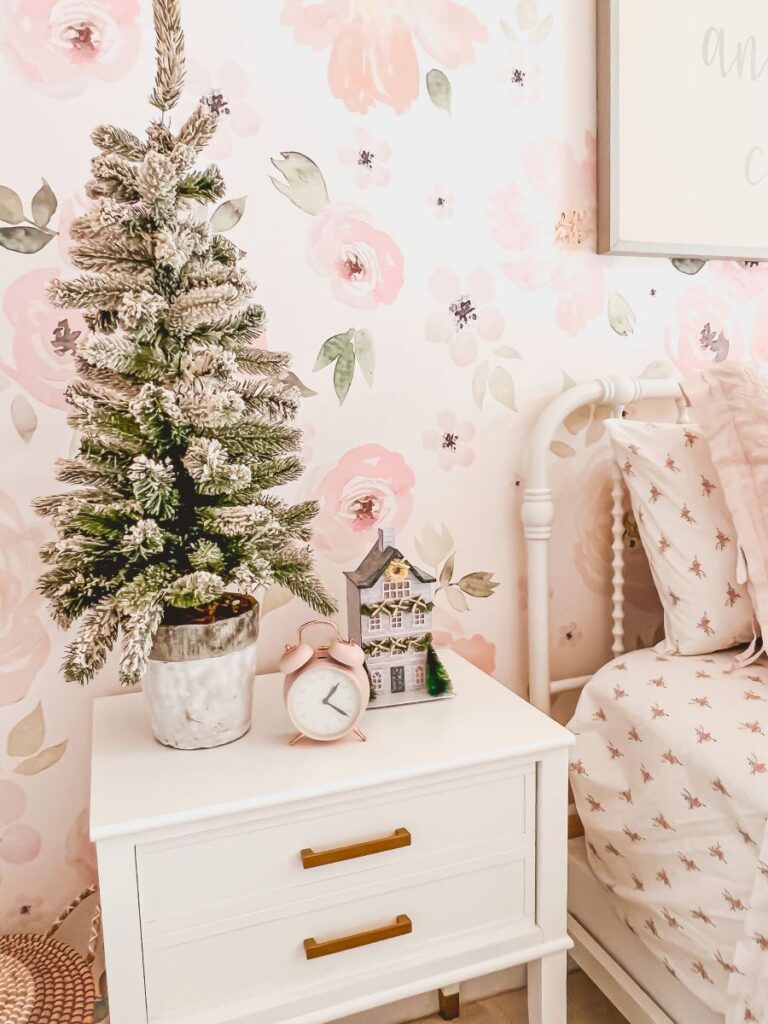 The nice thing about little evergreen trees is that they can stay up all winter and are the perfect little touch for a bookshelf or nightstand. This mini tree with pinecones or this cute option with berry accents are also so charming.
These little light-up trees can also double as a nightlight in a kids' room! For an older child's room or more sophisticated look, Kirklands also has these metallic, light-up trees in a set of three, or this set of four from Pottery Barn.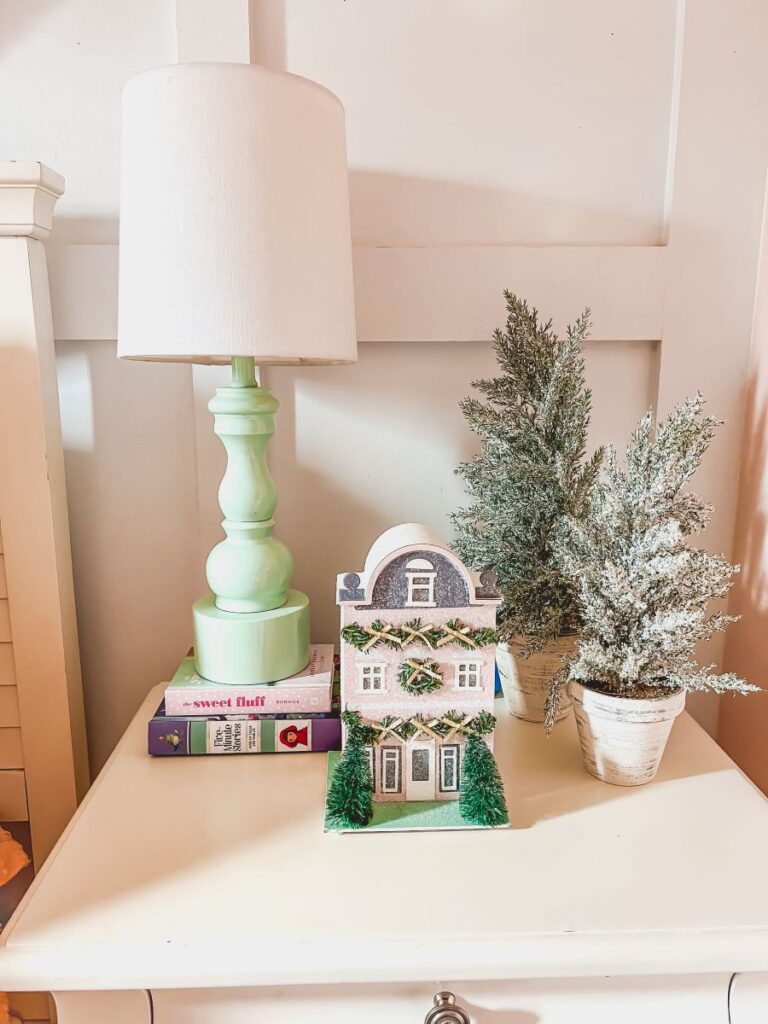 I found these adorable Christmas village pieces from Micahel's! Walmart also has an amazing variety like these white light-up houses, this adorable little village, or this 10-piece set. Macy's has a cute Mickey Mouse option and Kohl's has a light-up musical piece or several more old-fashioned options.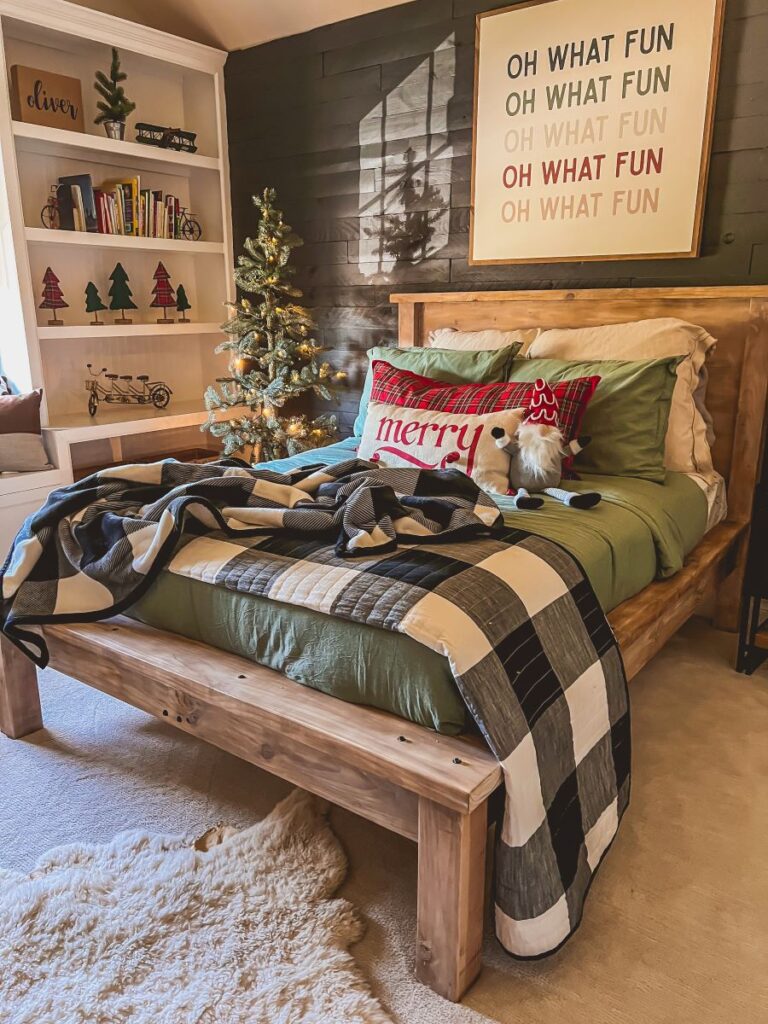 I added these adorable plaid fabric trees from Walmart on my son's shelf, which is an extra bonus because he can play with them!
Tip 4: Hang Holiday Signs or Banners
I am constantly switching up our decor in little ways, such as moving a seasonal sign from one room to the next. If you'd prefer a sign have a longer shelf life, you can go with a winter option over a Christmas option, such as this plaid sign or this hot cocoa sign.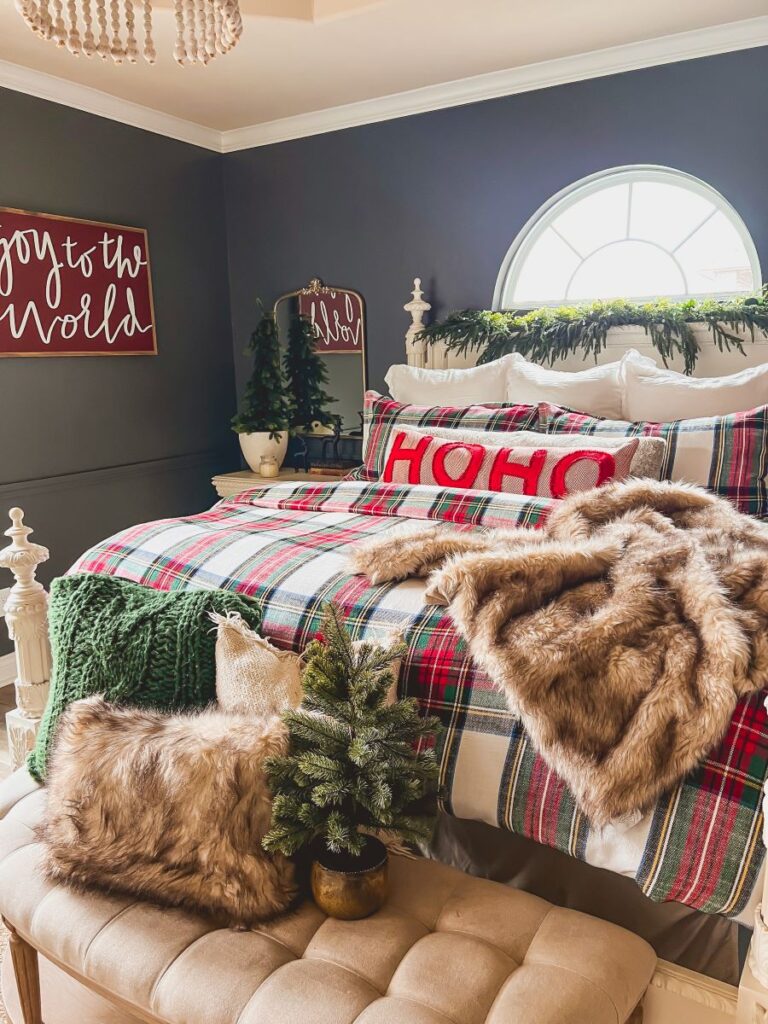 Some other beautiful options are this Farm Fresh Trees sign or this Joy to the World sign.
I got my Oh What Fun banner from William's Sonoma. For similar looks, Etsy has this option or this adorable Believe banner. This We Wish You a Merry Christmas sign was also fun to add to his bookshelf!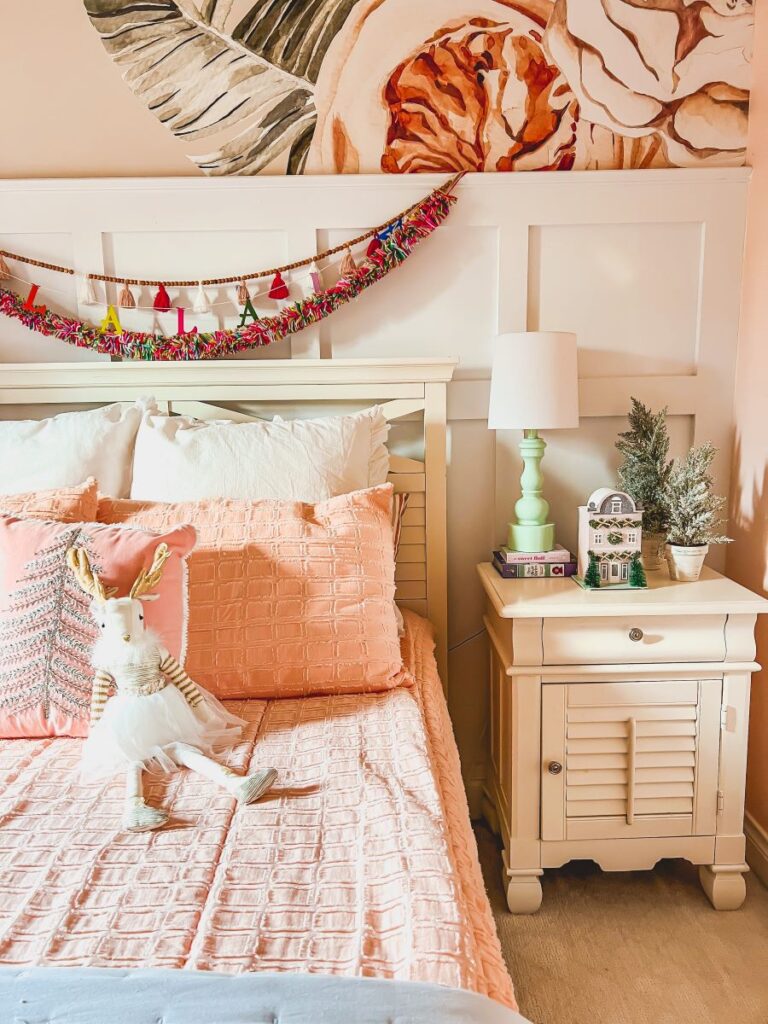 For a cute Fa La La Banner, you could go with this or this choice.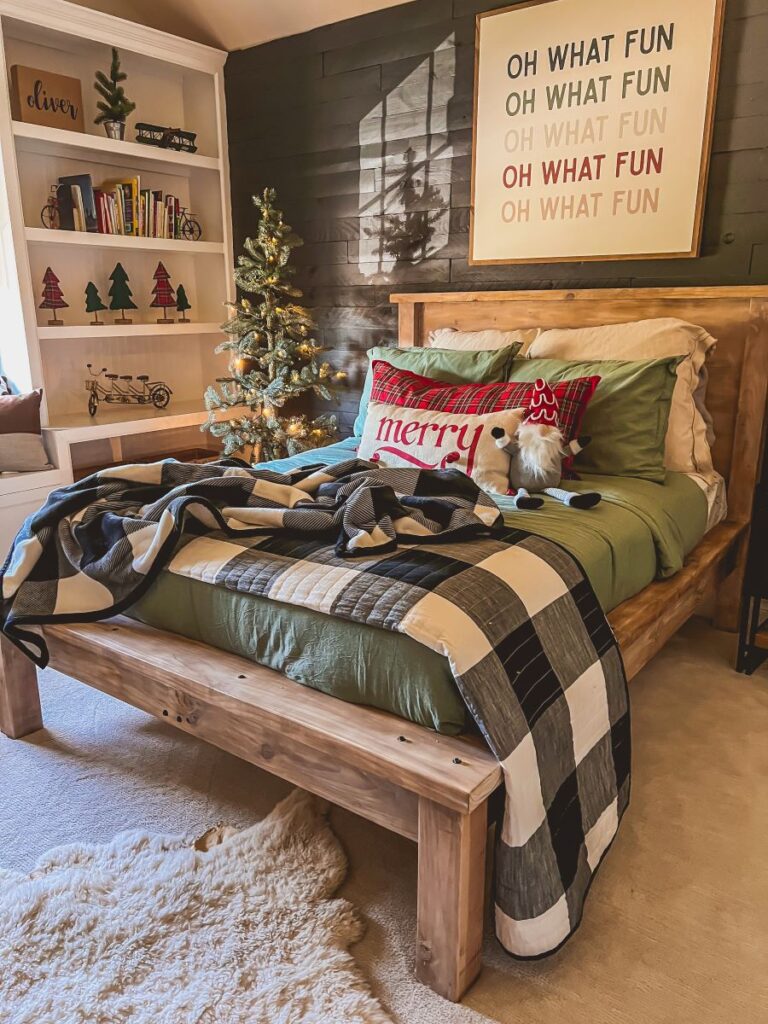 We all adore this Oh What Fun sign and move it around to different places each year!
Tip 5: Add Garland or Wreaths
Draping garland over your bed is another easy way to decorate for both Christmas and winter. You could place it right over a headboard or hang it from the wall using command hooks. Here is another beautiful option from Antique Farmhouse.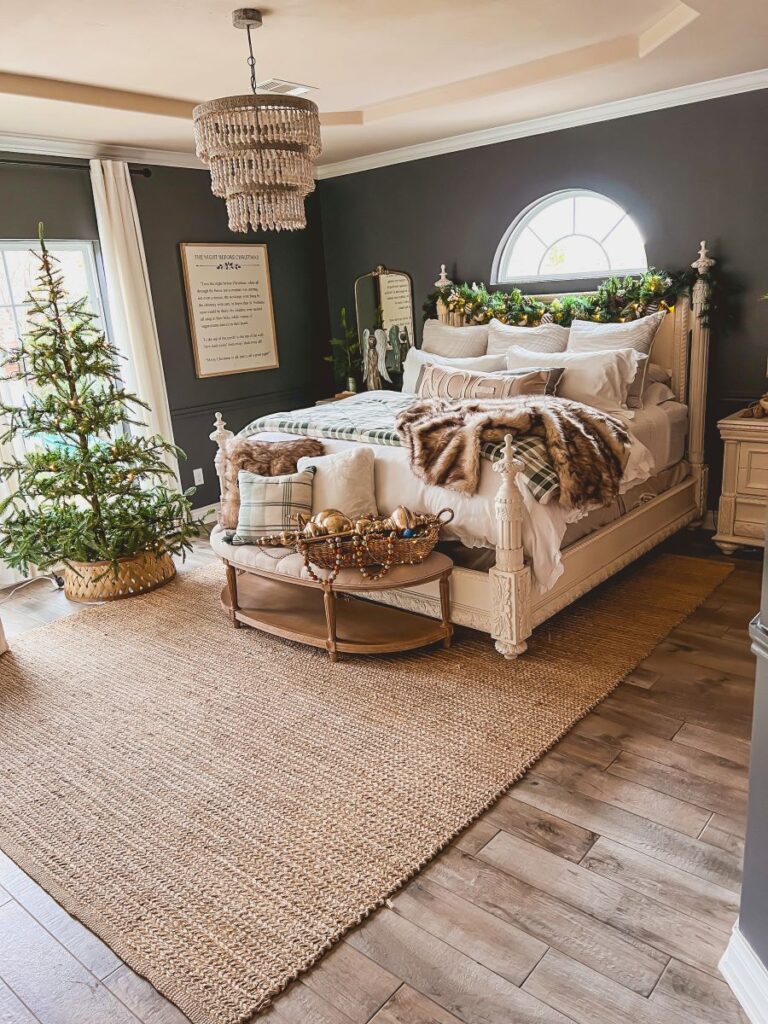 One year we used a pre-lit garland like this, which was so dreamy! Here is a simple look without ornaments if you'd prefer a light-up choice that you could use all winter.
I also love hanging wreaths on bathroom or closet doors to decorate bedrooms for the holidays. I used pre-lit wreaths similar to these from Walmart or these from Target.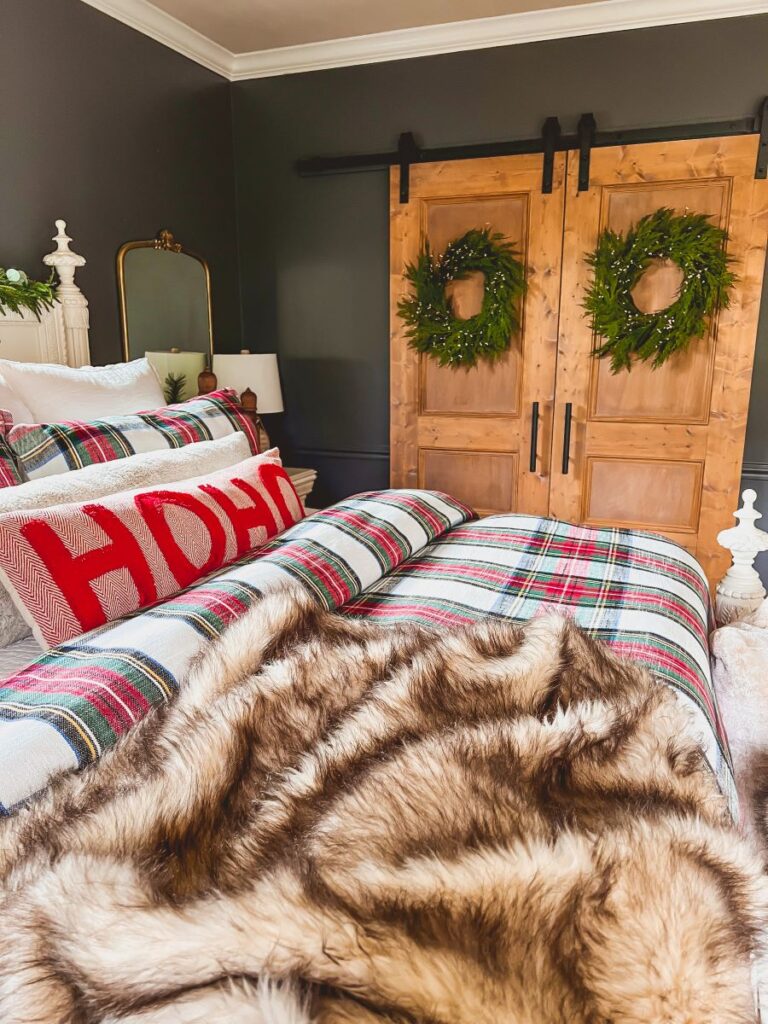 These snowy berry, mistletoe, or pinecone wreath options are also gorgeous!
Bonus Tip: Decorate a Play Space
As much as I love just about all holiday decorations, some pieces are more cutesy or whimsical and may not go well with more elegant decorations around our house. For decorations that my kids love like The Grinch, Gingerbread Men, or the Sugar Plum Fairy, we love adding those to their little playroom.
I love how this Nutcracker tree looks in their playroom! You can read all about my Christmas tree decorating tips here!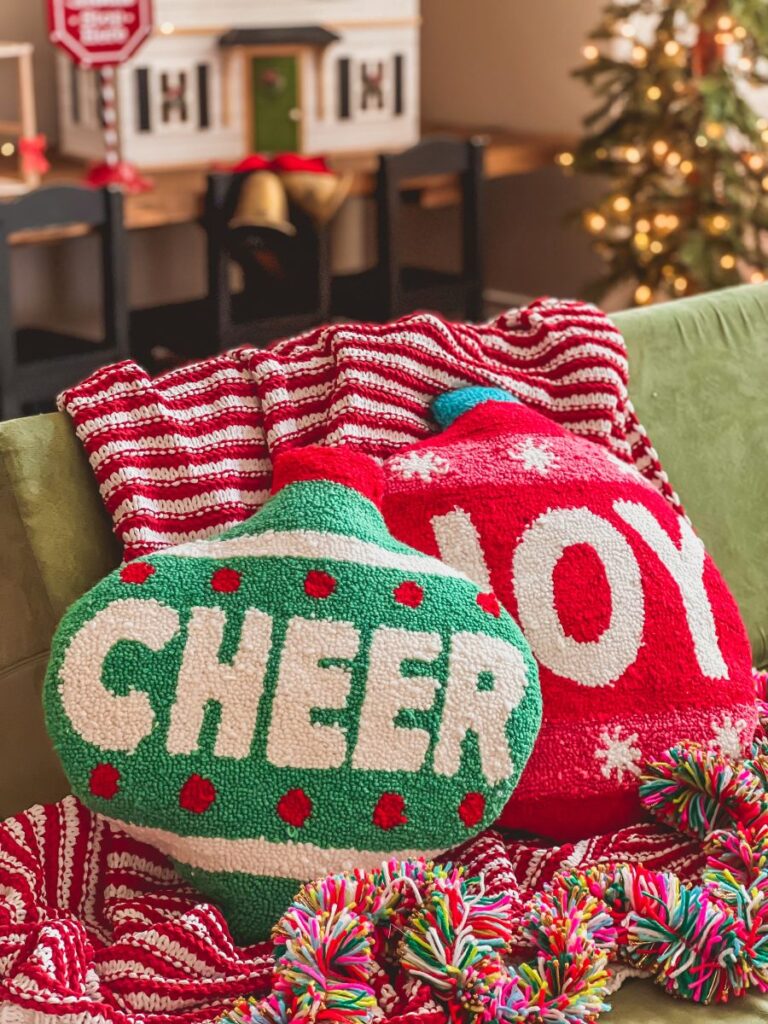 Adding in cute pillows is also a must! You could do pillows in fun shapes, like this gingerbread man, 3-D gingerbread house, reindeer, Santa, snowman, peppermints, or these candy canes.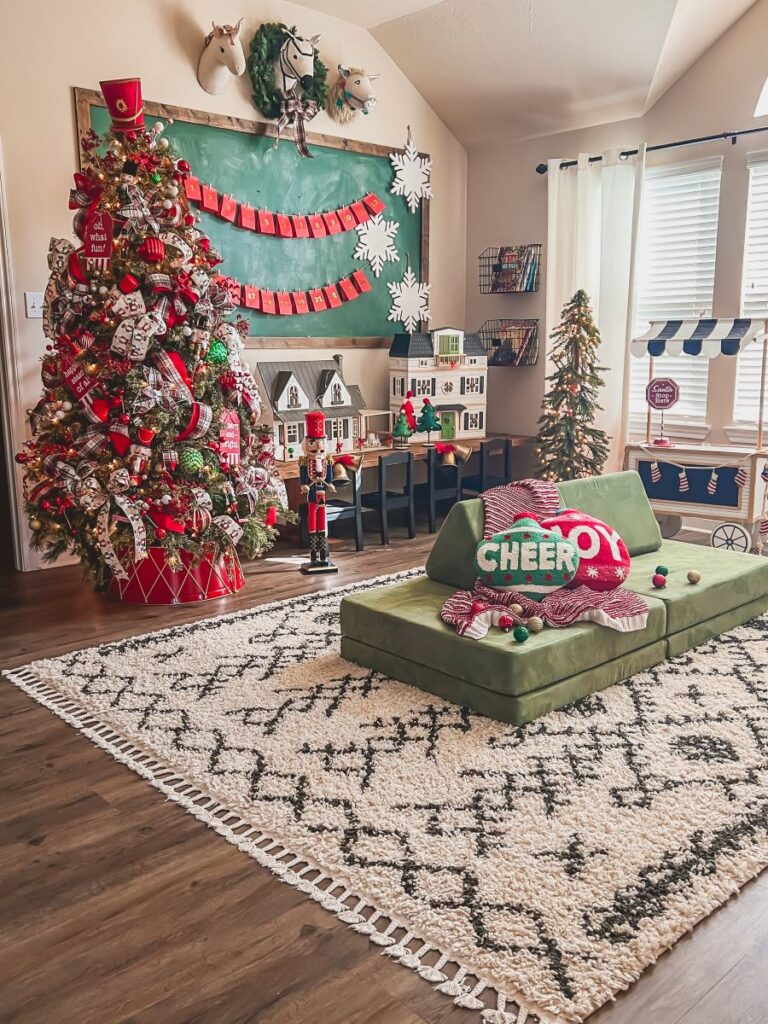 My kids love playing their Nugget couch, which can be put together in so many different shapes. We also get so much use out of this black-and-white market cart and the toy apartment building.!
Happy Decorating!
I hope these tips inspired you to decorate bedrooms for the holidays and to create cozy and festive spaces to enjoy this holiday season! Merry Christmas, loves!
xoxo,
Leanna