10 Simple Christmas Decorating Tips to Make Your Home Cozy and Beautiful
Here are my favorite Christmas decorating tips for any budget or style to help make your home feel cozy and stunning for the holidays!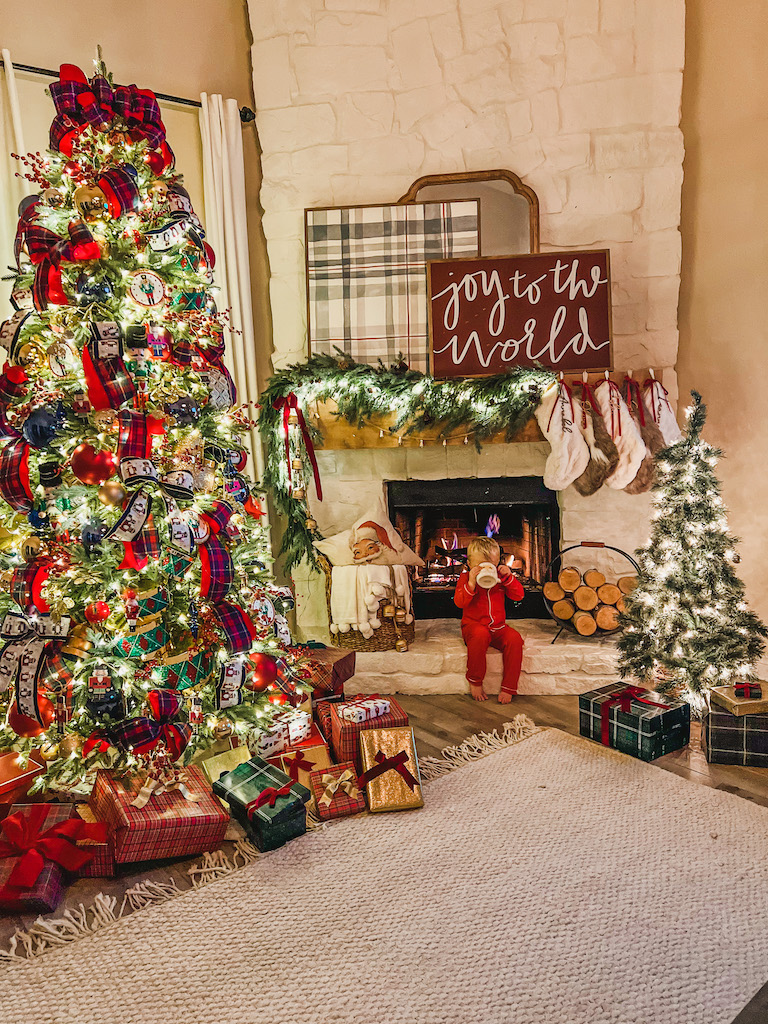 1. Consider Your Preferred Style
As much as I *love* Christmas decor, all of the choices can be overwhelming! If you're starting fresh, it's helpful to think about the overall vibe you want to achieve. Do you prefer more whimsical, elegant, or minimal? Perhaps you gravitate more towards certain color combinations like red and white, silver and gold, or blue and green plaid.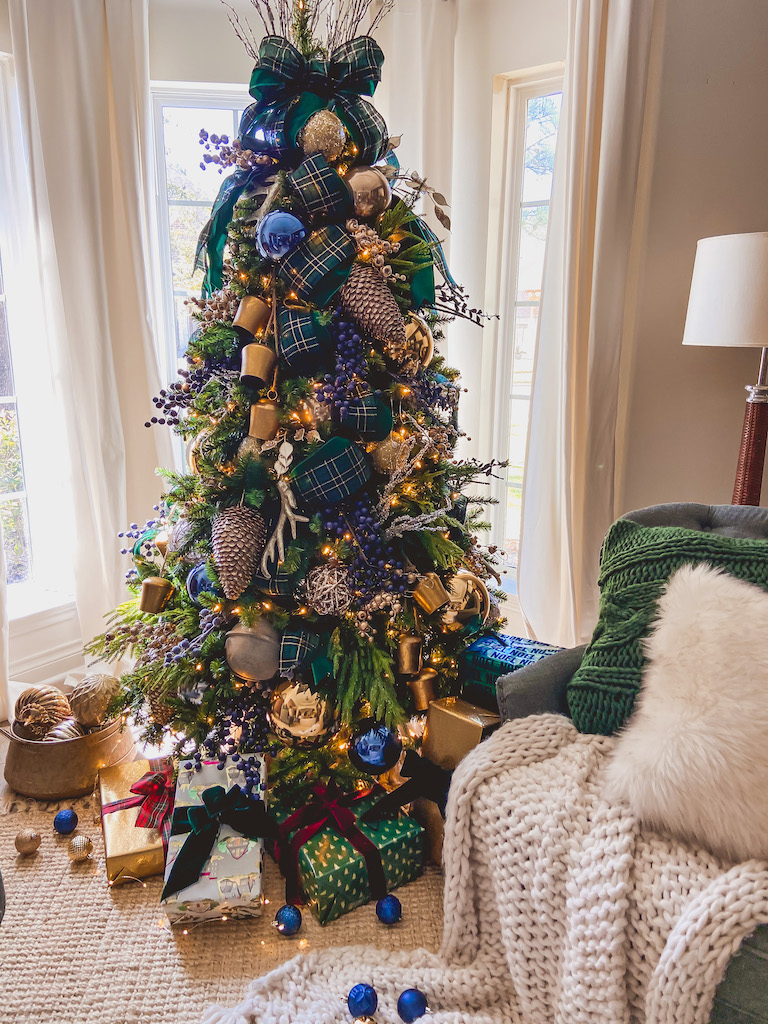 Maybe you're like me and like almost every style, so another option is to have different themes grouped throughout, such as The Grinch, Santa Claus, Gingerbread, The Nutcracker, or the Nativity. Whichever you prefer, it's helpful to have an overall scope in mind to help make shopping and decorating a little easier.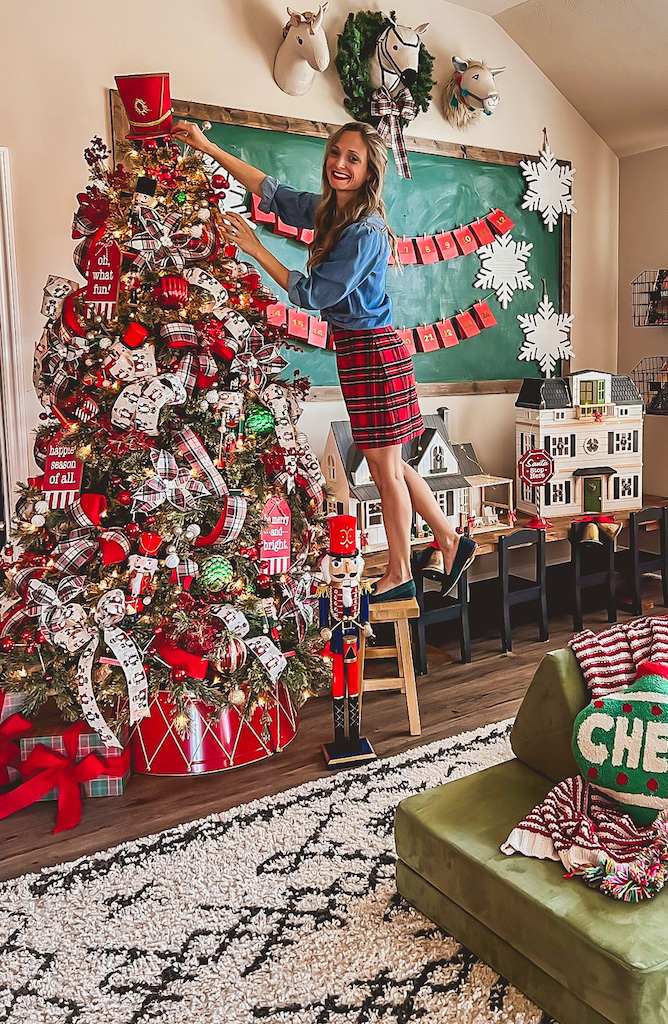 2. Decorate the Front Door Area
We all love outdoor decorations and lights, which usually take center stage! Besides adding something common like a wreath to my front door, I also love to incorporate a seasonal sign, welcome mat, oversized ornaments or lanterns.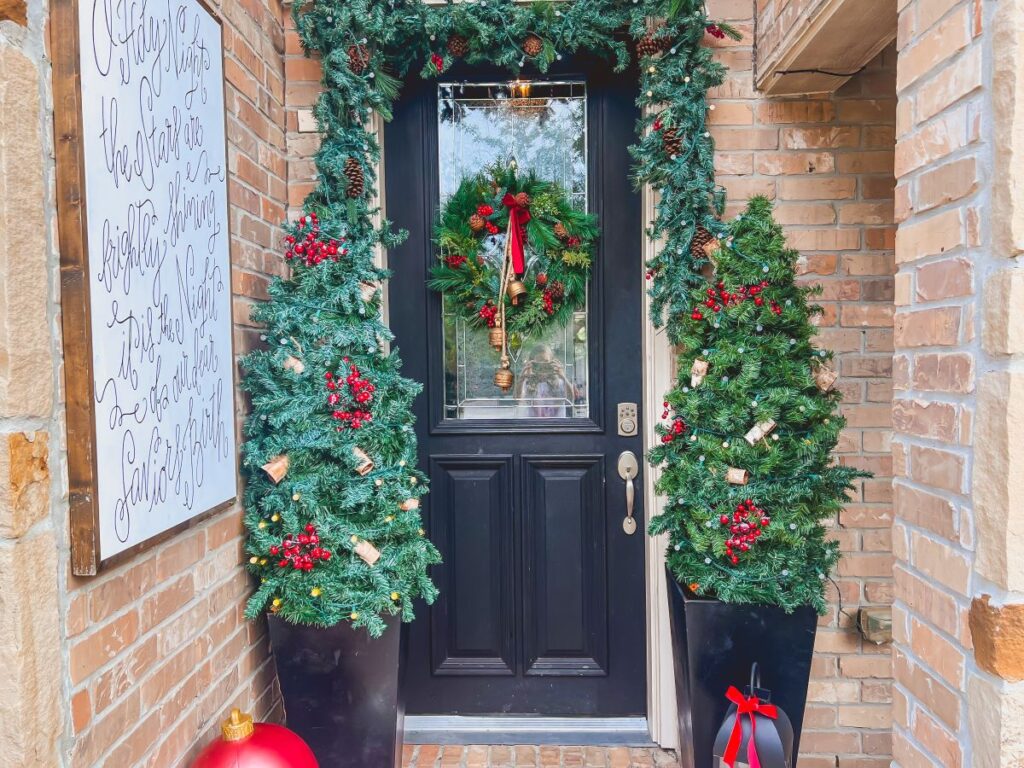 I also created these outdoor planters for less than $20 each by wrapping garland around a tomato cage. You can check out that step-by-step process here!
3. Add Evergreen Touches to Use All Winter
My house always feels a little sad and bare when I take down all the Christmas decorations in January. That's why I love to include little evergreen trees and other touches that can stay up until spring as one of my go-to Christmas decorating tips.
Christmas mugs or this MacKenzie Childs recipe box also make cute and functional decor! You can also click here to shop more amazing MacKenzie Childs products. These are on the pricier side, but make amazing gifts for someone to start a collection that you can add to for birthdays, holidays, Mother's Day, etc.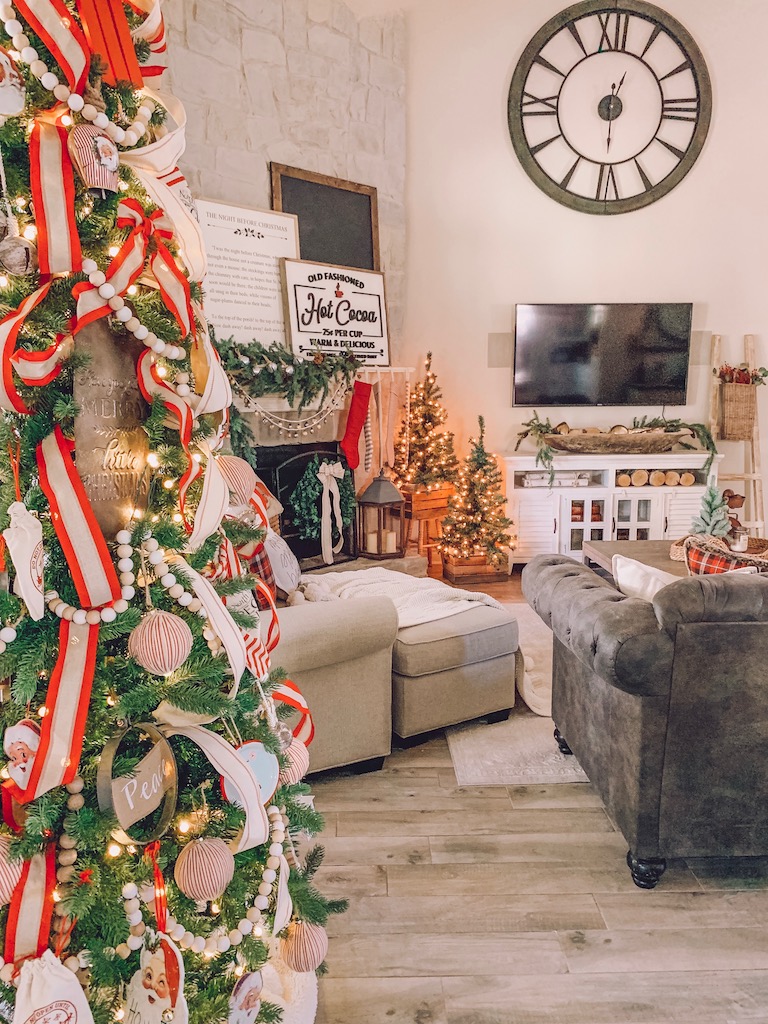 These little light-up trees can be placed virtually anywhere: on bookcases, in glass kitchen cabinets, nightstands, you name it! If you'd prefer an option that doesn't light up, this mini tree with pinecones from Walmart is also such a cozy touch, as well as this cute option with berry accents from Target.
Kirklands also has these metallic, light-up trees in a set of three, or this set of four from Williams-Sonoma. I also love these adorable plaid fabric trees from Walmart!
4. Consider Festive Pillows or Bedding
At first, I resisted getting seasonal bedding that I would only use for a limited time. But since they are only used for a few months out of the year, they will last well beyond that, and we can enjoy them for many years to come.
My set is from Pottery Barn, which was definitely an investment. However, there are so many budget-friendly options for pillows that can be used all winter, such as this or this plaid choice from Walmart, or this similar version from Target.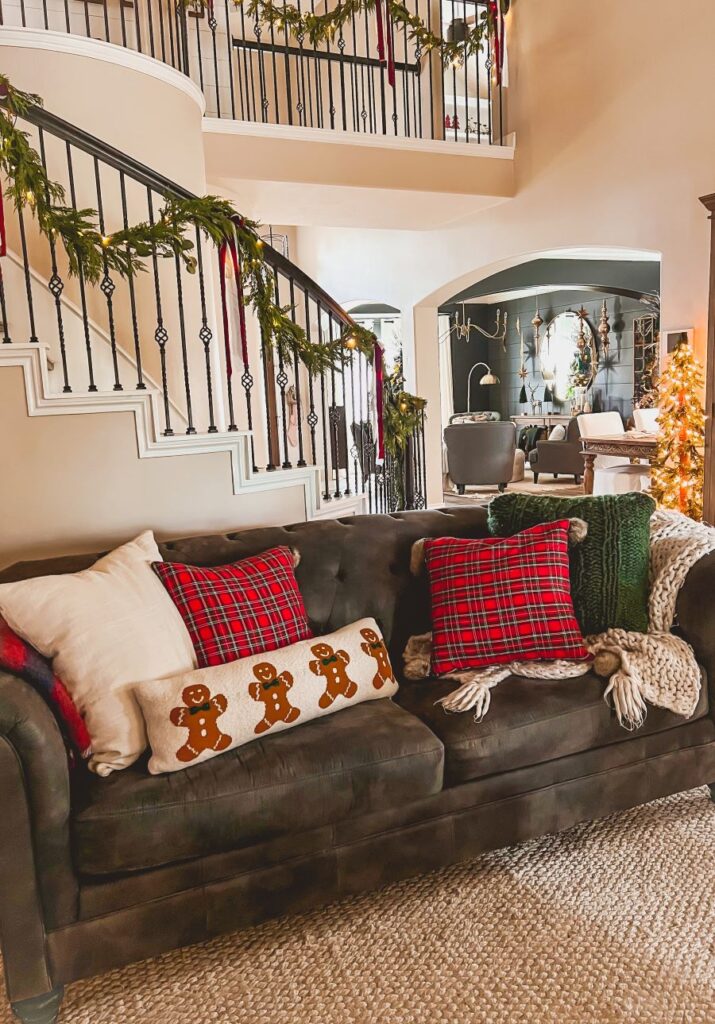 For something more whimsical, I love this cute Nutcracker, Ho Ho Ho pillow, or Merry and Bright option for a kids' room or playroom.
You could do pillows in fun shapes, like this gingerbread man, reindeer, Santa, snowman, peppermints, or these candy canes. Also, how adorable is this 3-D Gingerbread house pillow?
If storage is limited, you can also use pillow covers instead of actual pillows.
5. Hang Mini-Wreaths in Unexpected Places
Wreaths are such an easy way to add color and warmth virtually anywhere in your home! I love hanging one on the vent hood in my kitchen and you can also add them to windows, chairbacks, or cabinets.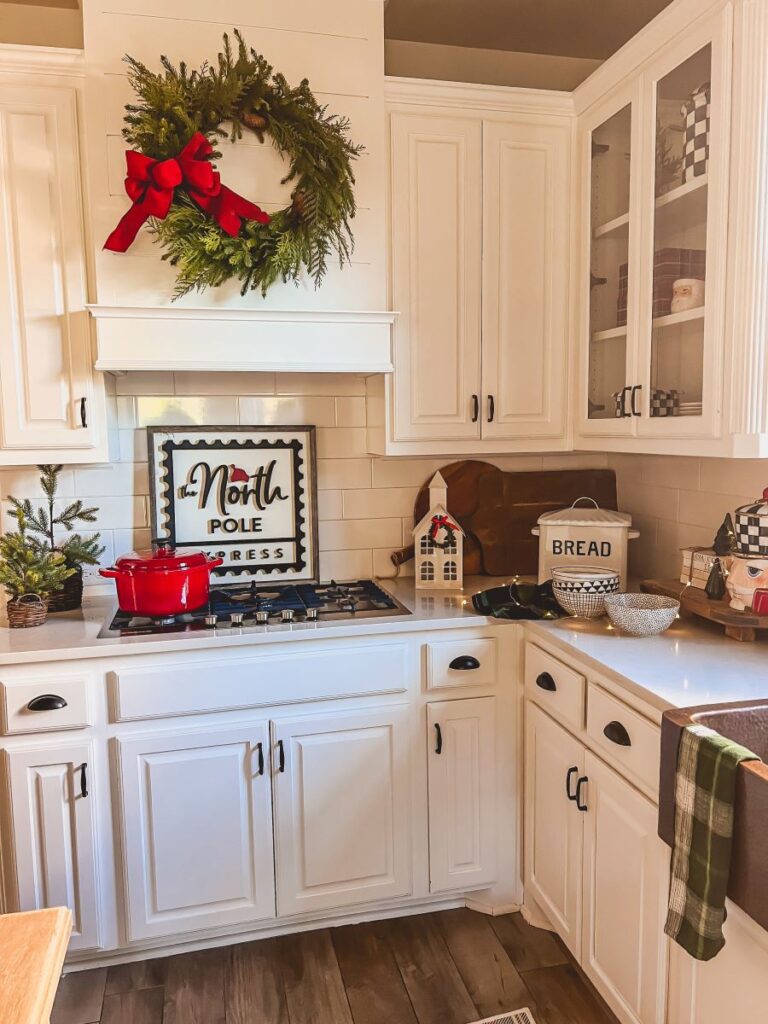 These mini wreaths and candle rings are such a cute, unexpected surprise to hang anywhere you'd like and could also double as napkin rings! If you'd like many, you can also get this discounted 24-pack. You may also prefer this slightly larger 6-inch option from Target.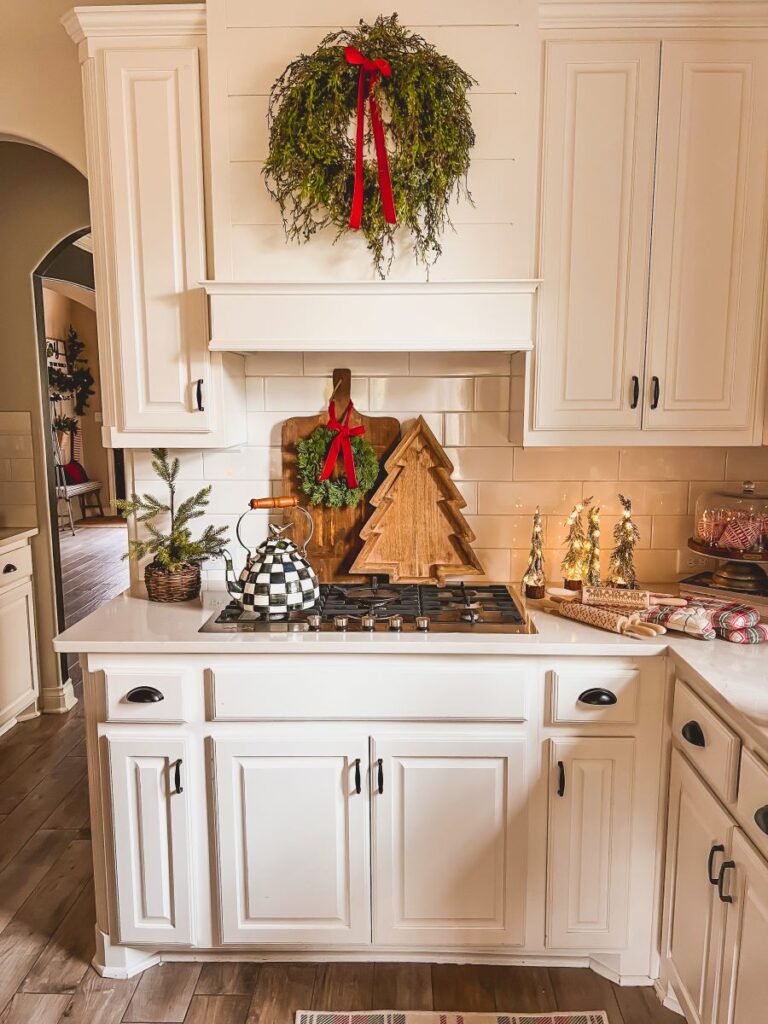 A cutting board can also be dressed up with a mini wreath as a cute option! You can also find my teapot here.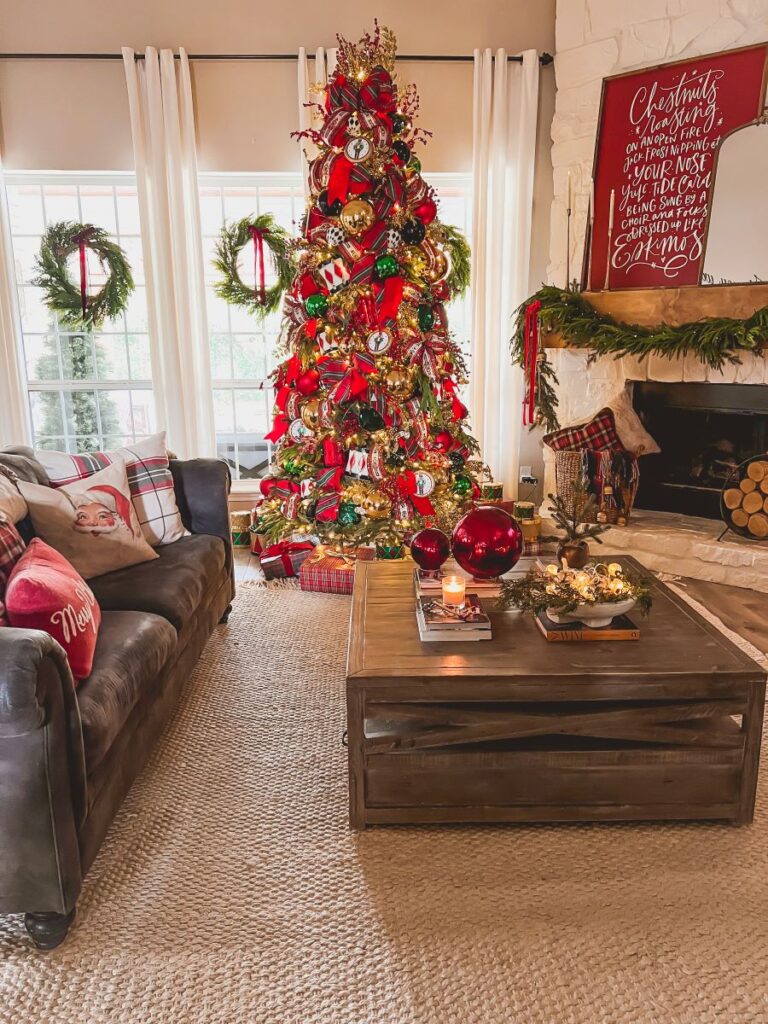 For full-size wreaths, I love this from Michaels, this from TJ Maxx, this from Walmart, or this light-up wreath from JC Penney. This 16-inch option with a bell is also so timeless, or this option from Etsy.
You can also swap out evergreen wreaths for magnolia, eucalyptus, or floral wreaths for spring and summer!
6. Incorporate Seasonal Signs
Swapping out a sign or wall art is such a fun way to change up your decor, and so many can be purchased on a budget. My kitchen is my favorite place to do this, with my red sign that can fit in smaller spaces. These seasonal signs are also gorgeous and would make a beautiful addition to a mantle.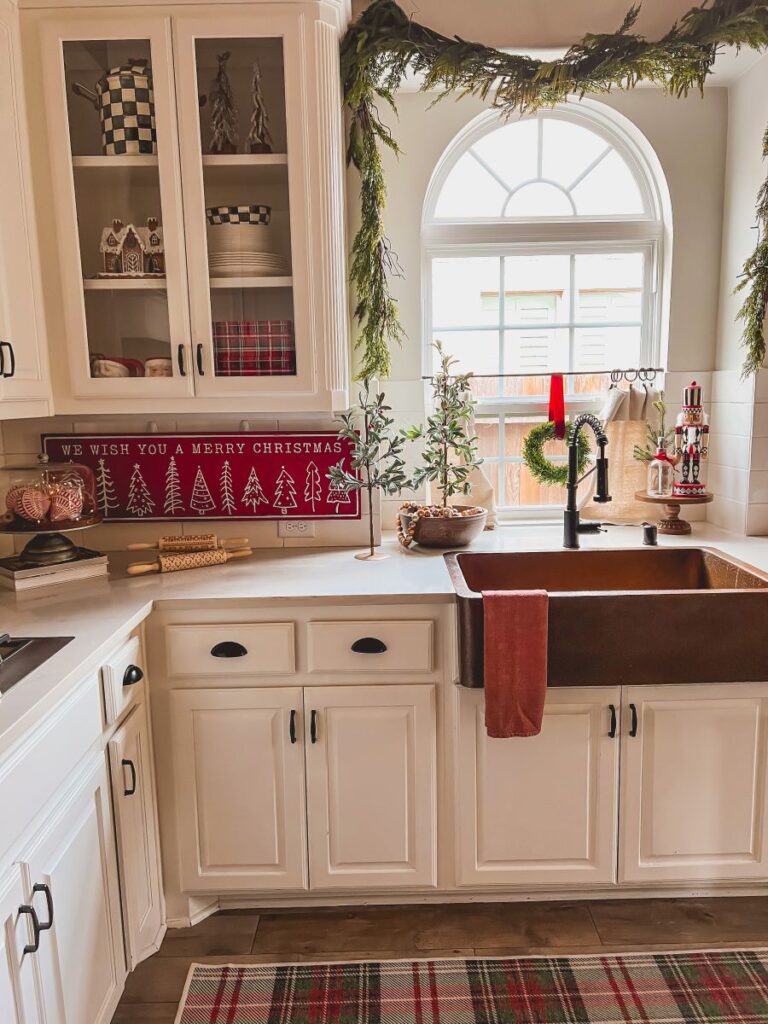 If you prefer a light-up sign, this Merry option from Target makes an impact! I also love this Farm Fresh Christmas Trees or Christmas song lyrics from Etsy.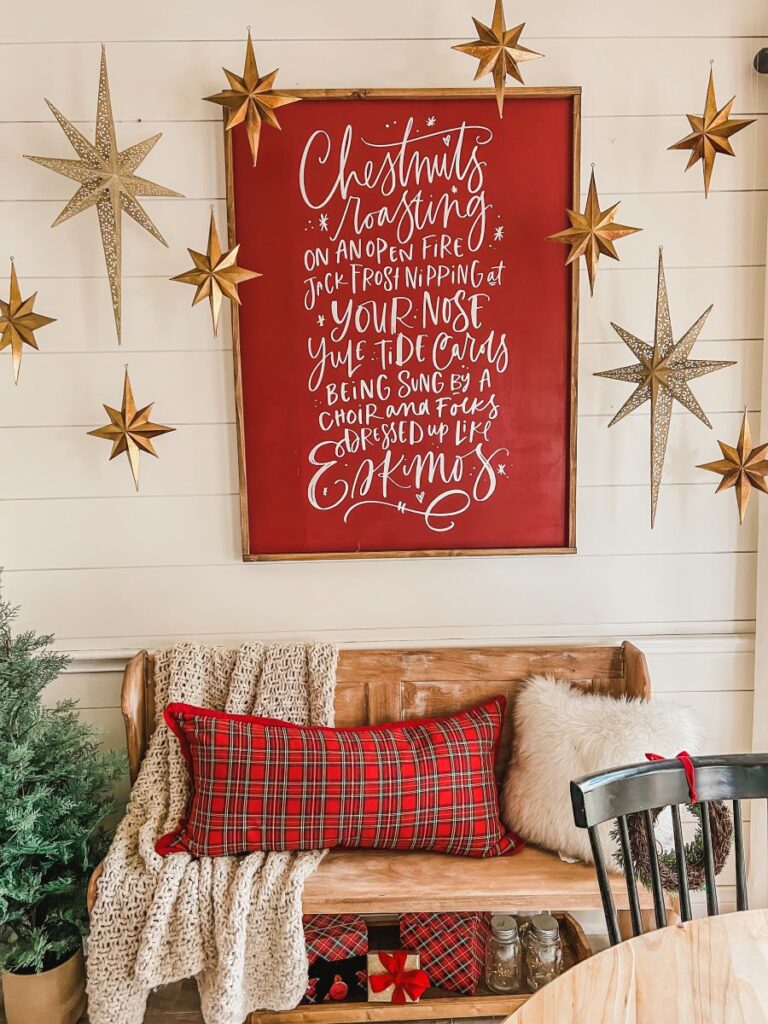 7. Try Flameless Candles for a Cozy Vibe
You would not believe how realistic these flameless candles on my mantle are! It's so nice to add them to a mantle or any other space without worrying about them being a fire hazard or dangerous to young kids. The best part is that you can turn them on or off with a remote!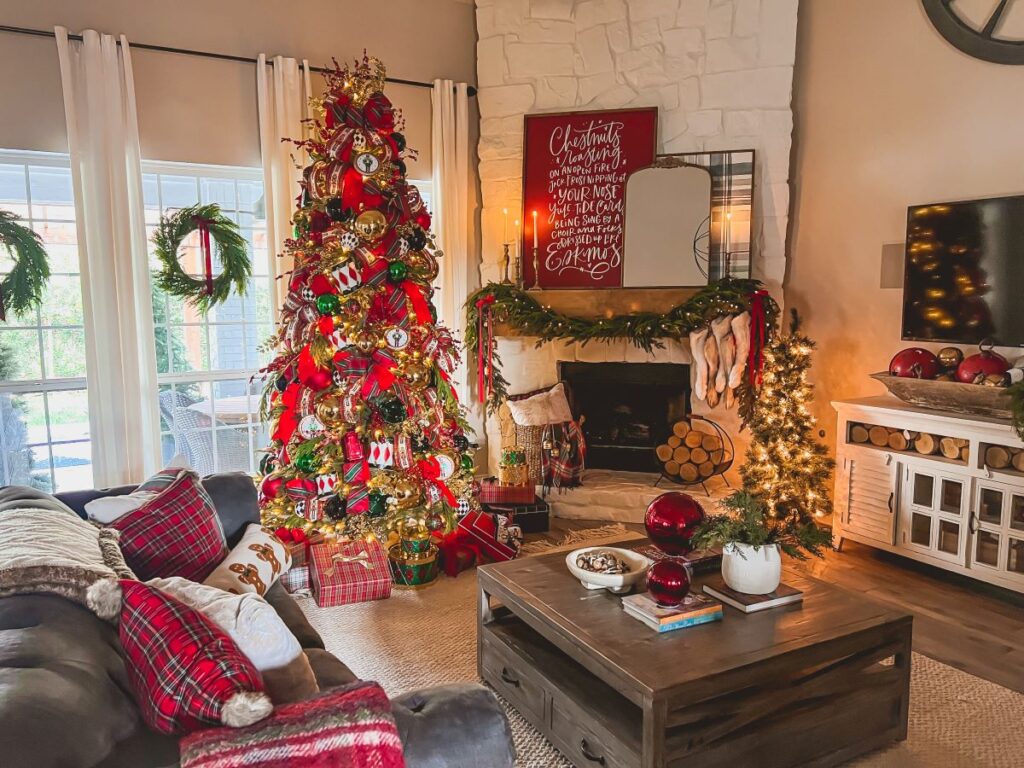 I incorporate flameless candles all over my house. You can find my bell decoration here!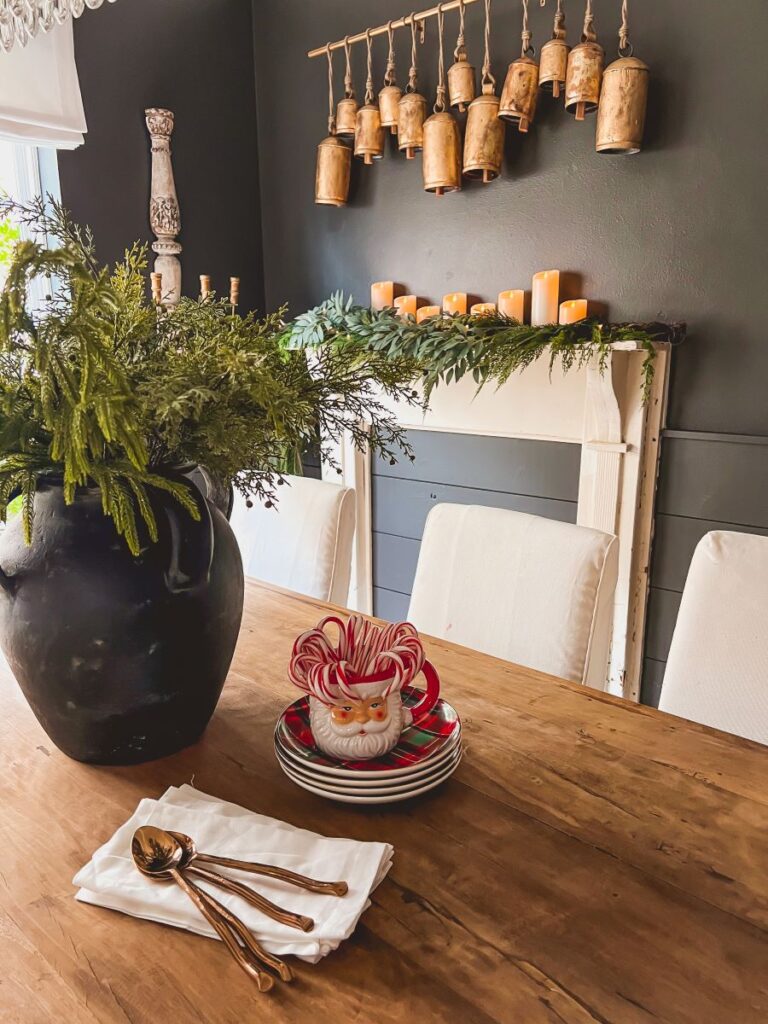 8. Garland Makes a Perfect Winter Decoration
I have several garland branches throughout my home: on my mantle, bedframes, draped above my kitchen window, and on my staircases, just to name a few!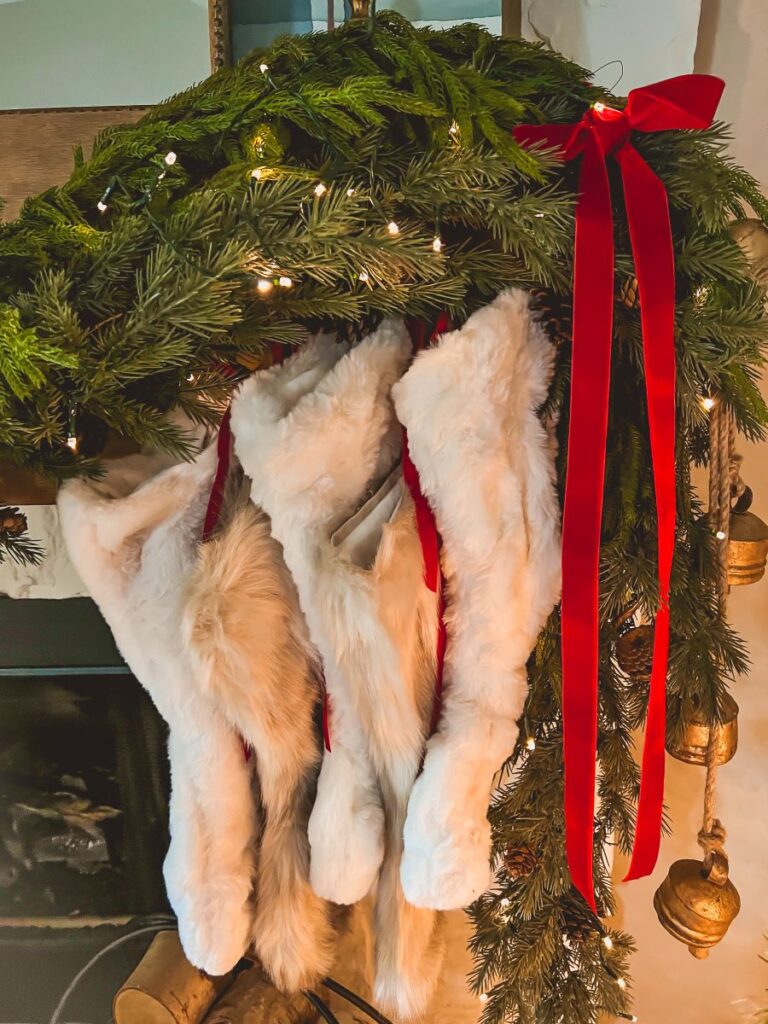 To create a pretty table without needing to do an entire tablescape, just place one or two garlands across your table. (Here are the ones I used.)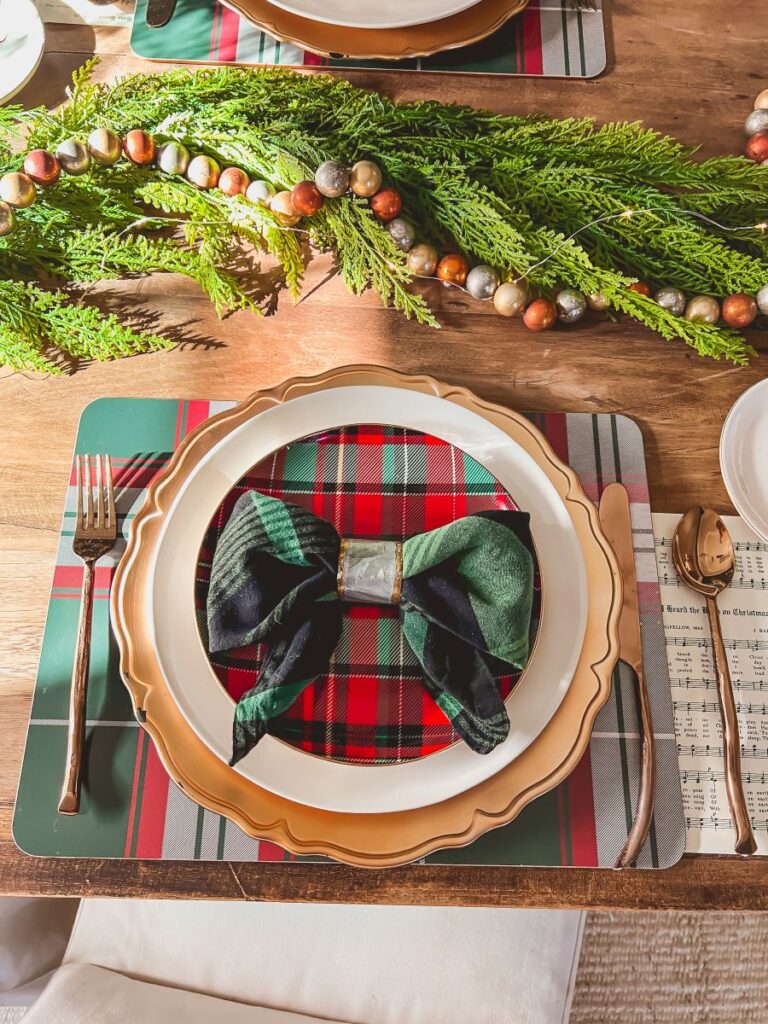 This can be a beautiful decor statement all winter, including this pinecone garland or this pre-lit choice. Walmart also has some beautiful choices! When spring comes around, you can just swap out for a more seasonal garland, such as a magnolia or floral option.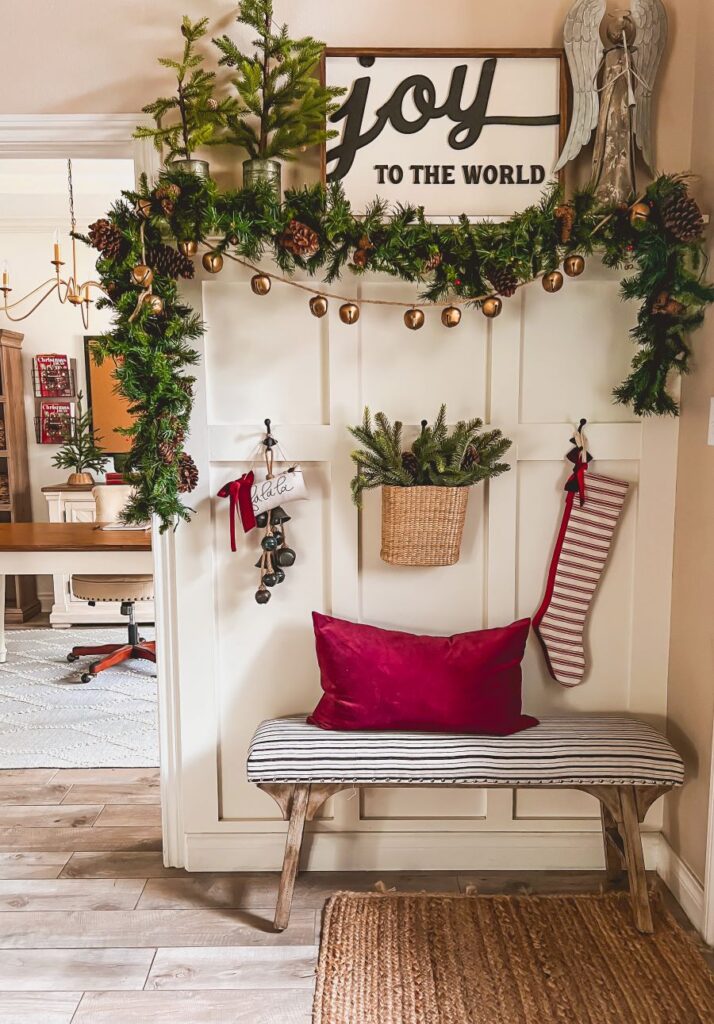 9. Twinkle Lights: More is More
To me, nothing makes a more cozy and magical atmosphere than Christmas lights! Since light-up garlands and wreaths can add up, you can always add string lights, such as these battery-operated twinkle lights.
Adding lights is an easy way to spice up any outdoor space! Here is my back porch from last year.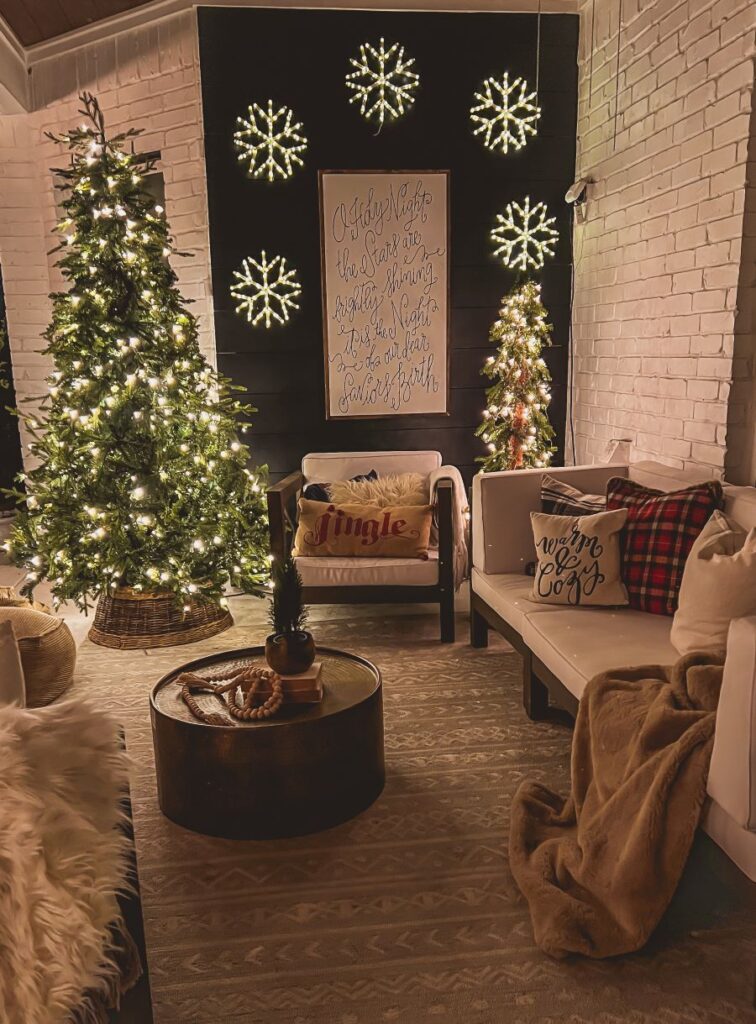 To make your tree more sparkly, my favorite trick is to add in these twinkly fairy lights on your tree. The sparkly effect is magical! You can also check out my step-by-step guide for decorating Christmas trees here!
10. Create a Statement Wall
Another one of my favorite Christmas decorating tips is to keep in mind that you can always change up the decor in your home and do something different! This doesn't need to be super expensive or difficult. For this look, I simply hung gold stars and ornaments at various lengths using clear string.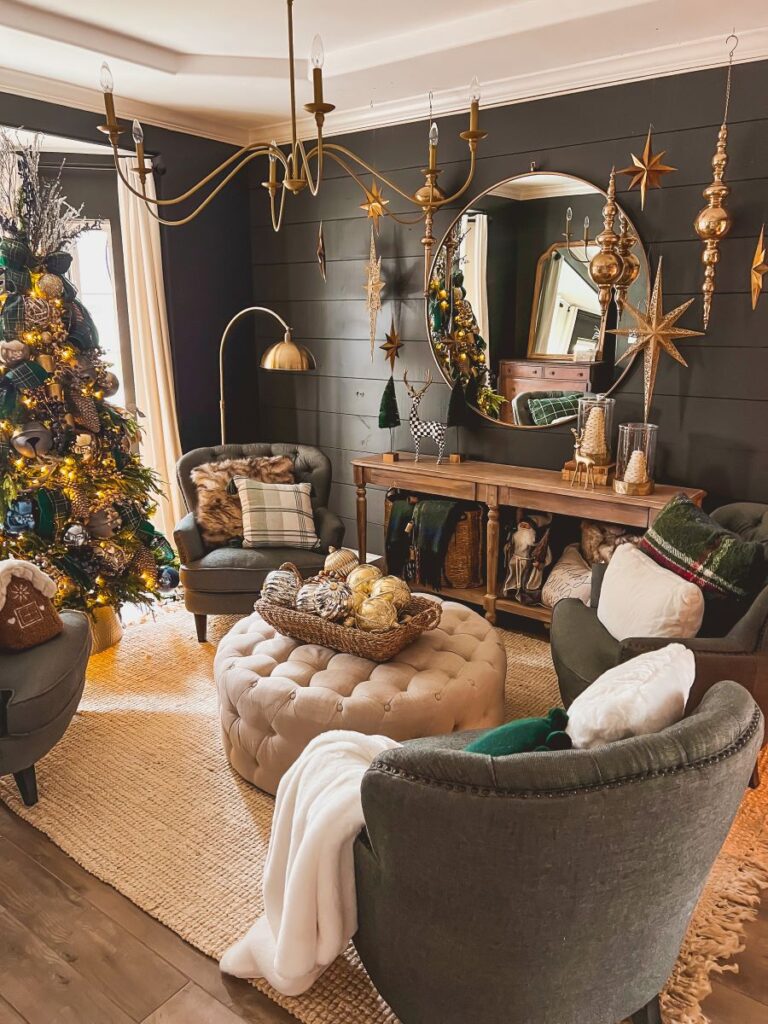 You can create an impact wall using large ornaments, bells, signs, or special Christmas keepsakes!
Happy Decorating
I hope you found these Christmas decorating tips helpful! Please share any creations on Instagram, I LOVE seeing what you create as well! Merry Christmas, friends!