How to Make the Ultimate Bloody Mary Bar
This Bloody Mary Bar has all the fixings you need on one tray and can be adjusted to add your favorite toppings. The best part is that everyone gets to create their ideal cocktail by adding the Bloody Mary toppings and garnishes that they love best!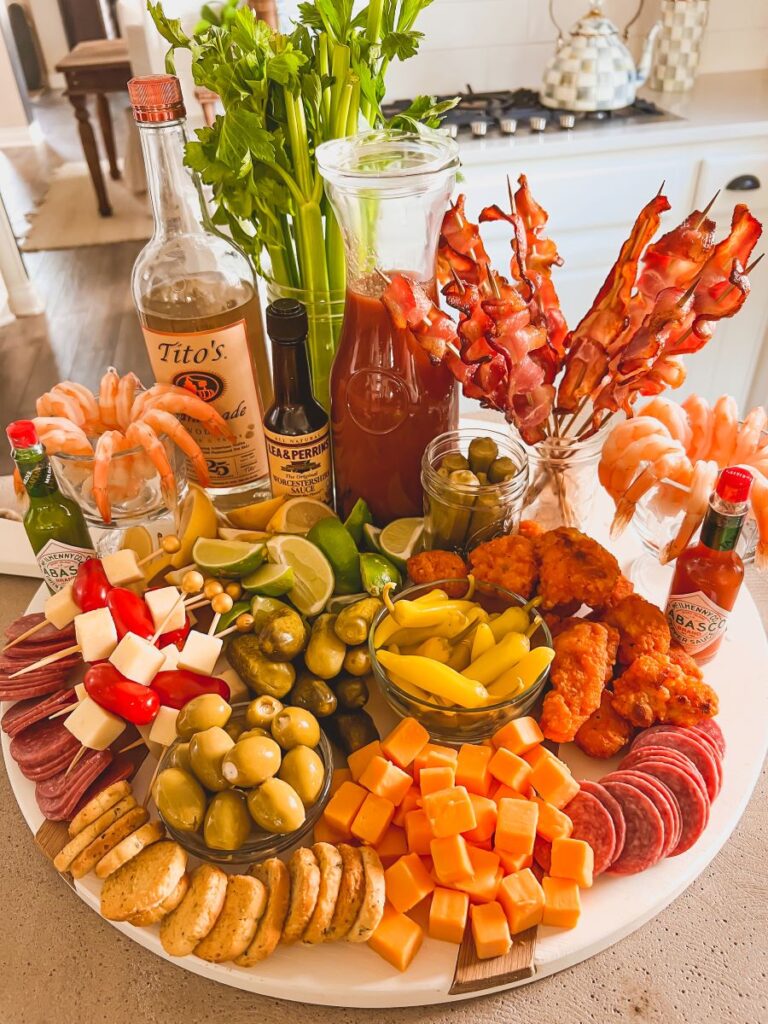 A Bloody Mary is probably the most versatile drink out there as such a classic cocktail that can also be an appetizer (or meal!) all on its own!
Ingredients
I like to drink my brunch, so topping it with shrimp and bacon is my go-to!! 🙂 There are hundreds of recipes out there, but the classic, key ingredients are:
Tomato juice
Vodka
A bit of spice (horseradish AND tobasco hot sauce, please and thank you!)
Added acidity from fresh lemon juice or lime juice
A kick from Worcestershire sauce
A boatload of Bloody Mary garnishes to please each and every guest!!
Topping Suggestions:
Celery
Bacon
Buffalo chicken nuggets
Pickles
Banana peppers
Cheddar cheese
Cherry tomatoes
Salami
Olives
Shrimp
Okra
Lemons
Limes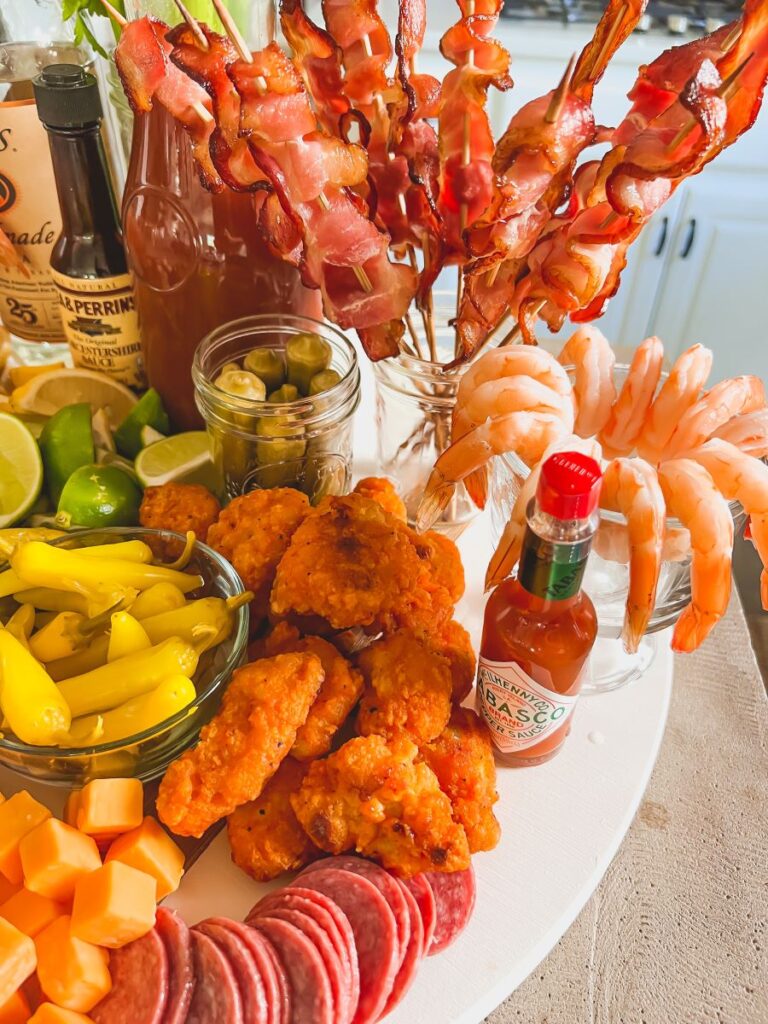 Directions
There's no wrong way to set up your board, but here are my favorite tips:
Start with the largest items first, such as the carafes or Vodka bottles and place in the back of the board.
Next, fill in with items that are medium-height, such as the glasses holding shrimp or pickles.
Arrange the lowest items in the front.
Enjoy!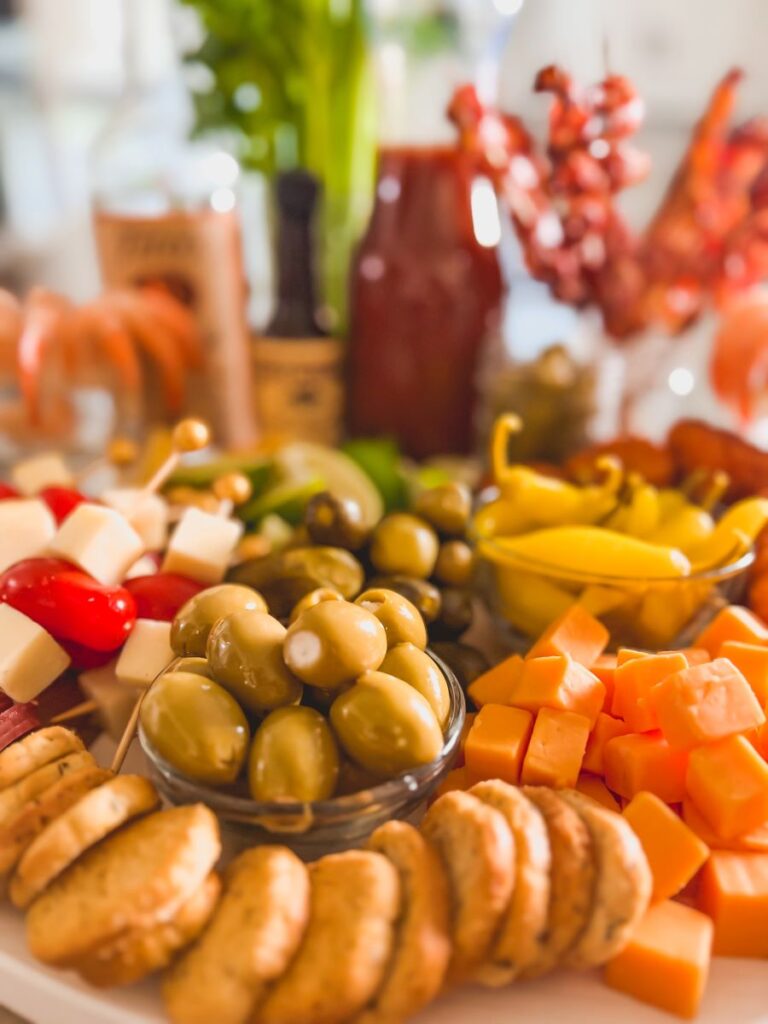 Here's a Quick Video Tutorial!
Perfect Presentation Platters!
Serving Boards: I used this White Reclaimed Wood Tray that I would totally recommend! I also love this wooden Lazy Susan as well as this round wooden Target tray, that you can use year-round. If you'd like a rectangular tray, this wooden version from Target is great, as well as this beautiful choice from Etsy. For a higher-end round tray, I love my MacKenzie-Childs checkered party tray.
Carafes, Glasses, and Fruit Bowls: How cute are these carafes that you can use for juice? I also love these adorable bowls to hold the toppings. You could also place the shrimp around these Margarita Glasses!
Kitchen Links: I get asked all the time about the products in the background of my kitchen. Much of it is from MacKenzie-Childs, which I have slowly grown a collection of over the years! My favorites are this checkered chopping board, my black and white checkered teapot, and the gray and white checkered utensil holder. I also have this enamel canister that you can find in small, medium, or large.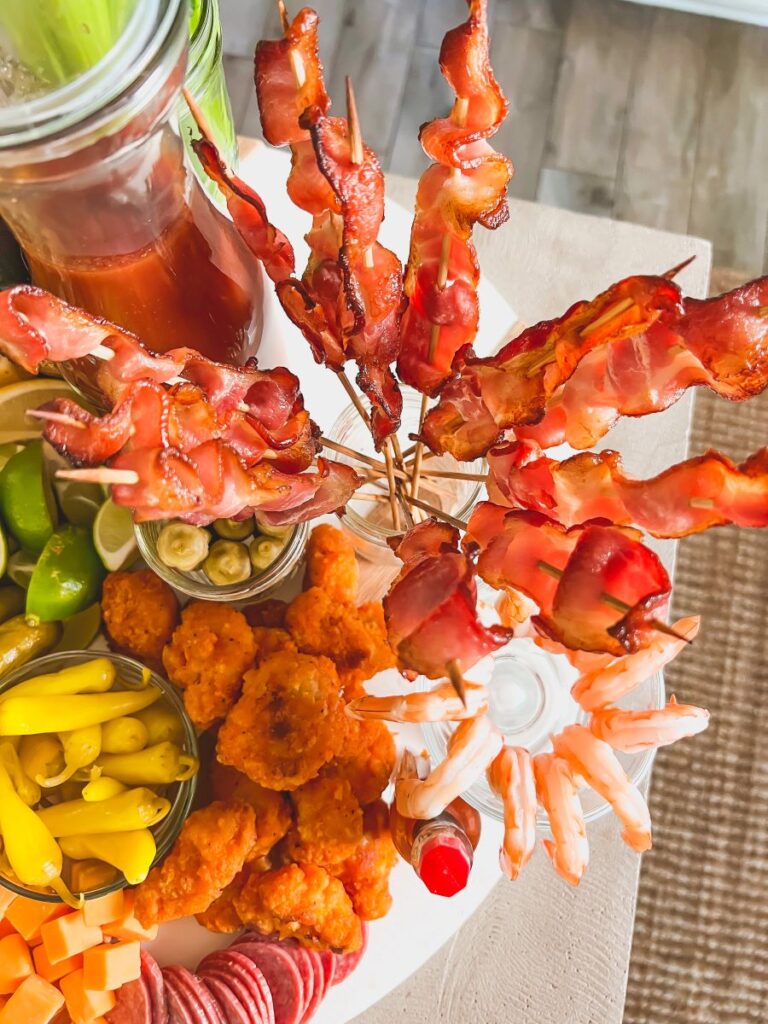 Can I Prep This Ahead of Time?
What I love about this Bloody Mary Bar is how quickly it comes together! To save time, you can prep the bacon in advance and slice any fruits or veggies. You can also make the skewers and keep them in the fridge!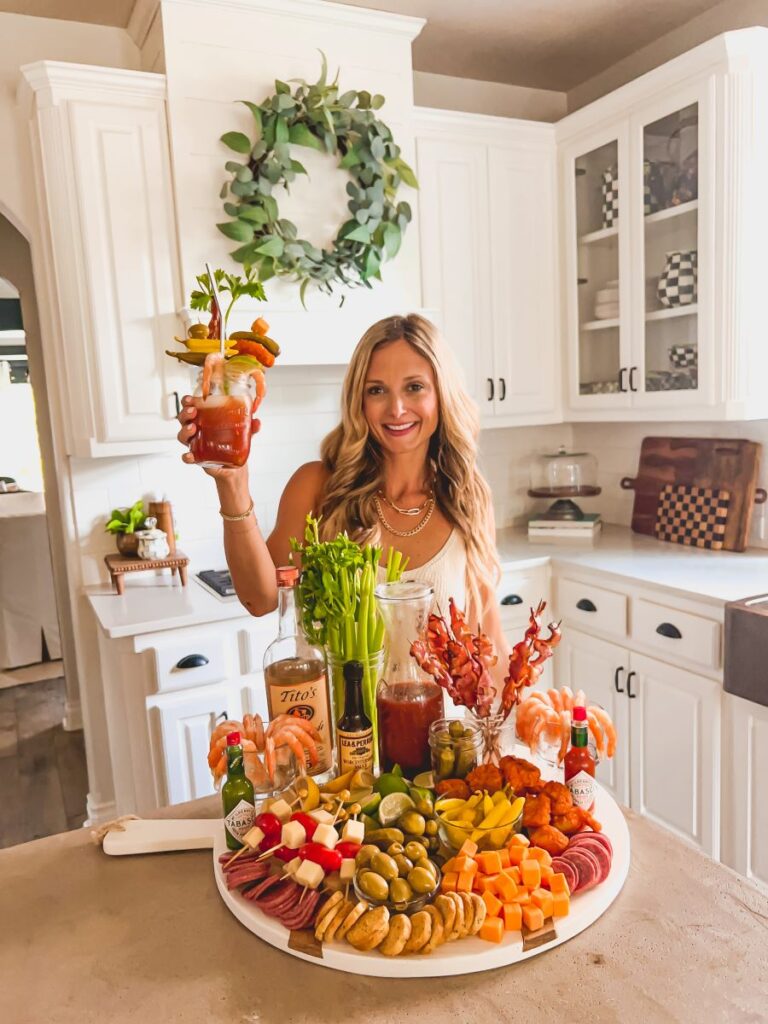 Storing Leftover Bloody Mary Bar Goodies
I like to store any items that need to be refrigerated in Ziploc Bags or Tupperware containers, then refrigerate.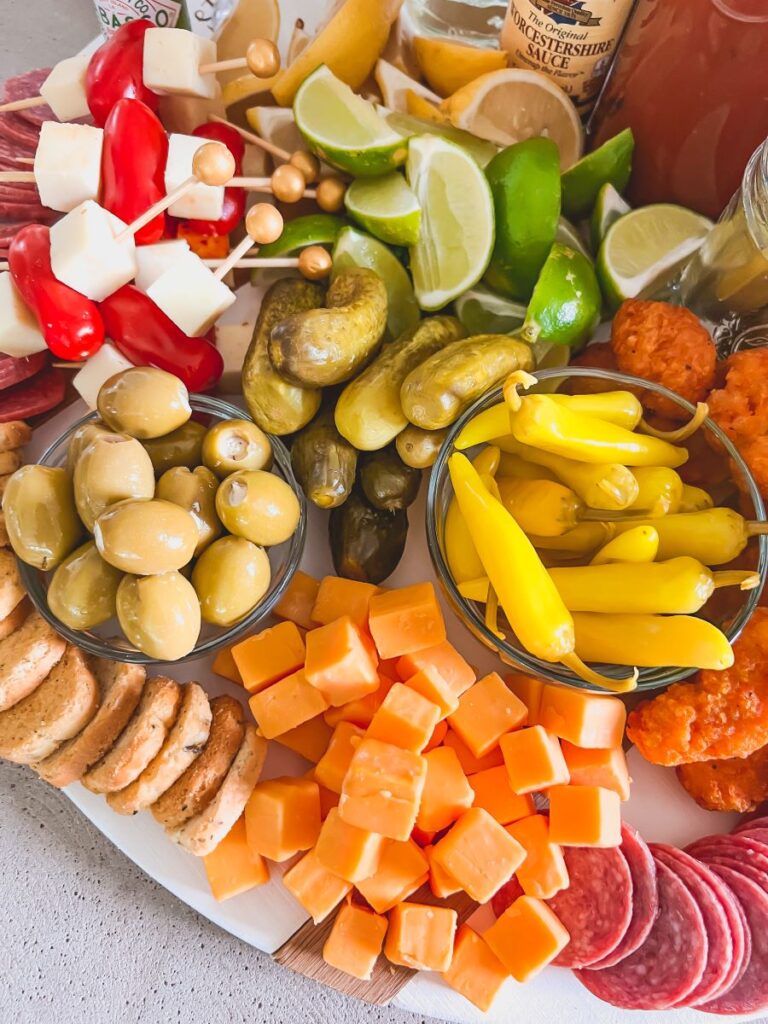 Cheers!
If you're looking for more fun cocktail ideas, check out my Mom-osa Bar and Margarita Bar tips! I also have more Bloody Mary Bar ideas here from a different version I made a few years ago. Enjoy!