How to Make an Amazing Margarita Board
This epic, build-your-own Margarita Board spices up any summer gathering and only takes a few minutes to set up!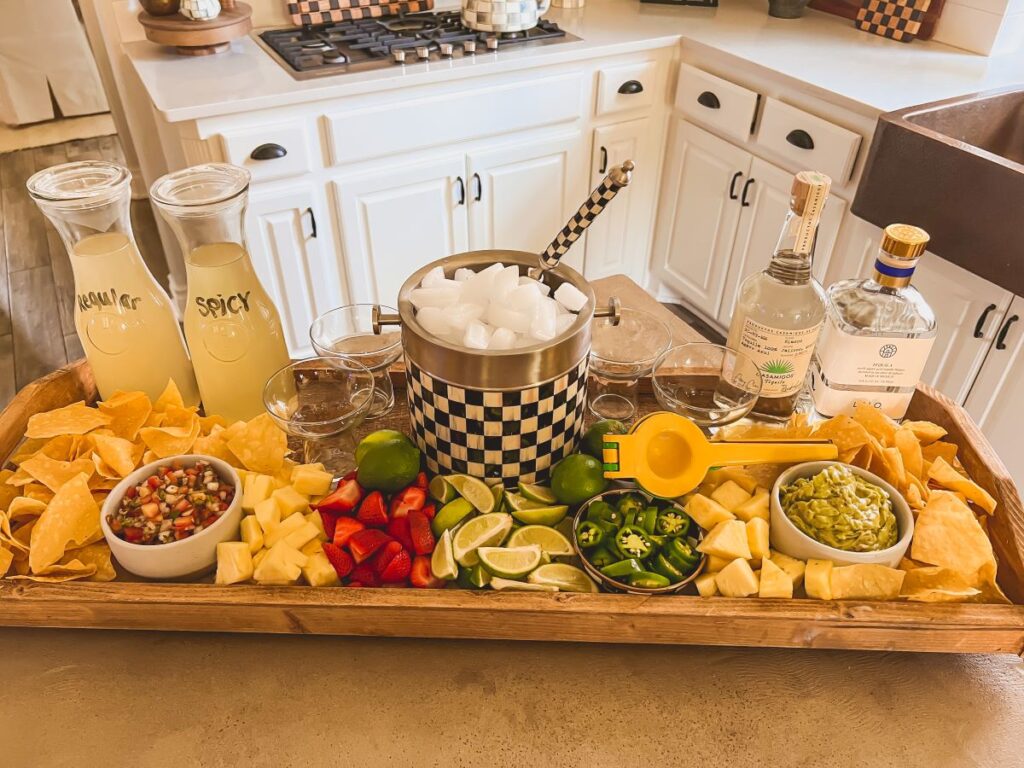 Margaritas are such a fun summer drink and easy to serve in your backyard or by the pool. ❤️🙌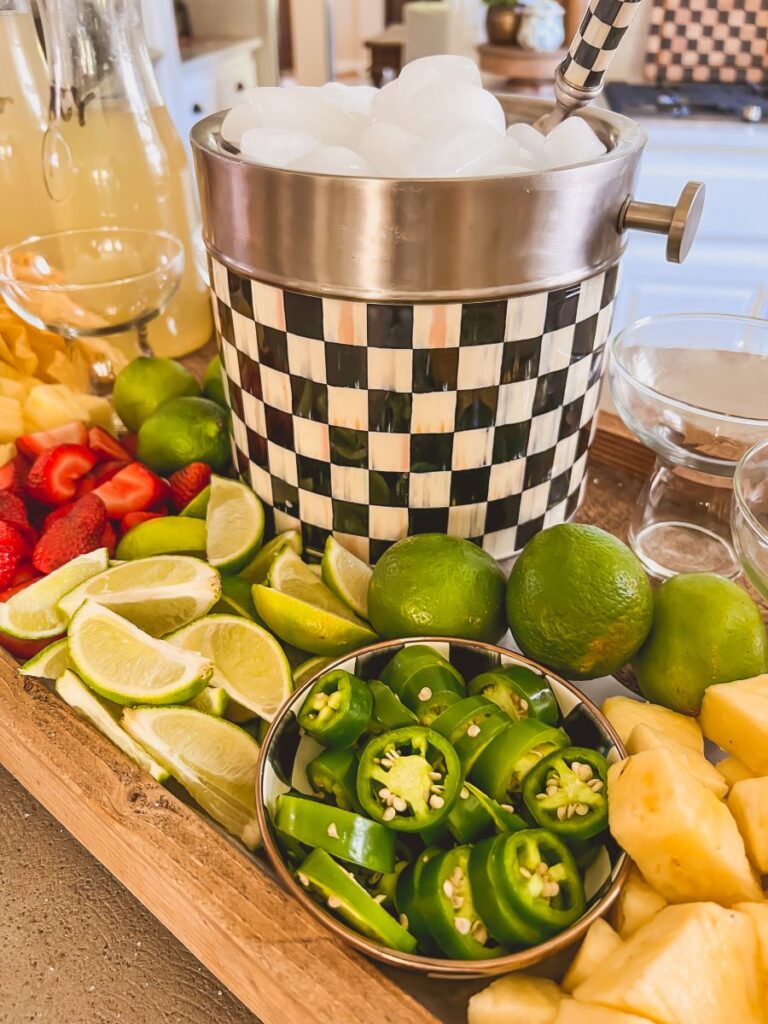 Ingredients
This Build Your Own Margarita Board is totally customizable but here is what I included:
Regular and spicy margarita mix
Tequila
Margarita glasses
Ice bucket
Chips, salsa and guacamole for snacking
Pineapple
Strawberries
Limes
Jalapeños
Also be sure to include a lime juicer, muddler, shaker, and salt to rim the glass on the side!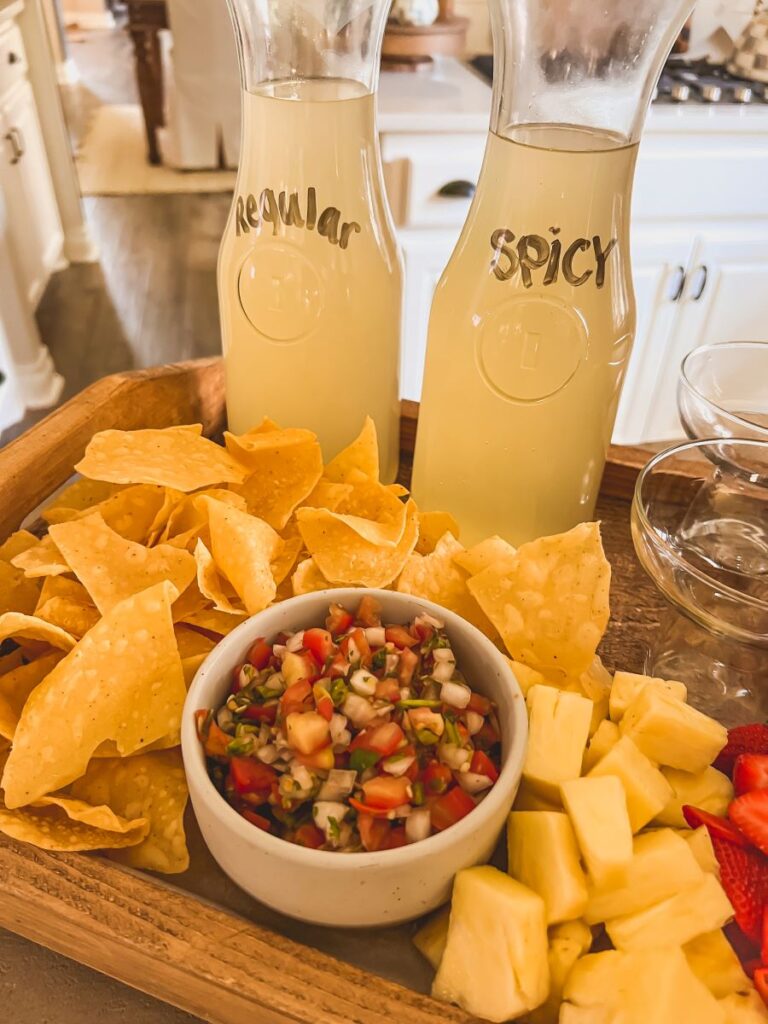 Directions
When it comes to a Margarita Board (or any other food board) there isn't a "right" way to set up, but here are some tips that might be helpful:
Put the largest item in the middle (in this case, the ice bucket)
For symmetry, add margarita glasses on each side of the ice bucket.
Place any bottles or carafes on the outside of the board.
Fill in the front of the board with the smaller items, such as lime wedges or chips.
Have fun!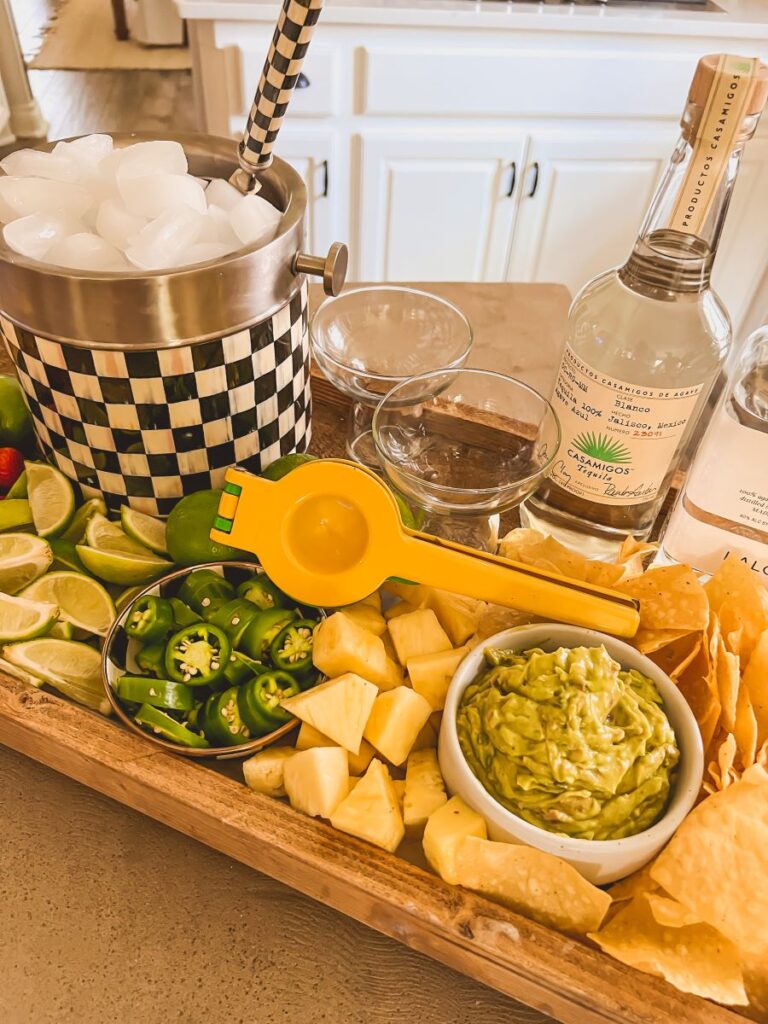 Here's a Quick Video Tutorial!
Perfect Presentation Platters
Here are some of my favorite add-ons for this Margarita Board!
Margarita Board Products: For the goodies I used on my Margarita Board, I started with this gorgeous Mackenzie Childs ice bucket and this matching Mackenzie-Childs Bar Utensil Set. You can definitely use Margarita Mix in its original container, but I loved the look of these Glass Carafes (that I use all the time!) I also used these Margarita Glasses, this delicious Margarita Mix, and this Margarita Rimmer.
Rectangular Trays: If you'd like a large rectangular wooden tray like mine, this wooden version from Target is great, as well as this beautiful choice from Etsy.
Round Trays: If you'd prefer a round tray, I'd recommend this round wooden Target tray, which I get so much use out of year-round! For a higher-end round tray, I love my MacKenzie-Childs checkered party tray. If you'd prefer some glitz, you could also go with this Gold Metal Party Tray from Walmart at a great price!
Kitchen Links: I get asked all the time about the products in the background of my kitchen. Much of it is from MacKenzie-Childs, which I have slowly grown a collection of over the years! My favorites are this checkered chopping board, my black and white checkered teapot, and the gray and white checkered utensil holder. I also have this enamel canister that you can find in small, medium, or large.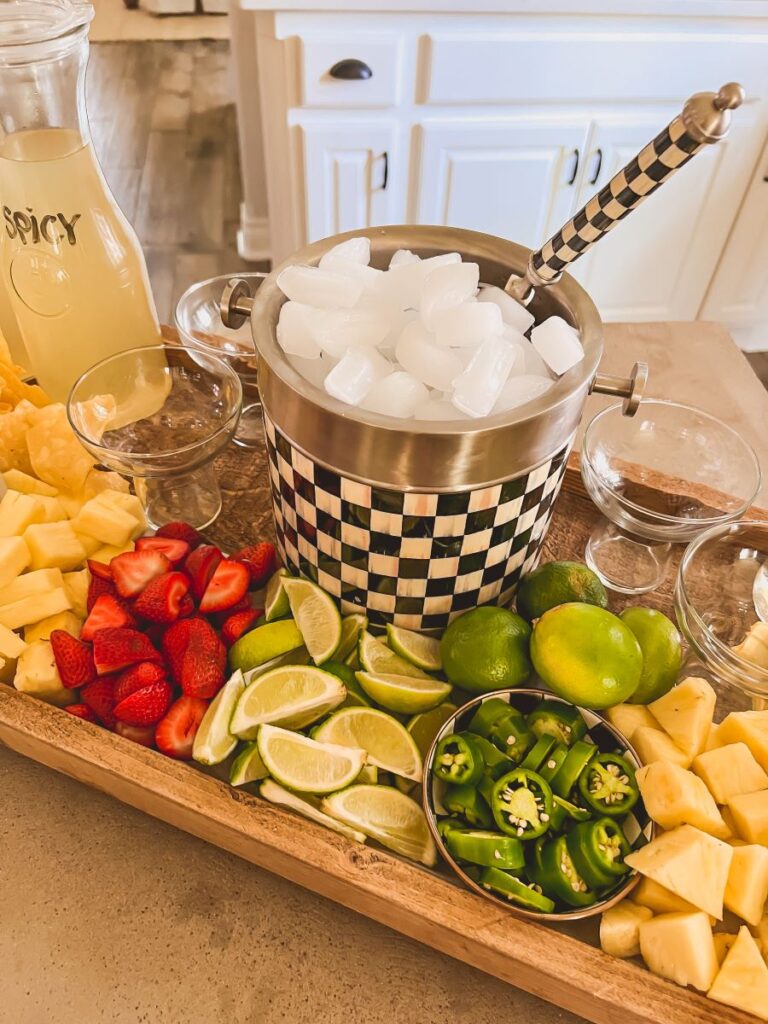 Can I Prep This Ahead of Time?
Yes! I like to prepare some of the Margarita Board in advance by cutting all the limes, veggies, and fruit ahead of time and storing them in Tupperware or a Ziploc bag in the refrigerator. They stay fresh for 2-3 days and the rest of the board comes together so quickly!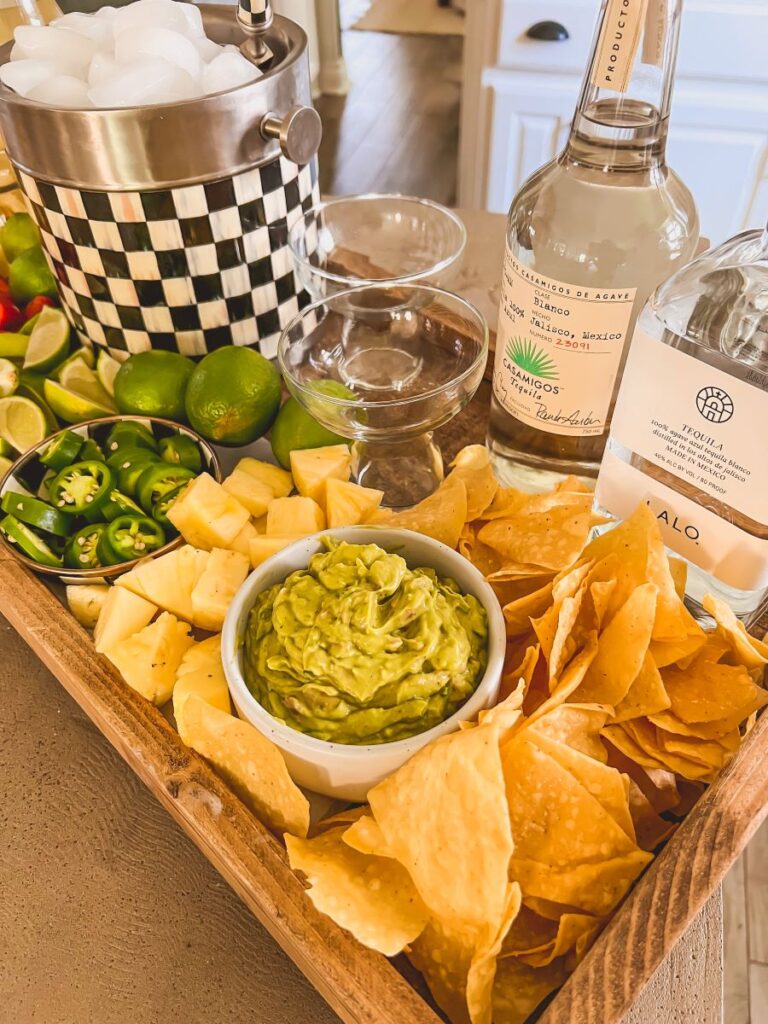 Storing Leftover Margarita Board Goodies
This really depends what you add to the board and what's leftover. Guacamole doesn't last long for me (even in the fridge) but you should be able to keep extra chips, fruits or veggies. Just store the veggies or fruits in the refrigerator in a Ziploc bag or Tupperware. 🙂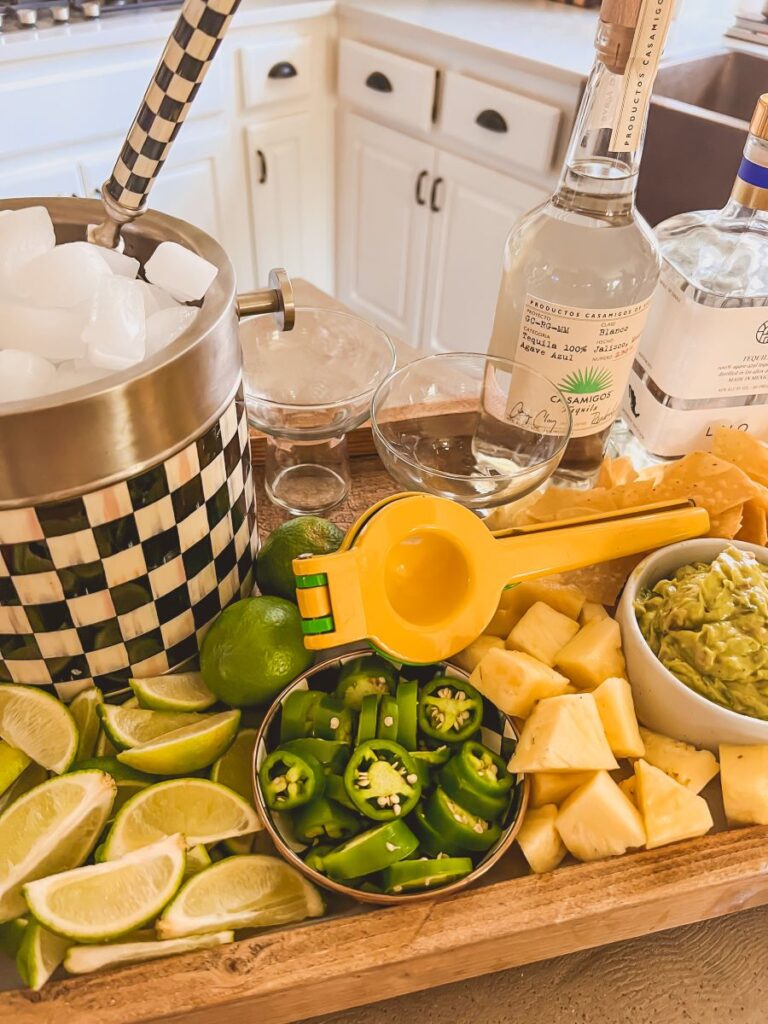 Cheers!
I hope you enjoyed this Margarita Board as much as we did! It's such a fun way to change up a summer get together and would also be perfect for Cinco de Mayo. If you're a Margarita Fan or like Mexican food, you might enjoy my posts on tips for an Easy Taco Bar or unique Margarita Gift Basket. Cheers, friends!
XoXo,
Leanna