Sharing is caring!
I honestly can not believe we are still in this crazy quarantine! Texas is just starting to open up a little bit but we are far from life as normal. On a pre-quarantine Mothers Day, I would usually go get my nails done with a few of my mamma friends, enjoy a nice brunch at a cafe downtown and then have a family dinner. Obviously with what is going on, things will look a little bit different this year. Today, I have rounded up some fun Mothers Day ideas at home. I have also included some Mothers Day gift ideas that are all from Target. Because, lets be honest, I miss roaming the aisles at Target! You can also place your order online and pickup at the store to avoid all those germs!
Mothers Day Ideas at Home
Mothers Day Gift Ideas
For the mom who can't see her children: If you are a mama missing her older littles this mothers day, I hope you still have a wonderful day! A great idea to still "spend" time with your children, or mom, if you can not see her is to do a zoom or facetime call picnic. For Mothers Day, make it special and each have a picnic outside while you Facetime eachother! If you live near enough, you can even drop off all the picnic essentials that she needs! Grab a picnic basket, order takeout from her favorite restaurant, a bottle of wine, and picnic blanket!
For the mom who loves the Spa – Although we can't be at the spa, we can create our best spa day from home. If you are looking to gift a spa day to your mom, put together a gift bag of some spa goodies. You can include a lavender candle, face mask, robe, body oils and lotion.
For the mom who loves to read– Give your mom a day to catch up on her favorite books, and relax in bed! Gather up a basket and include a new book, candle, bouquet of flowers and cozy blanket! All the essentials to enjoy a day in bed reading her favorite book!
For the mom who loves her wine – I mean, I may be writing this for myself 😉 . Inside a cute straw tote or basket, gather up a few of her favorite wines! Add a cute little tumbler, a small necklace and some flowers!
Below I linked some of my favorite Mothers day gifts that you can include: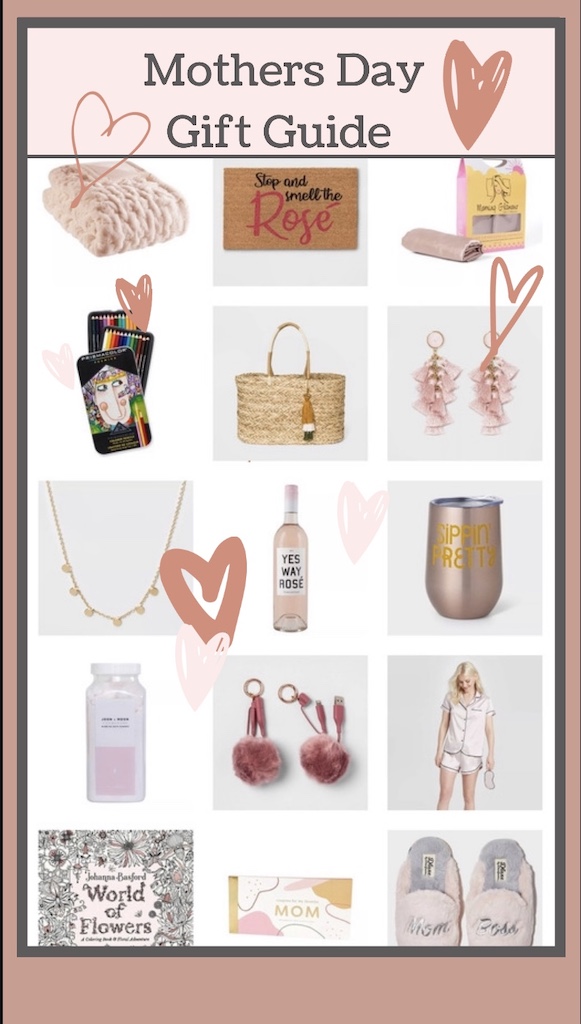 Other Mothers Day Activities at home
Plan a Movie Night – Make popcorn, buy a big selection of the best movie theater candy and let her pick her favorite movie! If the weather is nice enough, you can even set up a movie outside using a projector!
Breakfast in Bed – Bring her a beautiful big spread for breakfast! Let her sleep in till her heart desires and when she wakes have breakfast brought to her! Include a hot cup of coffee, eggs, waffles or any of her favorites!!!
Spa Day at Home – This goes off of the spa gift idea but give your mom a spa day from your home! You can paint her nails, draw up a big bubble bath, apply face masks, a conditioning hair treatment, and more!
Bake her favorite treat– If your mom loves sweets, bake her favorite! I'm a big fan of anything with peanut butter! (hint hint, Simon).
Do you have any Mothers Day traditions?
I also made this FREE printable that you can use to fill out for Mothers Day!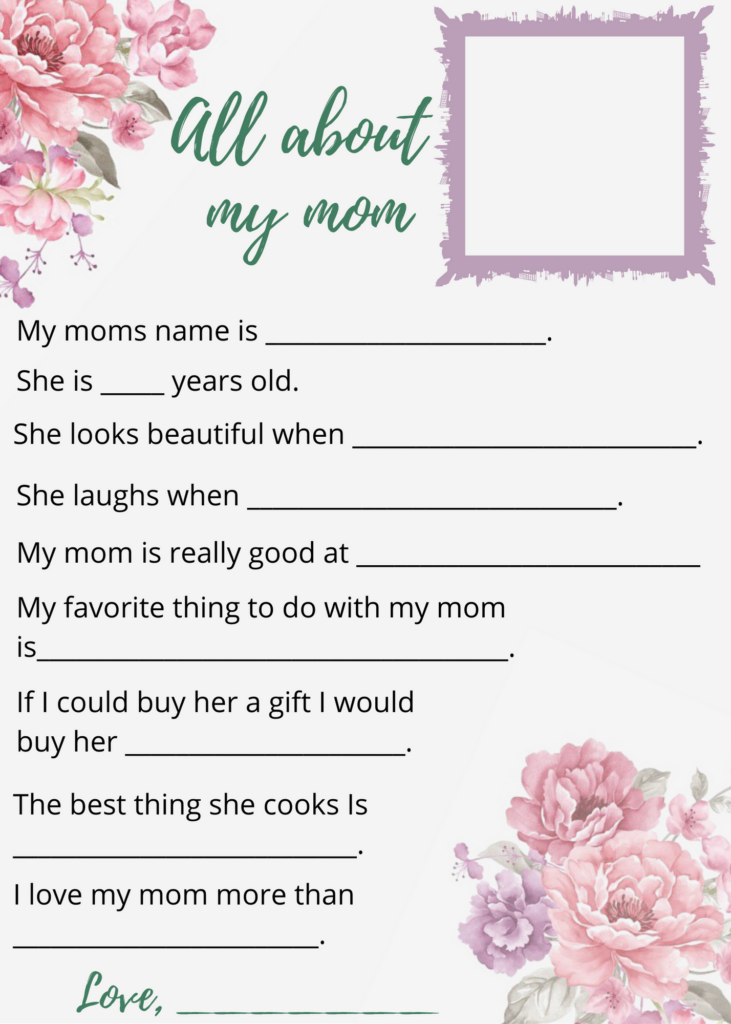 To save and print click here. I always love to get these and to see what they say!
xoxo,