How to Make a Festive Fourth of July Charcuterie Board
This beautiful, patriotic Fourth of July Charcuterie Board will amaze every guest at your 4th of July BBQ. It's the perfect summer snack!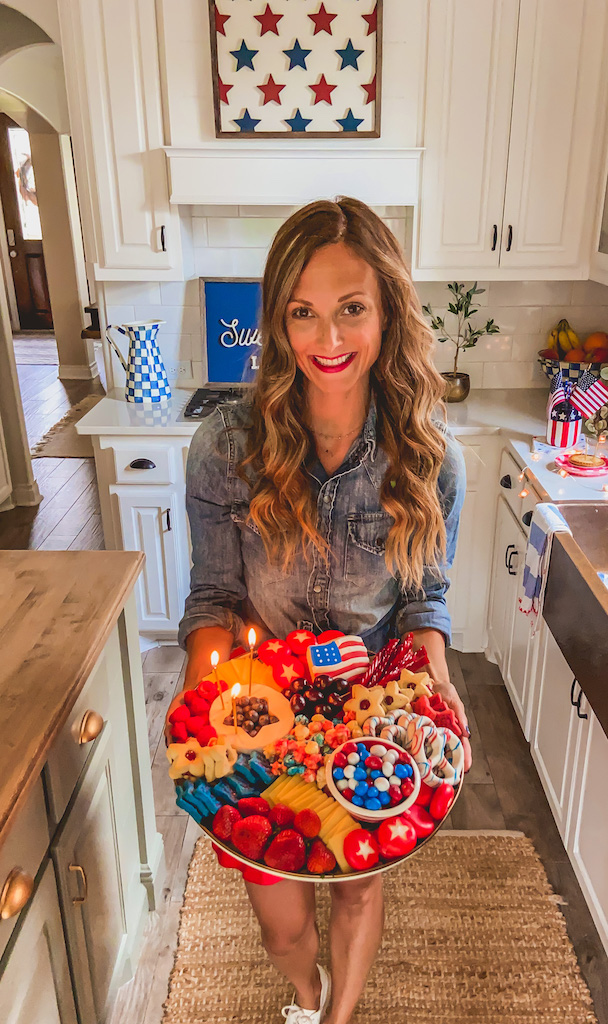 This 4th of July, wow your guest with a 4th of July Charcuterie Board! Cheese boards are my favorite things to make for every holiday. I love how easy they are to make and how beautiful and festive they look.
The best part is, it's easy to make your own! There's no right or wrong way to make a charcuterie board-and you can add anything you like. With a few easy styling tips, you can turn any combination of foods into a festive holiday treat.
How to Make a Fourth of July Charcuterie Board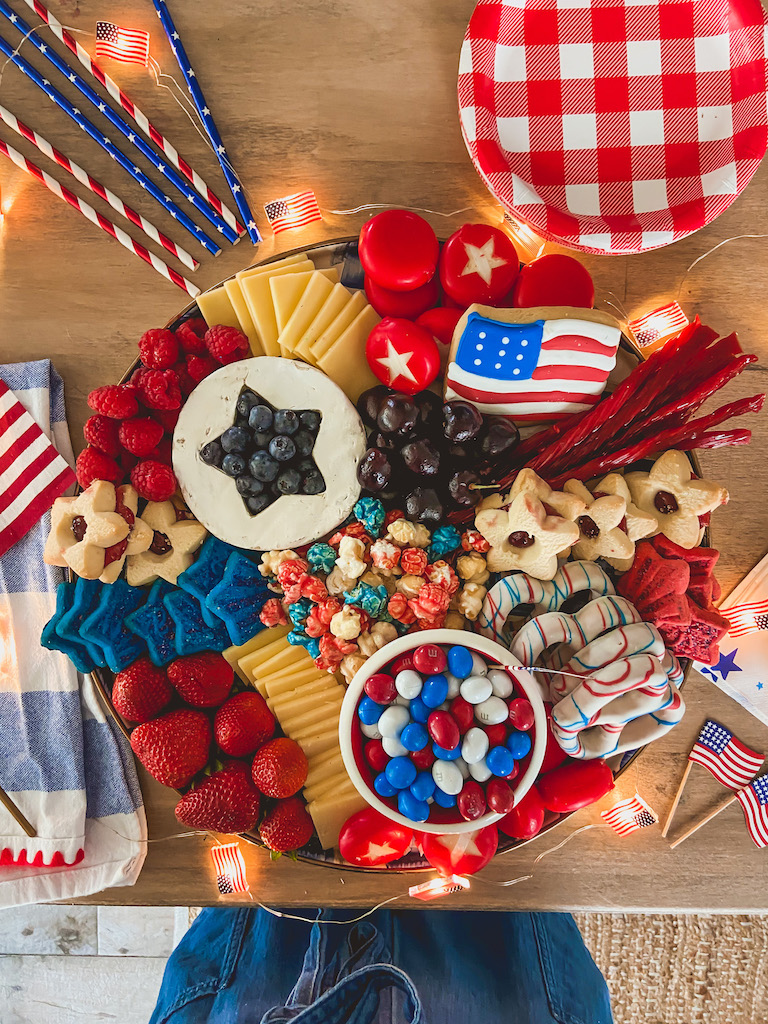 Supplies Needed
Serving board or cutting board
Red and blue berries (strawberries, raspberries, cherries, blueberries, blackberries)
Assorted cheeses and meats
Red and blue candies
Crackers and pretzels
Star cookie cutter
Star Cookies
Step 1: Red, White, and Blue Foods
The first step is choosing a board. I love wood serving boards but for this board I used a blue and white serving tray from Mackenzie Childs. Next, gather all the red, white and blue foods! Think about using different types of food, textures, and sizes.
Here are all the foods I used:
Blueberries
Strawberries
Cherries
Raspberries
White-chocolate dipped pretzels
Star-shaped cookies
Red and blue M&M's
Licorice
White cheddar cheese
Brie wheel
Mini Babybel Cheese wheels
Red, White and Blue Popcorn
Flag Cookie
Step 2: Cut Stars from Brie Cheese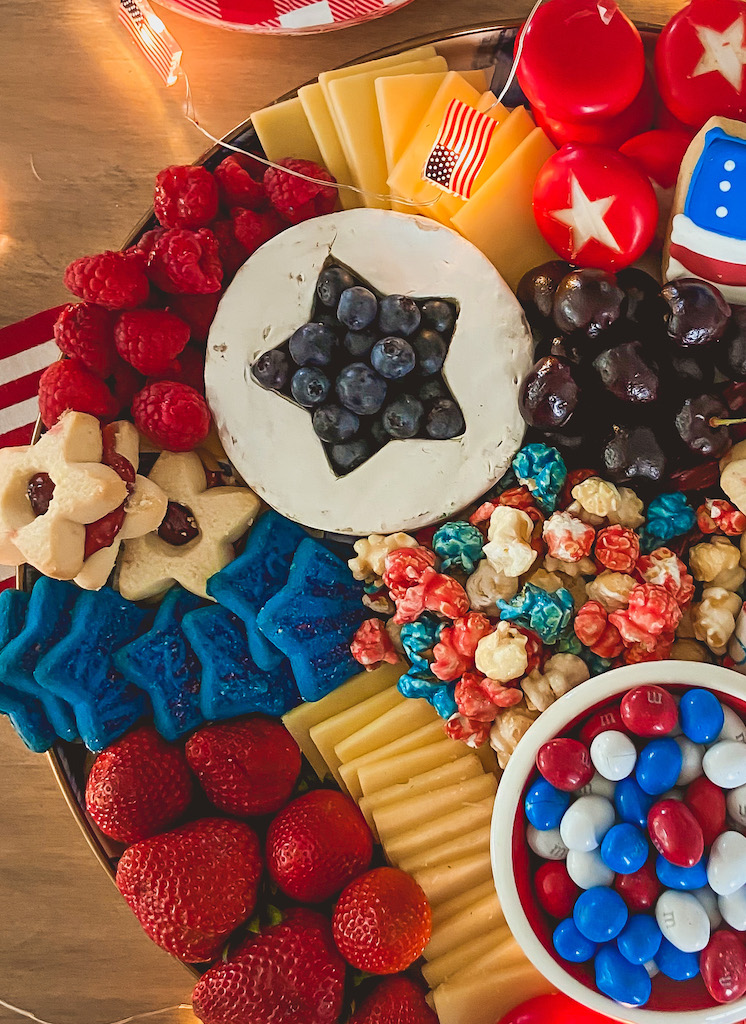 This is not a necessary step, but I wanted to give my board a little something extra. I used a star cookie cutter to cut out a star in the middle of the brie cheese. When you remove the star shape you can fill it with blueberries or your favorite jam. I also made little star cut outs using a knife, in the the Mini Babybel Cheese wheels.
Step 3: Build the board
Now here is the fun part! There is really no wrong way to put together the board. I always find that it is easiest to start with the larger items first and to use the smaller items to fill in any empty gaps. Make sure to vary the colors around the board and group like items in small groups.
 Keep adding until the board is full, but don't overdo it-you want each item to stand out. Plus, you can always add more later as the board begins to disappear. 
Keep the board in the fridge until you are ready to serve.. and enjoy!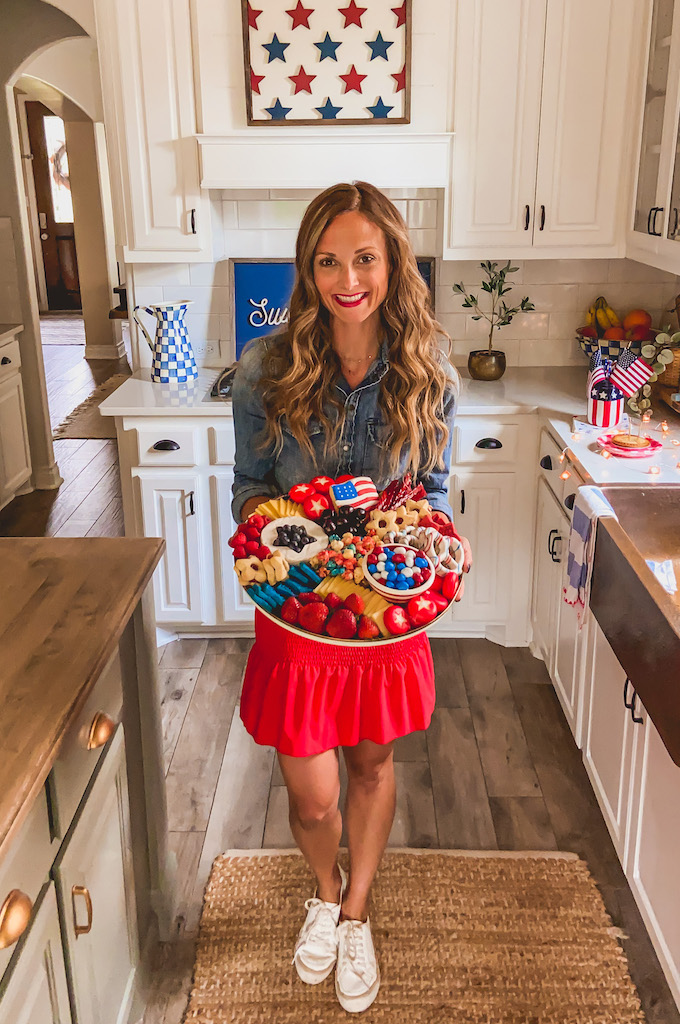 Looking for more 4th of July party ideas? Try these:
Toilet Paper Roll Firework Craft for Kids
Easy No Bake Berry Trifle for Summer