Sharing is caring!
These simple tips can help you create a beautiful and unique Halloween party for your guests!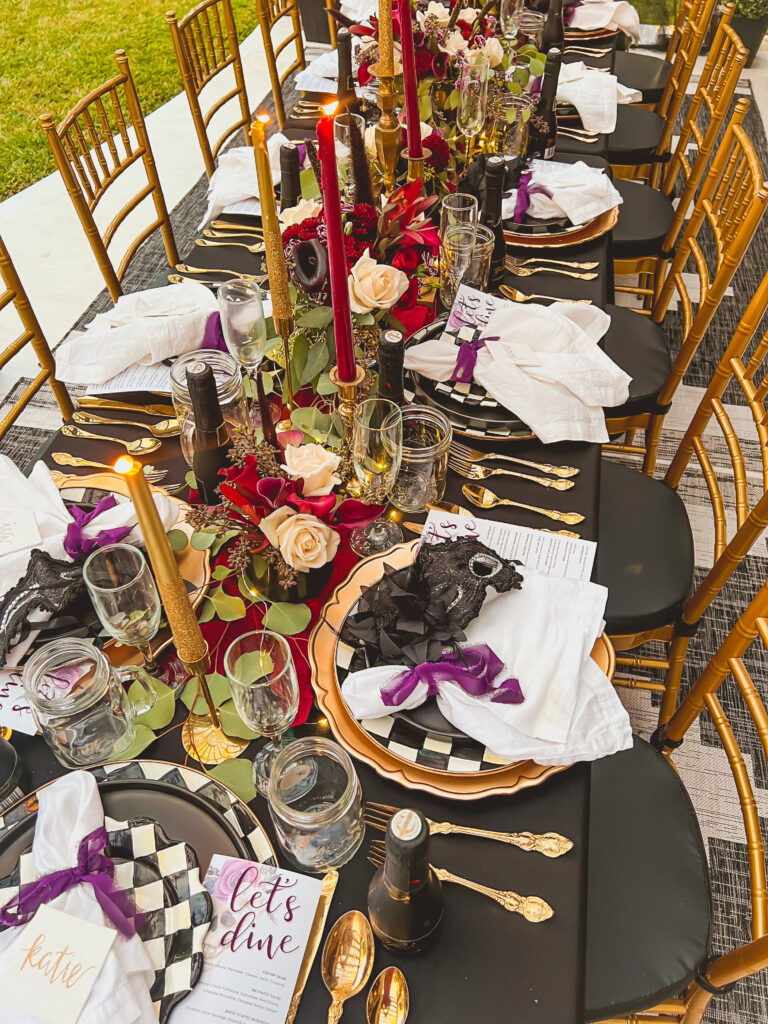 We had such a fun weekend hosting a Murder Mystery party and I'm so excited to share all of the details of my easy Halloween party decor! I wanted to put together a final look that was inspired by Halloween yet was still elegant, chic, and timeless. I hope these tips and pictures inspire you to host your own Halloween party, too!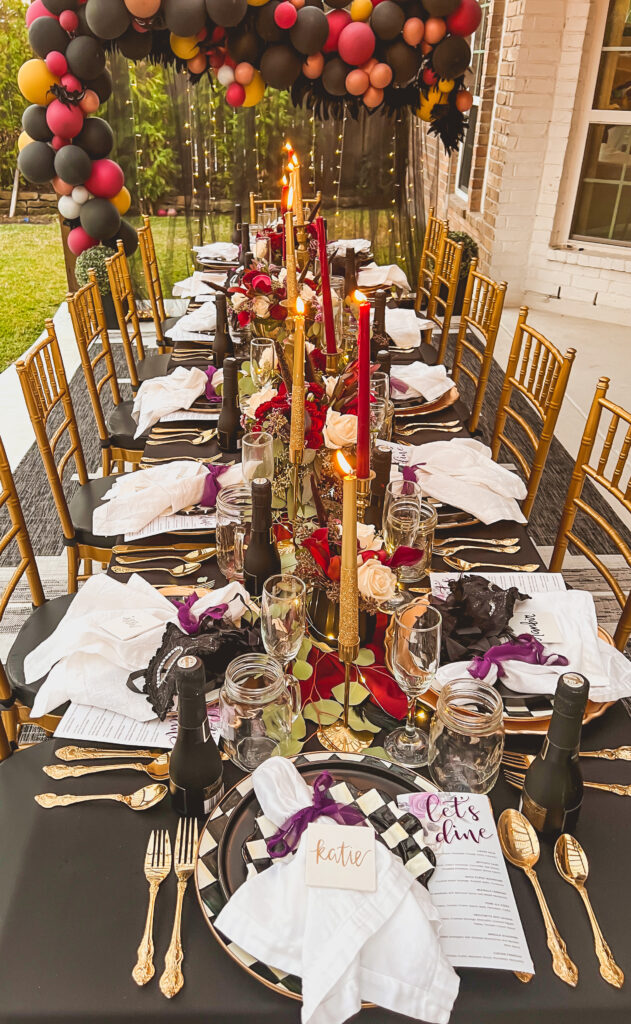 Halloween Party Color Scheme
When I think of Halloween colors, I think of deep purple, orange, and burgundy shades, plus black of course! Rather than the bright orange hue synonymous with Halloween, I wanted to incorporate more of a subtle golden color in my decor. I love how the gold metallic shades were tied in throughout the chairs, candlesticks, and flatware, which all really popped against the black backdrop!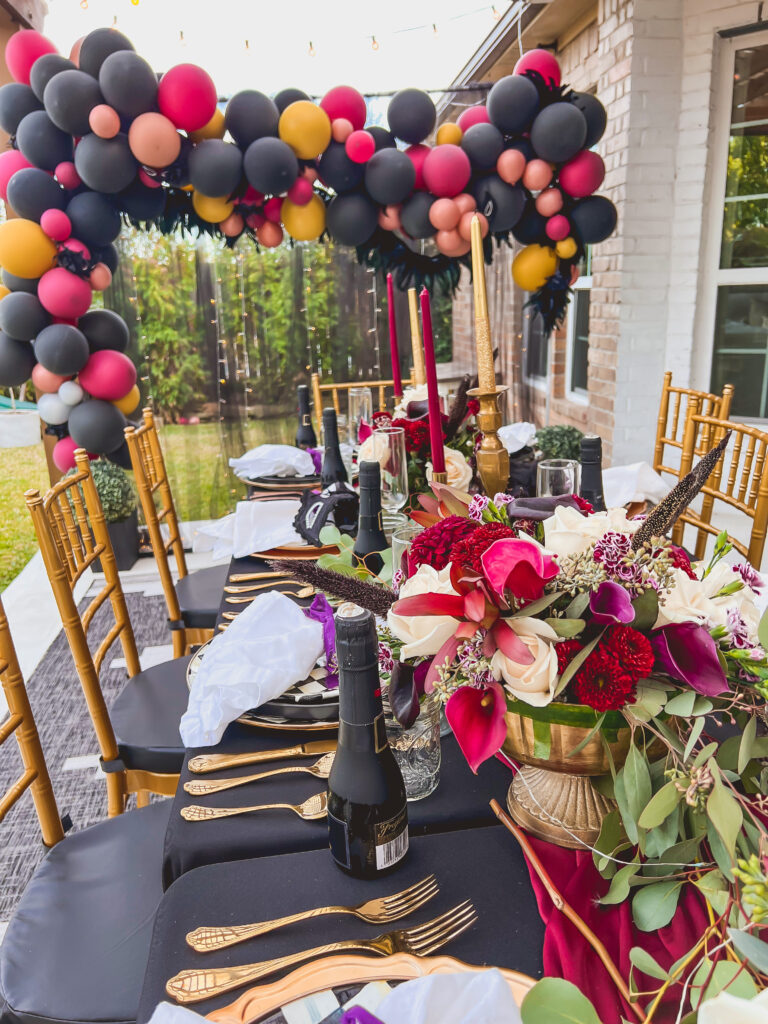 Tables and Chairs
When hosting larger groups, keep in mind that you don't need to have a huge, fancy, or expensive table. Rather, we just lined up several plastic folding tables on our back patio. Then, we covered each with black linen tablecloths to create the cohesive look of one long, tasteful table. I have been loving using black lately in my decor because it makes such a statement while still providing a neutral base to add in pops of color!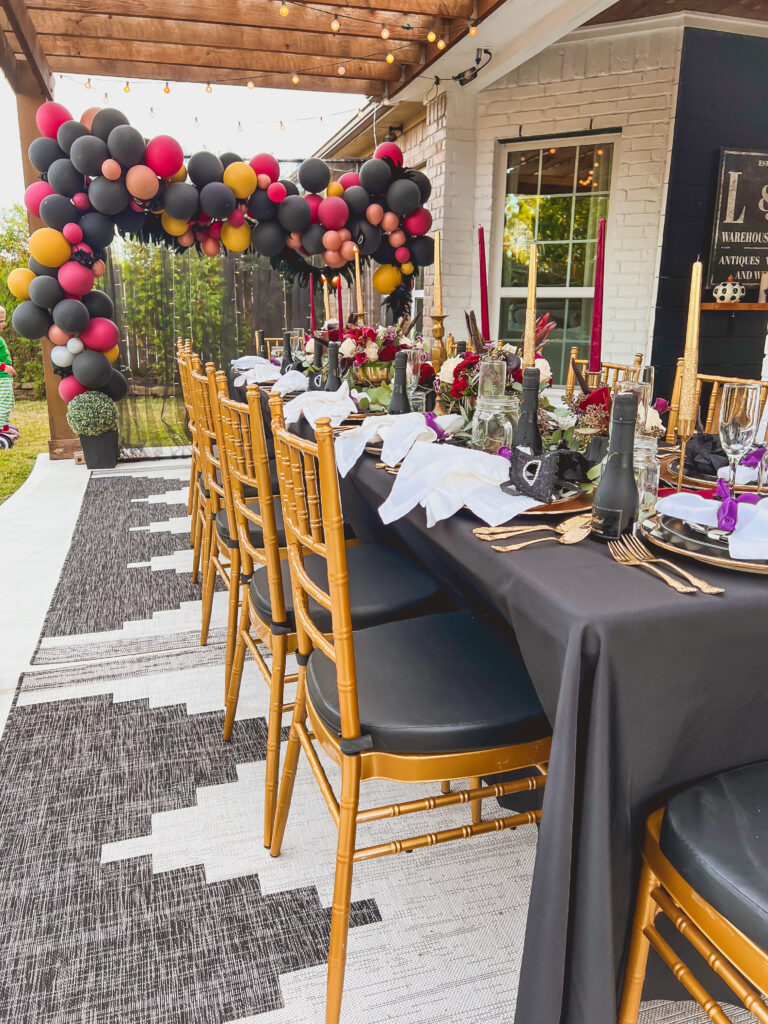 We rented the table, chairs, and linens from a local company and I love the dramatic impact they make. The gold color is so on-trend and you could easily switch out the black cushions for white cushions for other occasions!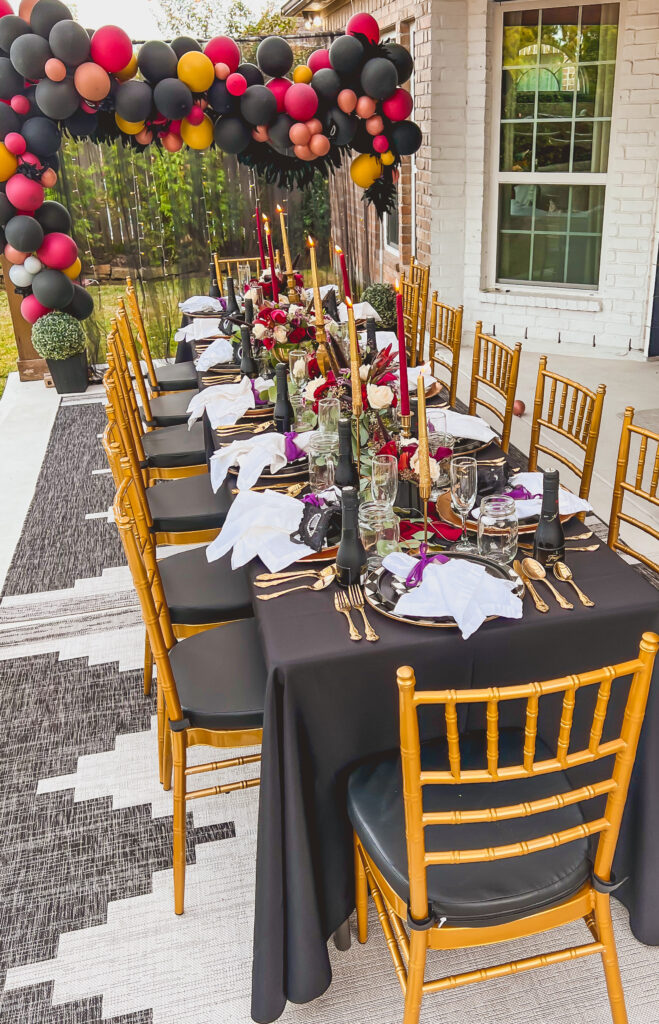 Place Settings
I'm so happy with how these place settings turned out! At first, I was worried because I didn't have enough chargers in the same color for the size of our Halloween party. As a solution, I alternated some of my favorite Mackenzie Child's plates and chargers with my new amazing black stoneware plates from Walmart! These two styles created the perfect look I was going for to achieve my easy Halloween party decor.
The first setting is a gold metallic charger layered with a black and white Mackenzie Child's plate topped with the new matte-black plates from Walmart. The second setting consists of a black and white charger layered with the stoneware plate, topped with a smaller Mackenzie Child's plate. I love how the scalloped edges give a more feminine touch to the darker, more dramatic place setting!
Don't be afraid to get creative and mix and match plates and different brands to create a look that is cohesive without needing to be identical. I can't wait to use this trick for more place settings to create a look that is unique, fresh, and sophisticated.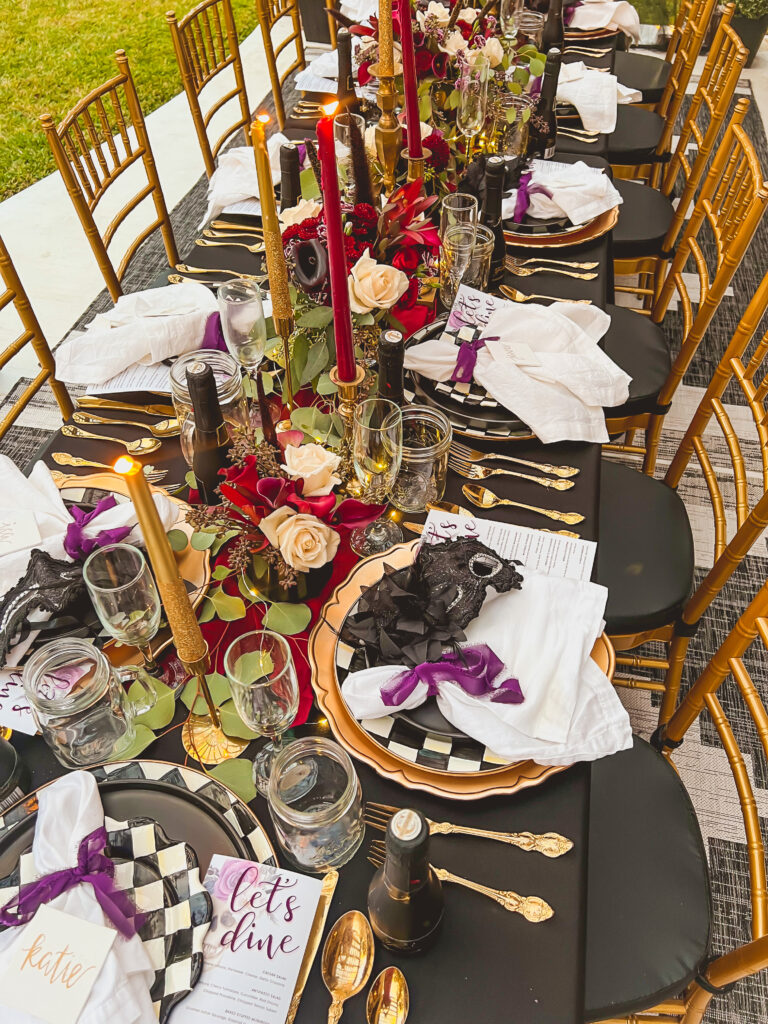 To tie in all of the place settings for the Halloween party, I topped each with a simple white linen napkin tied with a purple ribbon. It was also so easy to print these Halloween-themed menus and place cards! Finally, I also added these cute black masquerade masks for my girlfriends that I got from Amazon.
Flatware and Glasses
I finished off the place settings with this amazing gold flatware set for my Halloween party decor. I love how it compliments the chairs, chargers, and candles! Although I love silver utensils too, it's so fun to change it up with different shades for something unexpected and stylish. I also sprinkled in some of my new rose-gold flatware utensils, which ended up complementing the gold beautifully.
Since I used such bold plates and silverware, I wanted to keep the glasses neutral and clear. Each setting had a mini-champagne bottle, nice champagne flute, and a cute mason jar, which was perfect for the natural outdoor venue.
Flowers and Candles
One of my favorite tips for centerpieces is to start with a table runner as a base layer. I decided on this scarlet fabric that reminded me of Halloween, but it could also be used for Christmas or Valentine's Day! Next, I layered with green foliage topped with flower centerpieces that were perfect for our outdoor setting. Some of my favorite colors are those deep burgundy and plum shades we see in the fall, which I can also reuse for my  Thanksgiving table décor!
I kept the flower centerpieces low so the tall candles could stand out. I love the dramatic look they bring with their varying heights and colors! Candles are a perfect way to make an impact to your tablescapes and these give off such a Halloween vibe in an elegant way. The sparkly gold candles would also be perfect for New Year's Eve!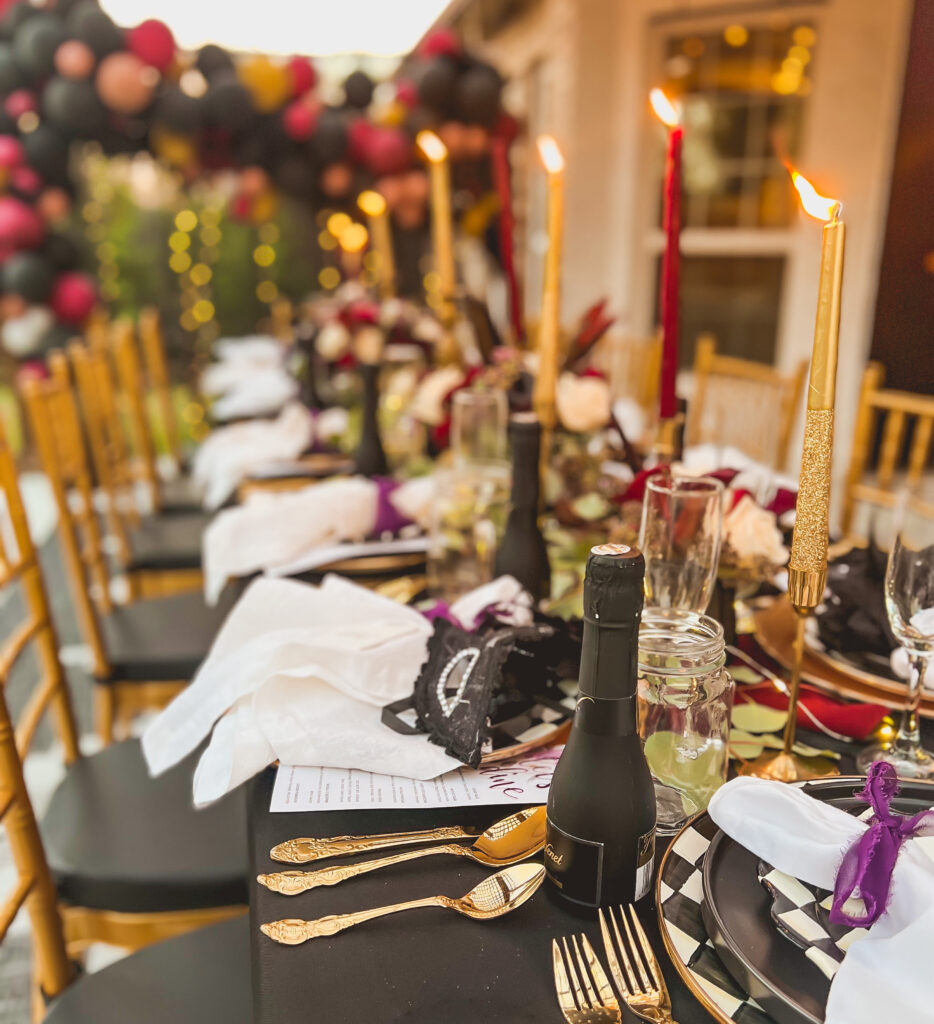 Balloon Arch
The first time I thought of creating a balloon garland, I was so intimidated but I can honestly say that they come together so easily! I start with a balloon kit that you can get from Hobby Lobby, Michael's, or another craft store. My favorite tip is to use an air pump to fill up the balloons in no time (and save you a lot of trouble!) Next, be sure to make the balloons in various sizes. We maintained the color scheme of black, gold, and deep reds and purples. For a finishing touch, we added black feathers for some texture. Finally, we draped the garland in front of a black tulle background with twinkle lights and the overall effect was magical, especially at night!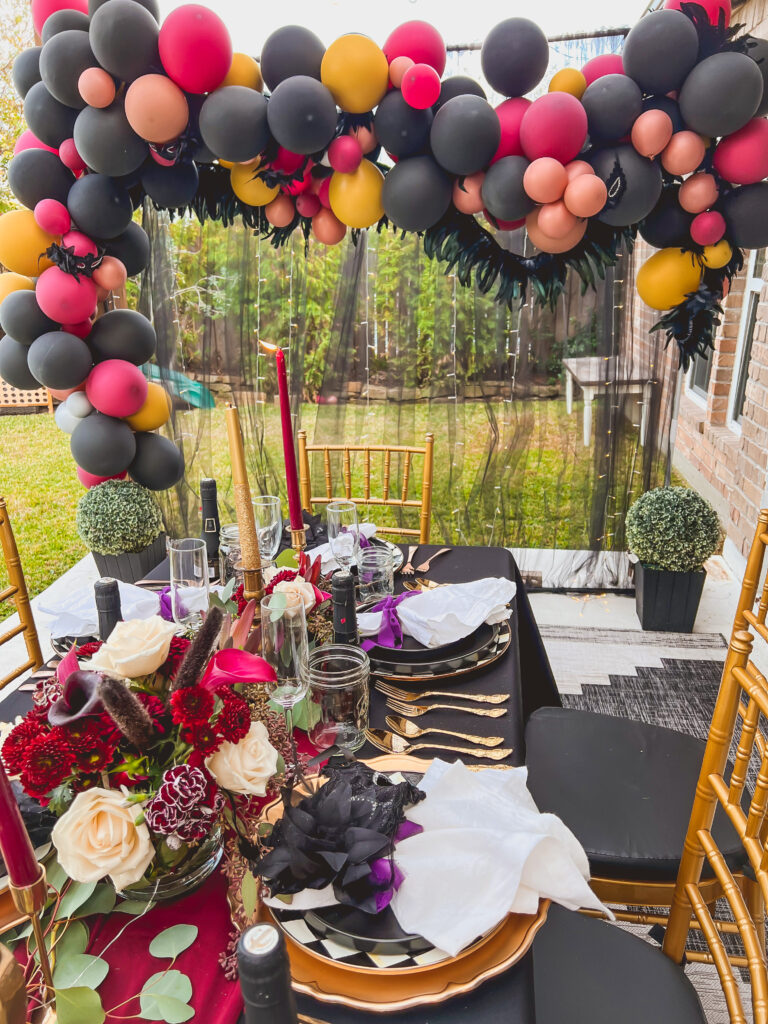 Keep in mind that you might need different materials for the kind of balloon decorations you are looking for. If you'd rather create an actual balloon arch in a rainbow shape without needing to hang it, you will just need a separate arch kit to provide an infrastructure for the balloons to stay in place. I just wrap the balloon strip around the arch and it works great!
Signature Drinks
A signature drink is such a fun way to spice up your Halloween party – literally! For the Signature Drink, I chose a "Blood Orange Bourbon" as a fun Halloween twist!
For an outdoor bar, I covered a small round table with black table linens and topped with black candles. Then, I accessorized with these amazing MacKenize Child's jack-o-lantern and cauldron accessories, which matched my main table perfectly!  My friends also loved this illuminated pumpkin and welcome mat for Halloween decor.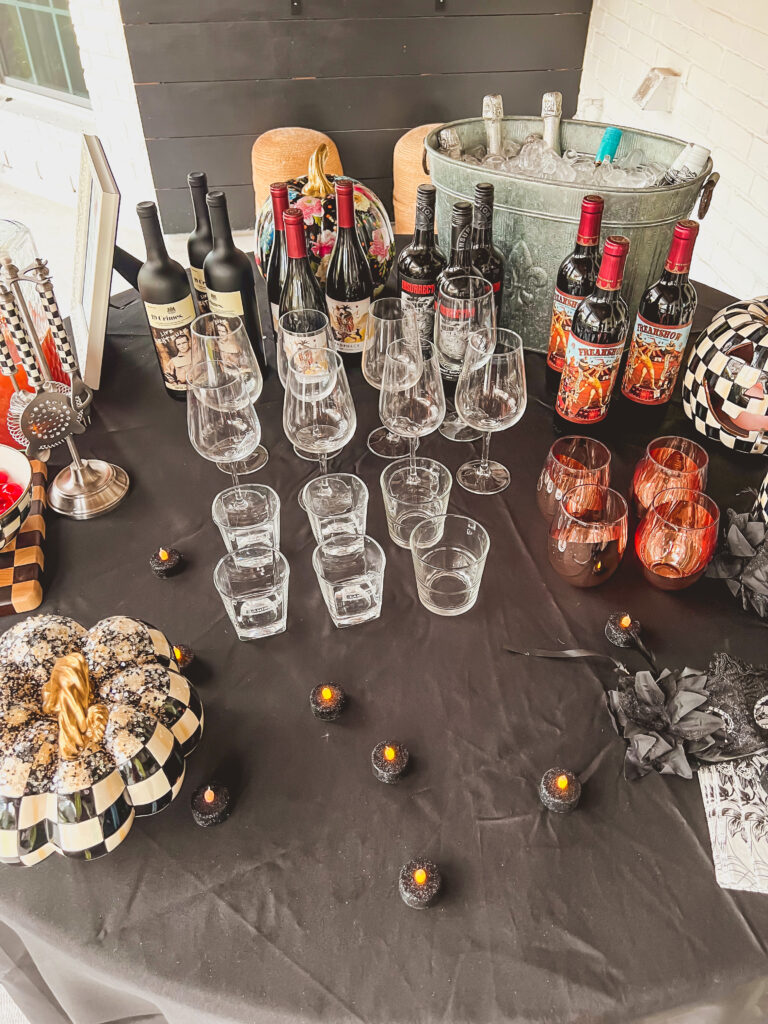 If you'd prefer to invest in more fall-themed pieces that you can use from September through November, I'd definitely recommend these this beaded pumpkin or beaded squash that has a bit of extra sparkle! If you don't have an ice bucket, you can also use this serving bowl to hold ice or other goodies.
Murder Mystery Party
These decor tips can be used for any Halloween party and also created the perfect backdrop for our Murder Mystery Party! I had never done one before and we had the best time. We used The Murder Mystery Co. and I would *highly* recommend them! They did everything for us, which took all the stress away. All of our guests were assigned a role, script, and accessories. It turned out that I was the main culprit! We will definitely be doing this again and it was such a breath of fresh air to do something fun and different!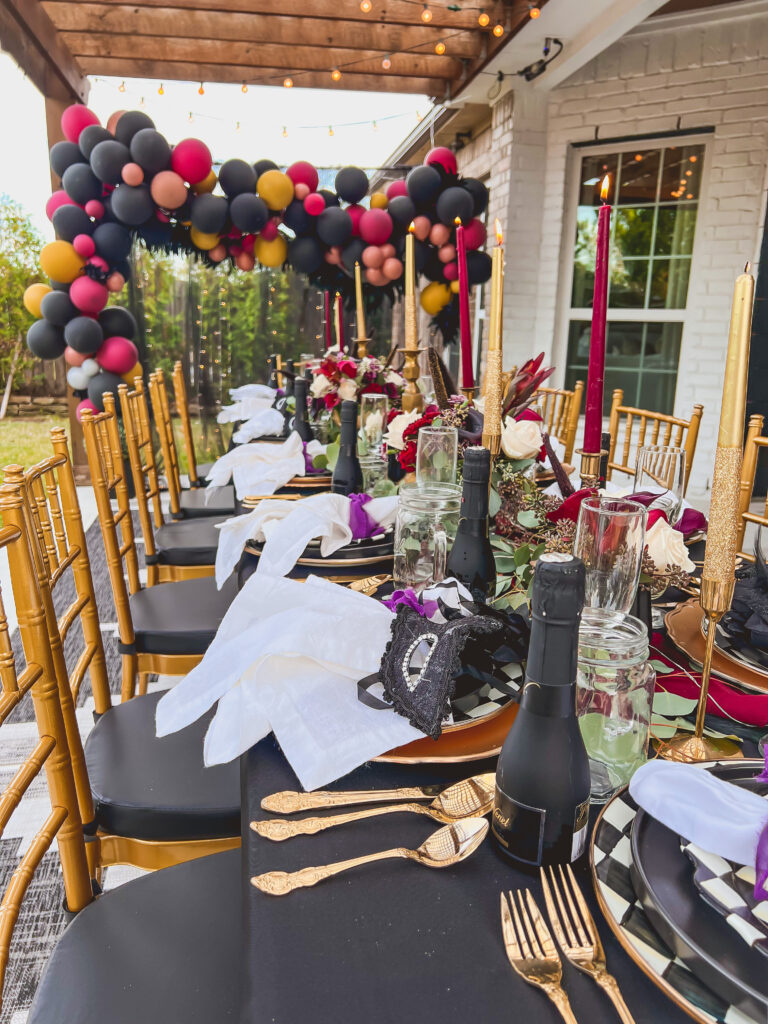 It was also my best friend Jen's birthday, so of course, we had to start the night singing to her! I'm so glad we could make her birthday special.
I also loved my super affordable velvet dress from Amazon, which you can find here!
This Murder-Mystery Halloween party was so much fun and I can't wait for next year already! Have you ever been to a Murder Mystery party? Let me know in the comments! Happy Halloween, friends!