Simple Thanksgiving Table Decor
These affordable and elegant pieces can help you create a gorgeous Thanksgiving tablescape and so much more!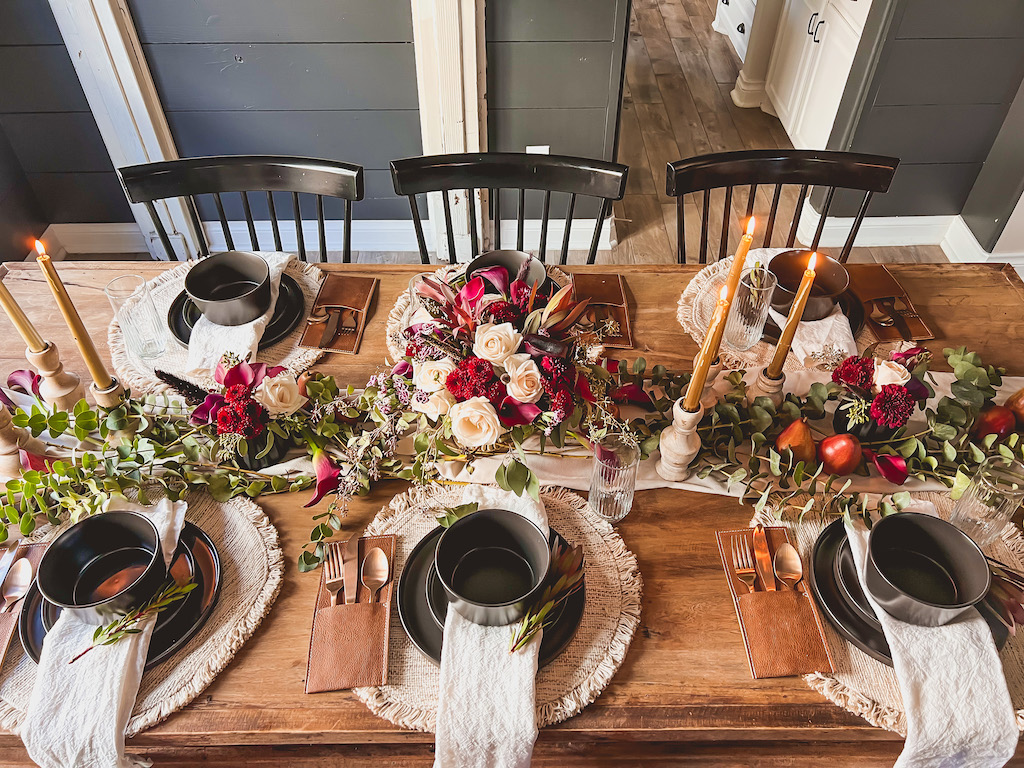 I can't believe how quickly this year is flying by and that I'm already preparing Thanksgiving table decor! Like many of you, the holiday months are an especially busy time for me, so prepping for the holidays needs to be quick and simple. That's one of the reasons why I Iove Walmart as a one-stop shop for anything I could possibly need. It's so convenient to look to just one place for items ranging from recipe ingredients to holiday clothes for our whole family.
What I especially love about Walmart is the on-trend decor and amazing furniture pieces, and I'm so excited to use these finds for a simple Thanksgiving table setting that is both beautiful and practical with items that I can enjoy again and again. Here are my favorite products and tips for a classic and elegant Thanksgiving tablescape!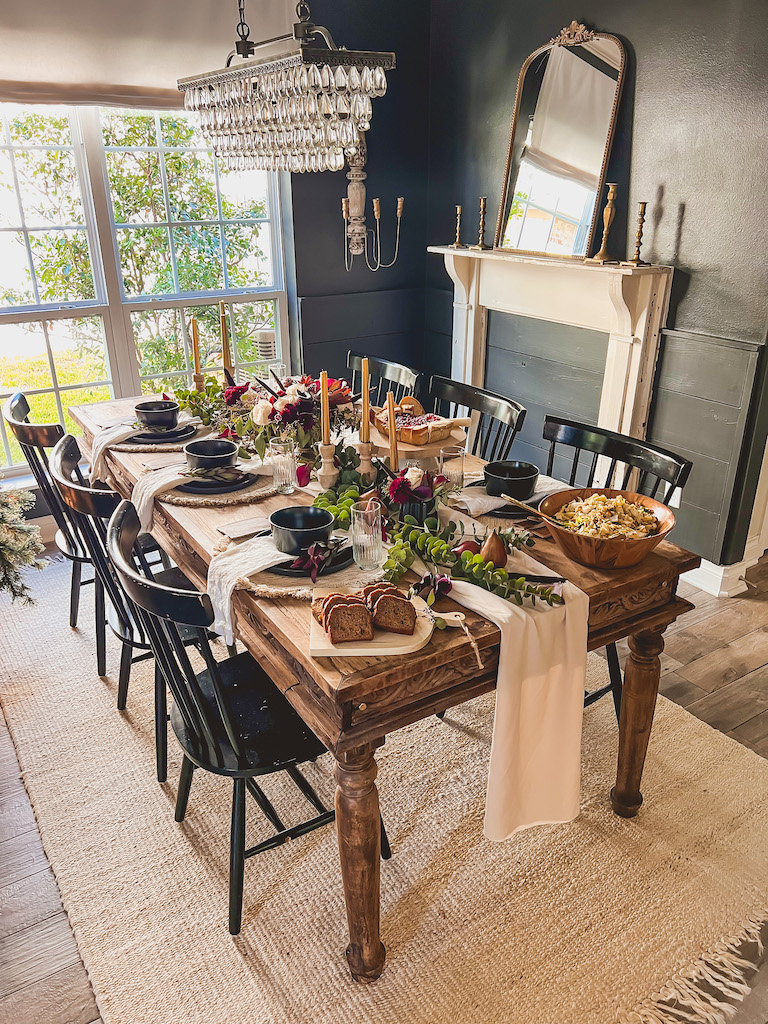 Place Settings
I started with these cozy placemats as a neutral base for my Thanksgiving table decor. I was so drawn to the soft texture and round shape, plus the natural color is so versatile to use year-round. Next, I layered the placemats with these stoneware matte-black plates that are such an amazing quality, and I love how the striking dark color of the plates contrasts against the placemats. Using dark plates was a great way to change up my decorating style in a way that was still timeless yet unique.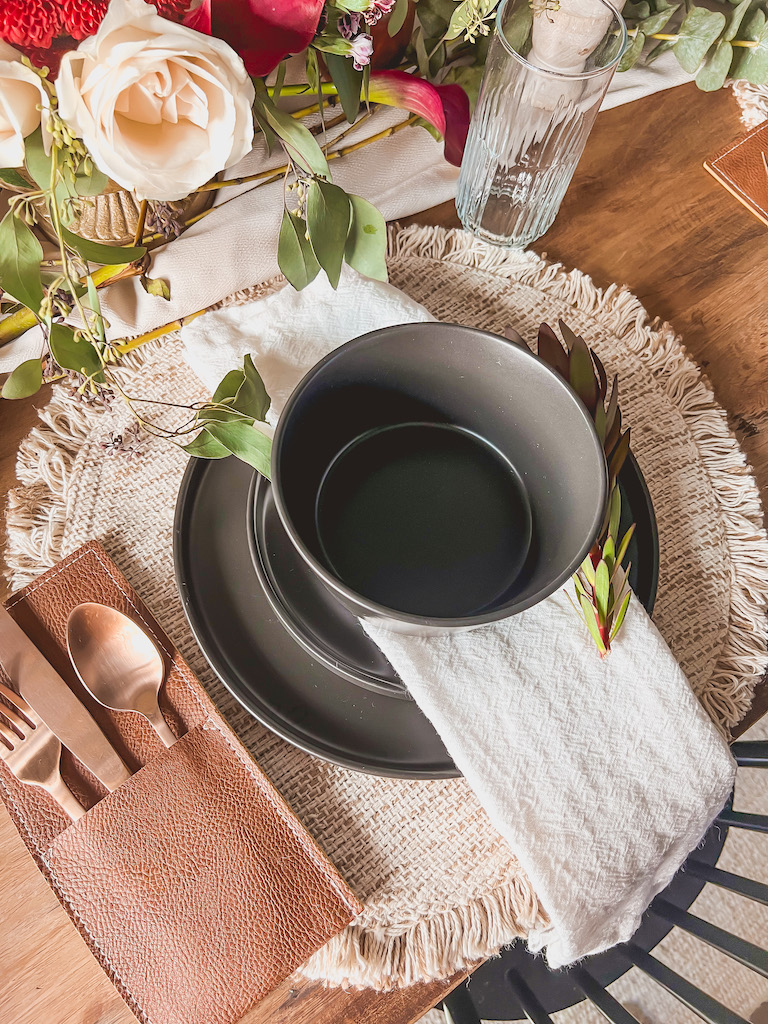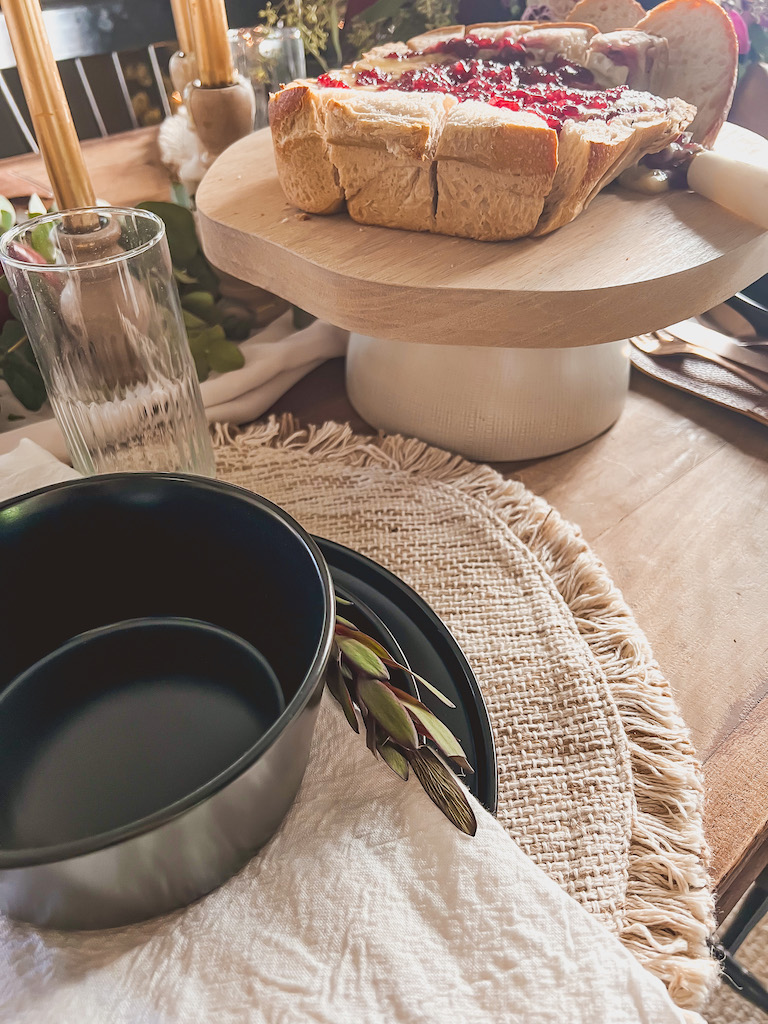 Flatware
I am obsessed with this rose-gold flatware set that looks even more amazing in person! Like the plates, it also has a modern matte finish and I love how the warm tones pop against the table backdrop. These also come in black and gold finishes, which are such a fun way to tie in a beautiful, unexpected touch to your place settings.
Speaking of unique touches, how amazing are these utensil holders for the flatware? The faux-leather finish is thick and durable I can clean them easily just by wiping off the outside. I love how chic they look on the fancy Thanksgiving tablescape, but these would also be great for a casual buffet so guests can just conveniently grab all of their flatware at once! In addition to these warm tones, they also come in black, which would go great with the gold flatware for a stylish New Year's Eve Party.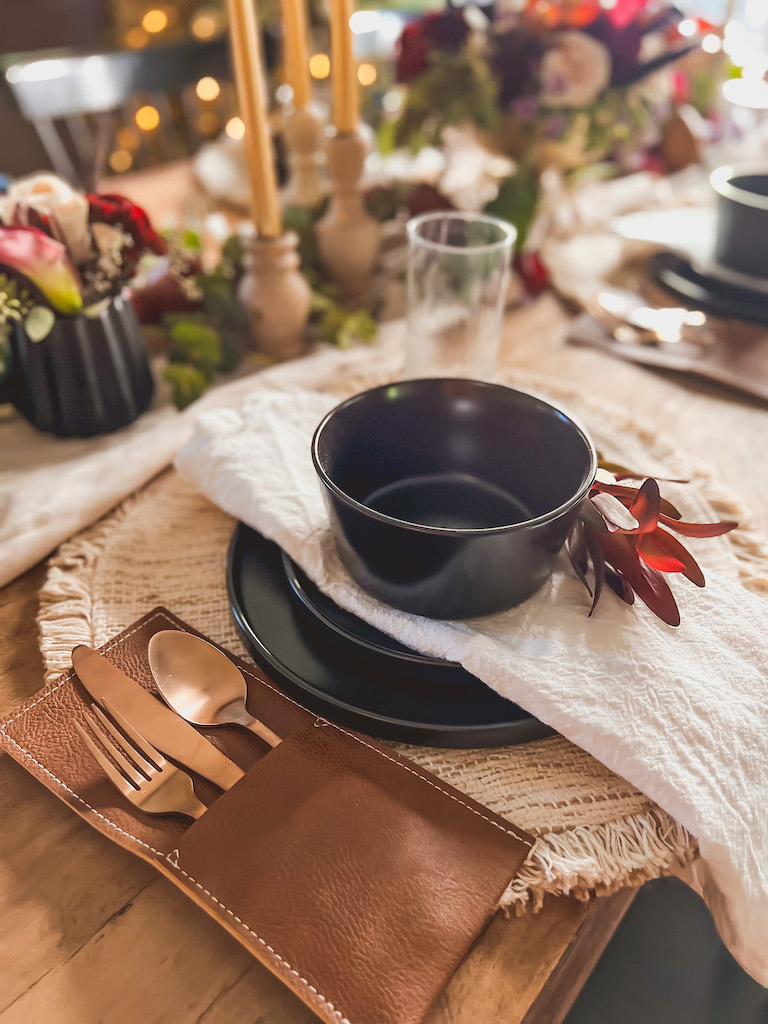 Glasses
These tall glasses were exactly what I was looking for as a staple I can use for any occasion. The fluted design on the bottom gives them a more refined touch, yet they are so durable and easy to clean. (The plates, flatware, and glasses are all dishwasher safe, which is music to my ears as a busy mom of three!)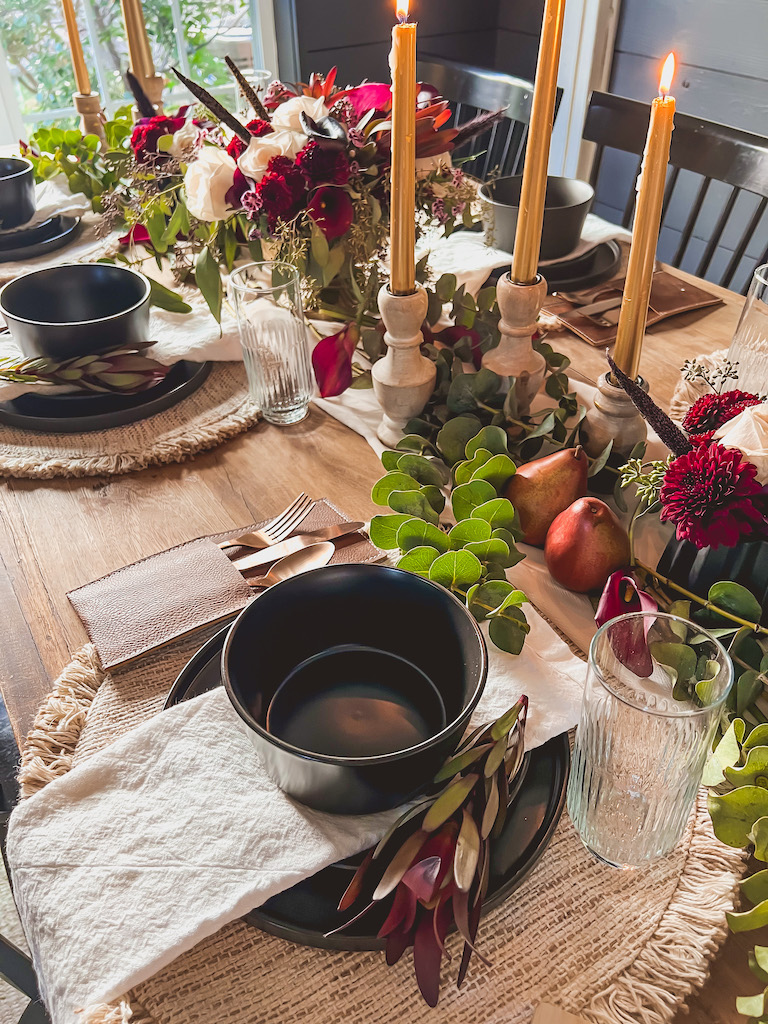 Thanksgiving Platters
Y'all know that I can never have enough serving boards, which I use almost daily! The shorter cut of this wooden serving board is perfect for smaller dishes and comes in a beautiful white-wash finish with so many distinct hues. Even better, the mango wood is eco-friendly and extremely durable. You can use wooden boards for so many things like charcuterie platters, main courses, fruit/veggie platters, cutting boards, or even décor in your kitchen like I do!
I also selected this matching cake stand, which is perfect for displaying pumpkin pie (or any other of your favorites!) I love how the edges aren't perfectly round, giving it a rustic, natural vibe. A super fun bonus is that you can turn this upside-down to create a second serving platter with an attached bowl! I'm already planning what dip I can put in the middle with my favorite chips and veggies. Yum!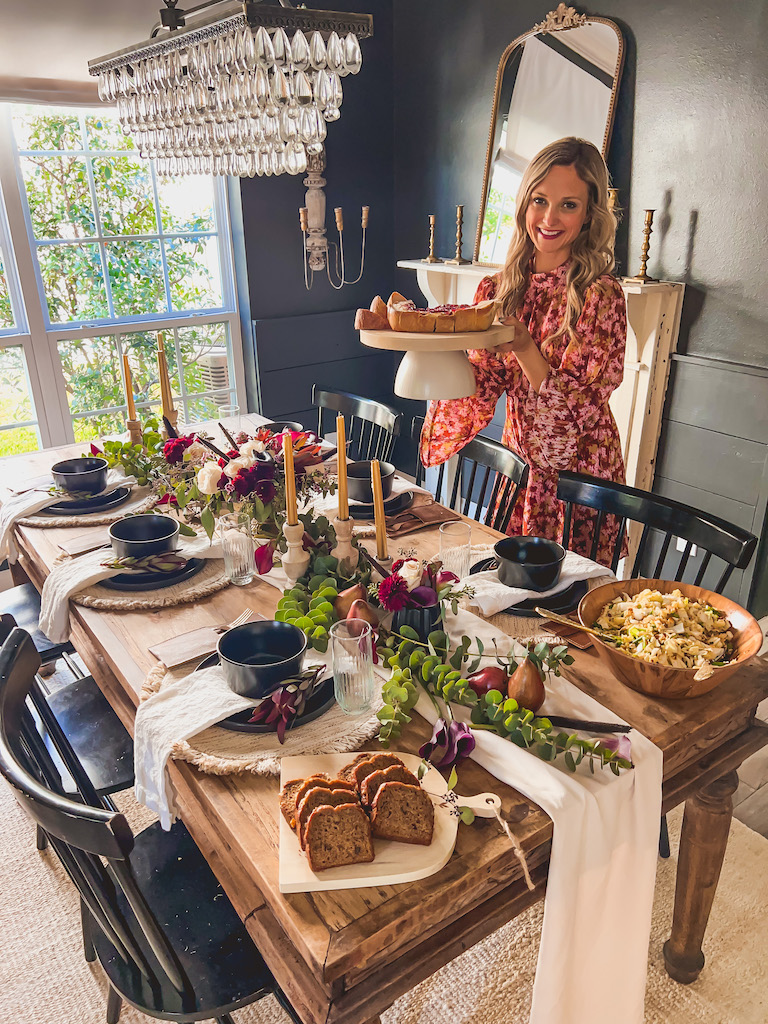 The rich wood tones from the platter and serving board are also echoed in this serving bowl, which is both functional and decorative for my simple Thanksgiving table. This is perfect for serving salad or fruit and I know I will get so much use out of it! I also can't wait to make my Grandma's famous cranberry fluff salad and this bowl is the perfect host for that special recipe.
Thanksgiving Table Decorating Tips
Once I had a clear picture of the place settings and serving platters, I could start planning the extra finishing touches to make the Thanksgiving table setting extra special. I started with a neutral table runner that I layered with greenery that I already had on-hand. Then, I added a larger floral centerpiece with deep cranberry and plum shades offset with cream roses, along with two smaller bouquets on each side. (I'd recommend multiple bouquets to fill up a larger table.) Finally, I accented the table with tall candles in wooden candlesticks to really tie in the cozy, rustic theme and incorporate some height for a bit of extra flair to the Thanksgiving tablescape.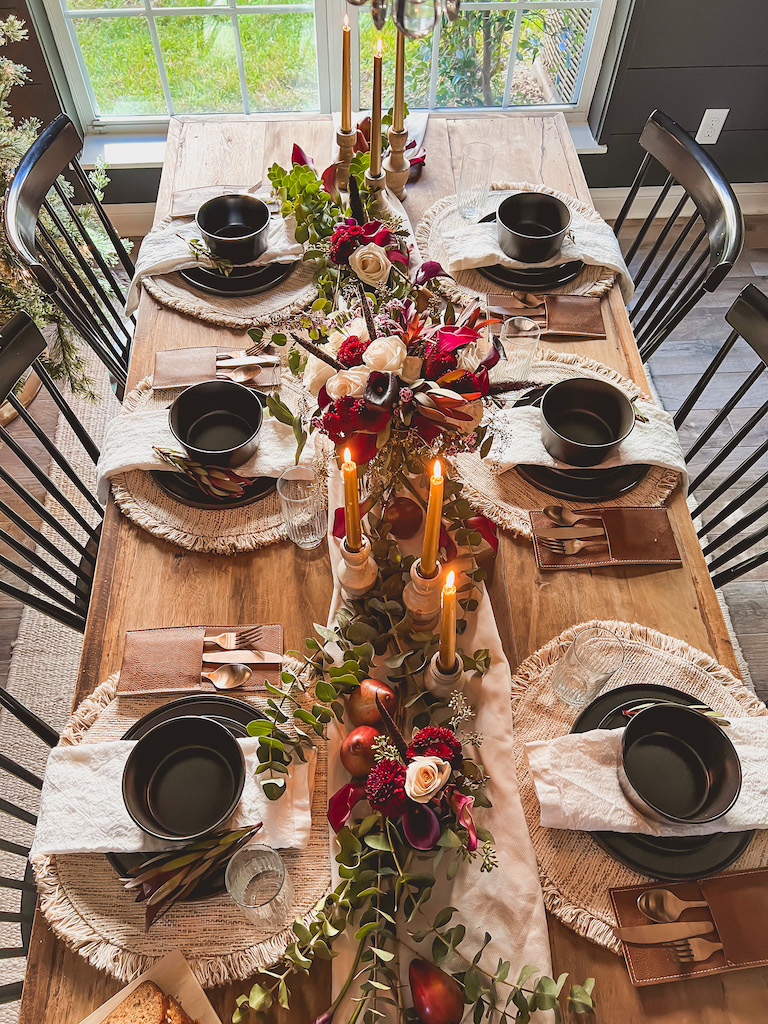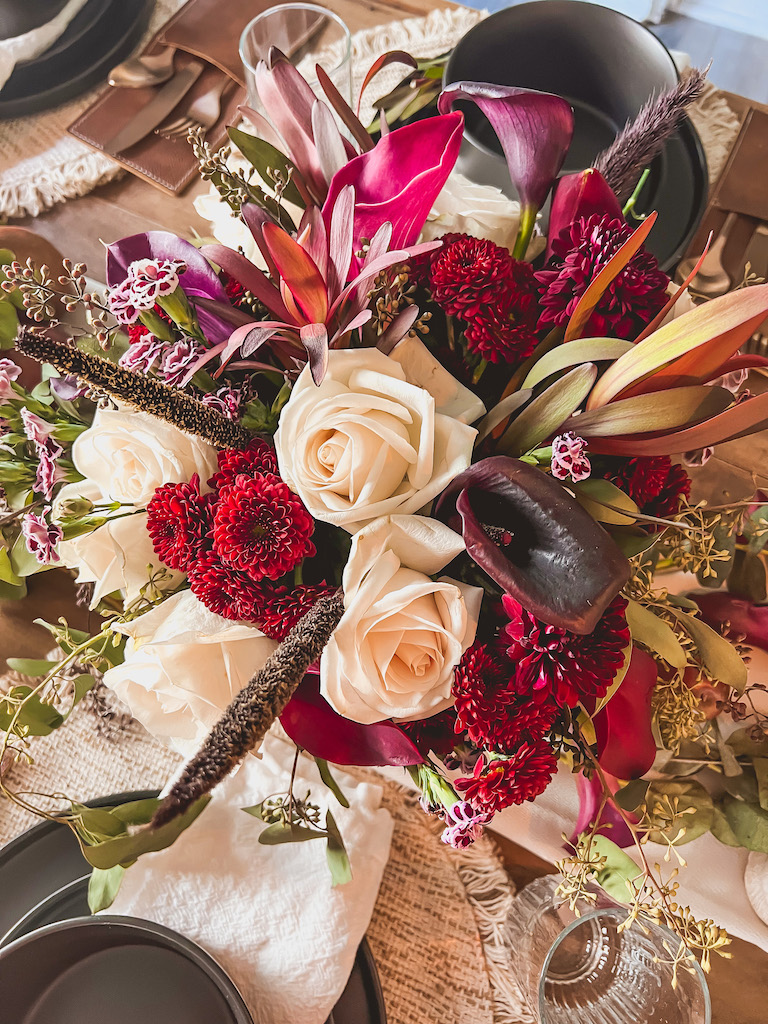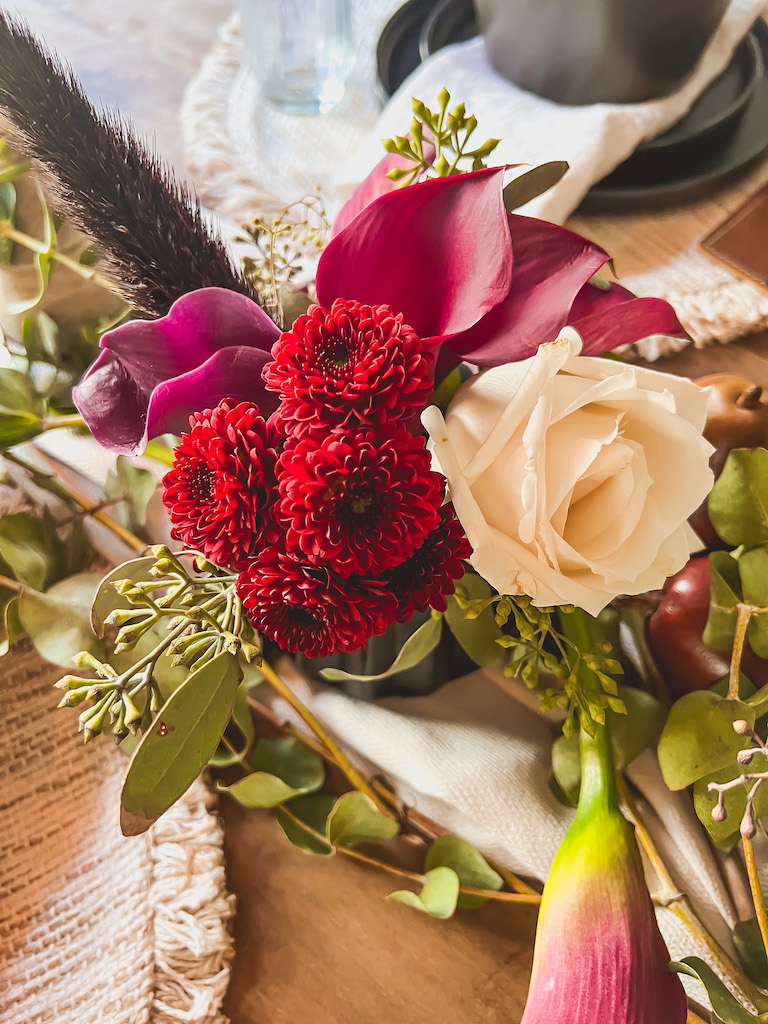 If you don't have candles or flowers, these adorable knit pumpkins would also be a great option for a pop of color. I use them throughout the fall around my house, in addition to my easy Thanksgiving table decor. It's so nice to have decorations that I know my kids can also play with and not worry about them breaking!
I also get a lot of questions and compliments about my black chairs, which I have had for years and have held up so well! They are such a nice touch to a wooden table without needing to worry about perfectly matching wood tones.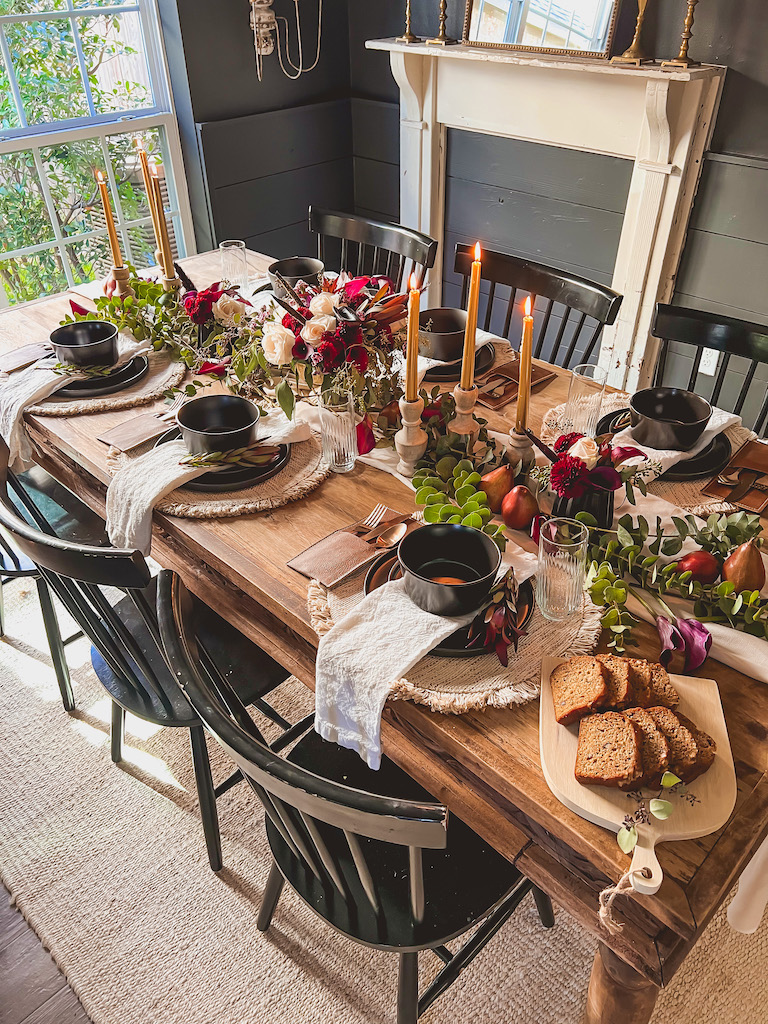 Creating this look was so much fun and I'm so happy to have these quality, versatile pieces from Walmart that I can use throughout the year. Click on the links to shop all of these finds and I hope you enjoy this simple Thanksgiving table decor as much as I loved putting it together!