Last Minute Halloween Appetizer: Jack-O-Lantern Pizza Dip
This easy Halloween appetizer was a hit and can be completed in just 30 minutes!
Who says that the kids get all the treats on Halloween? If you're looking for a fast and festive Halloween appetizer, this is my new favorite go-to recipe that is so simple and delicious!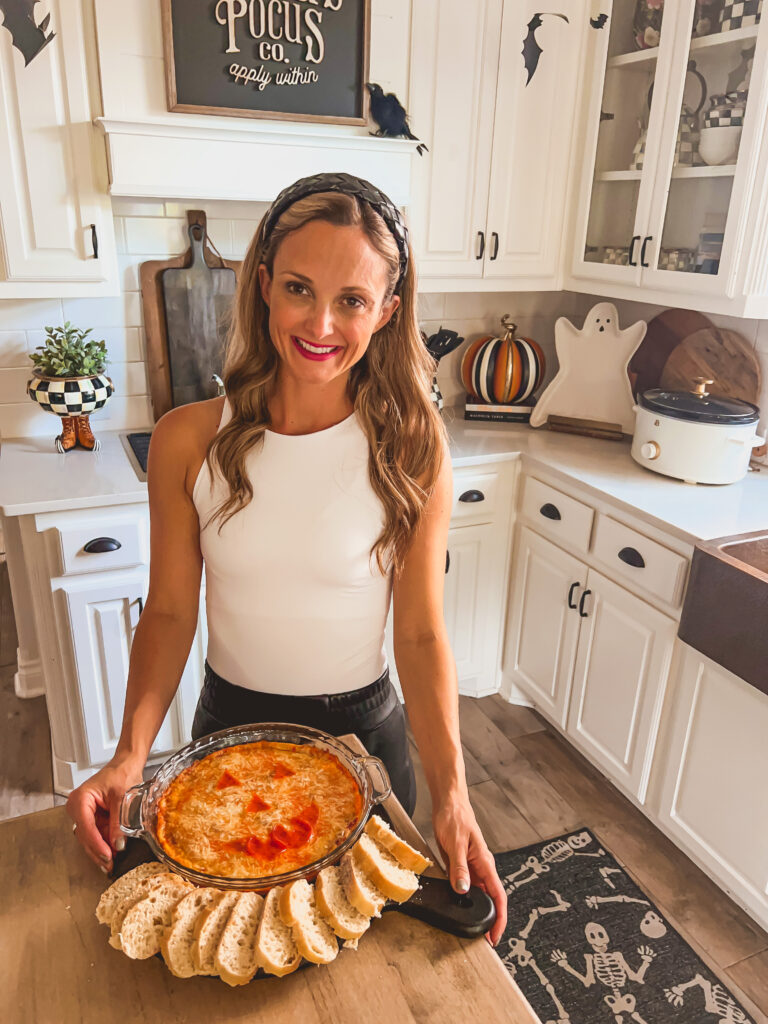 The Perfect App for Halloween and More
This is the perfect appetizer for both kids and adults to enjoy during the Halloween season, game days, and more! You can get creative with the arrangements of the pepperonis to spell out team names or make festive shapes for other holidays (like a turkey for Thanksgiving!)
For a vegetarian option, cook the dip without the pepperoni slices. Once cooled, you can create the Jack-O-Lantern face with peppers, cucumbers, or any of your favorite veggies!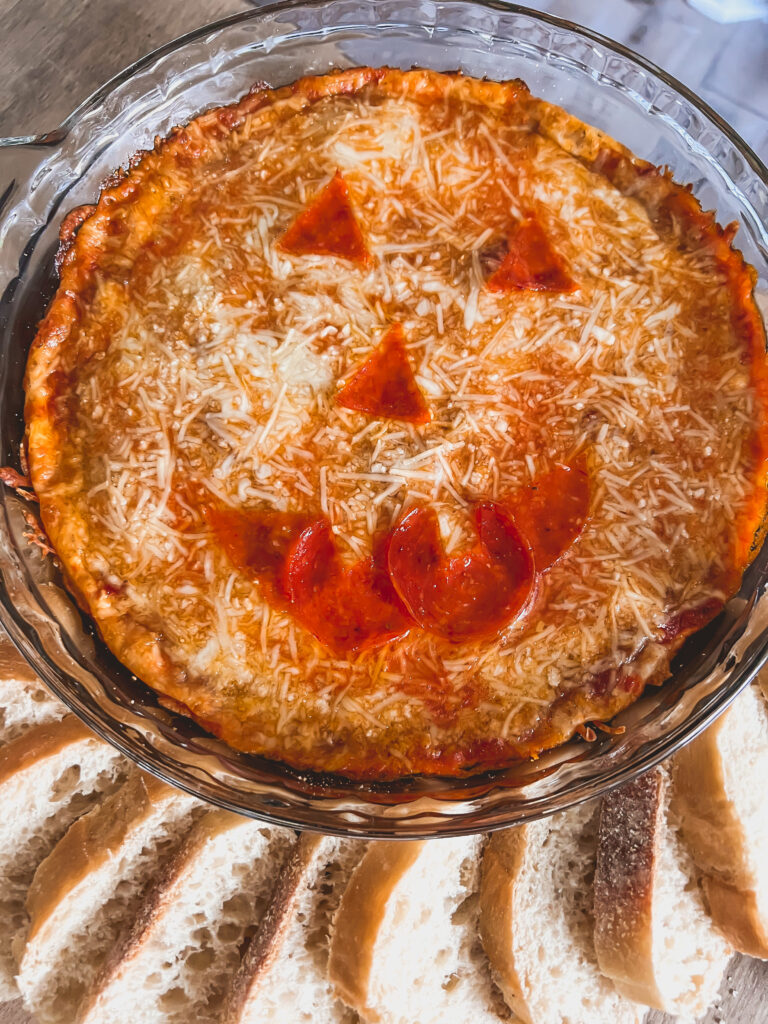 Steps
Here is how I created this cute appetizer!
Print
Quick Jack-O-Lantern Pizza Dip
This easy Halloween appetizer is always a hit and can be completed in 30 minutes!
Author:
Prep Time:

5-10 minutes

Cook Time:

20-25 minutes

Total Time:

41 minute

Category:

Appetizer

Method:

Back

Cuisine:

Pizza Dip
▢ 8 ounces cream cheese; softened
▢ 1/3 cup sour cream
▢ 1 teaspoon Italian seasoning
▢ ½ teaspoon garlic powder
▢ 2 cups mozzarella cheese; shredded
▢ ¼ cup parmesan cheese; grated
▢ 1 cup pizza sauce or marinara sauce
▢ 11-12 pepperoni slices
▢ pinch salt and pepper
▢ baguette slices, chips, or other preferred side for dipping
Instructions
Directions:
1. Preheat oven to 350 degrees F. Spray a 9-inch glass pie dish or baking dish with cooking spray.
2. In a medium bowl, mix together softened cream cheese, sour cream, Italian seasoning, garlic powder, and 1 cup of mozzarella cheese.
3. Using a spatula or butter knife, evenly spread the cream cheese mixture on the pie dish.
4. Evenly spread the pizza sauce on top of the cheese mixture. Sprinkle the remaining mozzarella cheese and parmesan cheese evenly on top.
5. Cut pepperonis into triangles for Jack-O'-lantern eyes and nose and desired shape for mouth. Add pepperonis to the top.
6. Bake for 20-25 minutes, or until cheese has melted and is bubbly.
7. Serve with baguette slices, chips, or any other preferred side.
Keywords: Easy Halloween Appetizer, Jack-O'-Lantern Pizza Dip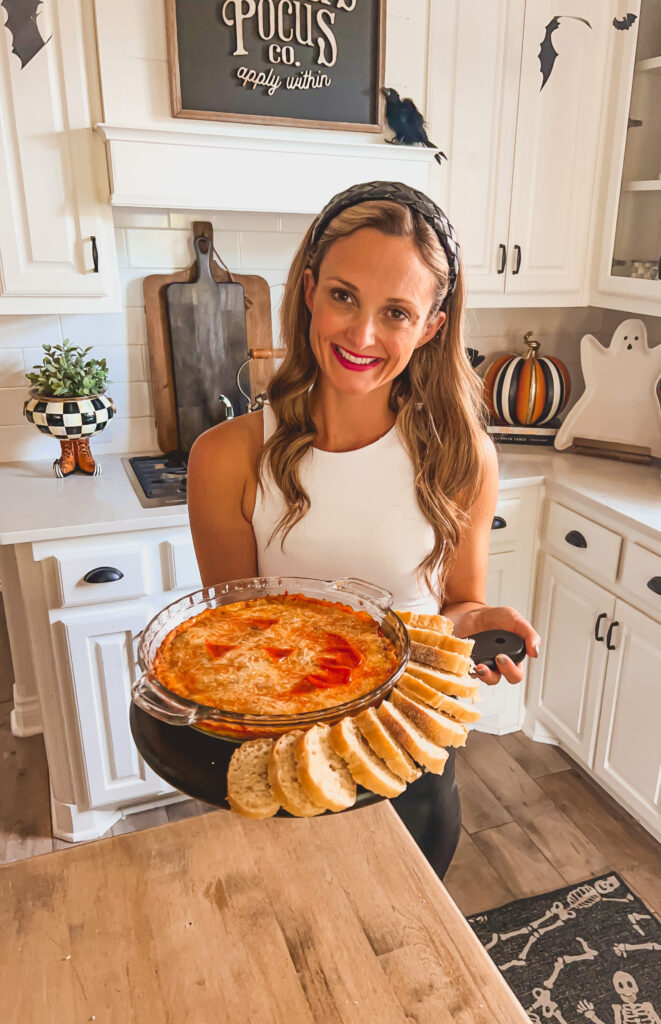 Presentation
Once the dip cooled, I placed the pan on a black circular serving tray and surrounded the dip with baguettes cut into small pieces. You can swap out the baguettes for chips, veggies, or any other dipping preference to put your own spin on this easy Halloween appetizer!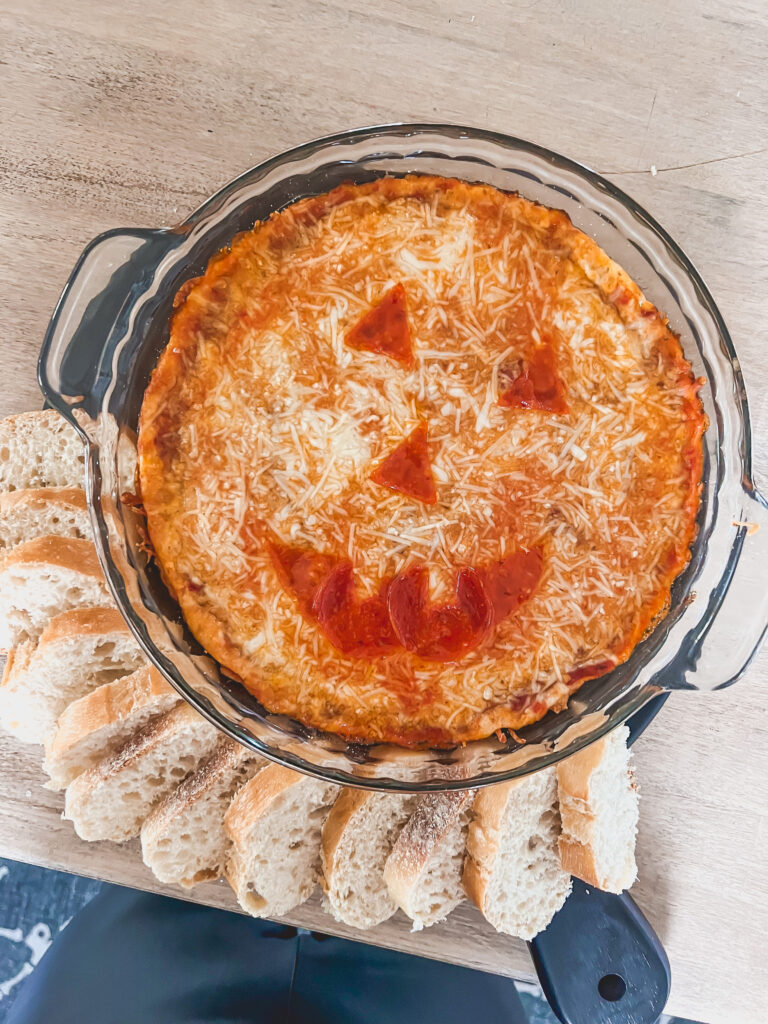 Inspiration for Kids
If you don't have a round 9-inch pan, you can also use an 8×8-inch square pan as another alternative. Speaking of a square pan, my kids and I just read the adorable book Spookely the Square Pumpkin about a pumpkin who feels left out because he is square instead of round. (It's also a short movie that you can find on most streaming channels!) Spookely ends up saving the day, like a Halloween version of Rudolph the Rednose Reindeer. We love the anti-bullying message and it inspired me to make this same Jack-O'Lantern face in a square pan next time we watch it to make our very own Spookely!
Storage
Any leftovers can be covered and stored in the fridge for about three days – although mine is always devoured well before that!
I think this Jack-O'-Lantern came out so cute and it just makes me smile! Is this easy Halloween appetizer as big of a hit in your house as it is in mine? Let me know in the comments and have a wonderful Halloween!