Sharing is caring!
No Bake Butterfinger® Cheesecake Cups are not only delicious but they are oh so easy to make! Layers of creamy cheesecake filling, chocolate, and Butterfinger Fun Size bars make for an irresistible treat!
This post is sponsored by Ferrero but all thoughts and opinions are of my own.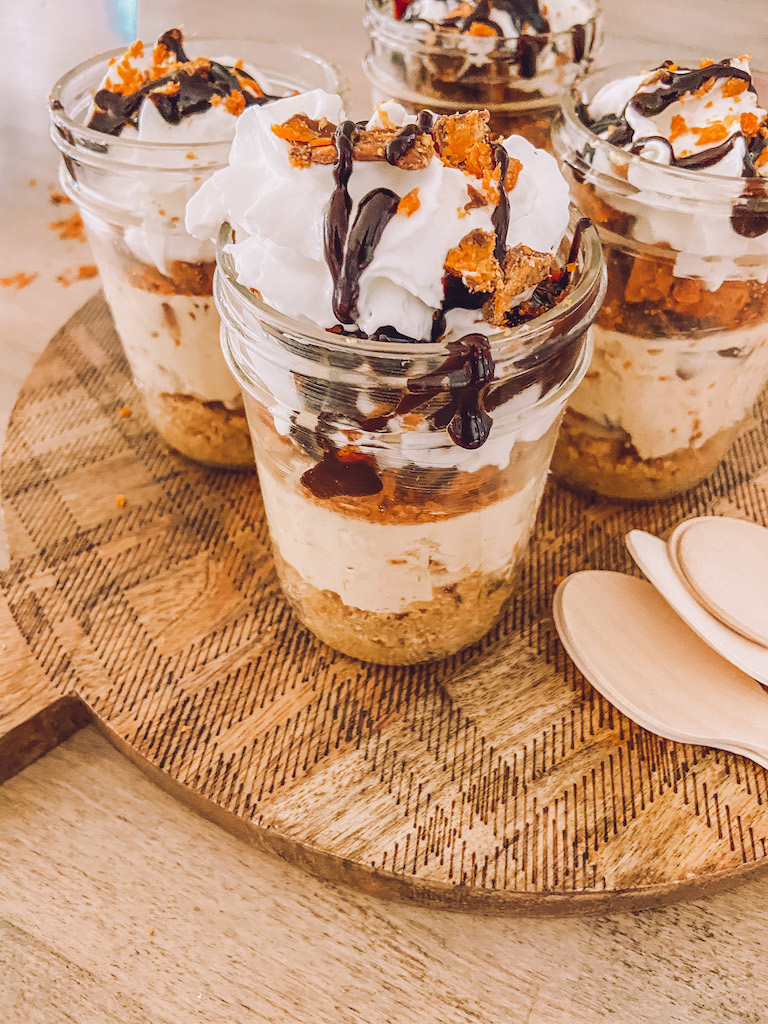 I cannot believe Summer is coming to an end. The last few months flew by and Halloween will be here before we know it. Did you know that Halloween is one of my favorite holidays? Maybe because I love to dress up or it might also be because I love CANDY! Did you have a favorite candy growing up? Or is there one candy you always sneak from your child's Halloween bucket? My favorite candy bar by far is Butterfinger. I love the crispety, crunchety peanut butter flavor. Today I am sharing a fun and easy dessert that you can make in under 20 minutes! These No Bake Butterfinger Cheesecake cups are such a hit in my house they never last long!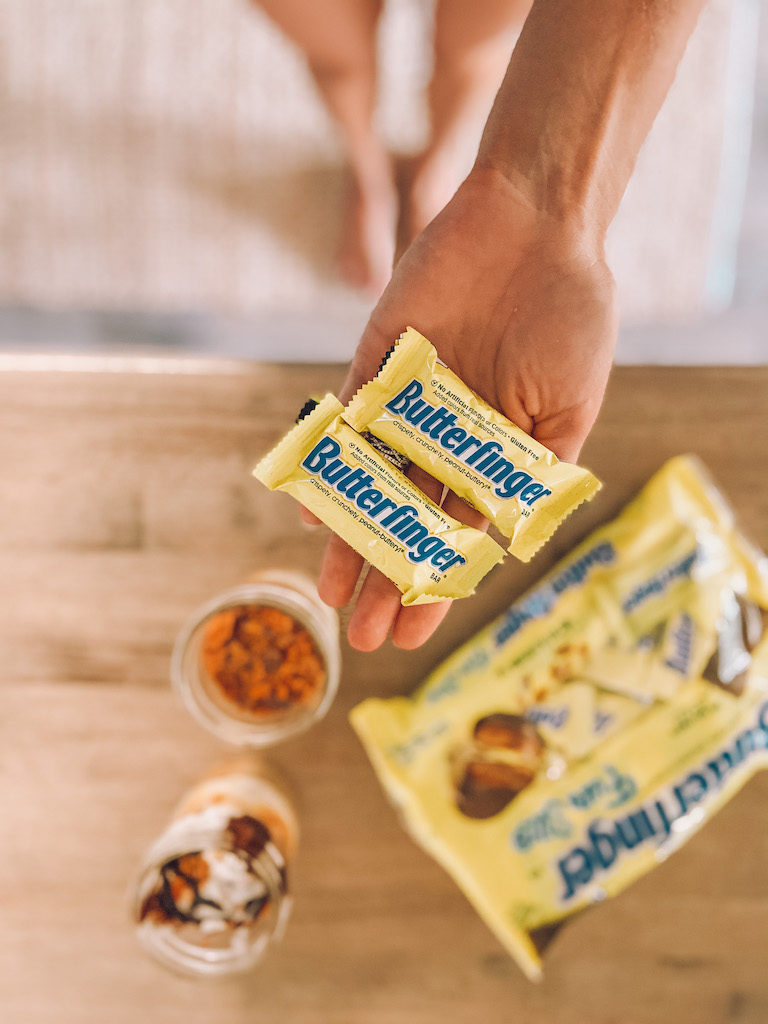 You can purchase Butterfinger Fun Size bars at your local CVS and get a coupon here to save $.75 on one Butterfinger® Fun Size or Mini Bag (10 oz. or larger)! I think they are just the perfect size!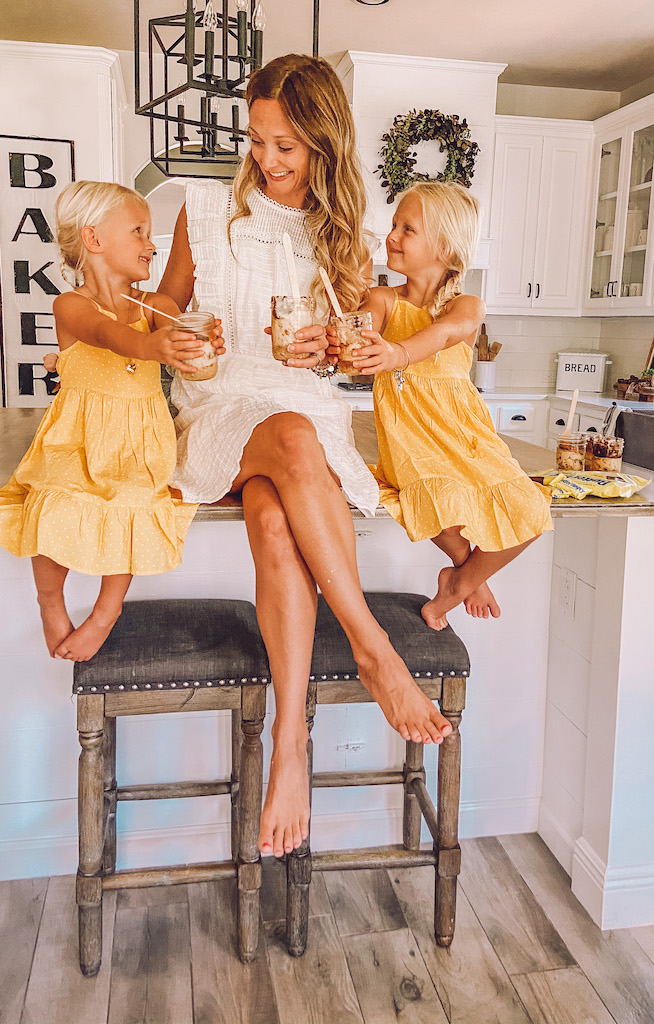 For this easy No Bake Butterfinger Cheesecake Cup recipe I am using the Butterfinger Fun Size bars.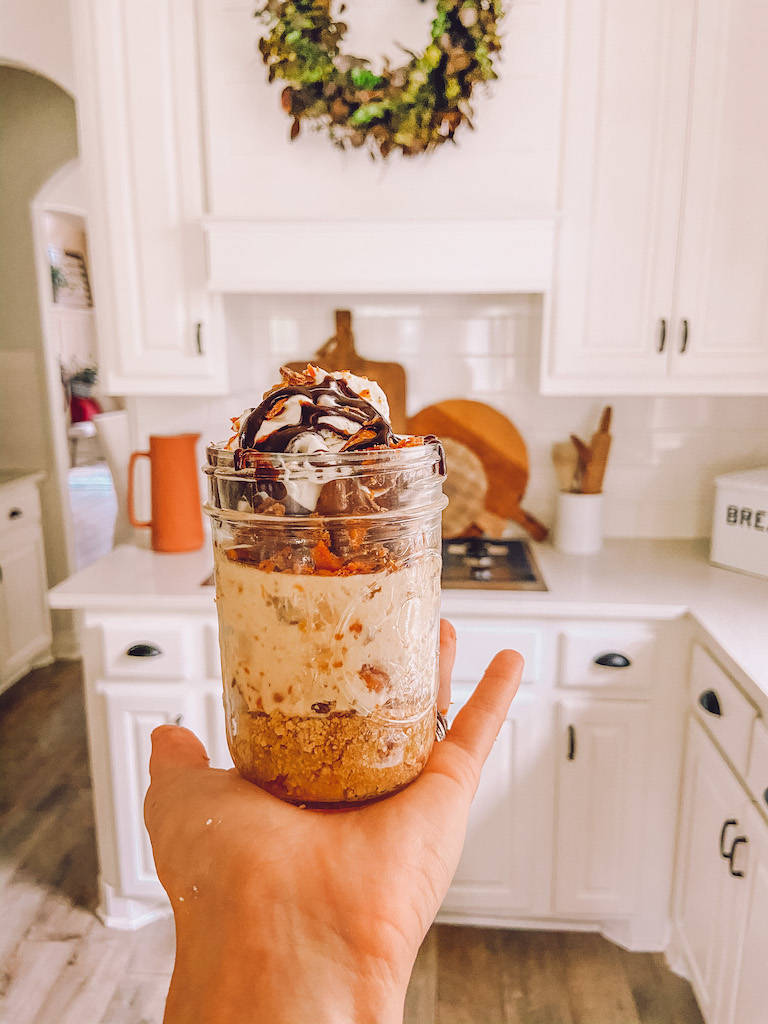 I love the individual servings in small mason jars! They are perfect for entertaining and just make these desserts look so much cuter! Mason Jars are also a great idea because you can easily put a lid on them and store them in the refrigerator for an easy summer treat.
How to Make No Bake Butterfinger Cheesecake Cups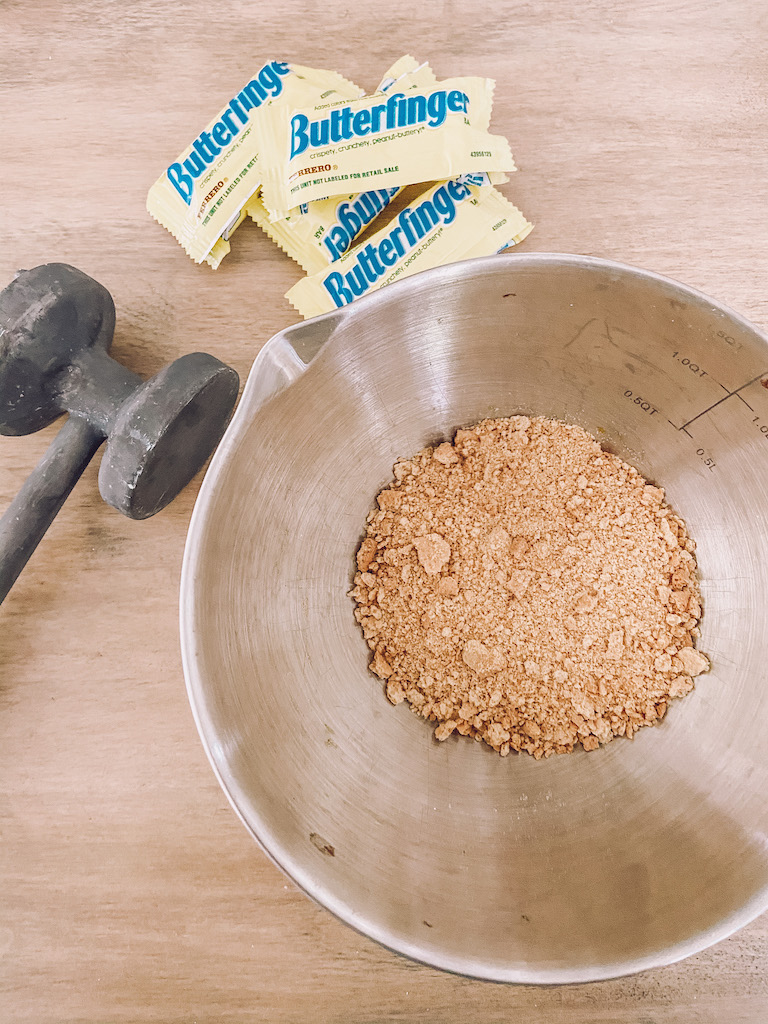 What you need to make No Bake Butterfinger Cheesecake cups:
Makes about 6 (6oz) individual serving cups
Crust
1 cup finely crushed graham crackers
2 teaspoons granulated sugar
3 tablespoons butter, melted
Pie Filling
8 ounces cream cheese, softened
2 tablespoons creamy peanut butter
1 cup powdered sugar
2 teaspoons vanilla
1 (10.2-ounce) bag Butterfinger Fun Size bars chopped
1 container 16 oz whipped cream
Chocolate Sauce (Optional Topping)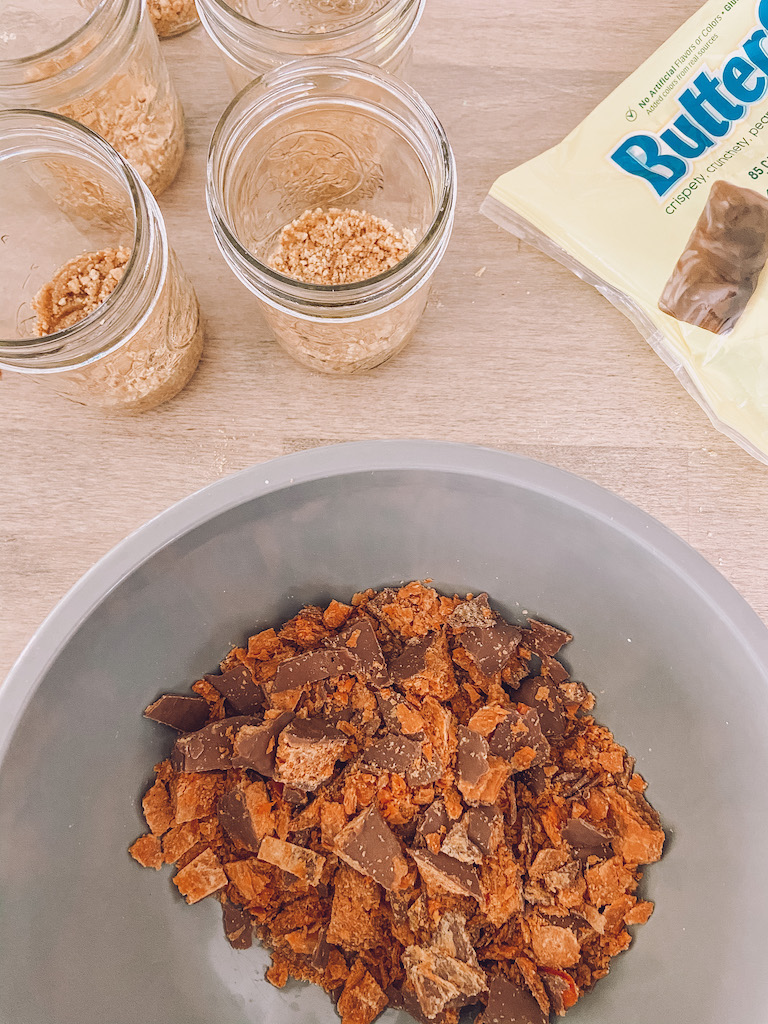 Directions to Make No Bake Butterfinger Cheesecake Cups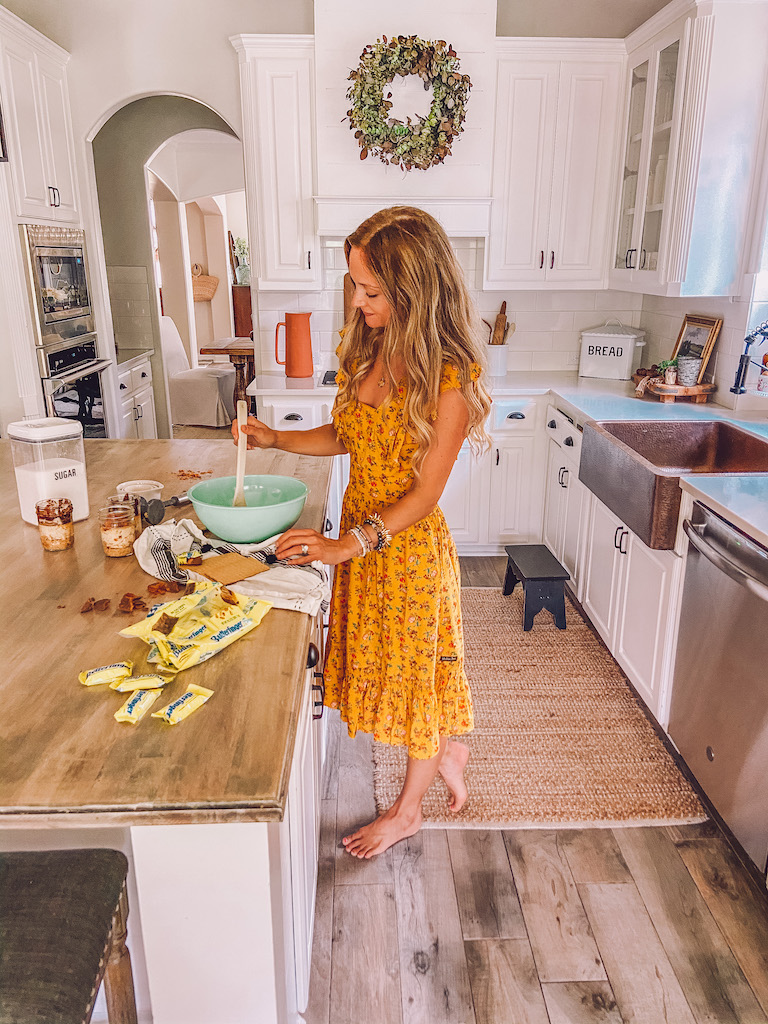 For the Crust
In a medium bowl, mix together crumbs, salt, sugar and melted butter until combined and crumbs are moistened.
Divide crumb mixture between individual serving jars. Press the mixture with your fingers or a small cup to form a crust layer. Set aside.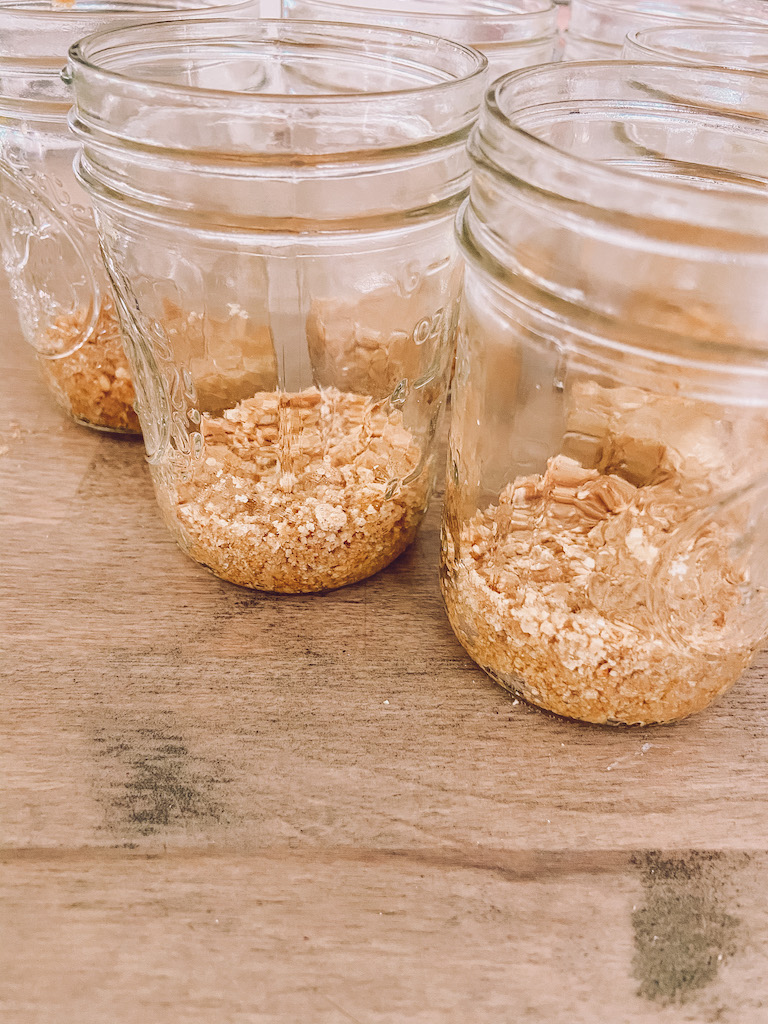 For the Filling
In the bowl of a stand mixer, combine the softened cream cheese and peanut butter and mix until smooth. Whip together the sugar and vanilla and continue mixing until combined.
Carefully fold in the chopped Butterfinger bars until combined.
Gently fold in half the container of the whipped cream into the cream cheese mixture. When this has been mixed thoroughly, add in the other half of the whipped cream.
Evenly spoon about ½ cup of filling into each individual mason jar or serving cup.
Sprinkle the remaining chopped Butterfinger bars onto the cream cheese in the cups.
Refrigerate the cups for at least one hour before serving.
Optional: Before serving, add whipped cream and chocolate sauce.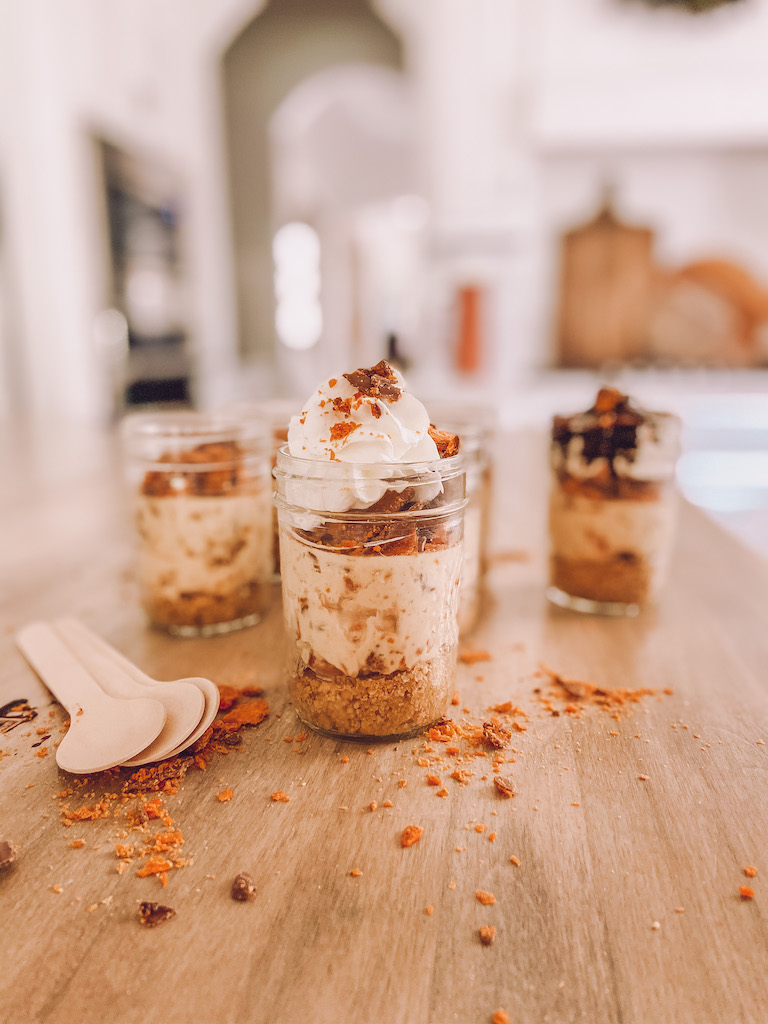 The girls LOVED these tasty desserts! I hope you do too!!
xoox,
Leanna