Sharing is caring!
How to transition your home from summer decor to fall decor in the kitchen. Sharing my top tips on how to style your fall kitchen decor.
I just have to say that I am so happy to have put out fall decor!!! I love all things about fall.. and yes I know its still 100 degrees here in Texas. But decorating my house for fall gives me all the feels, and frankly I need all the good vibes I can get! We have been staring at the same walls for months now…. being cooped up in the house thanks to COVID… and I was craving a change! So yes, I have all my pumpkins out and am ready for the weather to start cooperating!!
Today I am sharing the first room in my home that I decorated for fall, my kitchen. I love adding simple fall touches in the kitchen. I think I spent most of my time in this room, so it only makes sense to decorate it first.. am I right???
You can transition your kitchen from summer to fall with a few simple steps! My biggest tip is simple is better! Change up one or two things and you are good to go!
First start with a blank slate! Here was my kitchen before.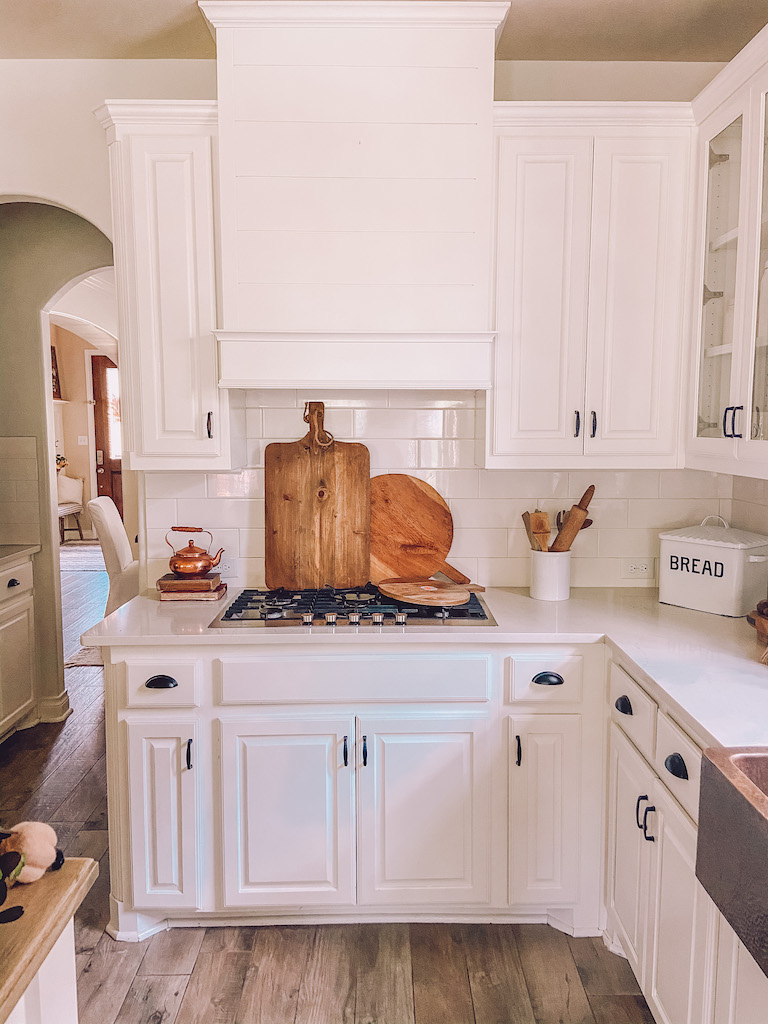 Fall Kitchen Decor
3 Easy Tips to Transition your Home for Fall
I am rounding up a few of my top tips to help you transition your home decor from summer to fall. All these tips can be applied to any room of your home!
Wreath and Stems
Change out your wreaths and stems for fall colors. I have to admit, I have a big collection of wreaths and stems and use them each season. I keep my wreaths hung in my attic, and rotate them through out the year.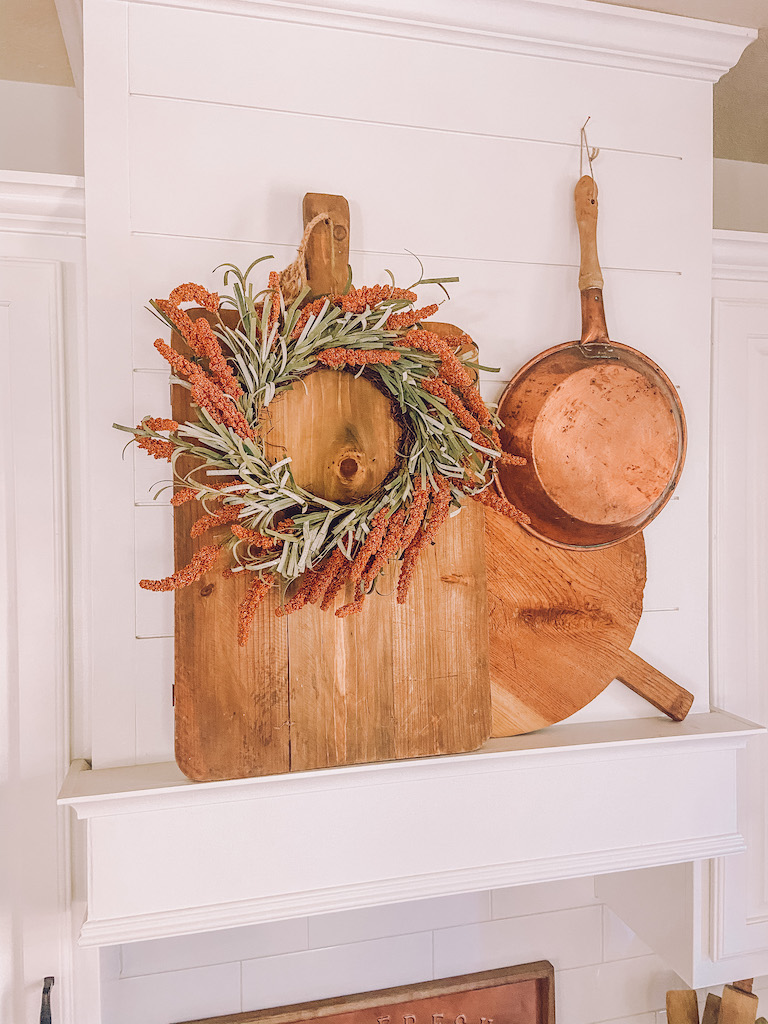 You can add fall wreaths in your kitchen in a variety of ways.
You an add wreaths to:
The range hood
Kitchen Windows
Behind kitchen chairs
I added a small fall wreath to a large cutting board and placed it on top of my range hood. This small wreath comes with a small hook so you can place it on the back of a chair as well!
I linked this wreath as well as other fall wreaths at the bottom of this post.
To add more fall touches to your home, change out your summer stems to fall stems. Change out stems or add fall stems to vases, jugs or jars in your kitchen.
I added fall stems to this little copper kettle that I found at a vintage store.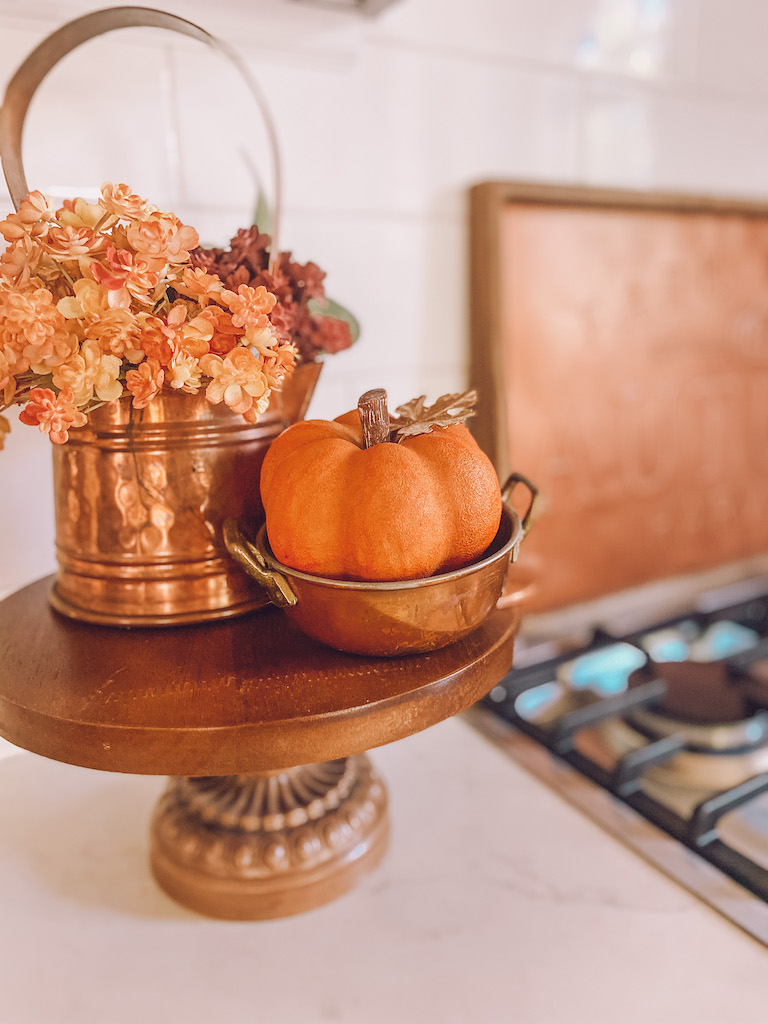 For my kitchen island, I added fall stems to a clay vase.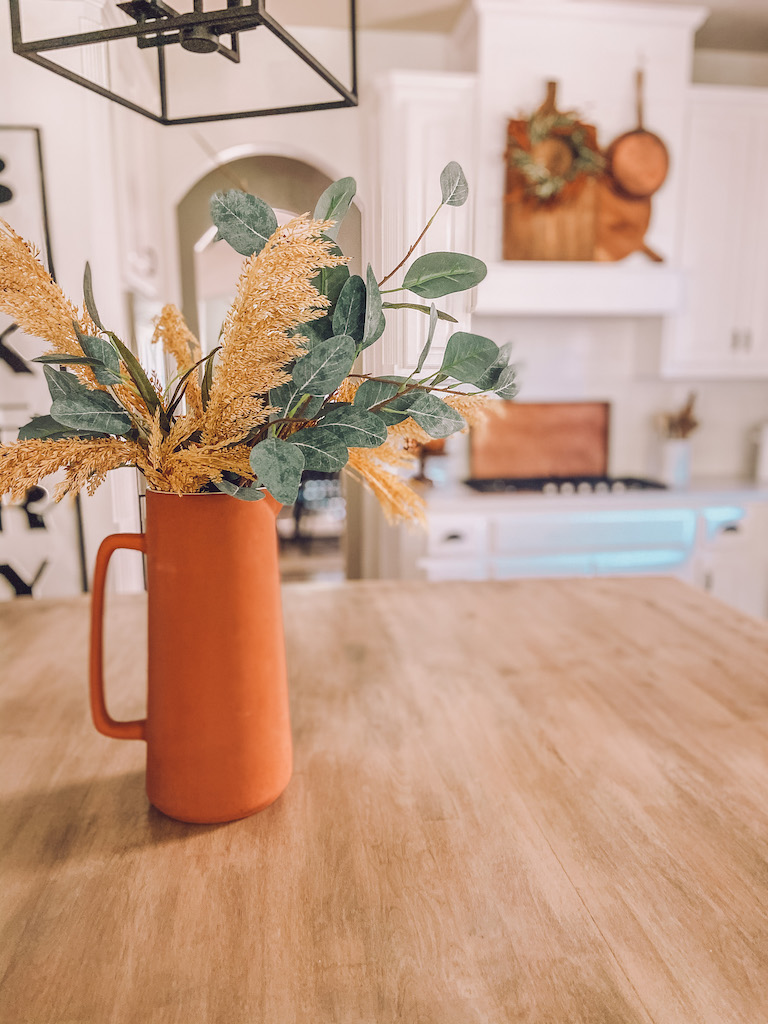 Textiles for Fall Kitchen Decor
Textiles can be changed in your kitchen as well as the rest of your home. To change the textiles in your kitchen for fall, you can change out your kitchen runner. Use runners or small area rugs with texture and fall tones. I always have a small jute area rug, and I layered a rug on top to bring in fall colors.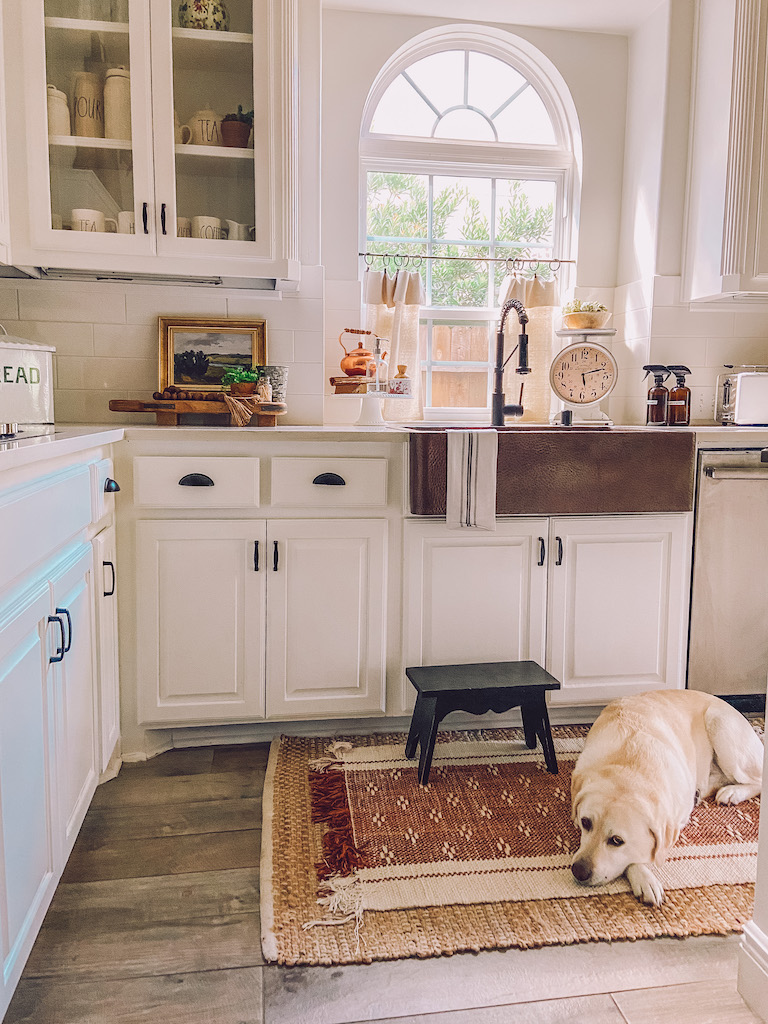 Wall Decor
Wall decor doesn't usually sound like something you would have in a kitchen but I you can add small fall wall decor to bring in simple fall touches. A great place to add wall decor to your kitchen is under your range hood. Use command strips to add wall decor to your backsplash. You can also lean wall decor along the wall, but make sure to move it when using your stove top!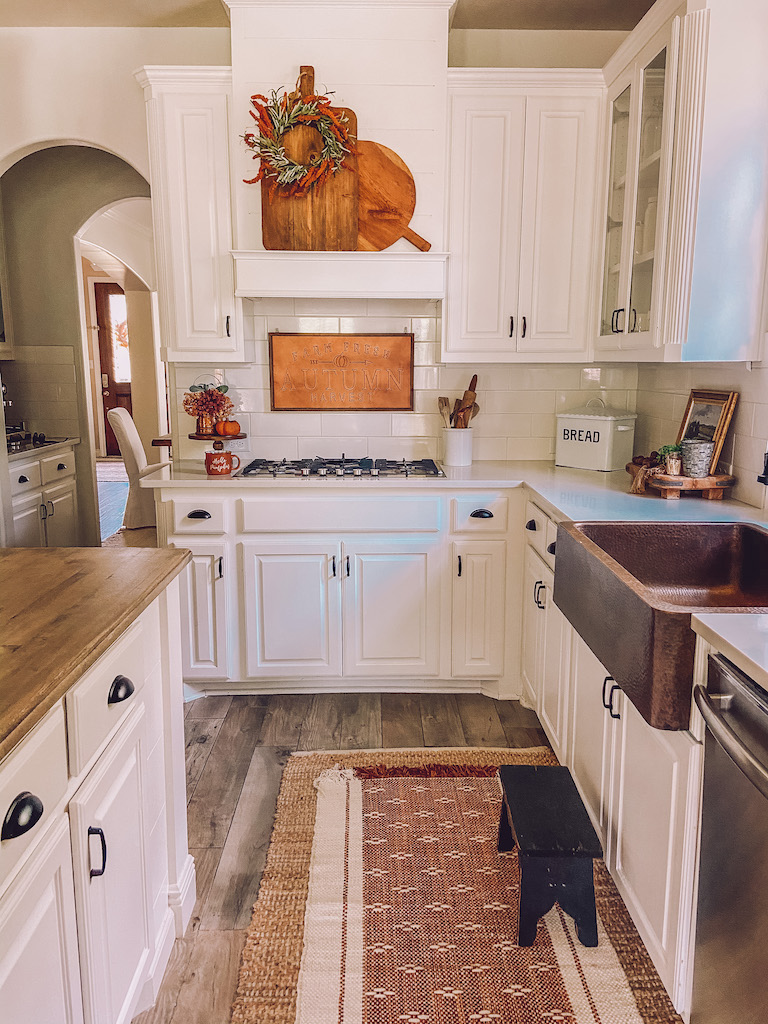 I linked a few of my favorite Kirklands fall products for your shopping convenience below!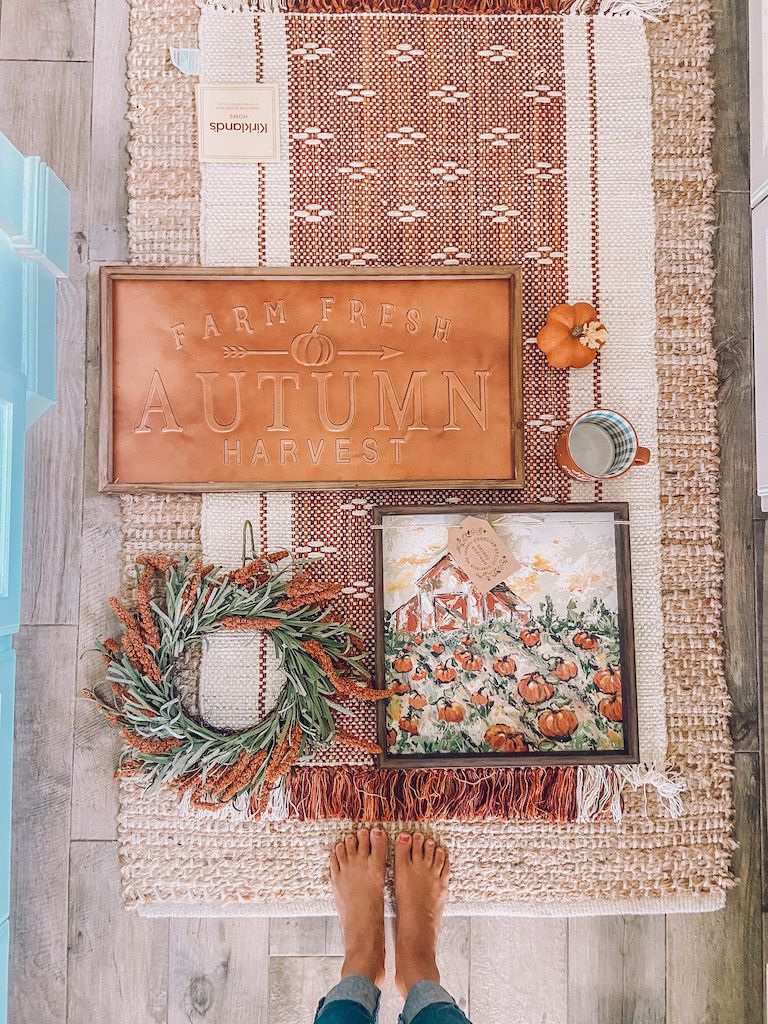 Over the next few weeks I will be sharing the rest of my home decorated for fall. You can see previous years fall decor on these posts below:
Simple Fall Decor Ideas for Your Home
DIY Fall Garland with Dried Oranges
Happy Decorating!
xoxo,
Leanna