How to create an outdoor summer tablescape
Hey loves! If you are coming over from Selah Pines Farmhouse , welcome! I am so glad you are here! Today, I teamed up with a few of my favorite bloggers today to show y'all how to create an outdoor summer tablescape.
I had so much fun planning and designing this outdoor tablescape for a summer party last week. There is something about twinkle lights and peonies that gives me all the feels!
A few friends came over and we enjoyed toasting and soaking in the summer night. I'll be posting all the details on how to host a summer outdoor party in the next few weeks but I could't wait to give you a sneak peek of how the tablescape came out!
I knew I wanted to create something under these beautiful trees that have recently blossomed gorgeous pink flowers.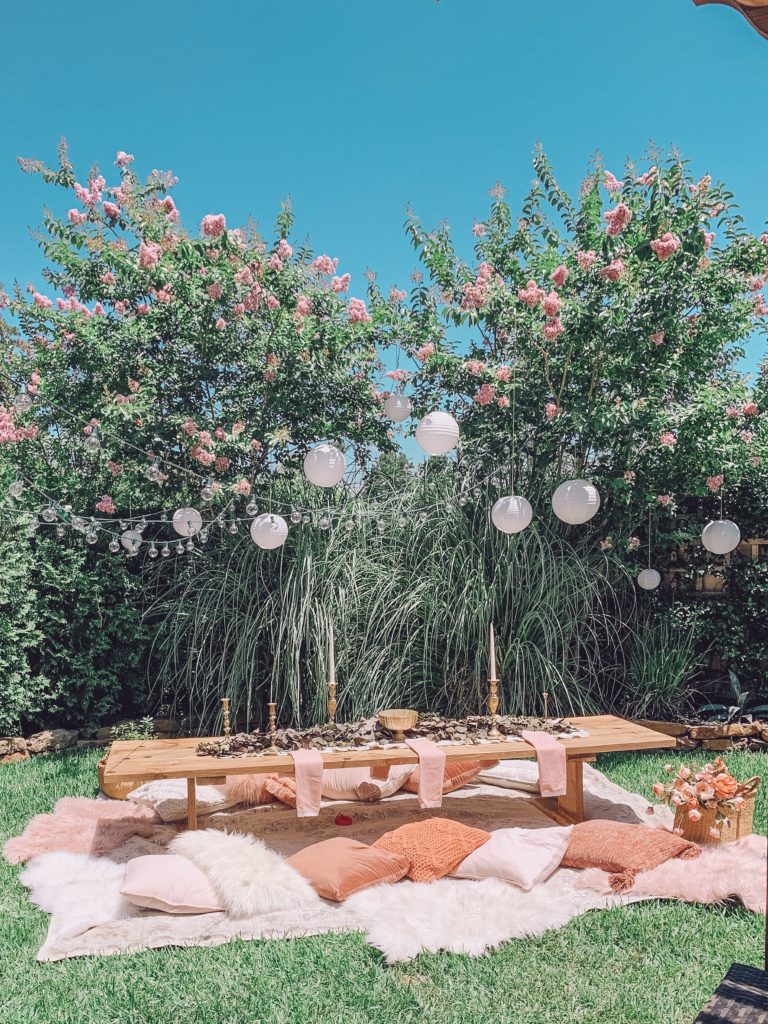 Hang Paper Lanterns
First, I hung white paper lanterns from Amazon from the tree branches using string. I made sure to hang them at various lengths to create depth and dimension.
Use String Lights
Next, I strung a few string lights that I found at my local target to give some extra light when the sun went down. String lights are my favorite in the summer. They create the perfect lighting and are a great addition to any backyard space.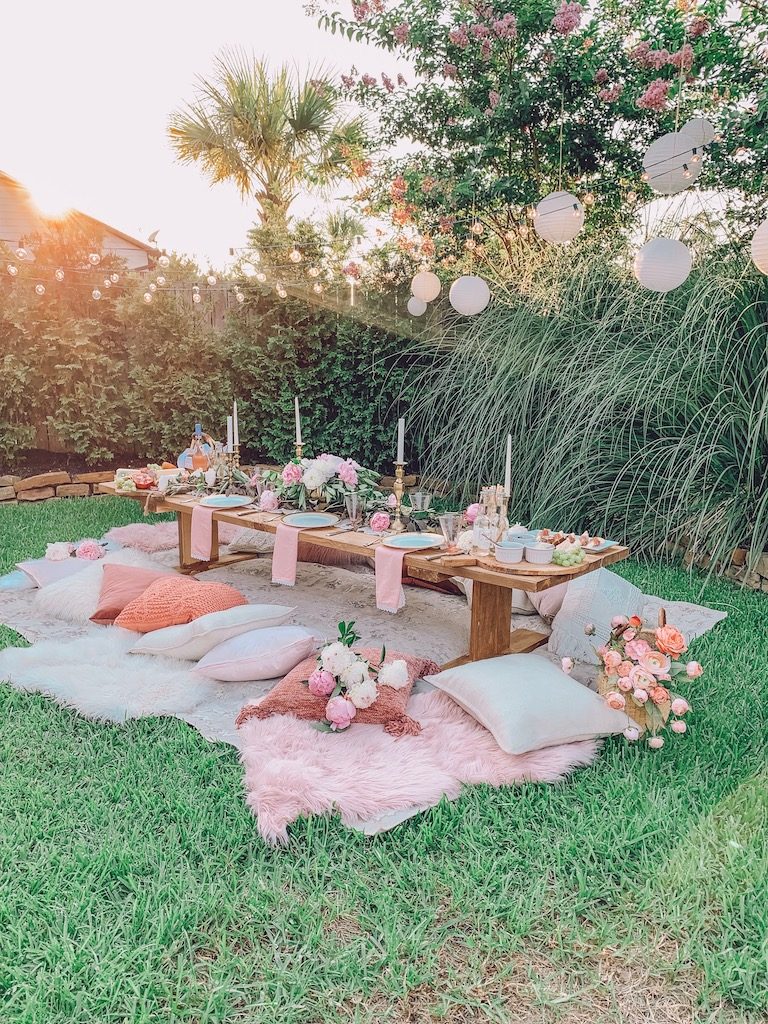 Set the Table
With the help of my hubby, I built this long wood table that was low enough to sit on pretty pillows. I'll have the tutorial to the wood table on an upcoming blog post. I set it on top of a rug from Home Dynamix and surrounded the table with pink and white pillows that I gathered from around my home.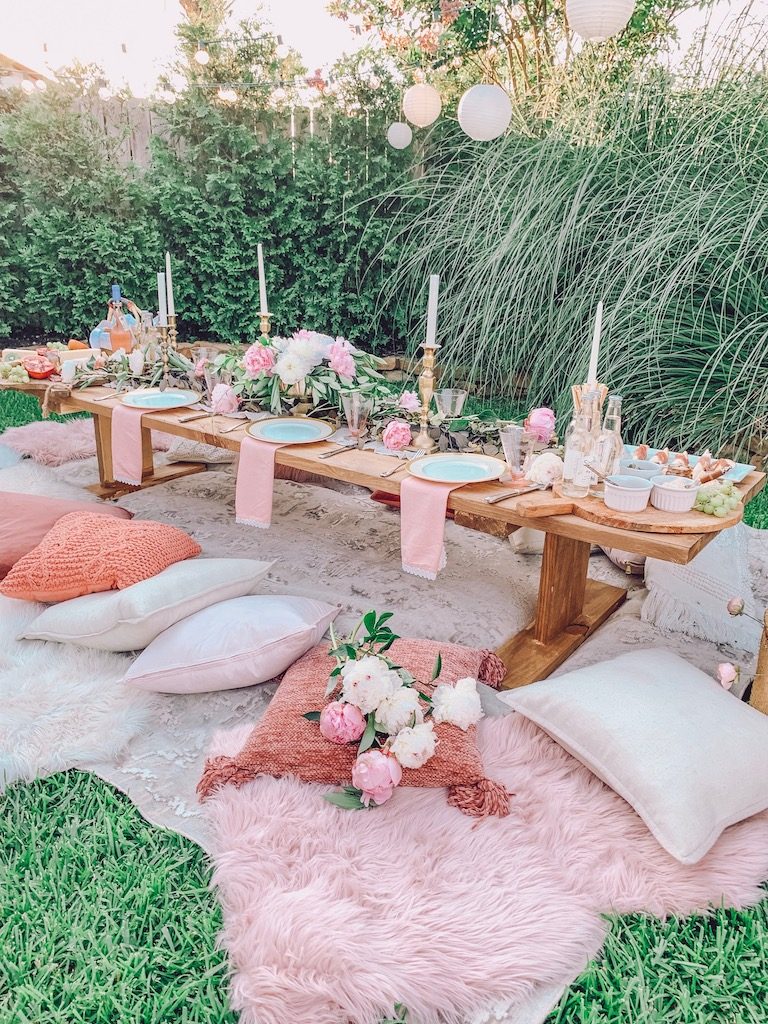 To add some color to the outdoor table, I set the table with a long dried eucalyptus garland and then added fresh peonies I picked up from Trader Joes. Peony season is my favorite but you could add in any of your favorite flower! Roses and hydrangeas are another great option!
I then scattered a few faux fur rugs around the table to add more texture.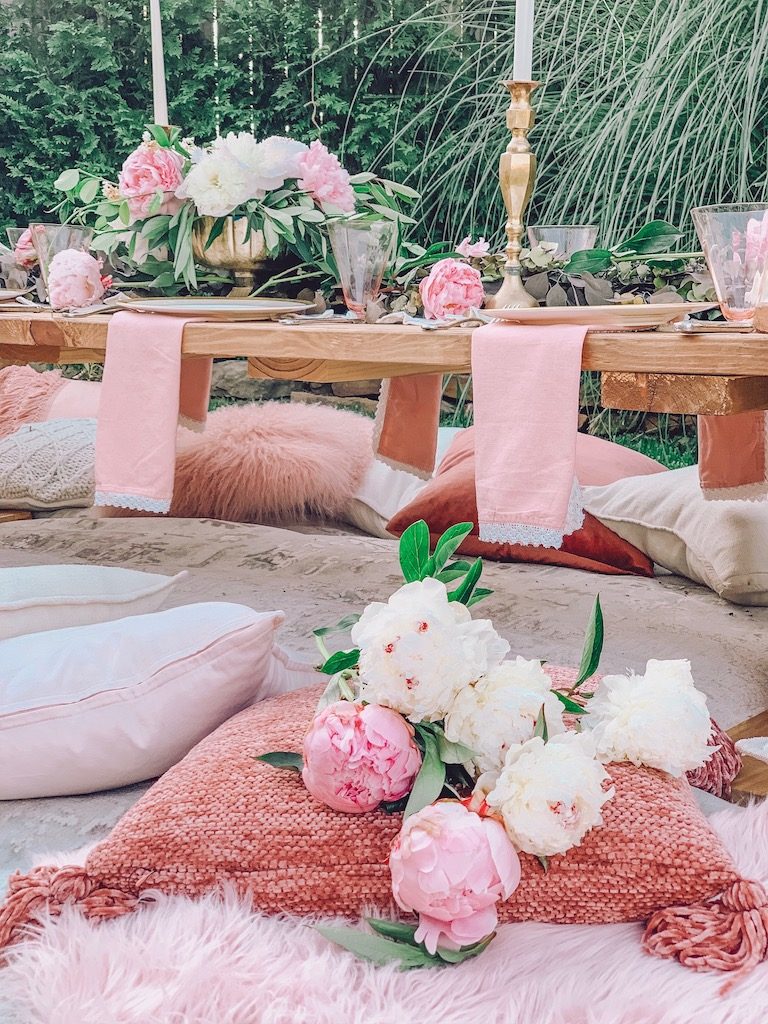 Next, I added antique gold candles I found at a local antique store. Candles are one of my favorite things to add to any table. They always create a magical touch. However, I completely forgot to light them once the sun went down!
I used cloth pink napkins with lace trim and folded them under the plates. Then, I draped the napkins off the table for a romantic feel.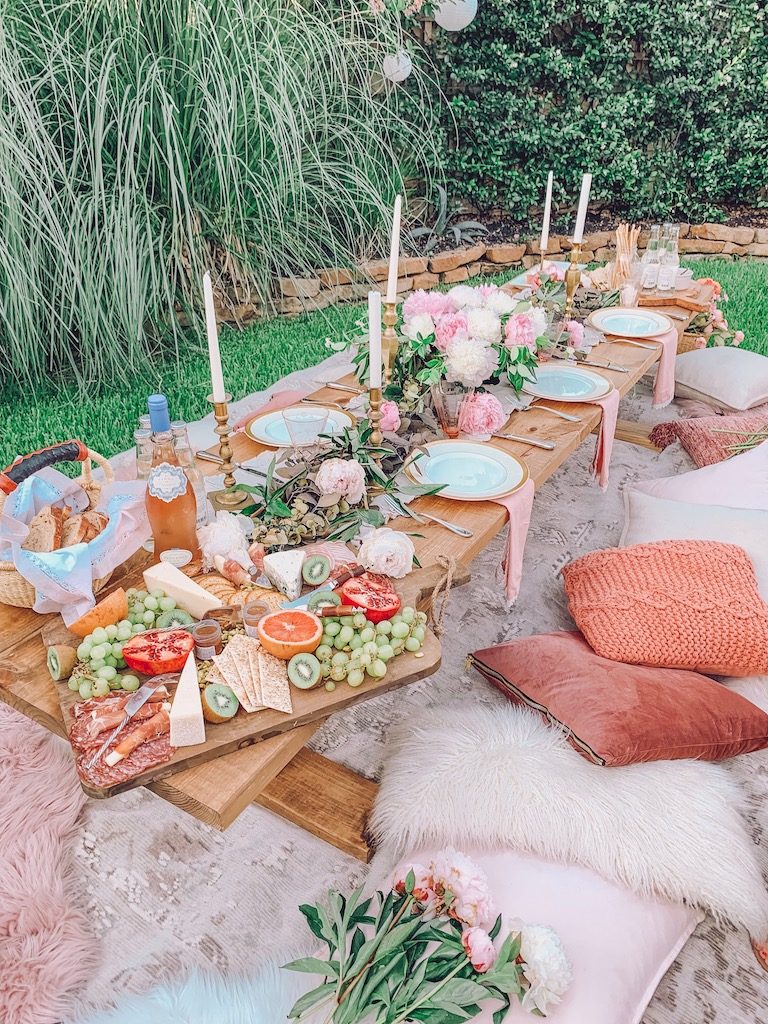 The place settings that I used are antique white plates rimmed in gold. One of my favorite things to do when setting a table is to mix old pieces with new. The best places to find gorgeous antique items are at local estate sales, Facebook market place, and even Goodwill!
Food and Drinks
You can't forget the food and wine! A beautiful charcuterie board decorated with grapefruit, pomegranate and kiwis paired with rose wine was the finishing touch.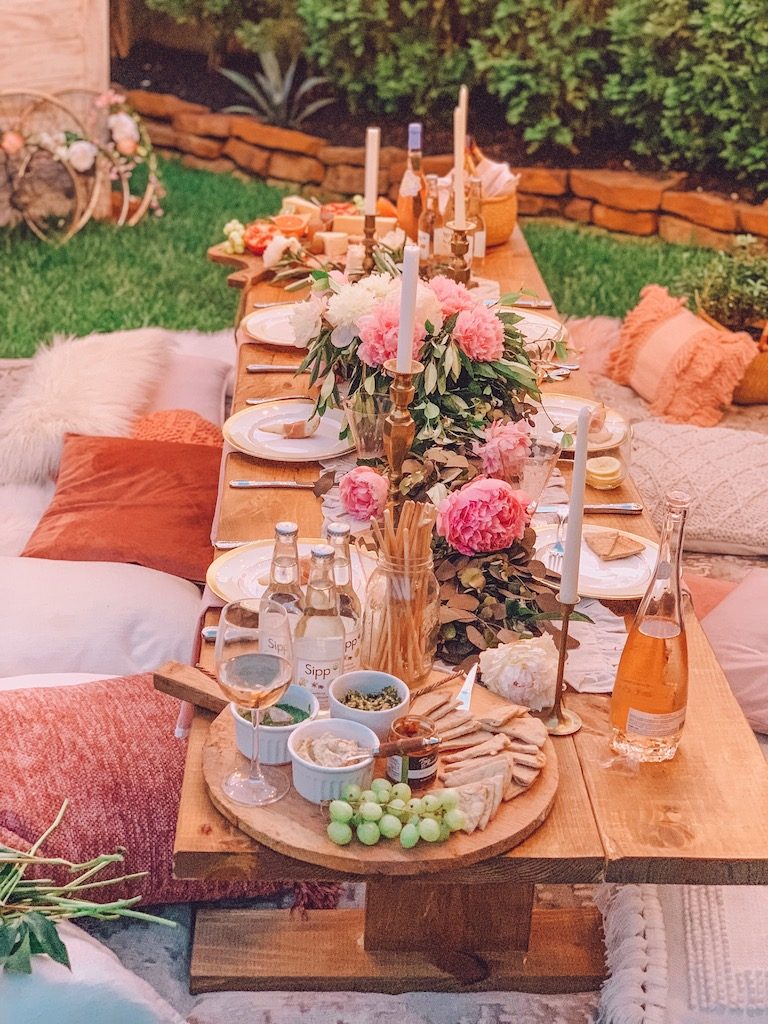 When the sun was setting, the lighting was magical!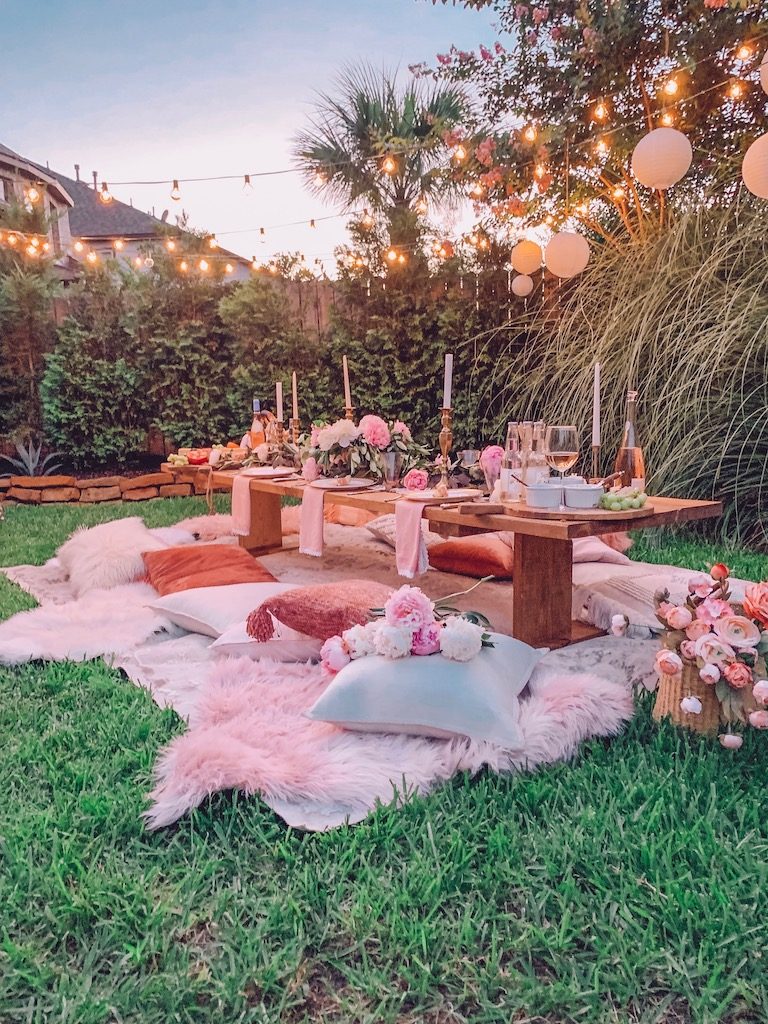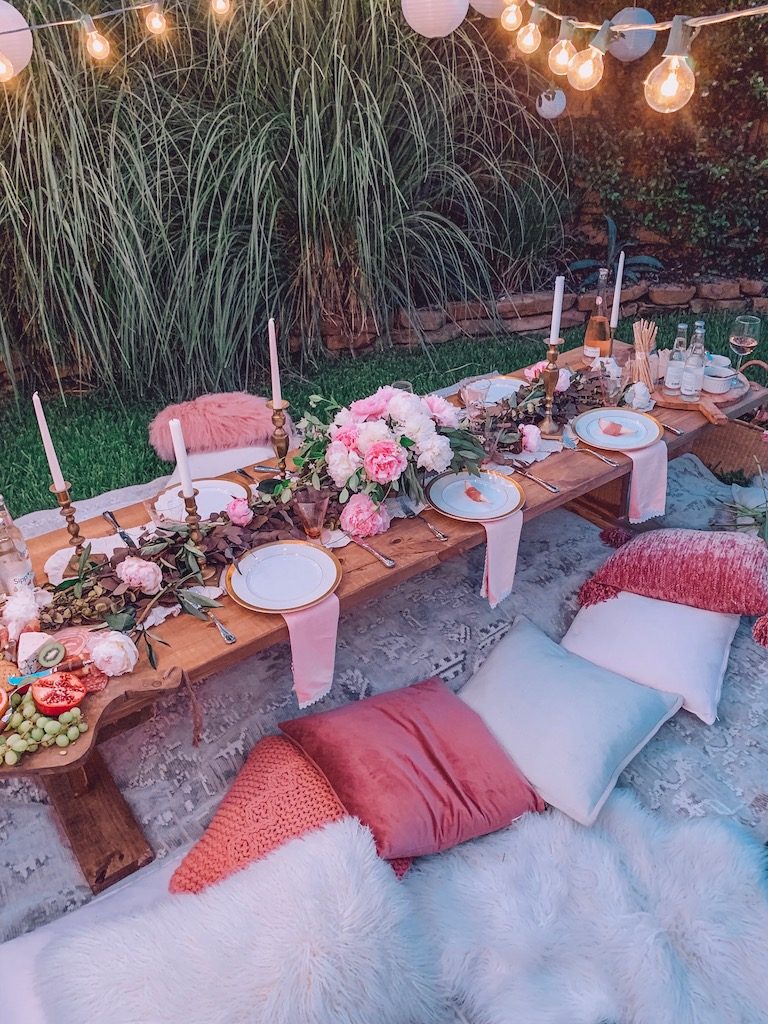 The night was purely magic and I am so in love with how it all turned out. I hope you enjoyed a little sneak peek into the table setting that I created for an outdoor summer party. My goal is to give you some inspiration on how to create your own outdoor summer tablescape.
Stay tuned for another post on How to Host an Outdoor Summer Party (complete with all the details on how to recreate this space) coming up next!
To continue on through the Summer Tablescape Blog hop, don't forget to head on over to Charlottes Happy Home to see the gorgeous table she created!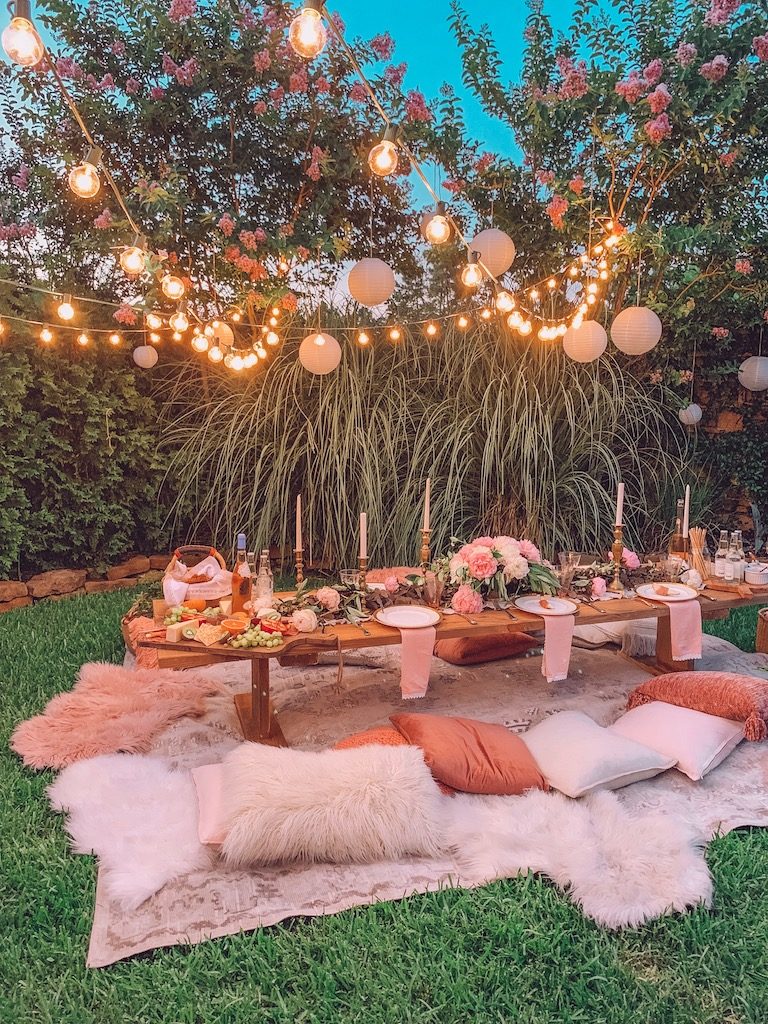 xoxo,
Leanna