Sharing is caring!
This Southwest Black Bean salad is perfect for summer. It is easy to make for a crowd, and also makes a great side dish or appetizer served with your favorite tortilla chips. You can also add it on top of salad, or serve it along side of grilled meat or fish.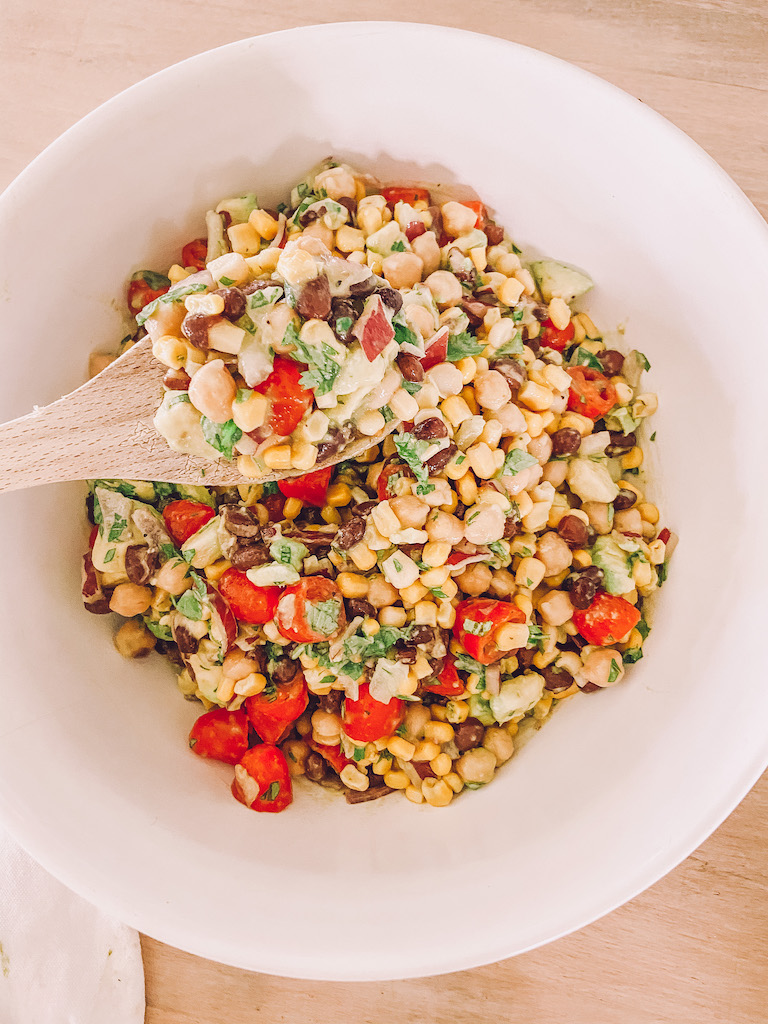 I made this easy side dish salad for Fathers Day because it is Simon's favorite! Not only can you make this recipe in under 10 minutes but it is also super healthy! It is packed with protein and fiber.
What I love most about this southwest black bean salad is that you can easily change it up depending on what you may have in your kitchen.
You can make it right before you serve it, but I always recommend at least waiting 30 minutes for the juices to marinate! It always tastes better the next day!
My favorite way to enjoy this southwest black bean dip is with chips, or on top of a salad but the ideas are really endless!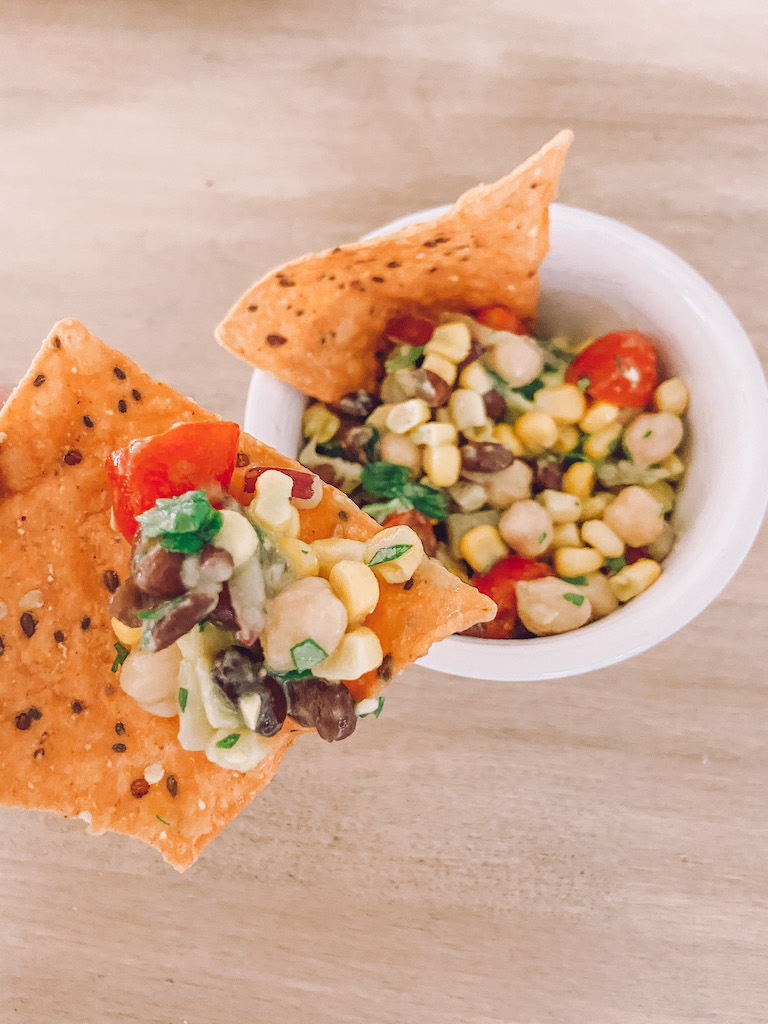 Easy Ways to Mix it up!
Add jalapeños for a spicy kick
For more protein, include quinoa
Use diced tomatoes instead of cherry tomatoes
Change up the beans and use kidney and pinto beans
Add lettuce and your favorite meat for a taco salad
If you love healthy and easy side dishes, don't forget to check out the Greek Pasta Salad. It is my favorite dish to bring to any BBQ party in the summer!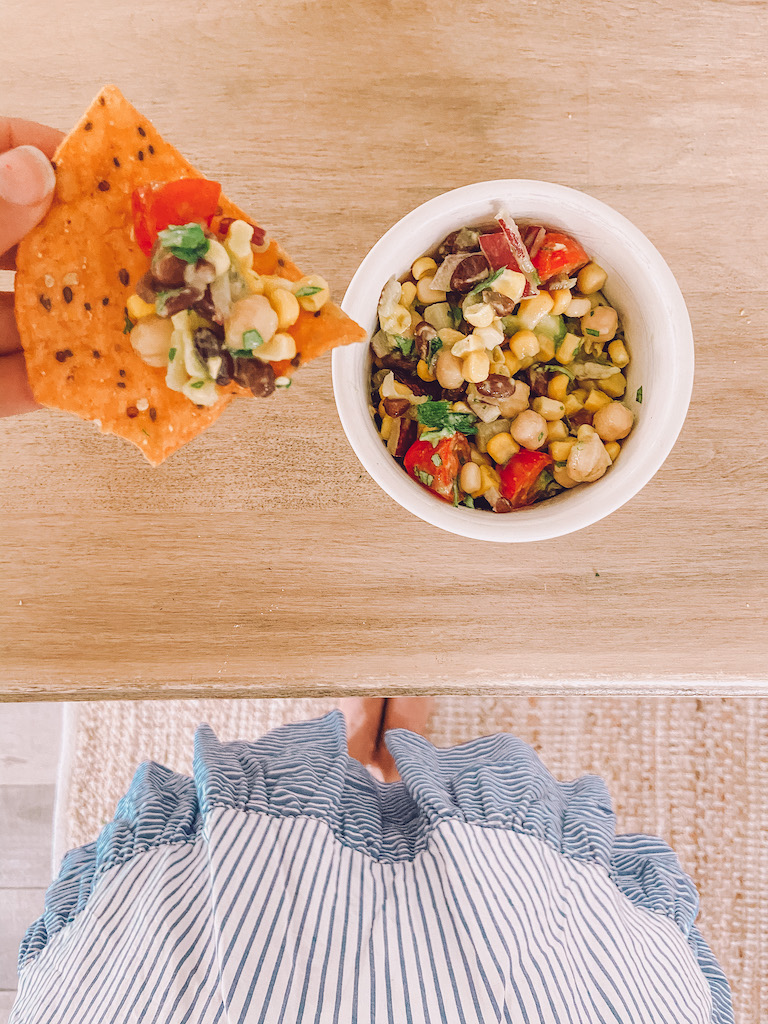 How to make the best ever Southwest Black Bean Salad
Ingredients
1 9oz can black beans, drained and rinsed
1 9oz can corn, drained (or 1-3/4 cup fresh or frozen-then-thawed sweet corn)
1 9oz can chick-peas, drained
1/2 cup cherry tomatoes halved
1/4 cup cilantro diced
2 medium hass avocado, diced
2 whole lime juiced
1 clove garlic minced
1/4 cupred onion minced
1/2 tsp. salt
1/2 tsp. pepper
1/4 tsp. cumin
1 tbsp olive oil
Directions to Make Southwest Black Bean Salad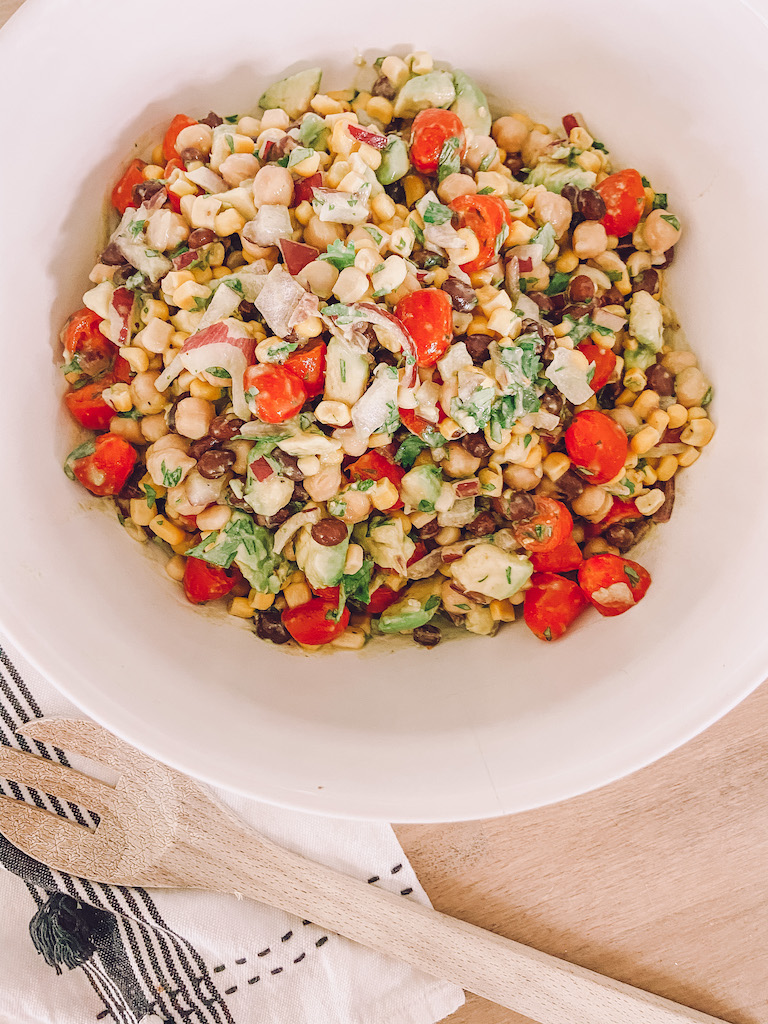 In a large bowl, combine beans, corn, chick-peas, cherry tomatoes, onion, cilantro and combine.
Next, add salt, pepper, garlic and cumin and mix well.
After, squeeze fresh lime juice to taste and stir in olive oil.
Marinate in the refrigerator 30 minutes.
Finally, add avocado just before serving.
As always, I hope you enjoy this delicious and fresh salad this summer! Don't forget to tag me over on instagram @lifebyleanna if you decide to make it! I love to see you try out my recipes!
xoxo,
Leanna