Sharing is caring!
A few simple Christmas Decor Tips to get your Home ready for the holidays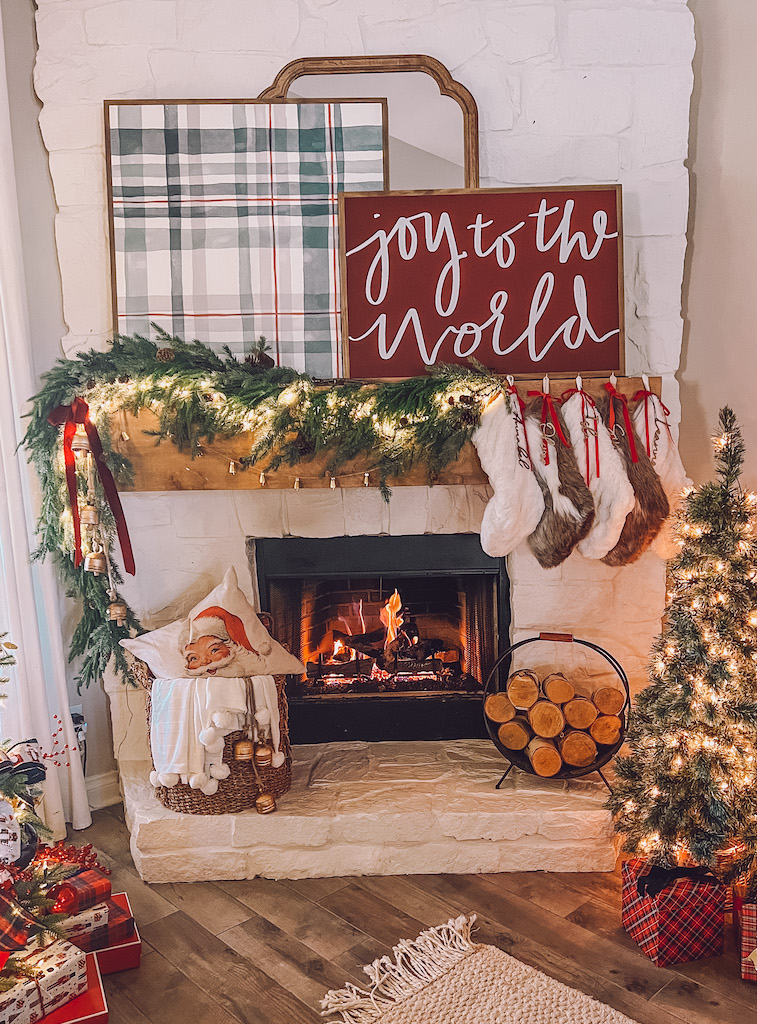 With days a way from Christmas (I know, I can't believe it either) I am finally sitting down to share a few simple Christmas Decor Tips that I use each year to decorate my home for the holidays. I know this post will definitely not be helpful this year, unless you are last minute decorating ? but I hope you remember to save and PIN this post to refer back to for next year.
I also love to use this post as a way to share with you my complete home tour for the holidays. Even though I wish I could invite you in to my home to see it all in person… wouldn't' that be SO fun.. this is the next best thing.
If you have been following along with me over on Instagram, you know I have been decorating for months ?… I started in October! In the previous years, I usually wait until Halloween, but this year was just a little bit different! I also went a bit over the top because I had the opportunity to work with Better Homes and Garden for a Christmas Magazine and wanted every inch of my home to be decorated just perfectly.
Christmas Decor Tips
Anyways… I won't leave you hanging any longer. Welcome to my Holiday Home Tour! As I bring you along, from room to room, I will point out a few different Christmas decor tips.
Holiday Home Tour
1. Entryway
The Entryway is the first space anyone sees when they enter your home, so why not make it festive! First, I added a simple garland with a strand of gold bells . I love using signs during the holidays in my home and you will see many different Christmas signs as we move along the tour.
Throughout my home I also added small touches of red in various ways. In this entryway, I used velvet red ribbon to bring in an extra pop of color.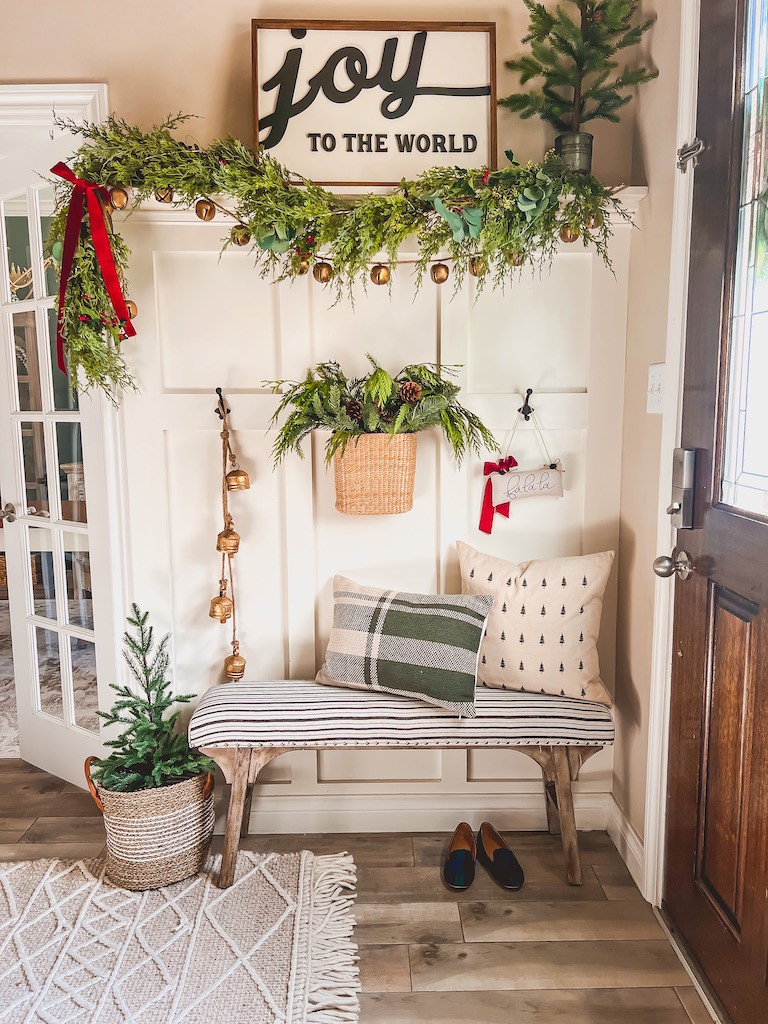 2. Sitting Room
The sitting room will always be my favorite space in my home decorated for Chrismtas. I love how moody and different it is from the rest of my home.
Again, to add in a few pops of red in this space I used pillows and presents. The different pops of red in each room helps tie the entire house together!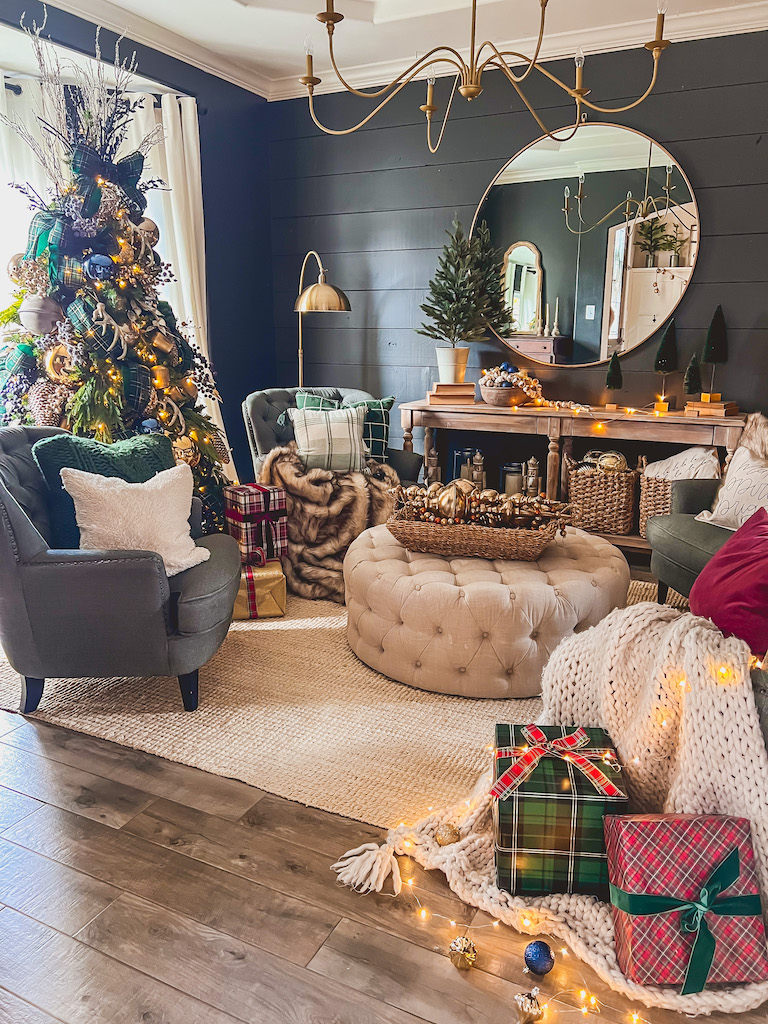 I have two Christmas trees in this room that are both decorated in gold, blue and green. You can see more on how I decorated these trees here.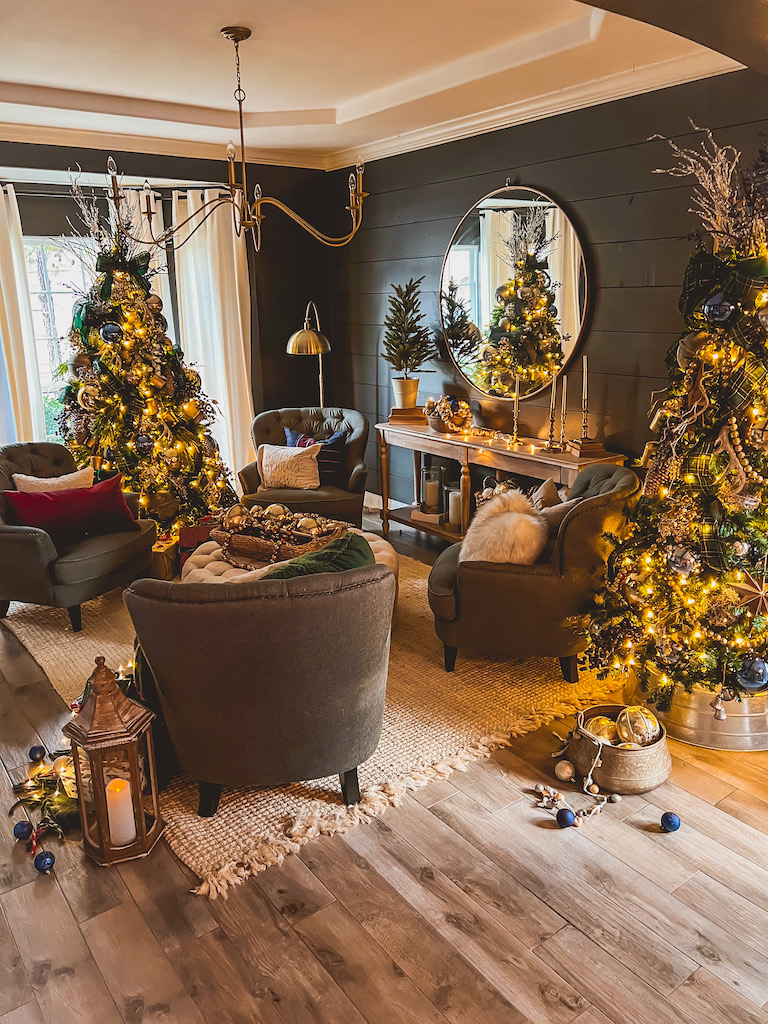 3. Kitchen
We spend so much time in our kitchen, especially during the holidays. I also love to host all season long and we usually gather in the kitchen.
In the kitchen nook I hung gold stars that I found from At Home Stores around a Christmas Sign made from Handmade Haven Sign Co.
I also love to hang wreaths on my windows, tied with little red bows of course. To add wreaths to any windows I use suction cups like these
This kitchen view is one of my favorites. I love the glow above the sink with twinkle lights, especially at night! Christmas plaid was another one of my favorites to decorate with this year. In the kitchen I added added plaid in this rug.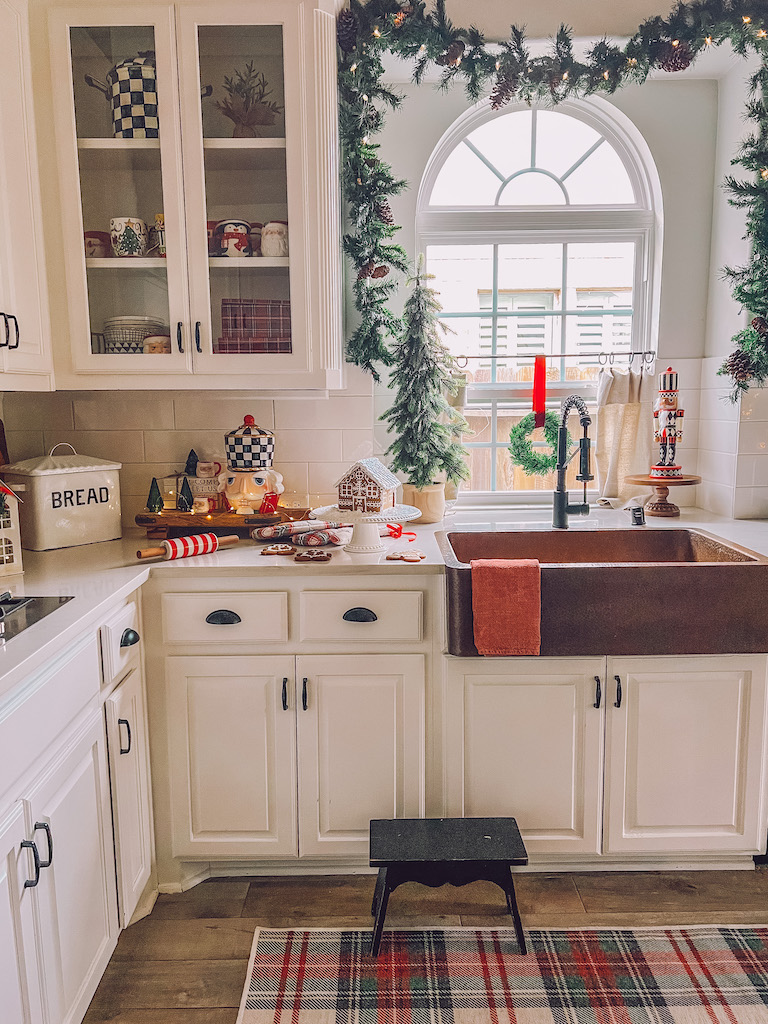 I added a simple green wreath on my range hood around my favorite moose from Mackenzie Childs . I have been collecting items from Mackenzie Childs for a few years now… and let's just say I have a slight obsession. ?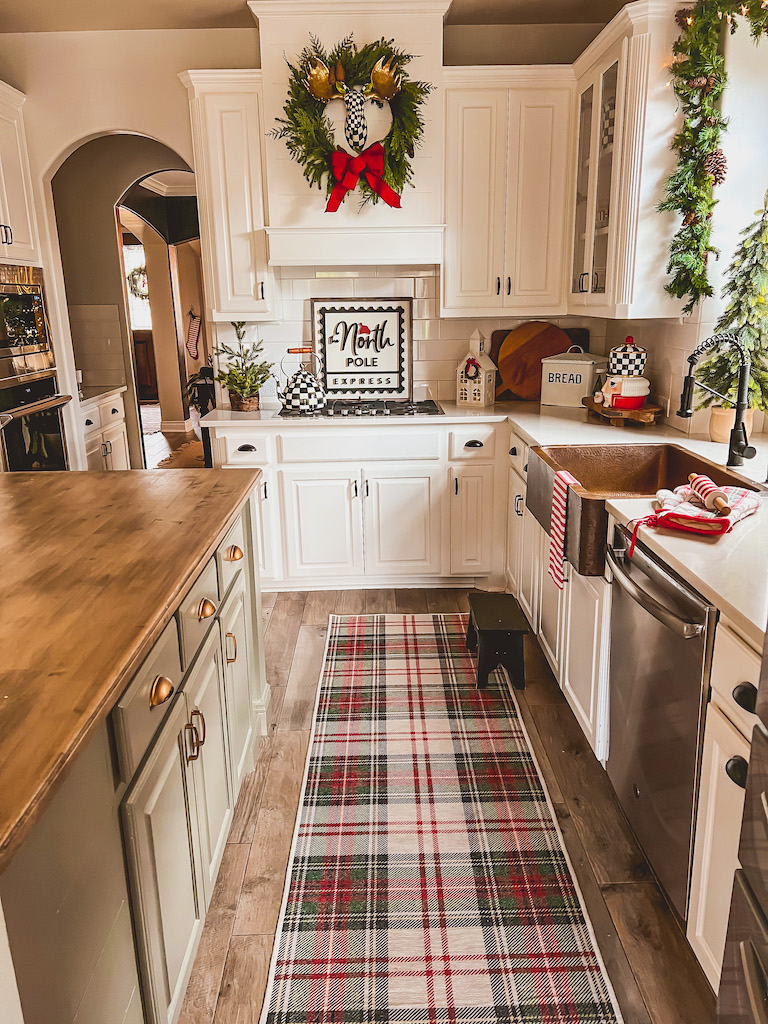 The nutcracker cookie jar is a new addition this year and he is SO adorable. I know I am going to get a few questions on Annabel's red dress in the photo below. It makes the perfect red dress for a Christmas card and also can be worn for Valentines Day.
4. Living Room
Our living room is the heart of our home and where LOTS of Christmas movies are watched all winter long. The nutcracker themed tree is new this year and I love how it turned out. I wanted to incorporate my love for nutcrackers with the other Christmas decor themes in my home: red and Christmas plaid. This tree really ties the entire house together and I love it all lit up!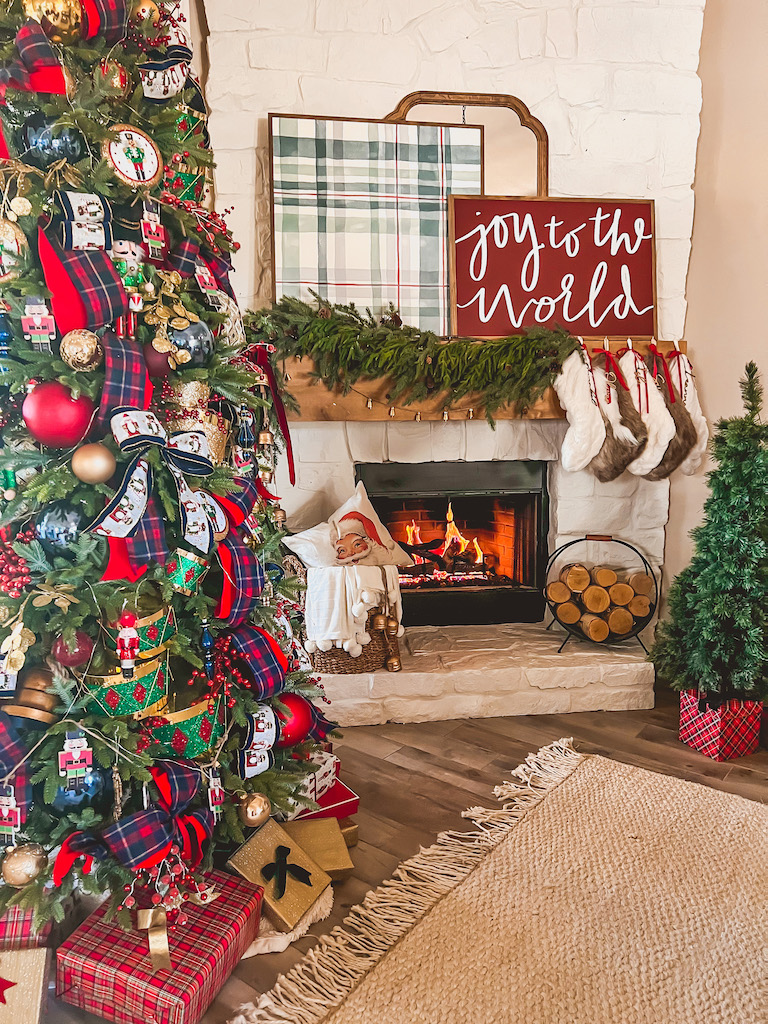 The mantle is layered with a tall mirror, and two Christmas signs that again bring in the theme this year: red and plaid! As you can see, I worked to make sure each room would coordinate with the all the rest.
The rug I kept neutral with this jute rug to make sure it wasn't competing with everything else in the room.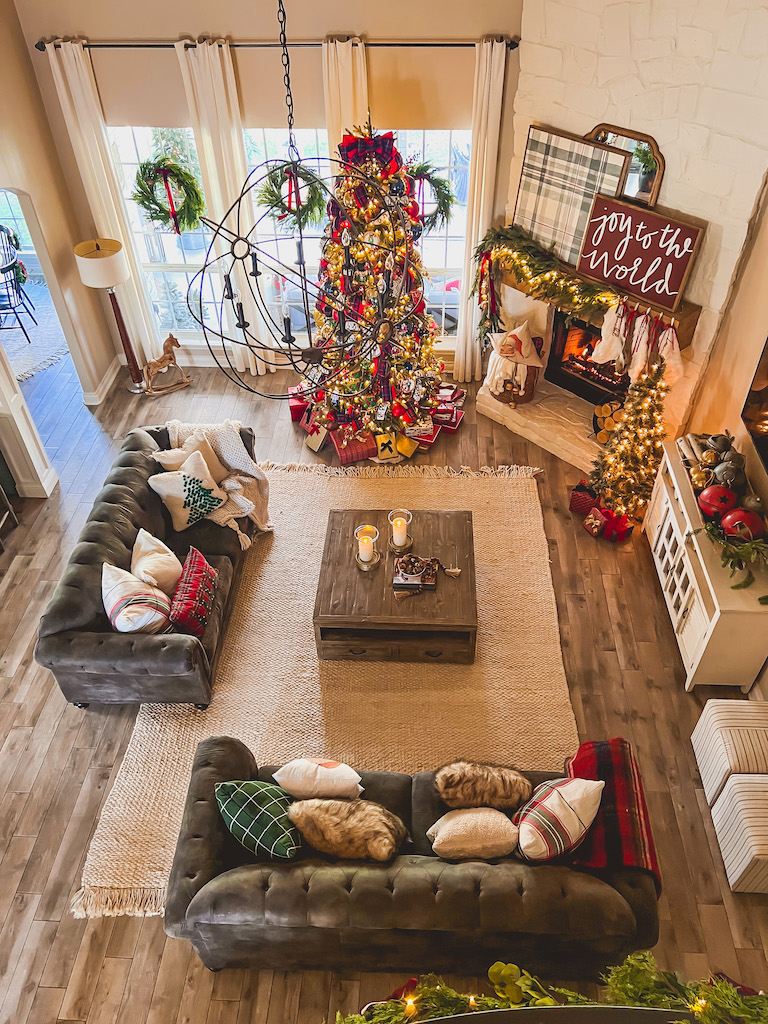 We painted the fireplace white a few months ago, and now I just love how everything pops so much more. You can read the tutorial on how we painted the brick here.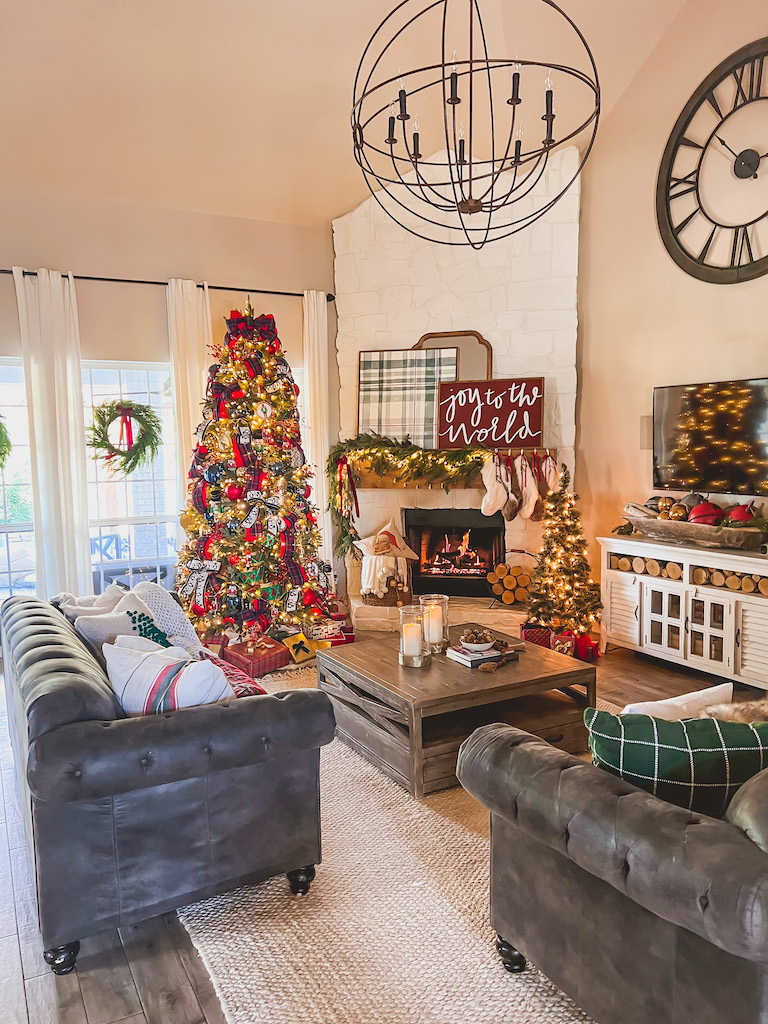 5. Dining Room
I just adore setting a pretty table, and setting a Christmas table is by far my favorite. This table is simple, yet elegant and incorporates my love for Christmas plaid, gold, and twinkle!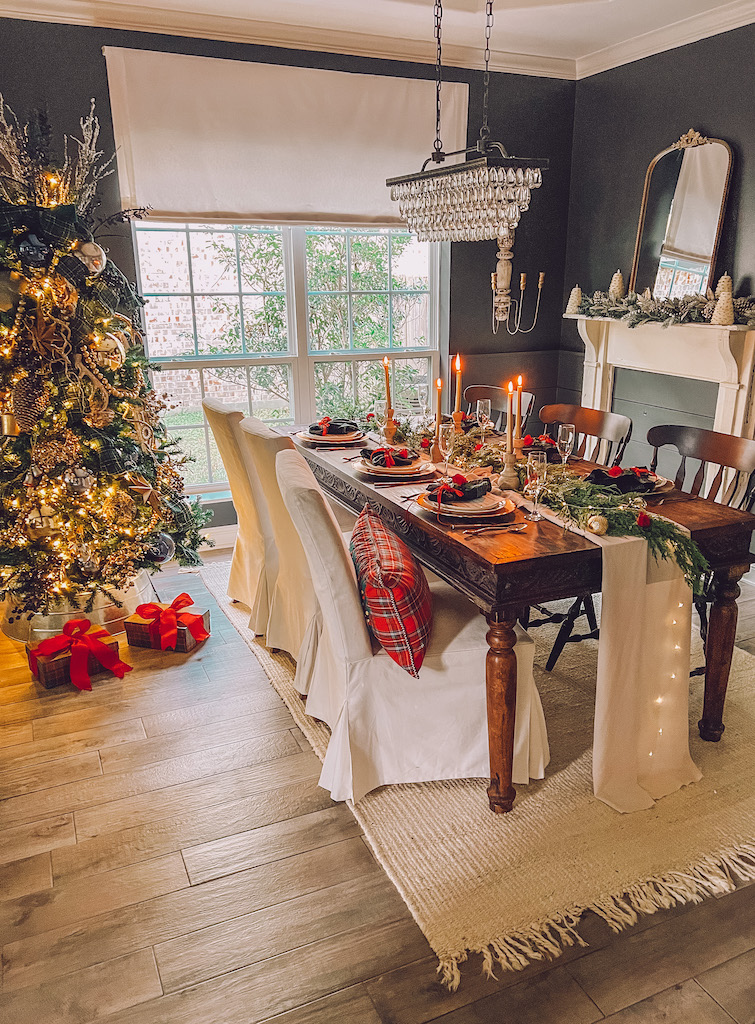 For a pop of red, I added small red roses into the garlands and tied red velvet ribbon around the napkins
The table runner is just a cut piece of fabric I had got at my local craft store.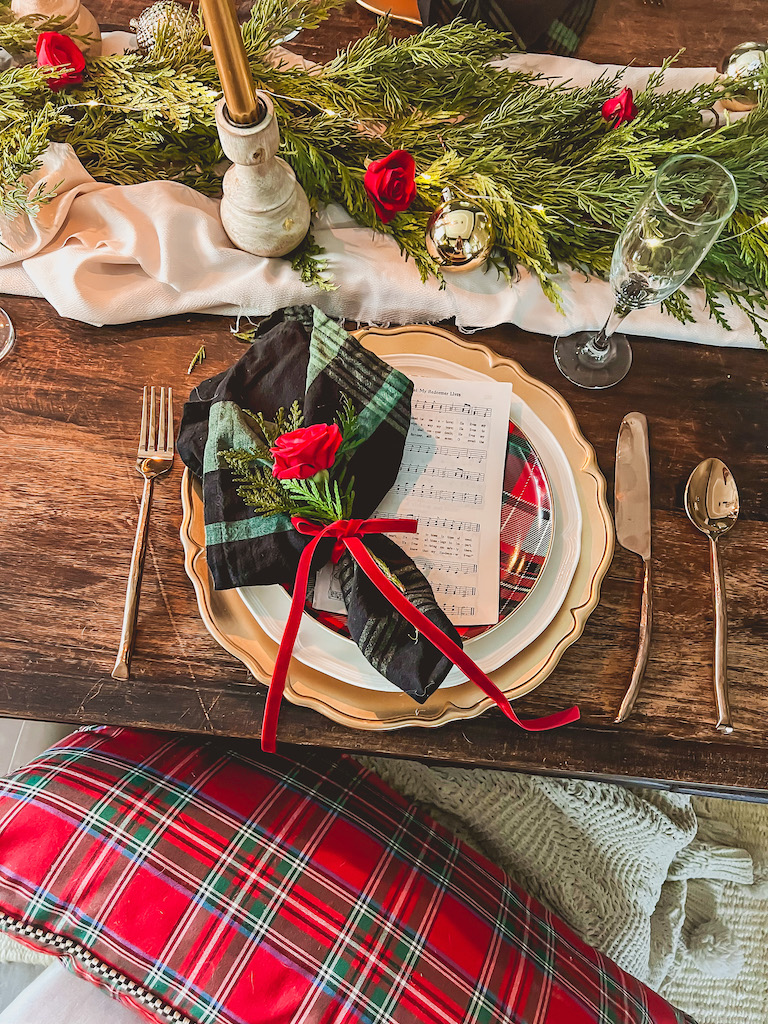 6. Bedroom
On to the room I wish I spent more time in ???. I love to sleep but thanks to … kids…. I don't get much of it anymore. A cozy Chrismtas bedroom was what I was going for this year. I added a garland to the headboard, wreaths to the barn doors, and a cozy plaid blanket! Again… more plaid!!
I let Oliver steal my cozy red blanket for his bed so I changed it out for a green version that I had last year. I do love the neutral green winter vibe as well!
7. Playroom
Oh I had SO much fun with this nutcracker kids tree this year. This tree is decorated with all items from Michaels. I had loved working with Michaels on this tree, it really made me think outside the box. The kids loved it too… it was actually the very first year I decorated a tree in here and I don't think it will be my last.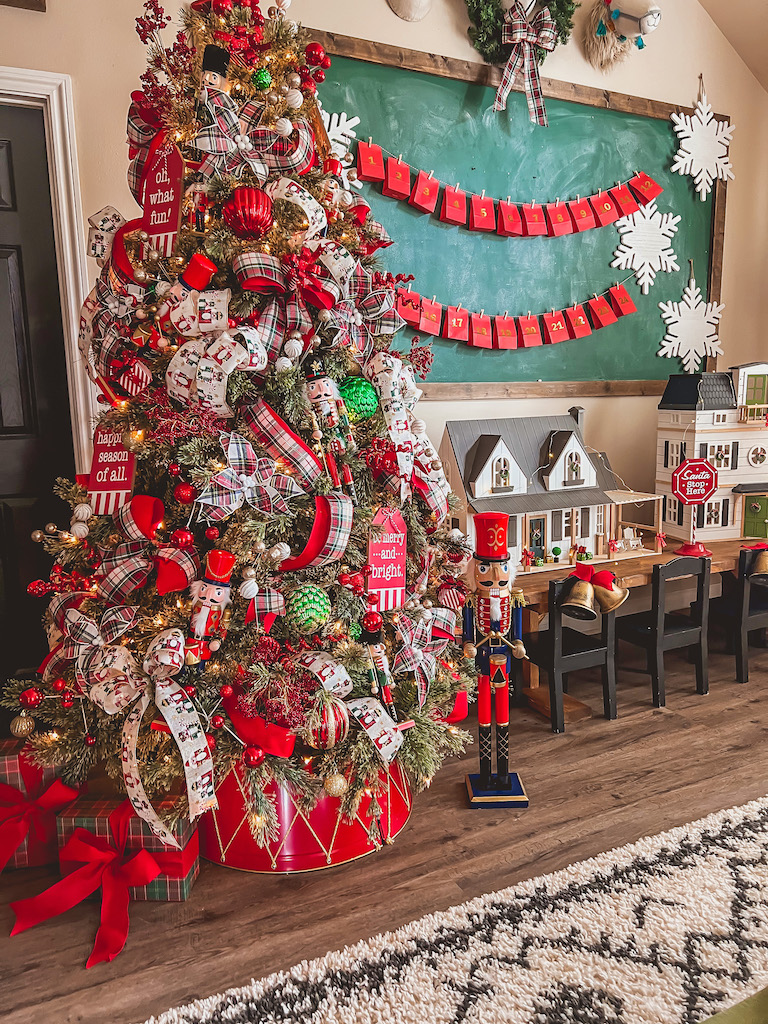 Trust me when I say that this playroom never looks this clean. It stayed this clean just long enough to snap a picture. The cart was sold out for SO long and I am so happy to tell you that it is currently back in stock. Is is honestly the most used toy we own and it is always a hit with friends too!!!
8. Outdoor
Since we live in Texas, we spend so much time outside during the winter since it is now at least bearable to be outside. I love to have friends over for drinks and entertain in our outdoor space. At night it is SO magical and cozy!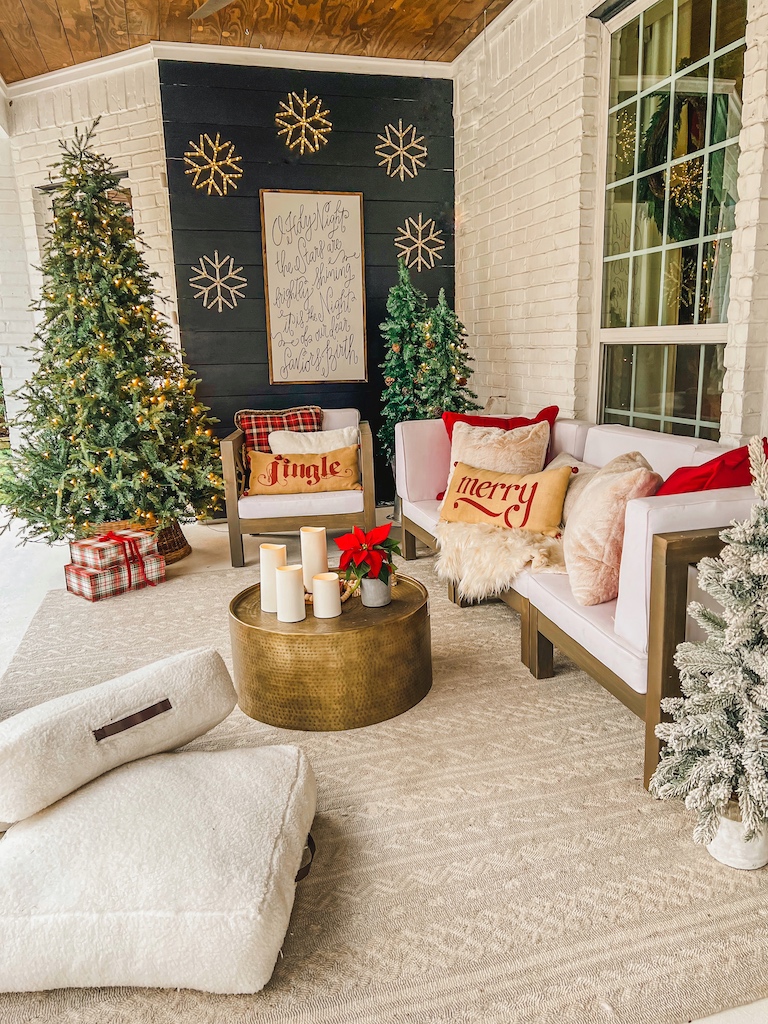 I'll end tonights tour with my favorite spot to enjoy a big glass of red wine… which I could use right about now ?. I love to sit, swing and sip the night away!!
To find the DIY porch swing plans click here.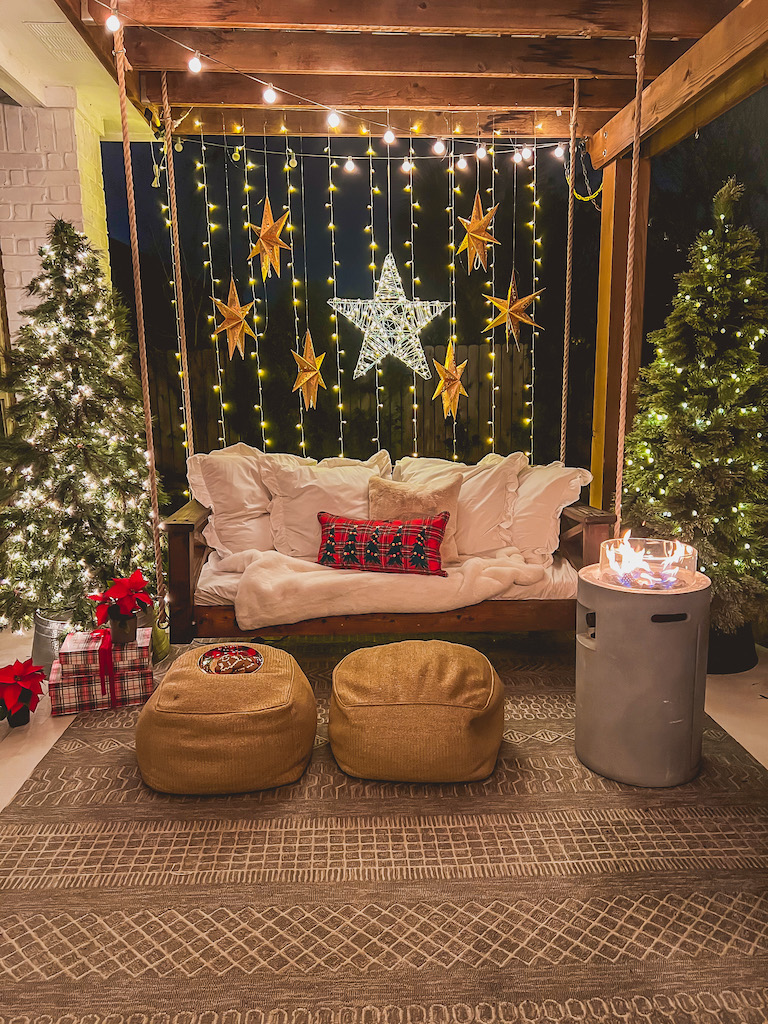 I really hope you enjoyed a closer look into our home decorated for the holidays. It was so much fun taking you all along for the ride these last few months. I appreciate each and everyone of you who have encouraged and supported me along the way. I have no idea what is in store for me next year but I hope you will continue to follow along!
Merry Christmas!
xoxo,
Leanna