Blue Green and Gold Plaid: A Remarkable Christmas Tree
Sharing the reveal of our blue green and gold plaid Christmas Tree this year! Lots of statement ornaments, gorgeous ribbon, and beautiful picks from The Decorator's Warehouse were used to achieve this elegant Christmas tree look.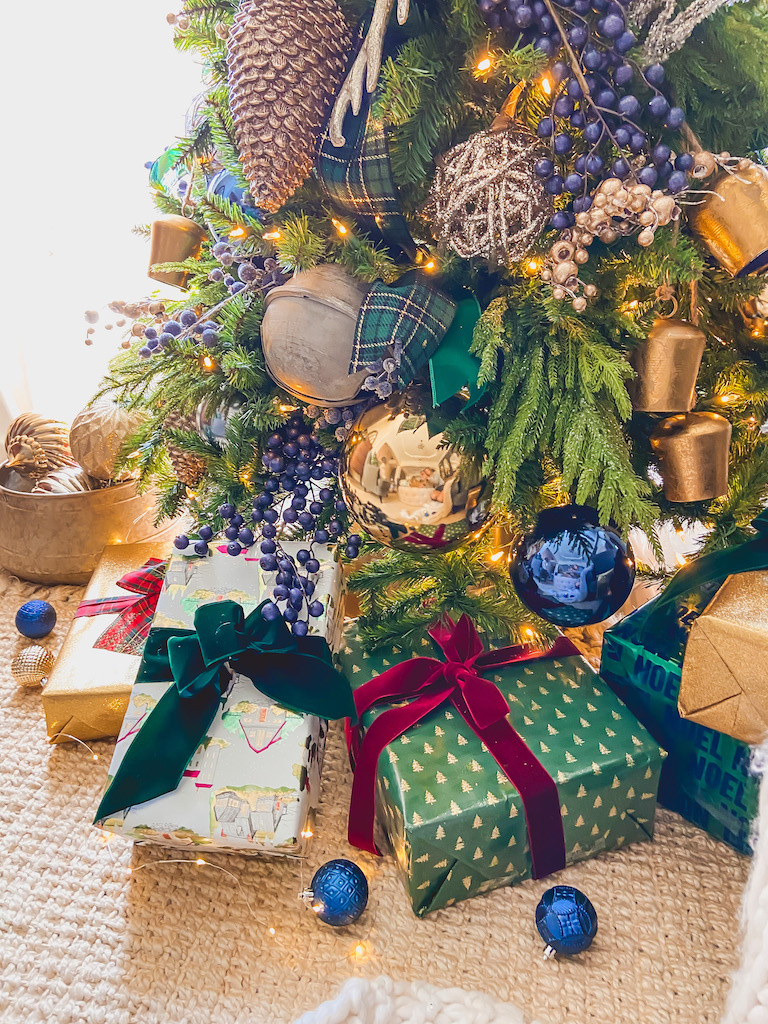 If you are coming over from Megan's Christmas Tree Challenge blog post I am SO glad you are here!!
Christmas is my all time favorite holiday to decorate for… I mean who doesn't love to decorate for the holidays?? It has been one heck of a year and I think we all need more joy in the world!!! I took on a fun Christmas tree decorating challenge this year with one of the biggest Christmas decor stores in the country, The Decorator's Warehouse. The challenge is called Home for the Holidays Christmas Tree Challenge. The goal for the challenge was to create a themed Christmas tree look in your home using all products from The Decorators Warehouse.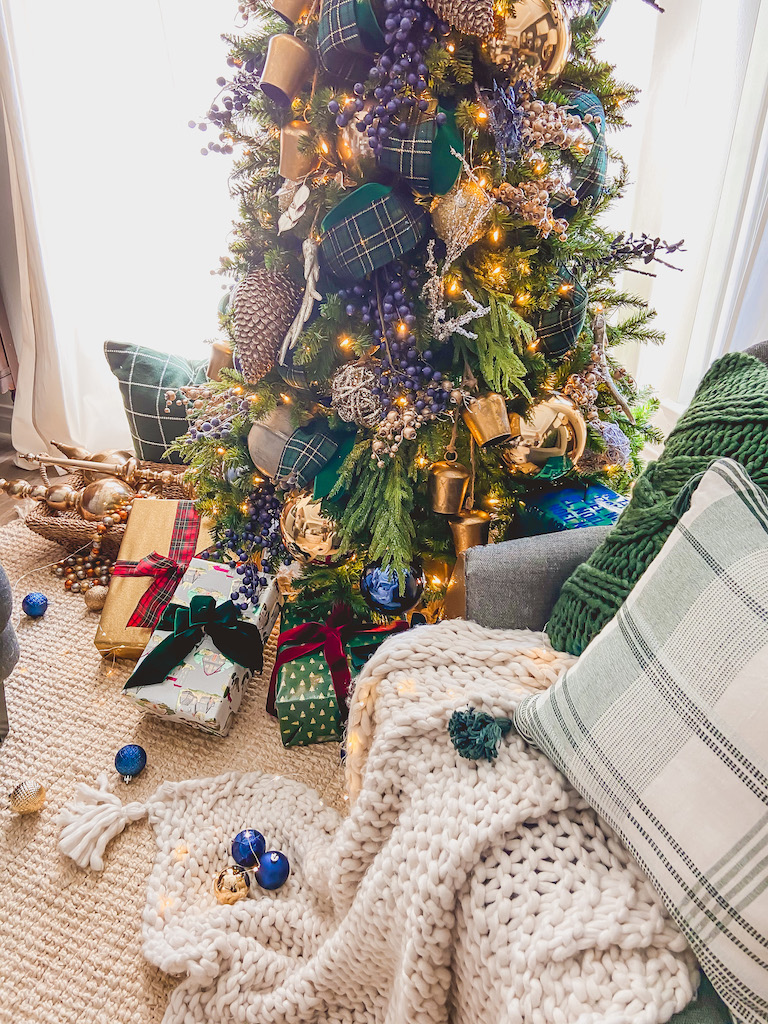 If you know me, you know I will never turn down a challenge, let alone a Christmas Tree challenge. Decorating Christmas trees is by far my favorite part about decorating for the holidays. Would you believe me if I said, I currently have 12 trees in my house?? Well…. it's TRUE!!!! My friends like to call me an elf.. as I not only love to decorate my own home, but you will also find me all around the neighborhood helping friends deck the halls in their homes as well.
Christmas Tree Challenge
Can you believe I started planning for this challenge back in the beginning of October? I love a classic Christmas tree using Christmas red, but for this challenge I wanted to try something that was outside my comfort zone. I decided I wanted to decorate two trees in my sitting room for this challenge. My sitting room has recenlty undergone a few changes since last christmas, and I knew adding two trees decorated in this room was going to be AMAZING! I based the color scheme off of the colors in room – blue and gold and then added in green for Christmas.
Let me just tell you that I am so excited about how this room, and these trees turned out! I could not have done it without the help of Kristin, from The Decorator Warehouse. I sent her a few inspo pictures that I found on Pinterest and she helped me pick out the most beautiful items for my tree!!!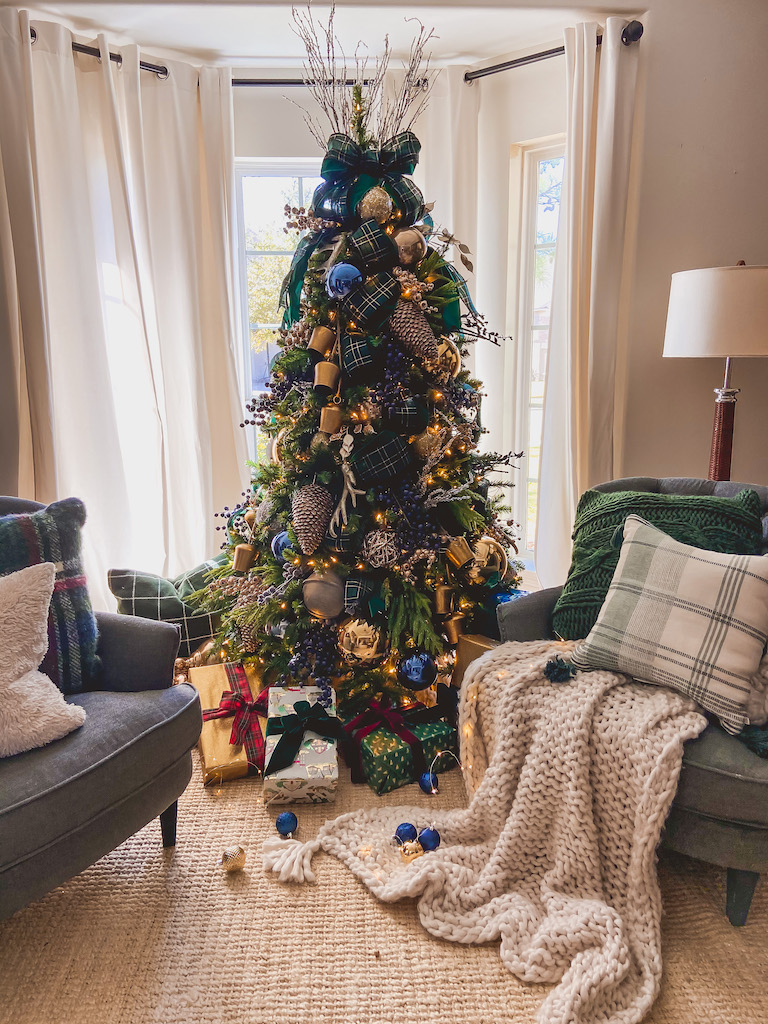 A Classic Blue Green and Gold Plaid Christmas Tree
The mix of blue green and gold plaid is a color scheme that is completely new to me. I love how this entire tree came together with the combination of ribbon, ornaments, bells, and sticks.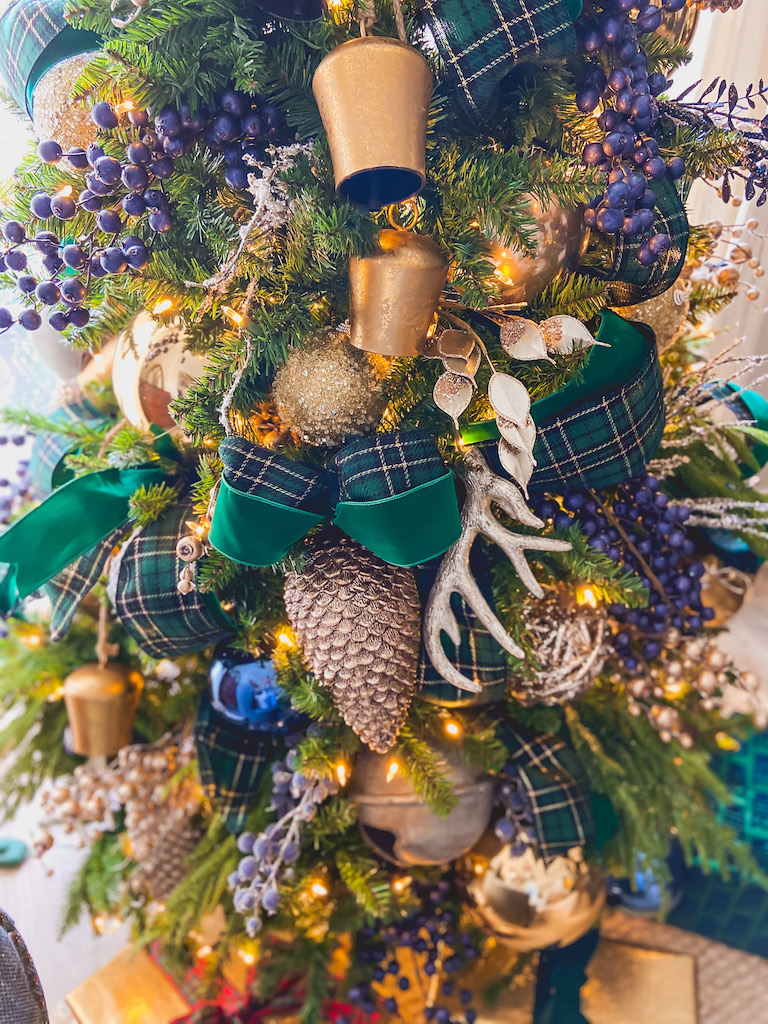 I made a simple bow topper using left over ribbon and added a few picks on top. The tree was gorgeous on its own, therefore I wanted to keep the topper simple.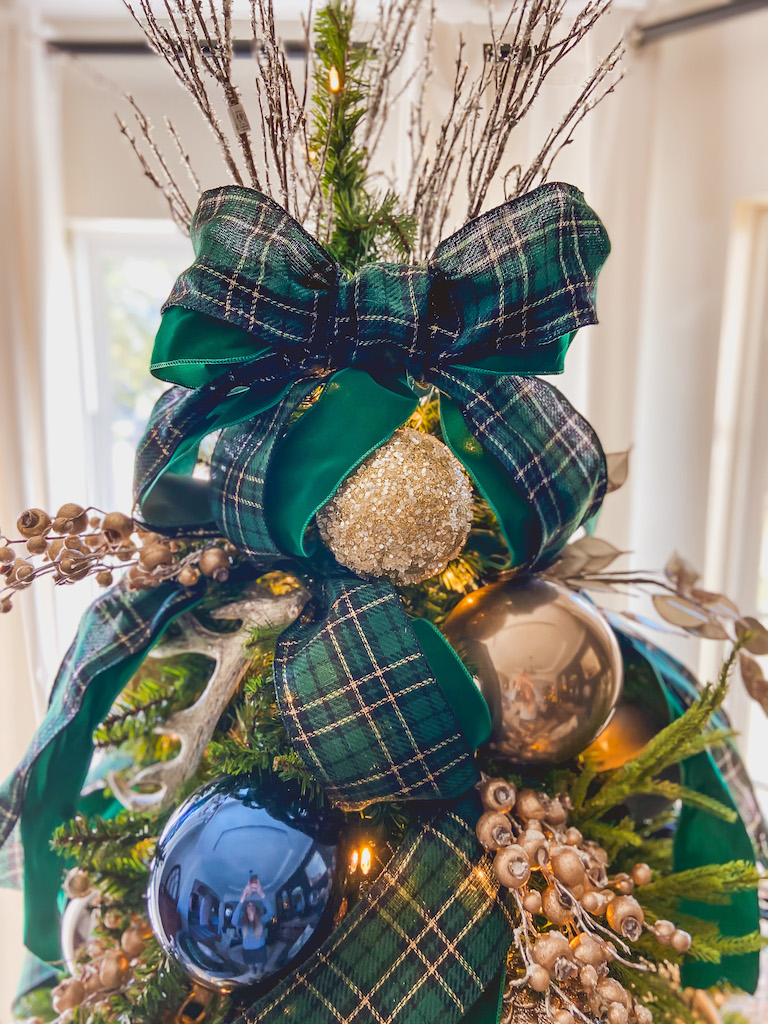 Blue Green and Gold Plaid Ribbon
I doubled up two different ribbons to achieve this look. I love the tartan green plaid ribbon paired with the velvet green. It created more texture and dimension as well.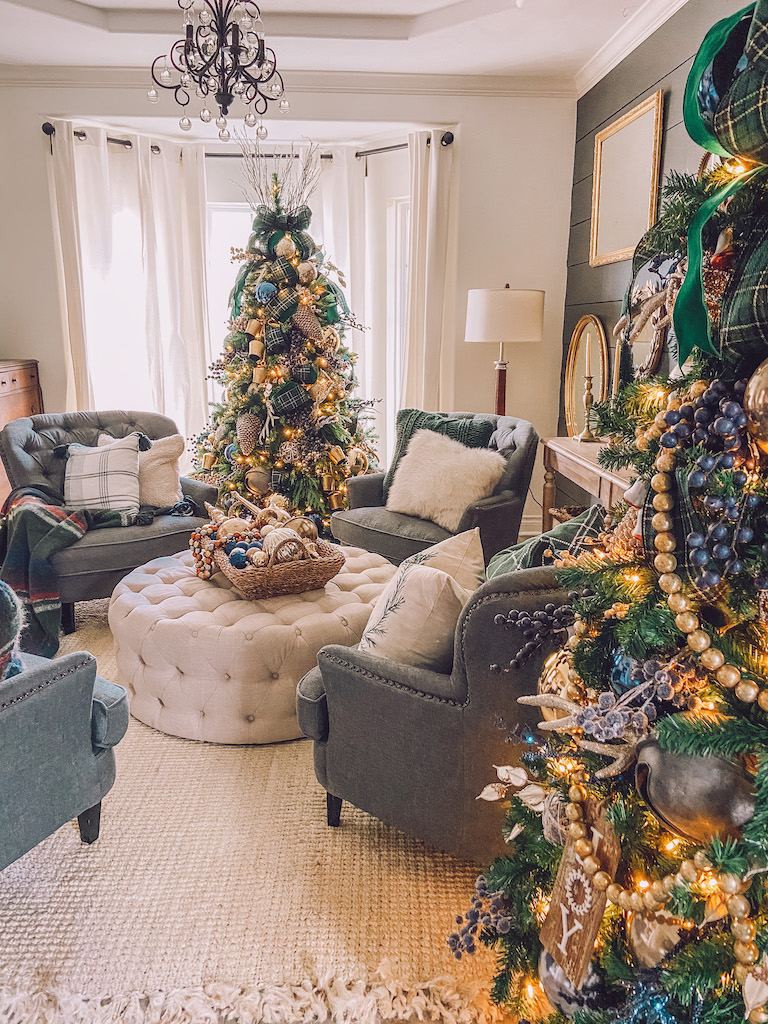 The gold giant pinecones and the gold antlers are a few of my favorite ornaments on the tree. You can shop all the ornaments on used on my wishlist from the Decorator's Warehouse here. You can also use the coupon code lifebyleanna for 10% off your oder at the Decorator's Warehouse.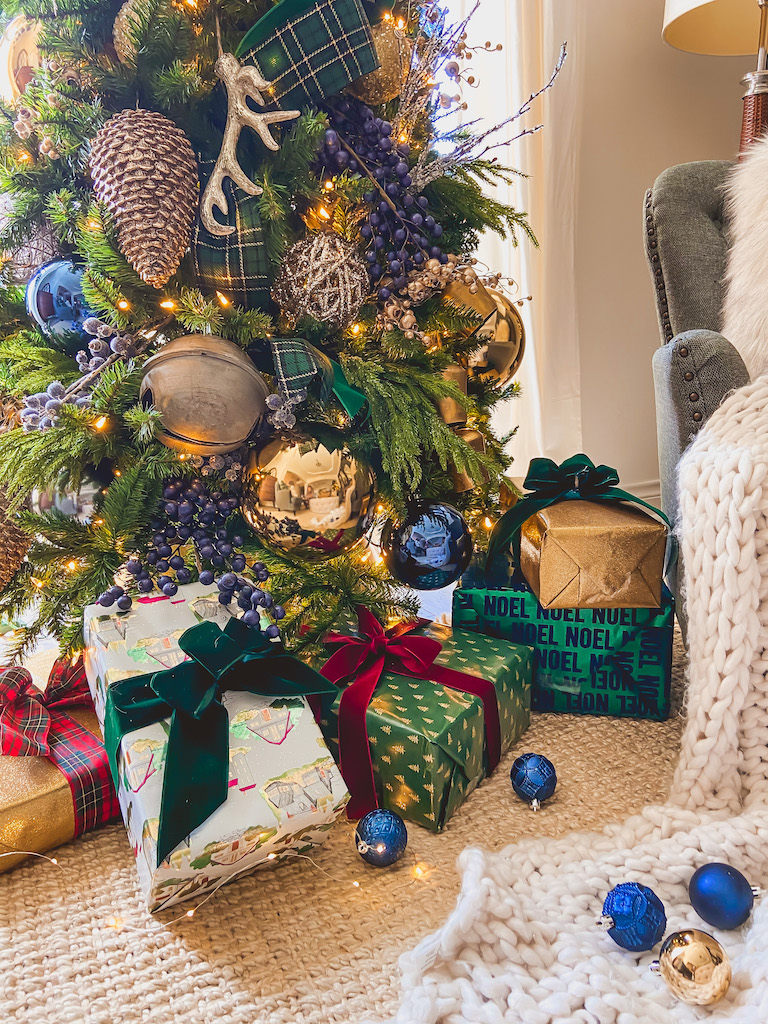 Statment Ornaments
The giant blue and gold balls create such a statement on this tree. I also hung a few strands of gold bells, and galvanized giant bells.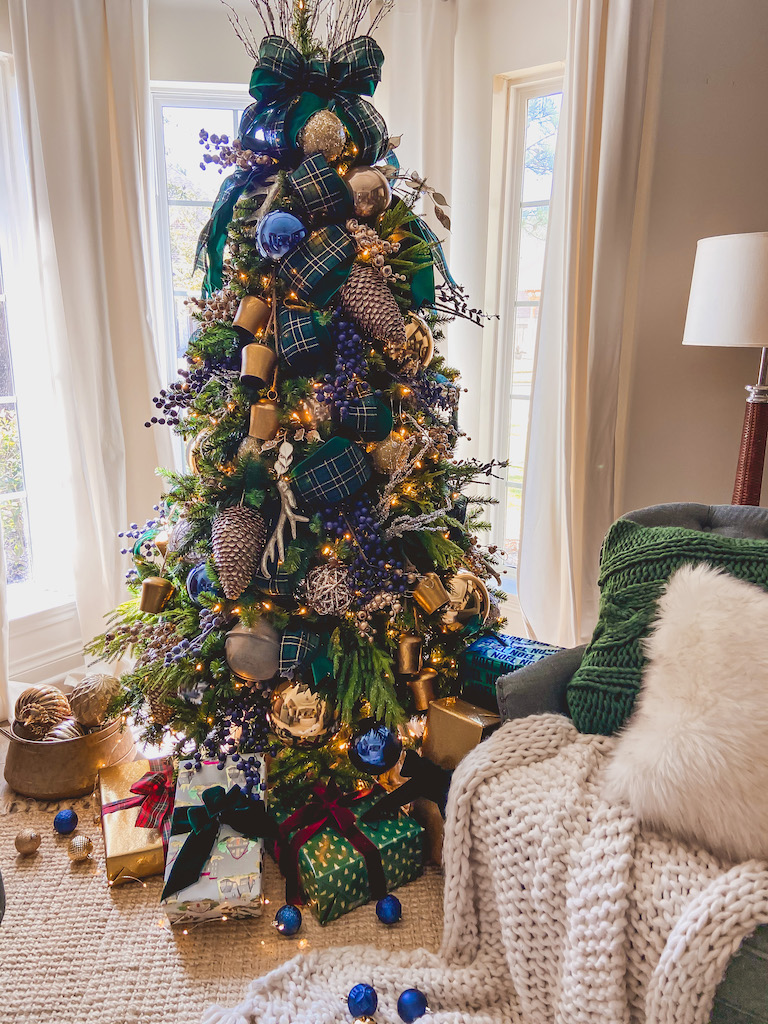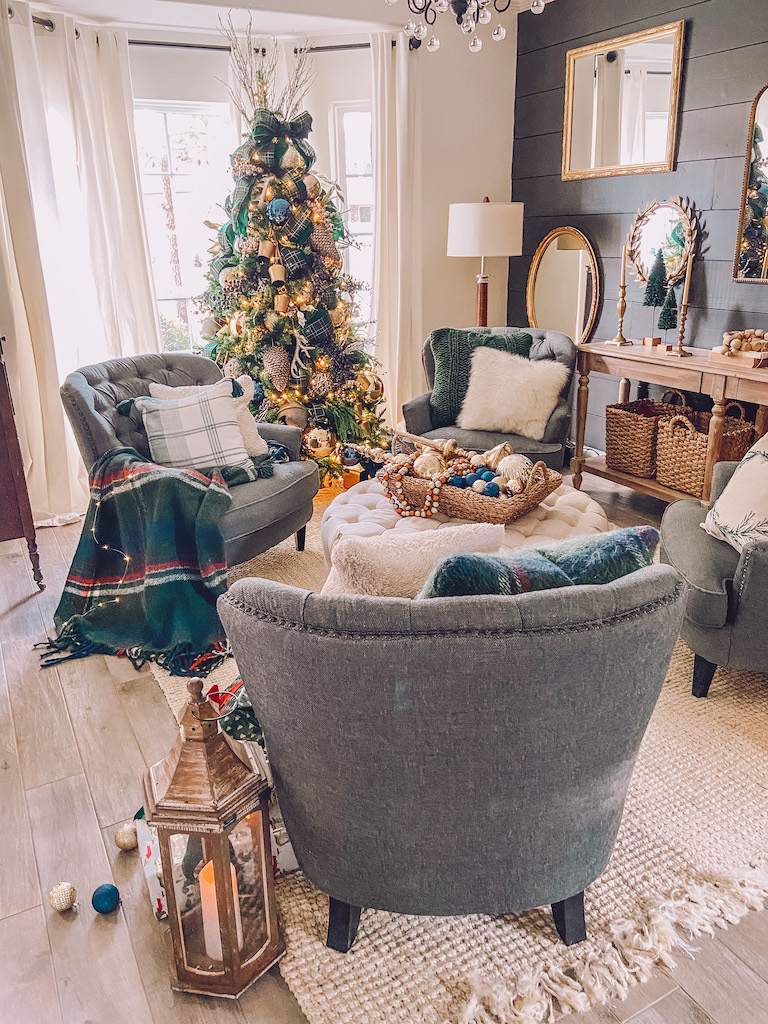 This tree is everything I envisioned and so much more! I love how the blue green and gold picks up the other accents in the room.
Oh.. and the nighttime view is my favorite!!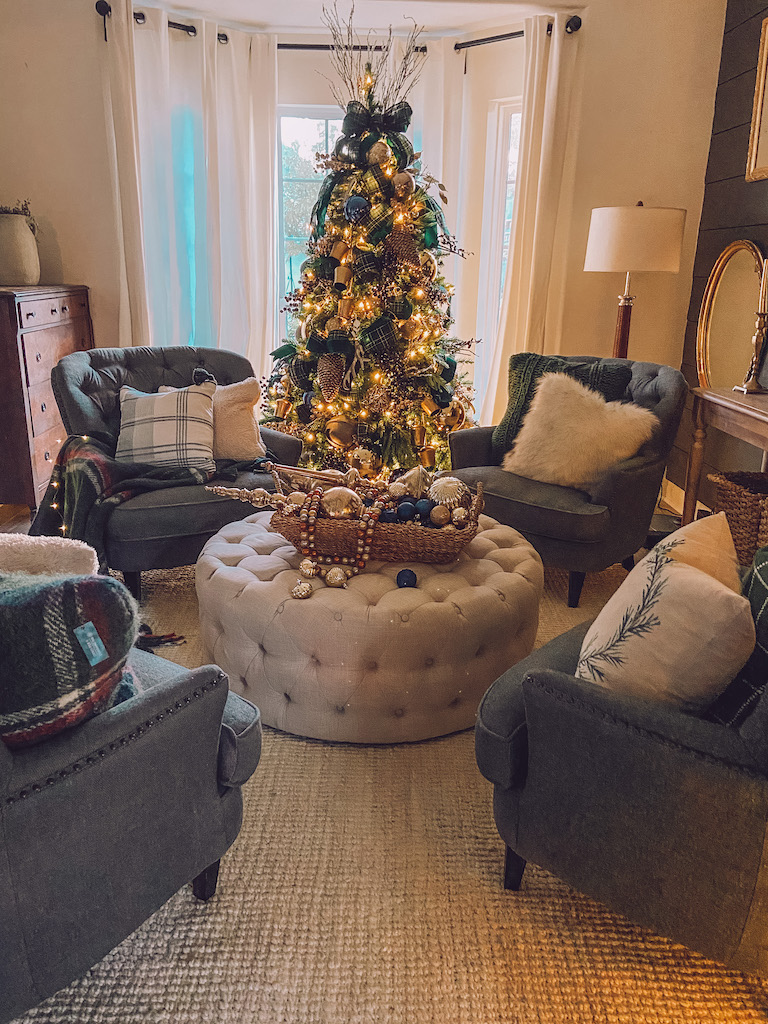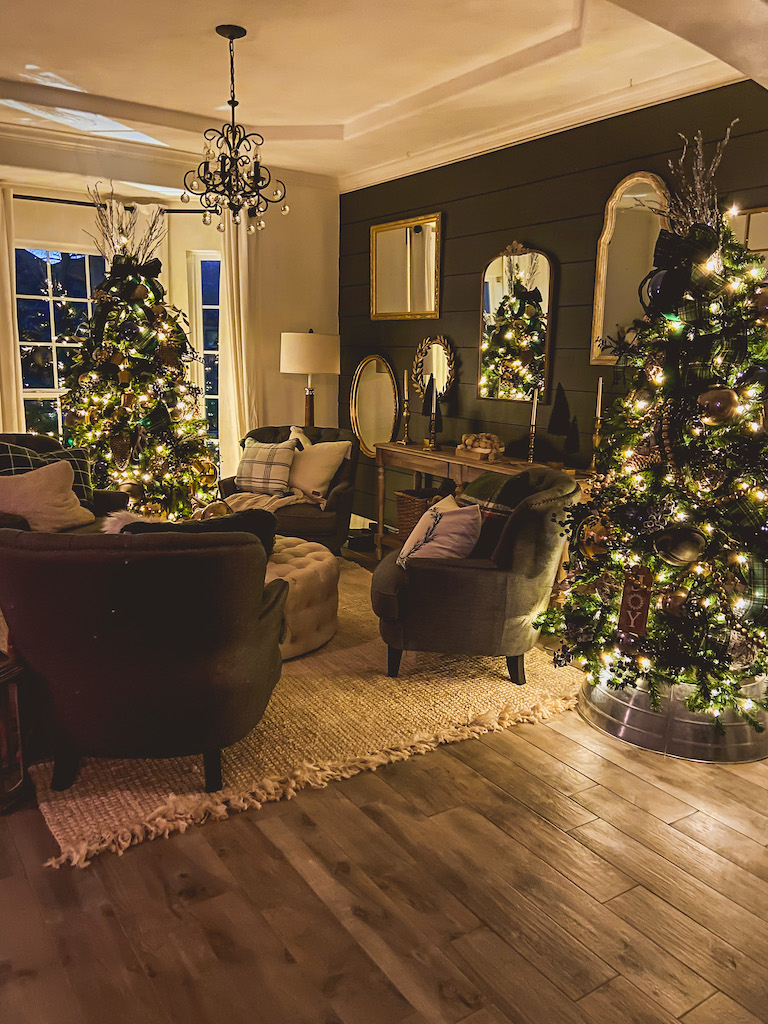 I hope you enjoyed a small peak inside our home decorated for Christmas this year. Don't worry, I have a lot more coming your way!
To continue to see more Christmas Trees from the Challenge, head over to Live Sweet Blog next!
In the meantime, don't forget to check out how I decorated for Christmas over the past few years on these other posts:
Christmas Decorating Ideas
How to Decorate your Bedroom for Christmas
Christmas Tree Decorating Tips
Christmas Tree Challenge
Don't forget to check out the other AMAZING trees from these other fabulous bloggers. I just love them ALL. Which one is your favorite??
Rustic Wild Arrow | Start At Home | Giggles Galore | Blue Gray Gal
Just Destiny Mag | A Blissful Nest | Our Signature Swag | TX Sized Home
Megan Martin Creative | Life By Leanna | Live Sweet | Cuter Tudor
xoxo,
Leanna