Welcome! If you are just hopping over from, Karlee at the Classic Cottage, I am so glad you are here!
I am so excited that the temperatures have started to warm up over in Texas, and it finally feels like spring! For those of you who are in the east coast and just got hit with lots of snow, stay WARM!
That is one thing I don't miss about living in the east coast, snow in March. Just when you feel like it should start feeling like spring, BOOM you get hit with the biggest snow storm of the season. That doesn't seem very fair now, does it?
If you are still surrounded by snow, what better way to make it feel like spring then decorating your home for the new season. Today, I want to welcome you into my home so you can see how I have decorated my house for the spring season. I hope to inspire you in your own home decor, whether its stepping out of your comfort zone and adding hanging watering cans with spring florals, or just learning where you can find the cutest spring items, I hope you find something you LOVE!
Well we better get started!
Sitting Room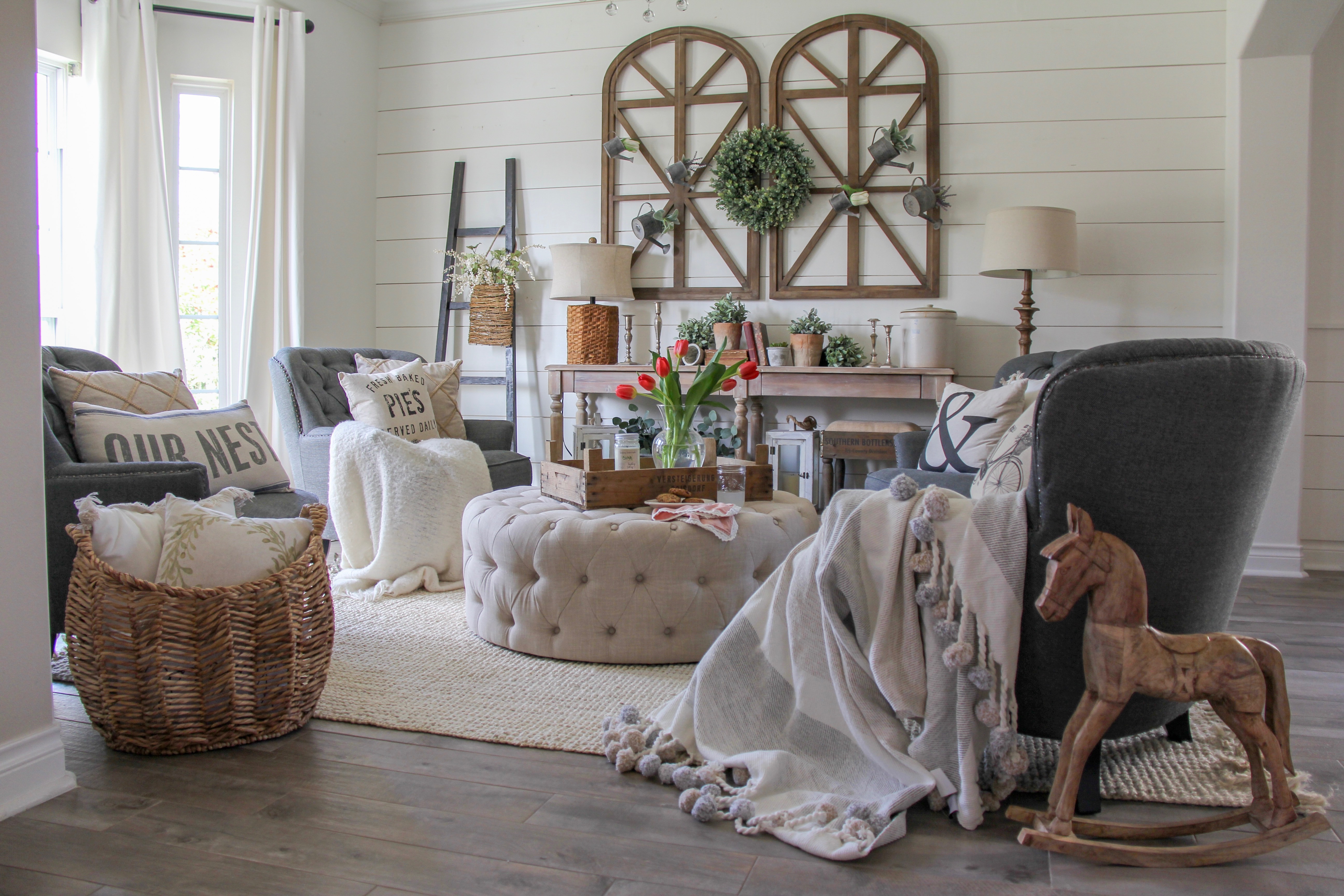 This is my favorite room of my entire house. I love how versatile the shiplap wall is. I am constantly changes what I hang on the wall throughout the entire year. This year I hung these adorable galvanized watering cans that I found at hobby lobby, and added faux florals.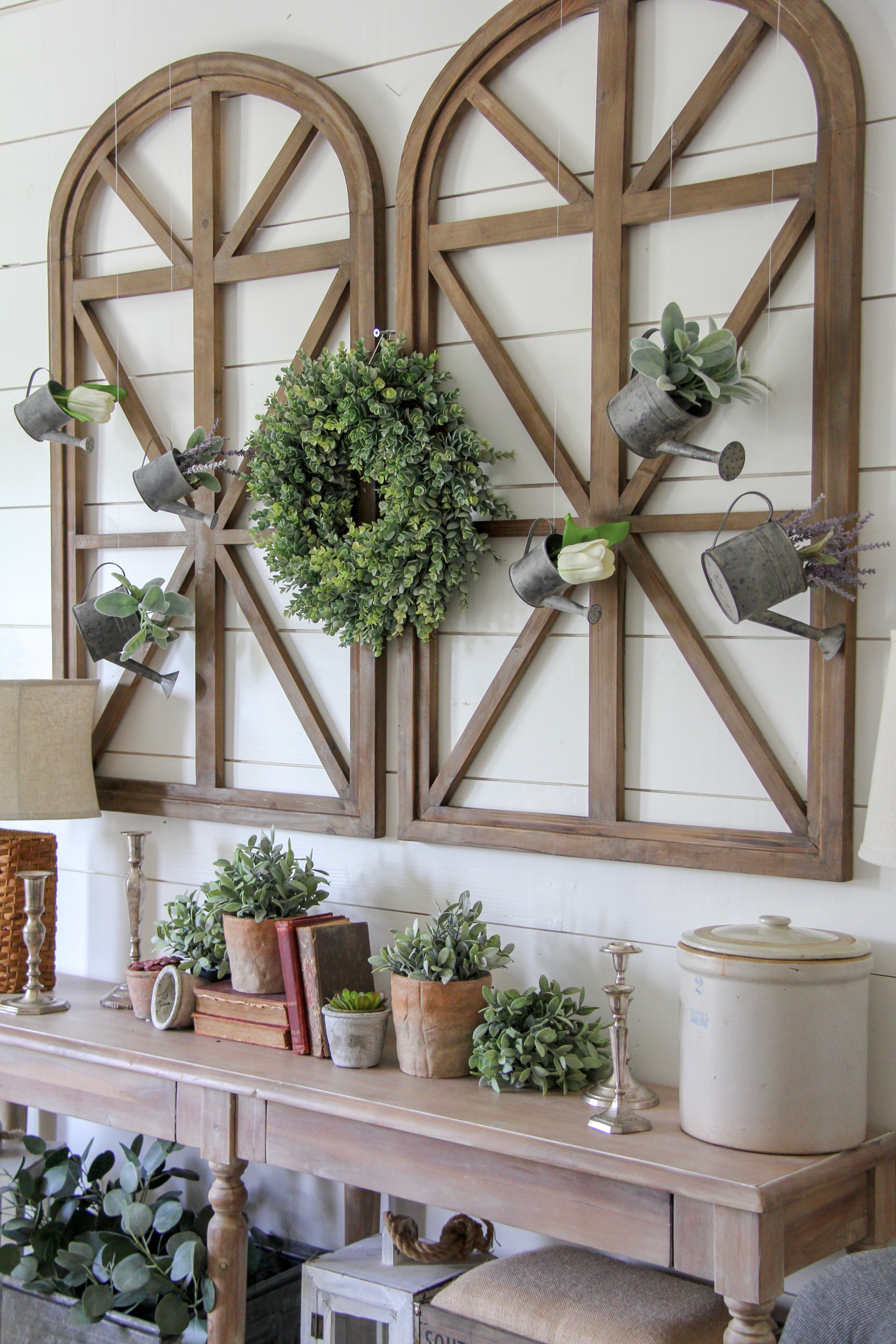 To hang the watering cans from the ceiling, I tied them with sewing string on the handle, and then knotted a nail to the other end. I nailed up the nails on the top of the ceiling, I made sure to use the smallest size nail as possible so when I remove them I will not be left with giant holes. I hung them at varying lengths and added faux florals from hobby lobby.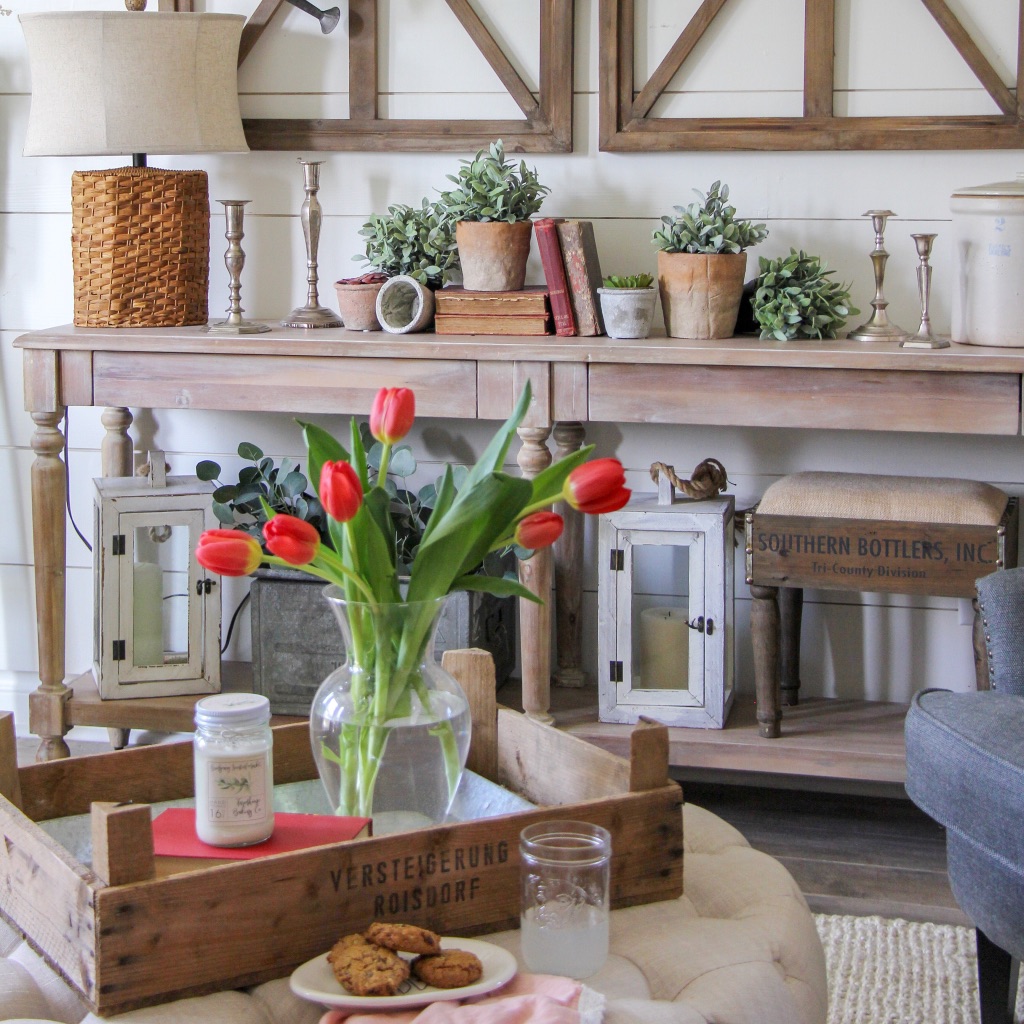 For this spring season, I loved decorating with clay potted plants that I found at Michaels and hobby lobby. You really can do so many things with them! On this table from world market, I filled some with plants from IKEA and created a little spring vignette. I also love using old books for any season. They are great to use to prop things up with and here I used them to add more texture and dimension.
Although I love my faux florals, I do treat myself to fresh flowers weekly at the grocery store (my favorite place to find fresh florals is Trader Joes). You can never go wrong with fresh florals!
I had so much fun with this space this spring, the watering cans were such a different idea for me and I love how this space turned out!
Now lets head on next door to my dinning room and take a little peak on a simple spring tablescape.
Dinning Room
I usually create such elaborate tablescapes, or well I have recently, that this tablescape seems very empty to me. However, I am loving the simplicity of this table, and better yet I can keep this table decor set up for the entire season.
You can easily recreate this on your own in no time. The clay pots I found at hobby lobby and michales, and filled them with various plants from michaels, Ikea and hobby lobby.
Chanel your inner Joanna Gaines and spread the potted plants along your table, keeping some empty and putting some on their side. VOILA!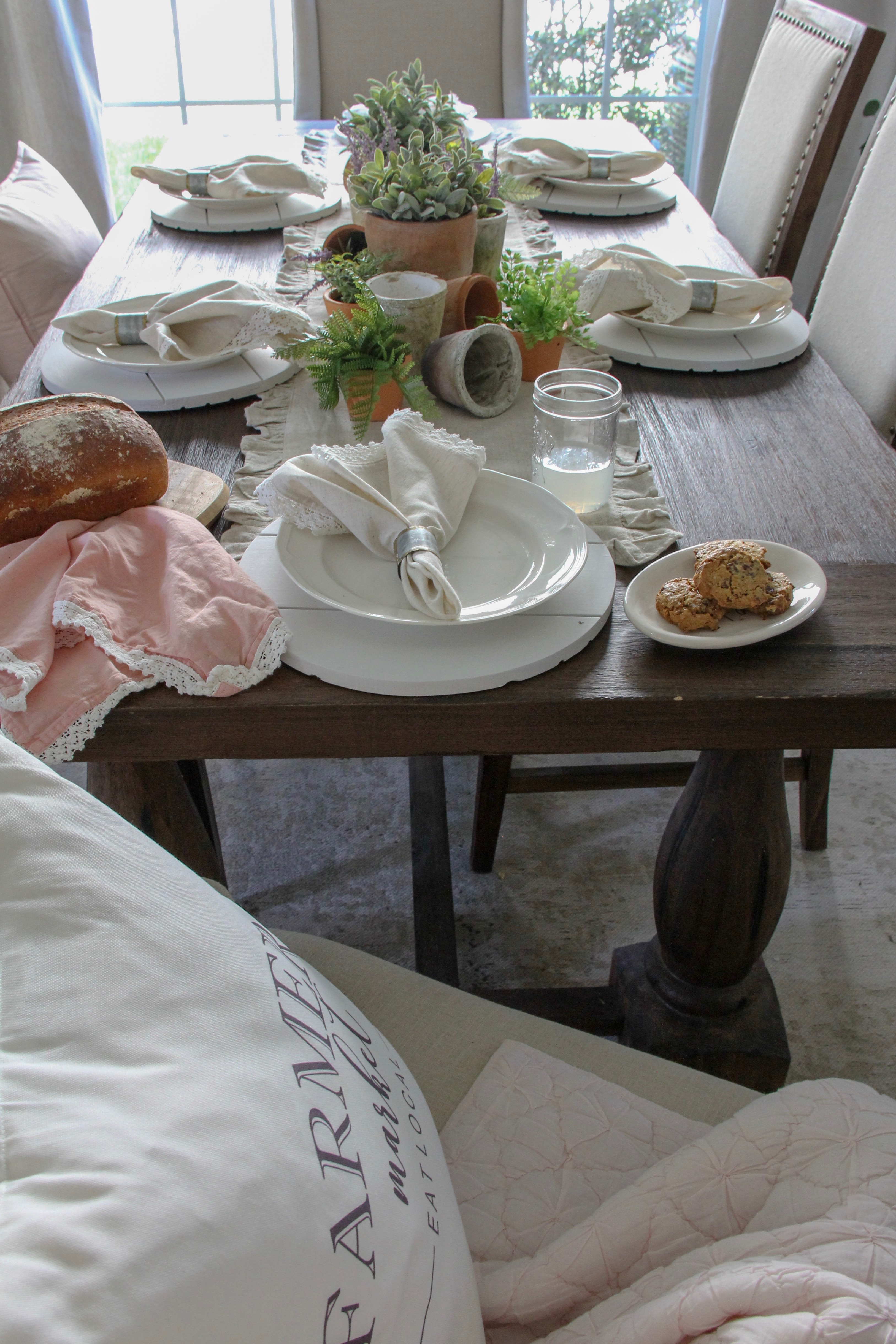 Simple yet practical for the spring season!
Living Room
Let's continue into the heart of my home, my living room, where I still decided to keep my decor simple.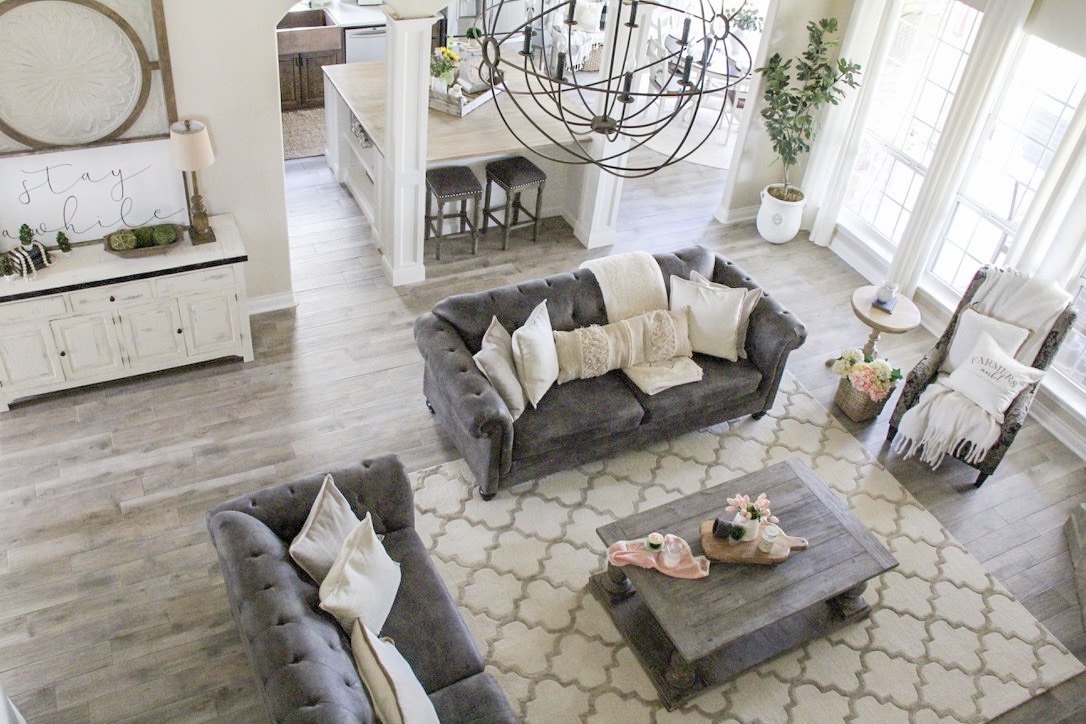 I added a few faux florals, and put away all my warm and cozy pillows and blankets.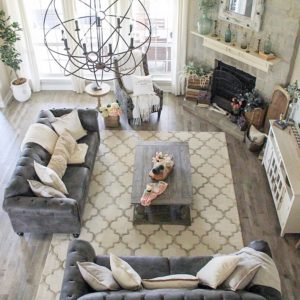 For my mantel decor, I used vintage seltzer bottles and antique candles paired with faux florals. My favorite faux floral this season are eucalyptus, tulips, lavender and hydrangeas.
Kitchen
We are currently in the process of painting our kitchen cabinets ( I promise a full tutorial will be added when we are finished) so I have decided to show you a glimpse of our kitchen nook where we gather for all of our family meals. My favorite meal being, Brunch, that's a meal right???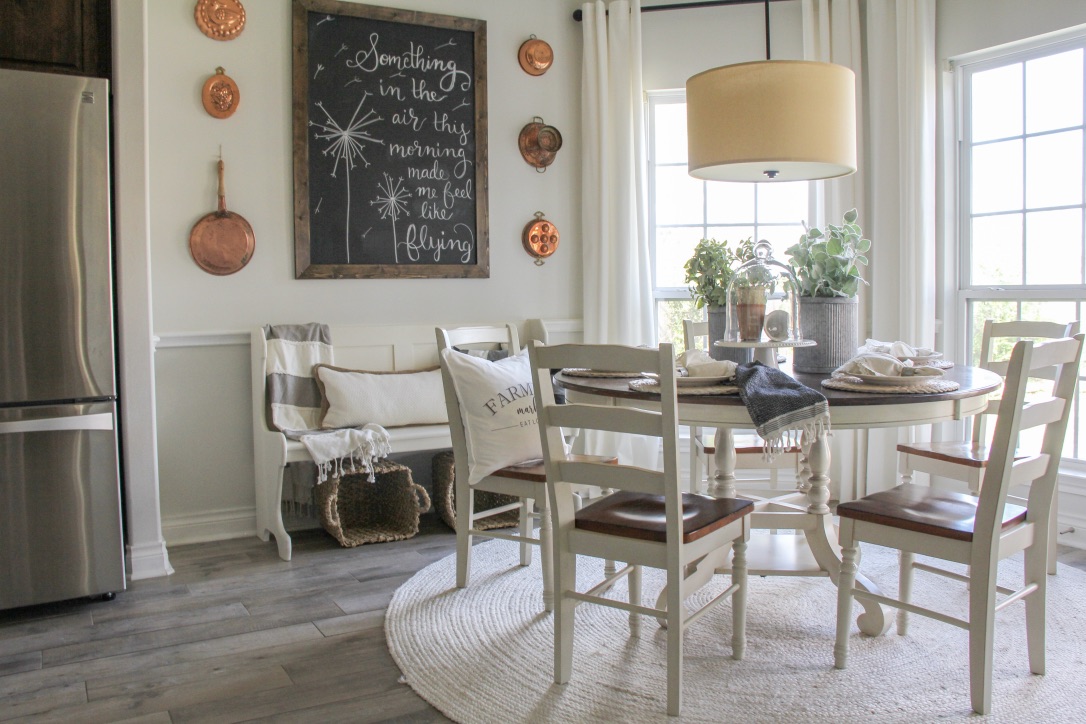 I love having this chalkboard in this space. It is so fun to change up for the different seasons.
I rarely show this plate wall in our kitchen and it is one of my favorite walls. I found all these vintage plates at a local antique store and love the added dimension.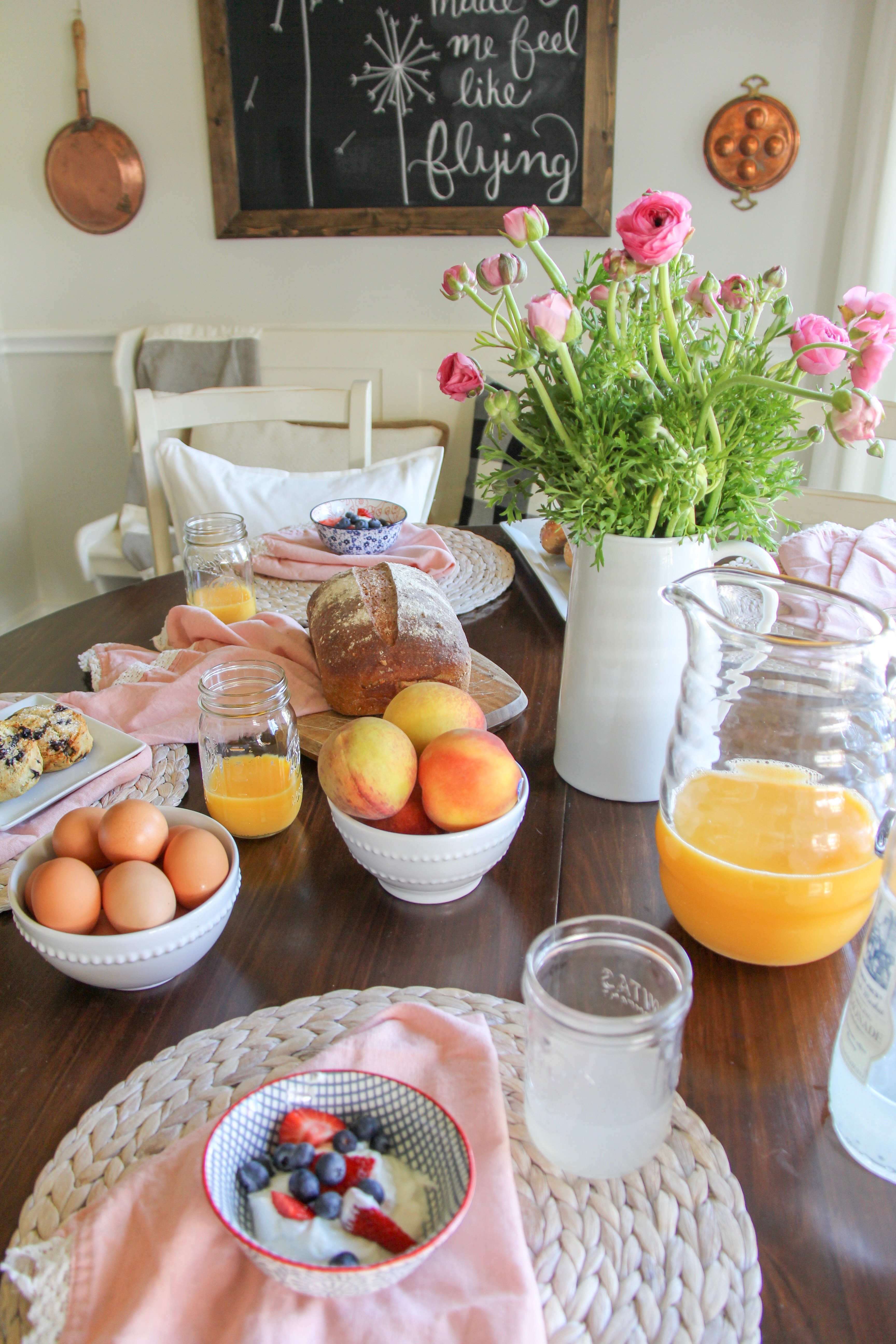 Adding soft touches of pink this season was one of my favorite ways to bring in hints of spring.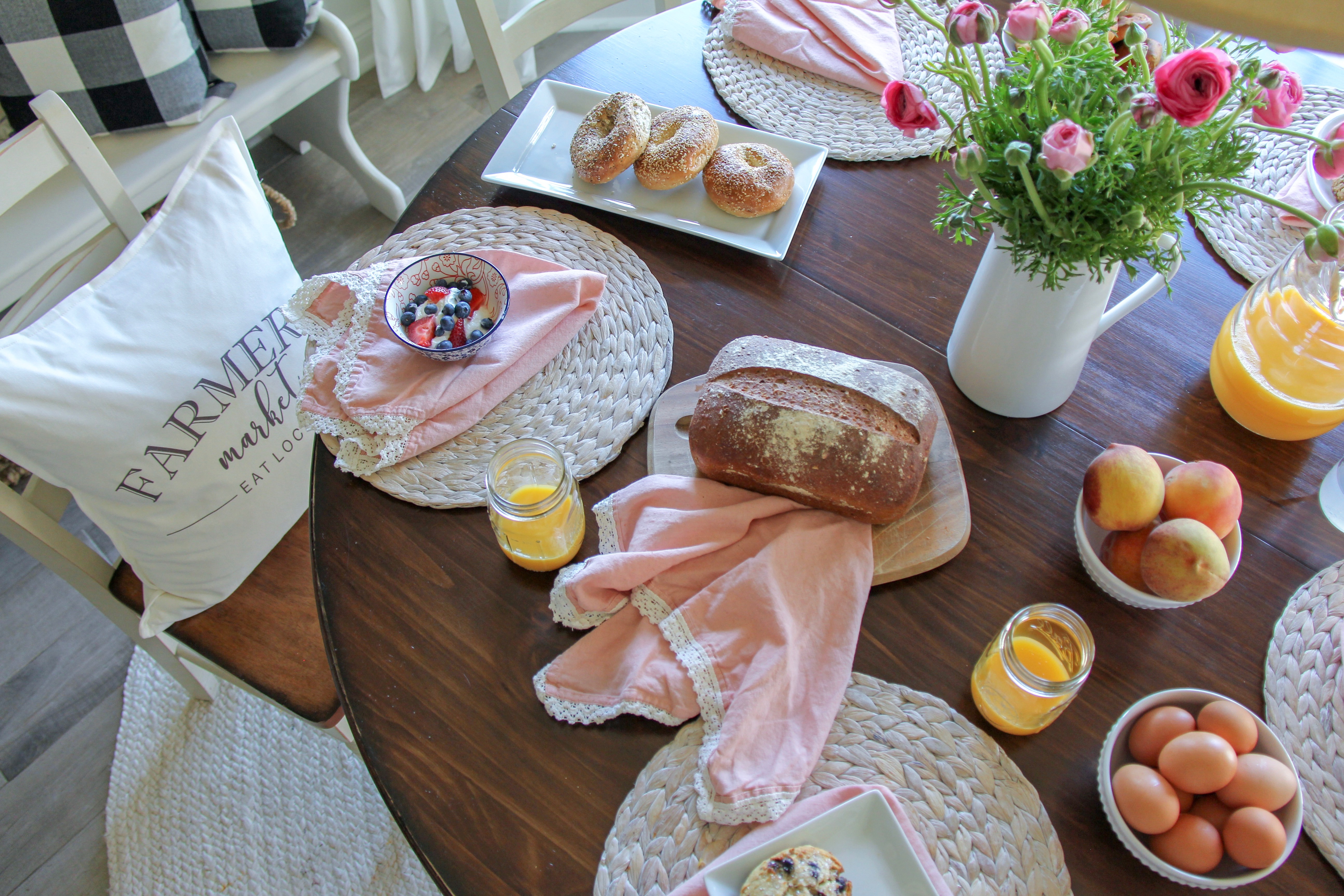 For our last stop, I want to welcome you into the master bedroom where I enjoyed adding more color!
Bedroom
I want to share with you two different bedroom looks for spring. Both adding hints of color using new pillows and a colorful quilt or duvet.
This first look is probably the most color I have ever used in our bedroom before. This orange and pink quilt used to belong to my sister when she was a little girl. My mom, being like most mothers, saved it, and I snagged it up before we moved to Texas. I have been saving it for my daughters Islas room when she is old enough for a big girl bed but for now I thought it would be fun to use this spring.

What do you think? Im surprised my hubby hasn't said anything about the bright girly colors! I thought it was such a fun change and my bedroom definitely feels like spring!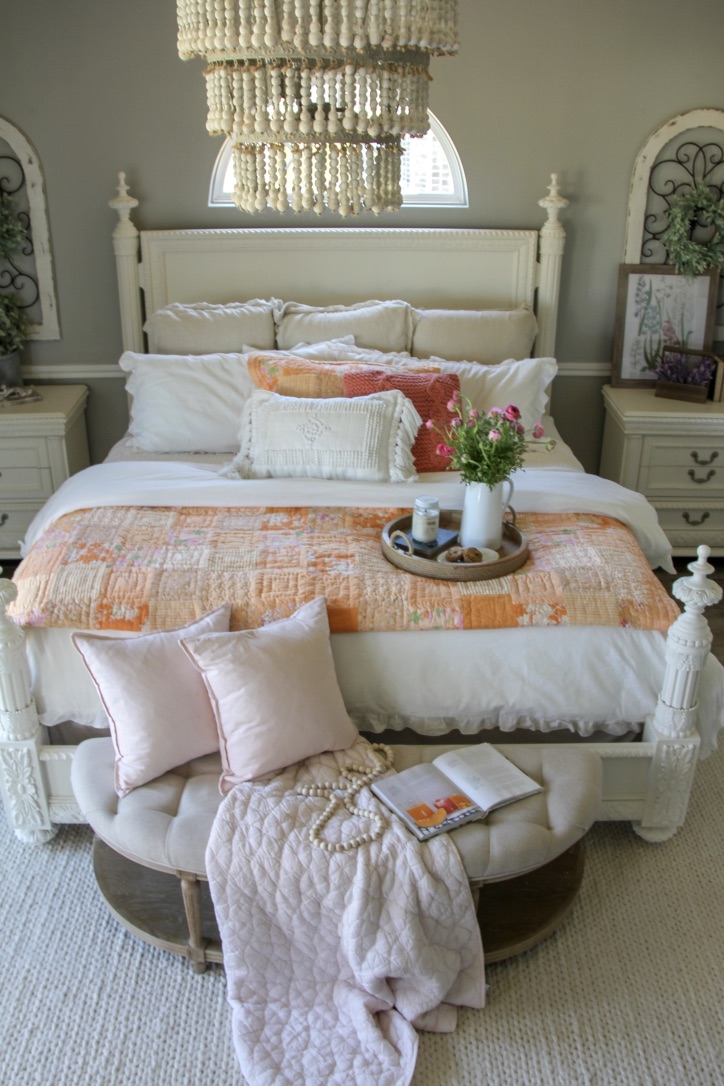 Above my nightstands I added simple wreaths to the wire wall hangings (from Kirlands), and added a new floral print that I found from Lauren at The Blesser House. Lauren always has the best printables and these were the perfect touch for spring.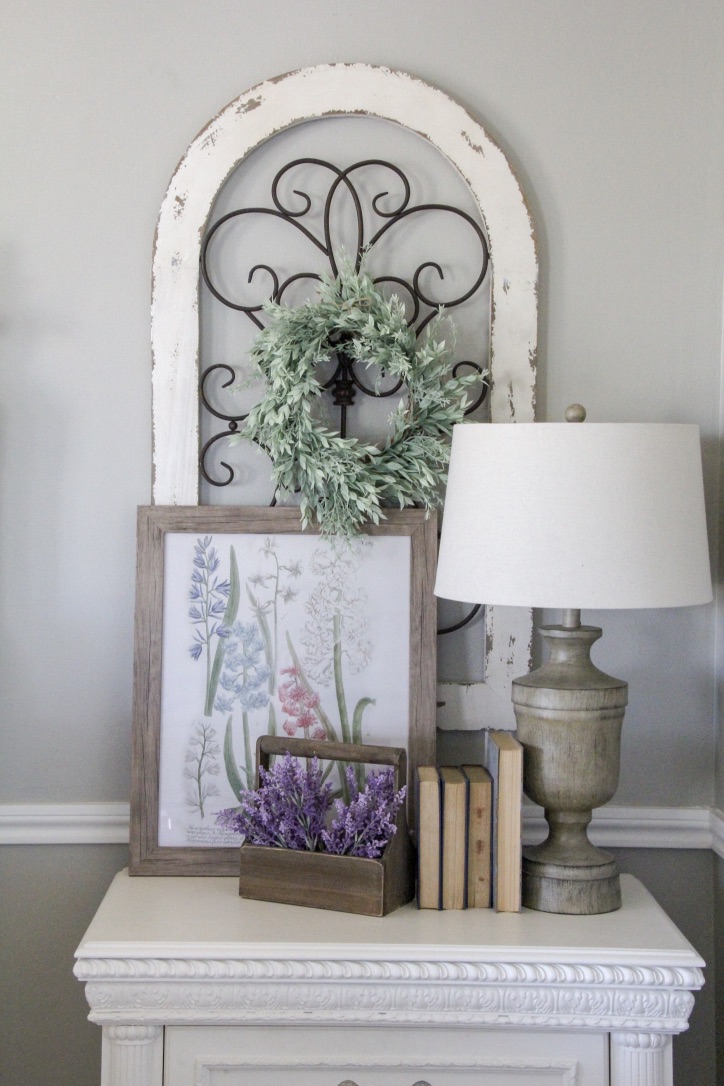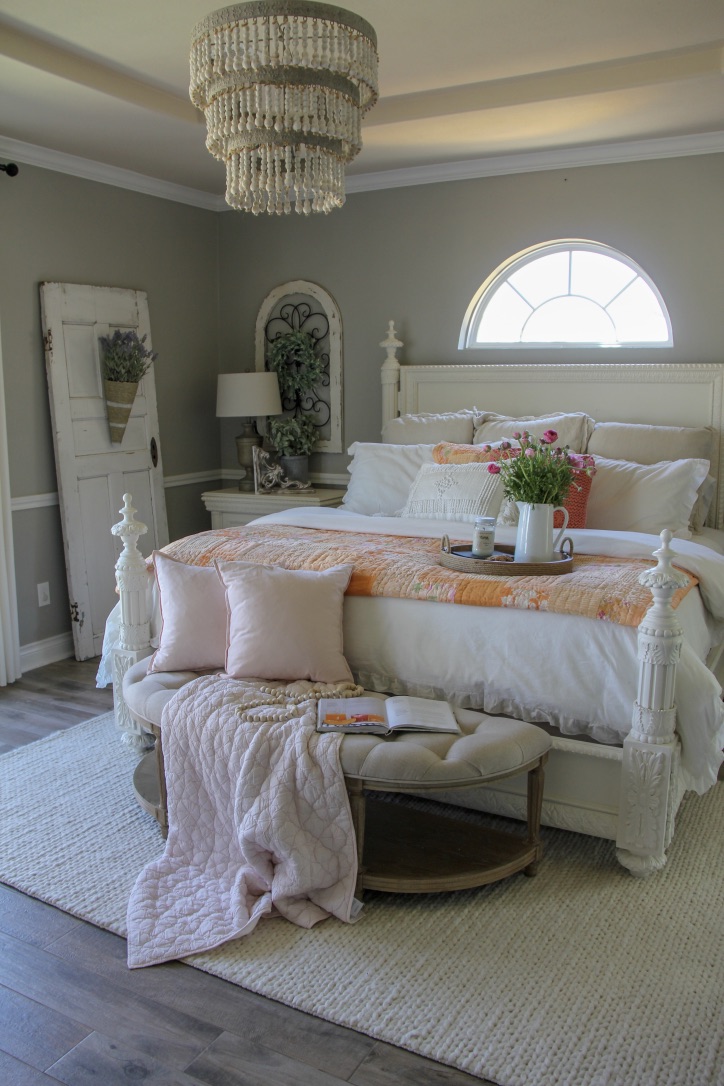 I moved my old door from my sitting room to my bedroom and think it will stay here for a bit longer. I felt like this space needed something and the door fits just perfectly. I found this basket at homegoods and liked it so much I bought 2!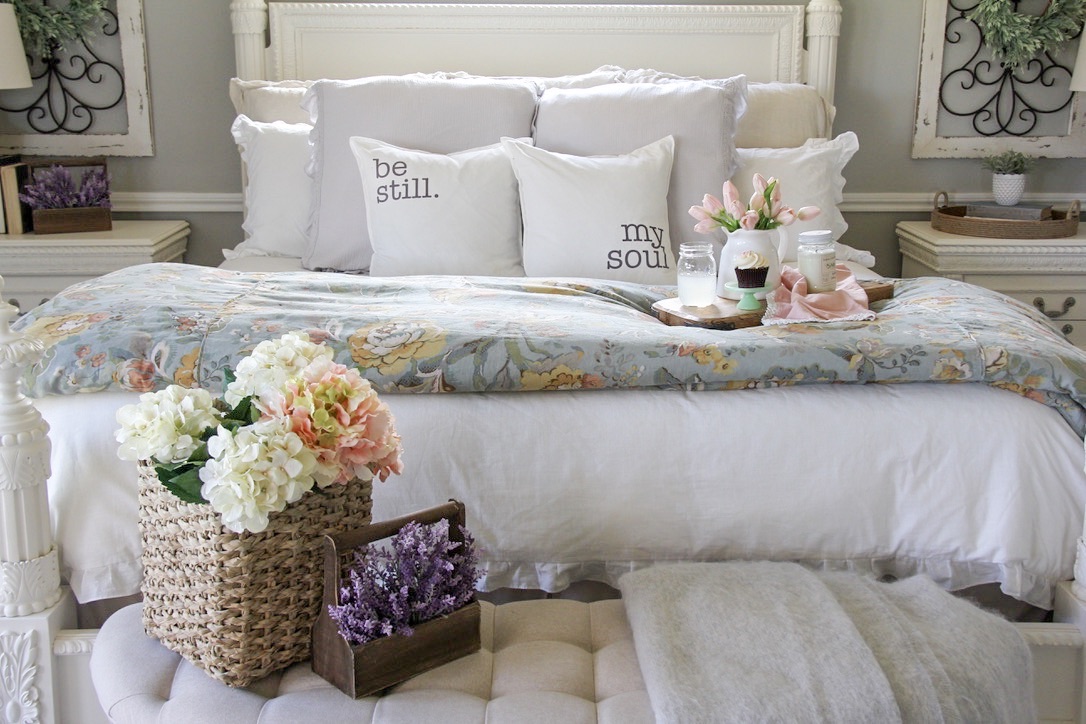 Here is another look on how just changing out a quilt and your pillows can instantly create a new look.
This duvet cover is actually one from our guest bedroom and I am in love with the colors for spring. The sage green goes just perfectly with the gray walls. I think my hubby might like it better then the bright orange… what do you think?
This wraps up my home tour for Spring! To create a new spring look in my home, I shopped my own home, and picked up a few new goodies at low cost. Don't be afraid to move things around in your own home to create a fresh new look! Don't forget to check out Myquillyn, at the Nesting Place to see how she decorate her home for spring!
Happy decorating!
xoxo,
Leanna
Make sure to check out the following
Early Spring Home Tours!
Mid County Journal / Classic Cottage / Clare and Grace Designs

The Nester / She Gave It A Go / The Tattered Pew
Grace In My Space / Pollie's Place/ Saw Dust Angel