Sharing is caring!
A Modern Nursery Room Refresh
This post is sponsored by Extra Space Storage. The thoughts and opinions expressed are my own.
I can not believe my baby is basically a toddler! Oliver is just about 18 months and I feel like he was just born yesterday! When I first designed Olivers room, I kept in mind elements that were suitable for a newborn. Now, that he is a bit older, I felt like he had outgrown some of the original design ideas. This week, while being stuck at home, I decided to do a small room refresh to update his room for his age.If you want to take a peek at what his room looked like before, feel free to click here.
A Modern Nursery Room Refresh
Modern Nursery Decor
One way you can quickly change the look of a room is to change out the rug. Changing a rug can easily transform a space. I switched the playroom rug into Olivers room and I love how it made his room more modern immediately.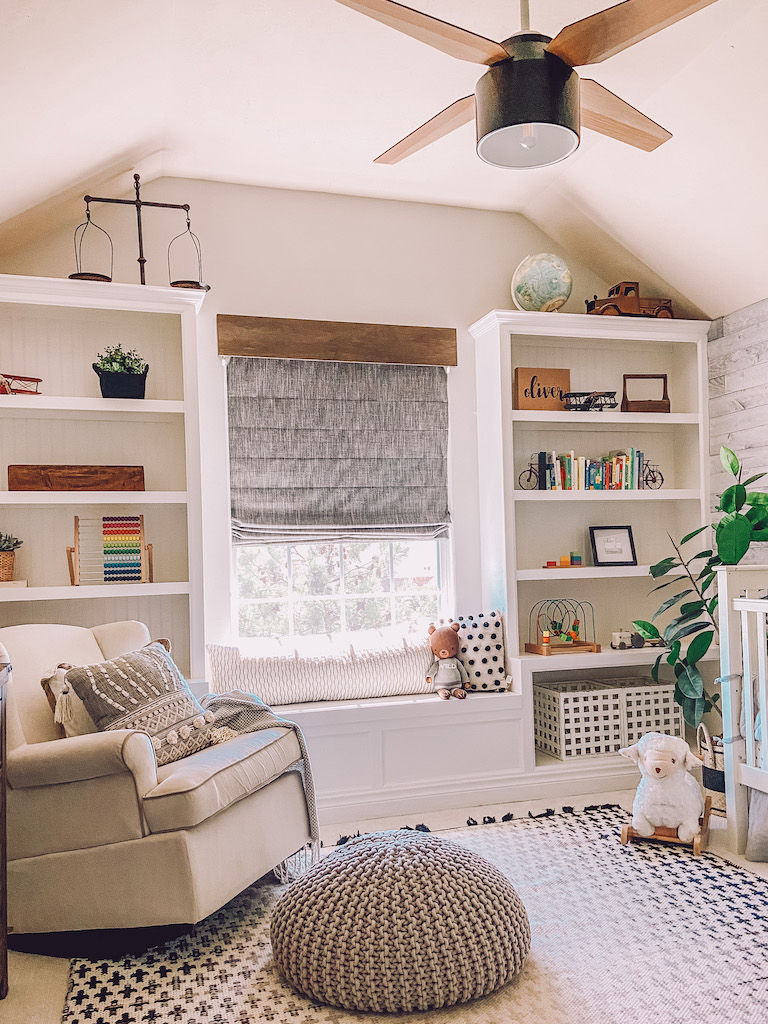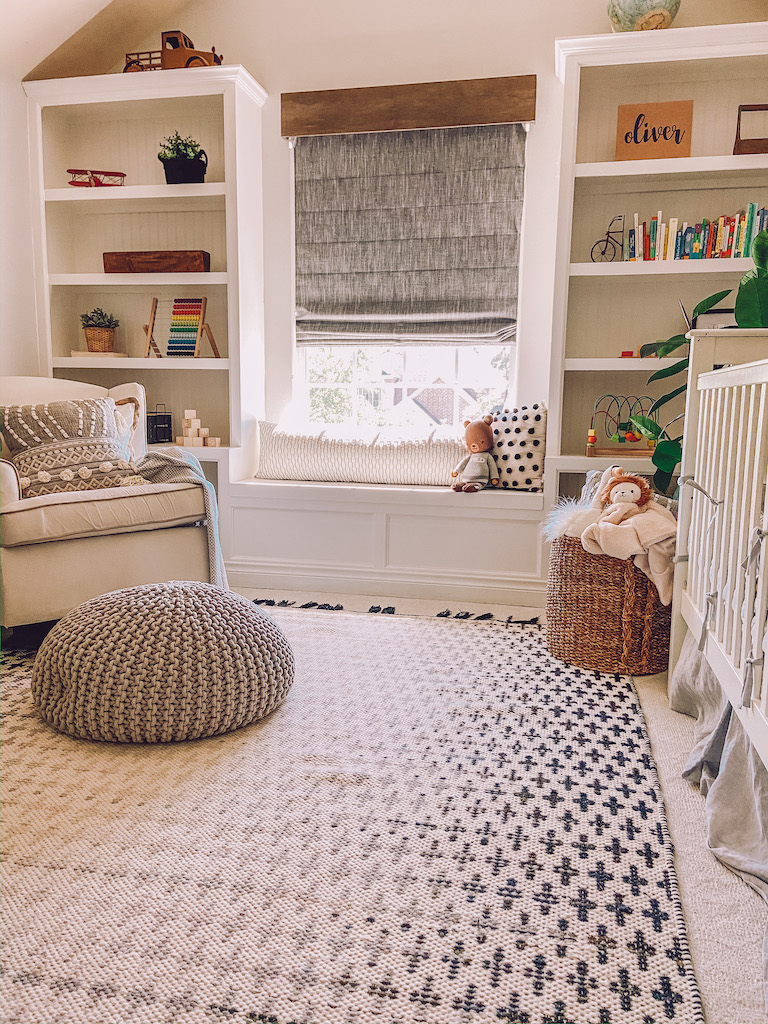 I also added a few bright and colorful toys to his bookshelves. These bookshelves were built by my husband when we first designed Olivers nursery. When designing a room, especially a nursery, always keep in mind the amount of storage available. This is one thing that is often overlooked. If the room has a small closet, built-ins, bookshelves and a larger size dresser are all great options for extra space. I love that they not only provide extra storage, but that they are also fun to style. The window seat also flips up for additional storage! We don't spend too much time in here playing, but I love that he can grab his toys when he needs them!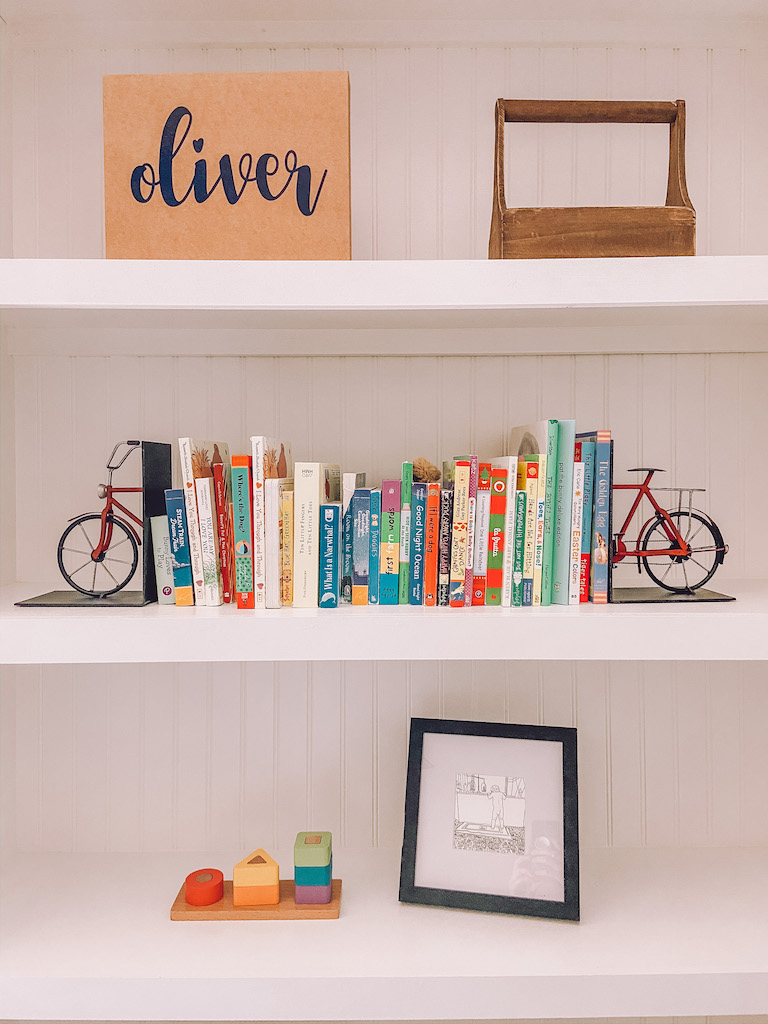 The toys also add a fun pop of color to his otherwise neutral decor.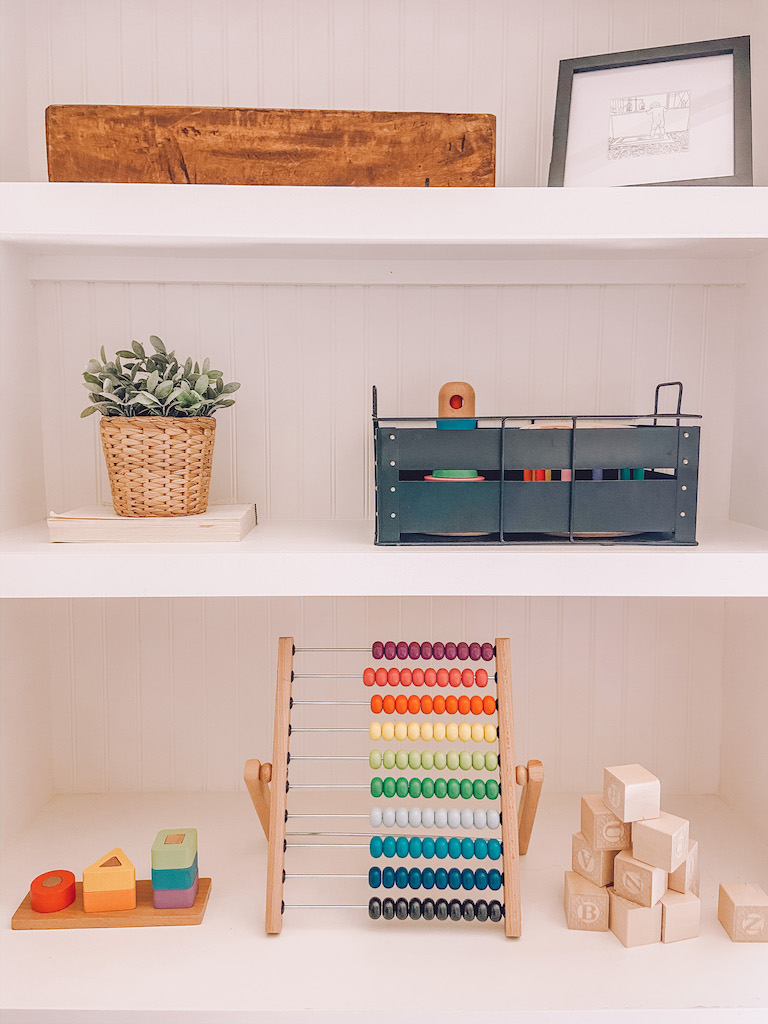 When Oliver was a newborn, we had a big sign over his crib that said, " as soon as I saw you, I knew a grand adventure was about to happen". Although I loved the sign and the quote, I felt like he had grown out of it. I had found an old antique horse mount a few years ago and have been looking for a place to put it. It looks just perfect above his bed! Oliver also loves his horse and says goodnight to him each night!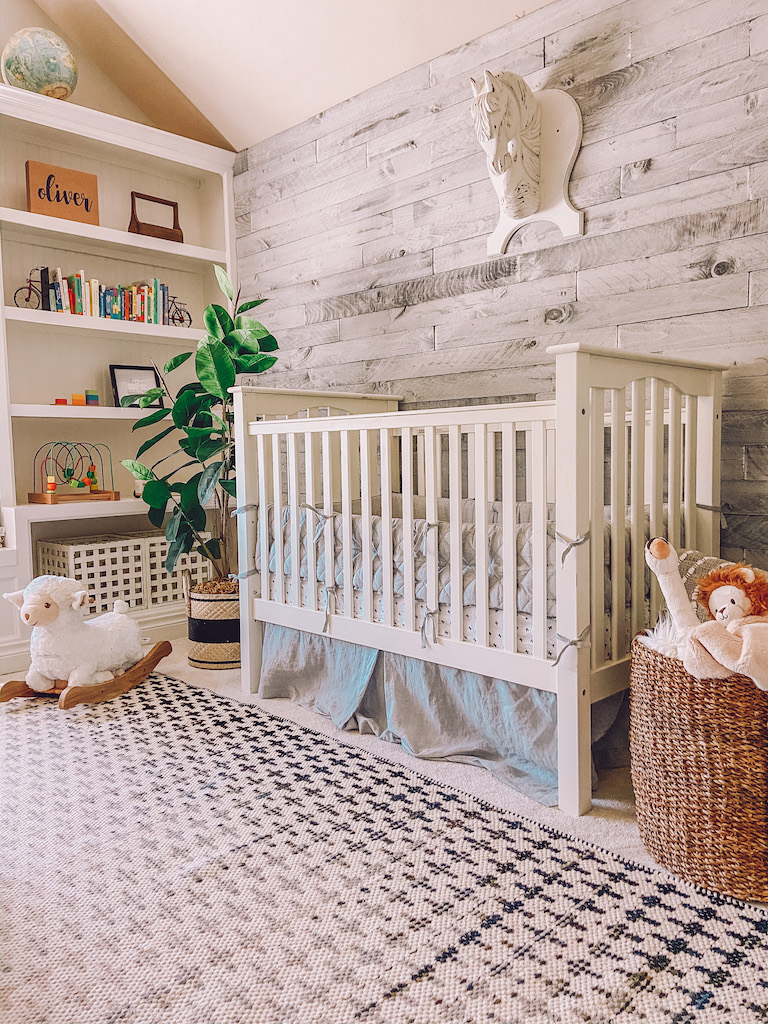 The last addition to Olivers room is adding more books! This boy loves to read, way more than my girls ever did. Although we had some books on the bookshelf, I wanted a place where he could reach for them himself. I found this cute little ladder with baskets and added books to the bottom.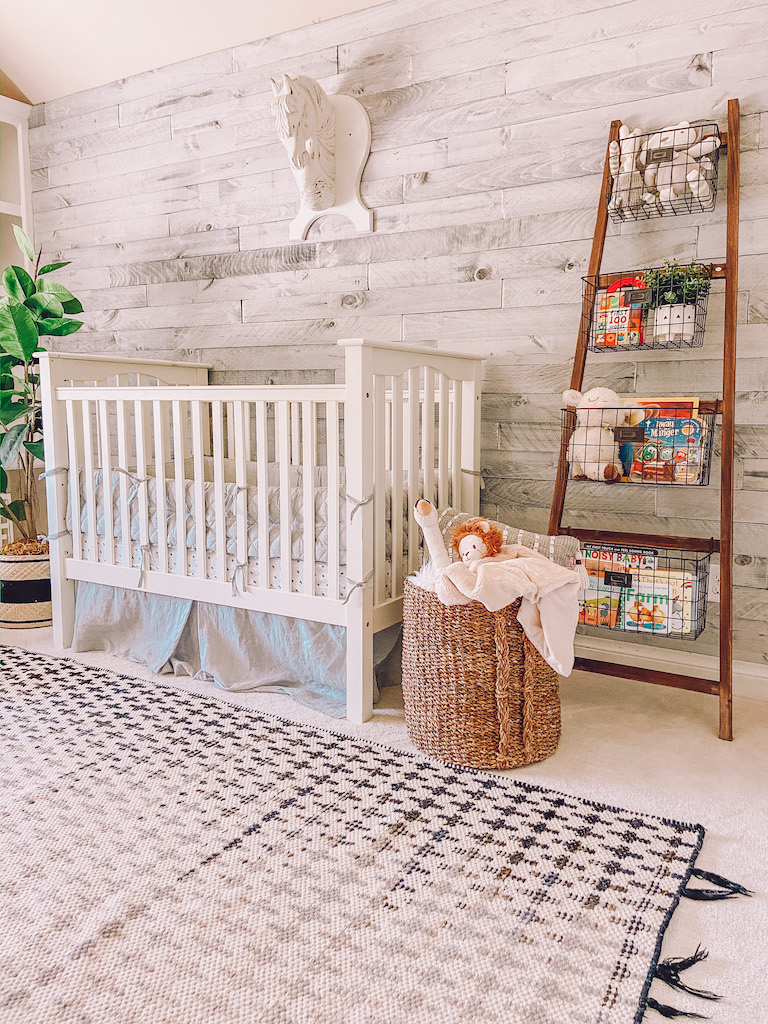 How to Organize a Modern Nursery
Not only did I miraculously find the time to switch his room around, but I also reorganized his drawers and closet. If you are new here, you might not know that I LOVE to organize. I may even consider it cheap therapy. So, spending a few hours organizing Olivers room the other day was just what I needed after being at home these last few weeks.
Today, I will share with you my best tips to organize a kids room. Hopefully these suggestions will help you eliminate clutter and provide you with a system to keep your child's room organized on a day to day basis.
Drawer Space Optimization
The best way to get the most space out of drawers is to roll each clothing item. This maximizes space and allows you to also see what you have!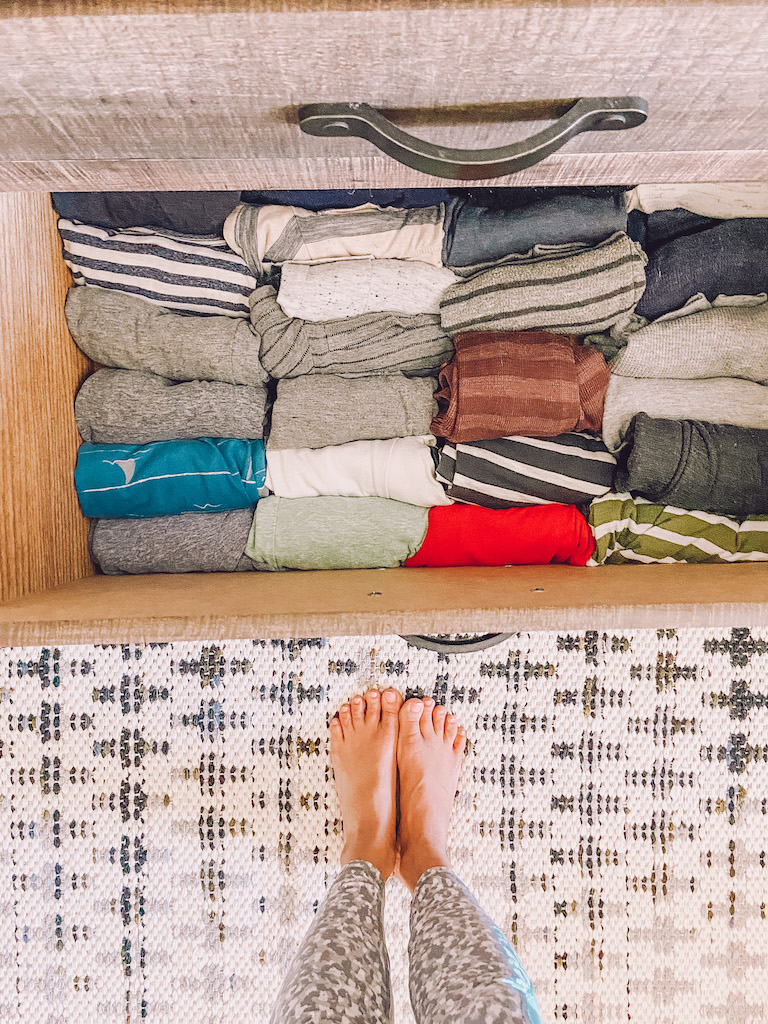 Consider having a drawer for each item of clothes; shirts, pants, shorts, and pajamas. Hang button down shirts, onesies, jackets (dresses for girls) in the closet.
Closet Organization
If you don't have a closet built in for organization, add a cubby bookcase for extra storage. These systems are a great way to utilize the extra space at the bottom of the closet. You can store extra diapers, wipes, blankets, burp clothes, sheets and more.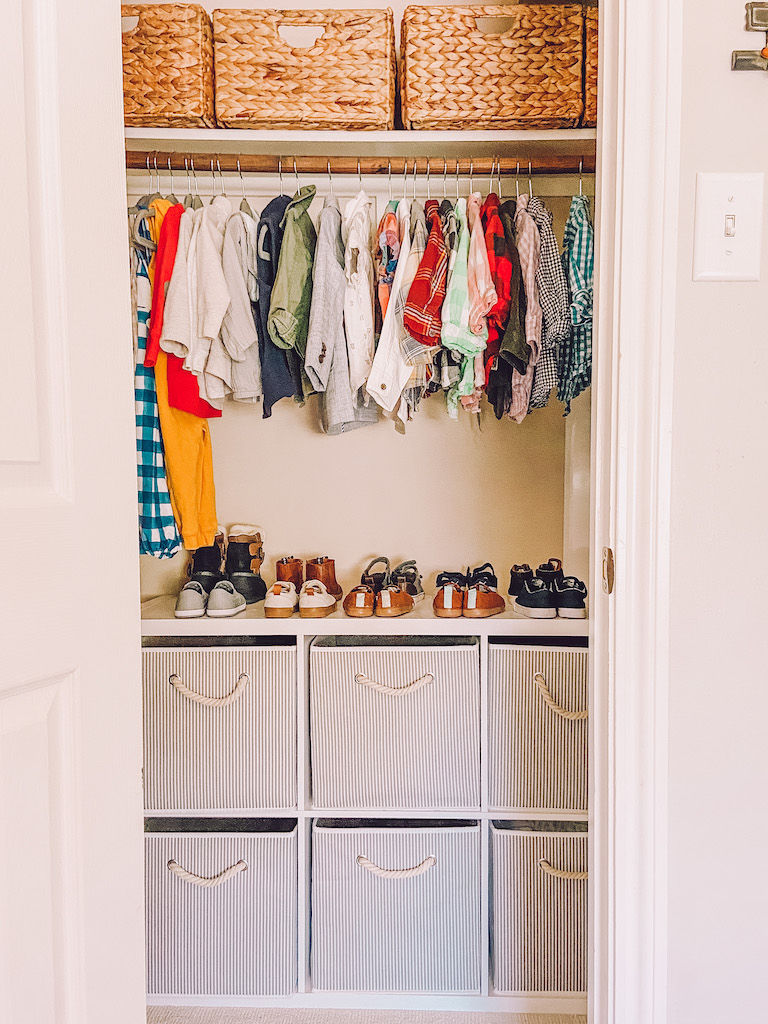 For the items that are hung, sort them but the clothing type. You can also color coordinate if you like to be fancy! For a newborn, if you have lots of clothes in different sizes, consider sorting my size instead.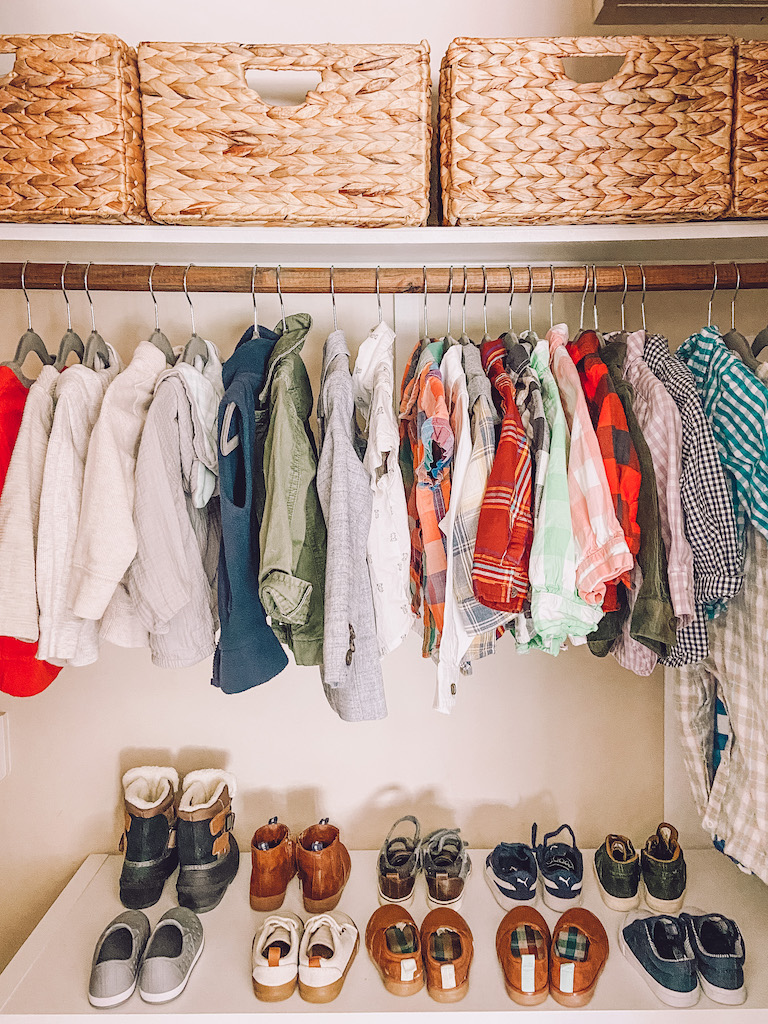 Save, Donate or Toss
If you tend to buy bigger sizes, store them in bins in the closet until they fit. Clothes that are too small, add to another bin and sort through every few weeks. Either save, donate or toss. If you save the clothes, make sure to label the size in a clear plastic tub so you can find it easily at a later date.
Toys
Keep age appropriate toys at arms lengths for your little to play with. Toys that they have outgrown, either donate or save. Rotating toys is a great way to avoid boredom. Every month or so, take different toys out of the closet and put them in reach. They will have forgotten the old toys and consider them as new! Also consider saving toys from Christmas or birthdays after they are unwrapped for a later date!
If you want to read my favorite tips and tricks to organize a toy closet click here.
Extra Storage
If you are looking for more in home organizational tips, I highly recommend that you check out @extraspace. They have some really informative organizational tips for any room in your home. Extra Space Storage is also an excellent place to find a storage facility near you! In-home storage is not always an option, and having a place to store your items can be necessary. Consider storing items you only use seasonally, or don't use but are not ready to let go of yet.
If you are welcoming a baby into the world, or looking to refresh a current nursery, I hope these tips have helped or inspired you!
xoxo,
Leanna