Sharing is caring!
Father's Day is just around the corner and I want to share a fun Fathers Day Coupon book idea! Shopping for the guy who has it all can be SO tough, am I right? This year, give him a gift that is fun, sentimental, and catered to his likes and hobbies! Coupon books are the perfect way to give a little extra because you aren't giving just one gift. There are many in just one coupon book.
It was so fun make these coupons for you to print out and use! I loved coming up with fun ideas. At the end of the book I also included a blank coupon ticket in case you want to add some of your own!
If you are looking for some Fathers Day gift ideas I rounded up a few favorites from Amazon and Target here!
Fathers Day Coupon Book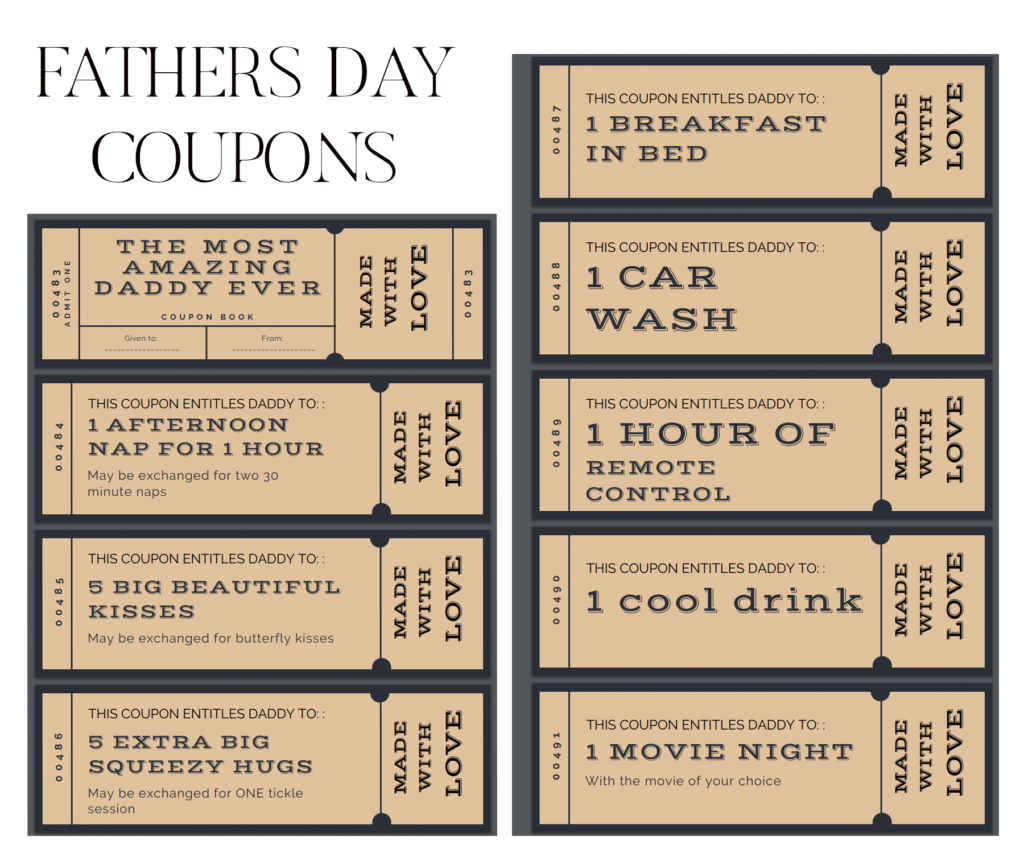 Fathers Day Coupon Content
1 Afternoon nap
5 big beautiful kisses
5 extra big squeezy hugs
Breakfast in bed
1 hour of remote control
1 cool drink
Movie night
Directions:
Download and print the coupon book and cut out the ones you want to use.
Add more coupons of your own wording if needed
Stack them in the order of your choice with the cover on top, then staple the stack to secure.
How to Download Fathers Day Coupons
To download fill out the form below, and I'll send them to your email ASAP. Or if you are already signed up click here to view the entire printable library.
Let me know if you have any problems trying to download the coupons. You can contact me here.
What do you think about these Father's Day coupons? Do you have your gift for Father's Day or are you still thinking about what to give him? What are you doing for Fathers Day this year? Let me know in the comments!