A Bohemian Outdoor Friendsgiving: Perfect way to celebrate the Holidays
This bohemian outdoor friendsgiving is the perfect way to celebrate the special friendships your life.
Aren't friendships the best??? I don't know what I would do without my tribe!! Through the good times and the bad… they have seen it all. As I have gotten older, I have truly appreciated the value of a good friendship. I have also learned, that it is not about the number of friends you have, but the quality of your friends that really matters. I am incredibly thankful for all the strong and beautiful women in my life and because of that I wanted to throw a small party to show them how much I cared.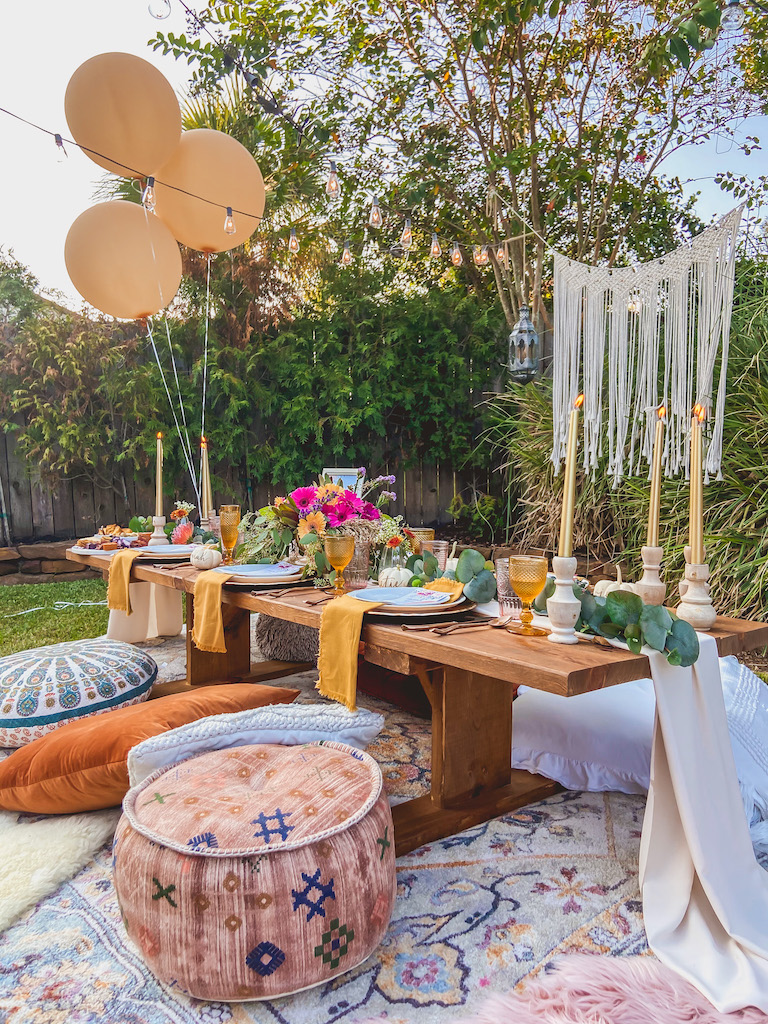 Although this time of year tends to cause stress for some, it can also bring out so much JOY!! I know I have been counting down the days for the holidays for months now! I look forward to the time of year – the magic of the season, seeing the joy in others, and hunkering down by the fire.
Spending time with my family is something that is so important to me, especially around the holidays… but we may not get to see most of our family this year. The world right now is so crazy… and this year I want to make the best of of every opportunity.
To kick the holiday season off, I wanted to kick back and relax with those friends who mean the most to me, before the beginning of the hustle and bustle of the holiday season.
Outdoor Bohemian Friendsgiving
Friendsgiving is a fun gathering where you invite over the closest members of your tribe for bottomless wine, great music, and lots of yummy fall recipes! It is a magical evening, that helps set the tone for the holiday season that is ahead and connecting me with what is most important – good times spent with those I love the most.
Don't stress about it being perfect. What matters most is who you are with and the time that you spend together.
How to create a Bohemian Friendsgiving
Centerpiece
I chose to create a floral centerpiece full of fall colors. I added a simple runner using fabric, with faux eucalyptus down the center.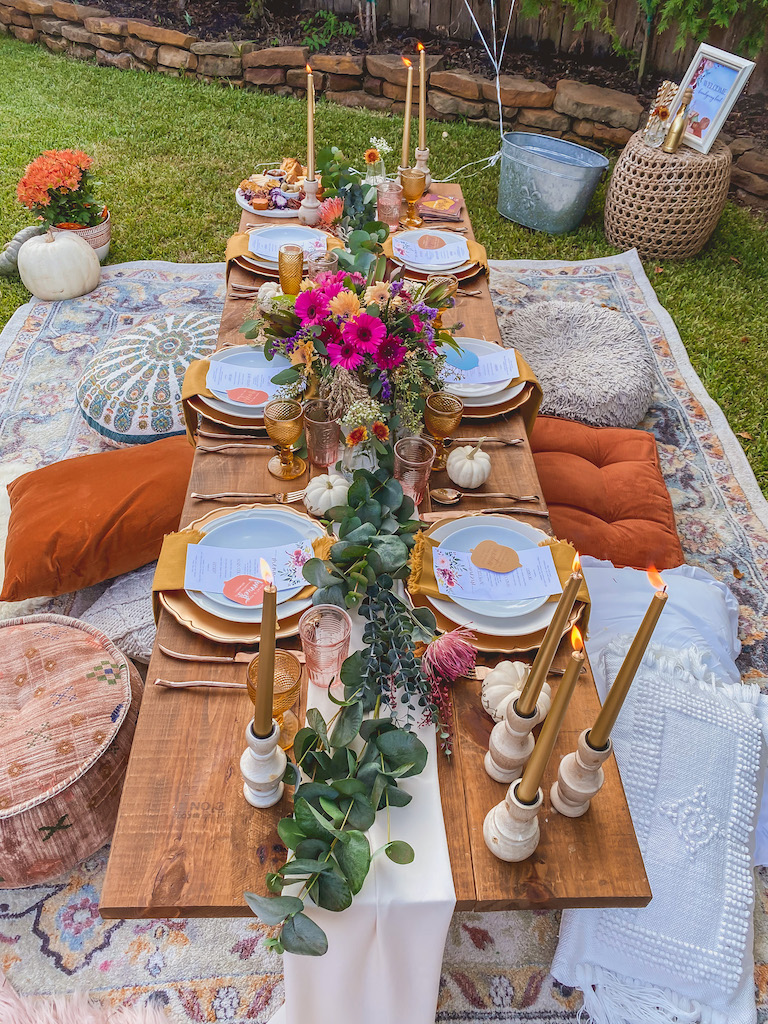 Dishes
Consider using dishes that will immediately bring texture to your tablescape. Opt for neutral dishes with a contrasting charger to add a touch of color.
Napkins
Use napkins with fall colors – deep purple, burnt orange and burnt yellow are some on trend this year.
Glasses
Use fun glasses to add texture and color to the table. Feel free to mix and match!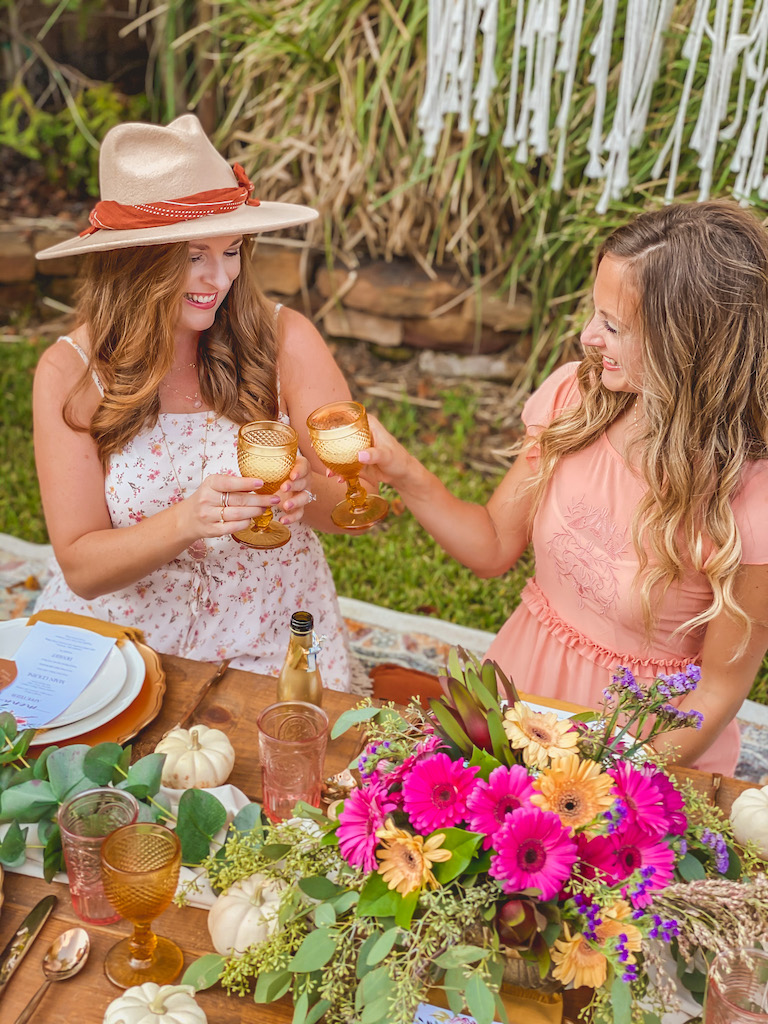 Florals
Use fresh flowers in fall colors and candles intertwined among the table. Floral arrangements can be arranged in a few different smaller containers made of different materials, such as metal and glass. Or opt for one large center floral arrangement in the middle of the table, with a eucalyptus garland down the center.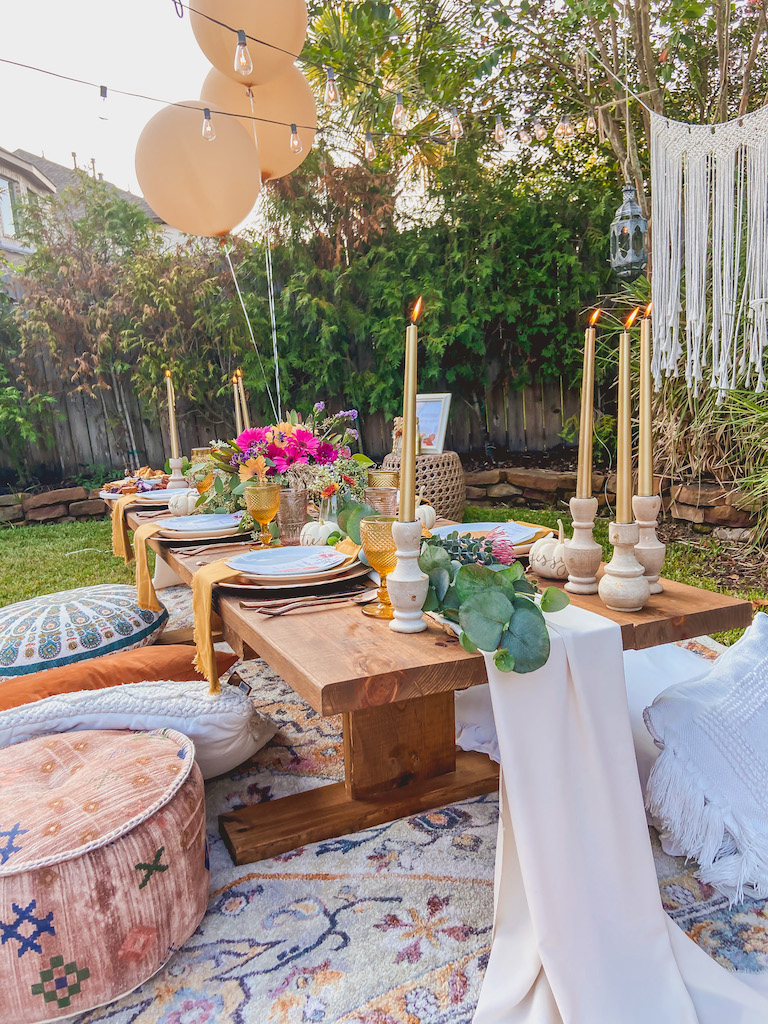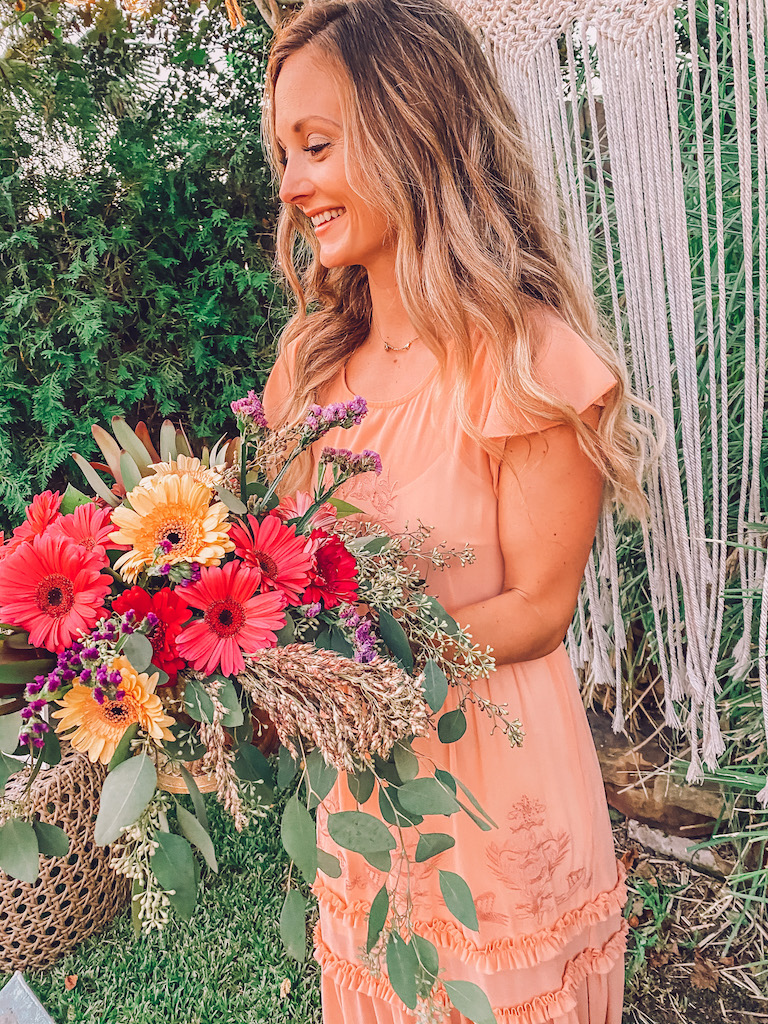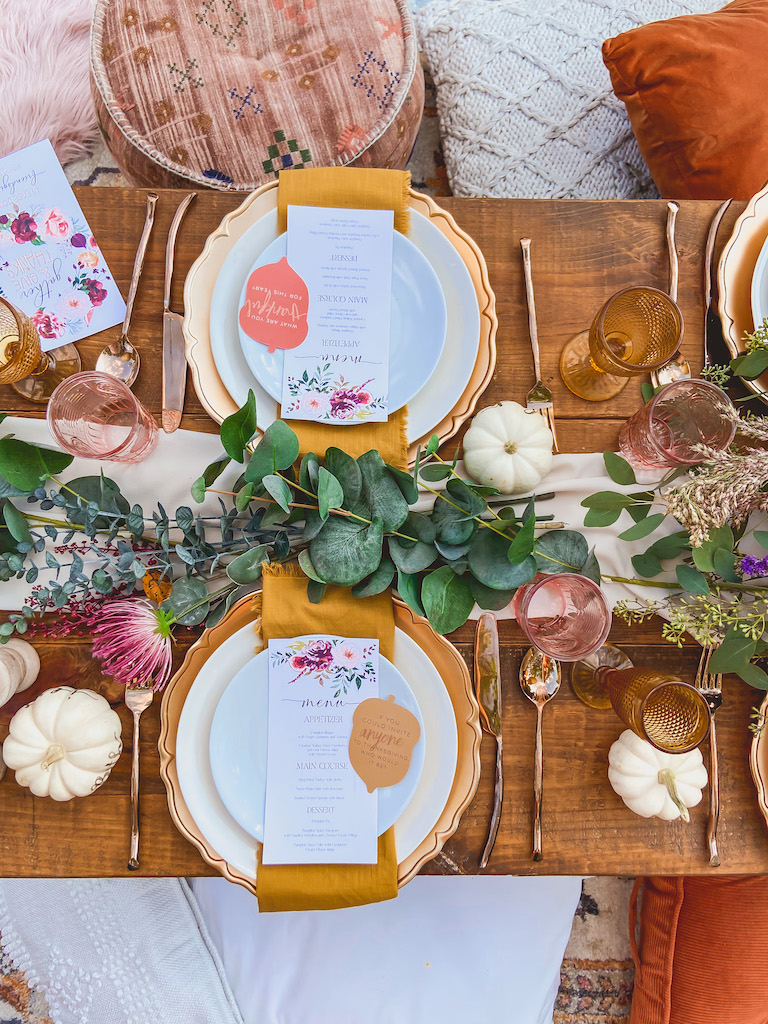 Lighting
Hanging string lights can create a magical setting, especially as the sun goes down. Hanging lanterns with electric candles can create more lighting. On the table, tea lights and candlesticks made from wood or different metals can add more texture and add to an already rustic boho vibe.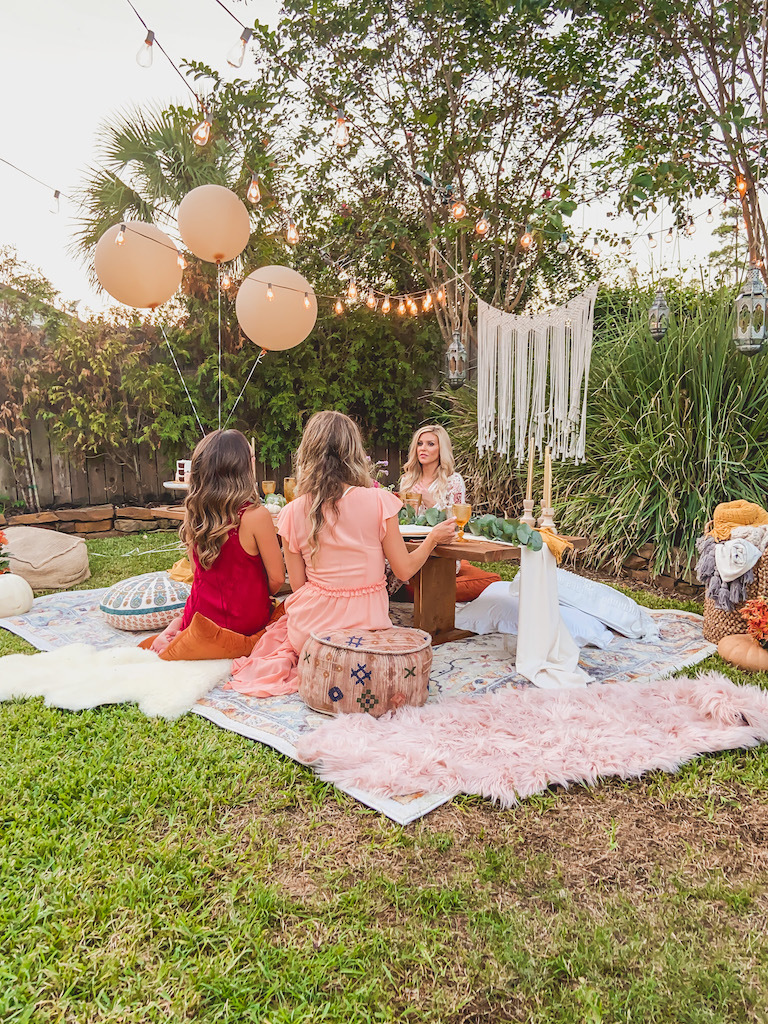 Food & Drink
Don't forget the most important part about any Friendsgiving.. the food and drink! Cheese boards are always a good idea.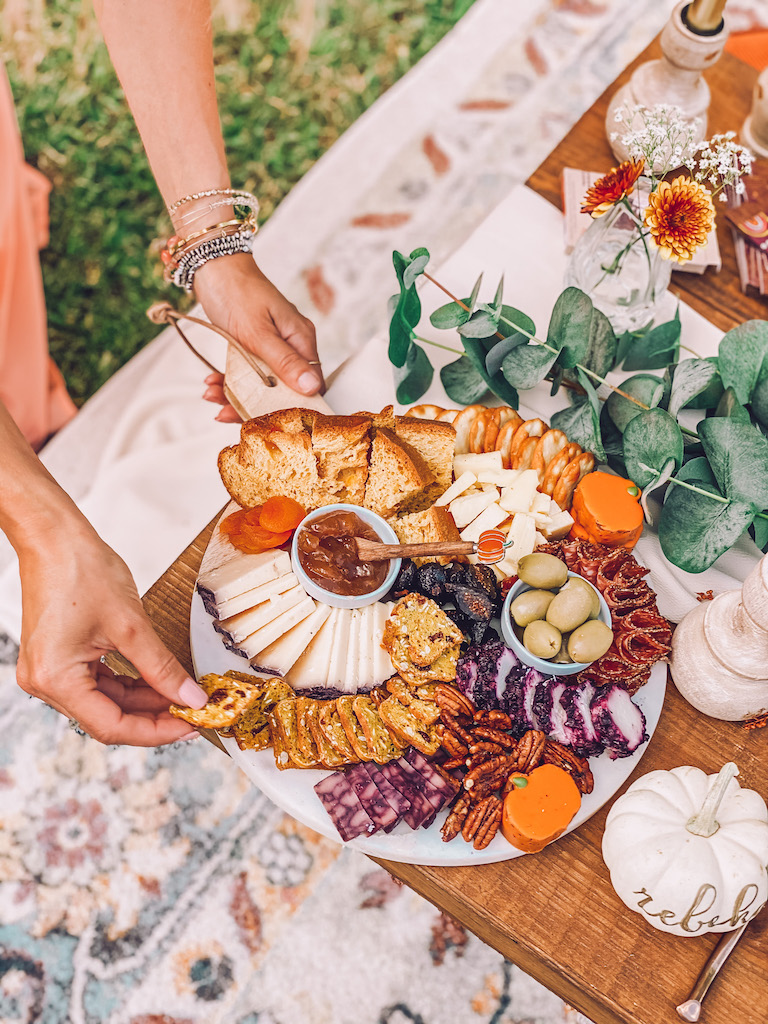 .. and cake is always a good idea! For a time saver, buy a store bought cake and decorate it with fall colors.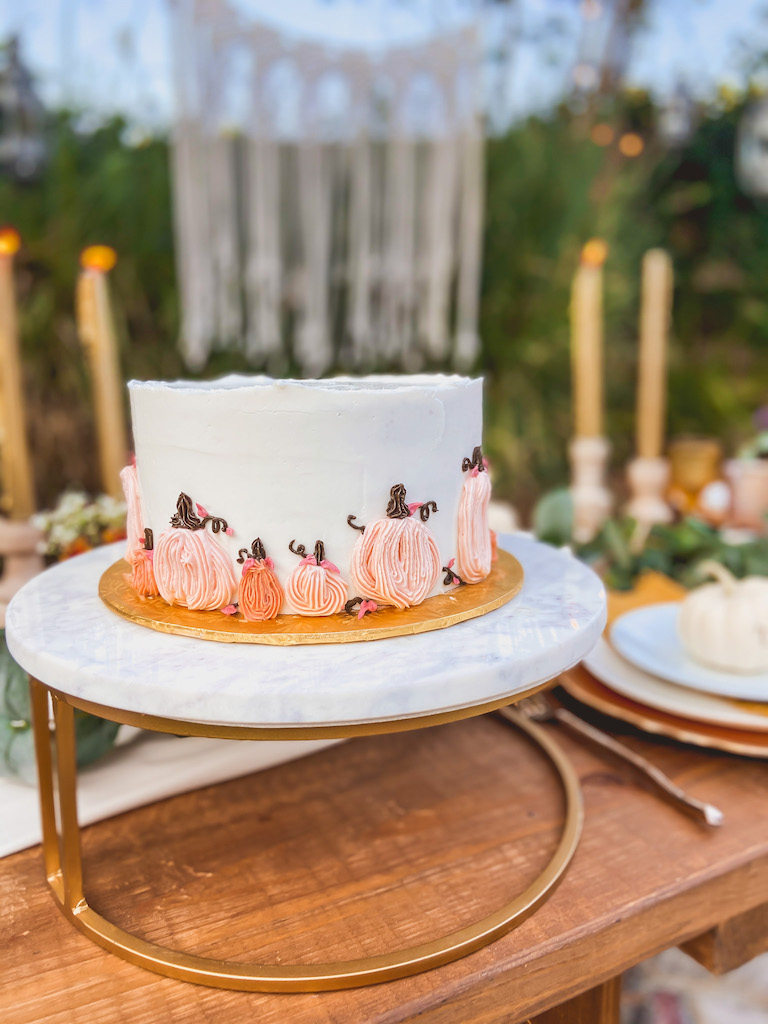 Add personal champagne glasses to each table setting.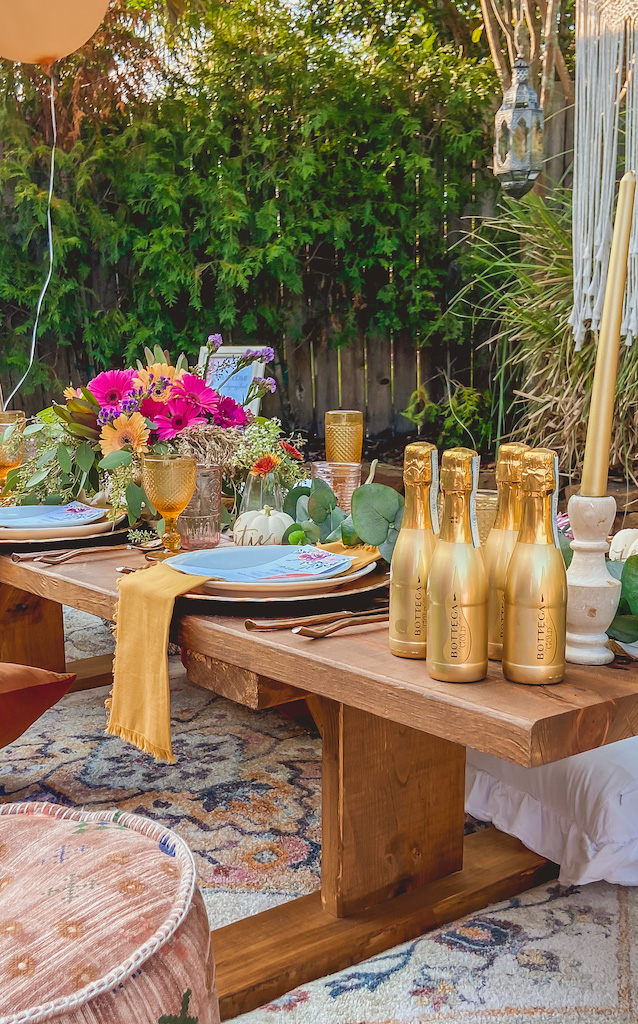 Seating
To create the ultimate boho look, use floor cushions, pillows and poofs. This is a great way to add more texture and color to the set up.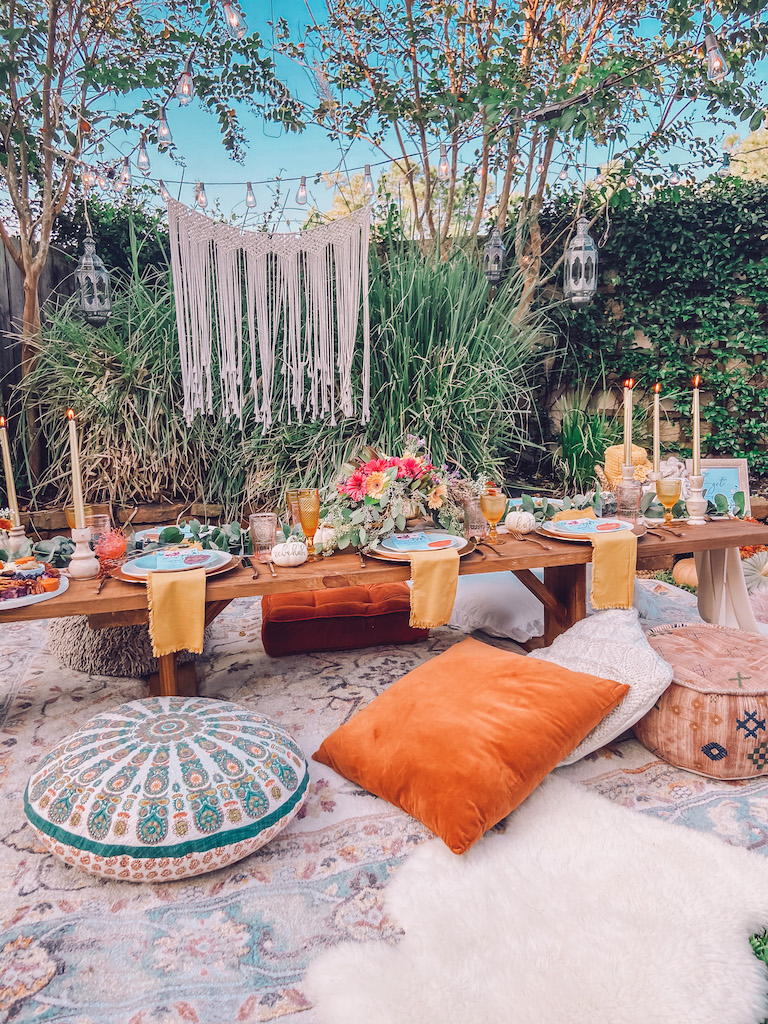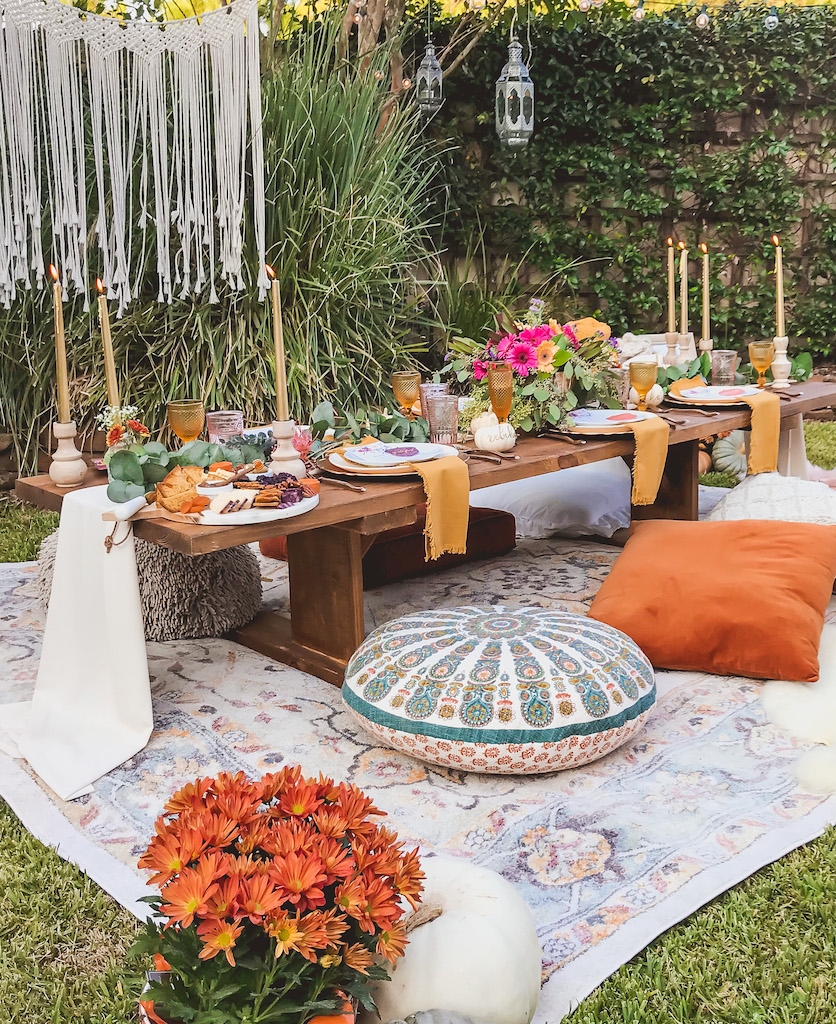 Don't forget to have FUN!!!
The point of Friendsgiving is for everyone—including you—to have an a good time with less stress. Try to do as much prep work as you can before the day of the party. Consider asking friends to bring a dish, and choose simple recipes to avoid worrying about cooking the food!
If you love the idea of hosting an outdoor party, make sure you check out these other outdoor parties below:
I added some shopping links for your convenience: