Fun Kids Easter Play Date: with Easy Easter Table
Sharing a look into a fun kids easter play date with friends! Also a few tips on how to style a simple kids Easter table
How is Easter already on Sunday??? This month seriously flew by!!!! I feel like I am trying to cram in all the fun Easter things this week to try and get everything done!
A few weeks ago I set up an adorable outdoor Easter Table for a fun little play date for the girls. They each asked their bestie and we spent the afternoon decorating Easter cookies.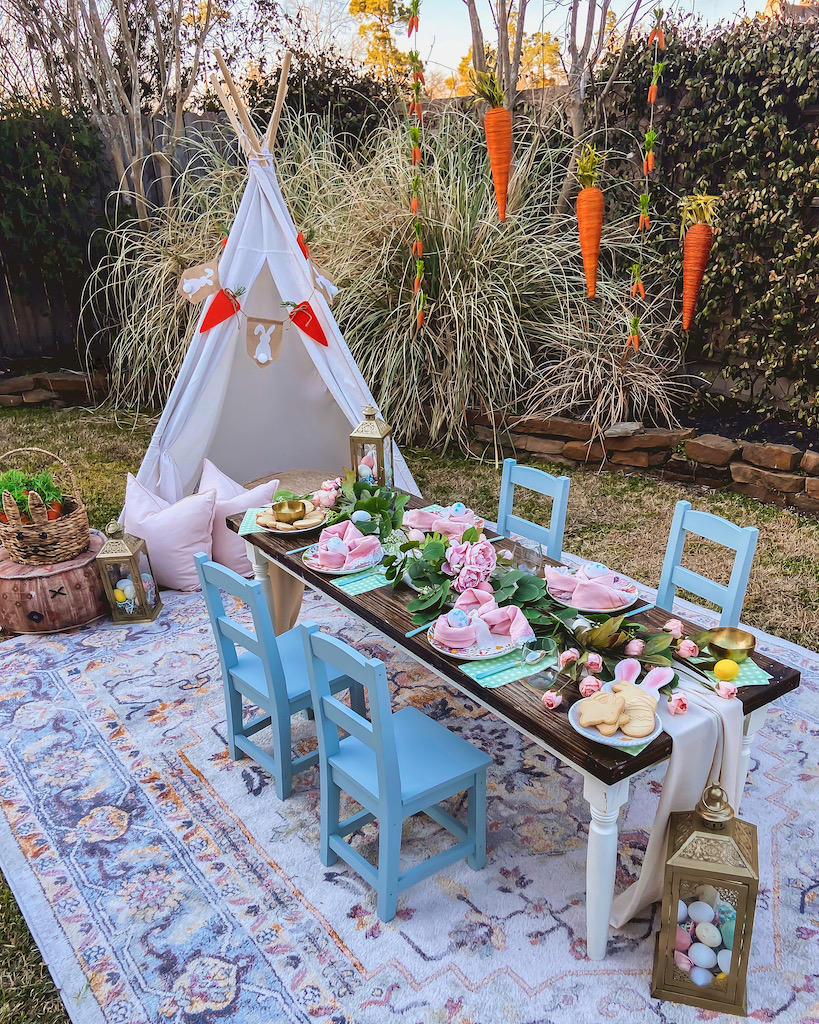 It was such a magical experience and it makes my mama heart so happy creating these memories for them!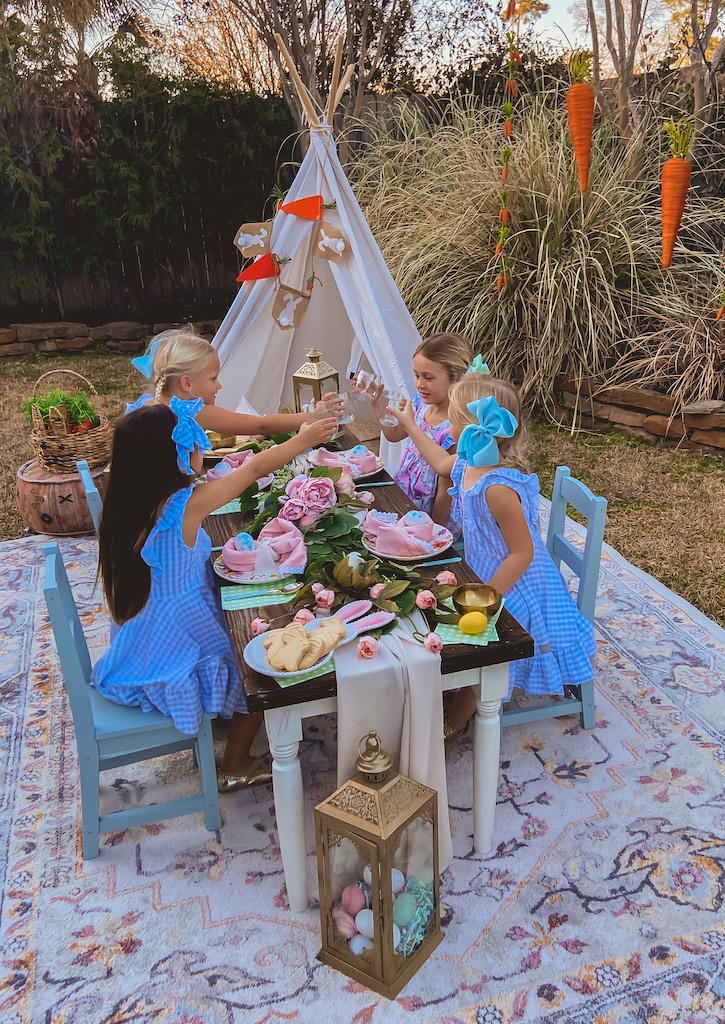 The kids table was built by my handy hubby a few years ago and we use it for homeschool, crafts, and parties! He bought the legs from home depot and used wood planks for the top!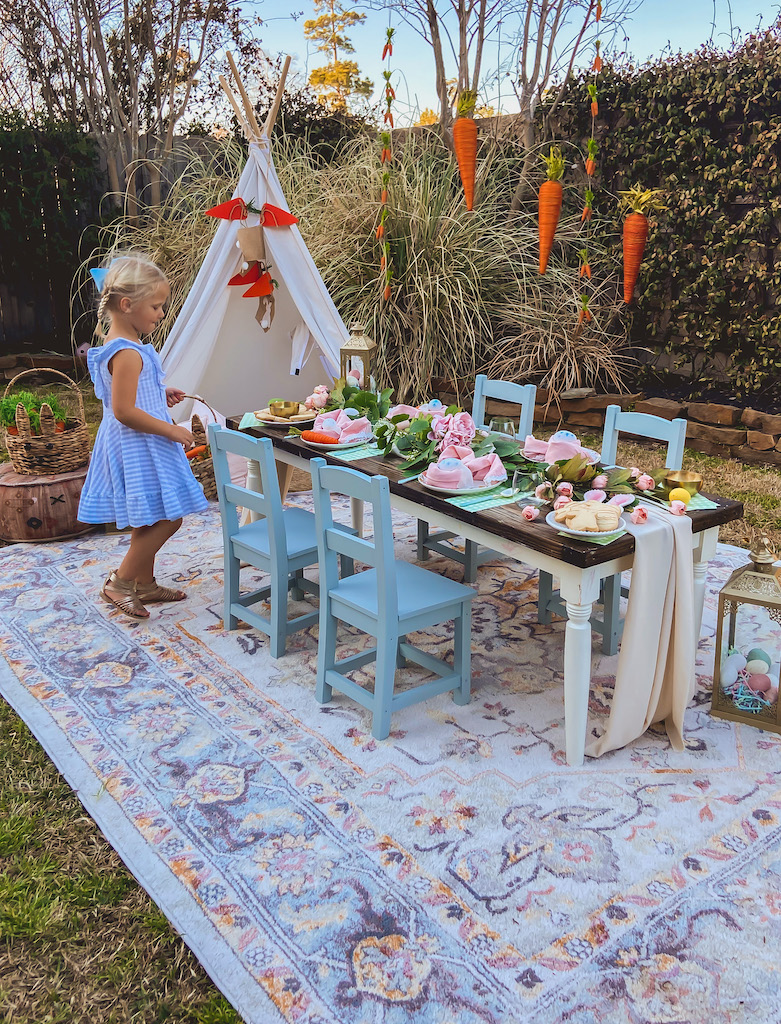 Outdoor parties are always so much fun! Over the past few years I have set up so many different parties for friends but this is my first kids table!
Some of the other outdoor parties can be found below:
Boho Outdoor Thanksgiving Table
Fun Kids Easter Table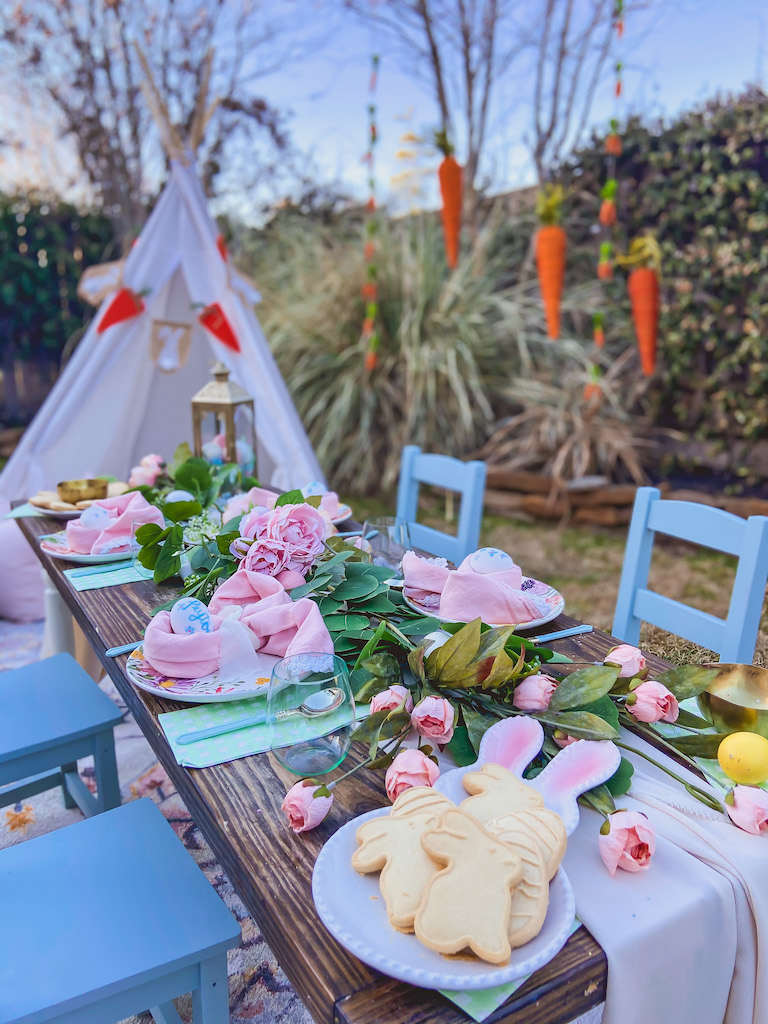 Easter is so much fun as a kid! I remember Easter morning running down before my siblings woke up to find where all the eggs were hidden!!! I was just a tad bit competitive as a child! One of my favorite things to do for every holiday now that I have my own kids is to create magical moments. This fun kids easter table idea was just as fun for me to create as it was for them to enjoy. Seeing their faces light up when they saw the finished look was just so worth it!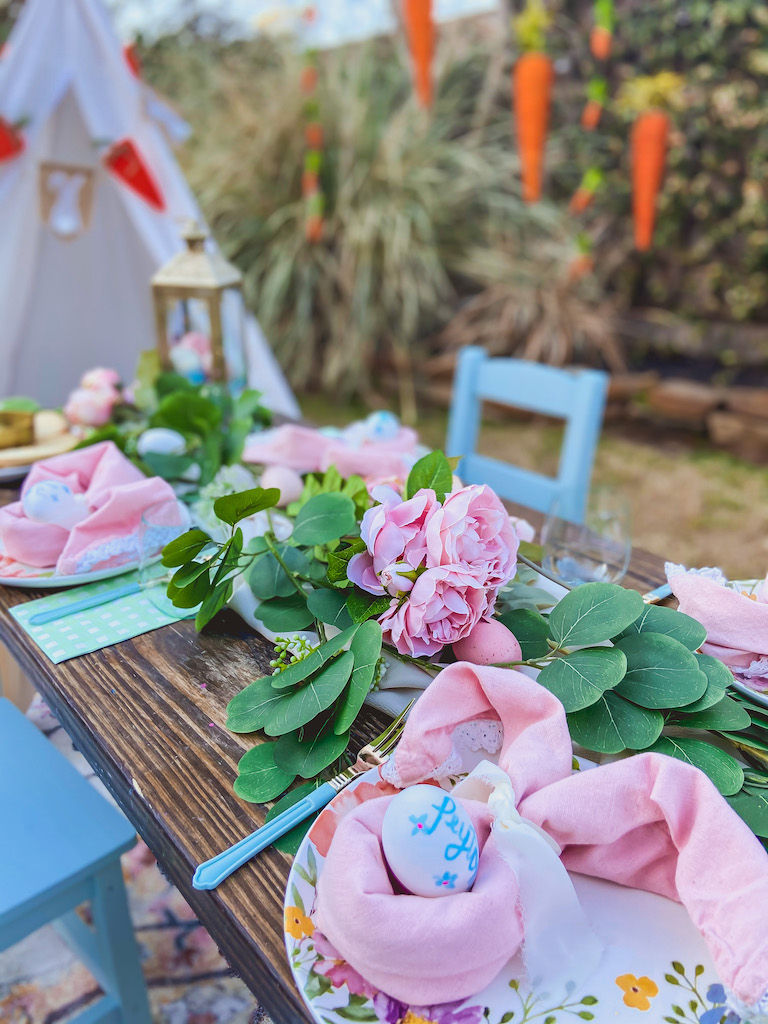 I had a lot of the items that I used already, but found some paper party supplies at Michaels. Paper products are always a good idea with kids!
I usually don't decorate much for Easter but I could not resist these big giant carrots! You could even use them as a centerpiece for Easter Brunch!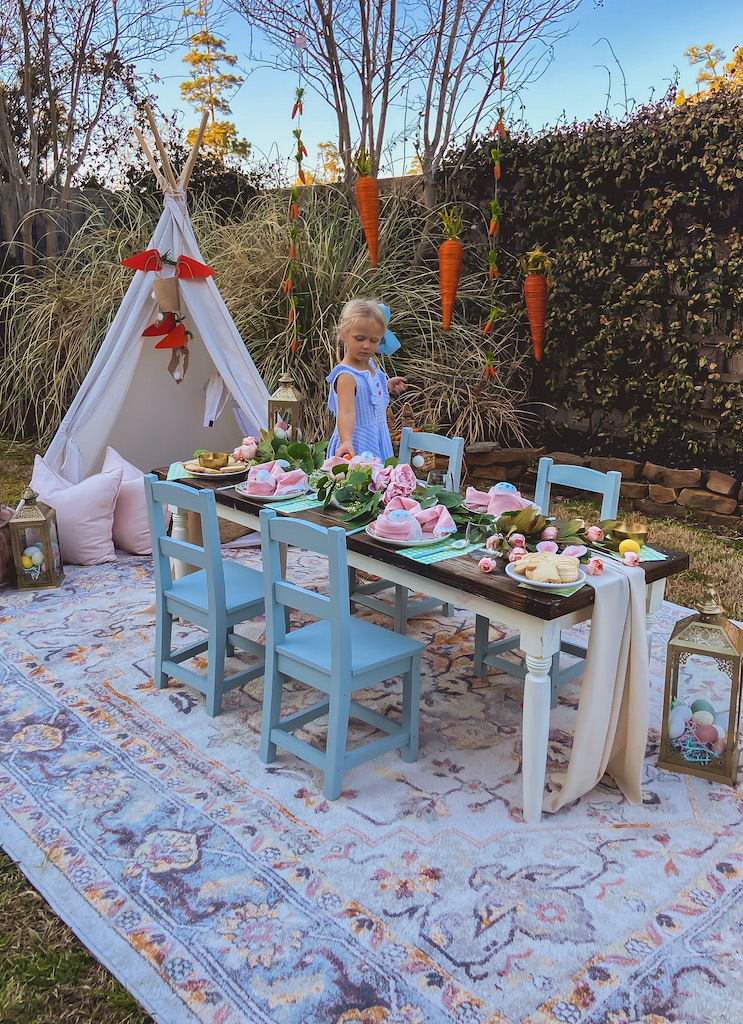 I also found the cutest little bunny baskets that I used as decor. I love that they are neutral and will go with just about any home decor style. Another great idea to put them to use would be to create a faux floral arrangement inside!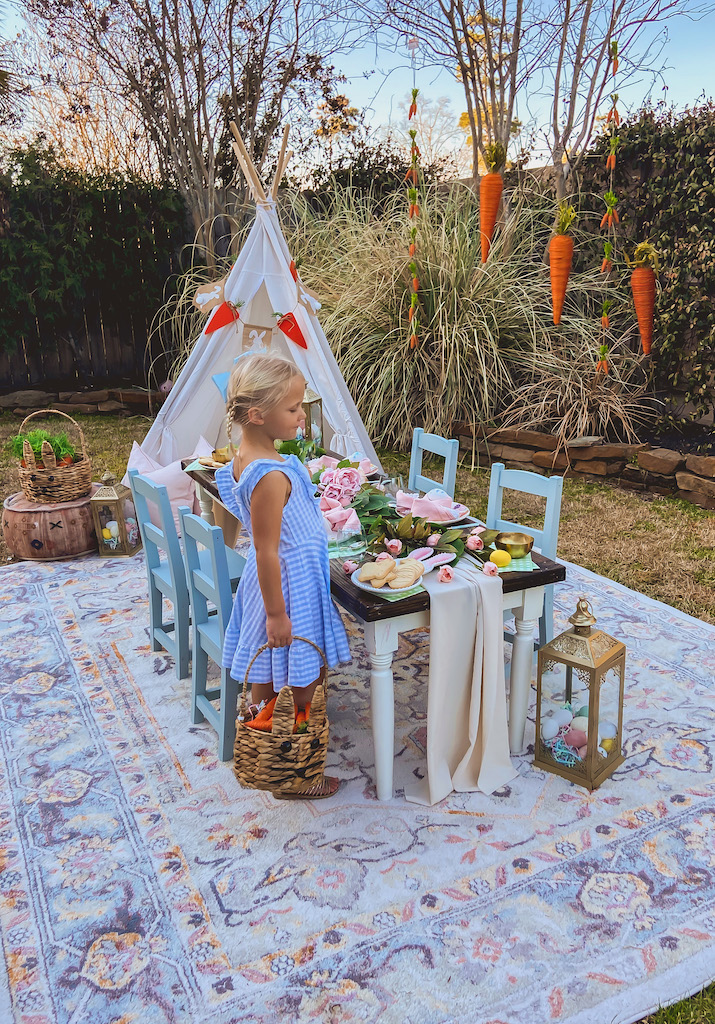 I'll link what I used below for your shopping convenience!

For the centerpiece I used cut fabric to go down the length of the table, and added a simple eucalyptus garland on top. For some extra color I added in a few faux peony stems that I found at Michaels.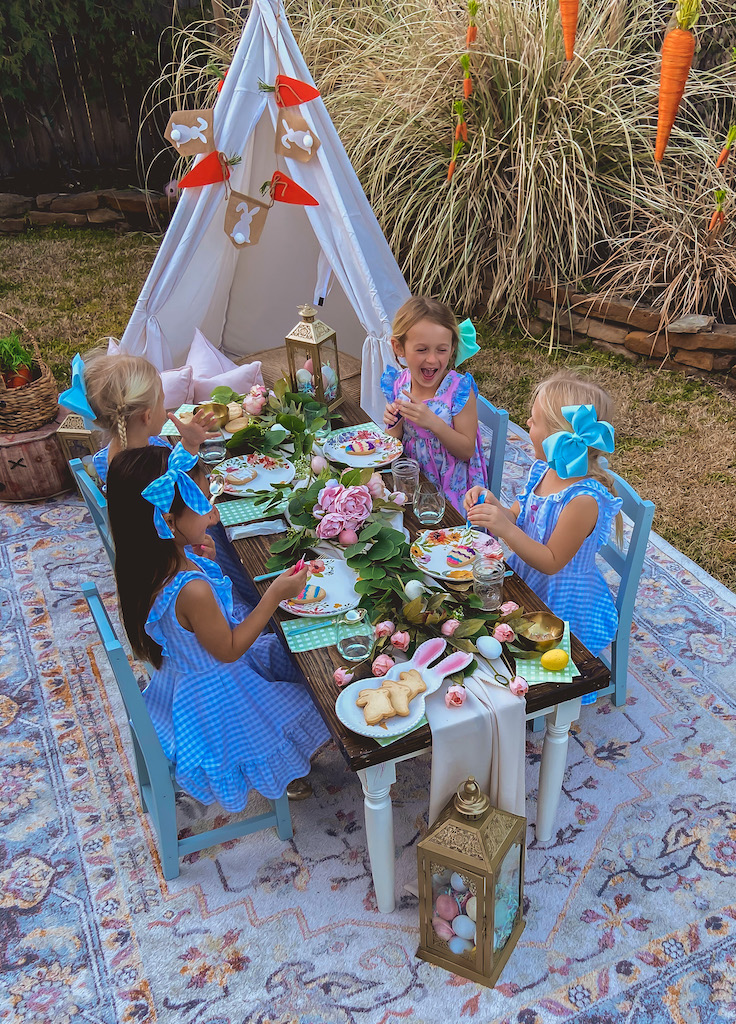 You really don't need much to create a memorable moment for your kids! I am sure they would have been just as happy with just table and chairs ;). But lucky for them.. I like to be extra!!!
I hope you all have a wonder Easter Holiday!
xoxo,
Leanna