The Ultimate Patriotic Cheese Board
Here are the tips and tricks on how to make an epic Patriotic cheese board! So easy, beautiful and perfect for a crowd!
The 4th of July is hands down one of my favorite holidays. I love everything about it… from decorating to neighborhood picnics and all the fireworks!! There is just something nostalgic about the 4th of July, which makes me want to make it memorable for my kids as well! Today I am sharing the ultimate patriotic cheese board that I made for the first time this year! I am so excited with how cute this turned out! I will be bringing this along to a small pool party with friends this weekend.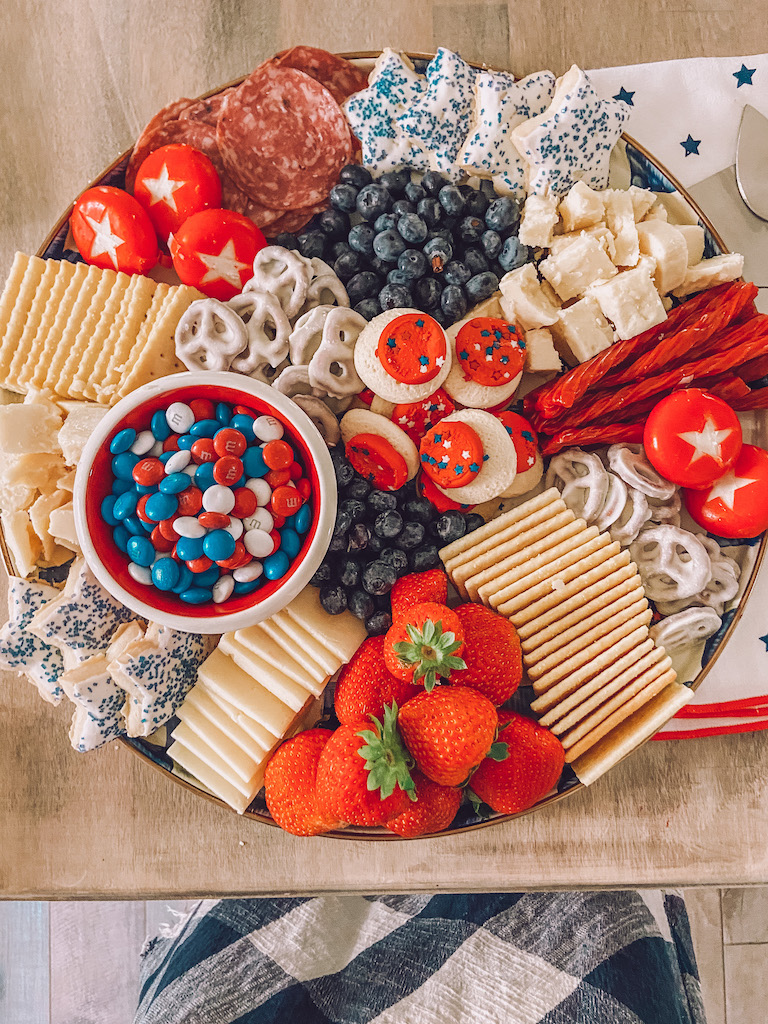 Red, White & Blue Cheese Board
Cheese boards are one of the easiest ways to get a large appetizer spread out for a party without tons of prep-work. You can get so creative with the different cheeses, meats and fruits you pick. I even added dessert which is so fun for the kids! For the 4th of July I picked fruits, meats and cheeses based on the colors red, white and blue. I filled it with my favorite red, white and blue fruits, veggies, crackers, and cookies and candy!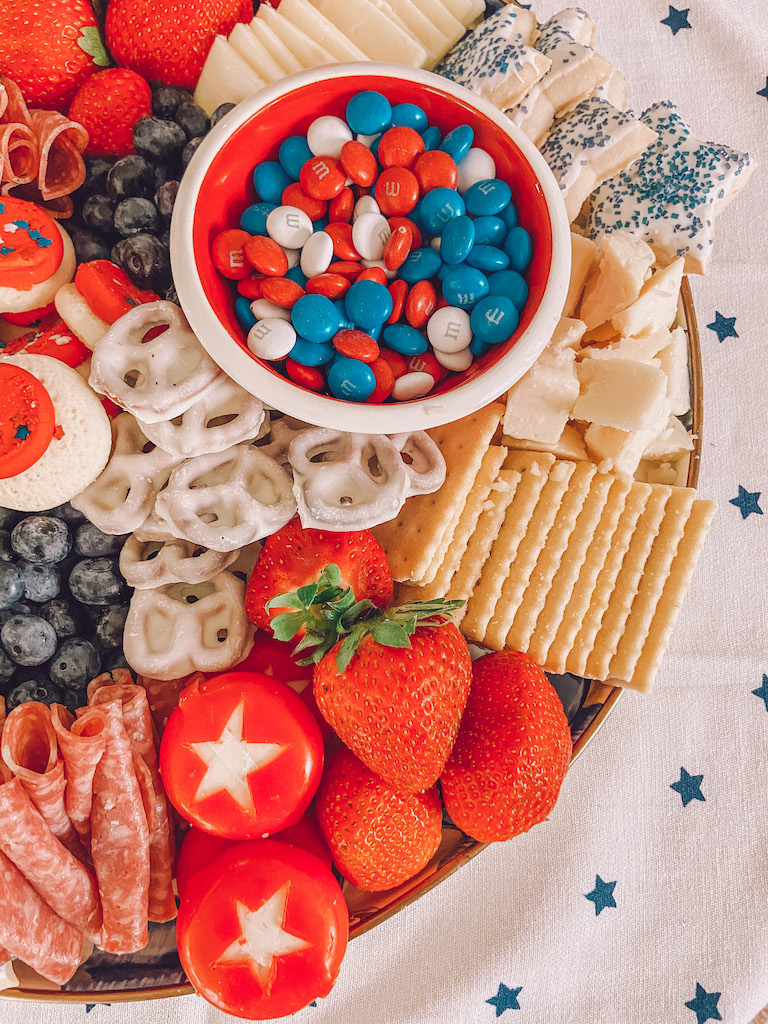 Red: This was the easiest to shop for on the cheese board. For the red fruit I used strawberries, but you can also use raspberries, cherries, watermelon and apples! For the cheese I used mini baby bell cheeses in red wax. I cut a small star in the middle for a fun twist. For the dessert, I found cute little red cookies at Target, and added red licorice.
Blue – While there aren't a ton of blue food options, there are a few that work really well for a cheese board! Blue cheese is an obvious choice along with fresh blueberries. I also found these cute fun start cookies! For other blue dessert options you can also add these Giraldi chocolates! I bought them but forgot to add them to my board…. looks like I'll be making another patriotic cheese board in the near future!
White – There are tons of white cheese options, as well as crackers! You can also cut star shapes out of cheese! For the dessert, I added white chocolate covered pretzels. For more white consider adding popcorn, white chocolate covered almonds, or vanilla wafer cookies!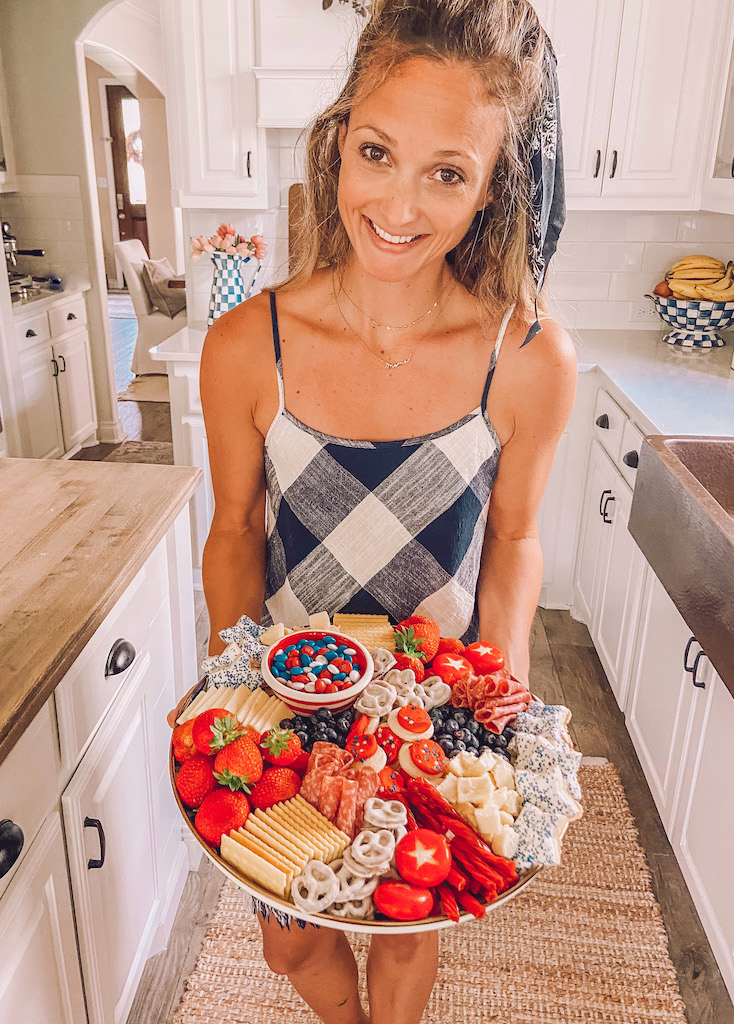 HOW TO ASSEMBLE A CHEESE BOARD
What you need:
Large cutting board or platter
Food Items:
TIPS & TRICKS TO ASSEMBLE YOUR CHARCUTERIE BOARD
For aesthetic purposes I love to plate things on rustic wood cheeseboards with pretty cheese spreaders.
Use a variety of soft and hard cheeses
Cheese is best served at room temperature. Remove cheeses from the fridge about a half hour before serving.
My favorite place to find great cheeses at affordable prices is at Trader Joe's or Alidi's
Serve a knife for each cheese
Add a variety of colors, use seasonal fruits and veggies
For a touch of greenery, add rosemary, or eucalyptus stems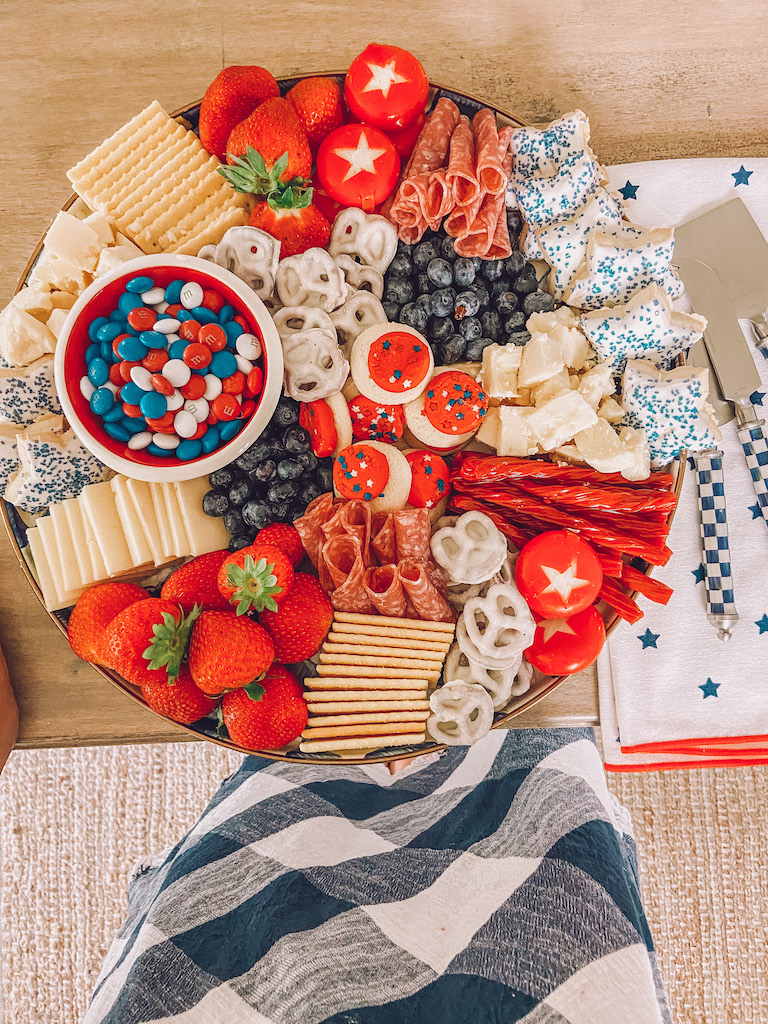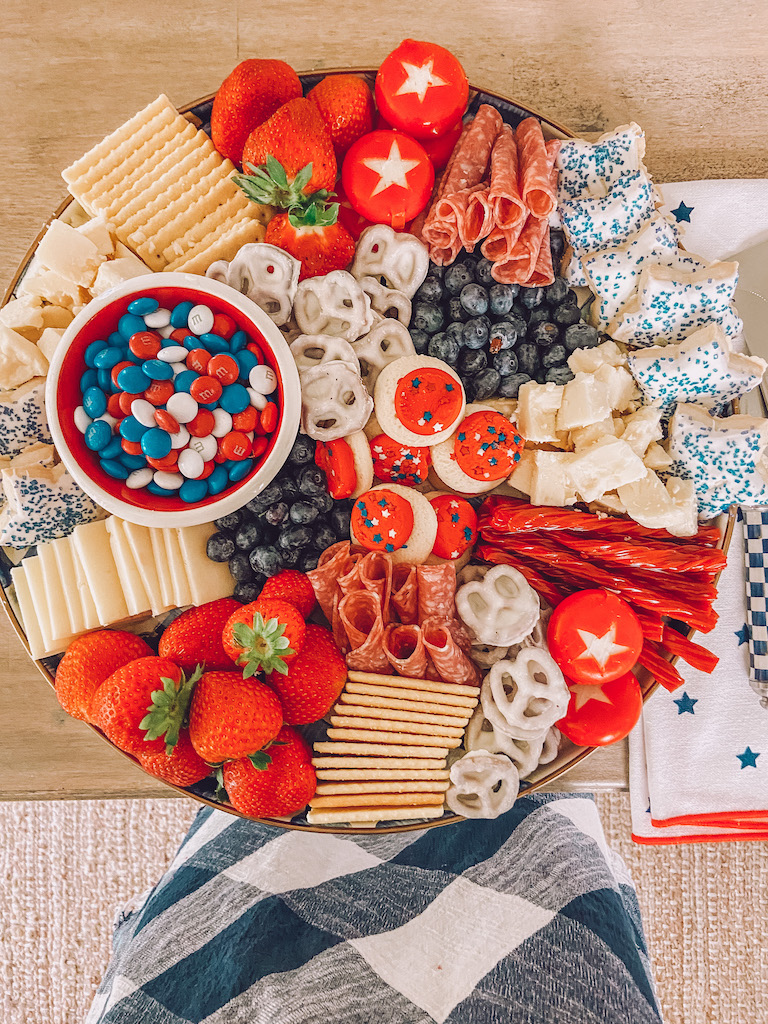 A few more photos
Let me know if you make a patriotic cheese and dessert board! Make sure to tag me on instagram @lifebyleanna.
If you are looking for another patriotic dessert ideas, try out this Easy No Bake Berry Trifle.
I updated this post to include another patriotic cheese board that I made on the 4th of July! It was much bigger and everyone LOVED it!
xoxo,
Leanna