Sharing is caring!
There is no better way to say I LOVE You then with donuts!! Make these adorable 4-minute easy air fryer heart donuts to include on a breakfast board for Valentines day!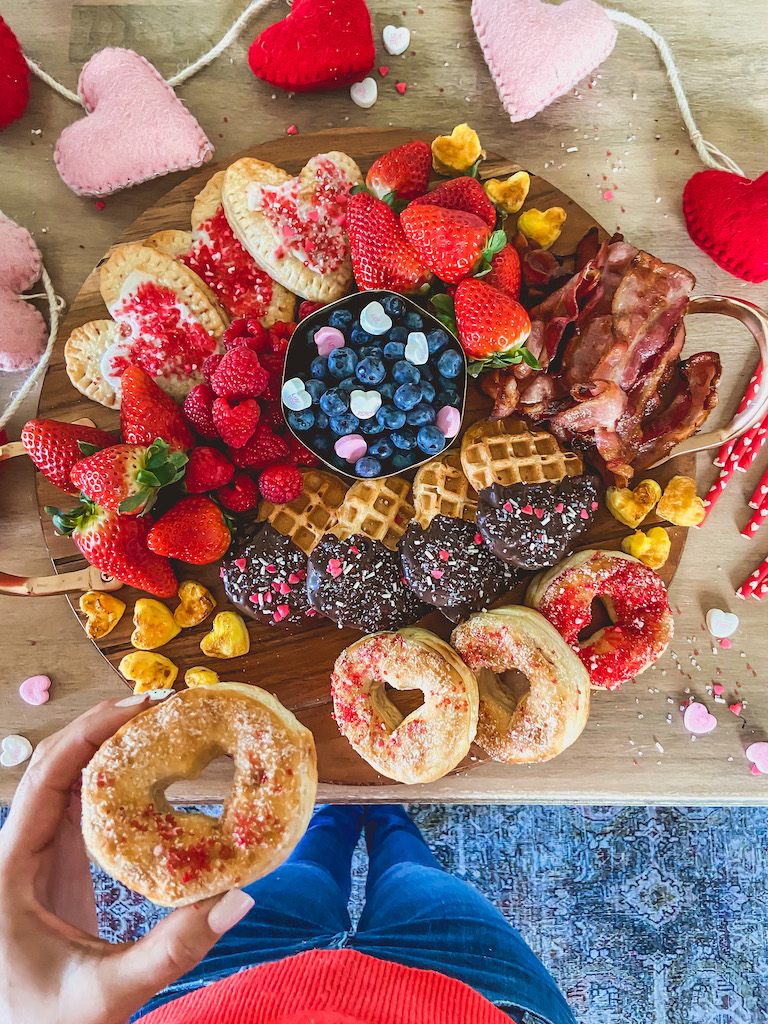 Yesterday, I posted my first ever air fryer recipe – Handmade Heart Shaped Poptarts and I was pretty sure that you would love them. But can I just say, the response has been AMAZING! I am so glad to hear that you love these breakfast treats as much as I do!!
It's the first day of February and I am so excited to share lots of fun Valentines Day ideas over the next few weeks. I thought it would be fun to make another breakfast treat using my air fryer, Heart Shaped Donuts, and add them both to a breakfast board.
If you have been around here for awhile, you probably already know that I LOVE making food boards! If there is a holiday you bet I am going to be making a themed board to go with it! You can see some of my boards that I have created over here:
Halloween Festive Cheese Board
The Ultimate Patriotic Cheese Board
Charcuterie boards are SO fun to make! I love to use all different things to make a board, but this is my first ever breakfast board. A breakfast board would be perfect for a bridal shower or baby shower brunch, Galentines Day Party, or just an excuse to make a lot of yummy food!!!!
4-minute Easy Heart Shaped Donuts
The donuts are my favorite part of the board and you only need a few ingredients to make them! I topped them with cinnamon and sugar but you can also use frosting, Nutella, sugar glaze or powdered sugar!
Oh… and don't forget the sprinkles!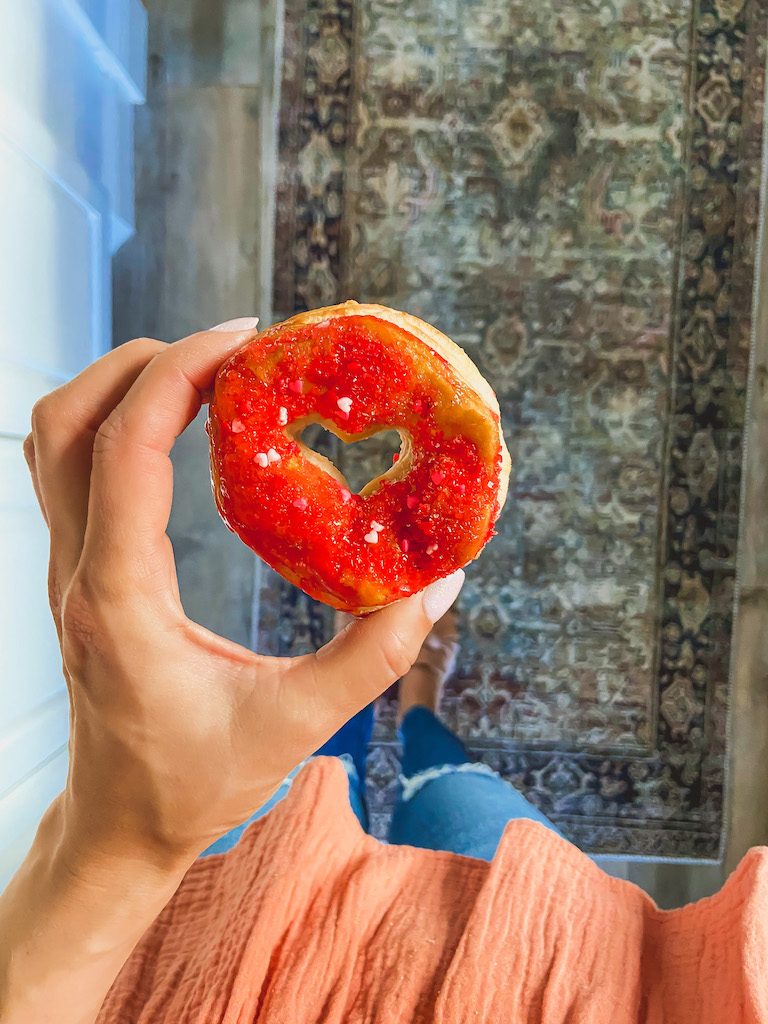 How to make Donuts with an Air Fryer
Just like the pop tart recipe that I posted yesterday, this baking hack uses store bought dough. This time however we are using flaky biscuit dough. You can use whatever brand of biscuits you prefer. I used the Pillsbury brand for this batch of donuts.
I used a mini heart shaped cookie cuter to get the shape of the heart in the middle. But, you can simply use a circle or whatever you have on hand.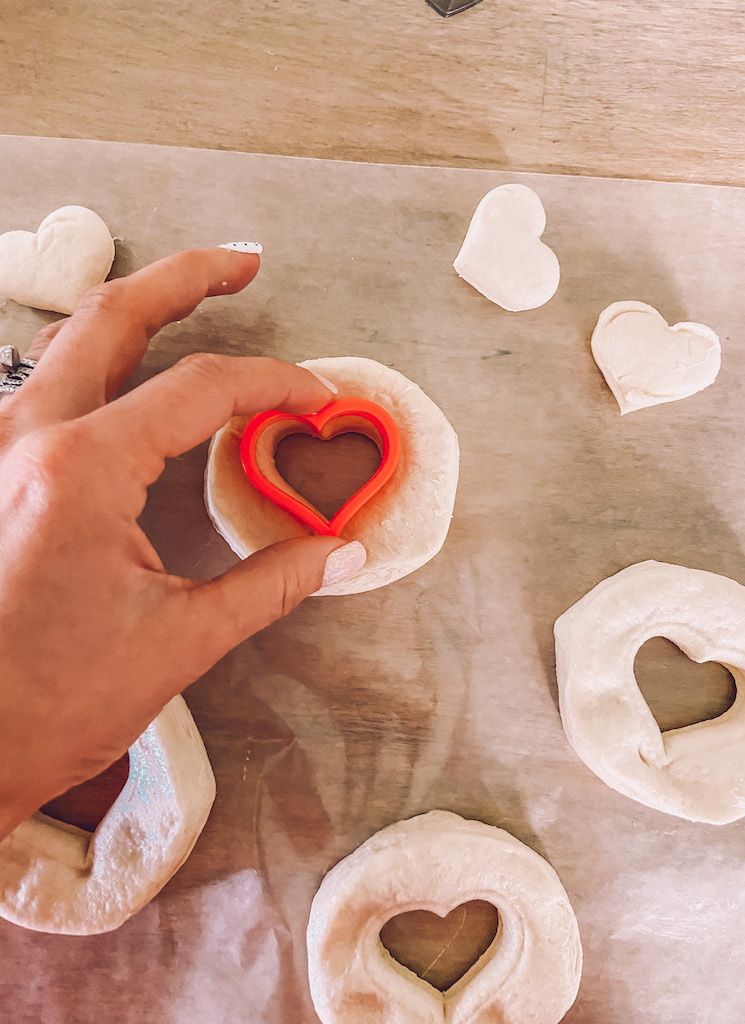 Pop them in the air fryer for 4 minutes and TA-DA!!! You can put a few donuts in the air fryer at a time, just make sure they aren't touching each other and you are good to go.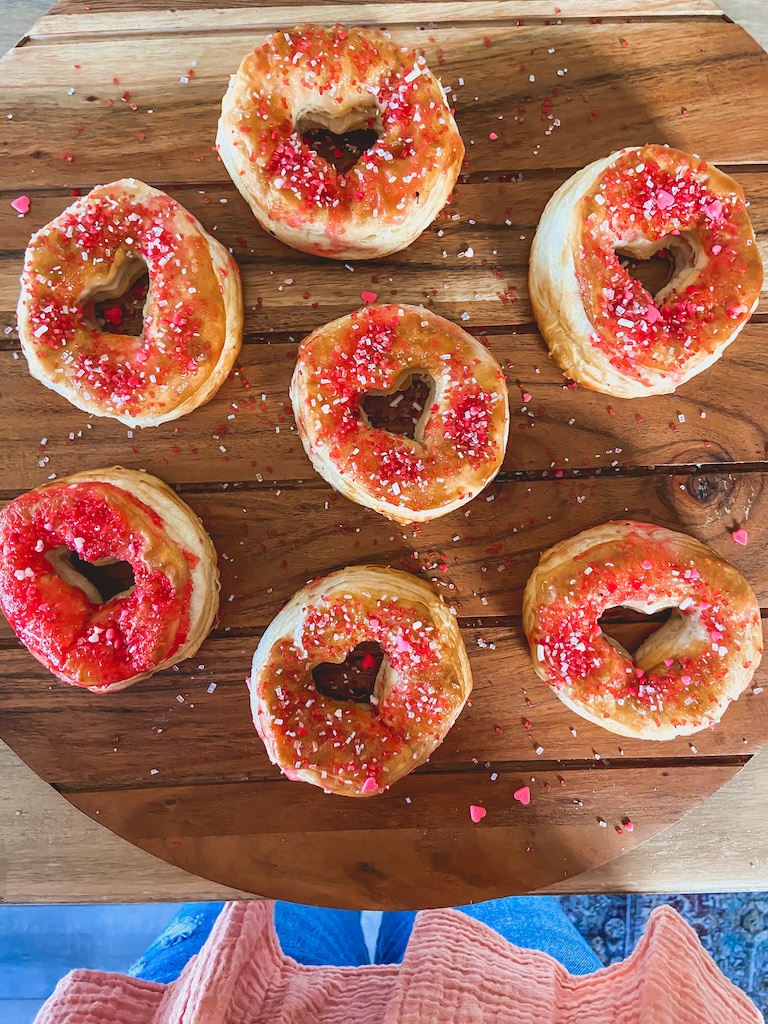 Valentines Day Breakfast Board
With these adorable heart shaped donuts and the heart shaped pop tarts I put together a festive Valentines Day Breakfast board.
I added bacon, heart shaped egg bites, heart waffles and fruit! To make the waffles I used this mini waffle maker.
Check out this fun video below to see how I put it all together!
4-Minute Air Fryer Heart Shaped Donuts
Prep Time
20

minutes
minutes
1

package large flaky biscuits

3

tbsp

butter

melted cinnamon for topping

sugar for topping
Use a small heart-shaped cutter to cut a hole in the center of each biscuit.

Spray air fryer basket with olive oil cooking spray.

Place biscuits in a single layer in the air fryer, make sure they do not touch.

Cook the biscuits at 400 degrees for 4 minutes. They should be fluffed up and light brown on top! You can also cook the heart cut out shapes at 400 degrees for 3 minutes.

Brush each donut with melted butter and roll in cinnamon and sugar.

Add your favorite festive sprinkles!
Don't forget to PIN to save for later!!!
Check back this week for more fun Valentines Day ideas!
xoxo,
Leanna