Sharing is caring!
This colorful St. Patrick's Day Dessert Charcuterie Board is SO fun and festive! From shamrocks to rainbows plus a pot of gold, this yummy Dessert Charcuterie Board for St. Patrick's Day is a treat for all!!!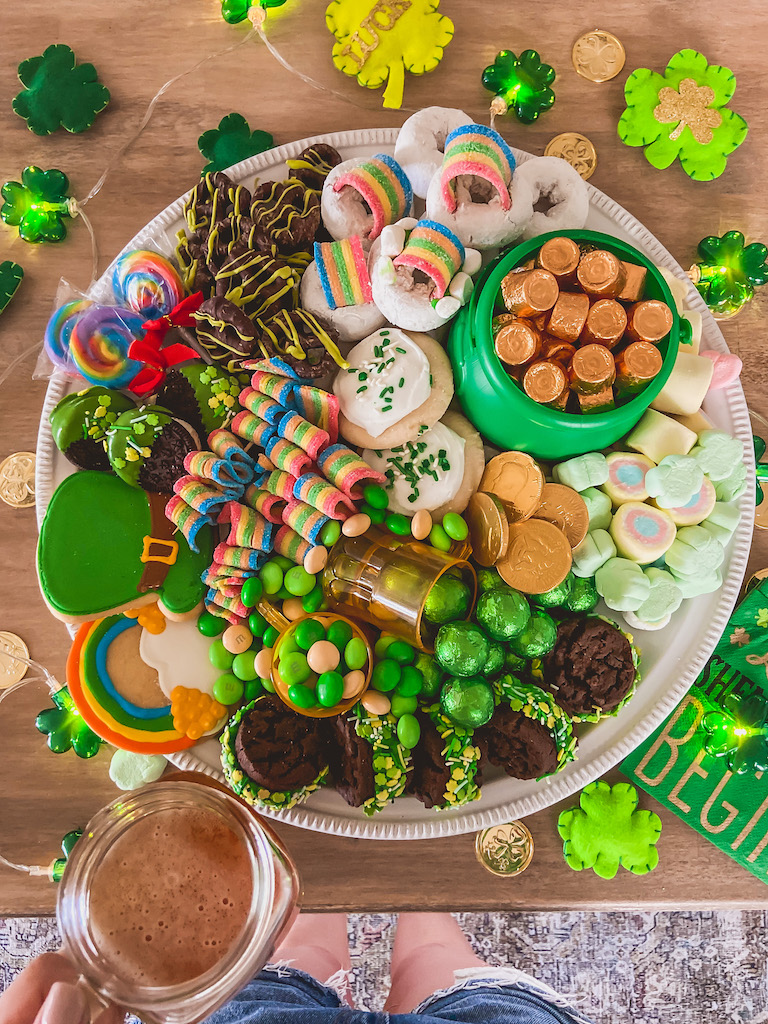 Charcuterie board are my favorite! I have created a charcuterie or dessert board for almost every holiday! You can add just about anything to a dessert board, there are so many great ideas! You can find lots of creative boards on Pinterest for all different events! I made my first St. Patricks Day board this year and I have to say this is my favorite board yet! I had to think more outside the box and that is what made it so much fun to make!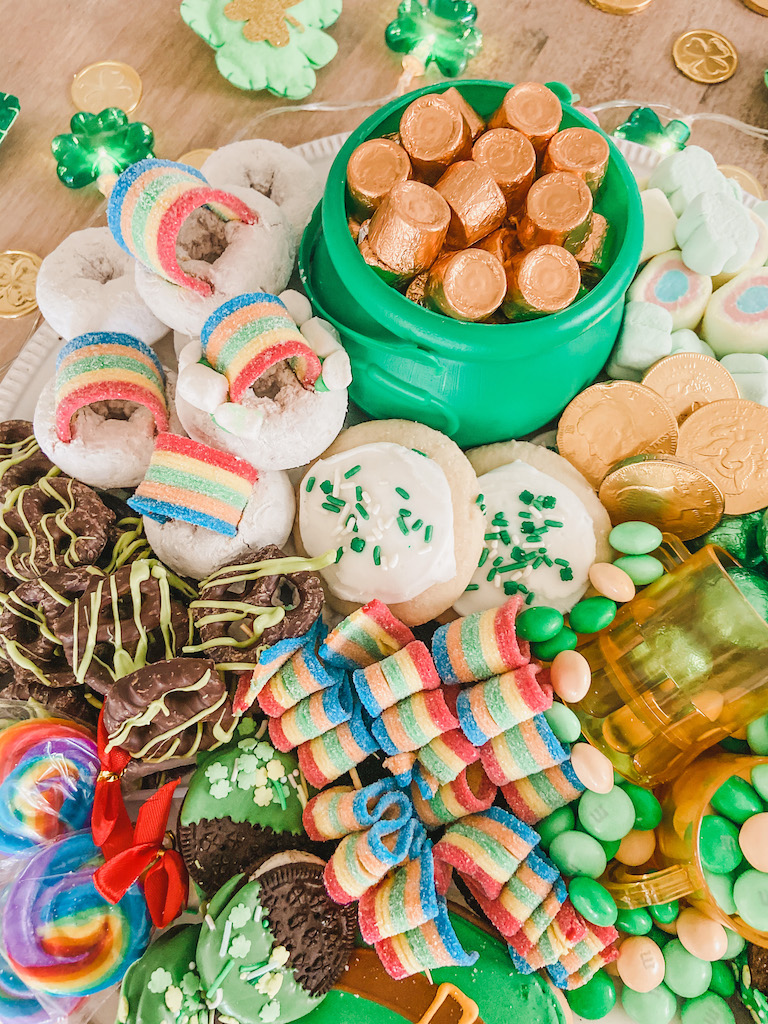 What is a Dessert Charcuterie Board?
Dessert charcuterie boards are the newest fun way to serve dessert. They are super easy to make, just mix and match your favorite treats and lay them out on a board of platter.
They are perfect to make when serving a crowd. I love to make them for a girls night, birthday party, or any type of event. They are always a guest favorite!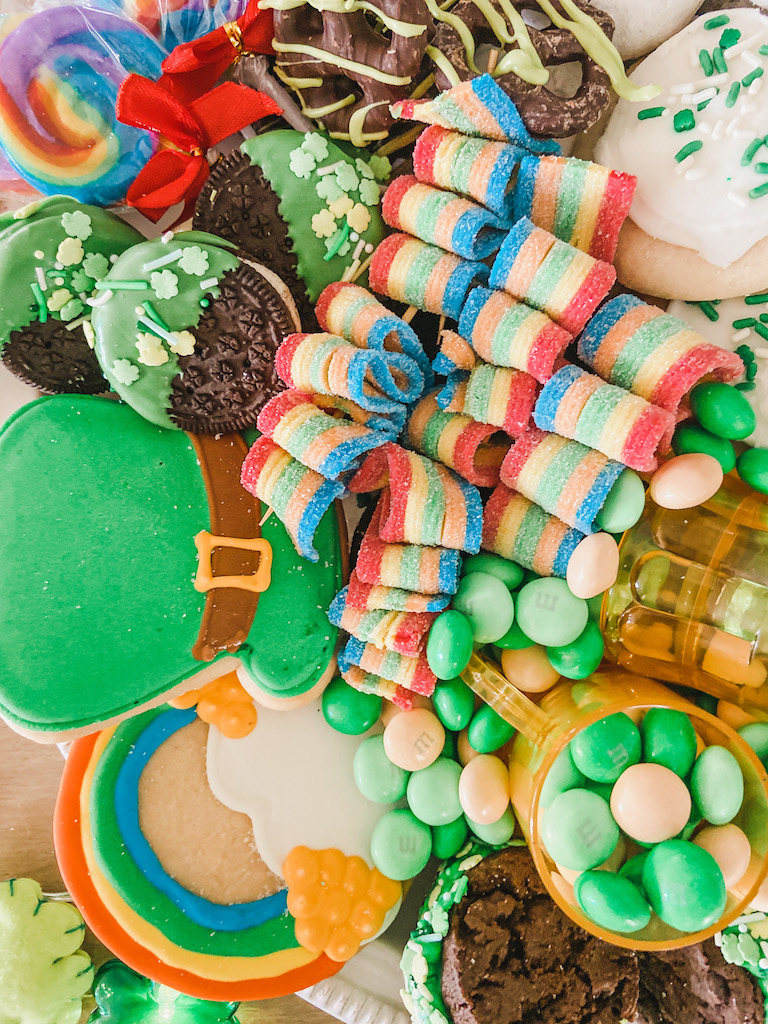 What do you put on a Dessert Charcuterie Board?
What is so fun about this dessert idea is that you can put ANYTHING on a dessert board! You can use homemade treats, store bought or a little bit of both. I love to do themed dessert boards so I tend to pick desserts that go with the color theme.
For this St. Patricks Day board I choose desserts that were black, gold, green and rainbow!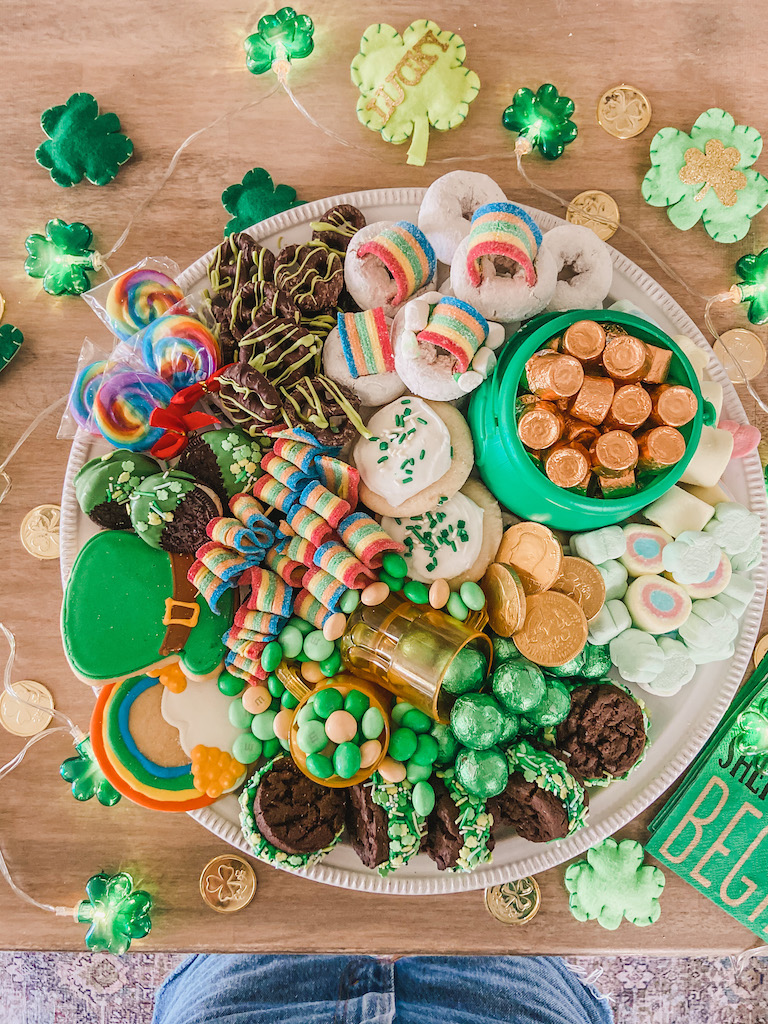 How to Make a Dessert Board
Making a St. Patrick's Day dessert charcuterie board is easy! I promise there's really no wrong way to make them. Below are some simple tips to help you get started!
Easy tips to follow:
Pick A fun theme/holiday
Use a variety of colors and textures
Have many different types of items
A little bit of planning before you get started is always a good idea!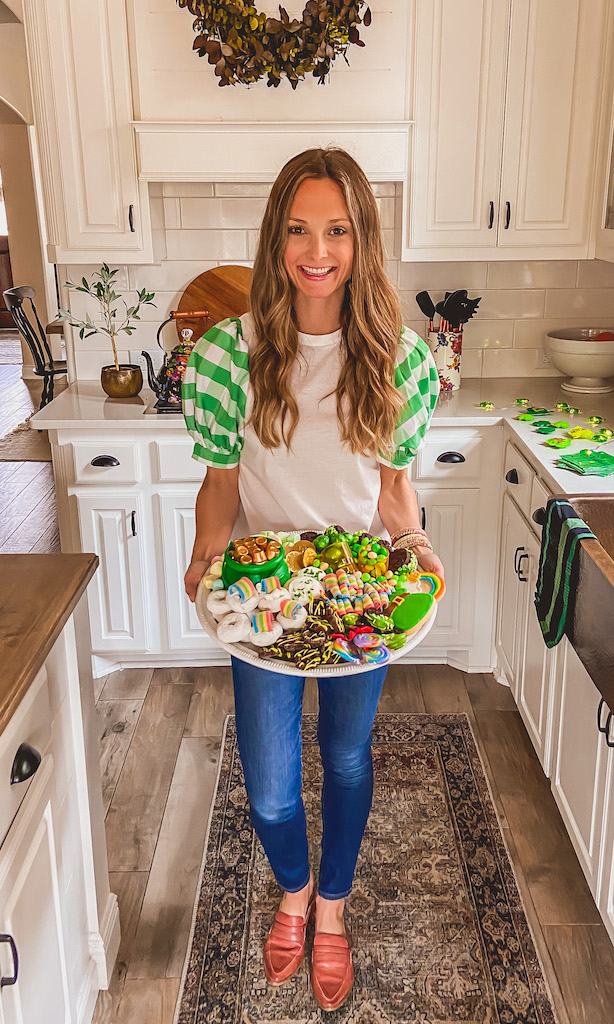 How to Assemble A Dessert Board
Putting It All Together
Use small bowls and dishes and containers to add more dimension .
Arrange your items in small groups.
Start with placing the bowls on the board and arrange the other items around them.
Completely cover the entire board so its full with no gaps
To fill in gaps use smaller candies or nuts.
Alternate colors and textures as you lay out the treats.
Play around with it until its just right!
Ingredients for St. Patrick's Day Dessert Charcuterie Board
For this St. Patrick's Day Dessert Charcuterie Board, I purchased the majority of the items from Target, and a few items from Walmart.
White Powdered Donuts
Oreo's
Chocolate Covered Pretzels
Rainbow Marshmallows
More St. Patricks Day Recipes
St. Patricks Day Pudding Cups
Other Charcuterie Boards
Halloween Cheese and Dessert Board