Cute and Simple Thanksgiving Dessert
These fun Pumpkin Pie turkeys are surprisingly simple (I promise!) and sure to be a hit for Thanksgiving Dessert!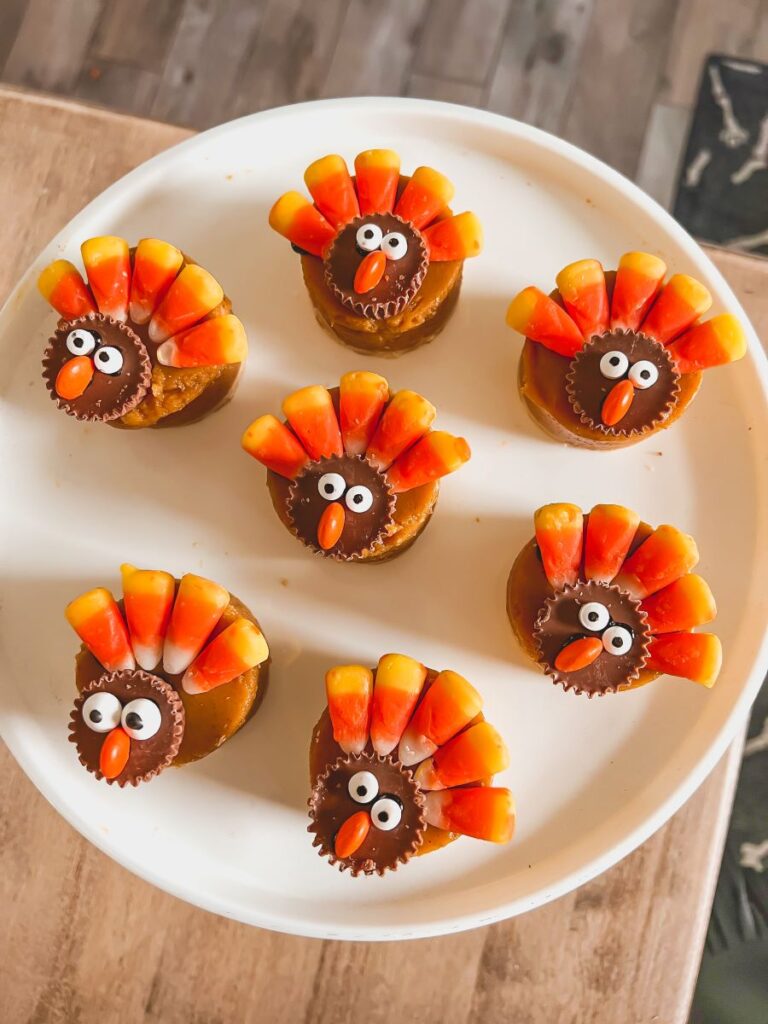 Let's be honest: kids "helping" in the kitchen isn't always…helpful. But take heart, parenting warriors! This easy Thanksgiving dessert has zero baking prep and just needs to be assembled with a handful of ingredients. It's like an easy craft and dessert combined for the kids, with very little stress for you. A win-win!
Supplies
You can get almost all of the supplies you need at a grocery store (the candy googly eyes are usually right by the icing in the baking section!) If you don't already have a biscuit cutter or round cookie cutter, you can shop these from Amazon, Walmart, or Target. If you're in a pinch, you could even use a knife to cut around a small round glass to make the circle cutouts for this easy Thanksgiving dessert.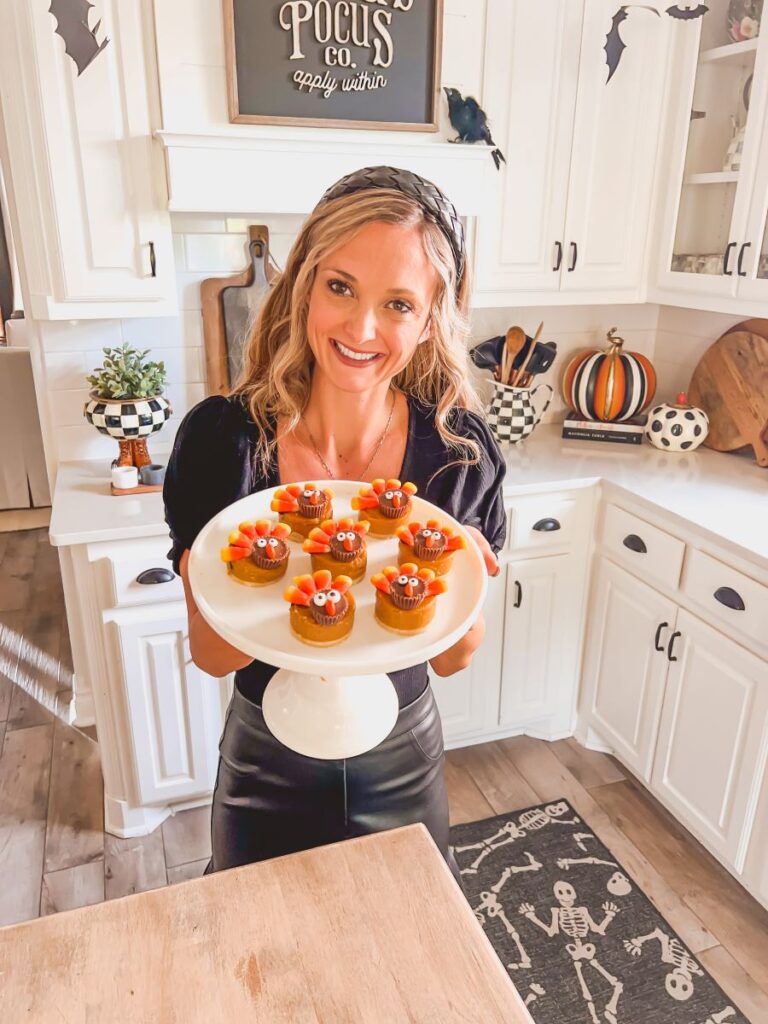 Directions
First, place the biscuit cutters in the pumpkin pie to separate circular sections. Be sure to place the biscuit cutters as close as you can to the previous cutouts in order to make as many turkeys as possible. I like to place them right on my serving platter so I don't have to worry about moving them later since they are a bit delicate.
Then, use icing to secure the smaller part of the Mini Reese's Peanut Butter Cup to the lower part of the pumpkin pie cutout (so you have enough room to add the candy corn feathers.)
Finally, just add the accessories! First, attach the edible googly eyes on top of the Peanut Cutter Cup before adding an orange Reese's Pieces cut in half to make the beak. Last, secure the candy corn feathers above the Peanut Butter Cup, and voila! A turkey is born.
Print
Easy Pumpkin Pie Turkeys!
These adorable pumpkin pie turkeys are so easy to put together and are a hit for both kids and adults!
Author:
Prep Time:

15 minutes

Cook Time:

0 minutes

Total Time:

15 minutes

Yield:

8-10 turkeys

Category:

Dessert
▢ One 9-inch pumpkin pie (or more if you'd like to make a larger flock of turkeys)
▢ Decorator's icing (for adhering candy. I used black but any color is fine!)
▢ Mini Reese's Peanut Butter Cups
▢ Candy eyes
▢ Orange Reese's Pieces (halved)
▢ Candy Corn
Instructions
1. Using a 1.5-inch biscuit cutter or round cookie cutter, cut out circles in pumpkin pie.
2. Attach a Peanut Butter Cup to pumpkin pie (narrow side down on the lower half of the circle) using decorator's icing.
3. On top of the Peanut Butter Cup, attach two candy eyes with decorator's icing. Then take half a Reese's Pieces and attach it longways under the eyes with icing to make the beak.
4. Place 5 pieces of candy corn at the top of the circle to form tail feathers, narrow side pointing down.
5. Serve immediately or store in the fridge
Recipe from suburbansimplicity.com
Substitutions
If your kiddo can't have peanut butter, you can substitute the Reese's Pieces beak with an orange Starburst trimmed in the shape of a small triangle. The Reese's Peanut Butter Cup could also be replaced with an Oreo or any other round candy like a butterscotch or York Peppermint Patty.
Also, if pumpkin pie isn't your favorite, most pie flavors would also work. I bet a coconut cream pie would be delicious!
Presentation
This cute Thanksgiving dessert can be displayed on most platters. This year, I will be placing them on my new favorite cake stand, which you can also see on my Thanksgiving tablescape.
Memories Made
I love the wow factor of this easy Thanksgiving dessert without needing to worry about baking! This is a fun activity that I hope my kids remember making for years to come. Happy Thanksgiving, friends!